Exploring the Georgetown neighborhood is a great way to explore Seattle beyond the typical tourist destinations. For locals, it's a getaway without the hassle of getting away.
The Georgetown neighborhood of Seattle, Washington, is not a neighborhood frequently used as a destination for road trips, city adventures, or personal retreats. However, this charming neighborhood has everything you could want for an interesting day of exploring – all without needing to take a day trip outside of Seattle.
The following itinerary for exploring the Georgetown neighborhood of Seattle is especially perfect for those who live (or are visiting) in Seattle without a car since the starting point for this inner-city day trip can be any bus stop in the neighborhood.
In this article, I share an itinerary I created after living in downtown Seattle for four years. Before I moved out of the city and took off on my remote work adventure, I wanted to have a fun, local adventure with my friends – sharing with them some of my favorite spots that I had found as a downtown local and exploring some new spaces in Georgetown. This is that itinerary, shared here so others looking for a local day trip in Seattle that's cheap, interesting, and fun. It's perfect for a daytime date, staycation, or friend adventure.
Morning: coffee – downtown Seattle's best coffee shop
Moore Coffee at 2nd and Virginia
Recommended order: Taro root latte, a vibrant purple latte with intricate latte art (cost: about $7)
Seattle has a lot of great coffee shops, but of all the coffee shops I have tried in downtown Seattle, none beat Moore Coffee. At Latinx-owned Moore coffee, you can purchase homemade tamales alongside lattes with the city's most impressive latte art. Honestly, I would take people here just for the latte art, but I don't, because the signature roast at this coffee shop is my favorite in the city, and Americanos from the spot were once my favorite treat on the way to work.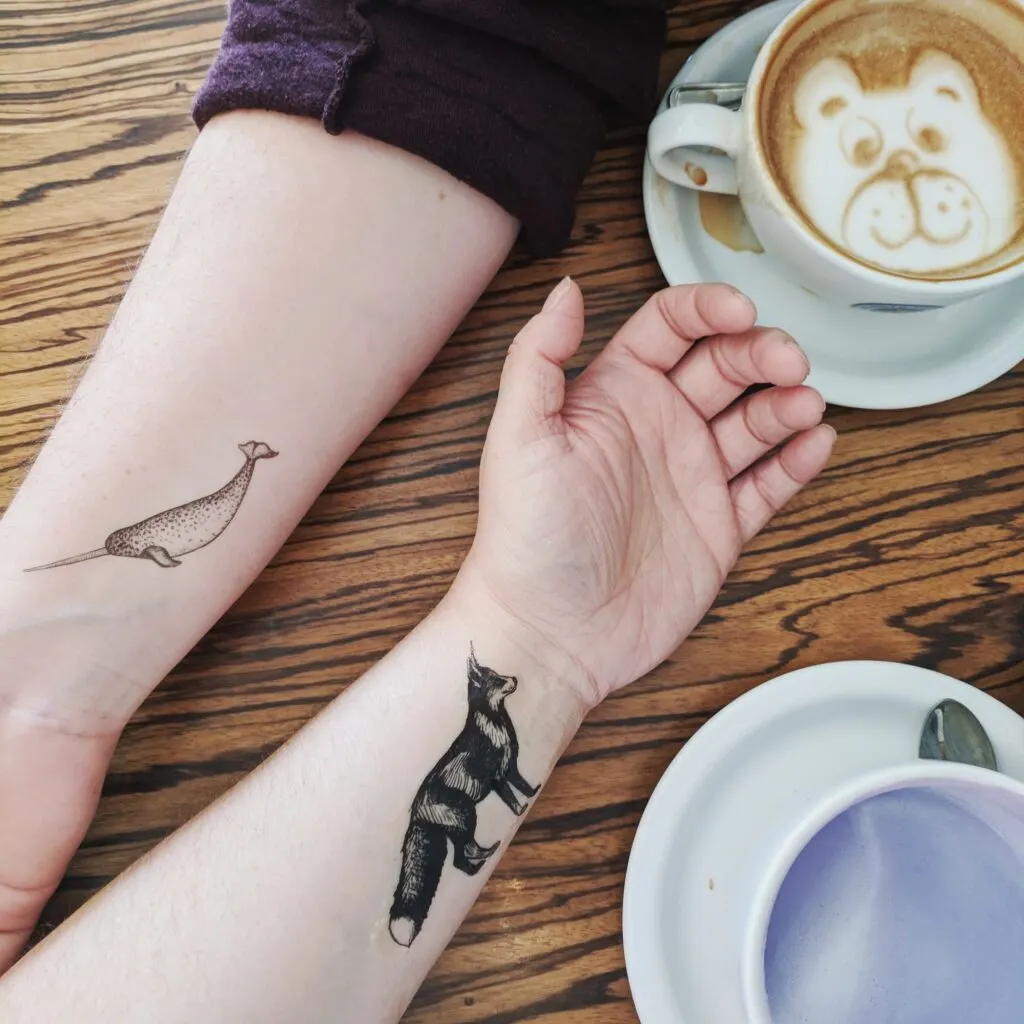 Late morning option one: Free tour: The haunted Moore Theatre
Recommended dates: this tour is free only on the second Saturday at 10 AM
Moore Theatre is one of the oldest live performance theaters in Seattle. Although no longer the grandest, the Moore Theatre has featured headliners for more than 100 years. Like any long-running stage, the Seattle theater has its share of ghost stories – which you can hear for free while touring of theater, once a month on Saturday morning. Pop in after your latte from the Moore coffee shop next door, and be sure to arrive by 10 AM. The free tour meets at the outside entrance and enters at 10 AM sharp.
Late morning Option two: Seattle's Downtown National Park + Urban Waterfall
Did you know Seattle has a national park downtown? It's true! The Klondike Gold Rush National Park is a tiny national park located in an old storefront in downtown Seattle. Unlike most national parks, however, the Klondike Gold Rush National Park is free. Pop in to take a free tour and learn about the history of Seattle and the role it played in the gold-mining rush of the 1800s.
Next-door, be sure and check out the UPS waterfall Park. Also free, the UPS waterfall Park is a several story waterfall tucked into a private (but open to the public during business hours) park owned by UPS. This waterfall stands in the location of the very first UPS store and provides a refreshing natural contemplative space in the heart of downtown Seattle.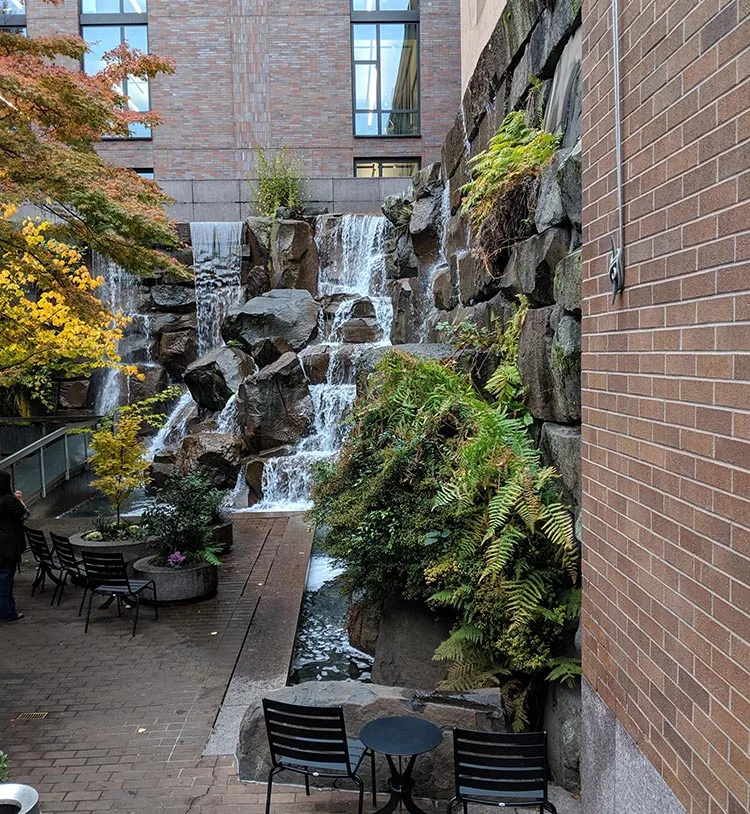 Lunch: enjoying lunch served up by Seattle's historic restaurants
For lunch, there are actually two great options that are located not too far apart:
Seattle has no shortage of amazing restaurants, but because this Seattle adventure itinerary is all about exploring hidden gems, quirks, and history of Seattle, these 2 lunch options highlight local charm over innovative menus or even yelp reviews:
#1 Juneau restaurant at the Arctic club
For Seattle locals, you'll know the Arctic club at 700 3rd Ave as "the walrus building). Juneau is the restaurant located on the first floor of this iconic building. I remember being enamored by this particular building when my commute took me past this building every day.
The Arctic building was originally built as a club for the men who made their fortunes in Alaska gold-mining and makes for a great place to enjoy lunch after a trip to the Klondike Gold Rush National Park in Seattle.
Pro tip: be sure to and visit the second-floor ballroom of the Arctic club while you are in the building- you won't regret it!
Orient express
Though in perhaps a less glamorous location, the Orient Express is an Asian restaurant and bar located partially in decommissioned train cars- but not just any train cars! Included in the collection is Franklin Delano Roosevelt's train car, which patrons to the restaurant can visit during their meal at this history-laden Seattle restaurant.
Union station
Like many cities, Seattle has a train station downtown. Unlike many modern cities, Seattle's downtown train station, called union station, is a beautiful building. Built in 1911, in a style nicknamed "Railroad Italianate," Seattle's Union Station is well worth a visit – if only for the incredible Instagram backdrops.
Things to do in the Georgetown Neighborhood of Seattle:
1. Shop at the Georgetown Trailer Park Mall
You may think you're a Seattle local, but you haven't had the full local experience until you visited the Georgetown Trailer Park Mall.
This weird and wonderful destination features artists, creators, and collectors located in a collection of- you guessed it- vintage travel trailers.
What to expect: Local artists and creatives have transformed vintage trailers into quirky boutiques offering vintage goods, handmade crafts, and eclectic art. Expect a blend of retro charm, local creativity, and a distinctly Seattle vibe. There's usually a food truck or two, but if you're hungry there are also nearby restaraunts with patios.
Location: The Georgetown Trailer Park Mall is situated in Seattle's Georgetown neighborhood, a short drive south of downtown and just a few blocks away from Oxbow Park, where the Hat and Boots installation is located.
2. See the (Not quite) world's largest hat and boots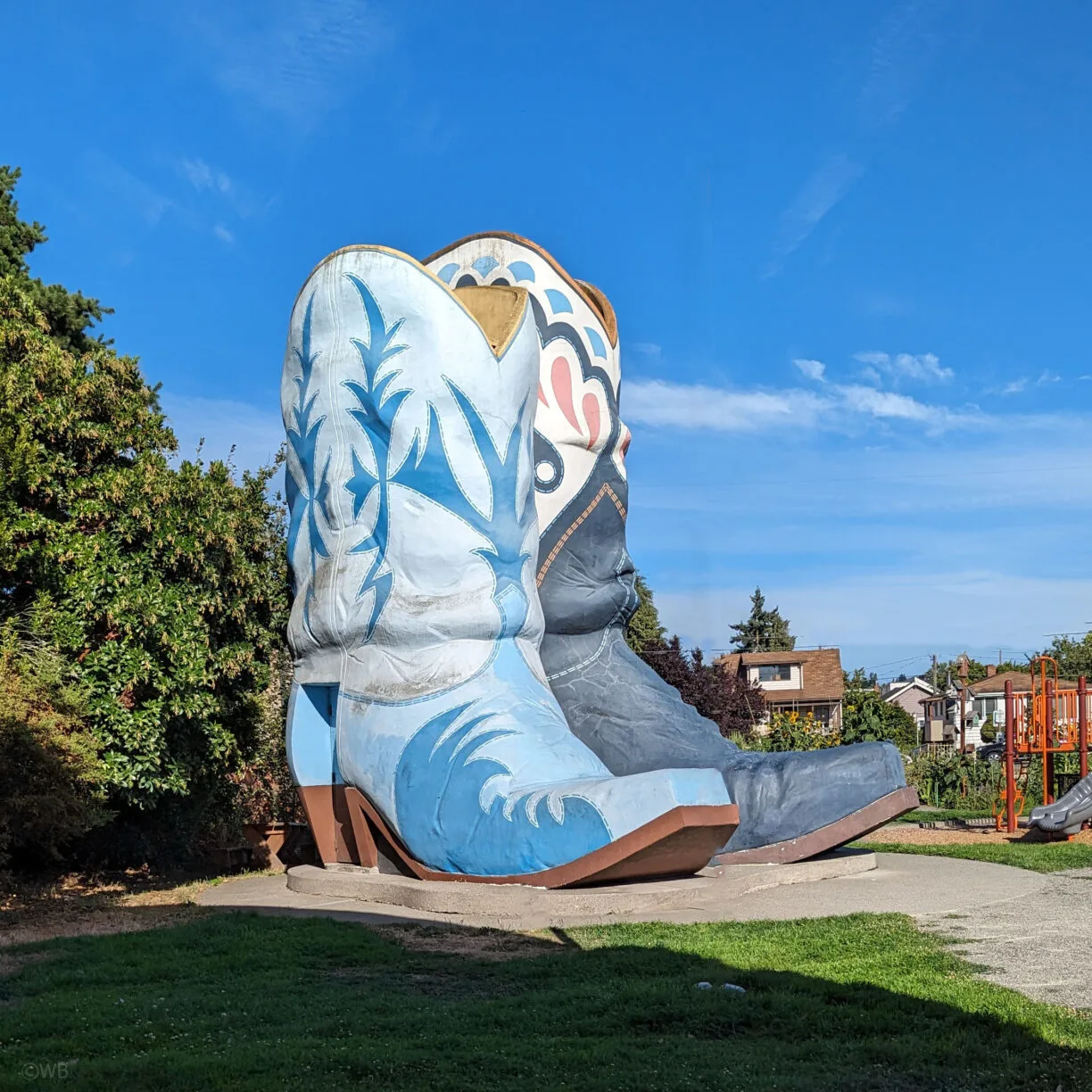 I confess I have a bit of an obsession with the world's largest things, having checked a fork, cowboy boot, and teapot off my list.
Seattle's giant cowboy hat and cowboy boots are NOT the world's largest, but they're certainly impressive and well worth a visit.
You'll find them in a park in the Georgetown neighborhood- literally a stones throw from the Geogetown Mansion. The 44-foot hat and 22-foot tall boots are located at 6427 Carleton Ave S, Seattle, WA 98108, and are a convenient stop between other destinations on this list.
Location: The Hat and Boots, iconic former-roadside sculptures, are located in Seattle's Georgetown neighborhood, just a few miles from the Georgetown Trailer Park Mall and within easy walking distance from the Georgetown Mansion.
What to Expect: Expect to see large, iconic roadside sculptures reminiscent of 1950s Americana. They're a little run down, but still worth a stop if you're in the neighborhood. Think of it like a quick photo opportunity rather than a day-long attraction, so set expectations for a brief, nostalgic experience.
3. Explore the Shops in Georgetown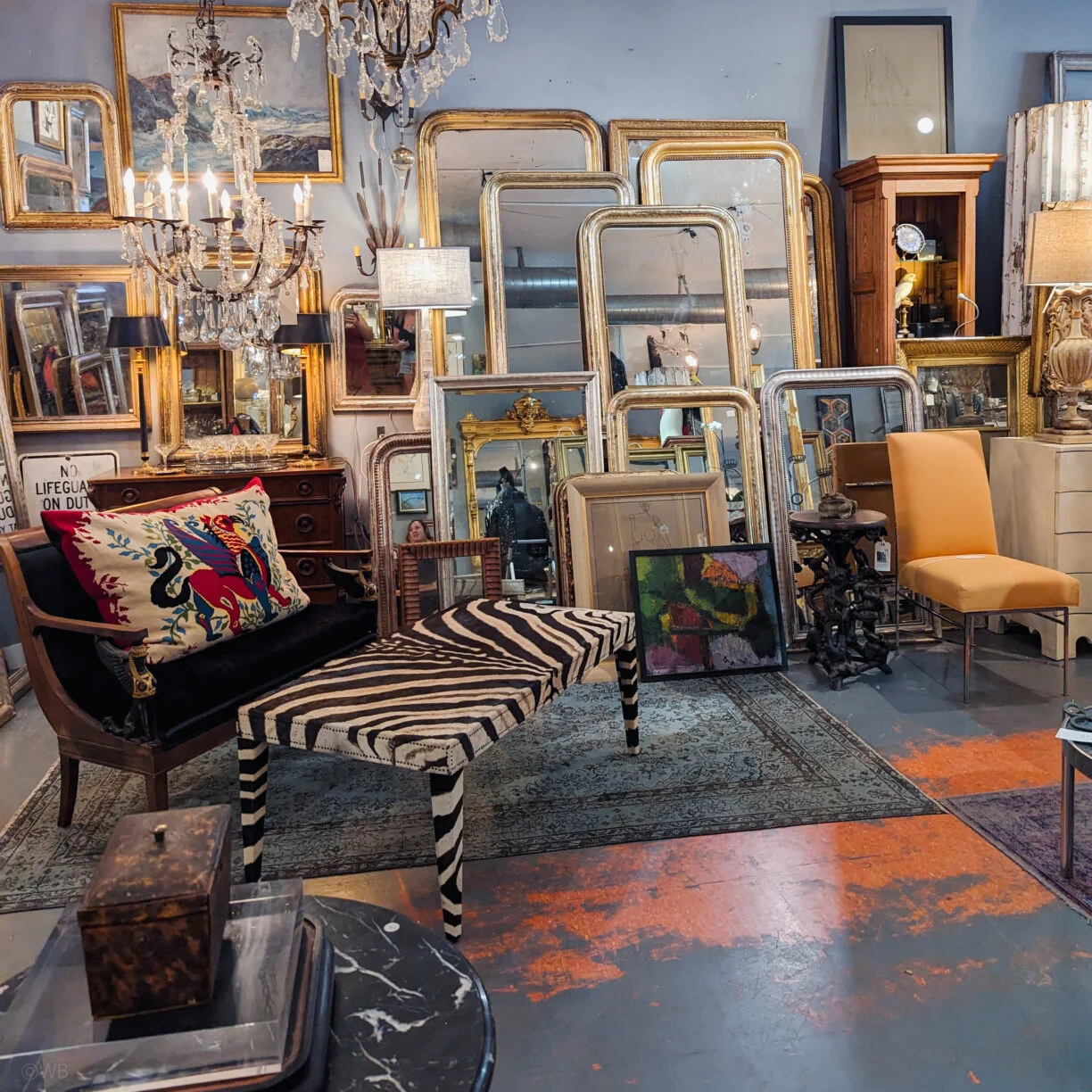 Antique shops and home decor stores make a strip of fun shops to explore in the Georgetown neighborhood. You can find treasures at every price point. During my visit, I enjoyed picking up a few small but beloved objects at a reasonable price (perfect for Seattle souvenirs), and it's been really fun to explore home goods way above my price point – like these mirrors which each started at around $1000 each!
A fun part of this strip of shops is the diverse price points, which keeps shopping there fun and accessible.
On any weekday or weekend, you'll find a number of shops and design galleries open for browsing, and a few interesting shopkeepers to spice up your visit.
Snacking in Georgetown
Once you've explored a bit, you'll be ready for a pick-me-up. And Matcha Man Ice Cream & Taiyaki is the perfect midday treat. While you'll find traditional ice creams and waffle cones at this shop, the true treasure is the vibrant and delicious ube-flavored soft-serve ice cream, which you should definitely pair with a housemade taiyaki – a Japanese fish-shaped pastry that's crisp on the outside and fluffy on the inside.
3. Visit Georgetown Castle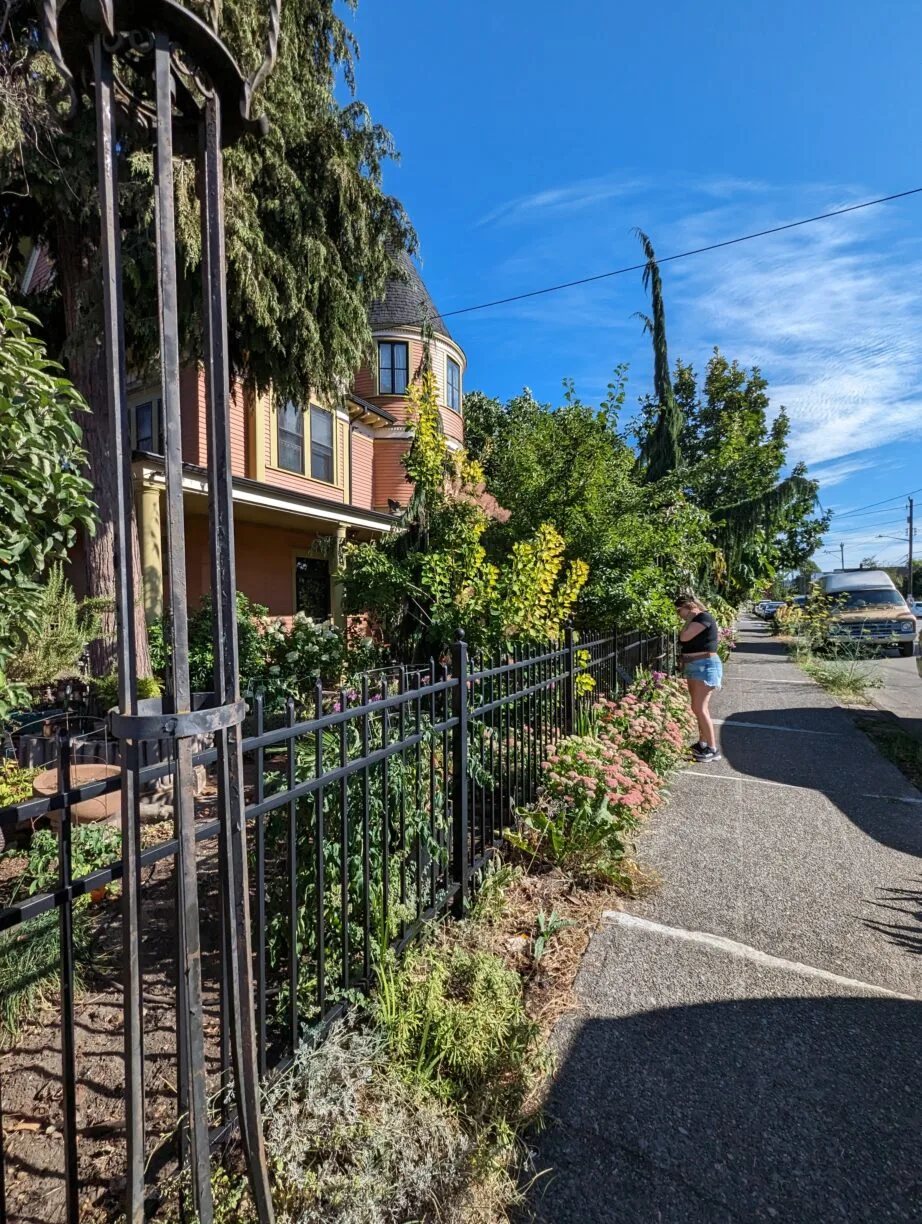 While you're in the neighborhood, be sure and check out Georgetown Castle, which Atlas Obscura describes as an "allegedly haunted mansion with a tragically tawdry past." Technically the Gessner mansion, this castle-like house was once a casino, brothel, and is now a family home.
Unfortunately, the house is not open for tours, but is visible from the street.
Location: The Georgetown Mansion is just a 10-minute walk from the Georgetown Trailer Park Mall and only about a half block from the giant hat and boots.
What to Expect: While it's no castle in a traditional sense (indeed, outside the Pacific Northwest it likely wouldn't even qualify as a mansion), it's definitely worth a visit on the way to behold the iconic cowboy hat and cowboy boots sculptures of Oxbow Park.
During my visit in the fall of 2023, the "castle" was surrounded by a delightfully overgrown garden, populated with spooky design objects. At the house beyond the perimeter gate, we briefly caught a wisp of a glimpse of a ghostly figure passing a window! While probably just a figment of our imagination, it certainly provided an entertaining topic of conversation for the rest of our day in Georgetown!
The following section may contain affiliate links. As an Amazon Associate, we earn from qualifying purchases.
Where to Stay in Georgetown
Georgetown is a fun neighborhood to explore for Seattle locals, but if you're visiting from outside the city, I recommend checking out the Georgetown neighborhood apartments listed on booking.com, For travelers who want to experience an authentic Georgetown historic space with a mix of comfort and affordability, check out Georgetown Inn Seattle.
Getting There and Parking tips
This Seattle staycation itinerary adventure is made up of about 10 different locations within the heart of Seattle. Although all of these locations are located within a three-mile radius, walking the full itinerary could be challenging, especially for families with kids.
I recommend navigating by rideshare or by public transportation in order to eliminate the hassle of finding parking in each location.
Printable Itinerary
DOWNTOWN SEATTLE HOME-VENTURE (Downtown + Georgetown)
9:30 meetup at Moore Coffee on 2nd Ave for fancy purple lattes (or green. Or, IDK, brown if you're boring)
(2nd Saturdays only) 10am free tour of Moore Theater ("it doesn't suck, it's actually really cool," says an authoritative source) – arrive early, the group enters at 10.
NATIONAL PARK downtown. Yes, it's a thing! FREE Klondike Gold Rush National Park
UPS Waterfall Park – FREE & next door to the "park" above.
FOOD – Lunch at Juno @ at the Artic Club (the walrus building!) Be sure and visit the 2nd floor ballroom.
FOOD #2 – Orient Express + visit to F. D. Roosevelts train car
Georgetown Trailer Park Mall's independent shops.
QUIRKY SIDEQUEST – "Hat N Boots" 6427 Corson Ave S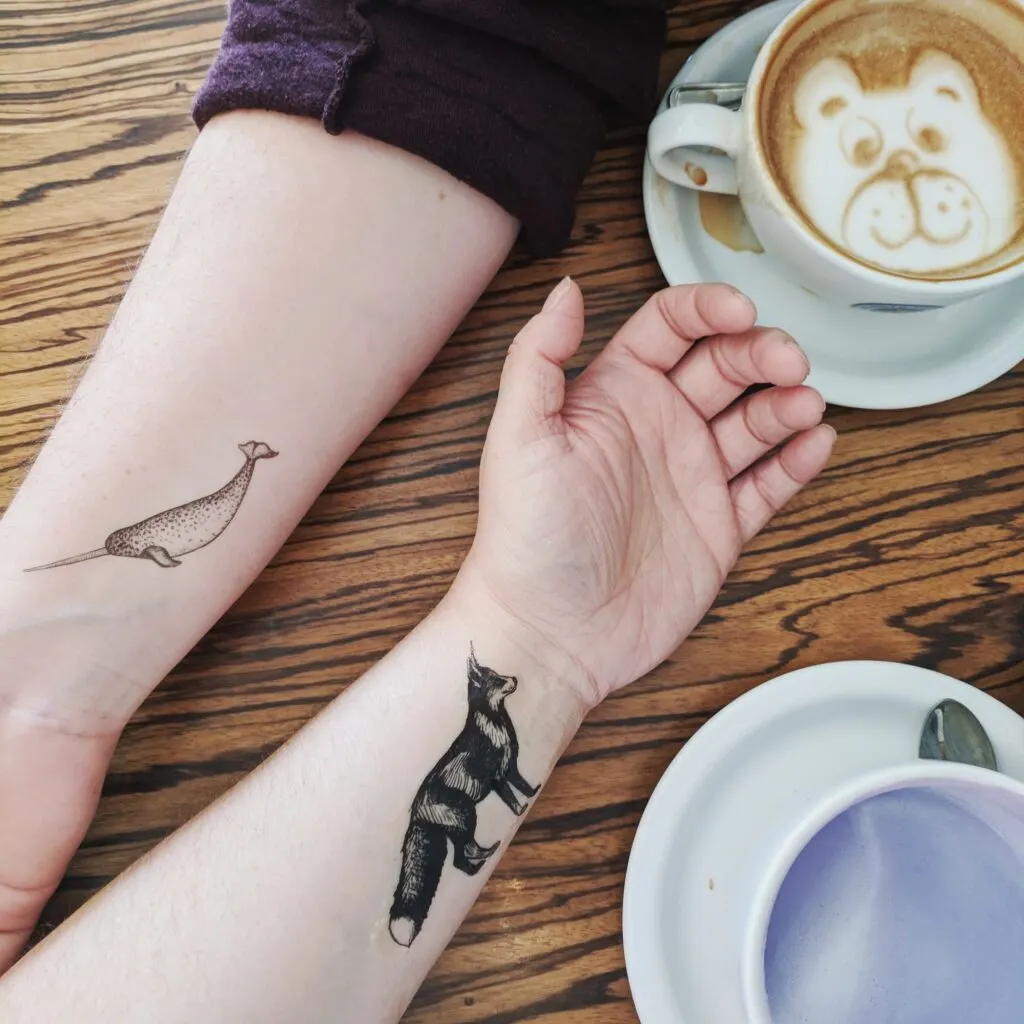 Why I Love Urban Exploring In Seattle
When I initially moved to Seattle, typical tourist things were a fun way to spend my weekends. With new friends or sometimes by myself, I visited Pike Place market, the space needle, Bainbridge Island, and the Ballard Locks.
Over time, my trips expanded to the favorite destinations of Seattle locals, like the San Juan Islands and Whidbey Island.
Recently, however, I've been enjoying exploring obscure, off the beaten path adventures in the heart of Seattle. My Seattle day trips series catalogs staycations and adventures that lie within an hour or two of Seattle proper, but today's itinerary keeps the fun right within the heart of Seattle.
Taking Hyper-Local Adventures
Often, we miss out on fun things to do because they seem, well, ordinary! Faraway destinations – or even the PNW islands a few hours away – beckon us with adventure. Sometimes, though, in our excitement, we miss the really interesting, unique, and fascinating things in our own backyard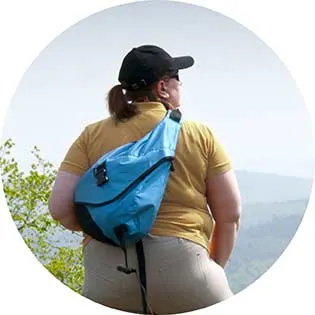 Lynli Roman's unique approach to travel is informed by decades of experience on the road with a traveling family and, later, years spent as a solo international traveler. When she's not writing about Seattle from her Pike Place Market apartment, Lynli writes on-location while conducting hands-on research in each destination she covers. Lynli's writing has been featured by MSN, ABC Money, Buzzfeed, and Huffington Post. She is passionate about sharing information that makes travel more accessible for all bodies.