Bainbridge Island is a popular destination year-round for Seattle tourists and locals alike- but visiting Bainbridge Island at Christmas is a unique treat that comes around only once a year.
Read on to learn more about what to do, where to go, and how to eat your way towards the best parts of Christmas on this Pacific Northwest gem.
Why I Love Bainbridge Island at Christmas
As a long time resident of downtown Seattle, Bainbridge Island at Christmas time always feels more like time travel than simply a skip across the water. Exploring Bainbridge Island is fun year-round, but when Christmas comes around there are two Seattle essentials I always, always hit: my Christmas at Pike Place Bucket List, and a Saturday spent on Christmas-themed adventuring on Bainbridge.
Things to Do:
If you have the opportunity to visit Bainbridge at Christmas here are my top activities you shouldn't miss:
Start the Day at Pegasus coffee
Pegasus coffee is an old coffee shop and café on Bainbridge Island with a chic country-cool vibe that could inspire any aspiring writer to start the next great American novel. With coffee, local kombucha on tap, a great daily menu, and a heated outdoor seating area, this ivy-covered building is always my first stop when I arrive on Bainbridge Island by ferry. Click here for the Google Map Location or tap to add this google plus location code: JFCH+WC Bainbridge Island, Washington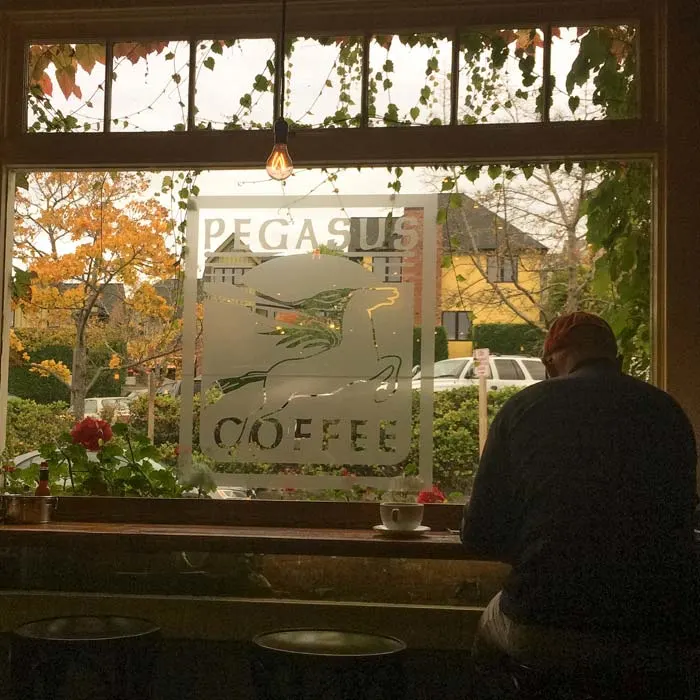 Roadside Holly Stands
If you've got a car and coffee, head out of Winslow down Bainbrige's meandering highways for some roadside farm stand Christmas shopping. Heading out in no particular direction, you're likely to find yourself on country highways populated with the occasional handmade sign advertising farm stands and their seasonal offerings.
In December, this means Christmas decorations ranging from loose boughs of holly (to take home and DIY into a homemade wreath) to finished handmade wreaths made with live local Fir, Spruce, and Holly. Many of these farm stands may also include crafts, handmade ornaments, or even candles and they typically operate on an honor system – leave your payment in the secure box that usually sits in the small huts that serve as roadside farm stands.
Find this charming holly sign and its tiny roadside shop by following this google maps link or tapping this google location plus code: JFH6+G4 Bainbridge Island, Washington
While you're on the road: see how many Christmas-Tree-Laden SUV's you can spot. If you visit Bainbridge Island at the peak of the Christmas season, this can be a delightful thing to notice- and if you're traveling with kids, it can be a fun game to see how many tree-topped cars and SUVs your family can spot.
For more of my favorite things to do in Seattle, follow me on Pinterest:
Blackbird Bakery
After a bit of adventuring, you may have worked up an appetite and the seasonal desserts at Blackbird Bakery make a good mid-morning or mid-afternoon snack. Positioned right on Main Street in Winslow, Blackbird is a great stop while windowshopping the many charming Christmas window displays along Main Street.
Mom and Pop Toy "Shoppe"
Speaking of window displays, be sure and pop into the Calico Toy Shoppe. These days, toy stores are few and far between, but there's nothing quite like the experience of browsing toys, playing with displays, and purchasing a special Christmas present for a child in your life from a locally owned toy store. Dramatic displays and an extensive collection of fun-for-adults-too toys make this shop one of my favorite stops.
Lunch at Hitchcock Deli
For a quick lunch that will keep you exploring, check out Hitchcock Deli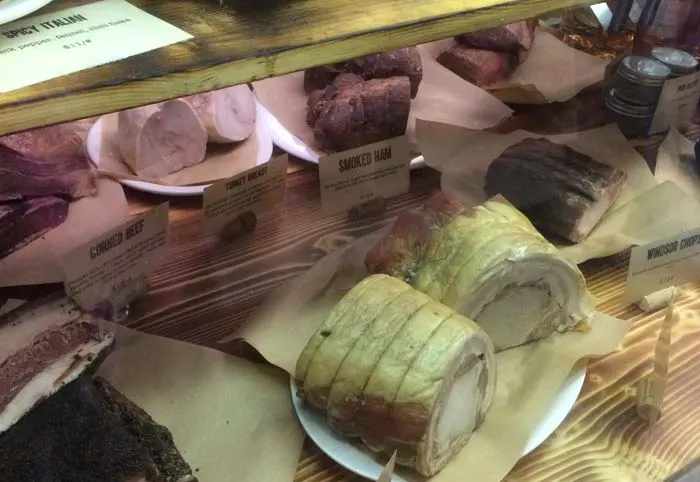 Christmas Tree Farm
Even if you aren't in the market for a live Christmas tree, visiting a Bainbridge Island Christmas tree farm should make your list of things to do on Bainbridge at Christmas time. If you're visiting on a weekend, aptly named Christmas Tree Farm on the north end of the island offers an assortment of activities, photo ops, and of course, Christmas trees and wreaths.
The uniquely charming decorations of this Pacific Northwest Christmas tree farm are worth seeing. A Santa Claus photo op and homemade cider for sale are a fun bonus. (Hint: if you're visiting a bit early for peak Christmas tree farm festivities, try nearby Suyematsu Farm Pumpkin Farm for autumn-themed fall fun.)
Find it with this google maps link or google location plus code: MCPR+23 Bainbridge Island, Washington.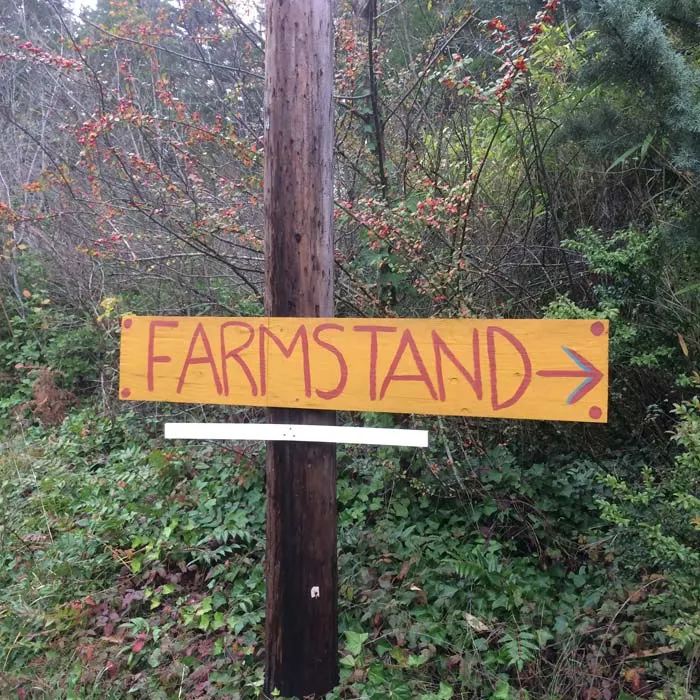 Hiking or Horseback Riding on Bainbridge
Although daylight on Bainbridge Island at Christmastime is brief, you can maximize daylight and (hopefully!) sunlight by packing in some outdoor activities before the sun starts to fade around 3:30 or 4 PM.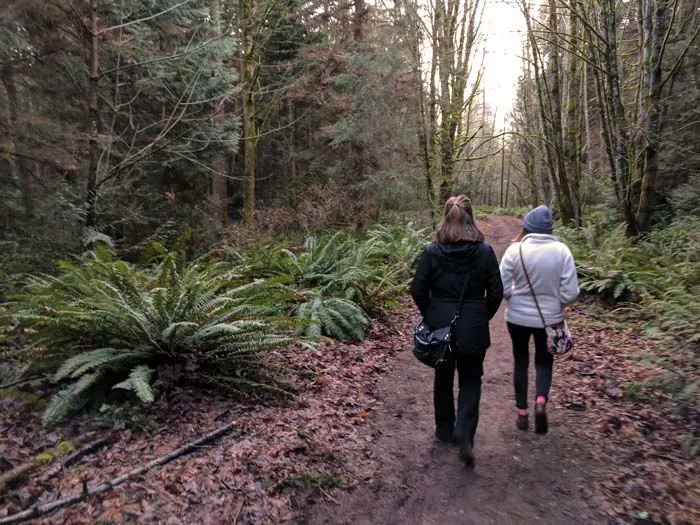 Hiking: For casual or last-minute trips, an easy hike out and back on Gazzam Lake Park and Wildlife Preserve Trail can be a fun way to get some fresh air and sea views before the sun sets. Click here for the google map or tap the google location plus code: JCFM+XC Bainbridge Island, Washington
Horseback Riding: Unlike metro Seattle just across the water, Bainbridge has a thriving equestrian scene. A number of riding stables offer beginner friendly lessons for a reasonable price. Consider calling ahead to book a horseback riding lesson.
Several stables on Bainbridge Island feature the charming high-style elegance of the Pacific Northwest equestrian aesthetic and many have safe, beginner-friendly horses and covered arenas for year-round riding. It's an adventure sure to make a Bainbridge Island Christmas trip memorable for couples, families, and friend groups! Countryman Stables and the Bainbridge Island Riding School are two well rated options.
Nighttime Christmas Lights on Bainbridge
No Christmastime road trip would be complete without a bit of a side-quest to explore neighborhoods lit with festive Christmas decorations. While decorated homes can be found in almost any neighborhood, the more suburban-type neighborhoods of Bainbridge Island (compared to Seattle) often embrace a more extravagant Christmas decorating season – with notable houses going all out for a truly National Lampoon's Christmas vacation-style extravagance.
Find recommendations for the best Christmas decorations by check out the local newspaper when you arrive or asking in local cafes for leads or even printed guides.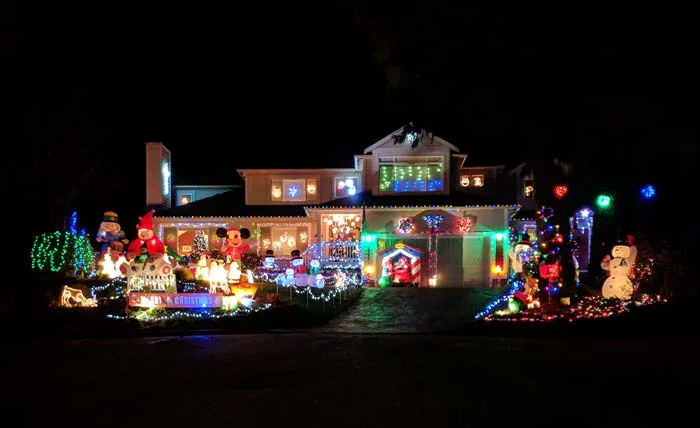 Puget Sound Boat Parade
Each Christmas, boat owners in the Puget Sound region gather to present a nightly parade of brightly decorated boats, yachts, and small ships. Although it's only visible from Bainbridge 1 or 2 nights of the holiday season, it's worth checking the calendar to see if your visit will align with the boat parade dates.
Getting There:
Visiting Bainbridge Island is an easy road trip from downtown Seattle – in fact, many of the most popular spots on Bainbridge don't even require a car- they are easily walkable from the ferry that crosses the Puget Sound every 20-30 minutes carrying passengers, cars, and bikes from Elliott Bay in downtown Seattle to Bainbridge Island's ferry terminal in Eagle Harbor.
Unsure how to drive on or walk on to a ferry No worries, I've got a guide to riding WSF Ferries.
Bainbridge Island is a perfect spot for tourists because all the main attractions are a short walk (on well-maintained sidewalks) from the ferry terminal.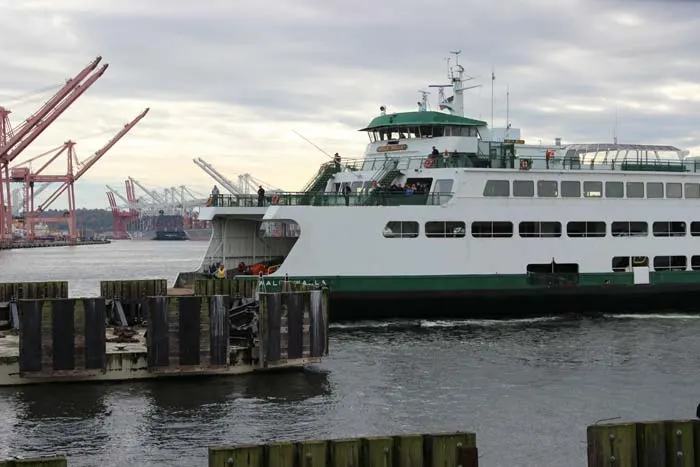 If you're interested in expanding your Christmas Bainbridge trip to include non-holiday activities, or if you find yourself on foot in Bainbridge without a car, you may also want to review my list of (all season) things to do on Bainbridge Island without a car.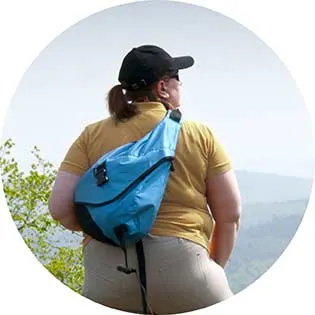 Lynli Roman's unique approach to travel is informed by decades of experience on the road with a traveling family and, later, years spent as a solo international traveler. When she's not writing about Seattle from her Pike Place Market apartment, Lynli writes on-location while conducting hands-on research in each destination she covers. Lynli's writing has been featured by MSN, ABC Money, Buzzfeed, and Huffington Post. She is passionate about sharing information that makes travel more accessible for all bodies.