Christmas is traditionally viewed as a time to spend quality time with friends and family, but we all know the Christmas-card-version doesn't always match reality. For many reasons (including conflicting work schedules, death of a loved one, estrangement from extended family, and other complications), many travelers find themselves looking for a destination for solo travel during Christmas.
I've found myself solo over a few Christmases due to family tensions and conflicting work schedules. In my early 30s, I often used these opportunities to book lucrative Christmas housesitting and dogsitting gigs, which I used to fund off-season travel. In recent years, however, I've been more open to spending Christmas as a solo traveler in an international destination.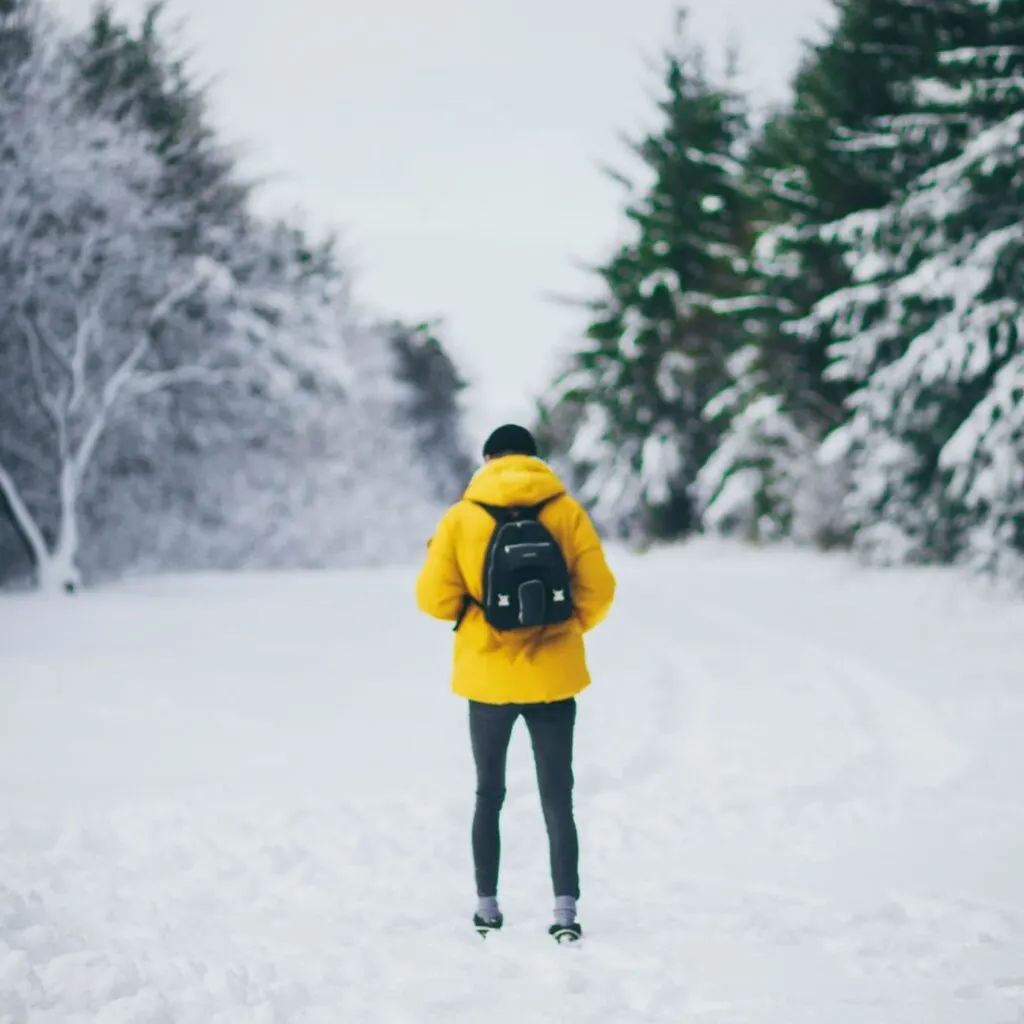 Choose What kind of Solo Travel Christmas Trip You Want
Before picking a destination, it's important to consider your motivations and hopes for your trip. Choosing the best destination for solo travel over Christmas depends on your travel style and your general attitude towards Christmas. Plans to pass the holiday adventuring in a far-off destination may look very different depending on your goals:
1. Christmas Solo Travel to Catch the Holiday Spirit
Some travelers may revel in the Christmas season despite the emotional complications of being alone. For solo travelers who want to revel in the Christmas spirit at their destination, there are plenty of destinations where travelers can participate in collective celebrations.
2. Christmas Solo Travel to Forget it's Christmas
Some travelers struggling with being a solo traveler over Christmas may prefer a destination that makes it easier to forget that it's Christmas. These travelers may prefer destinations where Christmas isn't celebrated or is a less important holiday. Nations that have primarily non-christian religions may be better destinations for trying to forget about the holiday while leaning into the adventure of solo travel.
A note on visiting Christmas markets for Christmas solo travel
Germany and Austria's world-famous Christmas markets inspire many Christmas travelers. Located in major cities throughout Europe, these Christmas markets are exceedingly popular, but they are also closed on Christmas Day. Because of this, they may be disappointing to a traveler looking for things to do on Christmas Day.
Best destinations for solo travel at Christmas:
Budapest, Hungary
If your Christmas travel seeks to strike an even balance between avoiding Christmas and getting a good dose of Christmas cheer, Budapest, Hungary may be a good choice. Why? Budapest features traditional European architecture and many great Christmas markets. Unlike most European cities, however, Budapest boasts world-famous geothermal-heated baths and spas. The most famous of these spas are open on Christmas Day.
Looking for more to do in Budapest? Read about my visit to the Budapest Zoo.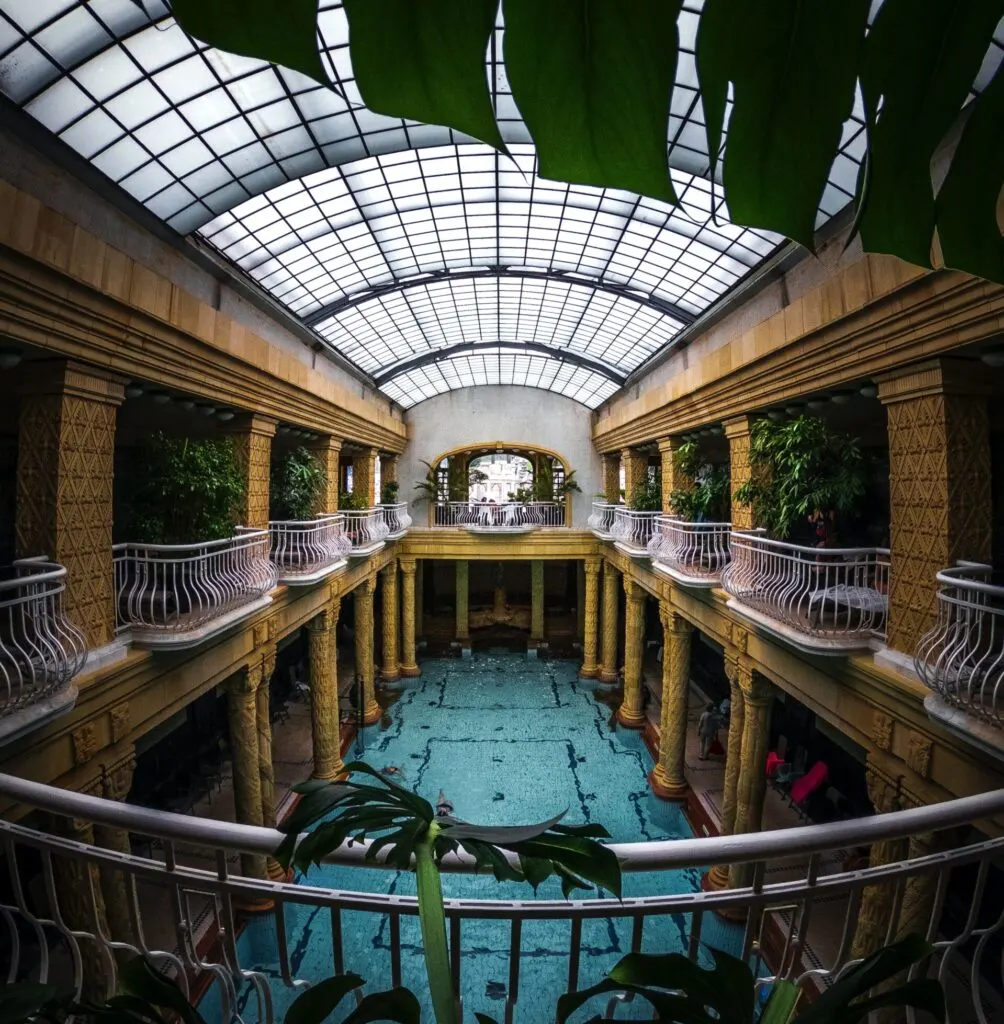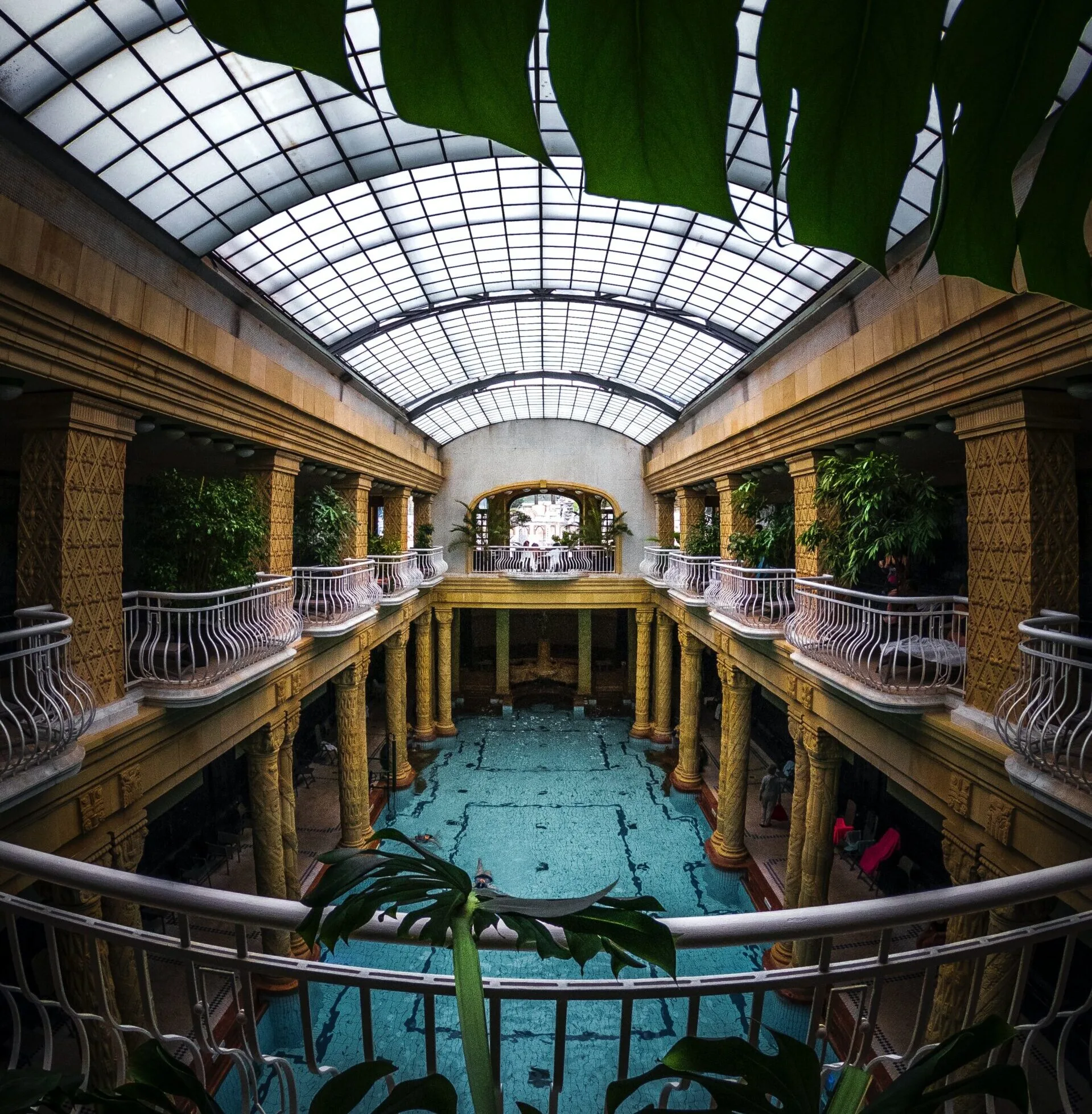 Istanbul, Turkey
As a Muslim country that is popular and generally welcoming to Western tourists, Istanbul may be a perfect destination to spend a Christmas solo traveling. Although Turkey does not celebrate Christmas as a national holiday, the Turkish new year is a significant holiday in which the "Noel Baba" is said to bring gifts to children. Istanbul is a good destination for solo travelers because a high percentage of Turks in Istanbul speak English. This makes navigating the city a little easier.
Similarly, Traveling to Bosnia during Christmas may be a good option. Although Bosnia has a larger percentage of Christians in its population (making closures on December 25th more likely), Bosnia is religiously diverse. It offers Western tourists the benefits of travel within the European Union.
Bali, Indonesia
If you dream of white beaches and tropical waters for your Christmas solo travel, try Bali.
Bali is the most popular travel destination in the Indonesian archipelago. It's home to stunning beachfront resorts. Indonesia's population is 87% Muslim, meaning Christmas is not widely celebrated. You can expect that most businesses and tourism-related organizations will be open on December 25. Here is some advice on deciding whether a resort vacation is right for you.
Washington State Islands
If your ideal Christmas is secluded in a cottage with snacks, a good book, and an angry winter sea crashing onto the shore outside your backdoor, consider a holiday spent on the coast of Washington State.
While large family-friendly Airbnbs book quickly for the December 25th holiday, small, remote cottages tend to remain empty. This makes it easy to snag a deal on a few days over Christmas in a secluded beach house. Bainbridge Island, Lopez Island, and Whidbey Island are all PNW options for traveling alone during Christmas. Even getting to the San Juan Islands from the Seattle Airport without a rental car isn't difficult.
Choose the Pacific Coast of Washington or Oregon for brooding, crashing waters and lots of fog, or inland Puget Sound islands for a bit more peaceful waters. A Christmas stay on Bainbridge Island pairs well with a just-before or just-after-Christmas solo trip to Seattle, where you can check off all the must-do things on my bucket list for visiting Pike Place Market at Christmas. Bonus: Seattle almost never dips below freezing even in December. You'll stay warm (though likely a bit wet) through your Christmas visit.
Eastern Europe
12% of the world's Christians celebrate Christmas in early January. Nations that have Eastern Orthodoxy Christianity as their primary religion are likely to be business-as-usual on December 25. Countries where Eastern Orthodoxy is common include Belarus, Bulgaria, Cyprus, Georgia, Greece, Moldova, Montenegro, Republic of North Macedonia, Romania, Russia, Serbia, and Ukraine
Unlike most of the world which celebrates Christmas on a Gregorian calendar, these nations celebrate Christmas according to the Julian calendar (used by the Eastern Orthodox Church), which places Christmas day on January 7. If you visit an Eastern Orthodox nation the week of December 25, you'll find all the major attractions and points of interest open for visitors.
Final Thoughts on Christmas as a Solo Traveler
Solo travel over Christmas can be a time to recharge, get away from the stresses of home, and experience Christmas celebrations (or the lack thereof) in another culture. If you find yourself expecting to spend Christmas solo, consider booking a ticket to make it a solo travel adventure.
Packing List for Christmas Travel
Planning a destination is just part of the fun of travel! Before you can head off to your destination, you'll face the challenge of packing.
You've made a list and checked it twice, but it's not a list of who's naughty and who's nice. Instead, it's a packing list for your upcoming Christmas travel! Spending the holidays away from home is an exciting adventure, and with a bit of planning and the right packing list, you can bring the joy of the season with you wherever you go.
If the Christmas holidays have you far from home this year, then there are a few essential items you should bring with you to help make the season merry and bright. Here are the top seven things to include on your packing list for Christmas travel!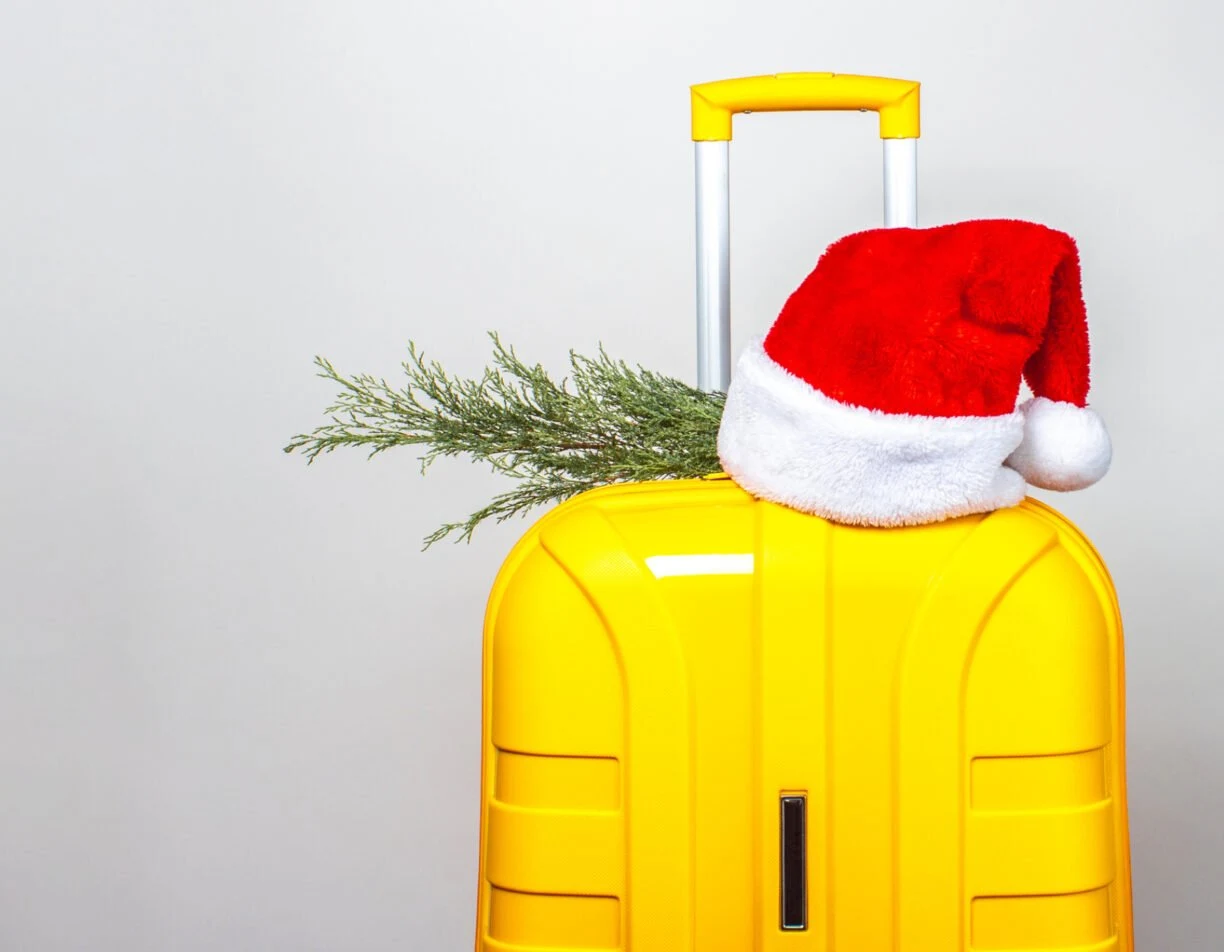 1. Appropriate (and Accessible) Clothing 👚
Traveling in the wintertime can be a challenge for a small suitcase. If you're traveling somewhere cold, you have to cram in all the coats, scarves, gloves, and hats that you'll need. This is especially true if you're leaving a warmer climate for a white Christmas destination. Make sure to keep your warm winter clothing accessible so that you can access it as soon as you land at your destination. Nothing ruins Christmas travel like catching a cold on the first day of your trip!
The opposite can be a doozy, too. If you're traveling from a cold place to a warm one to celebrate a tropical Christmas, you'll have to find a way to stow your coat after you get to the airport. Think ahead, and leave a bit of space in your checked bag (if you have one) to stuff your coat in before you board. That way, you'll be free to soak in the sun as soon as you arrive.
💡 Hint: Coats always fly free on airlines. If your luggage is bursting at the seams, just carry your coat over your arm onto the flight and tuck it into any open space in an overhead bin. Parkas, hats, umbrellas, personal pillows, food, and assistive/medical devices can be carried separately and don't count as hand baggage.
2. Essential Cold Weather Clothing 🧥🧣🧤
Here are some of the most important clothing items to bring with you if you're traveling to a cold winter destination this Christmas:
A Sturdy Winter Coat 🧥: Your coat is an investment piece, which means that going for quality will always pay off.
Warm Base Layers 👚: These are the layers and layers under your coat. They help trap warm air close to your body, and they allow for versatility in case the cold weather eases up a bit.
Thick Socks 🧦: Warm woolen socks are the best option for keeping your toes warm in cold weather. Plus, they're great for staying cozy when you're snuggled up inside, too!
All the Accessories 🧤: Never underestimate the power of a warm hat, scarf, and gloves. They may seem small, but they're certainly mighty when it comes to combating the cold!
3. Gifts! 🎁
Gifts are often the highlight of Christmas celebrations, no matter what your destination. Christmas travel can make exchanging presents a bit more difficult, especially if you have a limited amount of space on your packing list. Opt for small gifts (or even gift cards) to accommodate your Christmas gift exchange away from home. Make sure to include gifts for your hosts or anyone that you'll be visiting during your Christmas travel, too!
If there isn't any space at all in your luggage for Christmas gifts, try organizing a destination gift exchange instead. Each person in your traveling party draws the name of another person, either right before the trip or on the first day of your Christmas travel. Then, they have to find a gift from the destination to give away. It's a great way to get souvenirs for everyone, and it makes the memories of the trip stronger. Just make sure to save a little space in your bag to carry your gift home!
4. Small Decorations 🎄🎅
Stash a wreath, some small knick-knacks, or a stocking or two in your suitcase. These small touches will bring a lot of Christmas cheer to your hotel room or hostel, and they'll brighten the space where you'll be spending the holiday! Use these small decorations as inspiration while you're souvenir shopping; what new things will you find to add to your traditional Christmas decorations?
For more ideas, you can read my article on 6 ways to decorate a hotel room for Christmas.
5. Important Ingredients 🍪🍫☕
Food is a key element of any Christmas celebration. There will be so many new seasonal foods and drinks to sample at your destination. And while you can't include a whole Christmas dinner on your packing list, you can strategically pack some of the most important ingredients to get the taste of home. For me, that's always a packet of Hot Toddy Spice Mix from my favorite Pike Place Market spice store.
For example, you can bring a packet of your favorite winter coffee blend to brew at the hotel. Or, you can bring some spice mixes from home that really capture the flavor of Christmas. These little sensory reminders of home can make you feel cozy and cheerful, no matter where in the world you are.
6. Cash 💵
The holiday season is one of the most expensive times of the year to travel. Everything from transportation to accommodation to food prices tends to rise. At the same time, many banks are closed during the holiday. This means that if you have an issue with your credit or debit card during your Christmas travel, it could be difficult, maybe even impossible to get customer support from your bank.
That's why it's a good idea to have some extra cash on hand. This way, if you have an issue with your card or if there's an unexpected expense, you'll be ready to take care of it without having to deal with a bank closed over the holiday. Keep this cash in a safe place, like the liner of your suitcase, to avoid theft or loss.
7. A Connection To Home 🏠
We're talking about more than just a cozy heartstring connection here. Before you set out for Christmas travel, make sure that you have a reliable way to contact friends and family members back home. These days, there are countless apps that offer voice and video calls for free: all you need is an internet connection.
Plan ahead and block out some time for these Christmas Day calls. Make sure that you'll have access to a reliable wi-fi network. If you don't think you'll be able to find a stable internet connection, talk to your service provider about roaming or international data plans that can accommodate your holiday calls.
8. Christmas Cheer! 😀
A heart full of love, joy, and Christmas cheer is the most important thing on your packing list. Christmas travel is a special experience that comes with so many new and exciting things to see, taste, and hear. While you may feel a twinge of homesickness now and again, a quick look around and within can remind you of the peace and happiness that characterize the Christmas season, no matter where you may find yourself!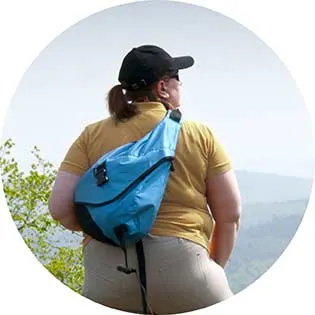 Lynli Roman's unique approach to travel is informed by decades of experience on the road with a traveling family and, later, years spent as a solo international traveler. When she's not writing about Seattle from her Pike Place Market apartment, Lynli writes on-location while conducting hands-on research in each destination she covers. Lynli's writing has been featured by MSN, ABC Money, Buzzfeed, and Huffington Post. She is passionate about sharing information that makes travel more accessible for all bodies.