One of the most exciting parts of celebrating Christmas can be putting up the decorations around your home and basking in the cozy glow of the candles and lights. But what if your Christmas plans take you away from home and you have to stay in a hotel for the holidays?
There are several ways to make your hotel room feel just as comfy as your own living room. Here are six tips to easily decorate a hotel room for a cheery and bright Christmas celebration away from home.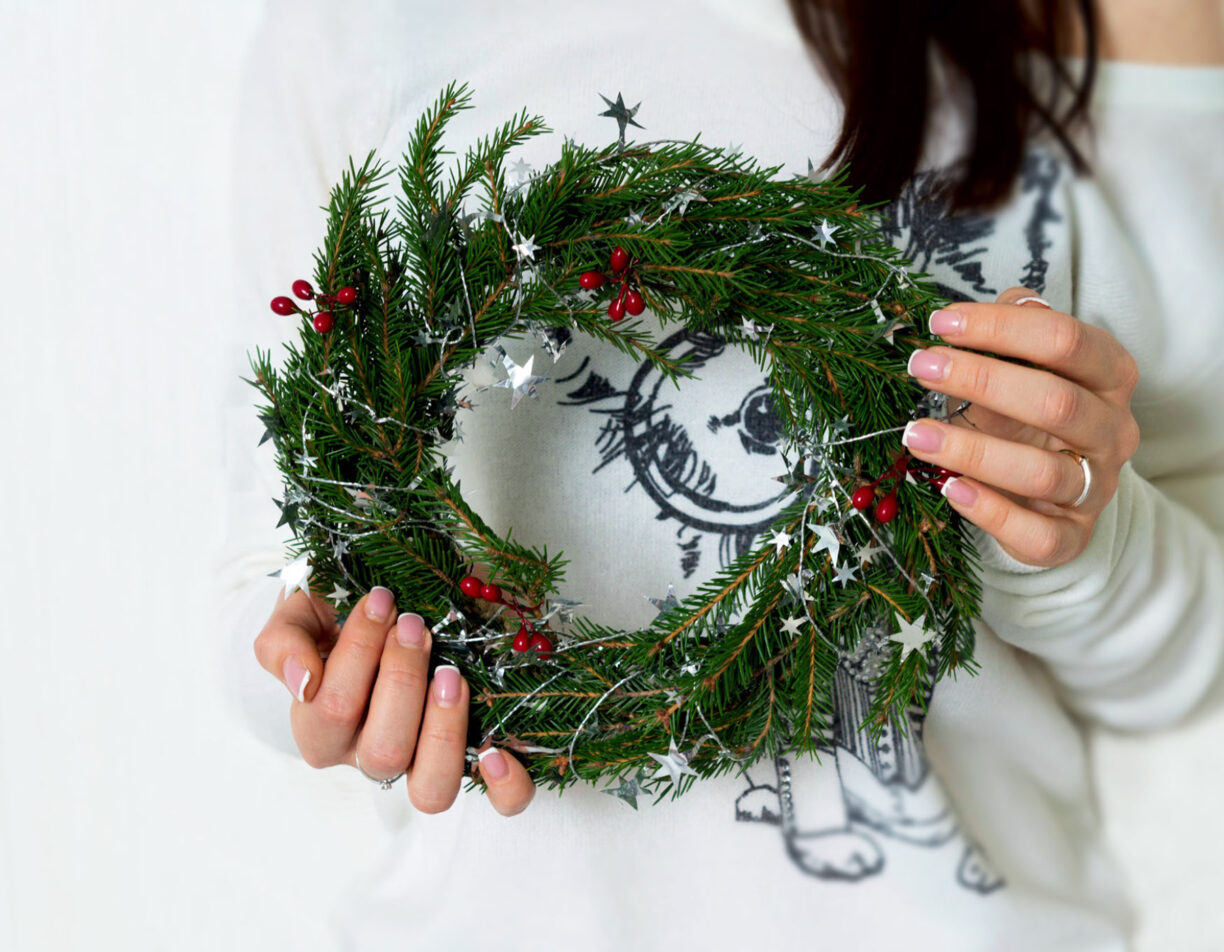 1. 🎄 Easy to Pack Christmas Decorations for Your Suitcase
Small pieces of traditional decorations strategically placed around the hotel room can make a big difference. For example, you can easily pack a wreath and/or your family's Christmas stockings in your suitcase and find prominent places to hang them once you arrive.
Stockings – Stockings fold down flat, and they're usually the centerpiece of at least one Christmas morning tradition! You can easily hang stockings from a dresser drawer by simply tucking them in and closing the drawer tight. Or, you can use tiny over-the-door hangers to display the stockings on the TV unit. This keeps the stockings front and center, which helps give the whole room a more home-like feeling.
Wreaths – A wreath looks great on the front door of your hotel room, and it's a welcome sight when you're coming "home" for your celebrations. Or, you can hang a wreath from the closet door if you want to keep all your decorations on the inside of the hotel room. Bring an over-the-door hook so that you can mount the wreath without doing any damage to the hotel door or walls.
Nativity Sets – Other small yet significant decorations that you can fit into your suitcase include a small nativity set, or an advent calendar, and/or Christmas cards from friends and family. All of these are likely central to your joyful decorations at home, and their small and packable size make them a perfect addition to your hotel decorations, too.
Christmas music and holiday clothing are also great ways to get into the holiday spirit without leaving your hotel room.
Holiday Food – Every family has special foods unique to their family traditions. If you'll be spending Christmas on a cruise, in a hotel room, or outside the USA in a hostel or Airbnb, you might not have access to these foods. Help your family find comfort in christmas food traditions by packing your special dishes (or ingredients to make them!) if possible. Cooking food in a hotel room can be challenging, but it's do-able!
A Portable Speaker (or plug into the alarm clock on the bedside table) can make it easy to play Christmas music to keep the mood festive. Wear your favorite Christmas pajamas or ugly sweater to get in the Christmas mood!
2. Make Christmas Decorations for your Hotel Room
There are plenty of things that you can expect to find in a hotel room that can also help you on your quest for cozy Christmas decorations. For instance, standard clothes hangers can become decoration hangers, and fluffy white towels can become the snow-laden ground of a Christmas village or nativity scene. Get creative with the things you find in your hotel room to help make hotel room Christmas mornings magical for your youngest travelers!
Sterile hotel rooms don't always give us a lot of materials to work with, so consider bringing simple craft supplies from home. If you are staying in a hotel room at Christmas with kids, you can help your kids, at home, to make ornaments to bring. Alternately, you can pack red and green construction papers, scissors, and tape to help your kids make decorations for the room once you arrive.
3. Ask The Hotel For Help Decorating your Room for Christmas
If you can't bring or make enough decorations for making your hotel room feel like Christmas, you can ask the hotel staff for a bit of help.
Many hotels go all-out decorating the lobby and common areas of the hotel for the Christmas season. Chances are, they'll have extra decorations to loan to help make your room a Christmas wonderland that will help adults and kids feel like celebrating the season! In many cases, you'll find that the hotel staff is eager to join in on the fun of creating a festive atmosphere in the room.
🎄 HINT: Hotels staff are often extra busy during the christmas season. Rather than springing your request on them at check-in, last minute, plan ahead. Online booking often includes a "special requests" section. Enter a message like this to get free upgrades to Christmas decorated hotel room: "I'm a Super-bonus besty-best rewards card holder staying over Christmas. My 4-year-old is sad about staying in a hotel on Christmas. If it's possible, please provide some christmas decorations in the room to help us make Maisy's Christmas morning special!"
4. Christmas Lights Make Great Hotel Decorations
Easy to pack or order-in-advance for hotel delivery, twinkle lights are an easy way to make a hotel room cozy and bright- anywhere you hang these colorful lights will instantly feel christmasy.
Christmas lights are one of the decorations that can single-handedly take a space from "standard" to "festive" in a matter of minutes! It's amazing how much difference one string of Christmas lights can make. They pack pretty easily, and you can hang them on any of the furniture in your hotel room.
🎄 Hint: Use clothes hangers from the closet to help hang lights in your hotel toom room, for the full Christmasy effect! (Just don't hang anything from the fire sprinkler system!)
To help your hotel room feel more Christmassy, you can also use the lighting that's available in the hotel room to create a comfy, cozy atmosphere. Avoid using the overhead lights; instead, opt for bedside and table lamps to create a warm glow in the room. Coupled with strings of Christmas lights and hot cocoa, this low atmospheric lighting makes for a warm winter quality.
5. Use Natural Elements to Decorate your Hotel Room
You can source easy and charming Christmas decorations from the great outdoors, depending on where you're staying for the holidays. While this might be a challenge in a cruise ship state room, you can get creative! For instance, pine cones from the nearby woods or seashells from the nearby beach make for excellent natural Christmas decorations.
If you can't fit a Christmas tree in your hotel room, look around outside for evergreen branches. Collect a few branches and stand them up in a vase or tall glass: it's a tiny, make-shift Christmas tree! If you're not in a place with pine trees, feel free to use any of the local flora to make a small tree-in-a-vase.
🎄 Hint: Get creative! Once you've found something to use as a Christmas tree in your hotel room, you can make decorations as a group or family. Folding paper napkins into paper stars, twisting paper towels into garland, and using bottle caps from the room's mini-bar for ornaments can create a cosy homemade christmas.
6. Decorate with a Photographer's Eye
If you're decorating your hotel room for Christmas, then chances are that you may plan to take a lot of your Christmas morning photos right there in the hotel room. If that's the case, try to envision where the photos will be taken before you start decorating the room.
For example, if you know that your family will be opening Christmas gifts near the couch in the corner, focus most of your decorating efforts on that side of the room. Make sure that the area is well lit with warm light. Try to focus any bold and contrasting colors and decorations on that area as well, so that they really stand out in the photos.
You might not remember exactly how you decorated your hotel room while you were away from home at Christmas, but the photos will stay with you and your family for years to come. So, take a minute to think through the photos you'll take and focus your most picture-worthy decorations on that area of the hotel room.
Staying at a hotel for Christmas doesn't mean that you have to forfeit the comfy and cozy atmosphere of a festively decorated space! Traveling at Christmas is something many families enjoy. With creativity, careful packing, and perhaps some help from your hotel's staff, you can create a hotel room that will set the stage for a christmas-morning celebration that your family will remember for years to come.