As a country, Bosnia and Herzegovina doesn't frequently make lists of tourist hotspots, but the community of serious global travelers, Bosnia is known as an inexpensive destination that offers amazing food, warm hospitality, and unique cultural experiences- all without the crowds of popular tourist destinations. Thanks to its geographic location, it's a melting point of Western and Middle Eastern cultures.
In 2017, I had the opportunity to visit as a solo female traveler and I had an unforgettable trip. This list of 12 things to do in Bosnia are just a few of the many activities I found to do while I was visiting Bosnia that contributed to my unforgettable trip.
1. Drink Water from the Spring at Blagaj Monastery
This monastery built into a cliff at the source of the Vrelo Bune Spring is one of the most frequently visited spots in Bosnia & Hertozogvina, and it definitely makes my list of the best things to do in Bosnia. Tour guides will claim water sipped from the spring-formed river with a tiny brass cup will cure all your ails. While this claim might be purely folklore, visitors can try their luck by following the steps down from the mosque to drink from the spring below.
TIP: This religious site has some extreme modesty requirements for women. A large scarf is available at entry, or use your own Turkish towel (one of my top travel essentials) to fashion a skirt to cover bare legs or to cover bare arms.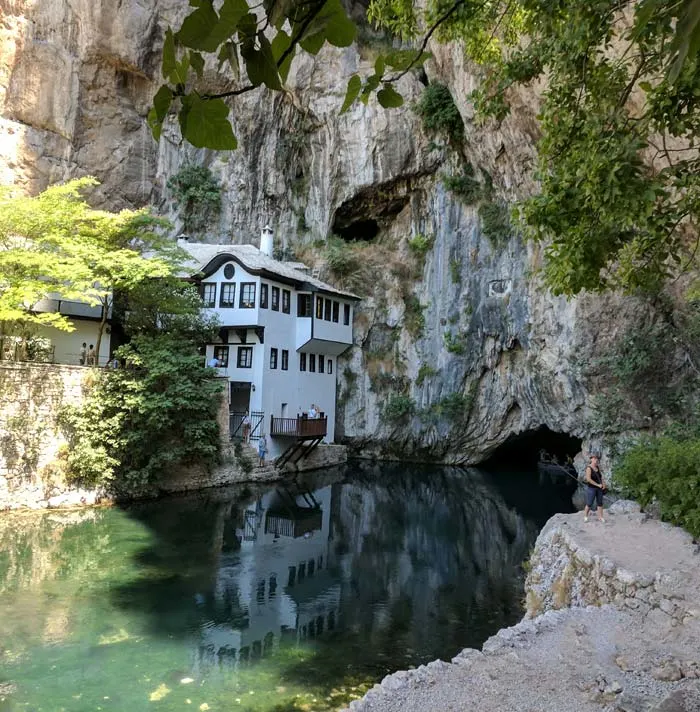 2. Enjoy a Slow Bosnian Breakfast
Breakfast is one of those meals that we tend to rush through during travel, but in Bosnia, a full breakfast is a treat to be enjoyed slowly – preferably outdoors in the shade, with a warm breeze. Although brunch restaurants aren't common outside of commercial areas catering to international tourists, many hotels and guest houses offer a traditional Bosnian breakfast in their dining areas or patios which are available to guests and non-guests alike (I learned in Ireland that this can be a great way to gain access to hotel owned patios, terraces, and gardens without having to pay the luxury-hotel nightly rate)
3. Swim in Kravice Waterfall
If you visited Plitvice National Park in nearby Croatia and were disappointed by the prohibition on swimming, the Kravice cascade of waterfalls should be the next destination on your list. At peak season, Kravice features multiple waterfalls falling from as high as 98 feet into a natural pool below. The swimming area at the base of the waterfalls, with surprisingly serene waters, is open to all who pay for entry into the park. In the absence of strict protections of the waterfalls, visitors can swim under and even climb up the waterfalls to splash, lounge, or dive if the conditions make it safe.
TIP: In peak season, this small body of water can be crowded with swimmers, you may wish to keep your head above water to reduce exposure of your eyes, ears, mouth, and nose to the untreated water. Check with your doctor before traveling to inquire about vaccinations that can reduce the risk of catching an infectious disease from potentially contaminated water.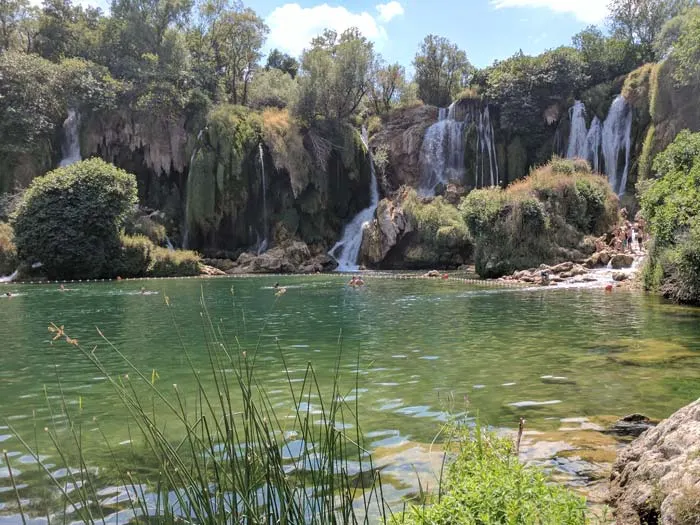 4. Eat Cevapi
This unique and mild sausage can be found everywhere throughout the Baltics, but its home is in Bosnia where Cevapi can be found on almost every menu. Traditionally cevapi are served with a fluffy flatbread called lepinja and topped with a sweet-tasting red pepper sauce called ajvar. Beloved by Bosnians, Cevapi can be found on menus from elegant restaurants to street food (a bit like the ubiquity of hamburgers on American menus), and trying this dish should definitely be on your list of things to do in Bosnia.
5. Visit the Stari Most Bridge in Mostar
Perhaps the most popular and most recognizable tourist destination in Bosnia is the Stari Most bridge in Mostar Bosnia is a relic from the 16th-century Ottoman Empire, rebuilt after the Bosnian War ended in 1995. Despite its popularity (it's the most famous tourist site in Bosnia- and many tourists visit via day-long group tours from Croatia) it's well worth a visit. The surrounding area of Mostar is one of the most hospitable regions I visited during my time slow traveling through Bosnia.
Tip: pack good shoes for visiting the bridge in Mostar. The stones that form the walking path of the bridge have been worn very, very smooth by the millions of people who visit this destination and cross this bridge every year. Even when dry, the bridge can be extremely slippery- especially if you are wearing flats or flip-flops.
6. Shop at the Baščaršija Market in Sarajevo
Although less well known to those of us who live in the Western Hemisphere, the Baščaršija market in Sarajevo with its historic Ottoman-style wooden fountain, Sebilj is one of my favorite markets I've ever visited. Filled with winding cobblestone streets that merge Middle Eastern aesthetic with an old European vibe, this market in Sarajevo embodies Sarajevo's reputation as a melting point of Western and Middle Eastern cultures.
The best souvenir to pick up this market? In this writer's opinion, one of the most unique buys- that you won't find mass-produced version of at every market around the globe are the hand-crank coffee grinders used to make Bosnian coffee. In the market, you can purchase these coffee bean grinders in both vintage and new varieties. With this tool, you can make authentic Bosnian coffee – or a typical American cup of Joe- when you get back home. Click here for more tips on souvenir shopping in markets like this.
7. Smoke Shiska
Smoking tobacco through a shish or hookah is a common shared cultural experience in Bosnia. In cities like Sarajevo, you'll find smoking bars where this tobacco can be enjoyed in its traditional form: from tubes connected to a large glass pipe on a table. For those with lungs strong enough to find this an enjoyable pastime, it can be a memorable way to mark an interesting and unique cultural experience in Bosnia
8. Stay at a Heritage Hotel in Mostar
Although the city of Mostar has no shortage of hotels, hostels, and airbnbs, just a few blocks away from the noise and clamor of the crowds traversing the Stari Most bridge sites the Muslibegovic House, a 16th-century Ottoman ruler's home, now turned into a museum. Well, partially a museum- half of the estate is converted to charmingly authentic but comfortable rooms for rent by the night. Included with lodging is access to the home's blissfully relaxing courtyard, shaded by kiwi trees.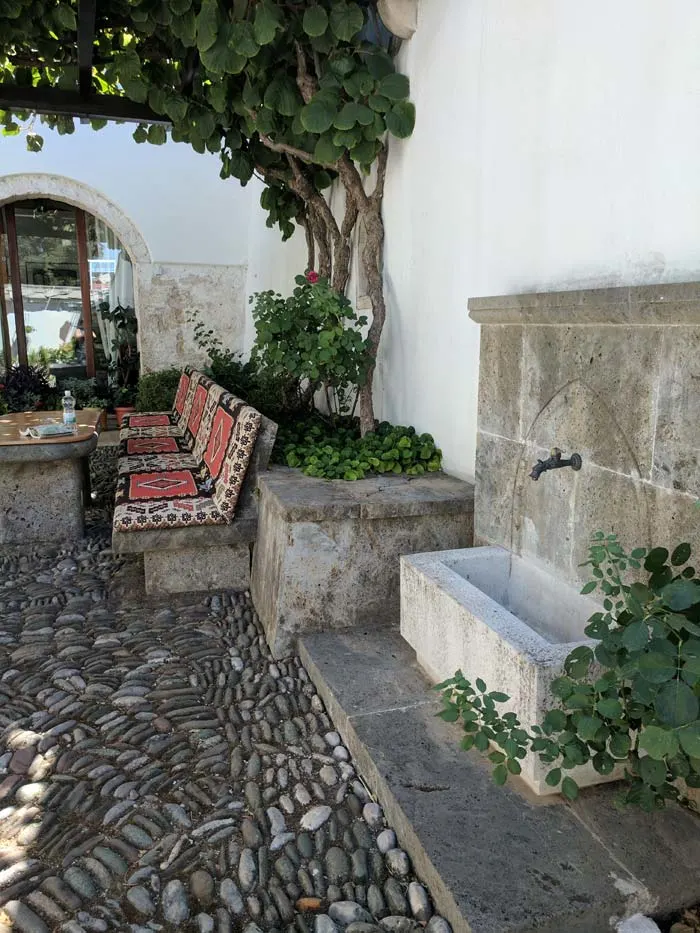 9. Hike up to the Počitelj Ruins
Počitelj is a historic village sitting partially ruined today. At this open-air museum, tourists are free to climb the terraces, steps, and towers to the panoramic view from the castle high above. If you're not up for climb, that's okay too, there's plenty to explore in the lower terraces, including vendors of handmade wares and places to purchase food or drink and enjoy the ambiance of the nearby Neretva river.
Inspired to visit? Pin your Plans: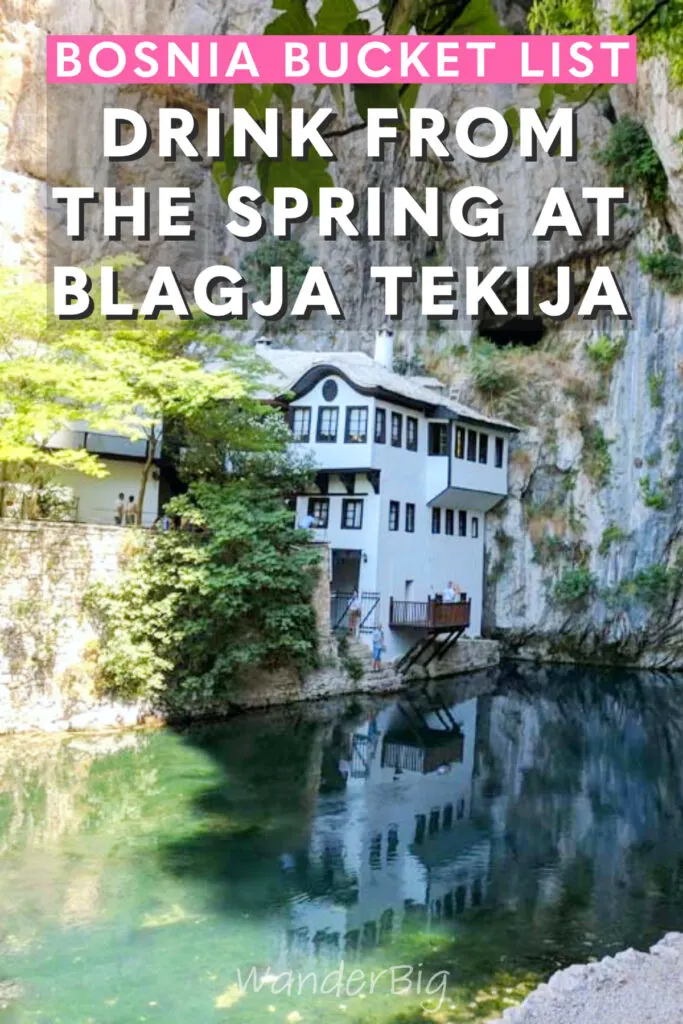 10. Drink Bosnian Coffee
In the summer, coffeehouses spill into the street in Sarajevo- and with it, the rich scent of the region's iconic coffee. Like Turkey, Bosnia is known for its coffee. Speaking as a Seattle local and coffee snob- the coffee scene in Sarajevo was remarkable. Not just for the unique, rich brew that the region is known for, but the entire coffee service. Coffee in Bosnia includes a drink service with history, elegance, and a unique aesthetic – making it a can't-miss experience in Bosnia & Herzegovina for tourists.
Follow me on Pinterest for More Ideas on things to do in Bosnia
https://www.pinterest.com/Wander_Big/bosnia-herzegovina-solo-travel-guides/
11. Buy a sleeve of dried fruit
In every market, and at most tourist sites, you'll find vendors- typically women- with baskets of dried fruit for sale. The taste of these sun-dried figs, apricots, and other fruit that I ate as I hiked up the trail to explore a ruin is an embodied memory for me. Not only does the purchase support local entrepreneurs, but the vibrant flavor helps create a more powerful travel memory by associating an additional sense- taste- with your memory of a particular place. In some location, small vendors sell home-made drinks and frozen-drinks, like this sweetened juniper flavored drink (since tap water is generally safe in Bosnia, these homebrewed drinks are probably ok, standard disclaimer: "your mileage may vary")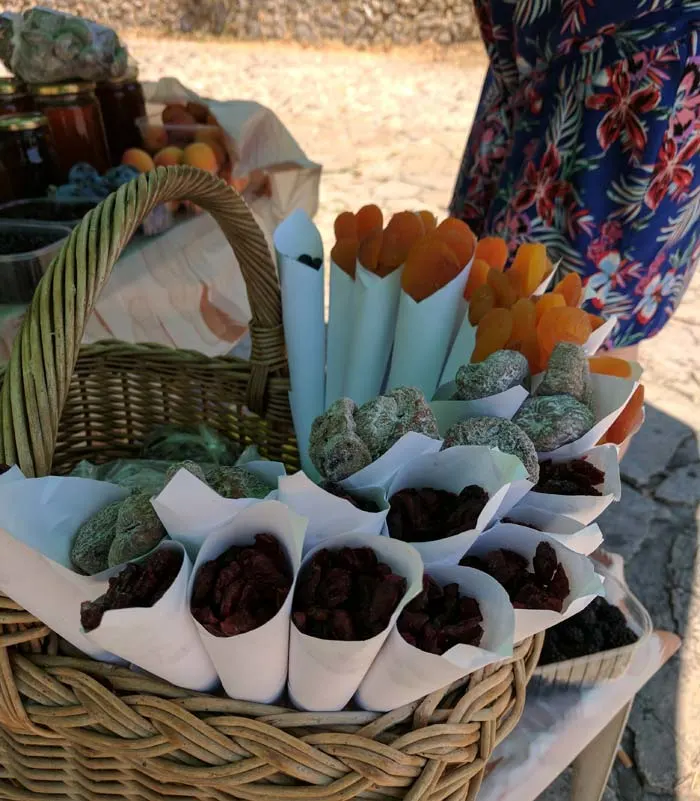 12. Travel Journal in Bosnia
In my opinion, one of the best things to do in Bosnia is to create something all your own that is Bosnia-inspired – I think the best souvenirs are deeply personal, and often handmade. One of the things I am most thankful for during my time in Bosnia are the journal entries and quick watercolor paintings I created while there. Although writing or creating art might not seem like the most exciting thing to do as a tourist in Bosnia, one of the most effective ways to prevent travel burnout is taking breaks from the excitement of exploring for rest, mindfulness, and reflection. Travel journaling- perhaps while enjoying a long, relaxed Bosnian breakfast – offers an opportunity for all of these things. Learn more about how to start a travel journal.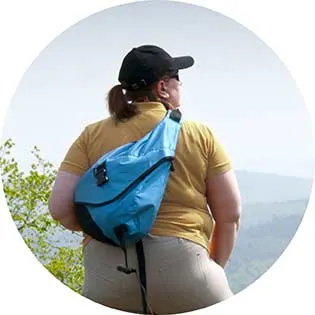 Lynli Roman's unique approach to travel is informed by decades of experience on the road with a traveling family and, later, years spent as a solo international traveler. When she's not writing about Seattle from her Pike Place Market apartment, Lynli writes on-location while conducting hands-on research in each destination she covers. Lynli's writing has been featured by MSN, ABC Money, Buzzfeed, and Huffington Post. She is passionate about sharing information that makes travel more accessible for all bodies.