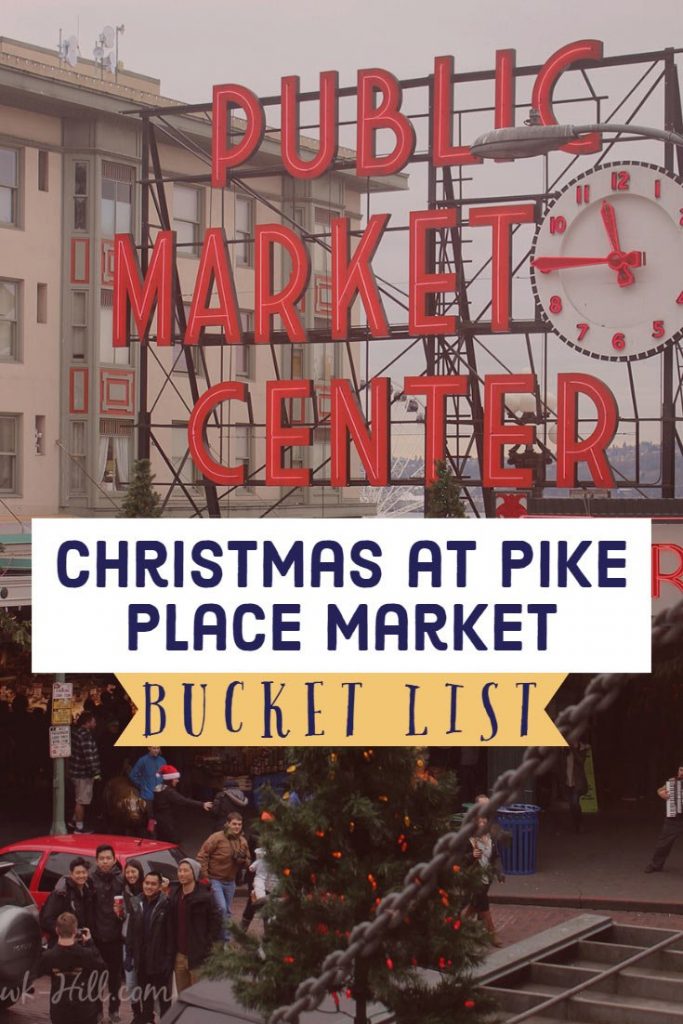 Christmastime is my favorite season at Pike Place Market. The crow thins out and the market is transformed into a pacific-northwest winter wonderland. Because of Seattle's temperate climate, December temperatures hover in the 40's to 50's.. With cozy winter clothes and warm bakeries to slip inside to warm up, Pike is the perfect climate for a coffee-saturated, delightfully gloomy Seattle December day exploring Christmastime at Pike Place Market.
Summer is definitively the peak for Seattle tourism, with weekday calm returning to the market sometime in late September, welcoming me back after my summertime hiatus avoiding the crowds of peak tourist season.
I've been taking friends with me to the market lately to hang out and enjoy the atmosphere that's so much more friendly to locals than the chaos of Pike Place in the summertime. As we've been exploring and enjoying all the Christmas Spirit Pike has to offer, I've put together this "Christmas Bucket List" specifically for your Christmastime visit to Pike Place Market.
10 Things (ok, 9 for now) You Must Do at Seattle's Pike Place Market in December
1. Drink Washington Made Spiced Cider
• Tents outside the market house the apple and pear vendors, and while cider is a year round offering, the warmth and flavor match perfectly with the Christmas season.
• Marketspice, near the fish market, usually has free samples of cider if you're feeling thrifty.
2. Christmas Tree Lot
• Grab a seat at a coffee shop across from the Christmas tree vendor and watch as downtown residents purchase adorably pint-sized trees, hauled home over shoulders and slung between friends, for tiny urban dwellings. Just trust me, on the backdrop of cobblestone streets and hipster plaid, this is as good as people watching gets.
3. Buy a Bouquet… of Holly
• Pike Place is famous for its flower market. By the time Christmas comes around winter has settled on the flower fields of local growers, but instead of flowers most growers offer arrangements of evergreen, holly, and winterberry for $5-$15.
4. Try Locally Made Eggnog
• Pike Place Market Creamery carries hard to find dairy and egg products for Pike's culinary consumers. On your visit, pop in to discover 5-7 different types of locally produced eggnog. Taste test?
5. Savor the Spice Shop for Cinnamon
• Marketspice has cinnamon sticks in an assortment of varieties and sizes for cooking or for giftwrap decorations.
• Friendly staff decant spices from walls of spice jars perched particularly in a diagon ally-esque arrangement.
• I love buying small gifts and stocking stuffers here, as the spices are superb quality and they're willing to sell just a smidge at a time.
6. Perch in the Window at Left Bank Books
• The most famous of Pike Place's used bookstores, Left Bank is a fascinating detour, and a second-floor window seat makes room for trying-before-you-buy
7. Buy a Handmade Gift
• Pike Place is a great place to do Christmas shopping, as (with the exception of grandfathered-in Starbucks) every shop, stall, and vendor at Pike Place is independently owned and operated.
• The market is populated by local craftspeople, native artisans, and up and coming artists- selling perfect gifts in every price range
8. Sing Carols with a Busker
• Buskers, aka Street Performers, are present at Pike Place year round. Hop in for a round of Christmas carols during a December visit.
9. Get the Ultimate Pike Place Christmas Photo for your Social Media
• This photo is one of my favorites from Pike Place, and this shooting location is a great way to get a picture of your group with the iconic sign and (in season) Christmas decorations. (I love the busker playing his heart out in the lower right of this photo!)
• To get this picture, pose your friends in front of Rachel the bronze pig, then sprint up the stairs in the Sanitary Market (following the signs for Storyville Coffee) and snap this shot from the landing 1.5 floors up.
---
More Photos from Christmas at Pike Place: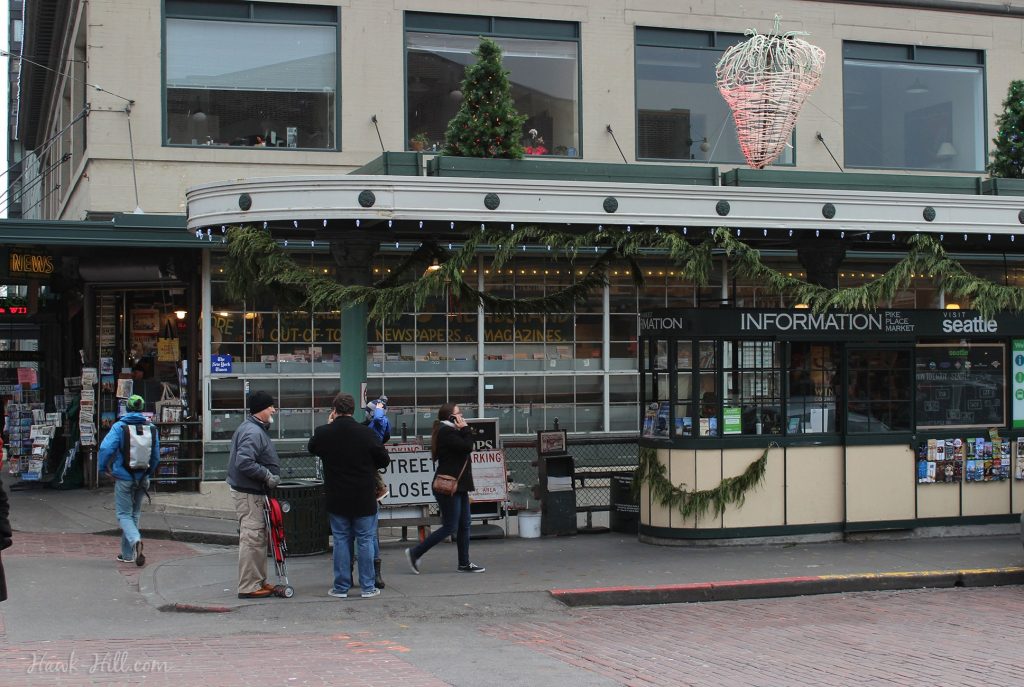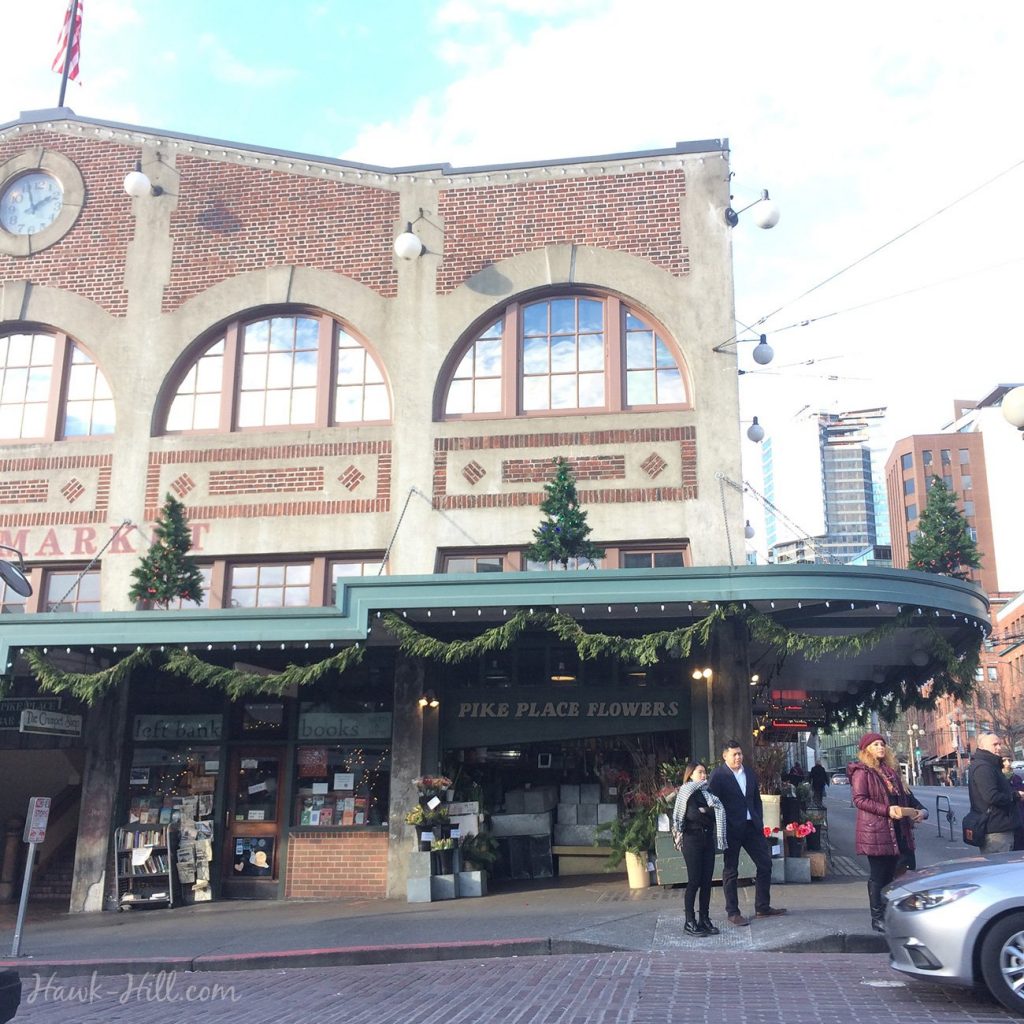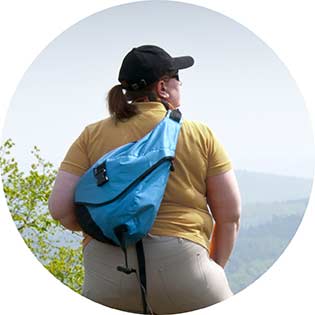 Artist, digital nomad, and highly sensitive person, Lynli started traveling full time as a digital nomad in 2018. Writer and Illustrator by day, remote-destination explorer by other-days, Lynli is passionate about pushing the boundaries of her own comfort zone, exploring the world as a female, fat, one-bag traveler, and journalling it all on WanderBig.com