Christmas is my favorite season at Pike Place Market.
As Christmas approaches, my friends and I often gather in Pike Place Market to enjoy the neighborhood and its unique Christmas offerings. After a few years of doing my Christmas shopping almost exclusively in this remarkable neighborhood, I've put together this "Christmas Bucket List" specifically for your Christmas season visit to Pike Place Market.
1. Enjoy a Festival: 2023 Christmas Events at Pike Place Market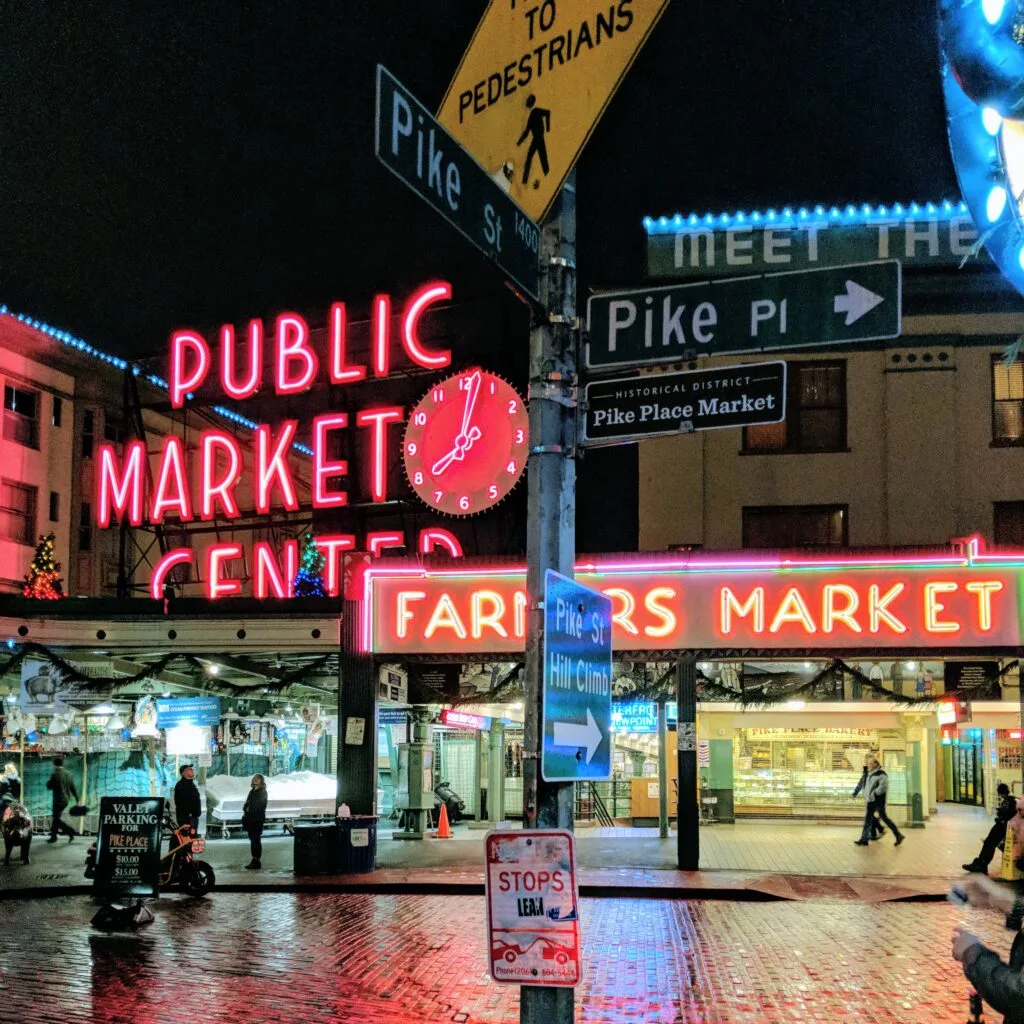 If there's one thing Pike Place Market does well (other than coffee, music, fish, and food!) it's festivals. 2023's Christmas season will be no exception.
Here's what's coming up:
2. Drink Washington-Made Spiced Cider
Tents in the street outside the market are home to apple and pear vendors. While cider can be found year round at Pike Place, hot spiced cider is a special treat for winter visitors. The warmth and flavor of this Washington-made cider matches perfectly with the Christmas cheer that fills the market.
If you're traveling Seattle on a budget, there's a free-sample alternative. Head to Marketspice, tucked away behind the fish throwers and near the entrance to the secret rooftop garden, and sample their hot orange spiced tea that's always piping hot and ready for sampling.
3. People Watch at the Christmas Tree Lot
Grab a seat at a coffee shop across from the Christmas tree vendor and watch as downtown residents purchase adorably pint-sized trees, and haul them home over shoulders or slung between friends, back to the tiny urban dwellings surrounding the market. Just trust me, with the backdrop of cobblestone streets and hipster plaid, this is prime people watching.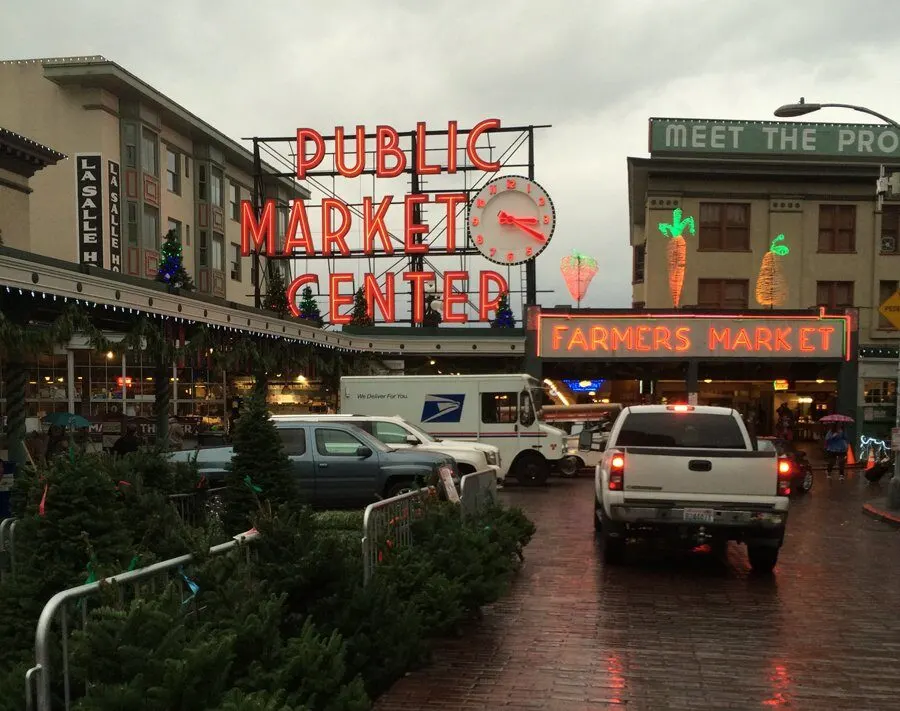 4. Buy a Pike Place Bouquet… of Holly
Pike Place is famous for its flower market, and it's a favorite activity for tourists. By the time Christmas comes around, though, winter has settled on the flower fields of local growers. While the flower stalls will be mostly empty at Christmas (replaced with handmade goods in the expanded Christmas Market section) there will be flower sellers offering arrangements of evergreen, holly, and winterberry for $5-$15.
And as I mentioned in my ultimate insider's guide to Pike Place Market, even if you have no idea what you'd do with a full-size bouquet- you can still join in the fun. Ask a flower seller for a $1 filler sprig and press it in your travel journal to make a great DIY souvenir.
5. Taste Locally Made Eggnog
Pike Place Market Creamery carries premium and hard-to-find dairy and egg products for Pike Place's most discerning culinary consumers. On your Christmas visit, pop in to discover 5-7 different types of locally produced eggnog.
Head out to the rooftop garden or one of Pike's tucked-away picnic tables and invite your group to an egg nog taste test.
6. Savor the Spice Shop for Christmas Spices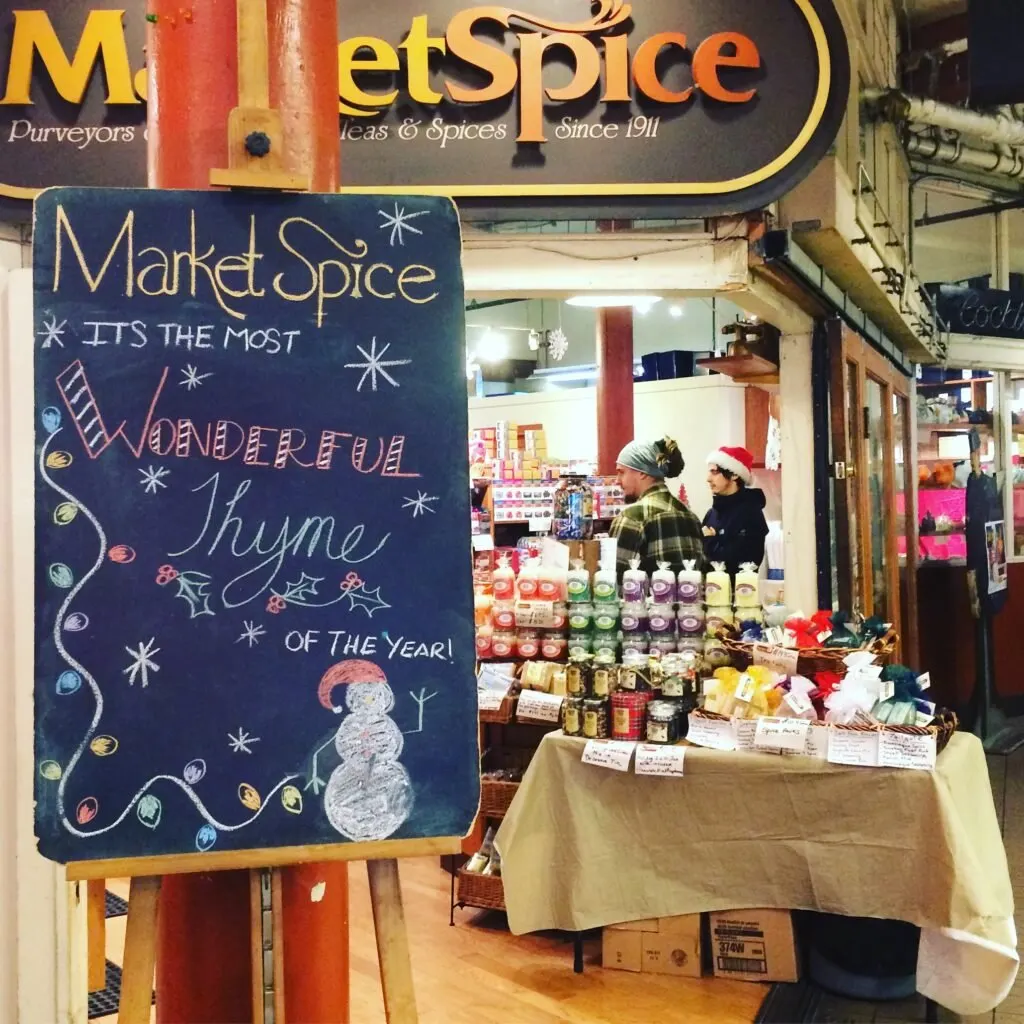 Marketspice has cinnamon sticks in an assortment of varieties and sizes for cooking or for giftwrap decorations. At this spice shop, friendly staff decant fresh and fragrant spices from walls of spice jars perched in a particularly diagon ally-esque arrangement.
I love buying small christmas gifts and stocking stuffers here, as the spices are superb quality and the staff are willing to sell just a smidge at a time.
7. Perch in the Window at Left Bank Books
The most famous of Pike Place's used bookstores, Left Bank Books is a fascinating detour through whimsy and anarchy. A second-floor window seat overlooking the market entrance makes it comfy for trying-before-you-buy.
8. Buy a Handmade Gift
Pike Place is a great place to do Christmas shopping, since (with the exception of grandfathered-in Starbucks) every shop, stall, and vendor at Pike Place is independently owned and operated- no chains! The market is populated by local craftspeople, indigenous artisans, and up and coming artists- selling perfect gifts in every price range.
9. Sing Carols with a Busker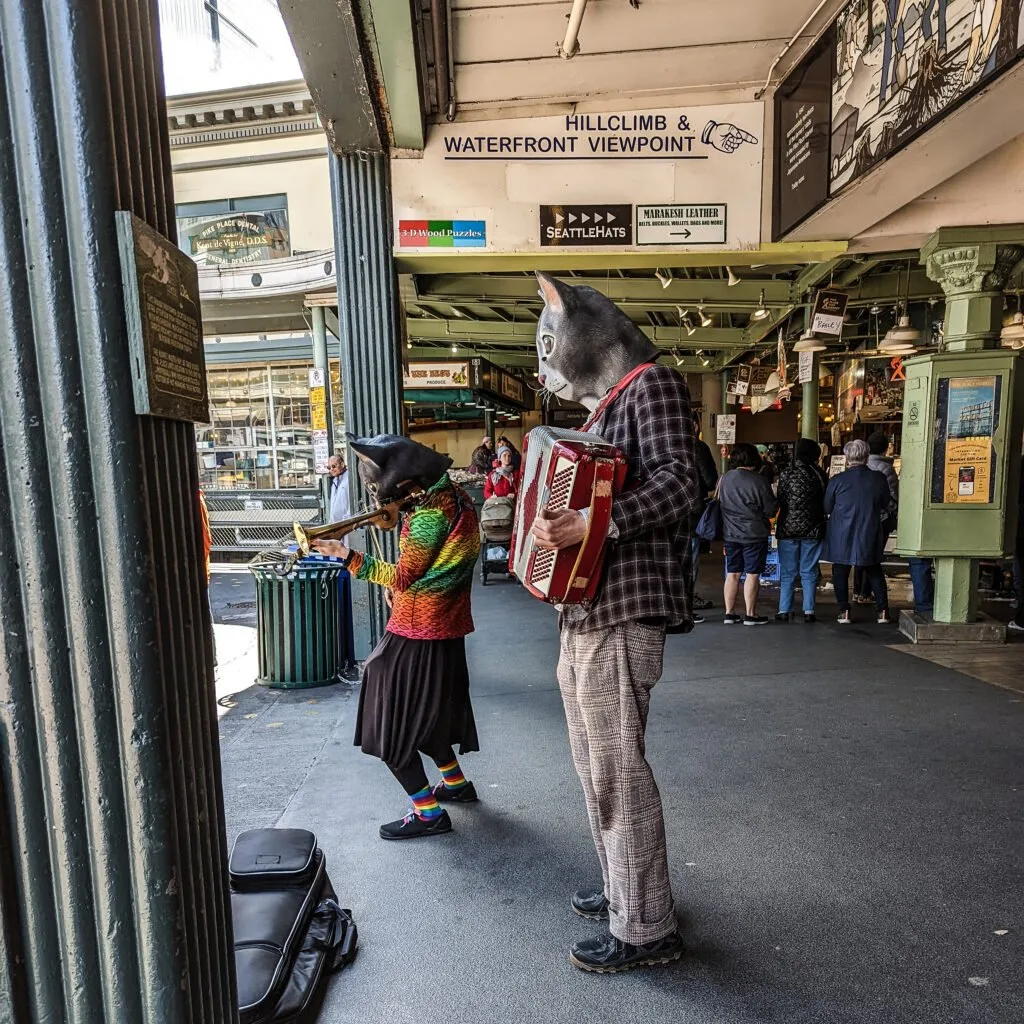 Buskers, aka Street Performers, are present at Pike Place year-round. At Christmas, however, their music is often participatory. You can gather around for a round or two of Christmas carols during a December visit.
10. Pose for the Ultimate Pike Place Christmas Photo for your Social Media
This photo is below is one of my favorites from all my years visiting and photographing Pike Place Market. This shooting location is a great way to get a picture of your group with the iconic sign and (in-season) Christmas decorations. (I love the busker playing his heart out in the lower right of this photo!)
To get this picture, pose your friends or family in front of Rachel the bronze pig, then sprint up the stairs in the Sanitary Market (following the signs for Storyville Coffee) and snap this shot from the landing 1.5 floors up.
For more great photo backdrops in the market, check out my guide to Pike Place's most Instagramable Spots.
11. Jump on a Fery bound for Bainbridge.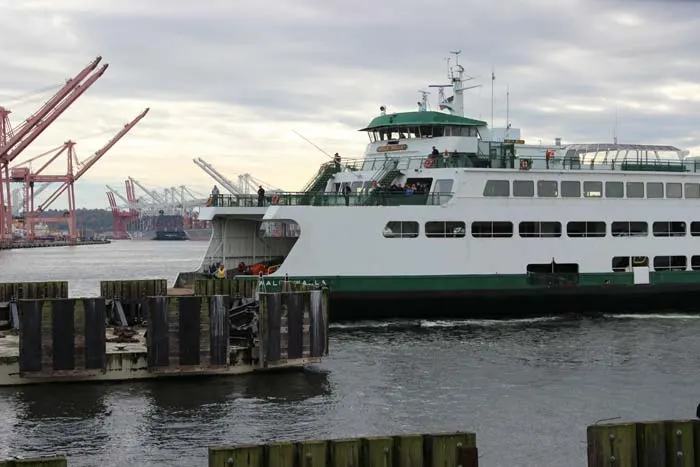 Christmas on Bainbridge Island is a world away from downtown Seattle's famous market- but you can get there via a short walk from Pike Place Market and a 30-minute ferry ride. Check out my separate posts on things I love to do on Bainbridge during the Christmas Season and things to do there year round. For more information on getting to Bainbridge Island from Seattle, click here for info about the route, or check out my more general guide to riding Washington's ferries.
Bonus: Catch a Boat Parade
Just beyond the boundaries of Pike Place Market lies the Elliott Bay of the Puget Sound. Each December, Elliott Bay is home to the annual series of winter boat parades. Each Christmas, boat owners in the Puget Sound region gather to present a nightly parade of brightly decorated boats, yachts, and small ships. This procession can be viewed from many waterfront hotels and public parks- including the waterfront decks of Pike Place Market. It's worth checking the calendar and staying late at the market if your visit will align with the dates that the boat parade will pass Pike Place Market.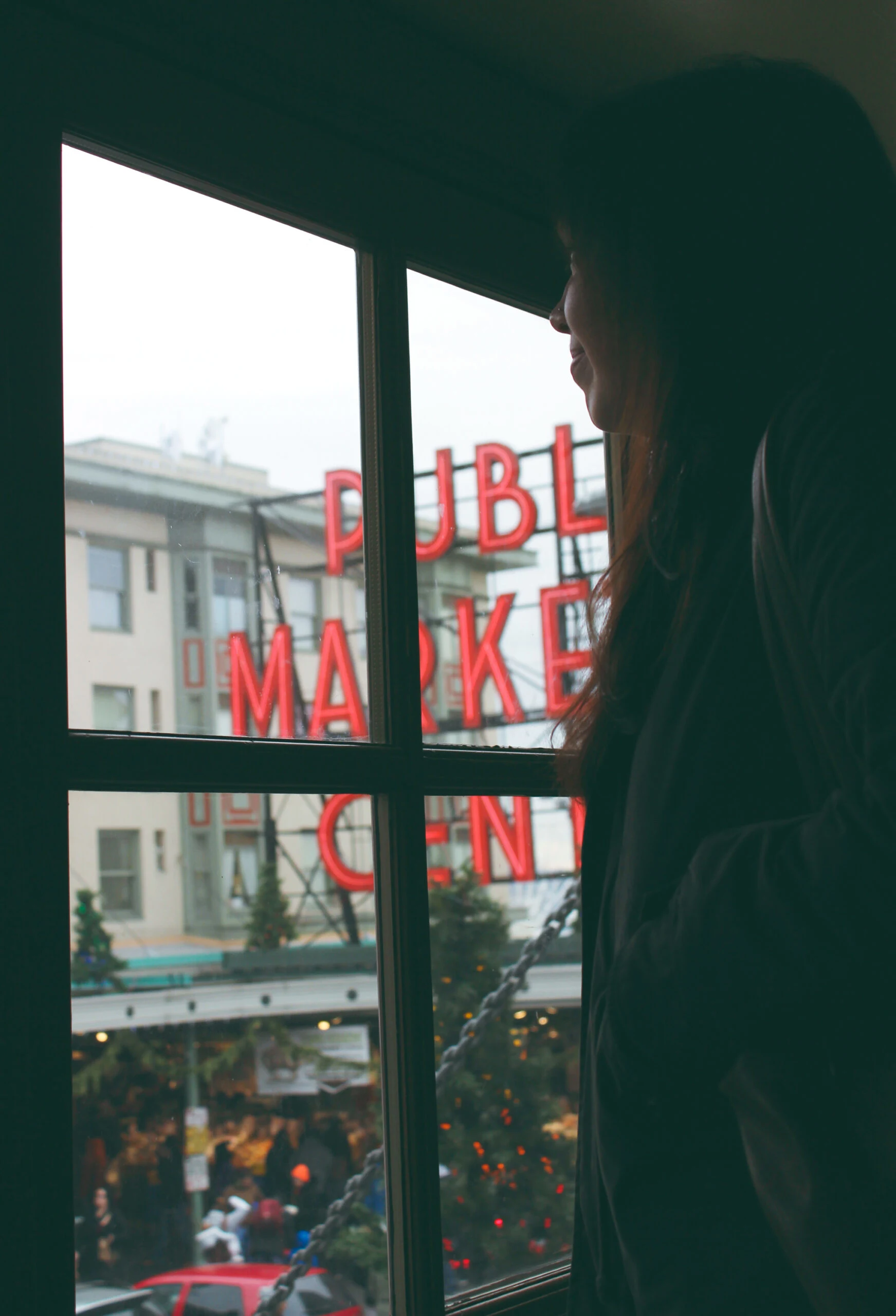 What to Expect at Pike Place Market in Winter
Expect Chilly but Not Freezing Weather
Seattle has a temperate climate compared to most of the USA. Even in the dead of winter, temperatures in Seattle usually reach 40-50° F as daily high temperatures. Still, you should check the weather for the dates of your trip, as Seattle can occasionally drop to freezing temperatures.
Expect Rain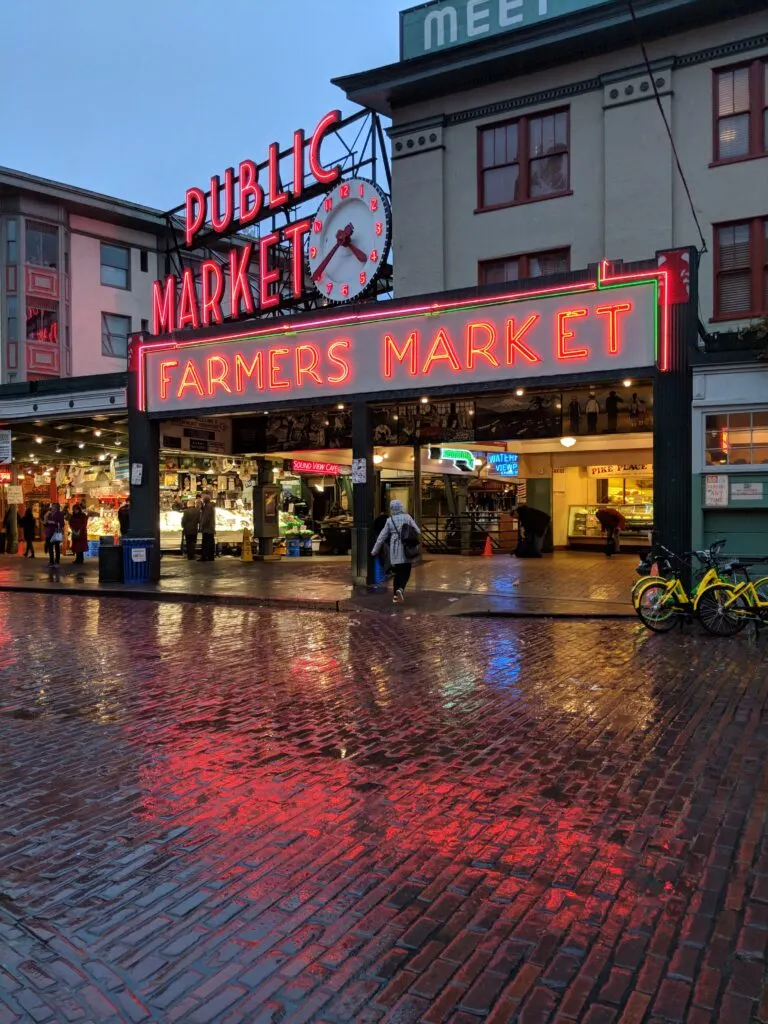 Many winter days in Seattle are grey, gloomy, and wet, but rain won't spoil a Pike Place Market adventure. I mean, if you visit Seattle and don't get rained on did you really visit Seattle?
As long as you're layered in cozy winter clothes and a waterproof layer, Pike Place Market's covered walkways and sidewalks will keep you warm and mostly dry. (And if they don't, countless coffee shops and warm bakeries offer a respite from wind, wet, and cold) It's is the perfect climate for a winter day spent in the uniquely Seattle world of coffee-saturated gloom.
PS: even though there's a good chance of a cold drizzle during your Christmas Pike Place Market visit, don't pack an umbrella. The wind coming off the Puget Sound is too strong and the sidewalks are too crowded to make umbrellas a functional option. Instead, join the locals and shelter from the rain under the hood of a raincoat.
Expect Everything to be Open
Summer is the peak for Seattle tourism. Calm returns to the market sometime in late September and lingers until spring break vacations begin. Even though it's off-peak season, everything will be open during the holiday season.
A few vendors may take a week off here and there, and a couple of storefronts will inevitably close for renovation, but these annual reprives usually happen in January-February. A trip to Pike Place Market in December will find almost everything open and brimming with Christmas cheer.
Expect a Very Early Sunset
One important thing you should know about visiting Pike Place Market from November to February is that the sun sets in the afternoon in Seattle in the winter months.
If you are visiting from a lower latitude (and virtually everyone living in the USA lives at a lower latitude than Seattle) you may be shocked to find that darkness cloaks the city by 4:30pm. On gloomy days, that inky blackness can descend on the city well before 4 pm.
While there's a lot to be said for taking a slow, lazy start to your vacation days, as I've written about in my Ultimate Guide to Pike Place Market, there are many reasons to get up early on your Market day. Avoiding bumping around a dark market while vendors pack up to head home is one of them.
Final Thoughts on Savoring this Season at Pike Place
By late fall, cruise ships stop delivering tourists by the thousands and crowds thin to a comfortable trickle. As as fall turns to winter, Pike Place Market is transformed into a pacific-northwest Christmas winter wonderland.
As a neighborhood local and dedicated explorer of the neighborhood in all seasons, today I'm sharing a list of my favorite things to do at Pike Place Market at Christmas- it's a perfect companion adventure to my article on things to do in downtown Seattle at Christmas.
More Articles on Pike Place Market: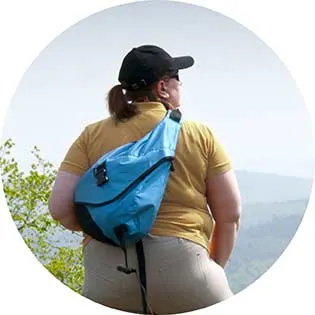 Lynli Roman's unique approach to travel is informed by decades of experience on the road with a traveling family and, later, years spent as a solo international traveler. When she's not writing about Seattle from her Pike Place Market apartment, Lynli writes on-location while conducting hands-on research in each destination she covers. Lynli's writing has been featured by MSN, ABC Money, Buzzfeed, and Huffington Post. She is passionate about sharing information that makes travel more accessible for all bodies.