As a local, many of my favorite spaces in Pike Place market are easy to miss if you are a casual visitor. In this article, I'm sharing some of my top places to sit, chill, and take in the scenery during a trip to Pike Place Market.
This list includes:
🍉 restaurants,
⛲ public parks,
🗻 and private overlooks,
each ranked by their relaxation factor. If you're specifically looking for a great dining experience, see my best restaurant recommendations in Pike Place Market.
The thing to know is that Pike Place Market is almost infinitely larger than what most tourists see during their stroll down the main thoroughfare.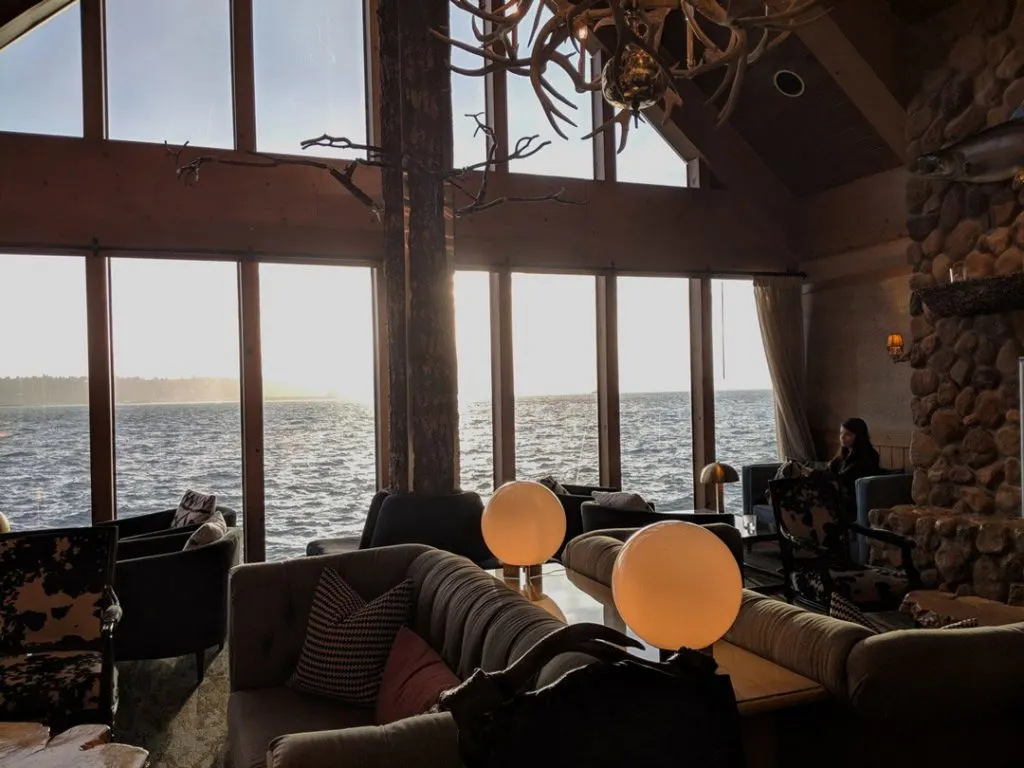 In truth, the market extends deep into several underground levels and sprawls out into alleys, balconies, rooftop gardens, and attics above. Over time, I became well acquainted with these secret spaces in Pike Place Market – even becoming a member of the private library located above the Market atrium!
Looking for quiet places to sit, work, or study in Seattle beyond Pike Place market? Check out my list of best (free) study and co-working spaces in Seattle.
Finding Pike Place's Secret Spaces to Relax & Decompress
The main thoroughfare of Pike Place market can be crowded. In the summer, crowds often stand shoulder to shoulder in the main thoroughfare. Visiting the entire length of these main walkways can take a few hours if you (or a travel companion) are determined to shop and see all there is to see along the way.
You may find yourself looking for a space to sit and rest your feet or just to decompress from the crowds. Pike Place can create sensory overload for many people, sp I recommend taking a break mid-way through.
In this article I'm sharing tips for those with physical limitations or those who just need a space to introvert for a while before returning to the hustle and bustle of the Pike Place market peak-season crowd.
Even during the peak season in the summer at Pike Place market, these semi-secret spaces tend to be more sparsely populated. If you're lucky, they'll be nearly empty! This can allow you to take a few moments away from the crowds of people to collect yourself, rest, and take a break for mindful travel practices or travel journaling.
Secret Spaces in Pike Place Market to Relax
Pike Place's Private Library: Folio
93 Pike St #307, Seattle, WA 98101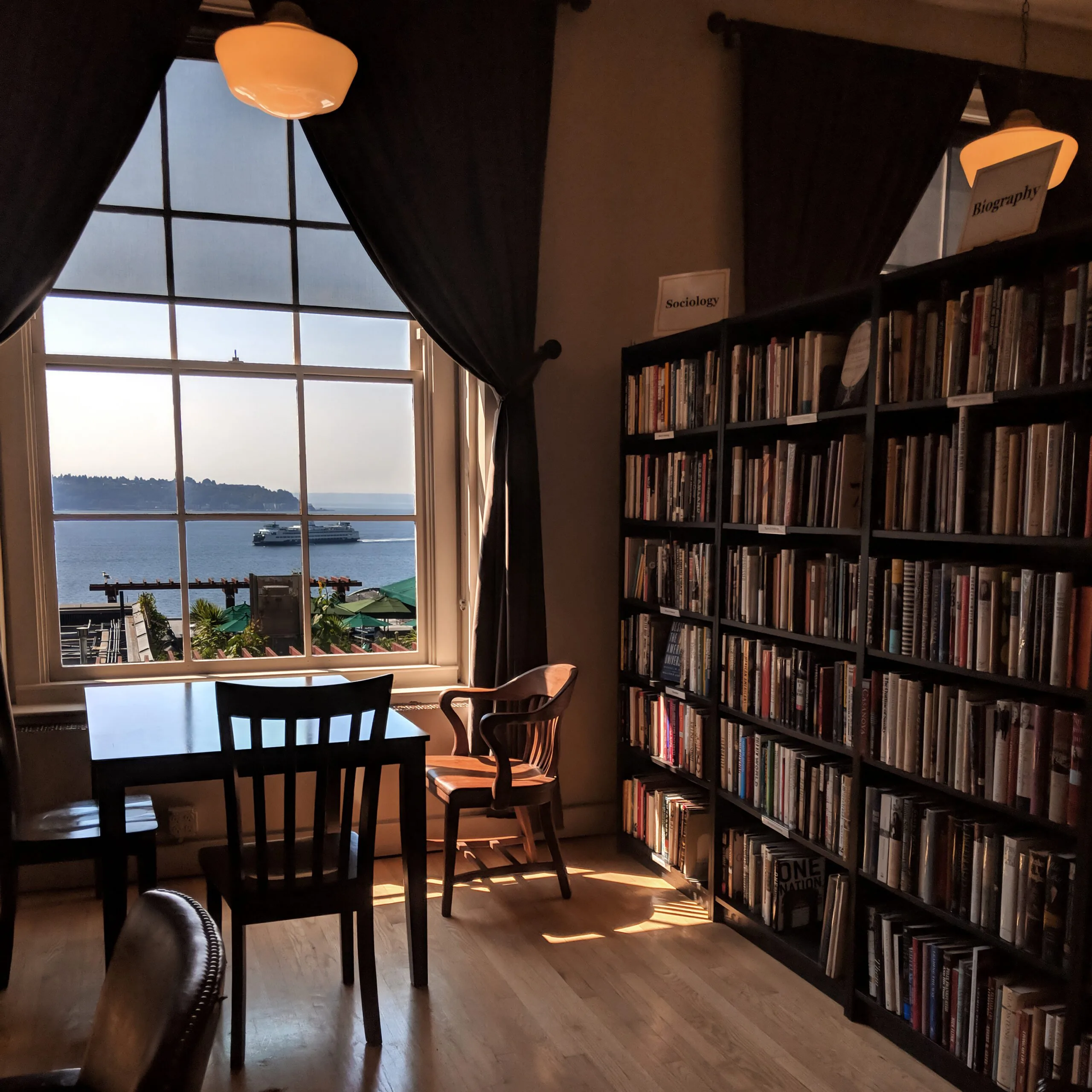 For soothing silence, great views, and the peaceful hum of great air-conditioning, look no further than Folio, a private library located just one staircase away from the infamous fish throwers stall in Pike Place Market.
Folio is supported by members and is a mildly popular co-working space for neighborhood locals. Nonmembers (including tourists) can access this library via a modest day rate pass ($5/day or $25/week as of Summer 2022). If you need a quiet air-conditioned space to soothe your inner introvert after a few hours in the chaos of summertime at Pike Place Market, Folio is a great stop and one of my favorite secret spaces in Pike Place Market.
The Pink Door
1919 Post Alley, Seattle, WA 98101
Despite its hidden-away entrance, The Pink Door is a hotspot for locals, residents, and employees at Pike Place Market.
You'll find this spot via a barely marked, unremarkable pale pink door in Post Alley (one half-block up from Pike street). This nondescript door leads to an elegantly odd restaurant that features midrange dining, a full bar, and (on weekend evenings) trapeze performances!
Ask for a table overlooking the market for a peaceful respite perched above the crowds below. I love The Pink Door not only for their amazing meatball sandwich and herbed french fries, but also because during mid-afternoon this is one of the quietest places in Pike Place market. Although lunch and dinner may require a reservation, popping in for a late lunch or an early afternoon drink, ensures tranquility (and air conditioning) just a few steps from the chaos of crowded Pike Street below.
Le Pichet French restaurant
1933 1st Ave, Seattle, WA 98101 (a block up from the market, on first Avenue)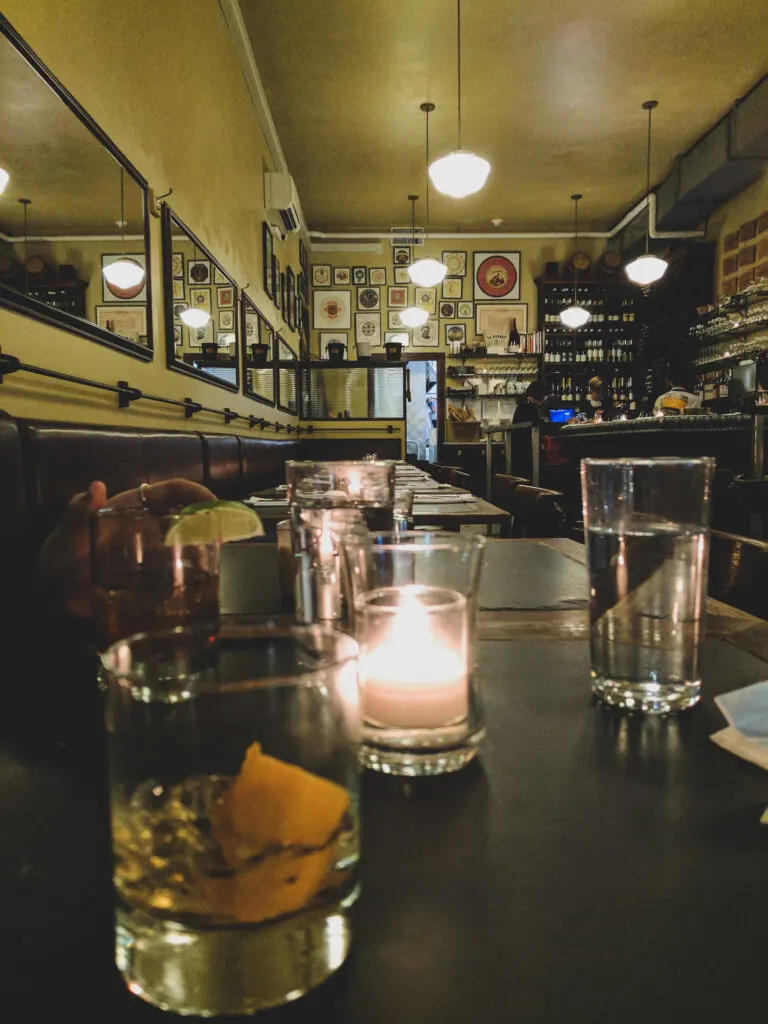 Essentially French in all the best ways, Le Pichet restaurant is European elegance in the heart of Seattle's Pike Place Neighborhood.
Crowded into a small storefront with a selection of Charcuterie made from homemade pâté and fine cheeses, this restaurant is one of my favorite places to sit and enjoy a glass of wine with a friend or to sit alone in the window and read. In fact, the European atmosphere makes this a really easy restaurant to enjoy a meal alone with less self-consciousness (click here for more tips on confidently dining out alone).
What to order: Salade Verte (a salad featuring hazelnuts), homemade charcuterie, or a glass of Lillet Blanc.
Storyville Coffee
94 Pike Street, Top, floor Suite 34, Seattle, WA 98101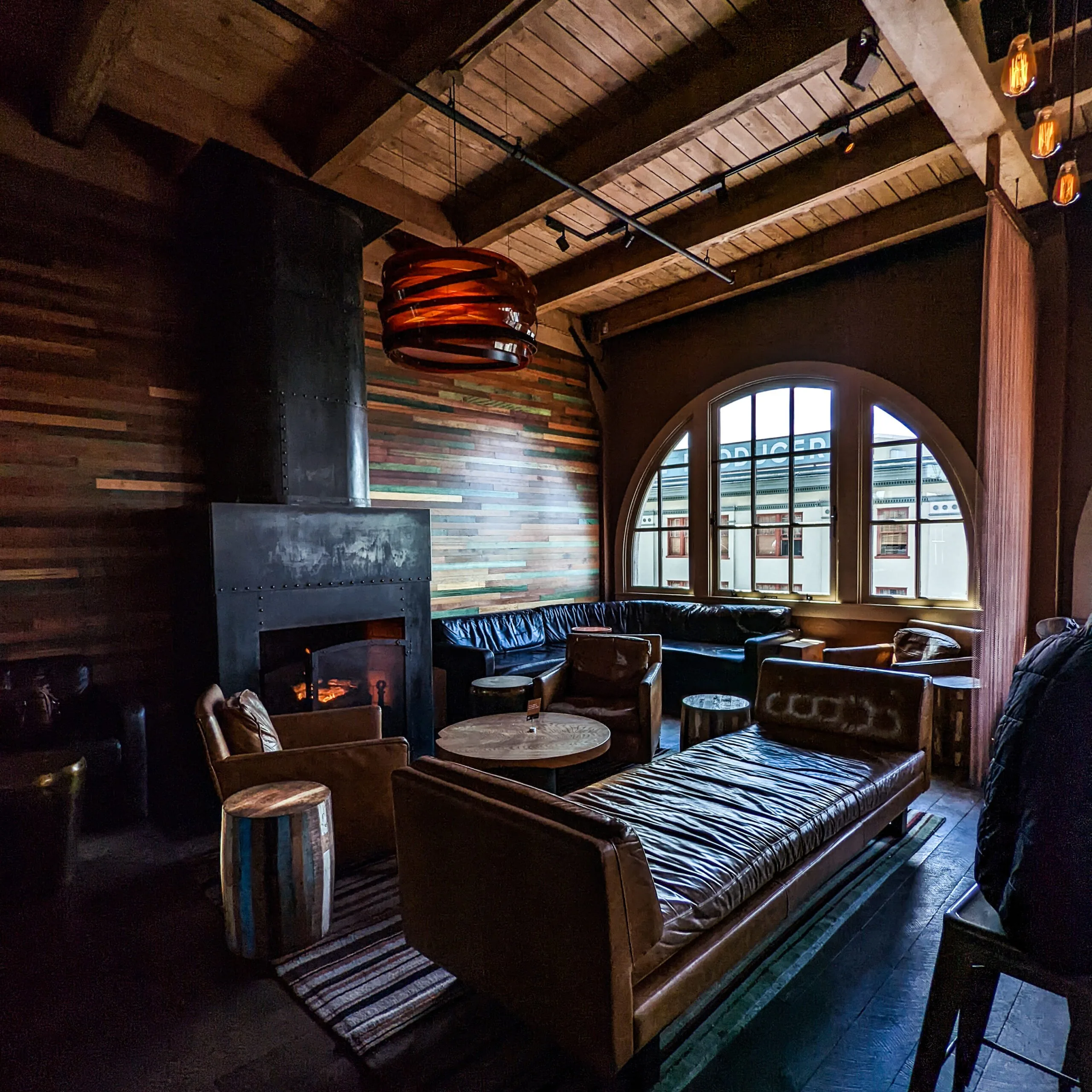 Perhaps the worst kept secret spot in Pike Place Market, Storyville coffee is perched three floors above Pike Place. It's directly kitty-corner to the infamous public markets sign and neon clock of Pike Place market.
Storyville offers coffee-based drinks prepared by expert Seattle baristas and ample seating (two things that, sorry, you won't find at the so-called "first Starbucks" in the market). From the Storyville seating area – which features tables as well as lush couches overlooking Pike Place, you might even get lucky and be there for free cake! This free treat is passed out to patrons about once a day at a random time.
Storyville Coffee is also prominently featured in my Coffee in Pike Place Flow Chart, shown here: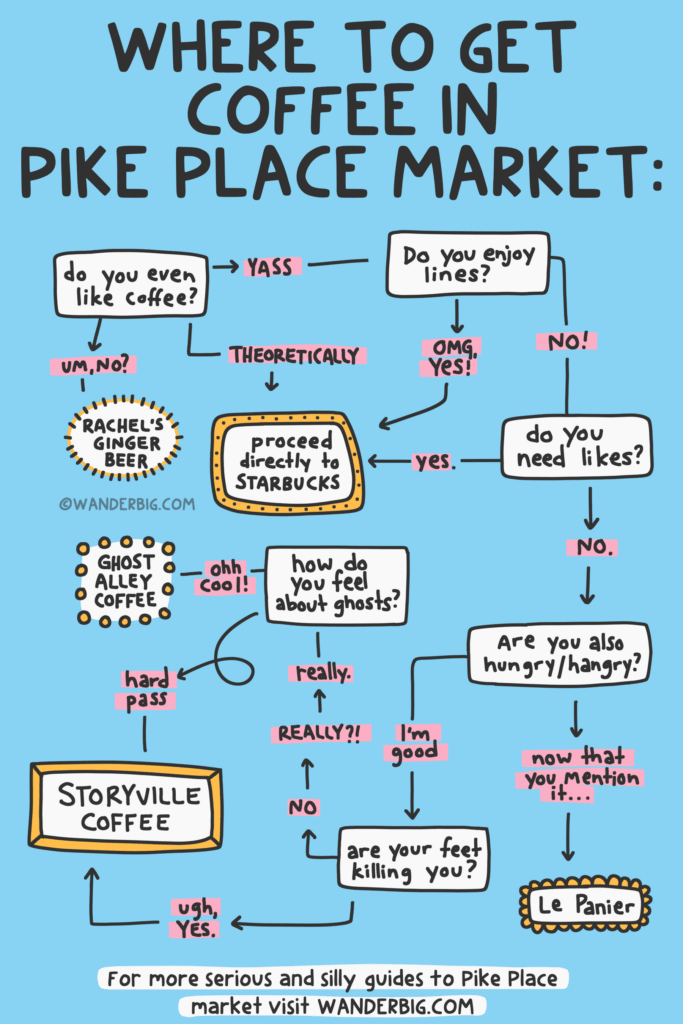 If you've seen my Insider's Guide to Pike Place market, you know that I'm a Pike Place Market Pro. When I moved to Seattle in 2015, I plopped myself down into an apartment just two blocks from Seattle's infamous open market.
Because I knew that my time living in downtown Seattle would be short-lived, I spent those four years enjoying Pike Place as thoroughly as I possibly could: at least twice a week, I'd wander through the market, determined to see, taste, or explore something new or some new corner of the market that I'd never seen before.
For more guides to travel in Seattle, see: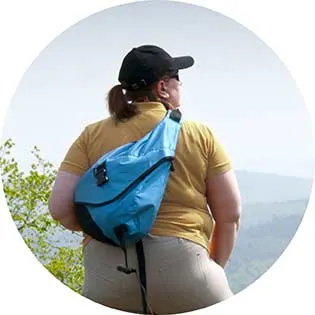 Lynli Roman's unique approach to travel is informed by decades of experience on the road with a traveling family and, later, years spent as a solo international traveler. When she's not writing about Seattle from her Pike Place Market apartment, Lynli writes on-location while conducting hands-on research in each destination she covers. Lynli's writing has been featured by MSN, ABC Money, Buzzfeed, and Huffington Post. She is passionate about sharing information that makes travel more accessible for all bodies.