I moved to Seattle last year to attend a school that's located downtown, and on grad-school budgets my friends and I have learned to navigate Pike Place Market to enjoy the best it has to offer without sacrificing the experience or the epic Instagram photos!
Here are 12 tips to get the best Pike Place Market experience for free or nearly free. (for a more general article on seeing more Seattle attractions on the cheap, check out my Cheap Seattle post)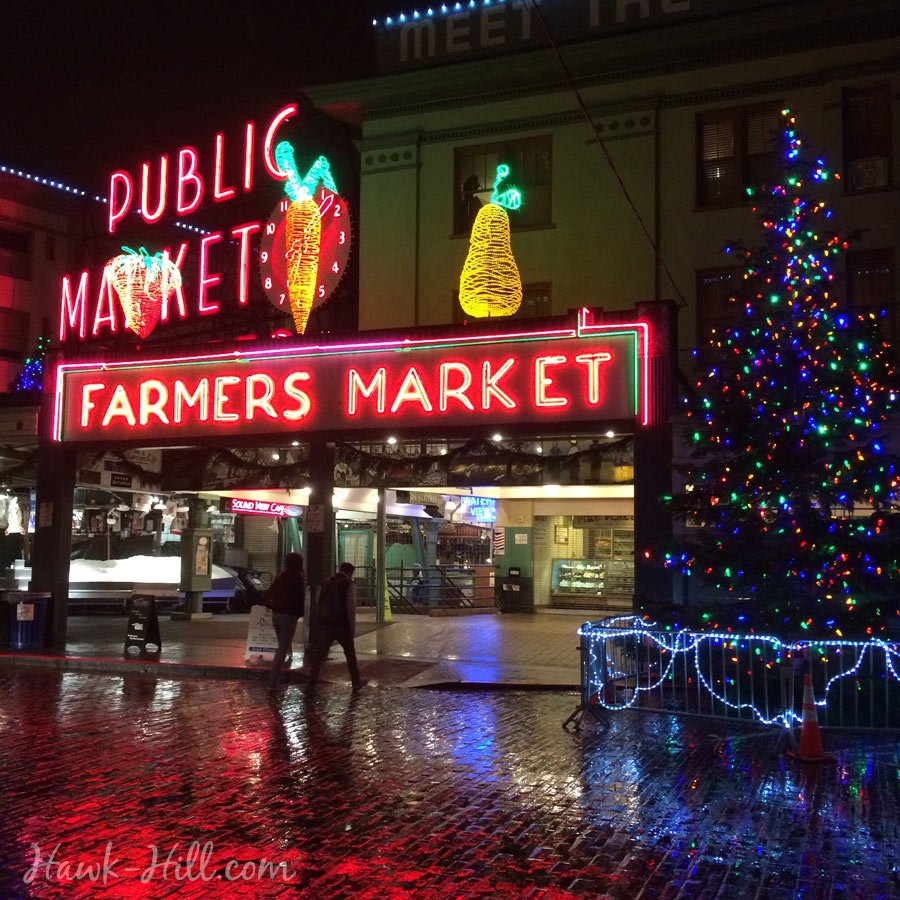 Cheap Travel & Parking Tips:
Whatever you do, DON'T PARK AT PIKE PLACE. Parking is a nightmare and if you find a spot it can cost up to $50 to park for the few hours you'll want to spend at the market.
If you aren't already a member of a ride sharing app, signing up before your Seattle trip can get you free rides on Uber if you use the right promos to sign up. Lyft will give you $50 in free rides by using this link to sign up and Uber gives $20 in free ride credits if you use a referral. Ride sharing apps are the ideal way to navigate downtown Seattle, where you can get picked up in a minute or two without the headache of downtown traffic or parking.
Cheap Souvenirs
When you visit someplace, you make a memory, and it's fun to have an object to represent that memory- or represent that you were thinking about someone back home while you were there. Pike Place is a memorable destination and you can spend a small fortune on souvenir ranging from magnets to tote bags to piggy bank replicas of Pike Place pig statues. Instead of souvenirs from the expensive stalls in the market, here are a few alternative souvenir options that are cheap or free:
For mass market souvenirs:
(magnets, totes, etc) at a better rate, hike two blocks up the waterfront on Pine St to Walgreens, where the corporate owned drugstore has a selection of imported junk that says "Seattle" with all the kitsch for a notably lower price.
My personal recommendations for cheap & free souvenirs
My recommendation is small food gifts, like spices from MarketSpice (where you can get whole nutmegs, cardamon pods, real cinnamon sticks, etc for under $2 or $3) or beef jerky from Don & Joe's Meats ($1.75 for a shelf-stable "german walking sausage")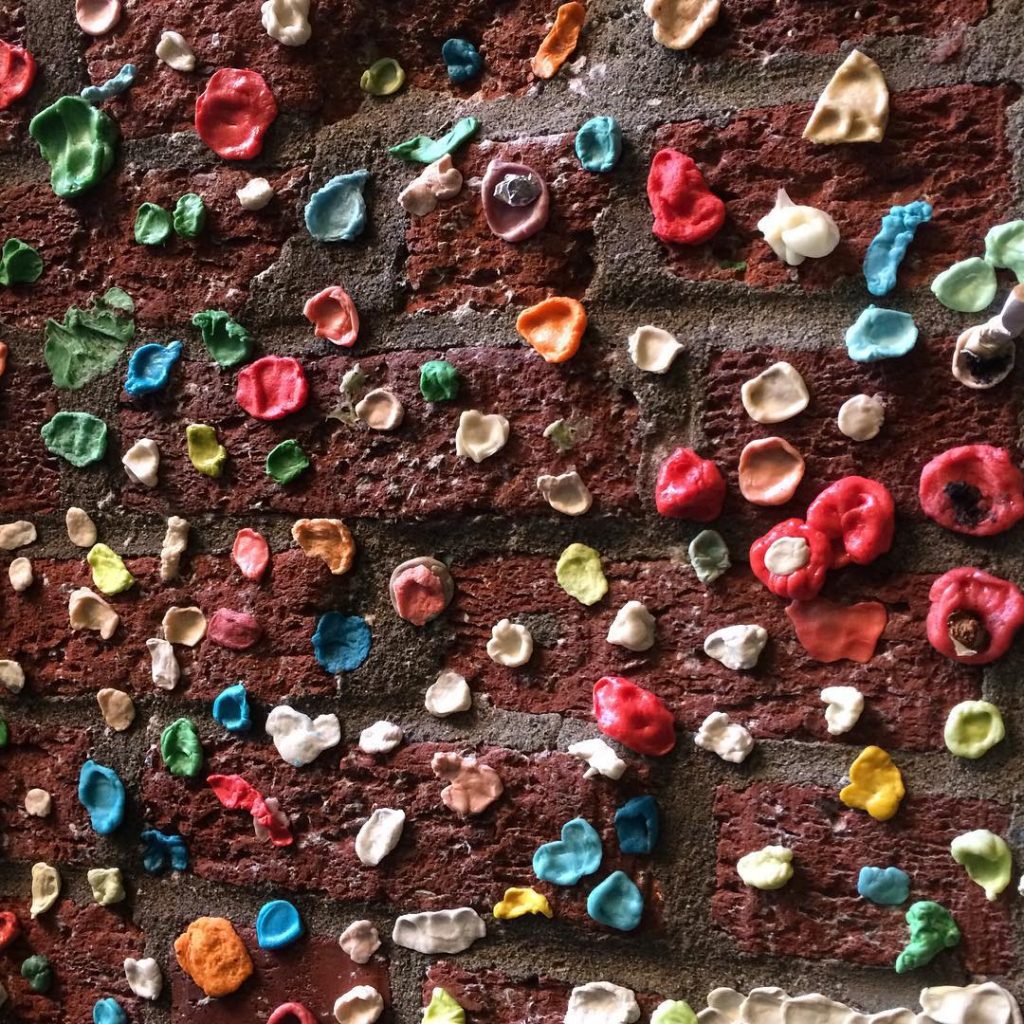 quirky souvenirs:
If you or your significant other has a quirky sense of humor, head to the Gum Wall for free souvenirs. Yep. Dried Gum. It's memorable, part of the landscape of the Market, and a super gross object to remember your trip by. And trust me, no one cares if you peel a piece off the wall.
Market Rummage Hall is a second hand store located inside the streetside market building, enter the interior of the market via the entrance beside Pirosky Pirosky, then turn left at the cigar shop. The Rummage Hall is rented daily by varying vendors, so contents often vary in type and price, but I've snagged some great finds here.
Cheap Eats At Pike Place
Cheap Food – you can spend a small fortune and/or most of your day standing in line for food and drinks at Pike Place Market. While this is one area I think is worth splurging a teensy bit (Like market fresh fruit, Le Panier's almond croissants or tiny donuts at the Daily Dozen Doughnut Company) there are definitely ways to cut costs at the market, including: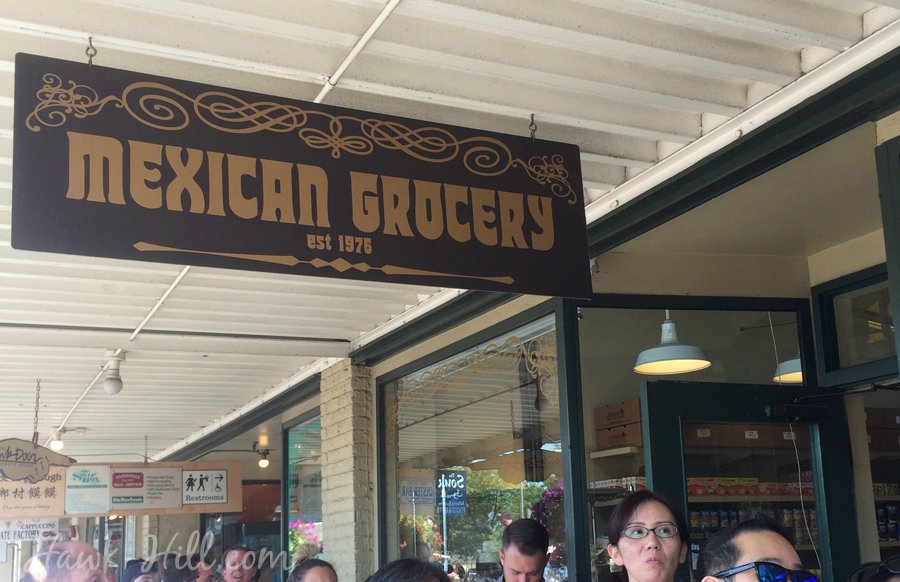 Don't forget your water bottle!

Extra important at Pike where drinks can be expensive.
Plan for a picnic. Sit down restaurants & even food stalls at pike can be very expensive. Cut costs by packing part of your lunch and picnicking on the waterfront side of the market, or in the hidden away rooftop community garden.
If you wander long enough, you can almost make a meal out of free samples. Fruit vendors, the BBQ stand, Beecher's Cheese, Le Panier, and many other vendors offer small samples of their product.
Group Tip: there are many food counters in the market and many are happy to cut a sandwich into halves, thirds, or even quarters so you can experience more while spending less.
The most affordable meal I've found at Pike Place can be found at the Mexican Grocery store located right next door to the "Original" Starbucks. For under $5, you can get a pork, chick, beef, or veggie tamale with beans, rice, and chips.
Cheap Stuff to Do at Pike Place

Check out my Insider's Guide to Pike Place for more details on "stuff to do" while you are there.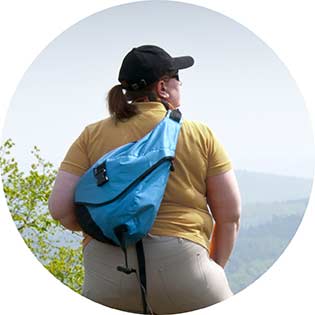 Artist, digital nomad, and highly sensitive person, Lynli started traveling full time as a digital nomad in 2018. Writer and Illustrator by day, remote-destination explorer by other-days, Lynli is passionate about pushing the boundaries of her own comfort zone, exploring the world as a female, fat, one-bag traveler, and journalling it all on WanderBig.com