Through four years of living in downtown Seattle, with Pike Place Market in my backyard, I became a sort of unofficial market restaurant critic. Each week, after a particular meeting on Tuesdays and Thursdays, I'd leave work a bit early to visit Pike Place Market. My goal with each visit, was to see, taste, or try something that I never tried before. It turns out, Pike Place Market is a great place to seek out experiences and flavors that are new and different.
Trying new Pike Place restaurants became a fun challenge and a way to unwind after a stressful day. Through years of dining in the neighborhood, I settled on this list of my favorite restaurants Pike Place market.
Every restaurant listed below I personally have eaten at multiple times, and only restaurants with amazing menus and consistency in creating an incredible dining experience have made it on my list. These are the restaurants I recommend to my friends and family, along with my bucket list of things to do at Pike Place Market when they are planning a visit to my neighborhood.
Best Food Stalls in Pike Place Market:
Market Grill
What to Expect: you will either love or hate the setting of this Pike Place market food counter: this bar seats about 15 people and is located, literally, in the heart of the market: 20 feet across the aisle from a fishmonger and with crowds of tourists passing within inches. To get seats for group, you'll need to visit in the off-season or get very lucky- but good news for Solo travelers in Seattle– there's often a single stool open with no wait.
Why they're the best: Market Grill has a small but sublime menu featuring the freshest seafood money can buy (I've literally seen fish delivered to the kitchen from the fishmonger across the aisle). Several vegetarian options are available as well. In my opinion (and I've tried all the chowders in the market) Market Grill has the best seafood chowder in Pike Place market.
My order: I order the seafood chowder on cold and rainy winter days in Pike Place market and the halibut Sandwich in the summer.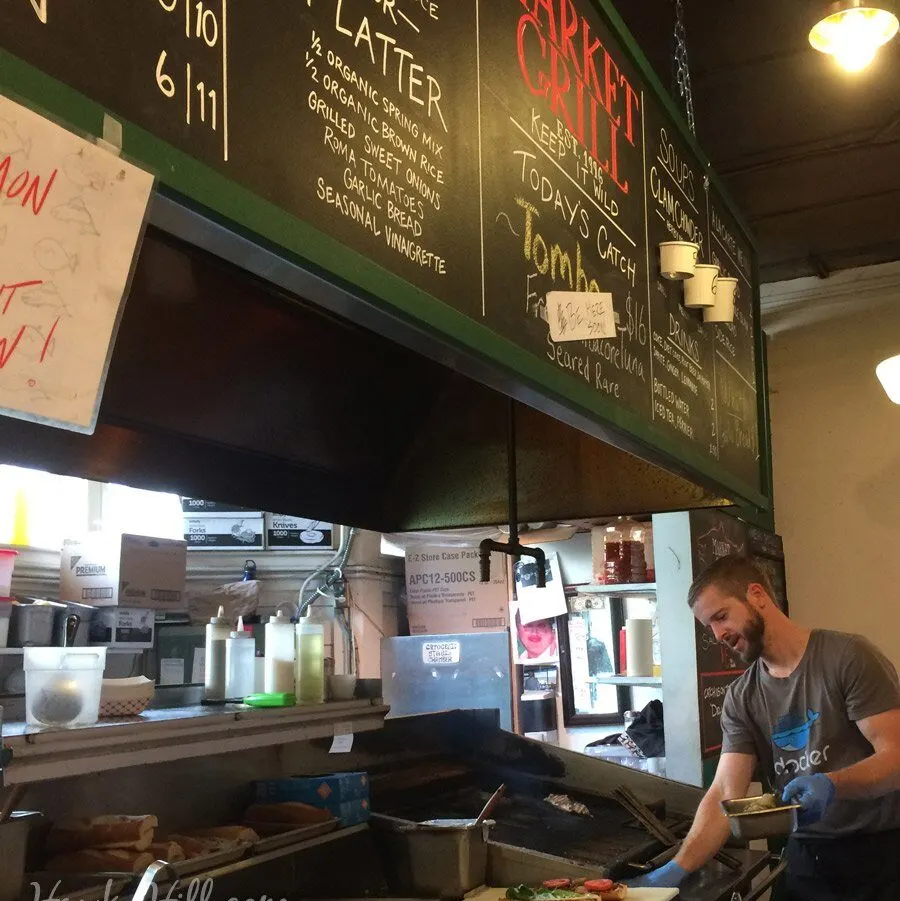 Oriental Mart
1506 Pike Pl #509 · In Corner Market
What to Expect: No-nonsense is the best word to describe this market run by Pike Place Market icon Leila and her daughters. Leila has very specific opinions about proper etiquette at Pike Place food stand, and the dozens of handwritten signs will inform you of all of these policies. Stay on her good side and you'll not only taste the best Filipino cuisine in the city, but sometimes get a taste test of exceptional delicacies.
Why they're the best: in 2020, Oriental Mart was awarded a James Beard American Classic award (that's a really big deal). Oriental Mart is affordable and delivers a mountain of amazing food that can fit any travel budget.
My order: I always order the chicken adobo here. Leila puts an incredible Filipino spin on seasonal vegetables, so it's worth trying whatever veggie she's prepared for the day. If you're lucky enough to get there when Lumpia (a sort of Filipino eggroll) is fresh and available, be sure to get one.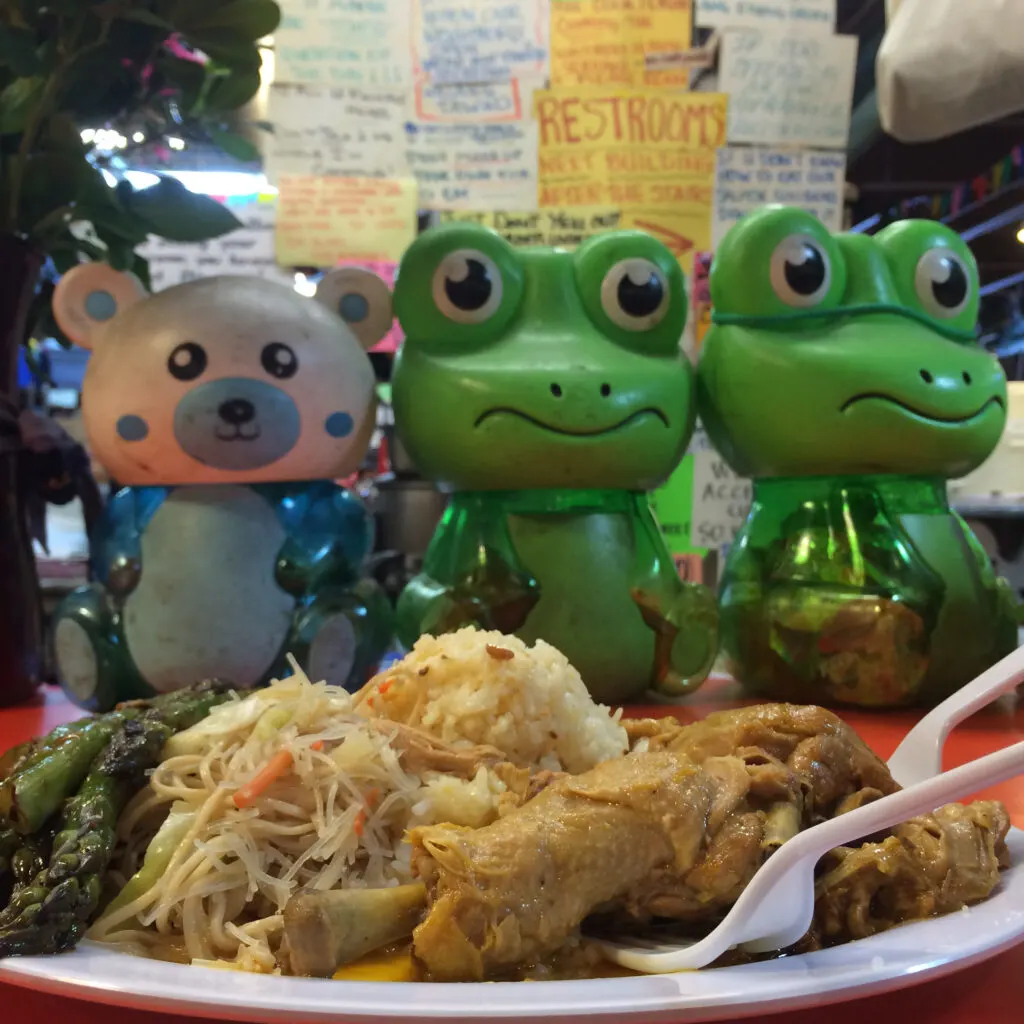 Best Pike Place Market Cafes & Diners
Le Panier
1902 Pike Pl · In Pike Place Market
What to Expect: Amazing baked goods with names you can't pronounce without minoring in French and great espresso, with a small side of (rather charming) French snobbery.
Why they're the best: Le Panier is the real deal. Bakers train in France and this bakery is baking everything in-house every morning before dawn. The baking continues through the morning, so if you visit early you can have fresh from the oven-baked goods.
My order: this restaurant has the best vanilla latte in Pike Place Market, and it's worth waiting in line just for the coffee (and that's saying something, because the pastry is amazing). I recommend ordering whatever croissant or roll is coming out of the oven and hitting the cases at the time, but if nothing is piping hot fresh my fallbacks are the almond or chocolate croissants. Le Panier also has sandwiches crusty baguettes. I once recommended these to a companion with the caveat "if you like chewing," and was overheard by a baker who laughed heartily and agreed.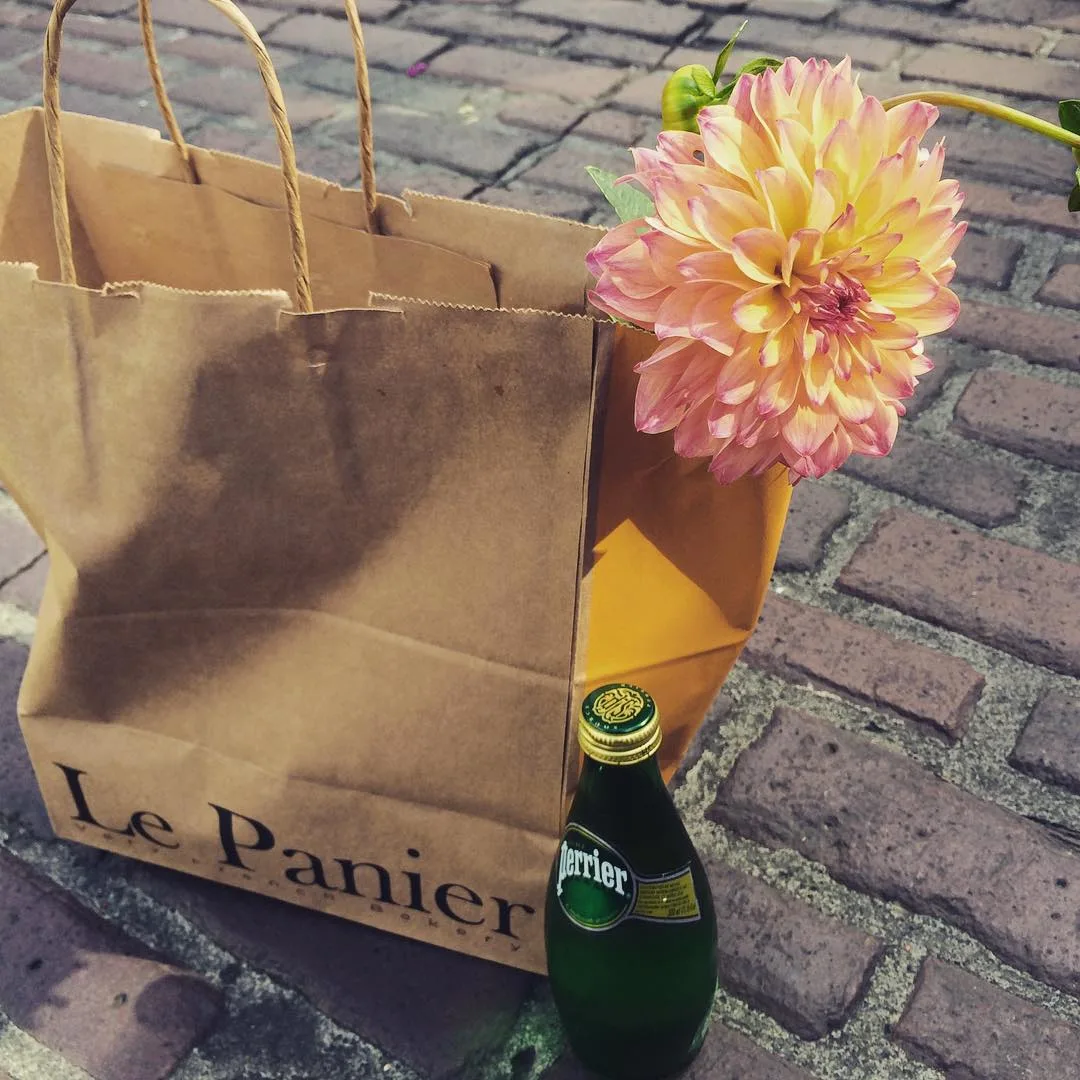 De Laurenti
1435 1st Ave · In Pike Place Market
What to Expect: This food counter is tucked into a specialty grocery store, although an expansion in 2020 now offers an additional seating area. Because of this set up, it's both casual and approachable but also offers high quality food and flavors.
Why they're the best: This tiny restaurant tucked into a specialty grocery store puts out some of the best pizza, coffee, salads and sandwiches in the market. With an entire kitchen of high-end food products to draw on, their menu starts with quality ingredients and the final result proves it.
My order: Even after eating here over a dozen times, I still don't have a go to order. The daily specials and seasonal salads are always phenomenal. Their Italian sandwich has won awards, but their gourmet pizza-by-the-slice seems to be the most popular offering based on spying on other diner's plates.
Best Upscale Casual Restaurants in Pike Place
Le Pichet
What to Expect: When I walk into this café, I always feel as if I've stepped straight back to Paris. The atmosphere, ambiance, and even the service is deeply Parisian. It can be a tad uncomfortable if that's not within your comfort zone, but the quality of food and drink here make it worth stepping into your growth edge.
Why they're the best: This café regularly gets written up for their French-style roasted chicken dinner, their butter lettuce and hazelnut salad, and quality cocktails.
My order: cocktail: Lillet Blanc, salad: Salade Verte (butter lettuce and hazelnut), lunch entrée: charcuterie board with housemade pate.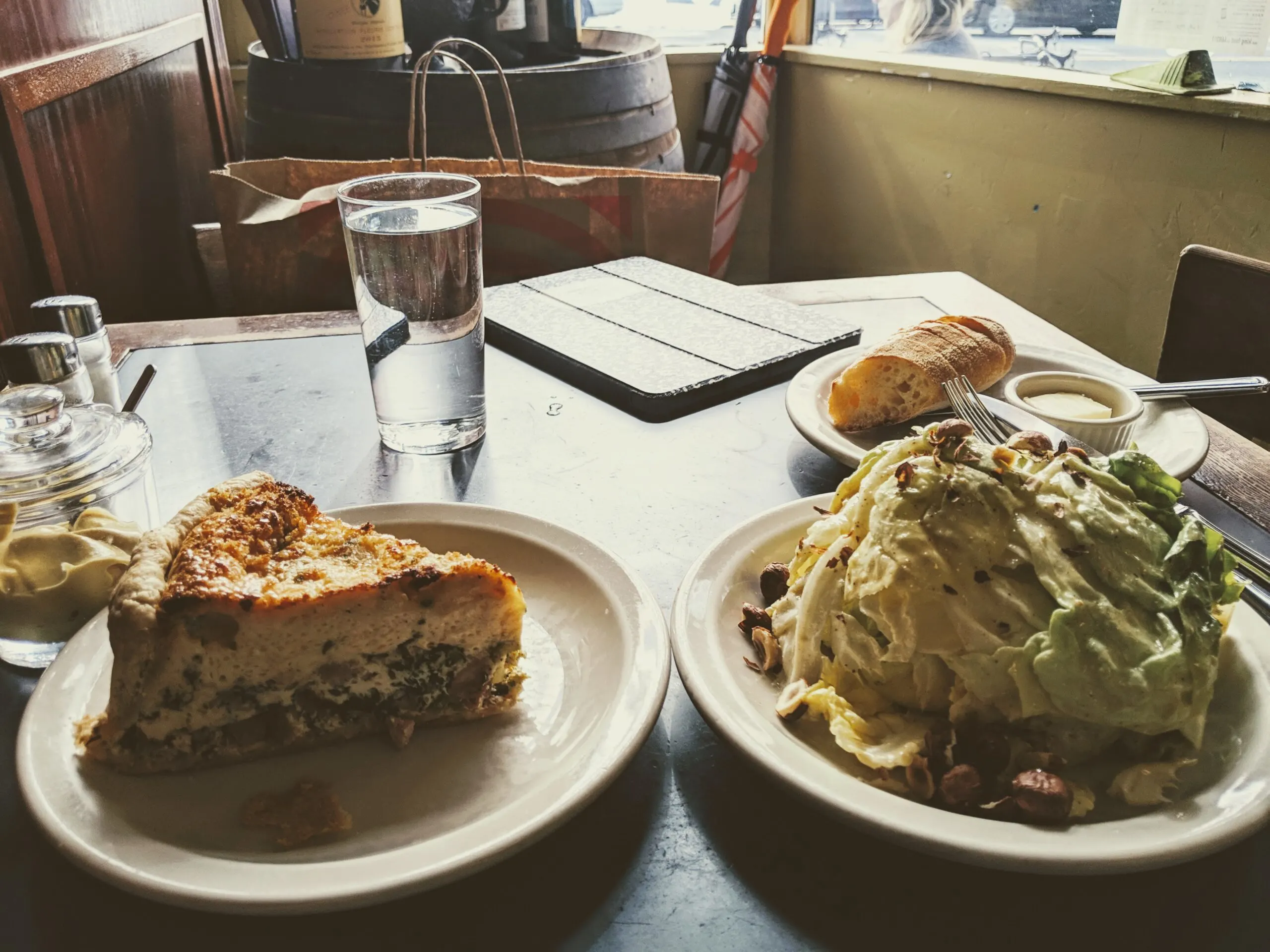 The Pink Door
What to Expect: This is the sort of eclectic joint that restaurants like Applebee's study to copy. Although it's a little upscale, you'll be comfortable and in good company in your rainsoaked or sweat moistened travel clothing. The menu ranges from humble but amazing sandwiches and french fries to higher-end dishes.
Why they're the best: The pink door's exclusivity is some of its fun. Locate this local favorite by hunting for the pale pink and almost unmarked door in Post Alley. Open the door, travel down the staircase, and find yourself in a dimly lit trapeze-filled room of small tables and intimate booths. Outdoor dining is available on the patio and a more recent addition includes a bright dining room overlooking Pike Place Market below.
My order: The waiter will try to sell you on the house lasagne, but it's average at best. For a "wow" bite, try the herbed french fries (cooked with handfuls of herbs and whole garlic cloves) or the meatball sandwich at lunch.
Beyond the Market: Restaurants Worth the Walk
If Pike Place is packed and restaurants are overloaded, take it from a neighborhood local: these spots are absolutely worth walking a few blocks:
(Fast Casual) FOB Poke
220 Blanchard St, Seattle, WA 98121
What to Expect: I once described this restaurant to a friend as "a Subway but, like, with raw fish." Despite her horror, she tried it on my recommendation and agreed it was every bit as good as I claimed. This restaurant has a setup not unlike a build-your-own sub sandwich shop, but instead of sandwiches, the staff builds unbelievably fresh poke bowls with the best flavor in the city. (2022 edit: I've now had Poke around the world- including Hawaii- and FOB in Seattle is still the best, by far!)
Why they're the best: Before Covid, Almost every day from 11-1, this tiny restaurant (occupying a space that was a dog food store when I moved to the neighborhood!) had a line stretching out the door and onto the sidewalk. These days fewer folks work in the nearby highrises and more orders go out by delivery, so the long line is mostly a thing of the past. Their flavors are good enough to warrant that line, and the high demand means that the fish in these deconstructed sushi bowls is exceptionally fresh.
My order: When I eat at this restaurant just outside of Pike Place Market, I always get a base of half-and-half spring mix and plain white sticky rice, a double portion of tuna, their house poke sauce, assorted sides, and an extra helping of the bright pink pickled watermelon radish.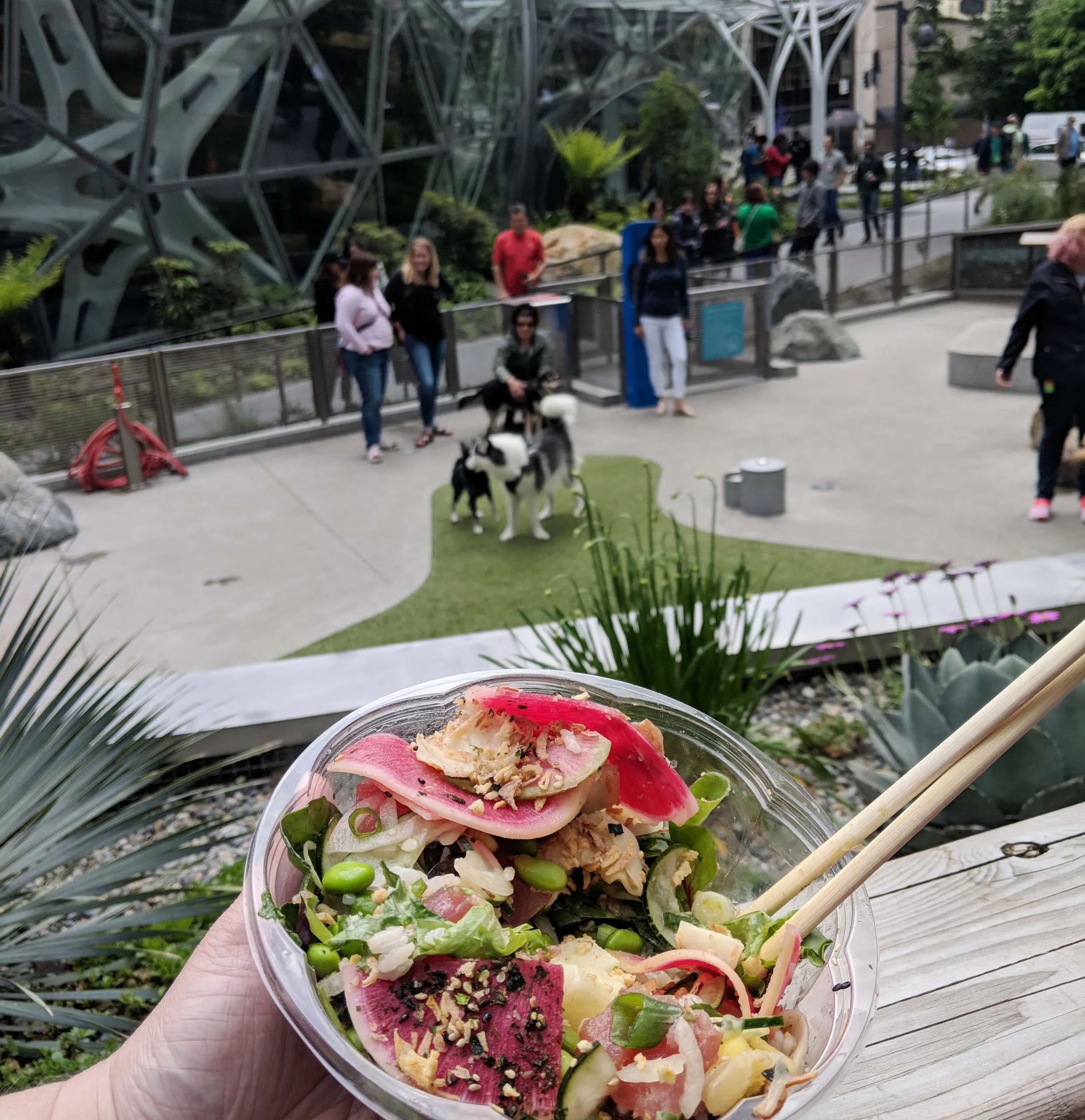 (Casual) Karaage Setsuna Seattle
2429 2nd Ave · (Corner of 2nd Ave & Elliott Ave)
What to Expect: This nondescript and reasonably priced café would be unremarkable and un-distinguishable from 1000 urban cafés if it weren't for their incredible Hawaiian-Japanese fried chicken, which they serve in volume to hungry diners, carry-out customers, and delivery pickups.
Why they're the best: In an urban area like the Pike Place neighborhood of Seattle, almost every cuisine is widely available, but this Hawaiian restaurant serving Japanese fried chicken is a unique standout. The quality and flavor of the chicken has earned this restaurant and nod from some of the most notable figures in the Seattle culinary world.
My order: always an order of Kaarage chicken, French fries with yakisoba dry spice, and Green Bean Goma-ae (a green bean and sesame oil side dish that, thanks to this Pike Place restaurant, I now make at home almost any time I prepare an Asian dish) [view menu here]
(Semi Fine Dining) Six Seven restaurant
2411 Alaskan Way – Edgewater Hotel Pier
What to Expect: This is a semi-fine dining restaurant located within an upscale hotel on the Seattle waterfront about a 10-minute walk from Pike Place. But since it is still Seattle, after all, the dress code is casual and lunch prices range from around $15 to $30 per plate.
Why they're the best: Ambience. This restaurant is located on a pier literally jutting out over the Puget Sound. Whether sitting indoors or on the outdoor patio, you'll have an unobstructed view of Elliott Bay, the Olympic Mountains, and the Washington State Ferries as they come and go from the ferry terminal downtown. The food is well above average and the setting is sublime and unrivaled – even among the best restaurants in Pike Place market.
My order: Six Seven's menu changes seasonally, and the seasonal specialties are almost always amazing. The Bento box is a popular lunch option, as is the salmon or their enormous burger.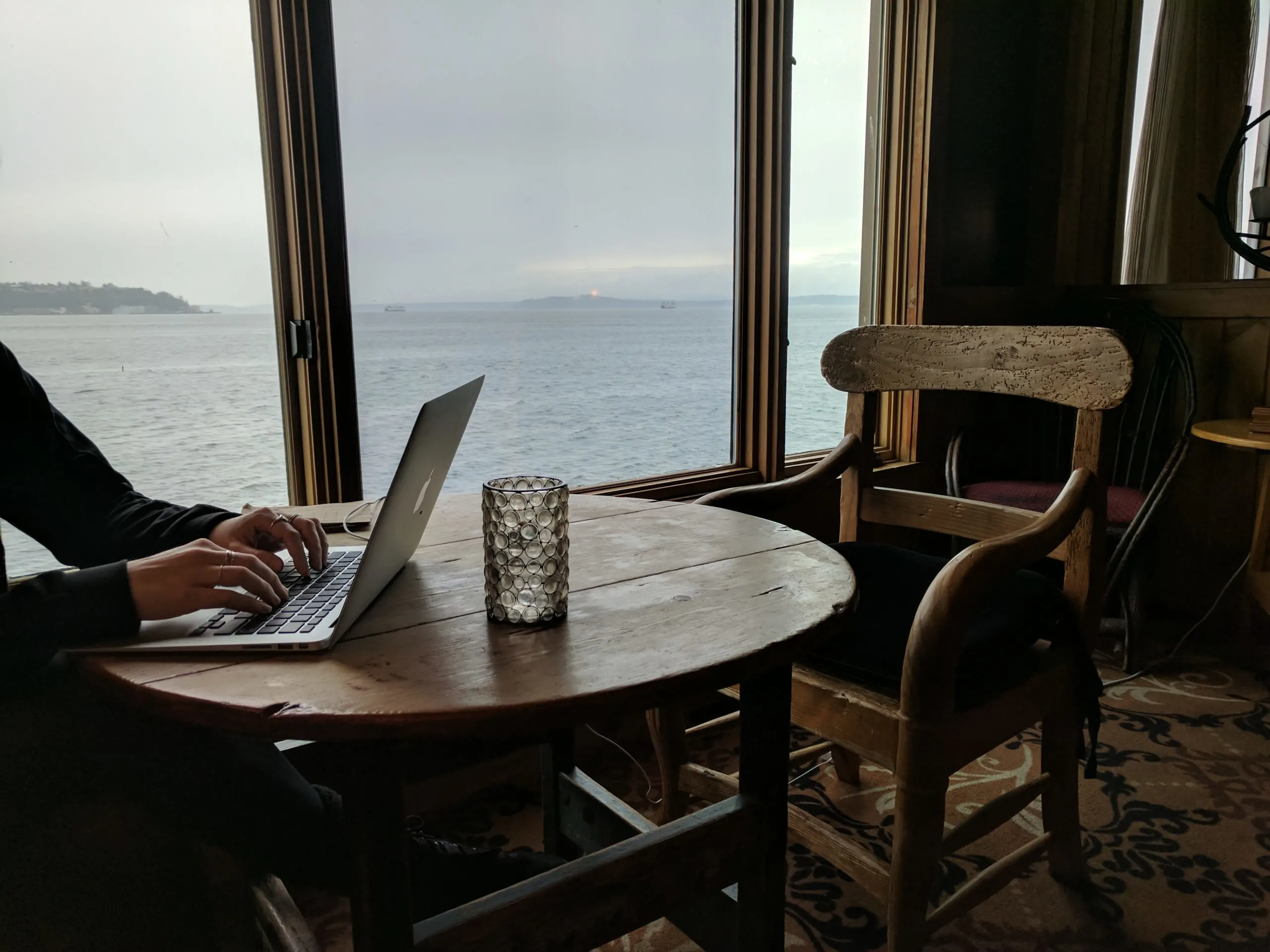 Want more food and drink suggestions in Seattle? Check out my article on my favorite Coffee Shops in Pike Place Market, which inspired this doodle: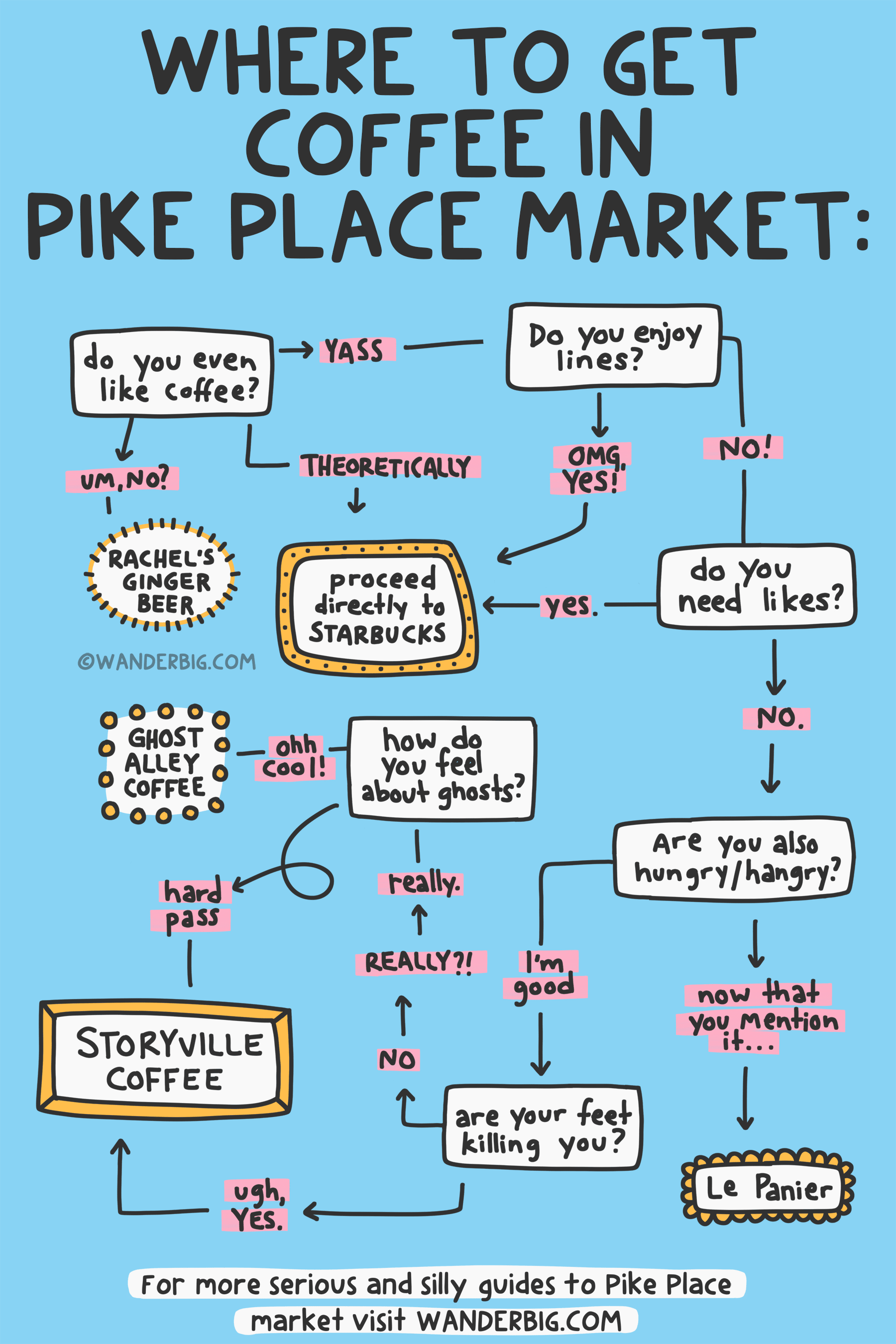 More Articles on Pike Place Market: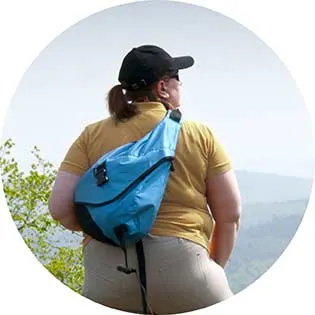 Lynli Roman's unique approach to travel is informed by decades of experience on the road with a traveling family and, later, years spent as a solo international traveler. When she's not writing about Seattle from her Pike Place Market apartment, Lynli writes on-location while conducting hands-on research in each destination she covers. Lynli's writing has been featured by MSN, ABC Money, Buzzfeed, and Huffington Post. She is passionate about sharing information that makes travel more accessible for all bodies.