Planning a vacation can be overwhelming. From knowing when to book tickets to figuring out how to make an itinerary- there's a reason people used to outsource this complex task to travel agents!
In this post, I share my simple 8-step process for how to plan a vacation. By tackling this task via easy steps that build upon each other, you can break down the complexity and plan your next vacation without the trauma and headache of getting lost in the process. Plus, I'll share with you two key printables I use that will make planning your next vacation just a little easier and Pro Travel Blogger Tips for Researching Destinations.
How I Learned to Plan Travel: Trial and Error
I'll never forget planning my first major trip as a travel blogger. Sitting at a random dining room table while housesitting in Seattle, I took the big step and clicked "book ticket" for a flight to South America and a return flight 3 months later.
I had 4 months to plan but, with a final semester of graduate school to complete and an entire apartment to pack and move to storage, by the time my departure date arrived I was barely more prepared than I was that day 4 months earlier sitting at the dining room table. When I arrived in Chile, it took me the better part of a week to adjust to the shock of being transplanted into a new culture and take my travel planning into my own hands.
Since then, my method for planning trips has evolved a lot. I still like to travel with a loose itinerary, but on long trips, it isn't unusual for me to block out the better part of a day on my travel calendar to sit in a library or coffee shop and run through a few of these steps on the fly.
Today, I'm glad to have the opportunity to share with readers my refined method for how to plan a vacation. With these steps, I no longer get overwhelmed the moment I choose a destination or take the plunge and book tickets. I know just what to do next- and with my help- you will too! So here goes:
1. Choose a Destination
When to complete this step: Up to years in advance
This should be one of the easiest parts of planning a vacation- but it isn't always. If there's somewhere that you've always wanted to go, and it's within budget and a safe time to travel there, then deciding on your destination should be easy. On the other hand, for those of us who want to travel many places in our lifetime, choosing a destination can be paralyzingly difficult.
If you struggle choosing a vacation destination, make a list of pros and cons, remind yourself you have a lifetime to travel, and take my "Where Should you Travel Next" Quiz, which can offer some suggestions based on your travel style and values.
Choosing where you will go is essential, everything else hinges on this first decision! Consider if there is something you've wanted to see for a long time. Perhaps a tourist attraction, seascape, or even a famous piece of art (I myself plan to one day visit Madrid for the sole purpose of seeing "Guernica" by Pablo Picasso in person). Making a decision on where to go should be one of the first items on your to-do list of how to plan a vacation since it is critical for determining the rest of your vacation.
🛂 DON'T FORGET: If you choose an international destination, take a quick look at the nation's visa requirements. While passports from high GDP nations generally afford residents a tourist visa available at the border crossing, this is not the rule across the board. Check (and double-check) authoritative sources, like the nation's state department website, to confirm any paperwork you might need to file before your trip..
2. Set a Budget for your Vacation
When to complete this step: 6-12 months in advance (enough time to save)
The second step to plan a vacation is to set a budget. Deciding on your budget early in your vacation planning process actually helps make the following steps easier. Instead of a million options, you budget narrows down to a more reasonable number of options to pick from.
Keeping a budget in mind early in the vacation planning process will help you choose where to go, when to go, how long you can be away, and of course all of the extra fun activities that you can plan during your trip.
If you're on a very tight or limited budget, setting the budget early can help you plan well and give you time to save a little extra to cover excursions or extra expenditures you really don't want to miss. For many travelers, this step may be completed at the same time as choosing a location, since budget may inform whether you can afford to head to a luxury resort in Bali or if a family camp in a National Park might be more your style.
Hint: Planning a vacation is easier if you break your budget down into categories. What will you spend for lodging? transportation? dining? tours and activities? For many travelers, including myself, having a daily budget helps me stay on budget even when I'm in the midst of enjoying my vacation.
Make Vacation Planning Easier with My Free Printable Workbook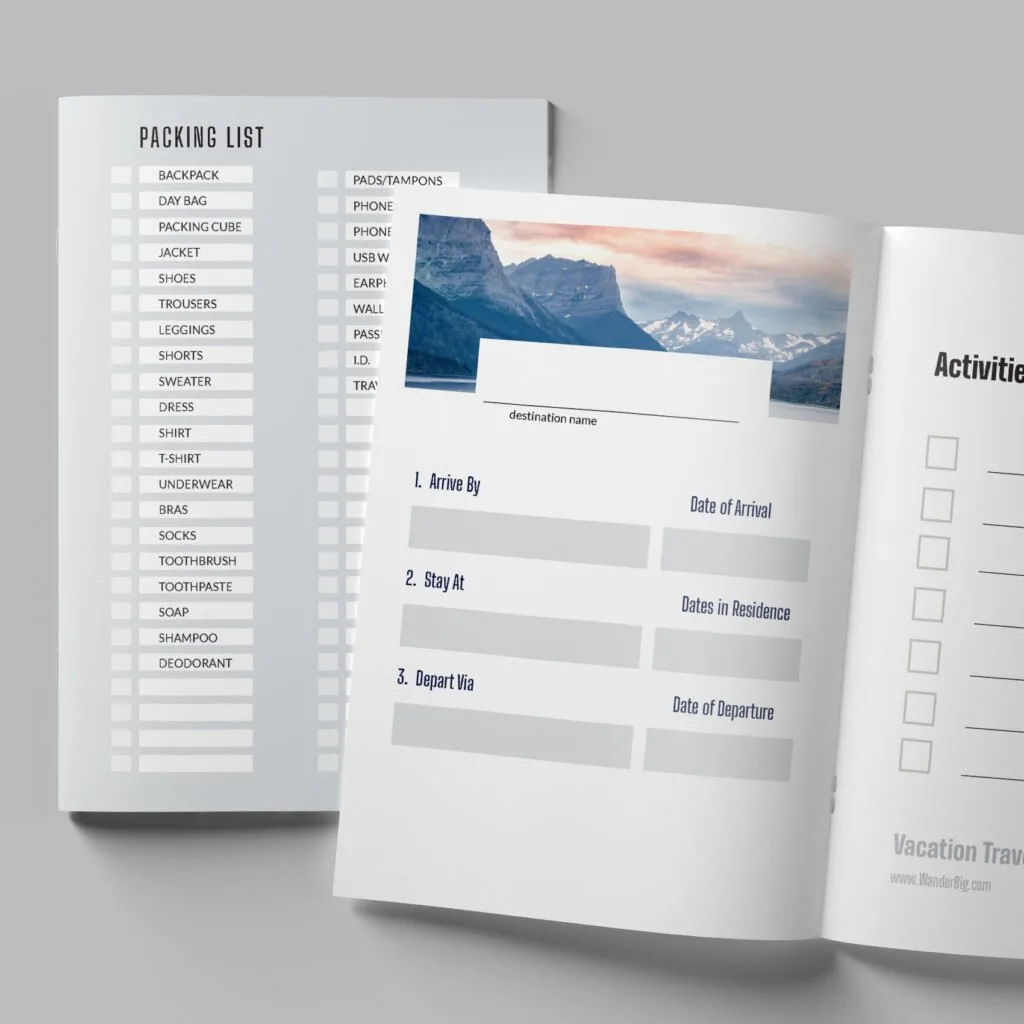 3. Choose Dates for your Trip
When to complete this step: 2-6 months in advance, depending on your work schedule
A month-long stay a an all-inclusive resort may sound ideal – but it's not very realistic. Before setting a length for your trip, consider your obligations: work, school, and family limit the amount of time that most of us can dedicate to traveling. 2-6 months out from your trip, consider windows of opportunity for longer vacations, time off you can use at work, and your school or family calendar.
For international travel, it's usually best to plan to be gone as long as you are able (after all, no one wants to spend 20 hours of a 3-day weekend flying to Paris and back!) but if you're traveling somewhere close to home, a shorter trip can work well to get a chance of pace and change of scenery.
To truly experience the destination, try and give yourself time to really take in the destination. Young travelers tend to overemphasize the number of stamps in their passport, or countries checked off their list, but to be a real traveler means taking time to really experience a destination- and that takes time. You will never be able to see everything the world has to offer no matter how much time you have, so plan to spend as much time as you need to explore your chosen destination well. Remember to plan more time for specific destinations that have piqued your interest or are dense with amazing travel experiences (like Florence, Italy!).
4. Research and Book Flights
When to complete this step: 1-3 months in advance
Once you've determined how much time you'll spend in paradise (or, you know, the Arctic Circle if that's your thing) you'll need to research flights and start thinking about lodging or hotel accommodations. If you're not a fan of traditional hotels, consider couchsurfing, Airbnb, or hostels. For flights, there are tons of ways to research when and where you'll find the best deal, but I like Google Flights.
Before you book, remember to use the price calendar to check for low-priced ticket options. Airfare at certain periods of the year (like Christmas, spring break, or even just Mondays) are more expensive than others. Researching flights and hotels before booking can help make sure you get the best deals on flights and other travel necessities like hotels and rental cars.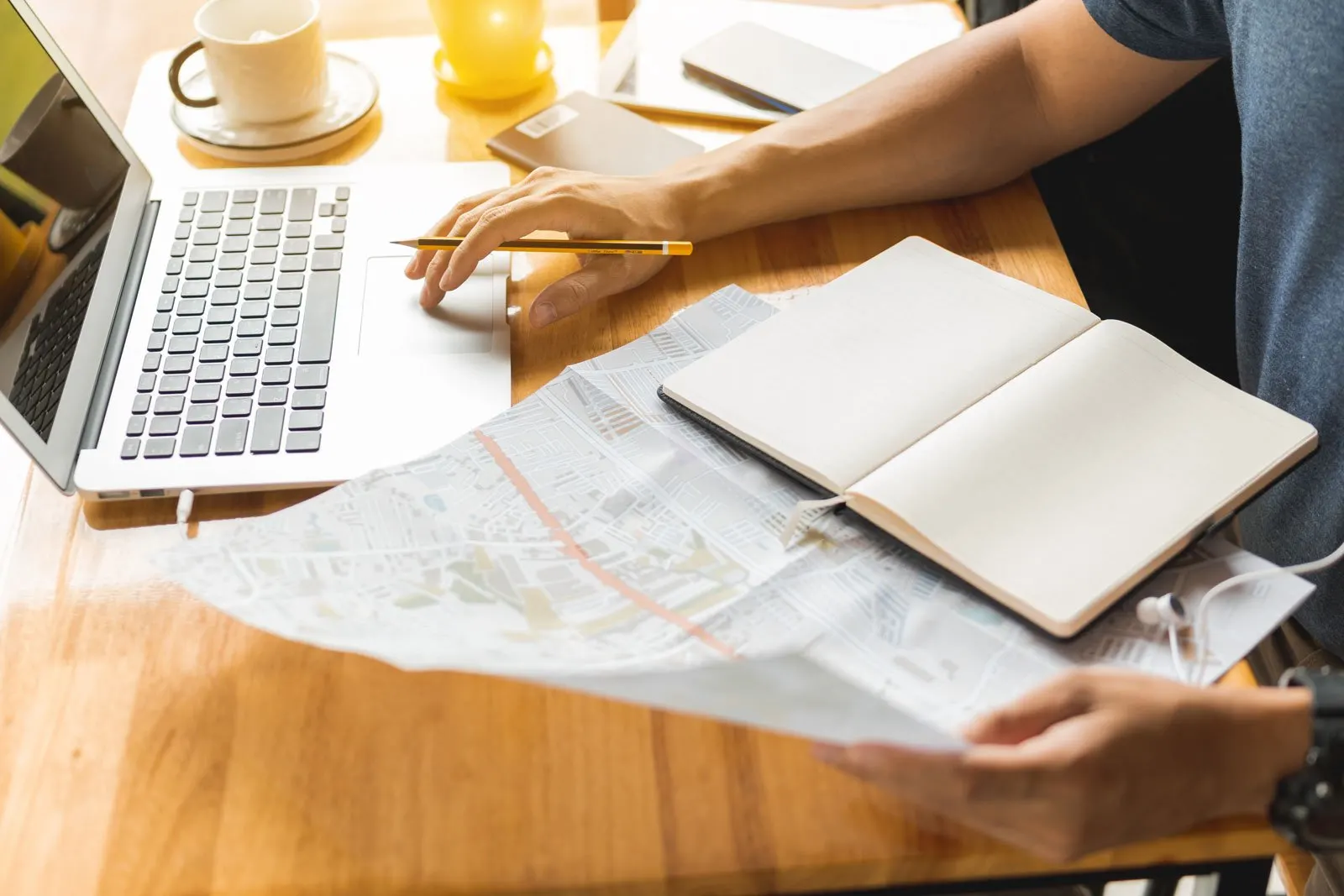 Check for Coupons and Travel Deals
Another key to planning a vacation that might just save you tons of money is checking for coupons and deals before you go on vacation. Check with travel discount sites, GetYourGuide, and Groupon to find deals worth purchasing for your trip. Through Groupon, you may be able to purchase coupons and vouchers that are significantly discounted during limited-time promotions. The vouchers can be printed or accessed using your phone's web browser or app.
5. Plot your Daily Itinerary (or Lists of Must-Do's and Would-Like-to-do's)
When to complete this step: 2-6 weeks in advance
For some travelers, creating an itinerary is one of the most enjoyable things to do when it comes to planning a vacation. For me, though, it definitely is not- I prefer the freedom to wake up and choose my day.
Whatever your travel style is, good vacation planning does require that you do some research and rank some options for things to do in your destination. Essentially, there are two ways to do this:
Lists of things to do city by city.
Knowing what a city is famous for, its major attractions, and well-reviewed activities mean that you can wake up and jump into a fun activity instead of lingering over your phone till noon trying to figure out what to do for the day.
A day-by-day itinerary of scheduled activities.
This can be simple as "spend the day exploring the boardwalk" or micro-planned down to specific attractions, vendors, and restaurants. Just be sure and leave a little wiggle room for spontaneity!
For example, when I visited Romania's Danube Delta, it was easy to wake up, head to the harbor, and grab a last-minute tourist boat headed out for a day trip through the marshy channels, but knowing where tourist boats left from and at what time they generally departed was key research that helped me enjoy my "spontaneous" trip- even without a strict itinerary.
Pro Travel Blogger Tips on Researching Destinations:
Check Reddit. most local Reddit subs have a central thread of recommendations for travelers, and these recommendations- vetted by the community- are typically stellar). When I planned my birthday trip to Hilo, Hawaii, I spent a few weeks following Reddit's r/BigIsland for local insights into things to do, best local beaches, and the best places to eat on Hawaii Island.
Consider the opinions of unsponsored travel bloggers
Follow local social media hashtags for insights into the restaurants and activities locals enjoy.
Avoid over-touristed spots by searching for "new" businesses in the vacation destination of your choice.
Sometimes, there are some amazing hidden gems that are not overflowing with people- researching and planning your vacation in advance can help you find these gems.
Download My Planner For Free: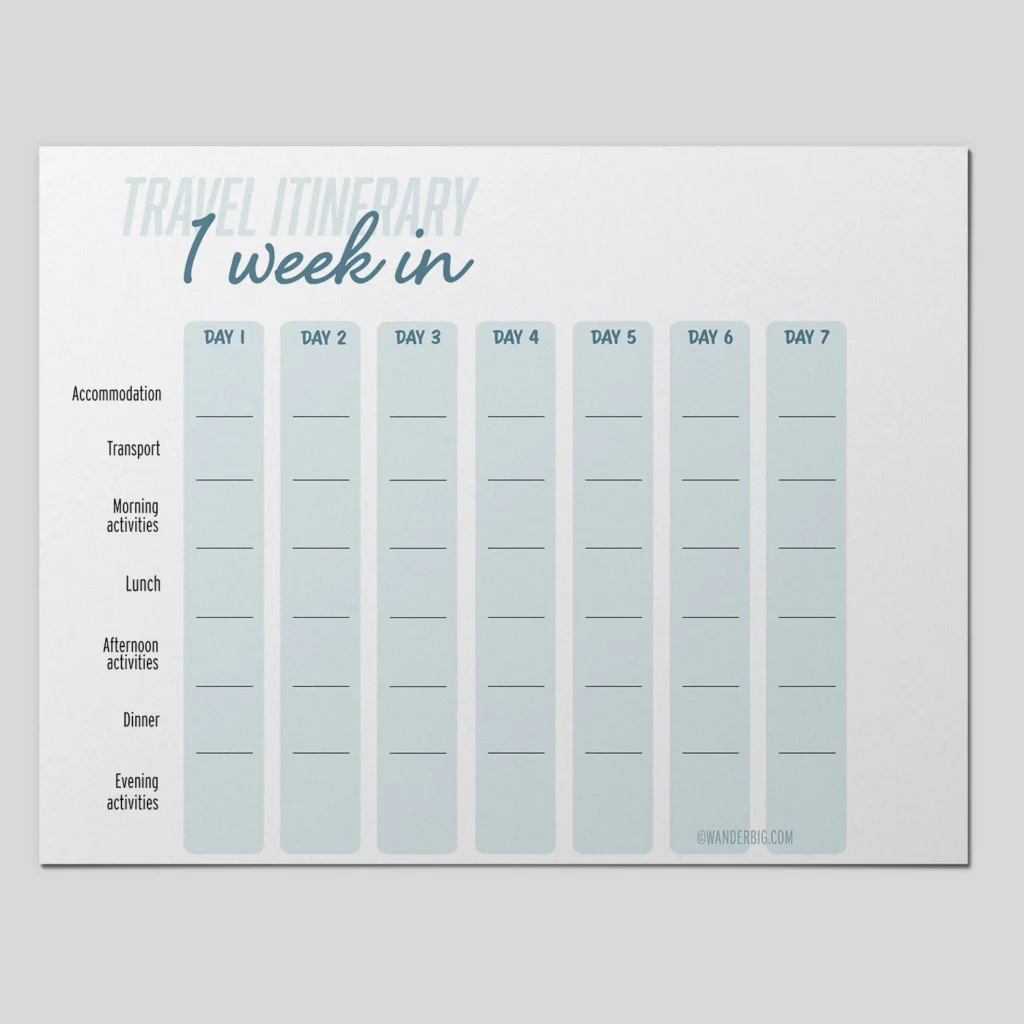 The following section may contain affiliate links. As an Amazon Associate, we earn from qualifying purchases.
Consider your style and your destination's style
It's important to consider what excursions, trips, and sight-seeing activities you intend to take part in while you're on vacation. Some travelers prefer self guided tours, while others may want to connect with a group and professional tour guide. Generally, both styles are fine except in destinations that aren't easily accessible for solo or small-group travelers.
Some destinations require a guide, whether due to being water-bound (like Innis Island in Ireland, the Danube Delta in Romania, or the Uros floating islands) or just too remote to access without special equipment or training (like Torres Del Paine, Chile or the Atacama Desert) For this type of destinations, it's best to include choosing a tour in your vacation planning. GetYourGuide can be a great source of ratings and pricing information of various activities, tours, and non-touristy experiences you can take while on your vacation.
6. Take Care of Business
When to complete this step: 2-3 weeks in advance
With your trip fast approaching, there are a few quick tasks to review before departing. Do these a few weeks in advance to avoid last-minute stress.
Notify your bank that you are going out of the country.
Trust me, you don't want your debit card frozen the moment you make your first purchase in Paris(!) so pop over to your bank's online customer service to let them know that you will be out of the country. This is a critical step in how to plan a vacation.
Calling your bank or using their online portal before your trip will ensure that your debit and/or credit cards do not get flagged for suspicious activity. Not calling them before you leave the country could risk your credit cards being frozen by your bank or credit card issuer.
Confirm How you'll Use your Phone if Traveling Internationally
If you've got Google Fi, you're good to go! (I'm an unabashed fan) but if you're with another carrier you'll need to confirm what you need to do to make sure your phone and data service will be accessible while traveling.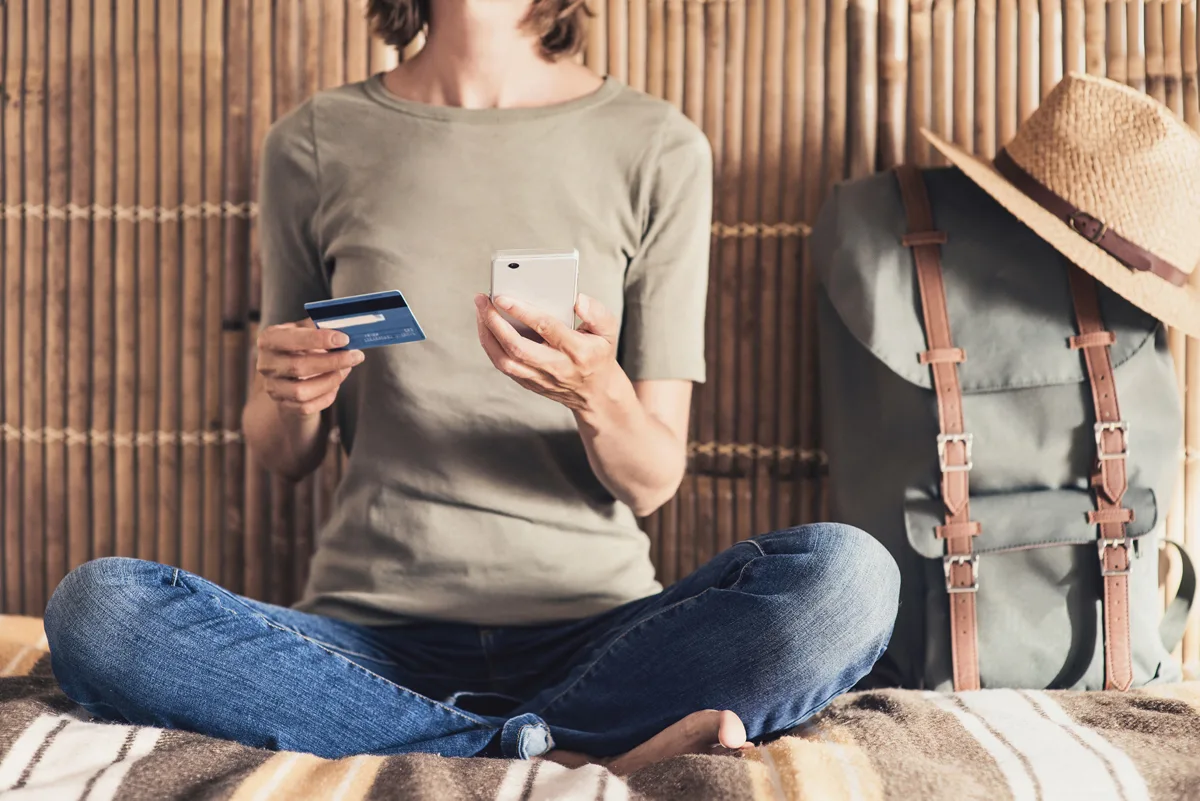 Check travel Restrictions and Health Requirements.
In the last few years, travel requirements have changed drastically (and keep changing!) It's a good idea to double-check any health requirements before you travel. You may also require an appointment at a travel health clinic if your destination recommends a Yellow Fever Vaccine or Anti-Malarial medication. The CDC makes it easy to look up recommendations by destination at cdc.gov/travel/. This is especially useful for international travelers.
Get Travel Insurance
If you're leaving the boundaries of your current health insurance, consider purchasing health insurance just for travelers. It's affordable, a simple process, and a good investment. While many American travelers shrug and assume health care will be affordable outside of the US, travel health insurance is an important part of how to plan a vacation because it offers benefits like coverage for evacuation back to the states and expensive emergency care.
Trip insurance, which refunds the cost of non-refundable expenses if your trip is unexpectedly canceled is also worth considering.
7. Pack your bags properly.
When to complete this step: 3-7 days in advance
Packing a suitcase isn't as simple as loading it with your belongings. Choosing a travel wardrobe, packing it with hacks to save space, and choosing the right bag are keys not just to getting your luggage with you to your destination, but also to enjoying your well-planned vacation without the burden of overpacking stuff you don't need. Good vacation planning includes well-packed bags that help you breeze through airport security fast.
Before you travel, double-check security restrictions for the airlines you are flying with. If you're traveling to a foreign country you'll also need to check the size and weight requirements for toiletries and luggage sizes. A good rule of thumb would be to start with the TSA website for more information.
8. Enjoy! Relax and enjoy your vacation.
Your trip is here! You've learned how to plan a vacation, executed your plan, and it's time to leave on a less-stress, well-planned trip to the destination you've been dreaming of for months!
Last, but not least, have fun! Vacations are intended to be relaxing and pleasurable, not stressful and demanding. You planned for it, you earned this unforgettable travel experience.
Final Thoughts on How to Plan a Vacation
When it comes to the basics of how to plan a vacation, there are a few things you will need to consider before you book your trip and fly halfway across the world! These essential 8 steps- plus a few minor subpoints- are the keys to having a well-planned vacation where you can focus on enjoying your surroundings and your travel companions.
Sometimes it's easy to overlook simple things or steps that are essential for making sure your vacation plans go smoothly, so I've broken it down into these 8 steps you can progressively cross off your travel-planning to-do list. How did I do? Notice anything I forgot? Drop me your best travel planning hint in the comments below.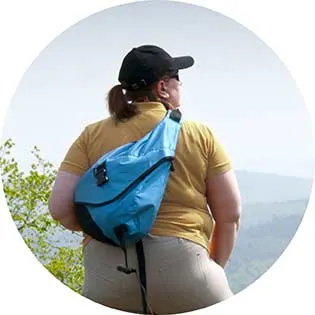 Lynli Roman's unique approach to travel is informed by decades of experience on the road with a traveling family and, later, years spent as a solo international traveler. When she's not writing about Seattle from her Pike Place Market apartment, Lynli writes on-location while conducting hands-on research in each destination she covers. Lynli's writing has been featured by MSN, ABC Money, Buzzfeed, and Huffington Post. She is passionate about sharing information that makes travel more accessible for all bodies.