My travel ethic is a bit different than most travelers. While I like visiting famous must-see sites- My favorite travel memories have been formed by straying just a bit off the well-trodden tourist track, and exploring- often in solitude or near solitude-historic, natural, or cultural sites that many times are more awe-inspiring than popular tourist must-sees.
The thing is, what makes a destination place on tourism "must-see" lists, usually is more about good PR, advertising, and accessibility from major airports than it is about the quality of the site. By broadening my itinerary to include quirky, less popular, and obscure sites, I've made amazing travel memories visiting, often in total solitude, unforgettable places in remote obscure, and off-the-beaten-bath place destinations
Romania is so much more than the famous highway and castles that most fast-travelers hit on their sprint through Romania. In this post, I'm sharing 10 of these lesser-visited treasures I found when I spent a month slow traveling through Romania in 2019, which I've curated into a collection of fun, weird, obscure, and sometimes macabre things to do in Romania.
I don't know why Romania has always called to me- but it's been on my shortlist of countries to visit for a long time. I think I was lured to visit the region of Transylvania because even the region itself is off the beaten track for typical tourists visiting Europe or Eastern Europe. And, I'll confess, I thought it was funny to tell other Americans I was visiting Transylvania and hear the exclamation, "Wait, that's a real place?!"
In that way, Transylvania felt like an exotic place to visit. But with its borders securely within the EU, Romania also felt like a relatively safe place to spend autumn wandering along coasts and inland railroad tracks.
Slow Travel
Slow travel is just what it sounds like. It's a vacation at a snail's pace- often combined with digital nomadship (aka remote work)– taking time to explore out from the major cities, planning free days, and including rest days within the itinerary of typical travel.
Slow travel allows for getting to know a country more intimately, talking to strangers in cafes, and- via Airbnb Experiences- being invited to participate in cultural traditions, sit at the table during family meals, and access other typically-tourist-off-limits areas of a culture. Instead of skipping from famous photo op to famous photo op, slow travel allows a traveler to explore lesser-known destinations within a destination country.
Private Access
My favorite part about Transylvania and exploring its lesser-known tourist spots is that I frequently had private access. I was able to visit museums filled with priceless artifacts, gardens, heritage farms, and historical neighborhoods without any crowds and often no one at all in my wide-angle shots- which was heaven to this introverted traveler and artist.
Top 10 Things to Do in Romania:
Get Creeped Out At the Zoological Museum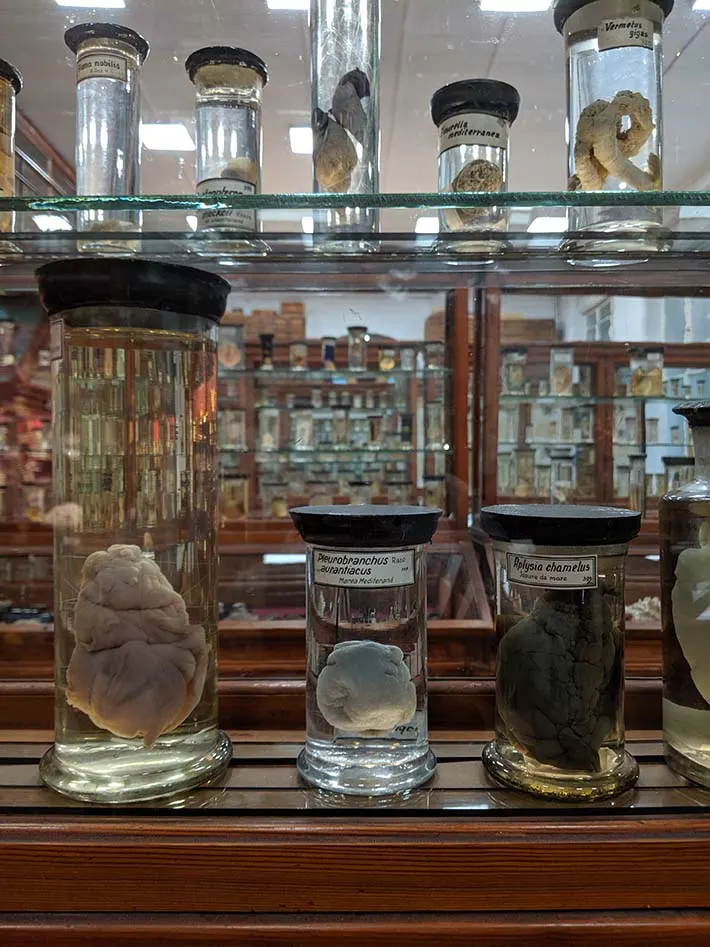 The apothecary museum is a pretty big draw for tourists in Cluj-Napoca, Romania. Well-publicized, recently remodeled, and located just off the main square, the Museum of Pharmacy draws traditional tourists as well as the spooky-curious Transylvanian traveler.
During my visit, the apothecary museum was closed, so I found myself exploring a similar but often overlooked destination a short walk away. After trudging up a verdant hill near a hospital, I found myself on the campus of Babes-Bolyai University. There, in an old and nondescript building was the University's Natural History Museum.
The listing for Cluj-Napoca's Natural History Museum on Atlas Obscura convinced me to check it out. Inside, row after row of 100-year-old cabinets filled with rare and in some cases extinct species are preserved in jars and or pinned behind glass, creating an eerie vibe.
In the hour I spent exploring this and the taxidermy in the following rooms, I didn't see another single soul. Walking amongst the rows and rows of specimen jars was creepy and fascinating- even if the captions were all in Romanian.
Hint: If you're particularly curious about a specimen, just take a photograph and use Google lens to identify the species. As long as its features are well defined- like a butterfly on a pin vs an eel in a jar- google lens is pretty accurate.
Keep an eye out for the taxidermy bat collection, which is particularly fascinating and apropos to Transylvania tourists.
Get Spooked at the Hoia-Baciu "Haunted Forest" (and Heritage Museum!)
Next on my list of things to do in Romania: The Hoia Forest is located on the outskirts of Cluj Napoca, Romania. The forest itself is nondescript and unremarkable, but legends of it being haunted persist. I likely would have been disappointed with my trip to this forest were it not for its direct neighbor- a Heritage Park!
Throughout Transylvania, a series of museums have been constructed outdoors, containing buildings of historic value that have been moved (rather than demolished) to a central location. At the Heritage Park, you can see stunning Romanian Orthodox wooden churches, preserved farmhouses (including period interiors), and working farms. Even though I went on weekday- when only a few other people were in the park- a groundskeeper was available to unlock buildings for me to peer within. This destination was especially fun because of the free-ranging animals and an open-access apple orchard with ready-to-pick fruit.
Combined with a short jaunt into the Hoia Fores (just to say you did) this is a great addendum to time in the Transylvania region of Romania.
Get Lost in the Rambling Gardens of Cluj-Napoca's Botanical Garden
University Alexandru Borza Botanical Garden
I often enjoy visiting zoos and botanical gardens on trips where I'm able to enjoy slow travel, which is why this Transylvanian botanical garden made my list of things to do in Romania.
Even though plants and animals look much the same from place to place, the aesthetic is always unique and vibrant. The Cluj-Napoca Botanical Garden was no exception, and I fell in love with its aesthetic of wildness. While English gardens are known for being a bit bushy and wild, Transylvanian gardens- even this curated university garden- are absolutely (delightfully) feral. Succulents growing through broken window panes and vines snaking through the ceiling of an indoor water garden were memorable and uniquely Transylvanian.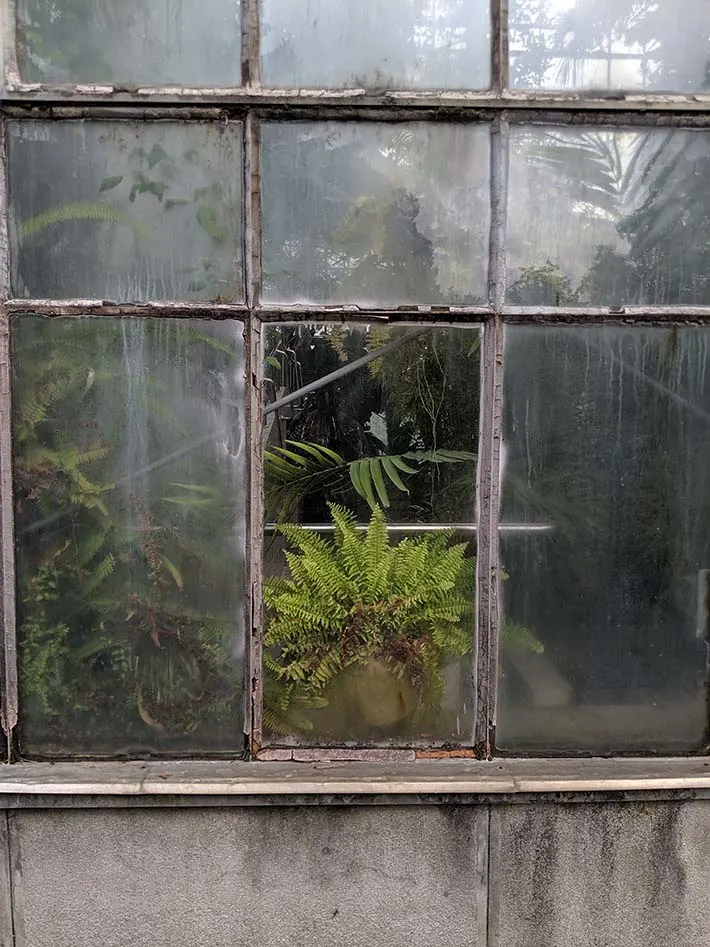 If you like the style of English gardens, which are known for being a bit wilder than the typical European garden, you'll love the Transylvanian garden aesthetic- which looks a bit abandoned, as if plants are in the process of taking over.
Storm Făgăraș Castle and Outlying Attractions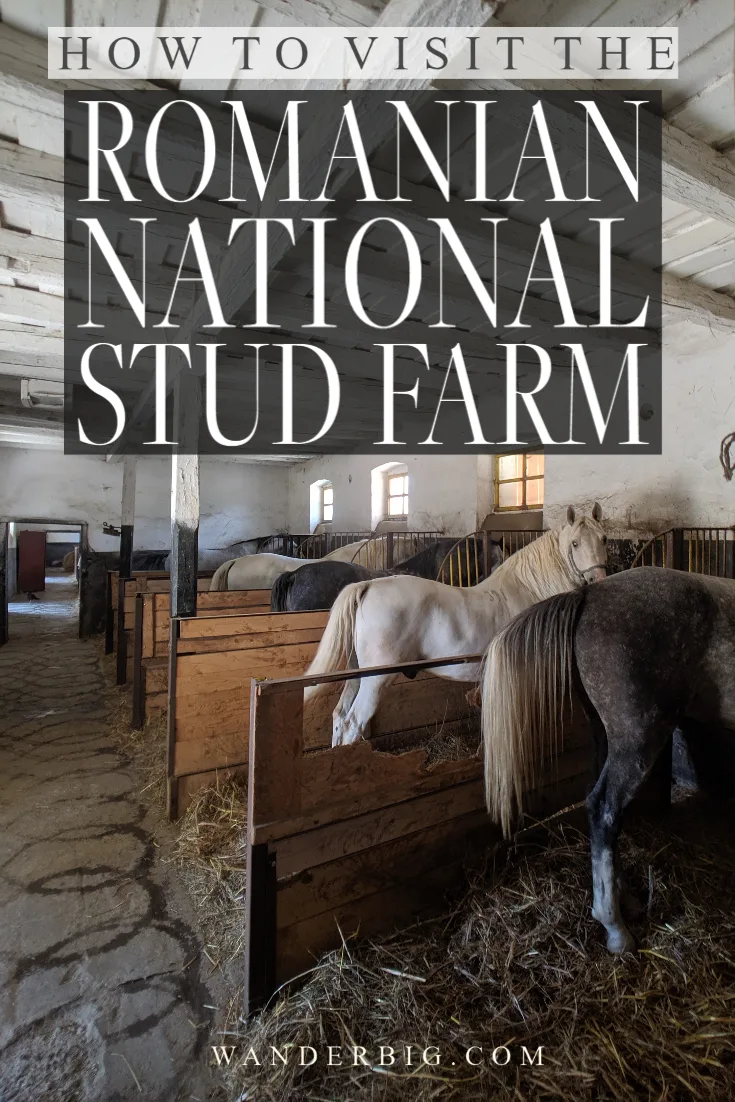 I like Fagaras so much that I wrote an article specifically about visiting Făgăraș Castle and the town named after it. While many people include Făgăraș on their travel itinerary, what 99% of foreign travelers omit from their itinerary of things to do in Romania is visiting the Romanian stud farm a few miles outside of town. For an inexpensive cab ride (hail one from the taxi area just between the castle and cathedral in Fagaras), you can hit the Romania national Lipizzaner farm (Called "Lower Saturday Stud" or just by its location: "Sâmbăta de Jos Stud Farm" in English) and the beautiful Brancoveanu Monastery just down the road. For more information on visiting both, see my article on things to do in Fagaras, Romania
Need a visual list of my recommendations?
Check out my Transylvania-Romania Pinterest Board
As a horse owner for much of my life and as an artist and designer inspired by Equestrian decor- I loved the horse farm both for its stunning horses and the unique aesthetic. Old European horse farms are so much more authentic than even the best-curated museum. The buildings, horses, aged equipment, made for a stunning equestrian aesthetic and would make an excellent background for Instagram photography destination photo session.
If you visit on weekends in the fall, spring, and summer, you may catch exhibitions or even take riding lessons at this working farm.
Float through the Sanctuary of The Danube Delta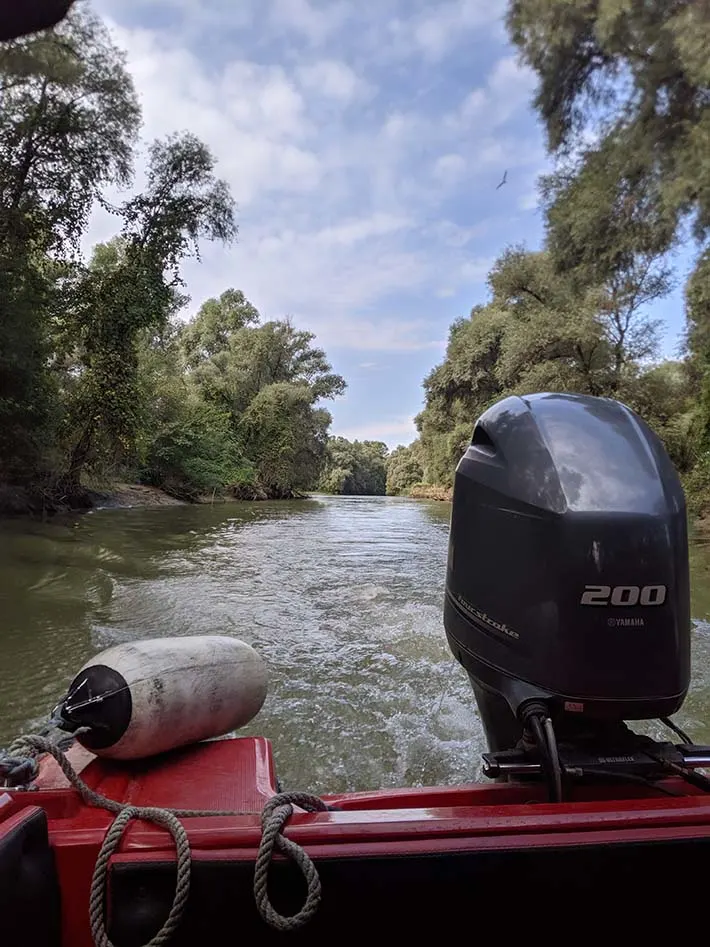 Ok, so the Danube Delta is anything but off the beaten track, in fact, it's recognized by the UN as a World Heritage site- a designation is given by the United Nations for locations that offer something culturally or naturally unique to the world. The Danube Delta, where the Danube River empties into the Black Sea, is a haven For wildlife and houses unique people and microcultures within its seemingly endless miles of waterfront.
So if it's popular, why is it included on this list? Easy: most people visiting Romania see how difficult and time-consuming it is to transfer from Bucharest to Tulcea, Romania, where boat tours start, and decide to skip the Danube Delta. On a good day, it's three trains from Bucharest or a five-hour bus ride. Tulcea isn't located near any notable castles or other tourist landmarks, so for folks who have only a few days in Romania and a long list of things to do in Romania, most skip this amazing destination.
If you do venture to the Delta you'll find yourself in a strange place that has both well-developed tourism facilities and tourism culture in which tourists from outside of Europe are rather rare. Instagram travel influencer culture hasn't quite arrived in the delta, and my entire 4 days in this location came and went without meeting another native English speaker.
The Black Sea is where many Romanians vacation and visit during their time off, so while tourism resources are in place, they may not always be available in English. While you can book a last-minute tour from the harbor on any given morning, it may be worth booking a Danube Delta tour in advance to ensure that your tour guide is able to speak English.
Shop in the Palaces Turned Bookstores
I was awed by youth culture in Bucharest and how many of the landmarks and icons from its past are being repurposed creatively. In my week wandering and exploring Bucharest, I saw palaces turned not just to museums or galleries, but used in very ordinary ways- leading a grand aesthetic to book shops, record stores, and artist markets.
In Bucharest be sure and find time to visit the Carterusi bookstores, which are known for converting palaces and former state buildings to storefronts with creativity and honor to the original structure.
Awe at the Art in the George Enescu National Museum
The George Enescu museum is a small feature in a large building. Only about four rooms make up this museum dedicated to a famous Romanian musician. Despite this, it was truly one of the most beautiful buildings I have ever seen in my life. With an ultra-low cost entry fee and location right in the heart of Bucharest, it's well worth stopping in.
Located just a few blocks from the central Train Station in Bucharest, it's a good way to spend a layover.
Score some Deals at The Bucharest Sunday Street Market
The Bucharest Sunday Targul-Vitan street market is a cultural experience and souvenir finding goldmine. For a short taxi ride into the less tourist-friendly part of Bucharest, you can visit this enormous street market which locates itself within a giant parking lot. Inside, you'll find a little bit of everything and a lot of fascinating humans.
Everything from tube socks to hand-painted art, cold war era relics to Russian furs, and family heirlooms to street corn, this was one of my favorite street markets I've ever visited in all my world travels. I left with two Russian alarm clocks, a handful of ornate antique skeleton keys, a few pinback buttons, and other odds and ends. The costume jewelry, in particular, was amazing and has me regretting not grabbing a few pieces.
Observe Art and Culture in Romania's Graveyards
I know, visiting graveyards in Transylvania borders on the weird vampire-tourism of the Dracula's castle tourist circuit. Actually, Eastern European graveyards contain incredible art, history, and story. In fact, one graveyard I visited had security guards posted to search every car that exited the gates because so much priceless art was on display within the cemetery.
If you can bear to try a cemetery tour in Bucharest, check out the Airbnb Experience "Bucharest Dark History & Cemetery Tour," it was one of the most well researched, tours I have ever been on- and a story-focused tour that explored the narratives of remarkable graves and city sites was a highlight. Walking tours are an affordable and fun way to enrich a walk around a city.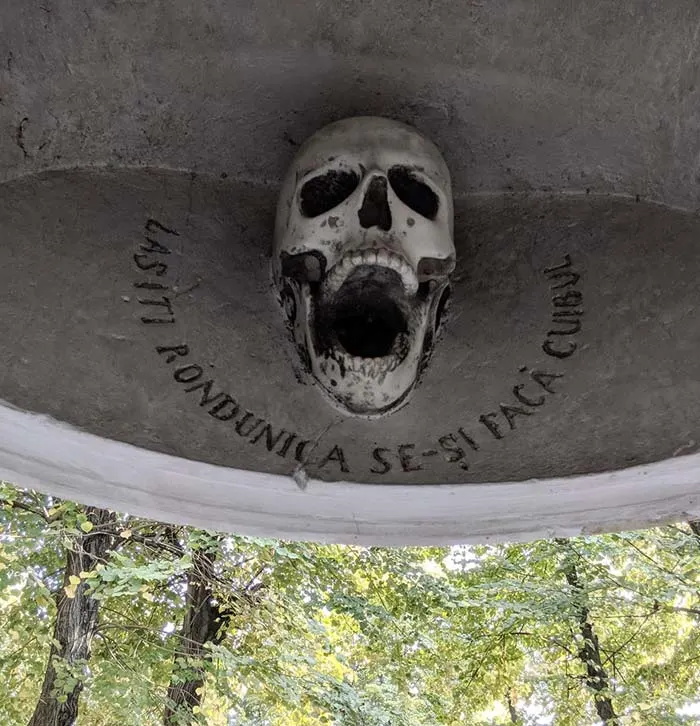 Wonder at the Churches
Traditional Romanian Orthodox churches are worth visiting on a Sunday morning, as the cathedrals swell with music, incense, and chanting. It's a cultural experience worth observing, even for the non-religious.
You will be unnoticed if you come and go during the service. Parishioners mill about, coming and going during the service, and the tradition within this branch of Christianity is to stand the entire time. Many individuals come for only part of the long service, so people are entering and exiting the whole time.
What I Spent to Travel in Romania for 1 Month

Because I stayed a little longer in Hungary than planned, I ended up with 26 days in Romania just under the full month I'd planned to explore the country from west to east.
I've shared my final cost breakdown for my 26 days in Romania below. [For reference, my travel-budget is moderate/mixed. I take public transportation when it's easy and I cook meals with locally bought groceries in my Airbnb for a few meals each week. But I also enjoy fine dining, and don't hesitate to take a taxi or Uber if I'm tired or if that feels like a safer way to get from point A to Point B]
My Costs for (Almost) a Month in Romania:
Travel Style: Moderate (Private Airbnbs, a mix of public and private transportation, mix of dining styles from fine to at-home AirBnB kitchen cooking)
gifts and souvenirs: $99.48 USD
entry fees and tours: $129.56 USD
transportation: $250.7 USD
misc personal care: $19.44 USD
food: $566.382 USD
Total: $1065.56 USD
This breaks down to $37.18 per day + lodging without gifts and souvenirs included, or $40.98 per day if my budget for souvenirs is included.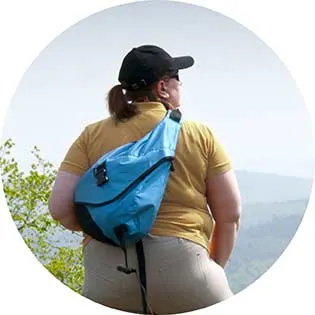 Lynli Roman's unique approach to travel is informed by decades of experience on the road with a traveling family and, later, years spent as a solo international traveler. When she's not writing about Seattle from her Pike Place Market apartment, Lynli writes on-location while conducting hands-on research in each destination she covers. Lynli's writing has been featured by MSN, ABC Money, Buzzfeed, and Huffington Post. She is passionate about sharing information that makes travel more accessible for all bodies.