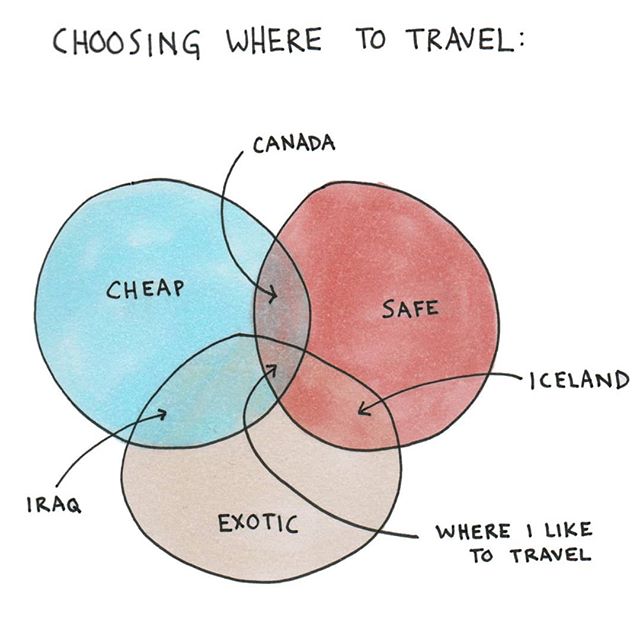 Researching travel destinations is my preferred method of procrastination when I'm facing a deadline. How do you decide where to travel? For me I consider three categories: is it cheap, is it exotic, is it safe?
I realized as I was considering travel destinations for my post-graduation adventure, that these three questions that I use to decide where I will travel make an interesting Venn diagram. Last summer I flew into Italy (not what I consider exotic, or cheap, but home to add cheaper airport and enough art museums to keep my travel-journal-doodling for days) and then set off on the real adventure- a ferry ride across the Adriatic Sea and busing down the coast of Croatia and then inland to Bosnia. For me, Bosnia and Croatia set the bar for cheap, exotic, and safe- the recipe for my idea of an excellent solo travel adventure.
When I posted this on social media I was reminded by a follower of that the word "exotic" has been used to harm, and is sometimes used incorrectly to refer to anything that isn't "Western". In this case, I am using the word exotic according to its dictionary definition: "characteristic of a distant foreign country," for which many western countries- like Iceland in this diagram- definitely qualify to me, a midwestern transplant who was 27 before leaving North America for the first time!
I asked my followers what locations they considered to fall in the sweet spot of both cheap, exotic, and safe and here are a few of the suggestions (which I'm totally using to plan my next adventure!):
» Costa Rica? Or Thailand?
» Greece ❤
» Malacca !! not sure exactly how safe it is bc i've only ever gone there with my school but I love the place because it has a beautiful view and it's so peaceful. it's also pretty cheap!!
» Canada is a good choice. Not maybe exotic but safe and cheap. 😊
» West Coast of Canada, nice! Never went there yet.
» How about Greece? Pretty stable and safe, cheap and lots of exotic places to visit 😊
» Australia!
» Sydney, Australia!
» Go to the Philippines, that is if you are into pristine beaches. We have plenty to offer because we have 7,700 islands. English is our second language so you won't have any problem in that aspect.
» Peru!
» Copenhagen (best place on this earth, in my opinion). I'm not sure if it would be considered cheap but it's amazing. Prague is also great. Cheaper than Copenhagen. 2nd best place on earth lol
» Costa Rica!
» Peru! I lived in Cusco for a few months and loved it!
» Indonesia!
» Costa Rica
» Poland! especially Krakow, incredibly cheap and so much to do, the people are lovely too
» Singapore is a nice place to go 🇸🇬
» I hear Bali is all of those!
» Montenegro!
» Bali
» Come to Canada
» Prague is amazing as well
» Japan?
» Guatemala! Antigua/Livingston- for safety cities
» Thailand! Living social escapes have amazing travel packages!
» Colombia might fit your criteria 🙂
» Costa Rica is good for surfing
» Sweden 🇸🇪😄
» Russia, of course!
» Sri Lanka. Vietnam. Laos. The stans. Tibet. Nepal. India.
» Uganda
» Canada ❤
» Eastern Europe 😉
» Canarias 💪🏻
» croatia!
» La palma, canary islands
» Ireland!
» Vietnam! But highly recommend going away from Saigon/Ho Chi Min! Hoi Anne is beautiful!!!! and I've heard up north is amazing too 🙂
» Go to India or China
» Probably already been suggested but Vietnam is amazing! Full of history culture and incredible food.
» Todos Santos Mexico
» Bali! Or Taiwan! Very safe, exotic and CHEEEEEAP!
» Belize if you like water stuff.
» that middle spot SO is Thailand!!
» Bulgaria 🇧🇬
» Tanzania!
» Morocco
» *most places in Thailand
» Peru
» Canada! Your dollar will stretch pretty far over here, and visit Alberta if you can!
» That space is New Orleans.
» Philippines…can get everything in a cheapest and safest way 😊
» Budapest is a really beautiful place 💕 Maybe not exotic, but quite cheap and lots of things to do 😄 But I would say that Bali may tick of all of your demands 😉😄
» You have to go to Iceland or Denmark
» Cameroon, Afrika
» Croatia!
» Portugal
» Bali, maybe?😁
» Antigua Guatemala!!
» Jolly old England?
» Lake Ohrid, Macedonia with a road trip to Athens Greece (stop in Meteora, Greece)!!!
» Come to Brazil, there a lot of amazing places here that are safe and cheap!
» Egypt ? Turkey ?
» Portugal! it's beautiful this time of year and everything was very reasonably priced! Czech Republic as well 🙂
» Bratislava, Slovakia
» Taiwan! Or Tulum, Mexico, if you're looking for a closer destination. Happy to share recos!!
» Canada 🙌🏼🙌🏼
» Vietnam!!! Had a lovely time there!
» Turkey 😍😍
» Austria 😅
» Peru! So welcoming and dirt cheap
» Indonesia maybe
» Although Iceland's on the pricey side it is an amazing country and I definitely recommend going there!
» Prague! I went last fall and did touristy stuff all alone (I'm a 5'0 female).
» try Dominican Republic! it has gorgeous beaches and lots of adventure which i think you will enjoy
» you might want to see Turkey!
» Sweden -> Malmö or Gothenburg (not Stockholm because Sthlm is expensive).
» Thailand! I loved Chiang Mai – I spent most of my trip at Elephant Nature Park but definitely want to explore more next time.
» Thailand
» Bogotá is an amazing city. I would love to go back for a long visit.
» northern India is relatively safe in the cities. Other places I have no idea.
» I would suggest India. It's safe in southern India. You could go to Kerala. It's beautiful and pretty cheap.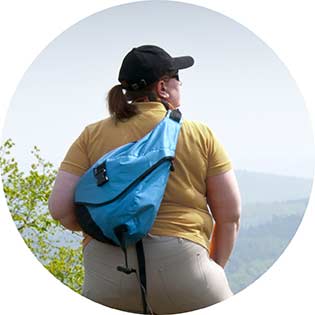 Artist, digital nomad, and highly sensitive person, Lynli started traveling full time as a digital nomad in 2018. Writer and Illustrator by day, remote-destination explorer by other-days, Lynli is passionate about pushing the boundaries of her own comfort zone, exploring the world as a plus size, one-bag traveler, and journaling it all on WanderBig.com