Zadar, Croatia is a city filled with fun things to do for solo travelers, couples, and families. In this post, I share important tips learned from my visit to this remarkable city and a list of exciting activities I enjoyed during my solo trip there.
About the city of Zadar: through the eyes of a solo tourist
Zadar is exactly what many tourists look for when they visit Croatia (though, perhaps often without knowing!). Zadar offers:
🚿 modern conveniences,
🛌🏾 comfortable budget-friendly accommodations,
🚍 and a robust public transportation system,
set against the backdrop of:
🏰 a charming old town,
🛍️ museums and shops filled with antiquities,
🌊 and- of course- the gorgeous Azul-blue water
One of the best things about Zadar is the fact that water nearly entirely encircles the old part of the city where most tourists restaurants, hotels, and things to do are.
Things to do in Zadar, Croatia as a solo traveler
As a solo traveler in zadar, you may be less interested in typical couples-vacation activities like romantic dinners, winery visits, or couples spa activities. Instead, this itinerary of things to do in Zadar, Croatia focuses on things to do that are fun and easy to access for solo travelers exploring this Baltic state alone.
First things first, Sea organ and Sun salutation
This sea organ is undoubtedly the art installment that put Zadar, Croatia on my radar. After seeing a pin on Pinterest about this sea wave-powered organ, it became a quirky travel goal of mine to visit this installment in person.
While the expectation versus reality of most travel-related photography doesn't live up to the experience, the sea organ was a pretty amazing experience. Since I was visiting in the heat of the summer, I was able to strip down to my swimsuit and swim the length of the seawall. Floating in the salty sea water just off the entry and exit steps forming the sea organ was heavenly.
There, floating buoyant in the water, I had this amazing moment of dialing into the physical experience of floating and listening to the waves create a haunting tune that varied between harmonic and asynchronous as waves pushed in from the open sea.
The sea organ is a popular destination, especially in the evening. Then, it pairs with a solar-powered art installment that shines light up from translucent tiles on the boardwalk along the seawall. Both the seawall and the sun salutation (light art installment) are things you absolutely must do in Zadar, Croatia.
The cost for both is free and solo travelers can easily enjoy them.
Take a Barkajol boat across the Bay
The old town of Zadar is separated from the modern city by a small bay. Most tourists cross between the city and the old town's peninsula via a footbridge called Gradski Most. However, the traditional way to cross this water body is in a rowboat called a Barkajol.
My Airbnb host informed me that my list of things to do in Zadar would not be complete without crossing the bay in this traditional rowboat. At the time of my visit, these rowboats still charged their original fee, about $1.50 USD, a fee that has remained unchanged for generations.
Taking a rowboat across the bay from old town Zadar to the modern city was one of my favorite things to do in Zadar, Croatia. Second only to swimming by the sea organ (my first experience swimming in the open waters of the Adriatic Sea), the rowboat was the most memorable experience of my time in Zadar. As a bonus, its grandfathered-in pricing makes it friendly for any solo traveler's budget.
You can hire a Barkajol boat from either side of the bay, but you can find a bit more information on them and a muster point via the google reviews.
Take a Bus to Plitvice National Park
Plitvice National Park is a UNESCO treasure of the natural world and it lives up to its reputation in every way. This pristine wilderness is filled with nearly countless waterfalls, incredibly blue water (no filter on travel photography needed here!) and totally see-through pools teeming with fish. It's absolutely worth adding to your list of things to do in Zadar.
Well technically, Plitvice isn't a short trip from Zadar, but if you plan to stay in coastal Croatia (as opposed to going inland to the capital of Zagreb), then Zadar is the best spot from which to do a day trip to Plitvice.
You can read more about visiting Plitvice in my post on visiting Plitvice National Park and Croatia, but the main thing to know is that you have three options for visiting the park:
1. Renting a car and going at your own pace (often, not a reasonable expense for solo travelers on a budget)
2. Booking guided day trip through a group travel agency (the best option for a smooth, less stressed trip even though group tours do tend to rush through points of interest within the park), and
3. Getting to Plitvice by public transportation (timing your visit drop off and pick up with the public buses that stop at the park hourly. Due to the challenges of public transportation combined with hiking, it's probably not safe to do this as a day trip for a solo traveler, and instead, I would recommend booking a night away from Zadar in a guesthouse near Plitvice.)
Wander through the old city
Zadar was not the first and certainly will not be the last old European city that I visited, but even compared to the charms of wandering through Florence, Italy, there was something breathtaking about exploring the old town of Zadar. There is tons to explore in the old city, filled with old churches, monasteries, Roman ruins, and even a palace.
My favorite was the ruins of a church built, literally, on top of the ruins of another church. Something felt especially poignant to me about this visual imagery. It felt to me like it represented how we all build on what was built ( and what failed) before us.
Visit the market and buy some cherries
Croatia and the Dalmatian coast are famous for cherries – producing them and making the original version of what we now know as maraschino cherries.
While you're in Zadar, be sure and try drinking Amarena cherry juice (available in almost every restaurant and as a bottled drink in markets). If you can wake up early enough during your vacation in Zadar, visit the farmers market in the old town. There, you can purchase cherries fresh from cherry trees (in season).
Visit the Rector's Palace turned art museum
One relaxing activity I enjoyed in Zadar was the Rector's Palace, which is a 16th-century palace turned into an art museum and social event center.
The art galleries in this space were a great way to spend a quiet afternoon after I wore myself out swimming in the Adriatic Sea near the sea organ. As a bonus, it's air-conditioned! If you are visiting Zadar in the heat of the summer in August or July, cool air is a benefit to visiting this unique art museum. (Need more pro tips for hot weather travel? I got you, just click here.)
Hint: if you're an artist, enjoy travel journaling, or making a travel scrapbook, check the center courtyard during your visit. During my visit, art supplies and easels were set up for anyone to use – so I spent a few minutes sketching a version of a Chagall print I saw in an exhibit while exploring the museum moments earlier.
Arriving in Zadar
I chose to arrive in Zadar, Croatia via an overnight ferry from Italy. This, it turns out, was a memorable way to experience Italy and Croatia and one I've written about at length in my guide to Croatian ferries. (An overnight ferry, while still a rough night, is more comfortable than an overnight bus or a sleeper train, in my opinion)
While my ferry was initially scheduled to arrive at the small port adjacent to the ancient section of Zadar, at the last minute our ferry was forced to dock at a port several miles away. Thankfully, a strong signal for wireless data meant that I was able to secure an Uber as soon as I passed through customs inspection and passport control.
The Uber from Zadar to the old city allowed me to see more of the city than I would have seen had I simply walked off the boat into the tourist part of the city. Zadar, beyond the old part of the city, is a thriving urban modern city – and my trip by car through the city and to the old town was an opportunity to see a more diverse perspective on Zadar, Croatia.
Final thoughts on things to do for solo travelers on a budget and Zadar, Croatia
Zadar, Croatia is one of my top recommendations for solo travelers who want to visit Europe on a budget. While there are lots of ways to visit Europe on a budget, Zadar offers everything a European traveler might want with a much lower budget than other European cities. If you can't decide between a tropical beach vacation and a visit to a European cultural site, Zadar is the destination for you.
With an old town plopped right down on a peninsula ringed by a boardwalk filled with swimmers and sunbathers, Zadar in the summer is the best of both worlds and a place where budget solo travelers can find many things to do.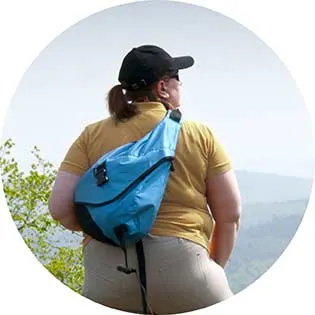 Lynli Roman's unique approach to travel is informed by decades of experience on the road with a traveling family and, later, years spent as a solo international traveler. When she's not writing about Seattle from her Pike Place Market apartment, Lynli writes on-location while conducting hands-on research in each destination she covers. Lynli's writing has been featured by MSN, ABC Money, Buzzfeed, and Huffington Post. She is passionate about sharing information that makes travel more accessible for all bodies.