I love lazy rivers. Really. I'm mildly obsessed with them. I survived pandemic doom-scrolling by micro-dosing lazy river content. When I got too stressed, I'd force myself to close all my news tabs and Google epic lazy river photos.
And that's how I found myself, in February 2023, booking two nights at one of the longest lazy rivers in Mexico. (Click here to read my review of that specific lazy river, at Villa La Valencia)
Over the years, I've become something of a lazy river expert. When a plus-size pool party rented out an entire waterpark last summer, I didn't even dip a toe in any of the pools! I only had eyes for the lazy river. 🌊😍
From the best inflatables for lazy river lounging to the best ways to read or listen to music while floating, you'll find it all in this guide to Lazy Rivers:
😎 🏄 Things to Know Before your First Trip to a Lazy River
Most of us didn't grow up with lazy rivers. Although they are common in water parks now, they may be foreign to generations that grew up with 🟦 simple pools, 🚿 even simpler water hoses, or ⛲ splash pads.
Lazy River Basics: A lazy river is basically a long, narrow pool with a gentle current. Generally, lazy rivers are designed so that they circle back on themselves and form a circuit – like a racetrack (but much slower and much wetter!)
Typical Lazy River Depth: Most lazy rivers are about 3.5 to 4.5 feet deep. Typically, adults will have no issues walking along the bottom of a lazy river and keeping their heads above water. They're no deeper than the shallow end of most public pools.
Current: most lazy rivers flow at a rate of 0.5 to 2 miles per hour (that's roughly 1 to 3 kilometers per hour). At this speed, it's easy to kick back, relax, and float lazily.

Keep in mind, however, that the speed may vary as the river narrows and widens. Many lazy rivers are designed to have spots where water moves faster. This helps keep the ride interesting.

Rules vary: While general water safety practices always apply, the specific rules of a lazy river will vary from one river to another. Always take a moment to read the pool rules before getting in. You don't want to be on the wrong end of a lifeguard whistle!
Don't litter: Littering is never okay, but it's especially irritating on a lazy river. The banks of a lazy river, especially if they are beautifully landscaped, are difficult to clean. Other people don't want to see your trash as they take advantage of their vacation or day off!
Cost of a Lazy River

Cost of Admission: Swimming in a lazy river for a day will probably cost around $8-10 USD per adult, and a little less for kids. If you are at a resort or waterpark, Lazy River access might be included with a higher cost entry ticket or resort fee.
Cost to Install a Lazy River: If you're considering installing a lazy river as an alternative to a traditional pool, get ready for sticker shock. Texas Tech spent 8 million dollars for an 800ft lazy river. 1 while installation costs for North Tonawanda, New York's entire lazy river-centric aquatic park came in well under that figure. 2 Backyard lazy rivers cost significantly less than public or commercial ones. However, lazy rivers are more expensive than pools due to more complex construction costs, additional pumps, and liners.

If you entered with a tube, leave with a tube: Don't abandon a pool float – or even a pool-provided innertube. In some lazy rivers, like those with rapids or whirlpools, abandoned floats get stuck and can create a logjam. That's not fun for people who come after you!
👩‍👧 Orlando Blogger Carrie recommends: "Consider the depth of the water in lazy rivers for kids. For additional safety, many hotels and water parks provide life jackets. Some lazy rivers flow a little faster than others, so do keep a close eye on little ones – even if a lifeguard is on duty." Read more resort tips on Carrie's article: Volcano Bay tips with kids.
😎🌴 How to Enjoy a Lazy River
Kids seem to instinctively know how to have a blast in a lazy river, but adults are often left wondering exactly what they're supposed to do.
But then again, that's the whole point, you don't have to do anything in a lazy river.
Unlike a pool, where you have to propel yourself forward, you can rest. Unlike a real river, where you have to actively work to avoid rapids, a lazy river is designed to let you check out and relax.
⚠️ Of course, you still need to be alert for hazards, that's true for any water activity, but on the lazy river, you can really relax.
Here are some tips for leaning into the chill vibe of a lazy river:
Float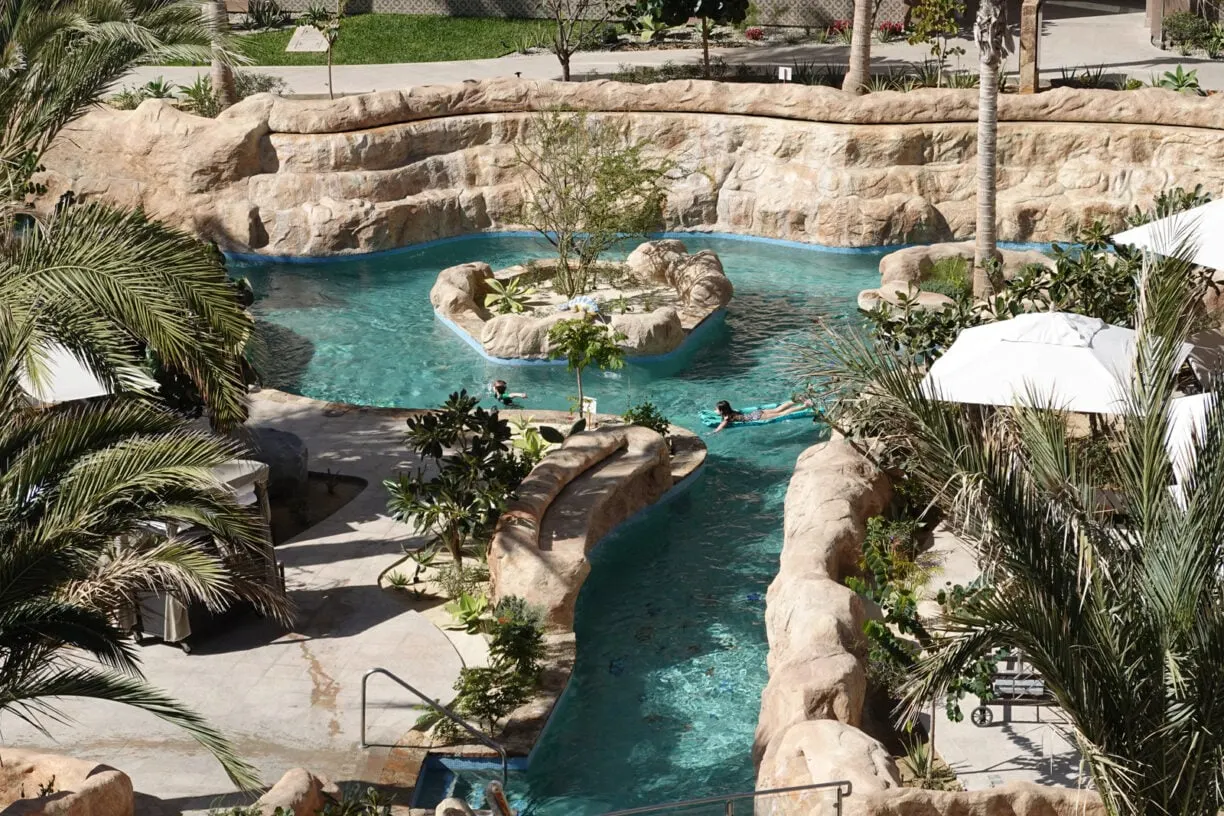 Although it is possible to walk or actively swim in most lazy rivers, most people prefer to float. There are two ways to float in a lazy river:
float on top of an inflatable
float without the aid of a flotation device
hang on to or lean over a pool float
Personally, I prefer a sort of combination – a low-riding sling-style pool float that allows me to relax fully while allowing my head to be supported by an inflatable pillow.
Read a Book or Magazine
Personally, my favorite way to enjoy a lazy river is to indulge in a book or magazine. Generally, anything you read while floating in a lazy river (especially when kids are around) is will end up a little wet – so I recommend a cheap mass-market paperback or a readers-digest sized magazine.
If you are at an all-inclusive resort, ask around to see if there is a little free library or a shared bookshelf. There, you can find a paperback book to enjoy poolside or in the lazy river at no cost
Listen to music
Avoid using a Bluetooth speaker to enjoy music while using a lazy river. Other people are there to relax too!
Instead, pick up an inexpensive pair of waterproof Bluetooth headphones. Waterproof Bluetooth headphones work great as long as your head is above water (And if they're dunked? That's okay! They'll keep working.)
Bluetooth transmission is reduced to only a few inches underwater, so your music will cut out if you go underwater. A good waterproof headset rated to IP67 will work even after it's been submerged for 30 minutes in a foot of water. Audio playback should resume immediately when you surface.
💦🎧😊 I exercise in a pool almost every morning. The Bluetooth headphones I use and can wholeheartedly recommend (especially given the affordable pricetag) are the Otium Waterproof Bluetooth Headphones (Available Here on Amazon)
I like how these headphones are connected behind the neck and also have a loop over the ear. It means that they stay in place even through unexpected movements in the water.
Enjoy your Partner
Whether you are on a romantic getaway or hanging out with a platonic friend, a lazy river is great quality time. Lazily flowing down the pool of water is a great time for conversation and reconnection.
A Romantic Lazy River!? Yes!
Although you might not know it from the midday chaos, a lazy river can be really romantic! If you are on vacation or enjoying a lazy river at a hotel or resort, check with management about the lazy river hours.
In some locations, at dusk the current turns off and mood lighting turns on. If the lazy river stays open late, you can enjoy this slower, more romantic lazy river with your partner.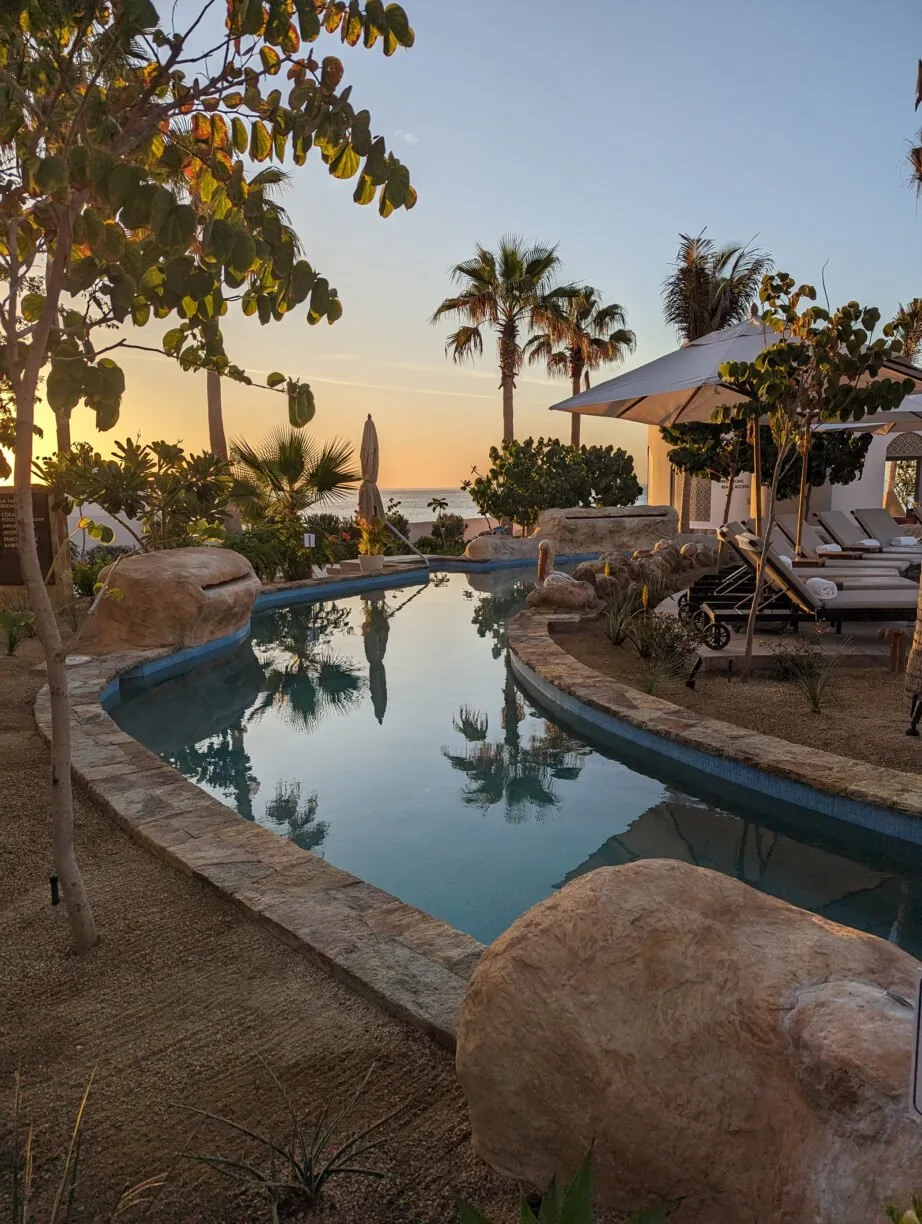 Swim
The worst part about lap swimming is having to turn and change directions every few strokes. Turns make lap swimming boring and tedious – but this isn't a problem in a lazy river! Since a lazy river is a continuous loop, it can be a great place to swim.
🌙 Tip: if you want to swim in a lazy river you should plan to arrive early or stay late. If other people are enjoying the lazy river, it will be difficult to swim.
Walk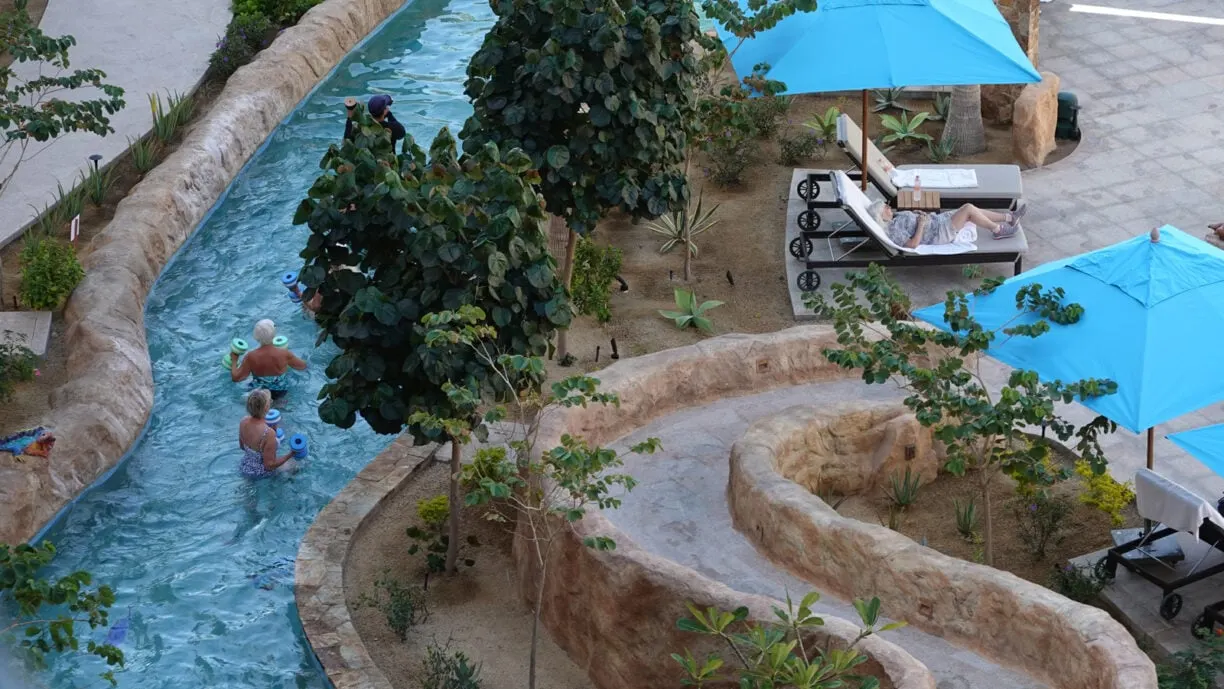 The following section may contain affiliate links. As an Amazon Associate, we earn from qualifying purchases.
Yes! You can walk in a lazy river! Walking in lazy river is actually a great way to develop lower body strength. At my local YMCA, where I swim laps regularly, I take advantage of the lazy river almost every time I visit. Although it is a very short run, it's perfect for walking against the current and building strength.
Practice mindfulness
I don't know about you, but the easiest time for me to practice mindfulness is when I'm experiencing the weightlessness of floating in water.
There, with most of my senses dulled by the buoyancy of water, it's easy to check in with my body and be mindful of my surroundings. I noticed the warmth of the sun on my skin, the muted sounds of chatter nearby, and the power of the current gently pushing me along the river.
Mindfulness can be a powerful way to maximize the effects of relaxation during travel. See also: how to relax during a vacation.
Sunbathe
While it is important to protect our skin with sunscreen and guard our eyes with sunglasses, a lazy river is a perfect spot to soak up the sun.
Play games
If you are on vacation with a group of people – or even just a best friend travel buddy, a game can be a fun way to keep a lazy river interesting. You can play catch, I-spy, or even play hide and seek with a small object hidden along the river's course. (Just be sure and clean up after yourself when you're done – it can be very hard for lazy river staff to clean the riverbanks if the river is landscaped well)
Lazy River Packing List
Whether you are headed to a trendy all-inclusive resort with a world-renowned lazy river or just up the street to a local water park, here's what you should have in your bag to maximize your day on the lazy river:
👙 Swimsuit.
I know, obvious, right? (But would you believe I showed up to my lap swim pool without a swimsuit just last week!?)
Personally, I pack a swimsuit for vacation (or athletic clothes that can pull triple duty as pajamas, swimsuits, and workout clothes) if I think there is even a tiny chance of swimming during my trip. I hate missing a chance to swim!
Pool Float
After floating a dozen lazy rivers, this is my best advice: Bring your own pool float.
Many pools, resorts, aquatic centers, and water parks will provide a inflatable innertube for you, but I think lazy rivers are a lot more fun on a sling-style pool float.
On a sling-style pool float you can sit, straddle, or lie back and relax as you float down the lazy river. They also sit much lower in the water, which keeps you cool on hot days, warm when the weather is a little cool, and shielded just a little (on your lower half at least) from the sun.
Waterpark-provided inner tubes (which tend to ride high in the water) are also hard to get on top of for most adults, and just don't work for a lot of bodies because, once on board, they're very top-heavy.
My Favorite Lazy River Float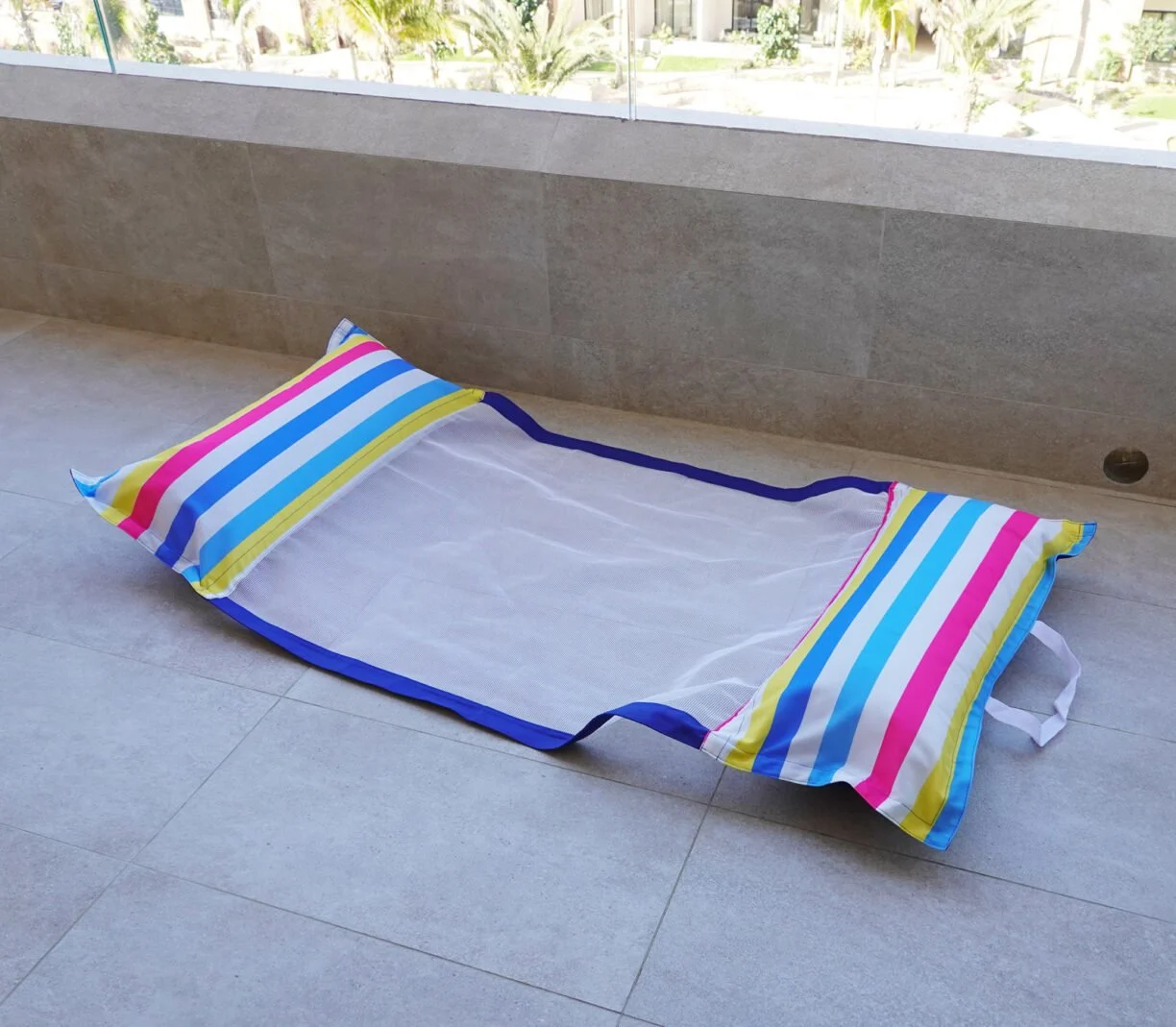 I've "lazily rivered" on a dozen different types of inflatables, tubes, and pool floats.
The only float I use, now, is this XL canvas-covered hammock-style pool float (shown here on my last trip) which you can buy here on Amazon.
Typically, even water parks that don't allow "inflatables" may allow a sling-style float – because they aren't large, obnoxious, or disruptive to other swimmers. Tis style of pool float is simply a length of fabric in between two inflated tubes.
Read more about the best pool floats for plus size bodies.
🧴 Sun Protection
It's really easy to get sunburned on a lazy river – the coolness of the water can lull us into a false sense of safety from the power of UV light.
If you are headed to a lazy river, pack 🧴 sunscreen, 😎 sunglasses, and a 👒 hat or visor.
💧 Water Bottle
If your lazy river doesn't have beverages – or you know you won't want to get off your pool float and stand in line for a drink – be sure and bring a water bottle. Some pool floats even have a cup holder!
👝 A Waterproof Bag or Case
If you don't expect to have lockers (often provided at water parks) or a nearby room (like at a hotel or resort) plan for a way to keep your phone, wallet, and keys safe and dry. For many people, a lanyard with a waterproof pocket fits the bill.
Water shoes or sandals
Some lazy rivers may require that you keep footwear on. If this is the case you'll need to pack water shoes or sandals designed for wearing in water.
A towel
While hotels and resorts typically provide towels, public pools and water parks do not. A good travel towel, like the Turkish Towel I carry, is a great investment with tons of uses on the road. (Get a certified organic cotton Turkish towel)
However, if you plan to swim or float often, consider a microfiber surfer's poncho. I added this Slowtide Swim Poncho to my own swimming gear last winter and it's been a game changer. This oversized poncho doubles as a towel and changing robe – plus it dries incredibly fast.
Final Thoughts on Using a Lazy River
A lazy river can be a good workout or a place of total relaxation, depending how you approach it.
Pack well for your trip, know the important stuff before you go, and you might just join me in the lazy river fan club!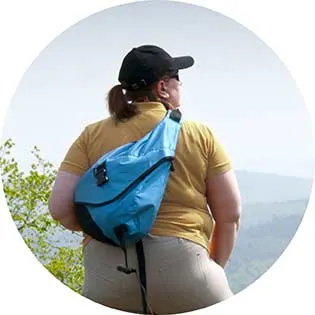 Lynli Roman's unique approach to travel is informed by decades of experience on the road with a traveling family and, later, years spent as a solo international traveler. When she's not writing about Seattle from her Pike Place Market apartment, Lynli writes on-location while conducting hands-on research in each destination she covers. Lynli's writing has been featured by MSN, ABC Money, Buzzfeed, and Huffington Post. She is passionate about sharing information that makes travel more accessible for all bodies.
Sources
Woodhouse, K. (2015). Lazy rivers and student debt. Inside Higher Ed, 15. [↩]
NORTH TONAWANDA, MEMORIAL POOL FEASIBILITY STUDY https://northtonawandany.myrec.com/forms/6142_pool_study_final.pdf [↩]