If you're a plus size flyer considering a trip with Delta, here's everything you need to know about their seat sizes, customer of size policy, and ways to advocate for your health, safety, and comfort while flying.
Key Points: Need-to-Know's About Flying Delta in a Large Body
🔺 Delta charges for "all occupied seats," as of summer 2023, and recommends purchasing an additional seat if needed.
👨‍✈️ Delta does not have an explicit customer-of-size policy, although their "extra seat and personal comfort" policy certainly impacts passengers of size disproportionately.
✈️ Delta does not require passengers who need a seatbelt extender or cannot lower the armrest to buy an extra seat, but they may be asked to move or take a later flight if they take up too much space.
👩‍✈️ The standard seat width in Delta's Economy class is typically between 17 to 18.5 inches. Economy plus seats (called "Comfort+" on Delta) generally offer more leg room but no increase in seat width.
💺📏 Seat belt extenders on Delta flights: Passengers with a seated lap circumference greater than 46″ should anticipate requesting a seatbelt extender.
While Delta allows plus-size passengers (even those who need a seatbelt extender or can't lower the armrest) to fly without purchasing an extra seat, they reserve the right to ask travelers to move to a different seat or take a later flight if they encroach on another passenger's space. This contrasts with Southwest's Customer of Size policy, which offers vouchers to accommodate plus-size passengers.
Wanderbig.com is fat positive travel blog rooted in HAES (Check out the research on HAES or my article on the topic here)
A Guide to Delta's Customer of Size Policy
According to Delta's "extra seat & personal comfort policy" (their only policy explaining the rights and consequences for using their airline as a plus size person), fat passengers can purchase an "Extra Seat" for personal comfort during travel. Delta doesn't require passengers who need a seatbelt extender or can't lower the armrest to buy an extra seat. If a passenger takes up a poorly defined "too much space," they may be asked to move or take a later flight.
Delta's only policy addressing plus size travelers is for customers to purchase a second full price seat when booking their fare. Travelers should note, the following disclaimer in their policy: "Delta has the right to charge for all seats occupied."
This policy lacks empathy, especially when compared to Southwest's customer of size policy, which prioritizes the comfort and safety of all travelers by offering a complimentary seat to people who need extra space.
Why Delta Needs a Customer of Size Policy
As a dedicated plus-size travel blogger and an advocate for safe, comfortable, and inclusive travel for all, I've had my share of experiences flying fat with different airlines.
Admittedly, the entire air travel industry – with few exceptions – lacks adequate policies in place for passengers in larger bodies. Delta Airlines, a company that prides itself on customer service, has dropped the ball on this opportunity to ensure reasonable comfort and safety for all its passengers, regardless of their size.
While the world outside a Delta flight's windows is diverse and expansive, it appears the philosophy inside the aircraft cabin remains one-size-fits-all. The failure to accommodate Delta passengers of size also impacts the comfort and travel experience of smaller-bodied passengers seated nearby.
🔺 A particularly concerning aspect of Delta's policy is their right to charge for "all seats occupied". What this implies is that passengers of size may be required to pay double for their flights – often without prior consent or even notification. This approach is not only a financial burden but also a distressing emotional experience for many.
Travel should be a source of curiosity and adventure! Not marginalization and the elevated physical risk of DVT that large passengers are disproportionately exposed to. 1
Rather than penalizing passengers of size, it would be far more constructive for Delta and other airlines to rethink their seat designs and booking policies. By prioritizing inclusivity and comfort for everyone, airlines could create a more positive and welcoming travel environment. After all, the sky's the limit when it comes to making travel accessible and enjoyable for everyone.
Seat Sizes on Delta Airplanes
Here is what you can expect as a plus-size person in each of Delta's seat sizes:
Economy Class seats on Delta
On Delta, the standard seat width in Economy typically ranges between 17 to 18.5 inches, depending on the aircraft.
The seat pitch – the distance between a point on your seat and the same point on the seat in front of you – varies between 30 to 33 inches. On Delta this is tight, but generally comparable to other airlines in the industry.
⬆️👜 One easy way to increase legroom: Flying safely as a large person requires stretching and flexing our legs throughout a flight. One free way to do this is by making sure nothing is stored under the seat in front of us. When I pack a carry-on bag, I make sure everything I need in-flight is in a small pouch. After I board a plane I put my pouch in the seat-back pocket and place my other belongings in an overhead compartment.
Comfort+ Delta Seats for Plus Size Passengers
Economy Plus – or Comfort+ as it's known on Delta – has limited usefulness for increasing the comfort of larger travelers.
Why? Well, as a plus size traveler myself I can attest that the seats offer NO extra width- only a bit more leg room. For a body that's round, stocky, or short coupled with wide, economy seats and Delta Comfort+ seats are essentially the same.
In this upgraded class, you'll find a seat around 17 to 18.5 inches. However, the pitch is increased to between 34 to 36 inches. For fat travelers, this may provide some comfort in the form of more room for in-seat movement and freedom to move our legs without getting up and moving down the aisle. (Movement, researchers know, is essential during long flights and bigger travelers need and deserve equal or greater freedom to move our bodies during flights.) 2
First Class Delta Seats for Plus Size Passengers
If you are plus size, an upgrade to first class on a Delta flight may be the only way to ensure that you won't be bumped from your flight. Since the seats in this premium cabin are much wider- averaging between 21 to 21.5 inches- and typically offer a console table betwen seats, large travelers can be sure they won't encroach on another seat.
In Delta first class, the seat pitch can range from 37 to 40 inches, depending on the aircraft type. Some long hault first class seats come with additional features like the ability to recline fully, ensuring a luxurious and comfortable journey.
💺😬💺 Squeezing through the Airplane Aisle as a Plus Size Person: For many plus size travelers, one of the most uncomfortable parts of flying is squeezing down the narrow aisle to find your seat. While Southwest solves this problem by letting plus size people board first, through it's Passenger of Size policy, on Delta you'll need to pay to upgrade to First Class. Since the first class section has a wider aisle and the seats take up the first few rows of a flight, plus size people riding first class can avoid the expereince of squeezing between seats.
Read my article on what it's like to fly first class as a plus size person.
Why Plus Size Passengers Should Avoid Exit Rows on Delta
Delta staff and airport personell often bill an exit row as a "premium" seat option that offers a little extra room. But Heads Up: Exit row seats are generally way less accommodating where it counts: in seat width.
In an exit row on a Delta flight, you might be able to stretch your legs a few more inches, but the armrests are unforgiving. Many large passengers who can sit with relative comfort in a standard economy-sized seat will experience pinching or hip pain due to the hard, solid dividers on exit row seats. Note that passengers who require seatbelt extenders are typically excluded from sitting in exit rows.
While airlines- delta included – will claim seat pitch makes a seat "premium," plus size travelers should pay attention to seat width.
How Delta Compares to Other Airlines in Terms of Seat Size
Please note that these dimensions might vary slightly based on the type of aircraft used by the airlines.
💺◀️▶️ Seat Width is the distance from one armrest to the other.
💺 ➡️ 💺 Seat Pitch is the space between a point on one seat and the same point on the seat in front of it.
| Airline | Average Seat Width (inches) | Average Seat Pitch (inches) |
| --- | --- | --- |
| Delta Airlines | 17 – 18.5 | 30 – 33 |
| United Airlines | 17 – 18.3 | 30 – 32 |
| American Airlines | 17 – 18.5 | 31 – 32 |
| Southwest Airlines | 17 (but large people get 2 seats) | 31 |
| JetBlue Airways | 18 – 18.5 | 32 – 33 |
| Alaska Airlines | 17 – 18 | 31 – 32 |
Remember to check the specific aircraft's seat dimensions when booking your flight, as they can vary even within the same airline's fleet.
Will You Need a Seatbelt Extender on Delta? A Chart Sorted By Size
I've created this table showing the approximate hip measurements associated with standard women's plus size dress sizes. It's important to remember that these are general averages and actual measurements can vary based on different clothing brands and their specific sizing standards.
Also key: Remember that folds and flaps of skin are a normal part of how a body deposits fat. Fastening a seatbelt across your lap but running it underneath your belly can help many size 22 and size 24 people fasten a seatbelt on an airplane without needing a seatbelt extender. Because of this, the table below is just a general guide.
| Dress Size | Average Hip Measurement (inches) | Average Delta seatbelt length | Seatbelt Extension Needed? |
| --- | --- | --- | --- |
| 14W | 44 | 46 | no |
| 16W | 46 | 46 | no |
| 18W | 48 | 46 | very unlikely |
| 20W | 50 | 46 | unlikely |
| 22W | 52 | 46 | unlikely |
| 24W | 54 | 46 | possible |
| 26W | 56 | 46 | possible |
| 28W | 58 | 46 | likely |
| 30W | 60 | 46 | yes |
| 32W | 62 | 46 | yes |
These are U.S. dress sizes and measurements. If you're shopping from international brands, be sure to check their specific size charts, as sizing can vary significantly from country to country.
Using a Seatbelt Extender on Delta
The standard length of an airline seatbelt, including the buckle and the portion of the belt attached to the seat, is typically about 46 inches. Passengers with a waist size larger than this may require a seatbelt extender. Seatbelt extenders are available for free, on request, on all U.S. airlines. Seatbelt extenders add about 24-25″.
🔺 The best way to get a seatbelt extender on Delta is to board your flight normally, take your seat, and wait for all passengers to board. When the flight crew begins making preparations for takeoff (like coming down the aisle to close overhead bins) you can request a seatbelt extender. Most flight attendants are discrete and respectful as they deliver the adaptive device to your seat.
Things to Know:
The Federal Aviation Administration (FAA) in the United States does not dictate the length of seatbelts, but it does require all passengers to be properly secured during taxi, takeoff, and landing, and whenever required.
Seatbelt lengths vary dramatically. Even on a single plane! These nylon belts wear constantly and regularly fray. Routine airplane maintenance includes a Delta maintenance crew coming through to cut off frayed ends and restitch seatbelts! Each time they are restitched, seatbelts get shorter. On a normal plane, seat belts can vary up to 12″ in length depending on how many times they have been repaired or if the entire belt was recently replaced with a new strap. 3
How to Demand Change to Delta's Approach to Plus-Size Passengers
Delta needs to adopt a passenger of size policy – and we, as customers, need to demand that growth.
If you'd like to see Delta make changes that are inclusive and non-discriminatory, join me in reaching out to Delta's CEO Edward Bastian at the following email address: edward.bastian@delta.com
Here are a few paragraphs you may cut and paste into your message:
📣 I believe Delta should implement an inclusive customer of size policy. Your current recommendation to "Buy an extra seat" is a policy that stigmatizes large passengers. Requiring fat people to purchase an extra seat adds financial strain and emotional pain.
📣 When big people squeeze into small seats, it disproportionately increases the health risks of flying for large bodies while simultaneously making your smaller customers uncomfortable. Delta should not discriminate in this way and instead should prepare now for new weight discrimination laws such as those passed recently in New York City by proactively protecting higher-weight people when flying.
📣 As a previous customer of Delta, I think you should prioritize the comfort and safety of all passengers over profits by expanding seat width in all new aircraft. Inclusivity should not be a luxury but a standard. The standard 17 to 18.5-inch seat width offered by Delta is uncomfortable, painful, and potentially dangerous for many travelers. In many cases, the anxiety of not fitting comfortably into a seat may deter plus-size individuals from traveling at all.
📣 Please standardize your standard seatbelt size and ensure that seatbelt extenders are discreetly available, such as through seat-back entertainment panels or perhaps stowed at a seat by default. It can be uncomfortable for passengers to not know if they will need a seatbelt extender. It's unfair for a passenger to have to ask for a seatbelt extender simply because their body weight is distributed differently than a passenger of equal weight or because maintenance has shortened a seatbelt beyond a usable length.
📣 Please create a Customer of Size policy so that large travelers have equal access to safe air travel and the experiences it brings.
The Bottom Line
Everyone deserves to travel comfortably and with dignity. It's time for Delta and other airlines to reconsider their design and policies to ensure they're truly serving all passengers equitably. By implementing an inclusive customer of size policy, expanding seat width, and providing discreet access to seatbelt extenders, Delta can take significant strides toward creating a more welcoming and comfortable flying experience for plus-size travelers. It's time for the airline industry as a whole to prioritize inclusivity and redefine what it means to fly without boundaries.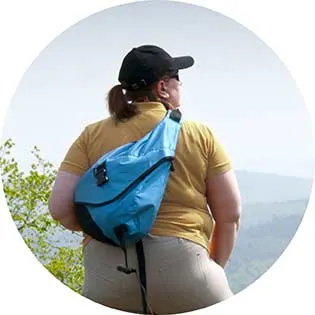 Lynli Roman's unique approach to travel is informed by decades of experience on the road with a traveling family and, later, years spent as a solo international traveler. When she's not writing about Seattle from her Pike Place Market apartment, Lynli writes on-location while conducting hands-on research in each destination she covers. Lynli's writing has been featured by MSN, ABC Money, Buzzfeed, and Huffington Post. She is passionate about sharing information that makes travel more accessible for all bodies.
Sources
Şabanoğlu, C. (2021). The secret enemy during a flight: Economy class syndrome. Anatolian Journal of Cardiology, 25(Suppl 1), S13 [↩]
Tsikouras, P., Anthoulaki, X., Deftereou, T., Chalkidou, A., Bothou, A., Gaitatzi, F., … & Nikolettos, N. (2020). Vein Thrombosis Risk in Women and Travel. In Tourism. IntechOpen. [↩]
U.S. Department of Transportation Federal Aviation Administration. DATE: 2/28/17. Flight Standards Service. INFO 17004: Seat Belt Repairs and Alterations [↩]