I've visited Hilton Vacation Club Cabo Azul in Los Cabo so many times that it feels like a second home. (In fact, for a year or two after discovering- and returning to- this resort, I refused to tell anyone about my secret escape!)
But today I'm sharing all the details in the form of a review of Cabo Azul from the perspective of a real guest who has visited many times and discovered this resort's hacks. You'll learn insider tips to navigate the resort, amenities, spa services, and food.
The opinions contained in this article are totally mine – I haven't been compensated by Hilton and was not asked to write this article.
Cabo Azul is the only resort I've ever loved enough to return for a second visit. In fact, it's one of my top travel destinations for plus-size travelers like me. Today, I'm sharing what to expect from a stay at Hilton Vacation Club Cabo Azul, plus how this resort has changed since it transitioned from a Diamond-owned property to a Hilton Vacation Club property.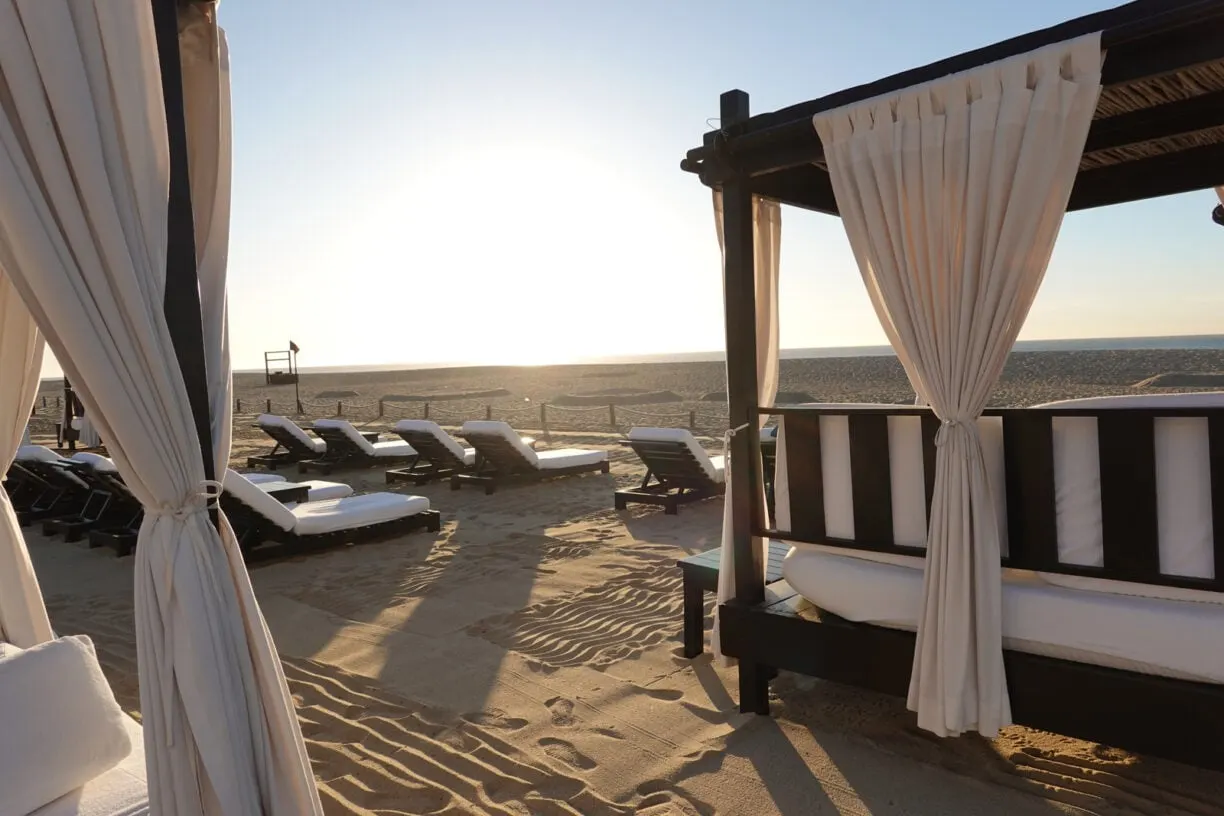 Cabo Azul Resort: what to know
The following section may contain affiliate links.
I knew nothing about this resort before my first visit. In fact, I decided to visit Cabo San Lucas just 18 hours before I checked into Cabo Azul! 😮 I'd never before traveled quite that last-minute, but a messy eviction happening next door to my home in St. Louis combined with friends who were about to begin a stay at Cabo Azul meant that I was throwing my plus size resort wear in a suitcase and boarding a plane before I even had a chance to read reviews for this resort.
Luckily, despite my lack of planning, Cabo Azul exceeded any expectations I could've possibly set.
I was able to book a room last-minute by calling the resort's own reservation desk and speaking to a booking agent. In fact, the prices offered over the phone were less expensive than the prices showing on their website. This is common, and in fact it's one of my best 4 tips to save money at a resort.
First impressions
Arriving at Cabo Azul
Hilton Vacation Club Cabo Azul Resort is luxury from the first time you see it on the horizon. With fire and water marking the boundaries of the property, it evokes feelings of majesty and luxury from the moment you pull in.
ARRIVAL TIP: An agreement with the local taxi driver's union means that Ubers aren't allowed to pull past the security booth at Cabo Azul. You can still use Ubers to get around, but you'll need to be dropped off and picked up on the street.
The Check-in Process at Cabo Azul
Entering the lobby, sounds of water and soft textiles muffle sounds in what can often be a chaotic area of a resort. This relatively small check-in space opens to concierge desks backed by a bridge over matching shelf pools.
You can expect check-in at the Cabo Azul resort to take a little longer than a typical chain hotel, but within 5 to 10 minutes you will be paired with a room key and on your way to soak up the luxury.
After checking in, you'll likely find yourself matched with a concierge. Now, as I have written in other posts about Cabo San Lucas resorts: in a resort town, a concierge is never just a concierge. This is where you will be invited to attend the presentation for the Hilton Vacation Club membership (a.k.a., a timeshare)
⏲🏠 Timeshare sales pitch tip: I recommend doing the timeshare presentation at Cabo Azul (unless you are staying for only one or two days, in that case, maximize your time outside soaking up the ambiance!) In March 2023, Cabo Azul offers a $200 resort credit for the first potential buyer and $175 for the second potential buyer in a party.*
*If you're traveling with a spouse- who you would purchase a timeshare with– you are considered one customer- however if you are traveling with a best friend or sibling, you can both get the credits! Additionally, on both of my recent visits they have comped the airport transfers to and from the airport, and offered discounted excursions.
Click here to check nightly rates at Cabo Azul
Rooms, common spaces, and pools
One thing that stands out at Cabo Azul, compared to other resorts I have visited around the world, is how soothing and tranquil the architecture is throughout the resort.
On my last visit, I learned that the entire facility was designed by a prominent Mexican architect Javier Sordo Madaleno Bringas. In my opinion this investment in quality design is something that guests can really appreciate. Without becoming too much of a labyrinth, the design of the space curates a sense that you are in an exclusive, semi-private space.
Many guest rooms look out over peaceful side pools rather than the resort's central corridor.
Rooms
I've had the opportunity to stay in three different rooms at Cabo Azul: Two 1-bedroom suites and a Junior suite. All of the rooms are spacious, well-decorated, and extremely clean. That is one reason that my friends and I return to Cabo Azul over and over: the cleanliness is top-notch.
Every room at Cabo Azul resort has a pullout couch, making it easy to add an extra guest or bring the kids along on your vacation without paying for an additional bedroom. On my last visit to Cabo Azul, we drew straws and I ended up on the pull out couch myself. While not ideal for a heavy traveler like myself, I can say with confidence that most people would find this pullout couch's mattress well above average in comfort.
Common Spaces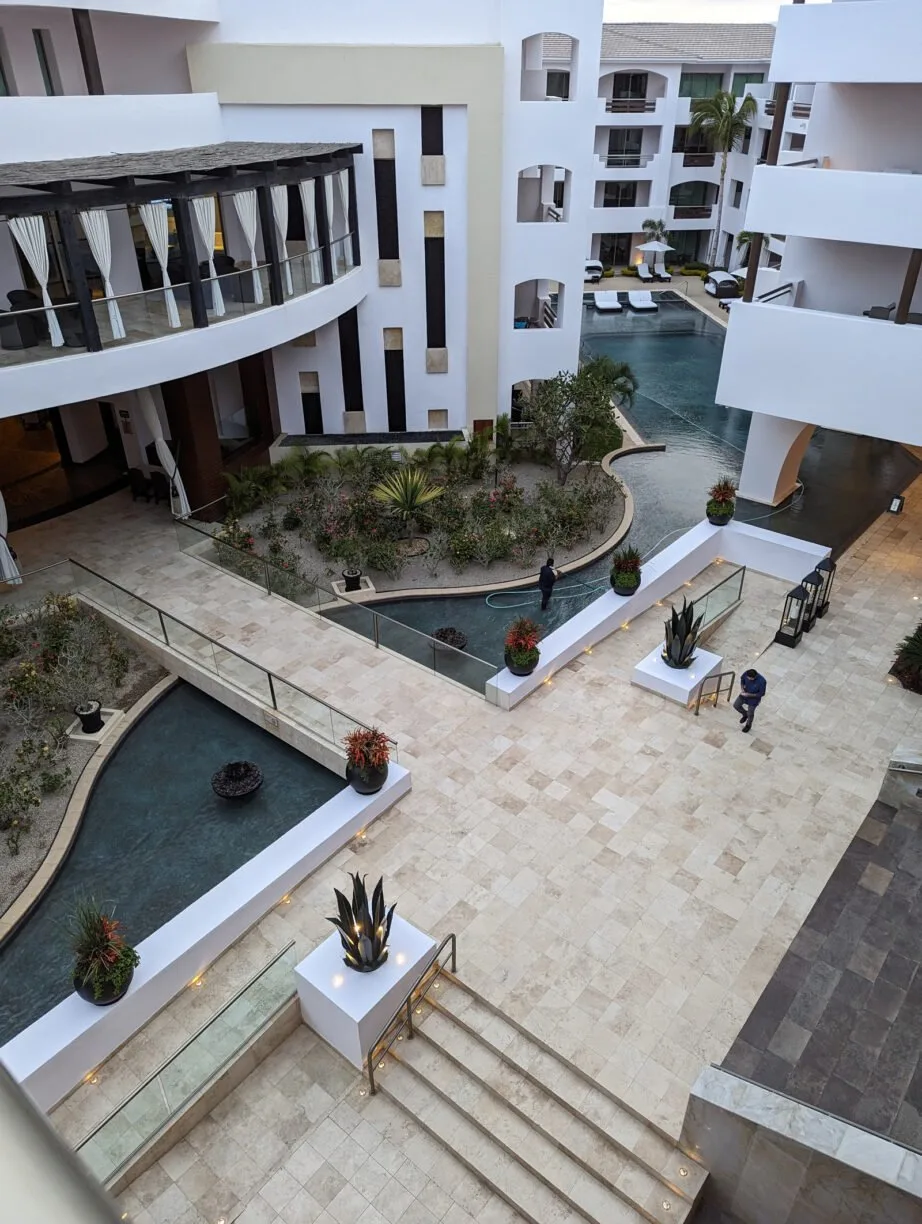 One of my favorite parts of Cabo Azul is the way that private rooms make extravagant use of common spaces.
For example, my last visit our basic Junior suite (the most inexpensive room type available) had a sliding door that opened onto a patio which, itself, was literally five steps from the "serenity pool." When privacy was desired, a generously sized curtain divided off our patio from public view
Pools
In the center of the resort, three infinity pools cascade towards the waterfront. The middle pool includes a swim-up bar and all of these pools are blissfully far removed from both the children's pool and the family pool. (The children's pool is tucked in away in a section of the resort many guest will never hear or stumble upon!)
In general, staff and security at Cabo Azul are quite permissive, however I have seen them step in when children's horseplay gets too carried away in the main pools. As an adult traveler, this is something I appreciate.
The Hilton vacation club Cabo Azul resort is spread out across 12 acres in San Jose del Cabo, Mexico. The relatively small footprint is used cleverly, however. Unlike another Cabo resort Villa La Valencia, which has a U-shaped construction, the buildings of Cabo Azul face the sea in a wide "v" shape. This means that the pool and recreation areas get lots of sunlight from early in the morning to evening- maximizing the hours you can spend soaking up the Baja Mexico sun.
Cabanas & Loungers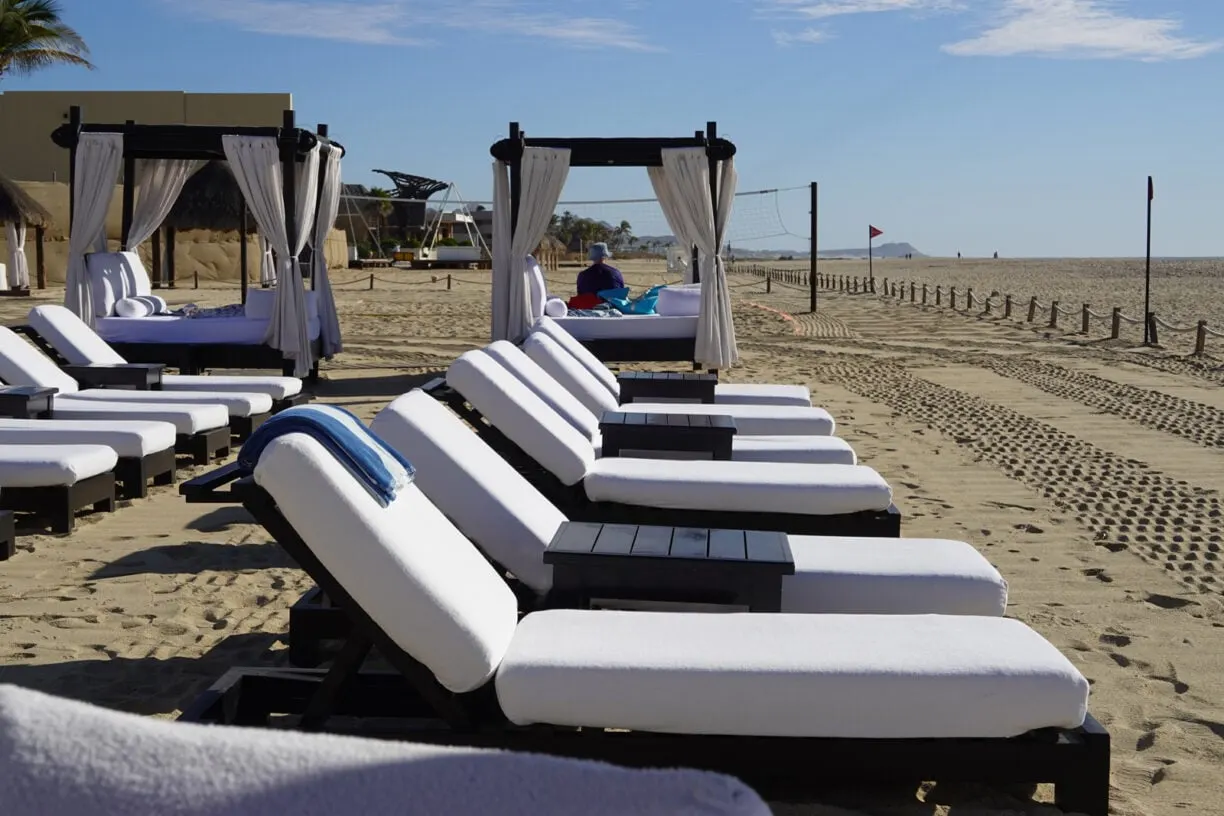 💡😀 My very favorite thing about the Cabo Azul Resort is the incredibly comfortable pool loungers and cabanas. Each pool lounger is extra wide, has a thick mattress-like cushion, and is covered by a terry cloth cover that is changed each day. These are heaven for plus-size bodies like mine that often feel discomfort on commercial and utilitarian outdoor furniture.
During my visits, there have been more than enough loungers for guests. Although premium cabanas get claimed first thing in the morning, they often open up mid-day as the early-morning crew heads inside by midafternoon.
Food and Dining at Cabo Azul
Okay, after eating a couple dozen meals at Cabo Azul, here's my rundown on the food: it's very good. While I've had a few meals that were nothing to write home about, most meals served by the restaurants and room service at Cabo Azul are quite good.
Cabo Azul is not an all-inclusive resort, and guests have plenty of excellent choices for eating off-site. Because of this, I think the resort takes more care than a typical all-inclusive resort to serve food that is worth ordering and reordering. (This is one of the main reasons why I don't stay at all-inclusive resorts)
My favorite menu items at Cabo Azul:
🐟 Tuna Tostada from Poolside service
🍳 Huevos Rancheros from Flor de Noche's breakfast service
🥗 Ceasar Salad from Javier's
🍗 and the Roast Chicken + Polenta served by room service
🍣 The sushi bar also serves very respectable sushi, though I'll confess to not having explored beyond my go to sushi order: a simple California roll.
Meals worth skipping: room service ceasar salad, room service pizza, pool service nachos, and Flor de Noche's hot cocoa.
If you grow tired of the four restaurants on the resort, there are incredible dining options just across the street. Exit through the lobby and head down the driveway. There, you'll find several restaurants directly across the street. La Forchetta serves incredible (and I mean incredible) Italian food and Latino 8 serves tacos and sushi – including a tuna tartare I occasionally dream about.
Expect to spend $20-$30 per person for a entrée + drink at a restaurant on the Cabo Azul property. The nearby restaurants (which are clearly aware of what their clientele will pay) offer entrées around the same price point.
For budget eats grab an uber to a nearby OXXO (Mexico's equivalent of a 7-eleven) or the local Walmart for groceries to prepare in the kitchen which is included with 1, 2, and 3 bedroom units.
Click here to check nightly rates at Cabo Azul
Spa services at Cabo Azul
The spa at Cabo Azul, called Paz Body & Mind Spa, is really the only part of the resort that I can't recommend wholeheartedly. 👎🏻 When I scheduled a service at the spa, I didn't have a good experience.
I felt rushed out of the Cabo Azul resort spa quickly, before my toenail polish was even close to dry. This resulted in a ruined pedicure a few moments after leaving. Unfortunately, I was left wondering if maybe the staff didn't want a very fat person taking up space and being visible in the aesthetics-focused space, and that's never a fun thing to be left wondering about. 😐
INSIDER SPA TIP: If you do give the spa a try, my best advice is to get there in advance. Plan to arrive at your spa treatment at least 30 minutes early.The spa's interior waiting area is actually a series of private hot tubs set to varying temperatures, and they're definitely worth an unhurried soak.
Location
Cabo Azul is located just a few minutes by car from San Jose Del Cabo– about 20 minutes south of Cabo San Lucas. San Jose Del Cabo is actually much closer to the area's main airport SJD. Because of this it's quicker and cheaper to get from SJD to Cabo Azul than it is to get to Cabo San Lucas.
Personally, having visited both cities, I prefer San Jose Del Cabo to Cabo San Lucas. While Cabo San Lucas is a more urban area dominated by a party-culture vibe, San Jose Del Cabo is a little more laid back, and visitors tend to be a little older.
You'll still find a thriving little town filled with art galleries, food carts (if you dare!) and tourist shops in San Jose Del Cabo, but without the street vendors hawking obscene tchotchkes and frat brothers day drunk in the street. In fact, crowds gathered at the Thursday night art-walk in San Jose Del Cabo are usually roughly an even split between tourists and locals.
Things that have changed at Cabo Azul since Diamond sold to Hilton
In December 2022, the owner of the Cabo Azul Resort sold the resort to Hilton, and it was rebranded as a Hilton vacation club property. As of 2023, the resort is largely unchanged. I was pleased to find that most of the things I loved about this resort were untouched- even down to restaurant menus. However, here are a few things that have changed:
1. Thermostats. The thermostats are now limited and can only be adjusted from 68 to 74° – a reasonable range, but for a resort that lacks some other basic sustainability efforts, it's clearly just a cost-saving measure.
2. Towels. One of the reasons that Cabo Azul made my list of top travel destinations for plus size travelers was that the generously sized towels were able to wrap around my large body. These towels, unfortunately, were replaced with Hilton brand towels which are smaller, scratchier, and generally a bummer.
3. Timeshare benefits. I'm not a timeshare owner, but during my most recent week at Cabo Azul, I did learn that there were some feathers ruffled by the changes to timeshare privileges. While I don't have the details to share, previously purchased timeshares at Cabo Azul may not have the same benefits today that they did prior to Hilton's acquisition.
Insider Tips for Enjoying Cabo Azul
Every time I visit Cabo Azul, I tweak my packing list a little to create the perfect vacation. Here are a few insider tips from a real guest:
Free washer and dryer – There's a free washer and dryer in every building (and no one uses them so they're almost always open!) There should be a single packet of Tide included with units that have a full kitchen, but not in Junior Suites. Bring travel laundry soap or make your own laundry detergent sheets to avoid having to wash clothes in the sink.
Bring a sling-style pool float – the first time I visited Cabo Azul, I saw other travelers enjoying the epic pools while lounging like gods on sling-style pool floats. I vowed then and there to my travel companion that we would not return without our own floats. To read more about the specific style of float and why it's so relaxing (and not embarrassing to get on and off in public) read more in my article about plus size pool floats.
The following section may contain affiliate links. As an Amazon Associate, we earn from qualifying purchases.
Bring a kite! – I don't care how old you are, flying a kite is really fun! And rediscovering the mindful body-based activity of flying a kite is the kind of experience that a deeply relaxing vacation is all about. It's one of the things I take to a beach every time I visit. For Cabo Azul, you can pack a simple frameless kite (like this fun dolphin kite from Amazon) for a price that fits in any travel budget.
Take the beach walk – like any resort, there are organized activities every day. At the Cabo Azul resort, these range from movie trivia to table tennis tournaments, and aquasize to ecological beach walks. I highly recommend the beach walk – you'll see sea turtle nests and walk down to a nearby estuary and bird sanctuary.
Wildlife at Cabo Azul
For a highly developed, and well manicured resort, I have seen a surprising amount of wildlife at Cabo Azul!
Ordinary local species like iguanas and osprey make daily appearances, but I've also seen sea turtles and humpback whales. During whale migration season, it's an almost daily occurrence to see whales breaching in the Sea of Cortez in front of the resort.
As this stretch of beach is a common nesting spot for sea turtles, it's possible to see both biologist-supervised releases of baby sea turtles and unsupervised hatches. Watching just-hatched baby sea turtles flap their way to the water at dawn is one of my favorite memories from my visits to Cabo Azul.
Final thoughts on Cabo Azul and whether you should book it
Cabo Azul is my dream resort. Even though it is not an all-inclusive resort, it's a reasonably priced property with incredible à la carte food options and a level of service that is unrivaled by any other resort I have visited.
Guests at Cabo Azul tend to be fairly diverse, with no single focus on families, retirees, or nightlife-seekers. As a person in a larger body, I'm generally at home at this resort with other diverse-looking bodies seeking rest and sun.
Click here to check nightly rates at Cabo Azul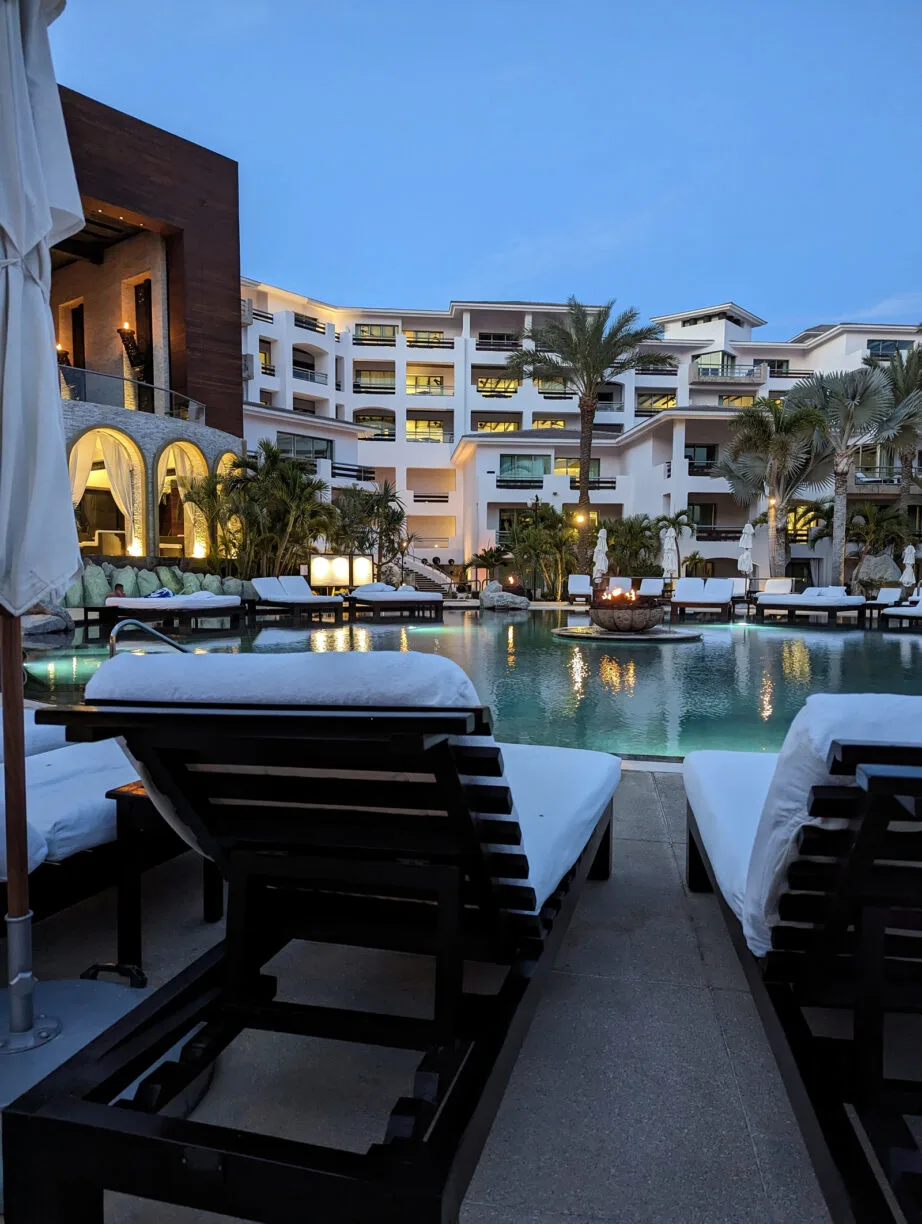 Tip on tips: when I visited Mexico City with the expertise of a Intrepid travel guide, I learned a lot about tipping in Mexico. It's not just best practice, it's essential. Many staff members at Los Cabo's resorts bend over backward to provide good service – and that service is provided with the expectation of tips. For some employees, their wages and tips may support an entire family in another area of the country.
TIPPING: When you visit Cabo Azul or any other Los Cabos resort, budget for $15-$25+ a day in tips. At Cabo Azul, it is appropriate to tip $5 to $10 for delivering room service, daily room cleaning, or delivering luggage. For wait staff, a 15-20% tip can be added to your bill when you sign the check.
I recommend bringing a stack of five-dollar bills. It is fine to tip in US dollars anywhere in the Cabo San Lucas area, the money can be easily spent in USD form or converted into pesos. There is an ATM just steps from the entrance where you can withdraw funds in USD or MXN.
I debated long and hard about sharing this resort review – not because I thought I'd be saying anything controversial, but because I wasn't sure I wanted to share the secret of this amazing hotel. For families with younger kids, there may be more kid-centric resorts that would be a better fit, but for many travelers, especially plus-size travelers and older adult travelers, it's hard to imagine a Mexican resort better than Hilton Vacation Club Cabo Azul.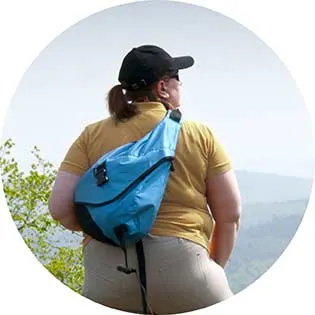 Lynli Roman's unique approach to travel is informed by decades of experience on the road with a traveling family and, later, years spent as a solo international traveler. When she's not writing about Seattle from her Pike Place Market apartment, Lynli writes on-location while conducting hands-on research in each destination she covers. Lynli's writing has been featured by MSN, ABC Money, Buzzfeed, and Huffington Post. She is passionate about sharing information that makes travel more accessible for all bodies.