A few weeks ago, I ventured to Cabo San Lucas to check out a new resort, Villa la Valencia. In this post, I share a full-length review and real guest's report of the facility, amenities, and experience at this resort. The opinions contained are entirely mine. I have not been compensated in any way.
Villa La Valencia is a beachfront resort in Cabo send Lucas that claims to offer luxury accommodations, Cabo's largest lazy river, and a unforgettable vacation experience. While my time at Valencia was, indeed, unforgettable, if you keep reading, you'll learn that the reason it was so memorable wasn't exactly good.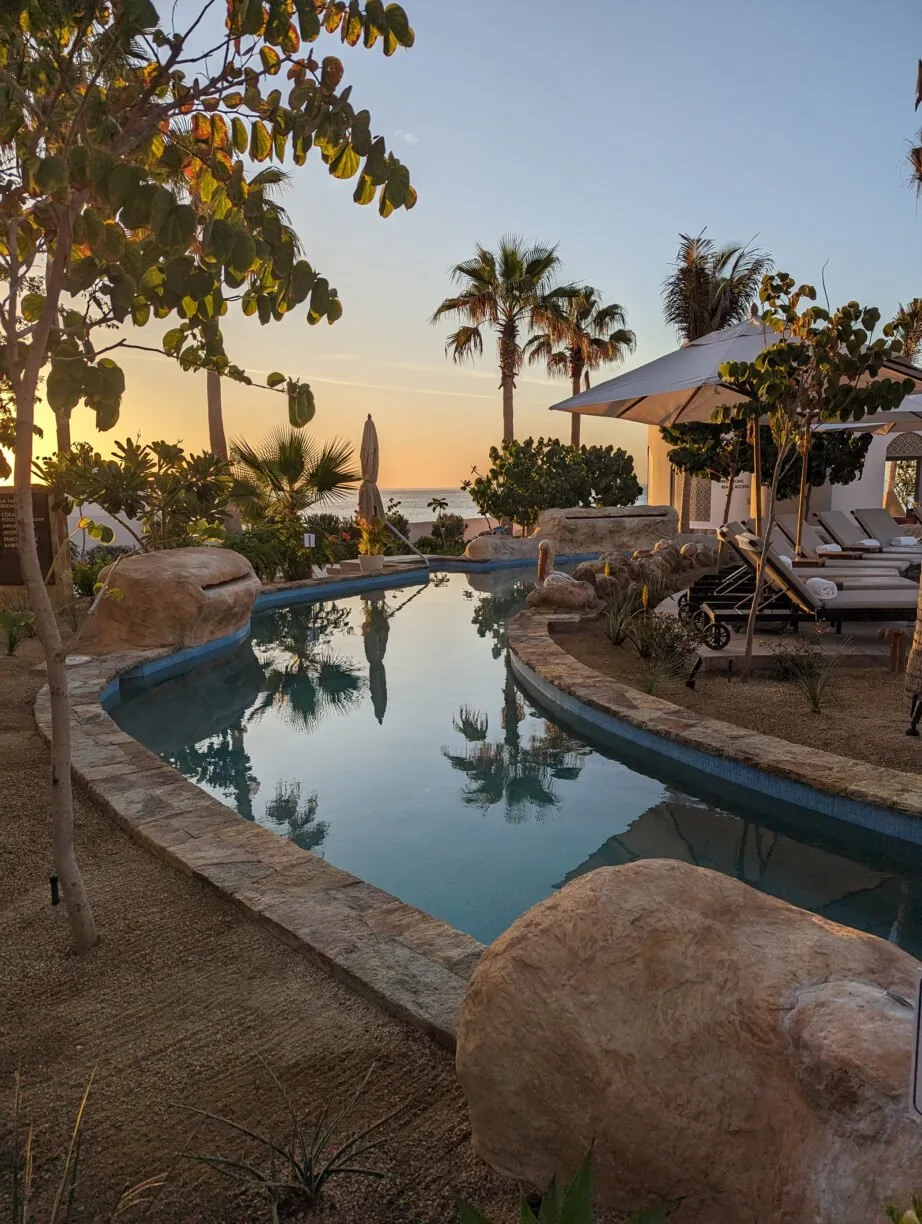 Villa La Valencia: What to Know
I read online about this resort quite a bit before I booked. I was ready to treat myself with two (more) days of luxury after a Galentine's day stay at Hilton's Cabo Azul resort with friends. I booked Villa La Valencia through their own booking service, although many travelers visit this resort as part of a Costco travel package.
With construction completed in early 2022, Villa la Valencia is a modern resort that at first glance appears to fit the mold of a luxury resort, but those seeking luxury, rest, and relaxation, probably won't find it here.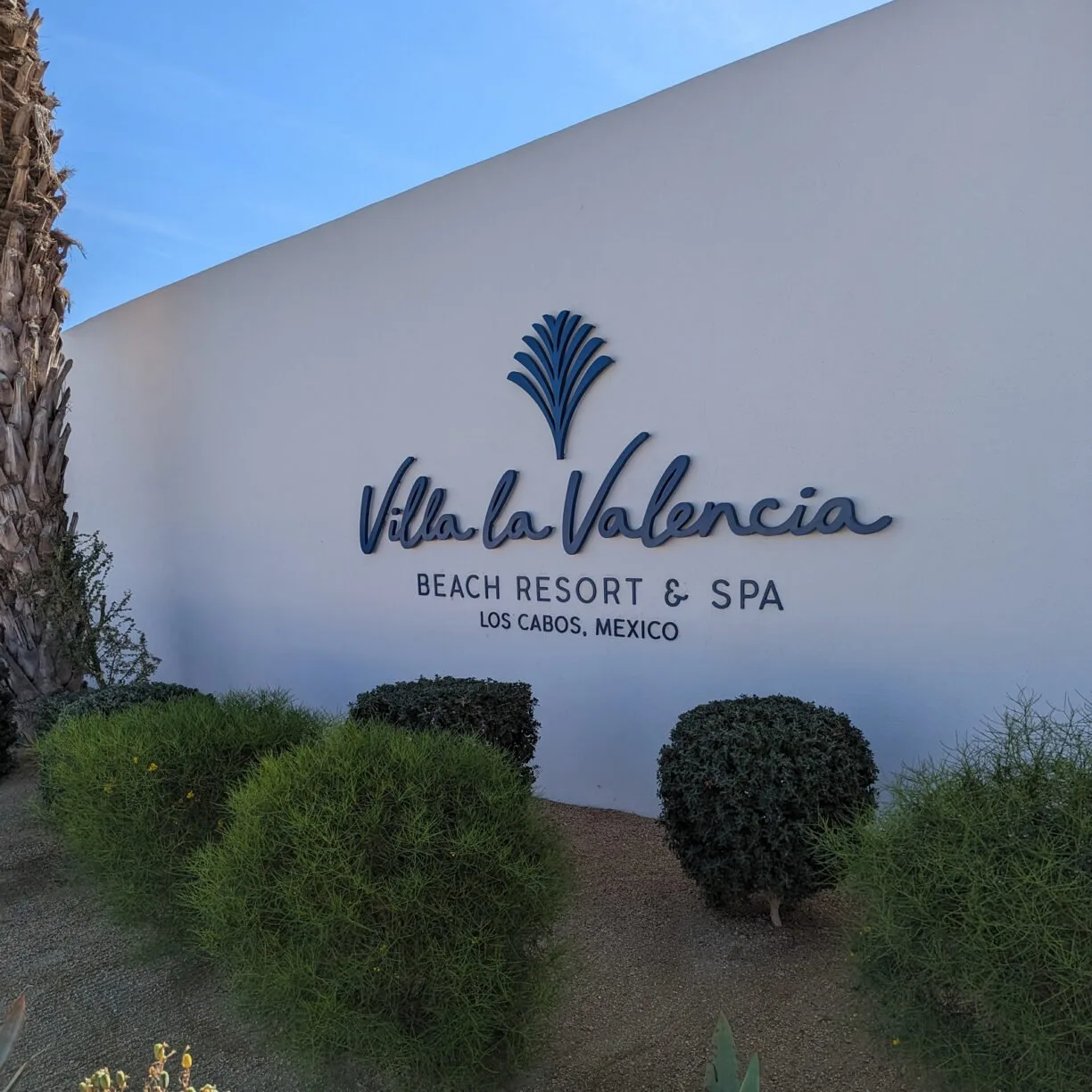 First Impressions
Arriving to Villa la Valencia
Upon arriving to Villa la Valencia, my taxi driver pulled to the side of a busy road and dropped me off just a few feet from the traffic zooming past nearby. Because the hotel is not set back at all from the very busy road connecting Cabo send Lucas to San José Del Cabo, traffic noise is a problem.
The Check-in process at Villa La Valencia
Upon entering the hotel, I was struck initially not by the design – which is lovely – but by the poor acoustics. The cavernous lobby resonated like a high school gymnasium.
After check-in, I was, predictably, ushered over to a "concierge desk" (hint: in Cabo, the concierge is never simply a concierge). There, I was invited to a timeshare presentation, with the opening line "it's not a timeshare". (spoiler: it's always a timeshare. If you're asked to pay today for vacation in the future, that's a timeshare and it's essentially never a good decision)
Timeshare Sales Pitch Tip: Timeshare presentations are optional, you can absolutely say no. I typically agree to sit through a presentation when the compensation is equal to at least $200 of real savings. Villa La Valencia offered me 40 bucks off a Swedish massage. 🙄 Many resorts in Cabo, however, comp $150-$200 per person towards 🚕 taxis, 🛬 airport transfers, 🍣 food, and 🍹drinks- which is a much better deal.
When it became clear I was not interested in timeshare, the concierge dropped me off in what they called a "hospitality suite," but was actually two people in a very small room selling excursion packages.
Rooms, Common Spaces, and Pools
Rooms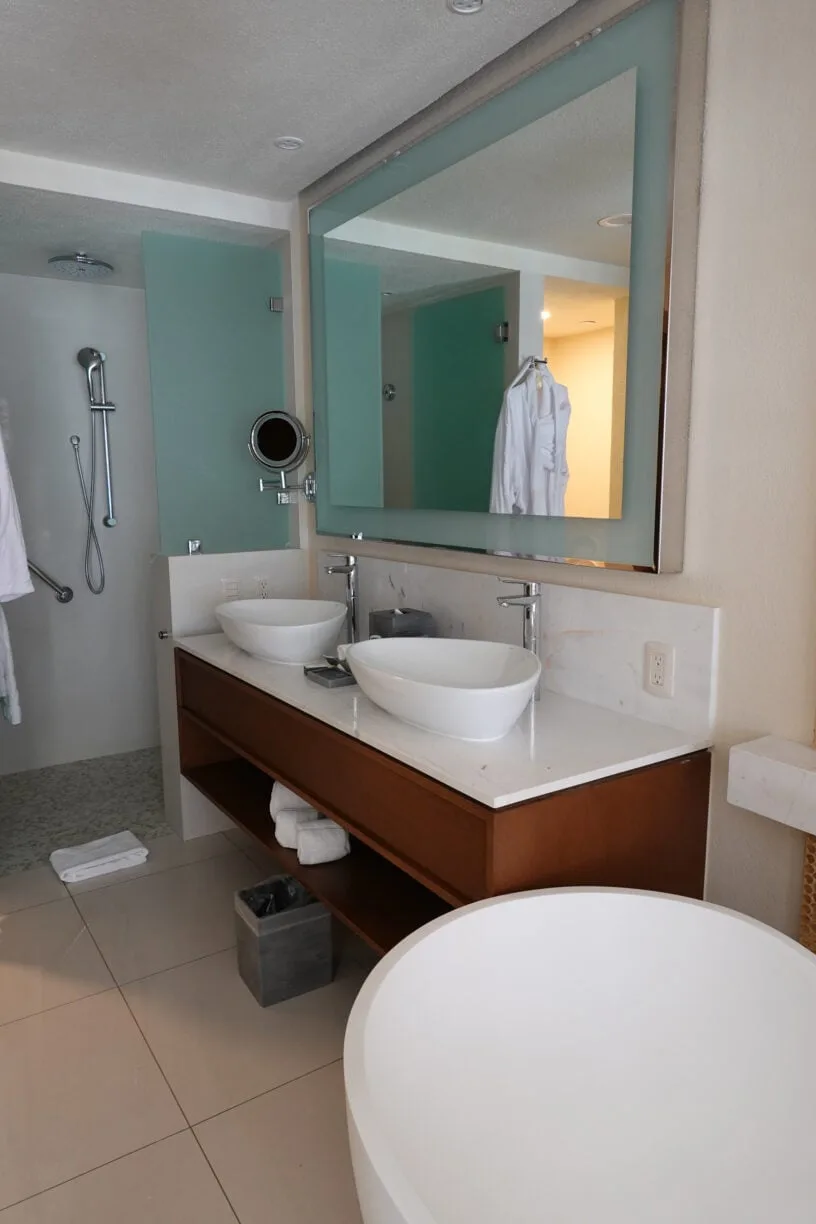 Once I was able to get a key to my room, a bellhop helped me get my luggage settled. The large studio offered two beds and a contemporary bathroom.
Oddly, the bellhop took the time to be sure that I knew that there was a bathroom scale in the room. I found this flummoxing until I realized… The placement and attention to the scale was likely an intentional use of fatphobia in order to use shame-based motivation to get guests to eat less – thus lowering operating costs- during their vacation. Weird. (And FYI, research is clear that restriction creates binge cycles. Permission to eat intuitively – whether on vacation or not – stabilizes these cycles 1 )
The room was clean apart from sunscreen residue on the floor and the linens were of good quality. However, the room had no bathroom exhaust, so every time the window was closed, the room slowly filled with an unpleasant old-sweat smell.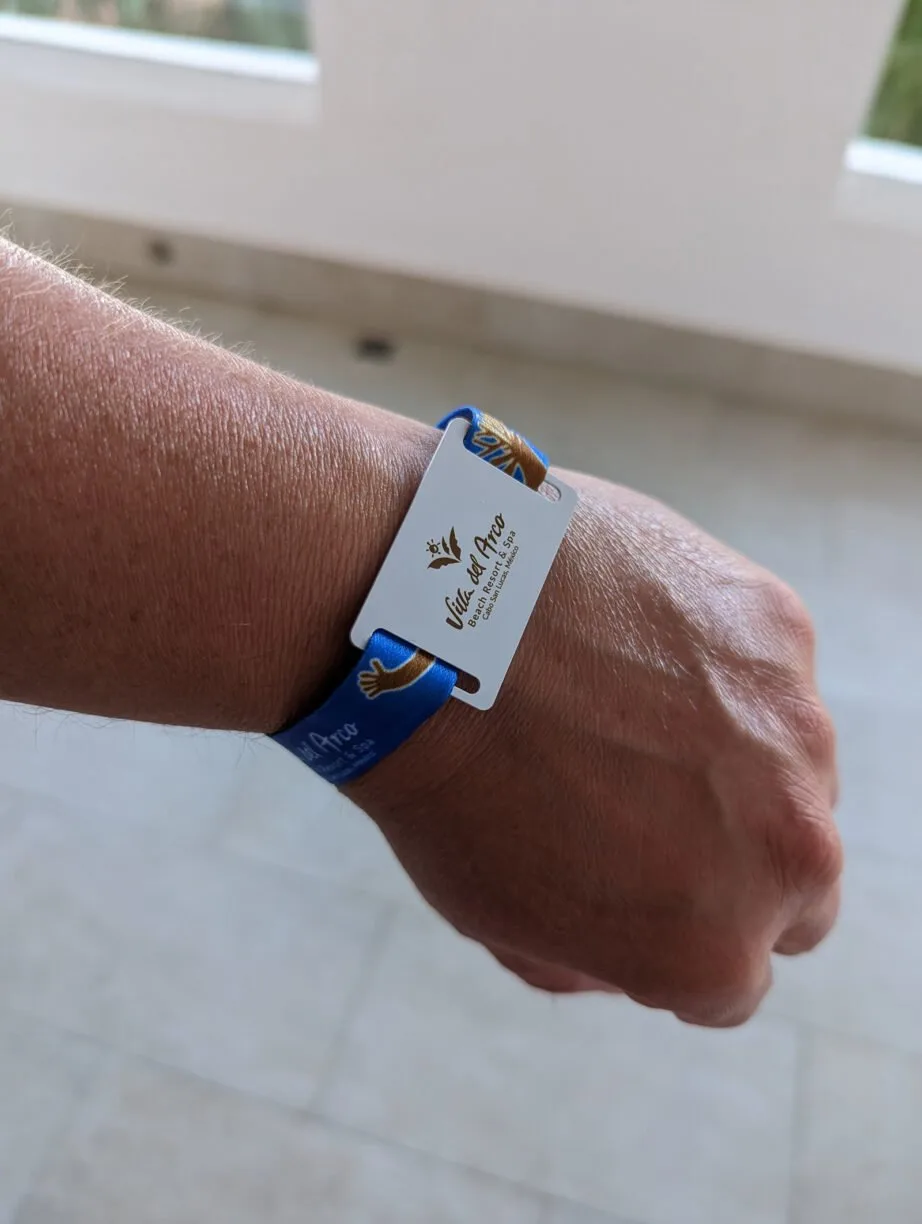 Common Spaces
Tagged with my all-inclusive wristbands and having dropped my luggage in the room, I set out to explore the rest of the resort.
Villa la Valencia features 22 acres right on the coast of the Sea of Cortez. Now that sounds like a lot of acres until you realize just how many rooms and buildings have been squeezed onto this property. The pool and lazy river end up sandwiched between two towers. The problem is, direct sunlight doesn't reach the pools and lazy river until almost midday, and the evening chill creeps in much earlier at Valencia than it does at other resorts. This is because so much sunlight is blocked by tall buildings on either side.
Not-Common Spaces for "Elites" – from my room's balcony, I could see premium cabana and beachfront spaces that I was excited to check out. But as I explored the property, I found that many of these areas were empty, but surrounded by barriers designating them as spaces for "Elite members".
Most guests won't even have a shot at premium loungers or cabanas, since management opts to keep them empty to manufacture a desire for a made-up status.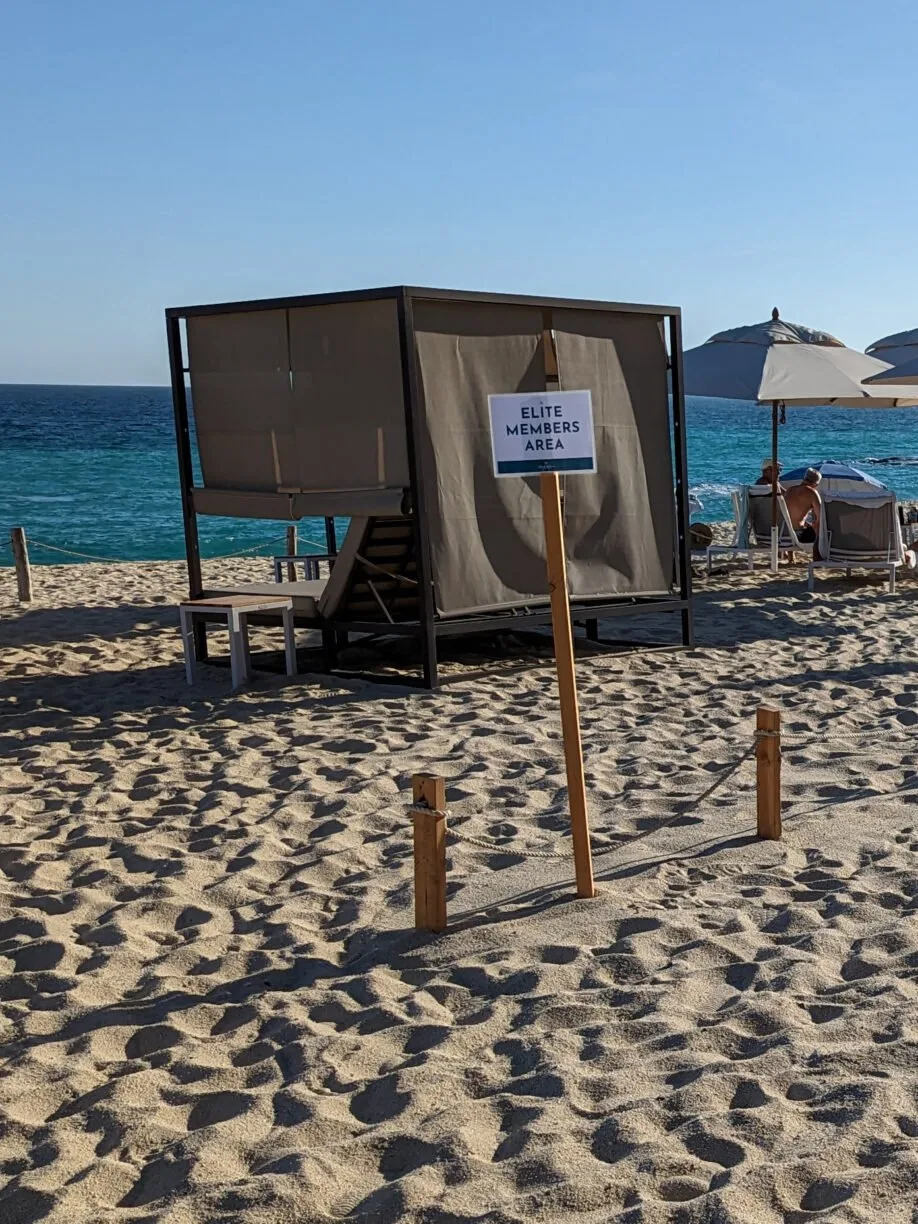 Pools and lazy river at Villa ala Valencia
I'll talk more about the lazy river a little later in this article, however here's a basic rundown on the pools: Villa la Valencia features an adults only pool, a kids pool, a common pool, and an infinity pool overlooking the beach. The infinity pool, in particular, has a very interesting tile pattern that mimics natural rock and helps it to visually blend into the sea.
Various hot tubs are spread throughout the property. However, there are some issues with dirt landscaping encroaching on the walkways. The most inviting of these hot tubs – the tub overlooking the beach- had an entry with visibly pooled mud and debris at the entrance. 🤢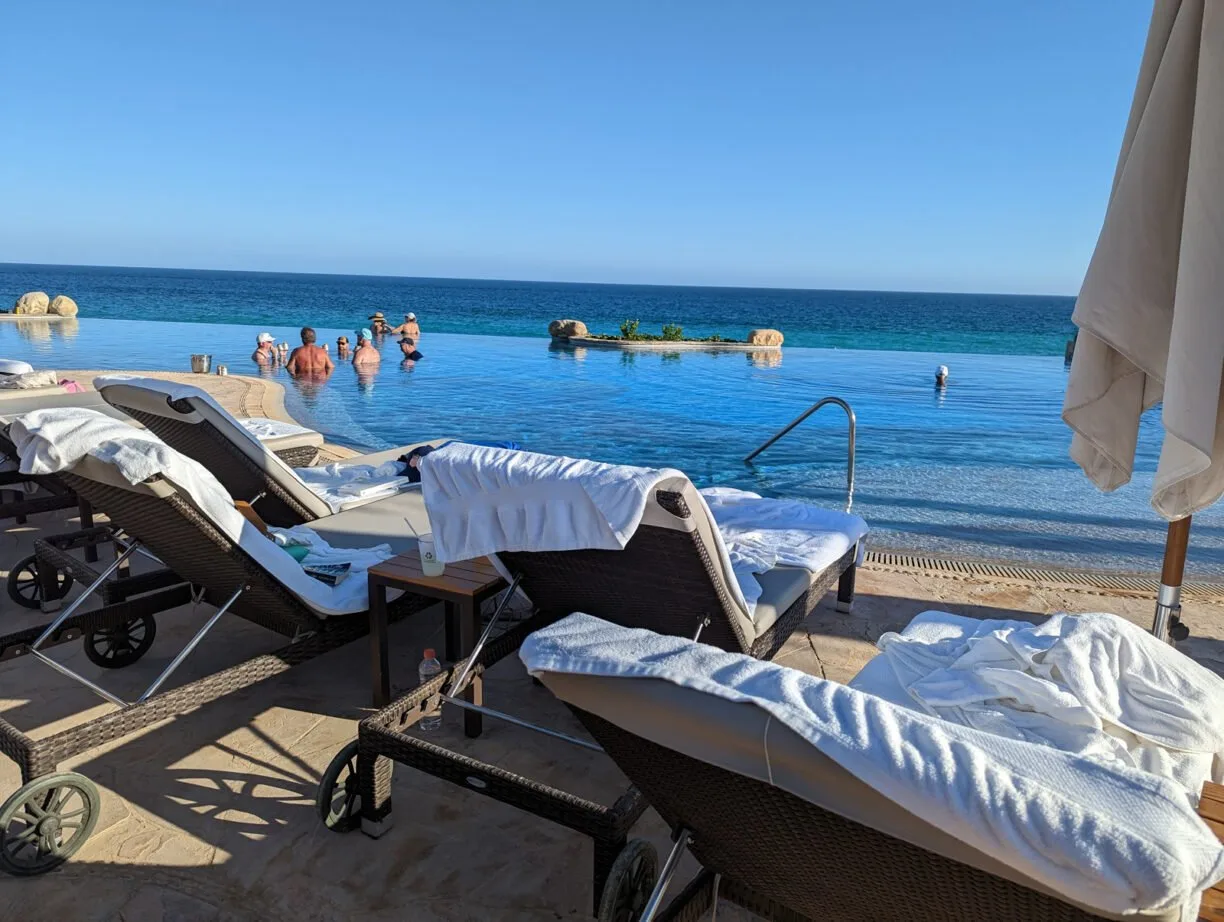 Food & Services at La Valencia
The food at Villa a Valencia seemed to be mostly reheated processed food. Most meals are served buffet style (yes, even in a post-Covid world 🤢 ) and meals with table service taste like mediocre catering. By the time I left, I was starving for food that was fresh and prepared with love.
Although all-inclusive typically means, you know, all inclusive, at Villa la Valencia certain menu items are excluded from all-inclusive meal plans. As a professional traveler and hotel reviewer, I was frustrated to find that my all-inclusive plan was actually, not.
Restaurant Reservations: Like several google reviewers, I had trouble getting a table for dinner at the resort. Seatting required a reservation, and reservations were not easy to get- even planning a day in advance! If you stay at Valencia through a Costco Travel vacation or a direct booking, you should book all of your dinner reservations as soon as you check in.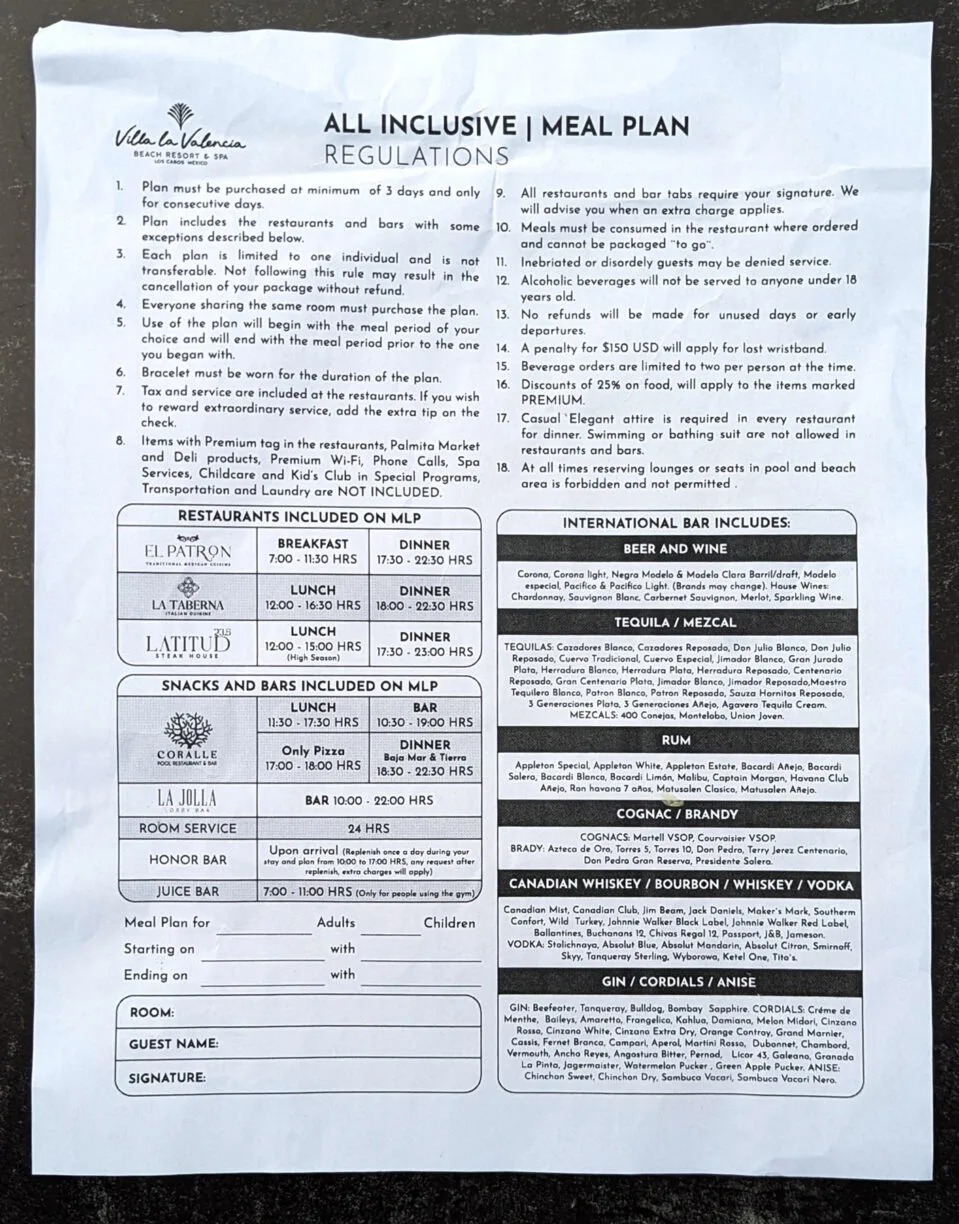 Location
Villa La Valencia is located about halfway between Cabo San Lucas and San Jose Del Cabo. This makes the location convenient for getting to either city on an excursion, but extremely inconvenient for dining off the property.
Unlike resorts farther north or farther south, Villa la Valencia is essentially in the middle of nowhere. If you can't get a reservation in one of the resort's restaurants, you'll have to get a taxi or Uber both ways.
Review of The Lazy River at Villa La Valencia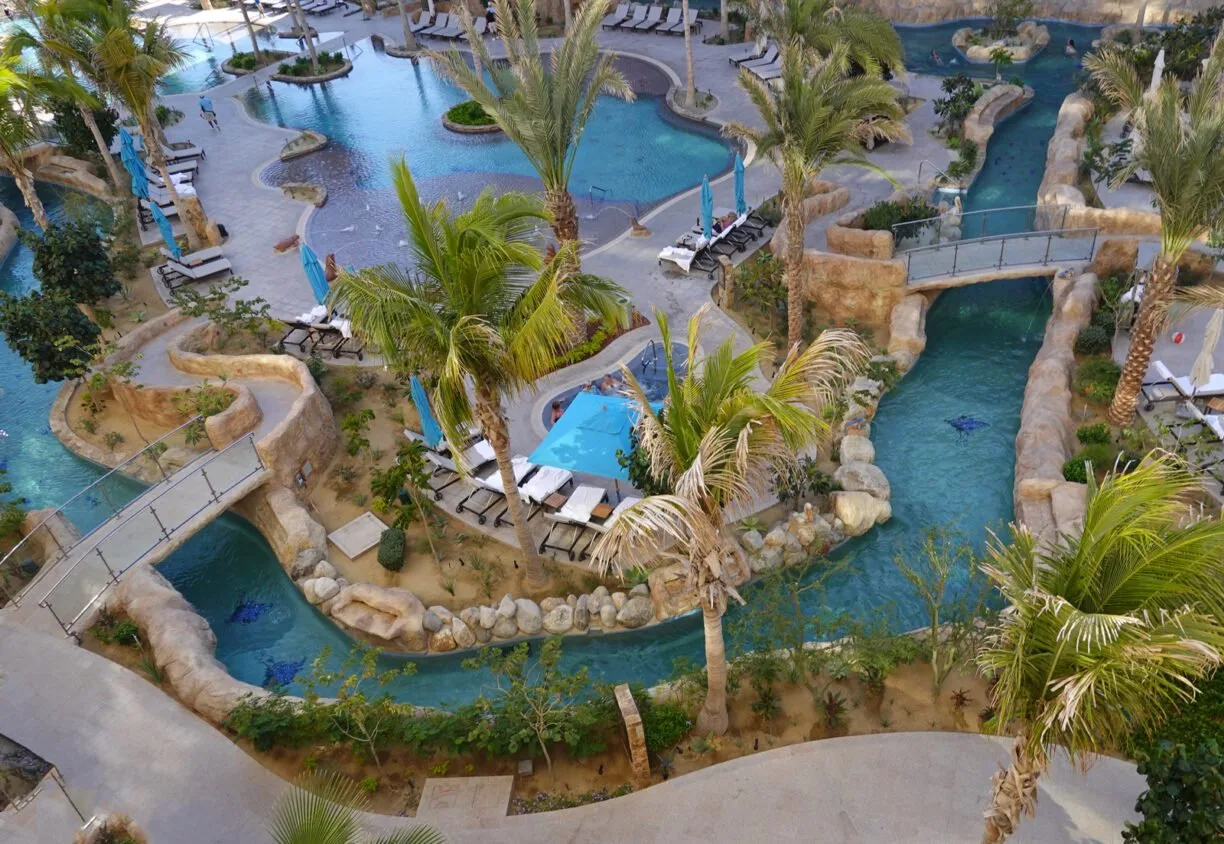 To be honest, I read about some of these issues in Villa La Valencia's Google reviews before I made my booking. This epic-sounding lazy river seemed to like it canceled out many of the shortcomings of this new property. So, did it? Not quite. Keep reading to learn why.
Villa La Valencia's lazy River is the largest in the Cabo San Lucas Baja Peninsula area. The 1,148 ft long lazy river is a long, narrow pool that winds through the resort's sparse landscaping, between loungers, and under foot bridges.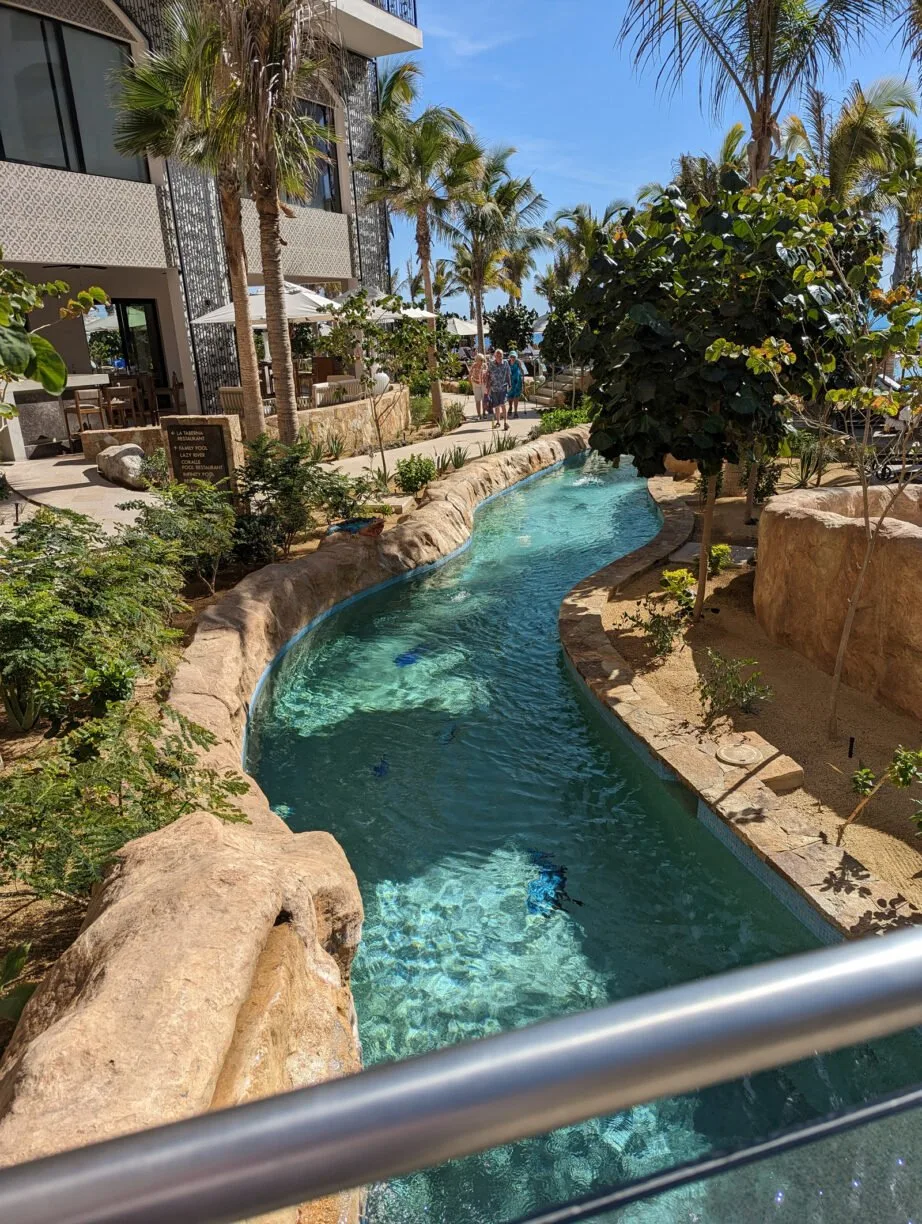 Pros of the lazy River:
With a hammock-style float, I could float around and around this mostly peaceful lazy river.
A balance of calm sections and more rapid-like areas, keep this lazy river from getting boring.
During my stay in February 2023, the lazy river was not crowded even during the peak of the day. (December to April is Cabo's busiest time of year)
Villa la Valencia's lazy river is neither too deep nor too shallow – it's just right for floating on top of a provided tube or riding your own pool float (If you need a plus size pool float, you'll want to pack your own)
At around 5 PM, the jets in the lazy river are turned off, but the lazy river is open until 8 PM.

From 5-8pm the lazy river still moves, but very very slowly. I found it to be a peaceful time! I liked drifting slowly in the lazy river without anyone else around.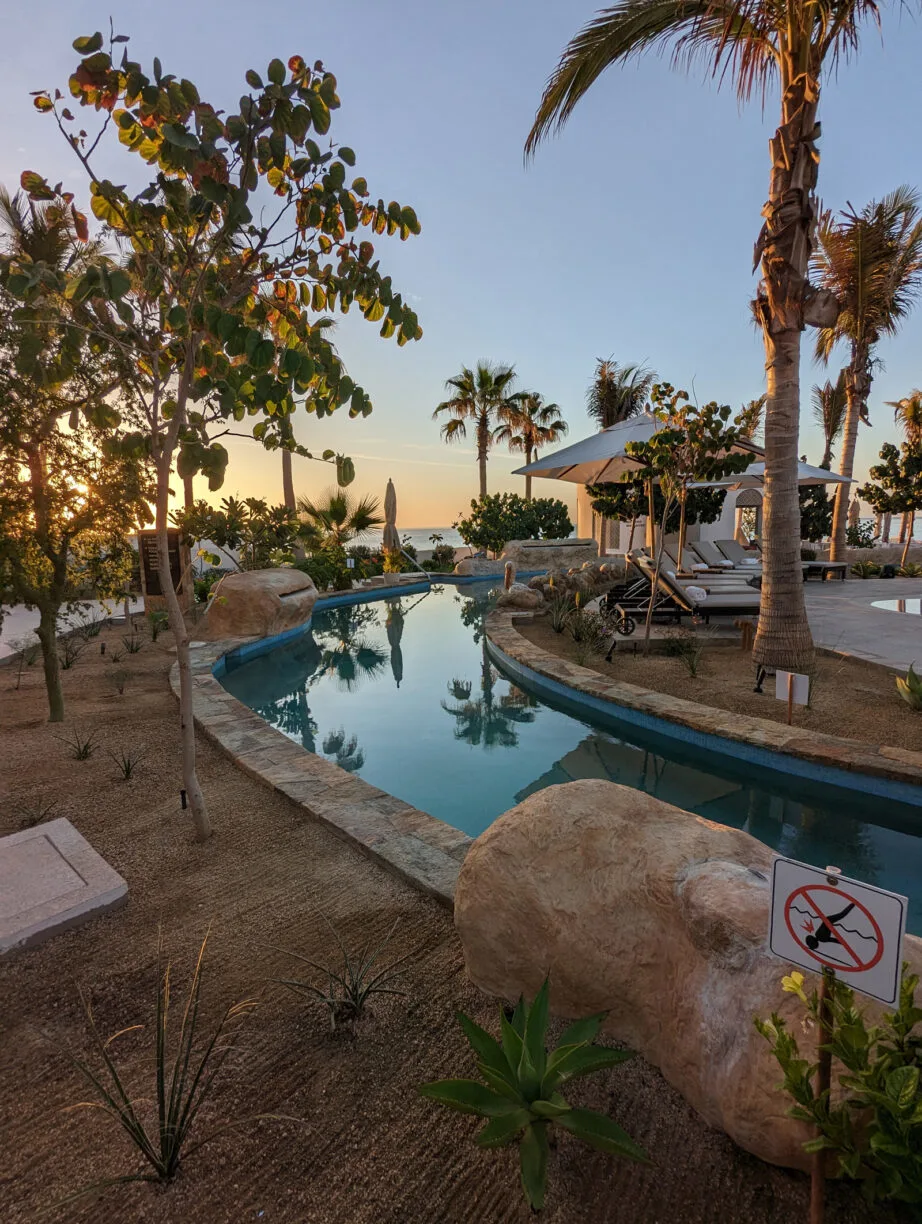 Cons of this lazy river:
Sometimes other people do trashy things. Listen, not everyone who shops Costco travel is a good neighbor, and the trash and beer cans left along the sides of the lazy river throughout the day is evidence of this.
Staff aren't great about fishing out abandoned tubes. During my visit, having to fight my way past a logjam of abandoned tubes definitely happened.
Too much shade – as explained above, the design of this resort leaves the lazy river in the shade for most of the day. While that's great for avoiding sunburn, if you're visiting during a cold snap, it can really limit how much you can enjoy the lazy river.
Difficult entry/exit – at the most popular put-in point for the lazy river, between the children's pool and the adult pool, it's obvious that the designers had a bit of a snafu and instead of installing an additional step, they installed a very steep step with very uneven flagstone above it. If you are older, plus size, or a traveler with limited mobility, this could be a dangerous entry/exit point.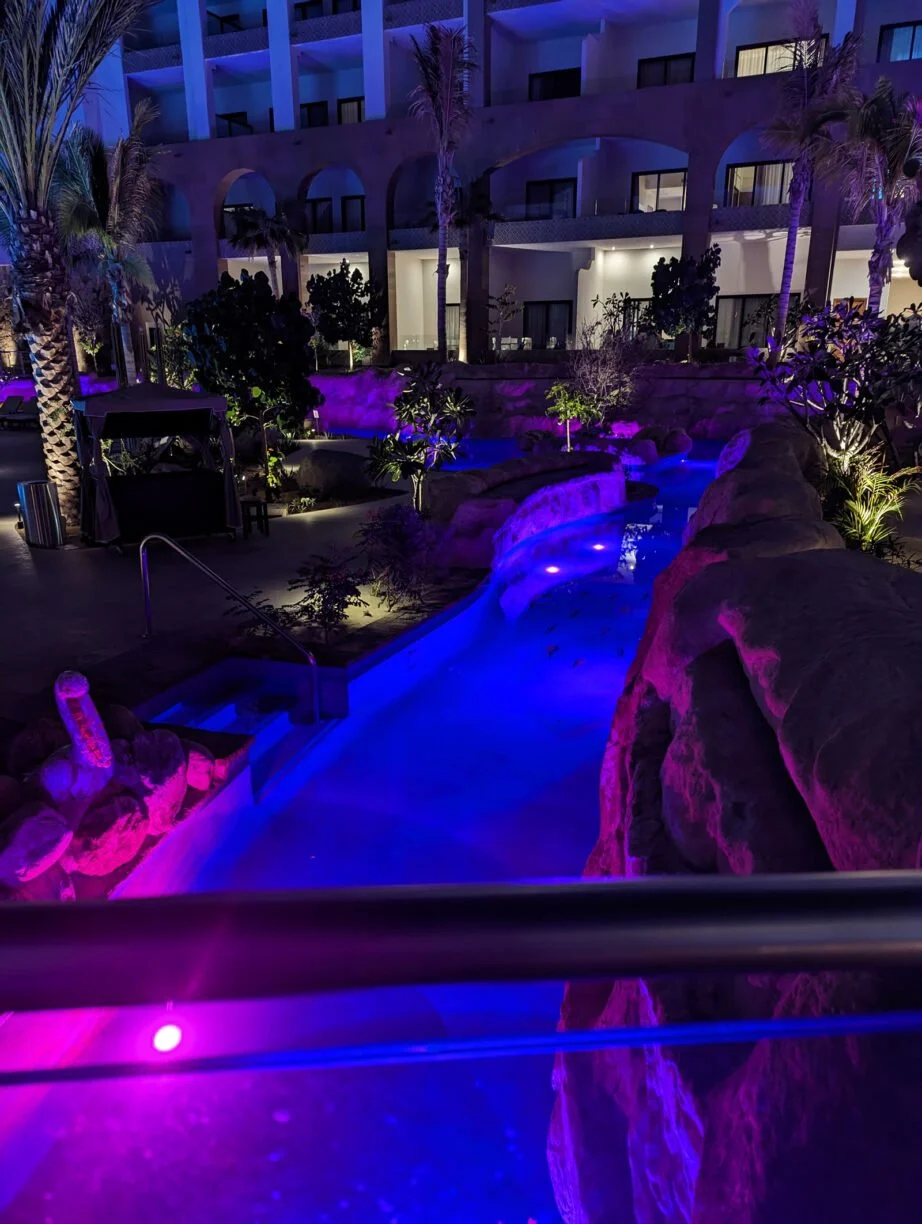 Final thoughts on Villa la Valencia and whether you should book it
For some travelers, Villa la Valencia might be a dream vacation. For me, it was the nail in the coffin for why I don't book all-inclusive resorts. Essentially, although the staff obviously works very hard, Villa la Valencia needs some major improvements to resort policies, food, and rooms for it to compete with other Los Cabos resorts.
If you are choosing between a Costco vacation to Villa la Valencia and an alternative like a Disney vacation or a cruise ship, I strongly recommend the latter, especially for families with children.
Is Villa la Valencia a good resort for kids?
Although the lazy river at Villa la Valencia could entertain kids for days, there is too much adult behavior in common spaces for it to be kid-friendly, in my opinion.
The lazy river winds through a resort filled with adults drinking all day. During my time floating around the Villa La Valencia lazy river, I saw behavior I would not want a child to see.
Most problematically, a drunk man exposed himself, within my view, on the banks of the lazy river (to a woman on a balcony above, who was also exposing herself).
While I hope this behavior was limited to my trip, I suspect that the recipe of all-inclusive drinks combined with the simplicity of purchasing this vacation package through Costco Travel often results in overindulgence or poor decisions- without checking if children are nearby.
Final Thoughts
Why care about my review? I'm an ordinary traveler, plus size person, and generally get no special treatment – even as a full-time travel blogger. I booked Villa la Valencia without any credits and gave it a shot. My summary is this: for a few travelers, Villa La Valencia could be the right choice for a perfect-fit vacation. However, I advise caution when booking.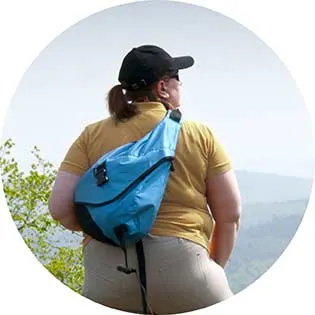 Lynli Roman's unique approach to travel is informed by decades of experience on the road with a traveling family and, later, years spent as a solo international traveler. When she's not writing about Seattle from her Pike Place Market apartment, Lynli writes on-location while conducting hands-on research in each destination she covers. Lynli's writing has been featured by MSN, ABC Money, Buzzfeed, and Huffington Post. She is passionate about sharing information that makes travel more accessible for all bodies.
Sources
Walsh, B. T. (2011). The importance of eating behavior in eating disorders. Physiology & behavior, 104(4), 525-529. [↩]