If you're looking for a stop on your route 66 trip, a lazy afternoon in Joplin Missouri, or a destination for a short road trip in Missouri, Grand Falls near Joplin Missouri may fit the bill.
Its location, just 3 miles off the main interstate of I-44, makes it an easy stop for most road trippers passing through the area.
Grand Falls is often touted as the largest continuously flowing waterfall in the state of Missouri – in other words, there may be larger waterfalls after particularly hard rainfall- but this waterfall flows with an impressive volume even in the late days of a long hot summer. Although not very tall (this waterfall only drops about 20 feet at its highest) the width of Grand Falls is massive. On average, the waterfall is about 60 feet across, although it can swell to over 160 feet wide after heavy rainfall.
You'll see smaller waterfalls on the drive in, but none as impressive as this location which locals call simply "The Falls".
💡 Hint: I Use GPS to navigate to this dropped pin– You'll need this if you don't have a local guide, since there are no signs and in most seasons the waterfall cannot be seen from the road.
Bring a blanket or windbreaker and plan to take a seat on the natural rock outcroppings and enjoy this soothing natural space. It's a particularly romantic spot at sunset, with plenty of space in the viewing area to spread out and not feel cramped in with other visitors.
Growing up Near the Falls
Even though I grew up a stone's throw east of Grand Falls, I never visited until I moved to Joplin in my 20s. For the decade that I lived in Joplin, it was one of my favorite haunts- I spent many mornings walking the trails surrounding Grand Falls. I've had many long sunset conversations sitting on the banks of Shoal Creek with the roar of the waterfall in the background.
In today's post, I want to share all the gems that I discovered through my dozens of visits to this locally popular but otherwise unmarked tourist destination just outside of Joplin, Missouri.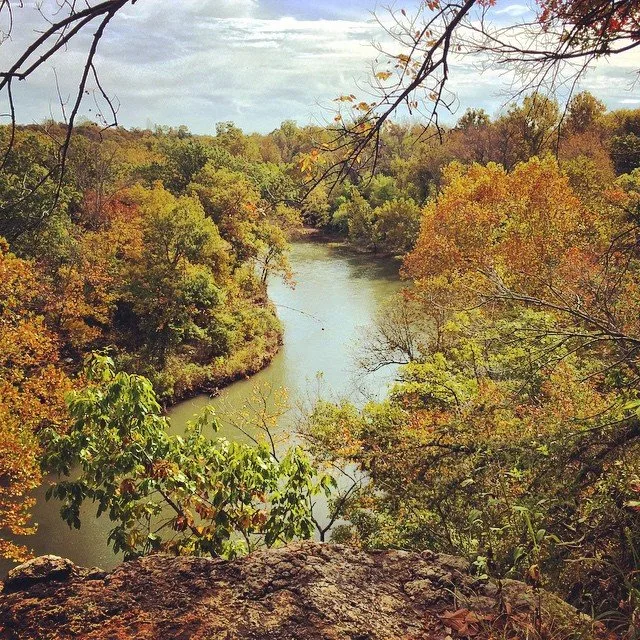 GRAND FALLS HINT: At first glance, it looks like approaching the falls requires scrambling down a few rock ledges- which most tourists do. If you take a moment to look closely on the south side of this rocky approach, however, you'll see trails in the trees that lead directly down to the water via a gentle descent with good footing.
The following section may contain affiliate links. As an Amazon Associate, we earn from qualifying purchases.
What to Pack for a Trip to Grand Falls in Joplin
Having fun in any destination means being prepared for the essentials you'll need during your visit. In the case of Grand Falls, that includes the following: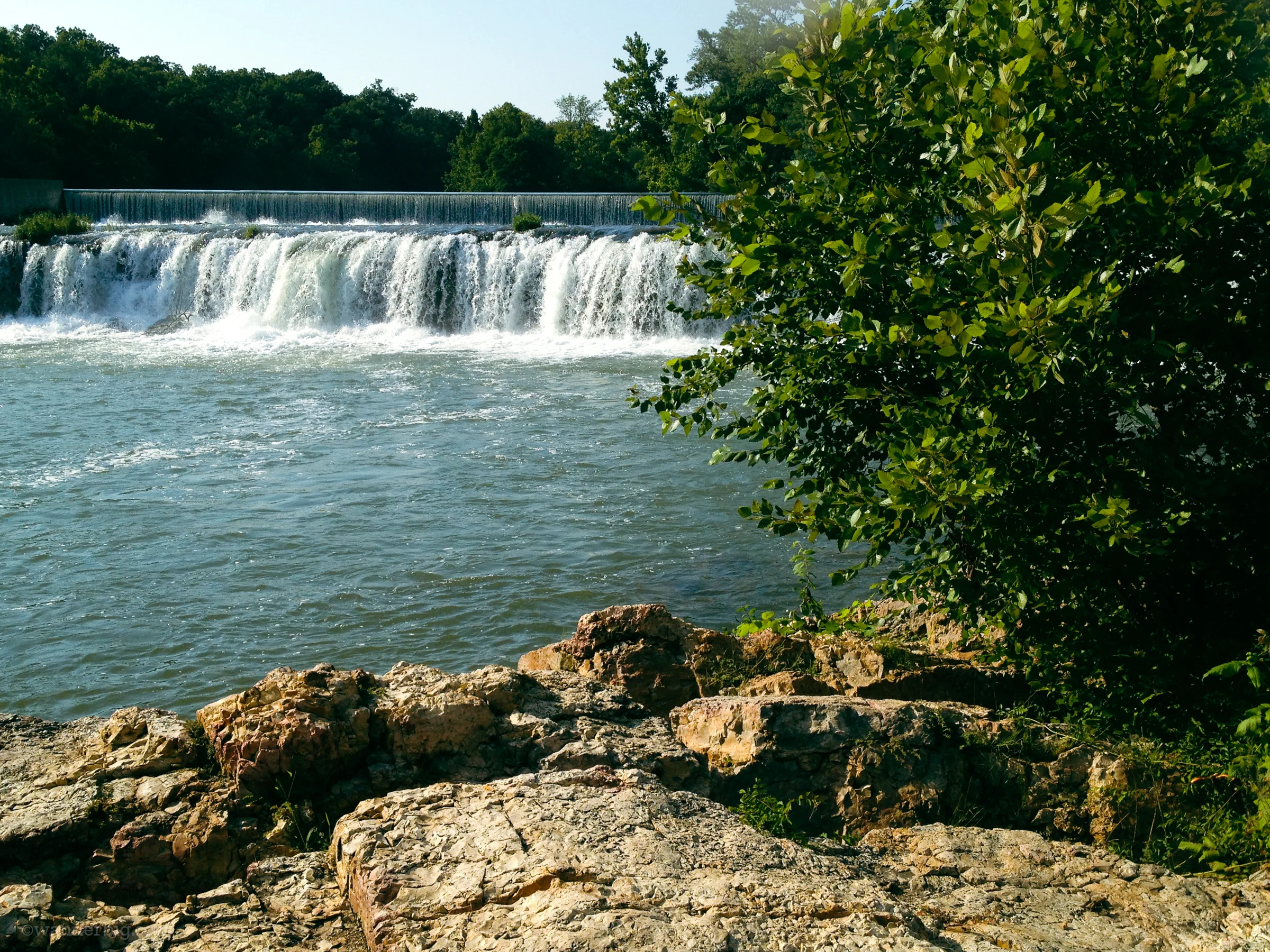 What do at Grand Falls:
Swim or Wade in Shoal Creek
Both swiming and wading around Grand Falls are popular, however the current can be unpredictable and there are water rescues regularly and drownings occasionally. Find the still pools downstream from the falls and equip your crew with personal flotation devices to make sure your trip is delightfully uneventful.
Be sure to bring some sort of water shoe or even just old tennis shoes- the chert rock river basin erodes through chipping-off, rather than smoothing down like many limestone rivers you may be familiar with, so sharp edges underwater are common.
Fish
Even if you don't consider yourself a fisherman, the banks of Shoal Creek around Grand Falls are a optimal location to try out this popular hobby or rekindle your old interest. Beginner fishing tackle kits – which include a pole and everything you need to go fishing (shop the options for basic fishing kids at Amazon) and can be a good investment in a relaxing afternoon.
Pick up Trash
When I visit a natural attraction, I try to be intentional about not just leaving no trace, but leaving it just a little bit better than when I found it.
Whether that's dragging traffic cones out of the Puget Sound near the ferry terminal on Lopez Island or ordinary stewardship like picking up to-go cups from the banks of a county park, small actions matter.
Challenging kids to pick up two or three pieces of trash before they leave can help them learn civic responsibility and learn to appreciate the role individual people play in keeping shared spaces fun to visit.
Picnic
The rock ledges around Grand Falls provide an optimal space for picnicking- they're flat and semi-private thanks to the tiered ledges divided by height differences.
Bring a waterproof picnic blanket to spread out, and consider packing a few flattened cardboard boxes to provide some padding over the rough rocks and where you plan to sit or sunbathe. Be sure to keep your trash contained, especially on windy days when trash can blow directly into the water.
Watch the Sunset
Grand Falls is my absolute favorite spot in Southwest Missouri to enjoy a sunset. Arrive and park 45 minutes before official sunset, find a comfortable ledge with a view of the West, and settle in for what will hopefully be a dramatic sunset. Use technology to get a leg up on catching a great sunset: meteorologists are now actually able to predict dramatic sunsets using this free tool.
Take Photos
Grand Falls is a popular location for photos- both nature photography and portrait photography. Many local high school seniors choose to have their senior portraits done at this location that has been a site of significant memories growing up for so many of them, and many couples have their engagement shots done here for the same reason. In addition to portraits, you may enjoy nature photography as you explore the falls and its surroundings.
Kayak or Float
Naturally, kayaking or floating *over* the falls is not advised (!!) but many kayakers and floaters began their journey in the pools where the water calms beneath the waterfall and flows downstream.
Zan's Creekside Campground, a bit downriver, provides a safe place to exit the river, shuttle service back to your car including kayak carrying capacity (2022 commenters indicate this service is no longer offered), and even offers inner tube rental.
Rockhound
For folks interested in geology, the rock formations surrounding Grand Falls are definitely worth visiting. The dramatic ledges of the rocky riverfront- and upstream cliffs- are formed primarily from chert in flint form. This is the rock that Native American tribes in the area once used to make the tips of arrows, and it's not uncommon for locals to find arrowheads in fields and woodlands even today.
Head out on the Wildcat Glades Trail & Visit the Nature Center
Surrounding Grand falls is an extremely rare ecological habitat: chert glades. A chert glade is an open space with very shallow soil, few or no trees, and unique plants. Because roots cannot grow deep into moist soil, the plants that grow in a chert glade are unique and often desert like, able to suvive long dry spells where water doesn't reach their surface roots.
The Wildcat Glades Conservation and Audubon Center is a 27 acre area surrounding Shoal Creek dedicated to preserving this unique ecological feature and the flora and fauna that call it home. From this hub, you'll find an interactive indoor exhibit (including aquariums and terrarium of native reptiles, bugs, and other animals) and ADA accessible trails- all free.
Staying Safe at Grand Falls
There are few hazards to know about Grand Falls before visiting, here's a list:
Water Safety – Even though this is a popular swimming destination for locals, wading and swimming near waterfalls and dams is inherently dangerous.
Slippery Rocks – Rocks are slippery- both in and out of the water. If you are visiting on a rainy day or when there is heavy mist drifting in from the waterfall, even the rocks above the waterline may be slippery.
Broken Glass – Keep some kind of shoes on during your entire visit. Not only will it protect you from some natural hazards, but will also protect feet from broken glass which is, sadly, too common at this destination. (Generations of teens have partied at this spot after dark, and the practice doesn't seem to be ending soon, despite regular police patrols)
Not ADA Accessible – getting from the road to the falls – or even a point at which you can see the falls – requires navigating uneven footing. Although there's a trick to getting down to the water without leaping rocks (jump to that hint by clicking here) it's not suitable for travelers with limited mobility. Travelers requiring level footing or wheelchair accessible trails should start at the Wildcat Glades Conservation Center and follow their paved trails leading to smaller waterfalls.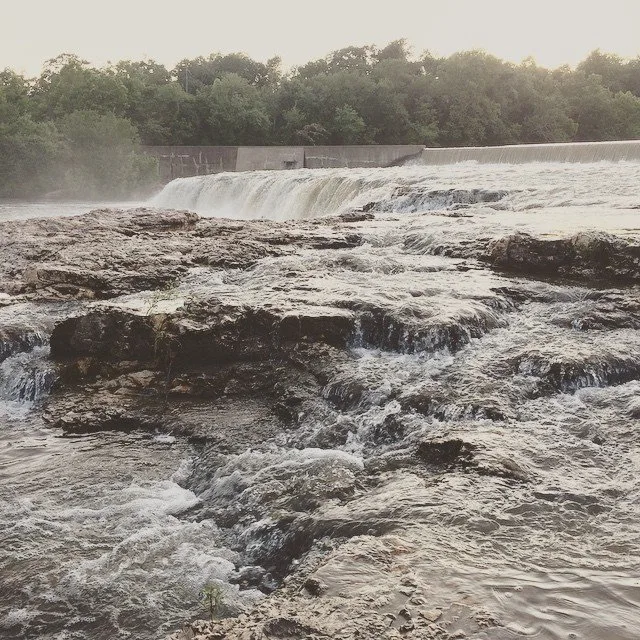 Is there a bathroom at Grand Falls?
No, there are no facilities at Grand Falls. The closest bathroom is McClelland Park which is 2.5 miles way and requires backtracking to a bridge to cross the water.
Is Grand Falls worth visiting?
If you're a "do it for the 'gram," destination-oriented traveler who often does epic day trips in Washington State, hikes in Colorado, the Appalachian Region, or even far away destinations like Plitvice Falls in Croatia, Joplin's Grand Falls probably won't be awe-inspiring. However, if you're someone who notices details, observes and appreciates the uniqueness of each portion of their travel, and enjoys the process of exploring, then this waterfall is well worth adding to your itinerary. Plus, if you are headed down Route 66 or taking a road trip up I-44, this waterfall's location makes it simply too accessible to resist.
Are dogs allowed at Grand Falls?
Dogs are allowed to Grand Falls, however because leash laws are not enforced, there is the potential that your dog could encounter other dogs who are not on a leash and that could be aggressive (in fact, if you are visiting during the day in the summer you can almost certainly expect to encounter off leash dogs.)
Is Missouri's Grand Falls a natural or man-made waterfall?
Ask a dozen Joplin residents whether Grand Falls is natural or man-made, and you'll probably get a 50/50 response- no one really knows or remembers, and it is not easy to tell just by looking.
So I did some research, and I learned that Grand Falls is half man-made and half naturally formed. As early as the 1870s, settlers in this railroad boomtown were regularly visiting Grand Falls for rest and recreation. Grand Falls was a naturally occurring waterfall at this time- as the natural course of Shoal Creek cascaded over a massive chert ledge.
In 1891, a man-made dam was added just above the natural falls. This dam was connected to a hydroelectric power plant that produced electricity for Joplin and the surrounding communities of turn-of-the-century Missouri. Although that powerplant has long since fallen into ruin, the dam's ledge remains, adding height and visual interest to the waterfall.
Final Thoughts
As you can tell from this list of things to do, it's hard to waste a day spent in the serene and relaxing environment of this wide Missouri waterfall. Although it may not be as impressive as the largest waterfall in other states, there is so much to do in the immediate vicinity of this waterfall (including Red Oak II – a little-known ghost town turned art exhibit) that I think that it is well worth visiting.
If you liked this post, you might also enjoy my guide to interesting things to do in Joplin, MO.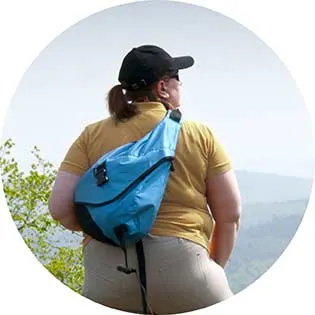 Lynli Roman's unique approach to travel is informed by decades of experience on the road with a traveling family and, later, years spent as a solo international traveler. When she's not writing about Seattle from her Pike Place Market apartment, Lynli writes on-location while conducting hands-on research in each destination she covers. Lynli's writing has been featured by MSN, ABC Money, Buzzfeed, and Huffington Post. She is passionate about sharing information that makes travel more accessible for all bodies.