One of the best parts of travel is trying new food. Although Seattle is not particularly renowned as a food destination in the same way as Chicago, Paris, or even Saint Louis, Seattle has many signature dishes, drinks, and even cuisine.
As a bonus, and much easier for tourists: many of these iconic Seattle foods can be sampled without even leaving Pike Place market! In this post, I'll introduce you to Seattle's dishes and where to find them in the Market.
Eating my way through Seattle: As a downtown local and former Pike Place resident, here is my guide to the 6 foods you must try while visiting Seattle. For six years, I ate my way through Seattle. Mostly, because I lived in a tiny apartment with a kitchen smaller than a mid-level Amazon executive's sailboat's kitchen! (No, really, my apartment kitchen was so tiny that it was literally outfitted with a sink, appliances, and countertops designed for small boat galleys!) Needless to say, I ate a lot of meals in Seattle's restaurants. On a grad school budget, I learned to appreciate Seattle's culinary offerings from the most humble budget dishes to four-star dining.
All that eating, and here's my takeaways on 6 Seattle foods tourists must try:
🧀 Beecher's Cheese Curds
When I first moved to Pike Place market, I assumed the Beecher's cheese shop in Pike Place market was just for tourists. Because the line often stretched out of the store and around the corner, I didn't try Beecher's Cheese for the first year I lived in Seattle! Even though I commuted through the market almost every morning, I always walked right past. Those were, I can confess now that I moved to St. Louis, my lost years.
Beecher's cheese is, indeed, as Seattle as salmon. These tangy cheese curds are sold in grocery stores throughout Seattle. You can pick up a free sample, a tub, or a small vat from the Beecher's cheese shop in Pike Place market – or, if you're lucky, you may even find a nearby restaurant serving poutine with melted Beecher's cheese curds.
🧀 Where to try Beecher's Cheese: Most grocery stores sell it, and many restaurants feature it. In Pike Place Market, head to 1600 Pike Pl, Seattle, WA 98101 for free samples, tubs, and demonstrations.
Pro tip: Beecher's makes lots of different cheeses and the fancy cheddars are going to tempt you! For an authentic local Seattle food experience, always go for the tub of curds.
🍺 Rachel's Ginger Beer
Chalk this one up as a signature drink of Seattle. Rachel's ginger beer is a zippy alternative to the all the coffee in Pike Place. Available in Pike Place and also in grocery stores around the Pacific Northwest, Rachel's ginger beer is commonly enjoyed by Seattle locals, and a must try for visitors to the Pacific Northwest.
🍺 Where to try this Seattle Food: In the market at 1530 Post Alley, Seattle, WA 98101
🍗🍚Seattle Teriyaki
While you may think Seattlites chowing down on Poke, salmon, clam chowder, and the greater Whole Foods produce section, the truth is that Seattle has a secret signature dish: teriyaki.
During your visit to Seattle, you'll hardly be able to go a block without stumbling across a teriyaki restaurant- Usually featuring a poorly designed vinyl banner out front advertising budget friendly meals.
Here's the funny thing about this Seattle food: no one admits to eating at these restaurants, yet they flourish across the city! In fact, the Seattle Times did a story on this dish as Seattle's signature food.
Authentic Seattle chicken teriyaki includes dark meat chicken sliced and tossed in a syrupy teriyaki style sauce. A generous serving of chicken sits on top of a lump of white rice, and is accompanied by a unique salad. Seattle teriyaki usually includes a salad made from baby carrots, broccoli, and cabbage, tossed in a simple mayonnaise and vinegar dressing. The vegetables may or may not be cooked and are usually cut into unreasonably gigantic portions, that's just how it's done.
If you want to join Seattle residents in eating what the locals do, pop into the nearest strip mall and you'll probably find a poppin' teriyaki joint, almost always small businesses.
🍗🍚 Where to try this Seattle Food: This is one of the few Seattle foods you won't find in Pike Place Market. For folks willing to walk a bit, Bento World Sushi & Teriyaki at 306 Lenora St, Seattle, WA 98121 was my go-to when I lived in the neighborhood. As a bonus, it's an easy detour from my directions on how to get from Pike Place Market to the Space Needle.
Hint, Bento World is just around the block from Seattle's top Poke Bar, so if you're ticking all the boxes on this Seattle food list, don't miss this Poke hotspot.
🍒 Rainier Cherries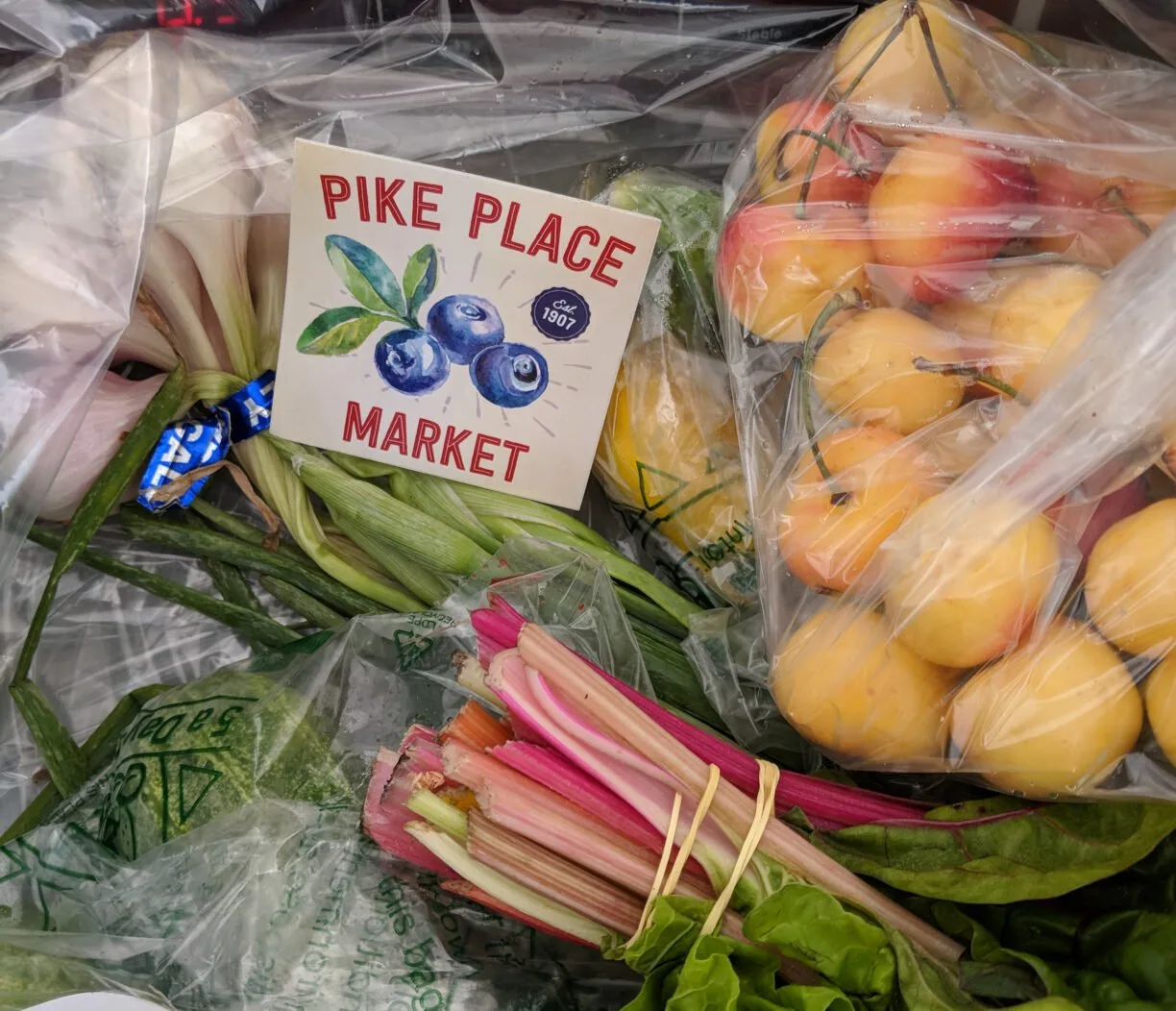 Honestly, I never really tasted a Rainier Cherry until I tasted one from Pike Place Market. Yes, it's true that you can buy rainier cherries and in many grocery stores throughout the United States in the summer, but guys, they are just not the same.
Maybe it's the novelty of eating the freshest rainier cherries from a brown paper bag purchased from a stall in the market. Or maybe they really are fresher at the market. In any case, cherries in Seattle ruined me for cherries anywhere else in the world.
Eating Ranier Cherries made my list of the best 15 things to do at Pike Place Market
If you visit Seattle during early summer, you'll see rainier cherries in every grocery store and in many stalls at Pike Place Market. I highly recommend purchasing the cherries from Pike Place market – and they're the real deal. Although Pike Place is a tourist destination in the truest sense of the word, most of the grocery vendors are top-notch. Since most of their sales go to local foodies or chefs shopping the market, produce in Pike Place really does meet top standards.
🍒 Where to try this Seattle Food: For best results, I recommend buying Rainer cherries from Sosio's Produce in the market near the souvenir stand. Since street addresses are nearly useless once you're in the heart of Pike Place Market, use Google Maps code JM55+FH Seattle, Washington to locate the stand.
🌭 Seattle Dogs
Slathered in cream cheese and sprinkled with caramelized onions is the classic "Seattle dog". I don't know where this Seattle specific hotdog variety popped up that, but you can purchase this variety of hotdog both in Pike Place market and from just about any hotdog vendor throughout the city.
While there is nothing particularly Pacific Northwestern about this preparation, it does have a flavor that holds up to more famous Chicago hotdogs and New York style hotdogs.
🌭 Where to try this Seattle Food: Where to try Seattle Dogs: The best, fastest, and easiest place to snag a Seattle dog in Seattle is from one of the hotdog vendors in or near Pike Place Market.
🥗🐟🌺 Seattle Style Poke
Seattle's seafood loving population is crazy for poke. If you haven't tried it- or Seattle's version- here's the lowdown: Poke is a sort of deconstructed sushi. It's a salad and entrée containing the traditional ingredients that would be in sushi.
The thing is, Seattle style poke is a little different than in many regions. In fact, even though Poke originated in Hawaii, I couldn't find any poke on the Big Island in Hawaii that scratched my itch for Seattle-style poke. In Seattle, poke a tends to be a vibrant mix of vegetables and toppings, often customizable, and overflowing the bowl. In Seattle, you'll find more salad-like ingredients added to poke for more volume and crunch.
🥗🐟 Where to try this Seattle Food: You'll find my favorite poke shop, FOB Poke Bar, just around the corner from the Amazon spheres and South Lake Union at 220 Blanchard St, Seattle, WA 98121
Eating Seattle Foods as a Tourist
Seattle's is a city with a large and diverse population and the key to enjoying the food culture is to try new things! Thanks to the global population, in Seattle you can find just about any food, cuisine, or menu type you'd like to try during your visit. For the local Seattle experience, however, these 6 foods are must-taste dishes during your visit to Seattle.
Travelers know that trying new foods is one of the best parts of traveling. Even though I try to cook meals in a hotel room to save money, trying Romanian Food and eating Chilean food for 3 months changed my palate and helped me be a more adventurous eater.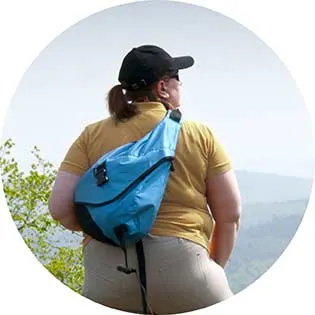 Lynli Roman's unique approach to travel is informed by decades of experience on the road with a traveling family and, later, years spent as a solo international traveler. When she's not writing about Seattle from her Pike Place Market apartment, Lynli writes on-location while conducting hands-on research in each destination she covers. Lynli's writing has been featured by MSN, ABC Money, Buzzfeed, and Huffington Post. She is passionate about sharing information that makes travel more accessible for all bodies.