How much makeup you carry when you travel says a lot not only about you but also about your travel style. Different types of travel have different demands. Most of us female travelers don't hesitate to pack an entire makeup kit for a weekend away or for certain vacations, but how to plan for travel makeup when we are setting out on a different type of adventure?
Last summer, I had the opportunity to spend a month on the road in Italy, Bosnia and Herzegovina, and Croatia. That was my first one-bag trip. In choosing to take just one carry-on sized bag for a one-month trip, I had to get creative about how I'd pack my travel makeup. For much of my makeup, it made sense to purchase travel size containers, and for things like BB cream and moisturizer, it was easy to portion out a month's worth into compact travel tube.
However, when it came to pressed powders like blush, eyeshadow, and bronzer, I didn't find a lot of options for downsizing these larger compacts into ultra-compact international-backpack-friendly packaging. So I got creative and made my own.
I started to think creatively about how I could pack a smaller quantity of pressed powders. And that's when I adapted an idea I saw online for fixing "broken" pressed powders: Beauty bloggers indicated that rubbing alcohol mixed with broken cakes of pressed powder could restore the cakes back to usable condition. I wondered, "could this method work for creating my own tiny pressed powders for my travel?"
What follows is my method for repacking pressed powders into ultra-compact travel-friendly containers – they take up about the same amount of space as a few coins, with much less weight added to your bag. With your own custom tiny travel makeup compacts, you can have your preferred brand of makeup on the road with you wherever you go.
The following section may contain affiliate links. As an Amazon Associate, we earn from qualifying purchases.
How to DIY Your Own travel makeup palette from pressed powders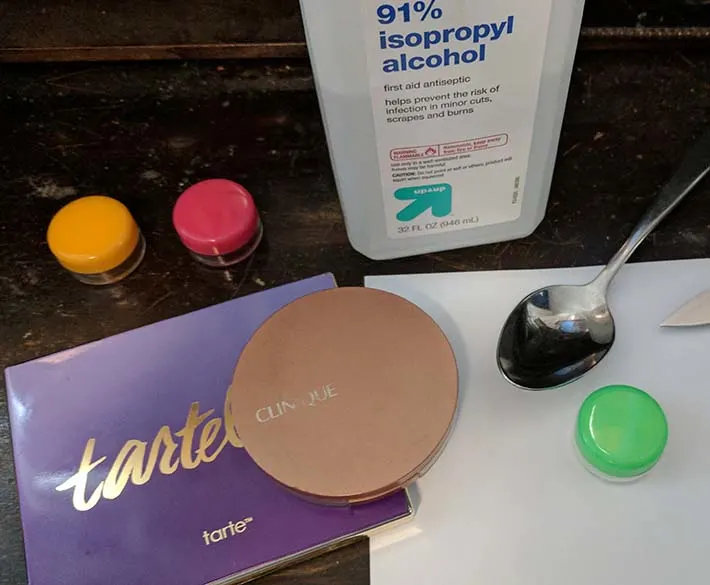 what you'll need:
a clean sheet of printer paper
toothpicks for stirring
rubbing alcohol that contains at least 90% isopropyl alcohol
a clean spoon or eyedropper to transfer alcohol
your favorite pressed powders (eyeshadow, bronzer, blush, etc.)
1. Acquire Clean Tiny Containers
Begin with clean, dry, screw-on top containers. I purchased these basic clear plastic containers, shown below These small containers only hold a tiny amount – less than an ounce, but can easily hold several weeks' worth of makeup. Be sure that the container you use has a good seal.
While rigid plastic can sometimes leak, the foam in the liner of this led should keep any loose powder inside the jar.
2. Scrape pressed powder onto a clean sheet of paper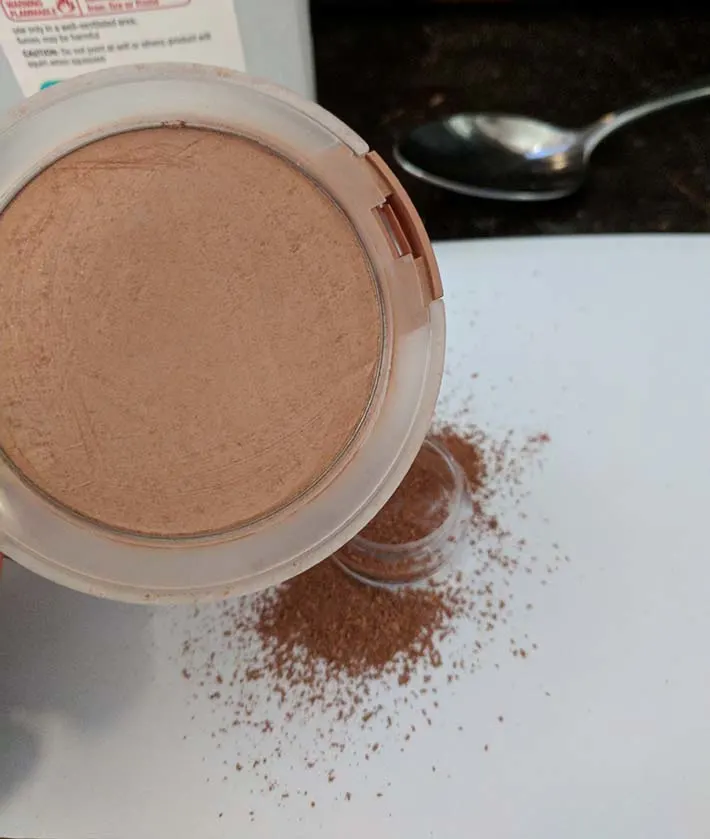 Using a clean knife, rake the surface of the pressed powder to dislodge powder particles. You can try and scrape the powder directly into your new container, however, this is likely to be a messy process.
Instead, put down a clean sheet of printer paper and scrape the powder (foundation, pressed powder, eyeshadow, finishing powder, etc.) onto the paper to be collected in the next step.
3. Pour powder into the travel container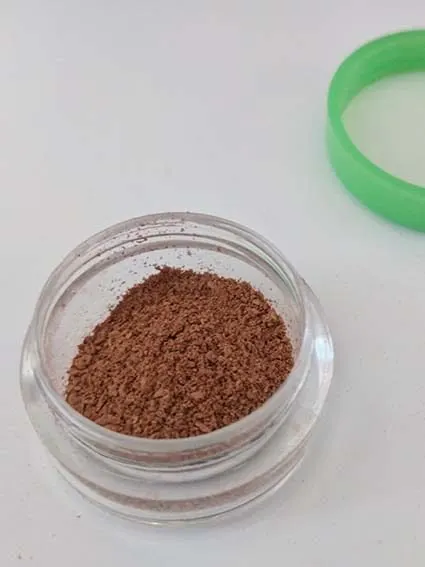 Fold the paper and shake until all of the loose powdered eyeshadow, bronzer, or finishing powder form a line in the center of the fold, then pour the loose powder into the travel container. Gently tap to encourage the powder to settle.
4. Add a tiny amount of 90%+ isopropyl alcohol (rubbing alcohol)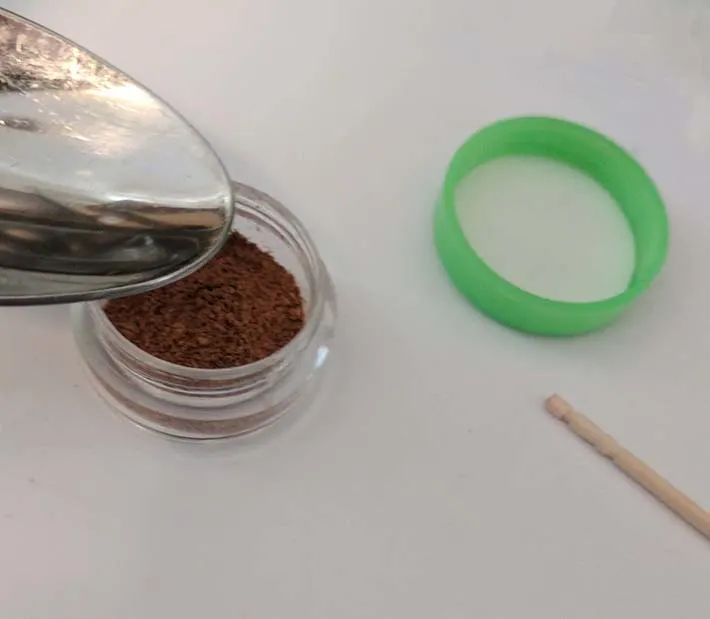 Rubbing alcohol evaporates quickly, leaving little to no residue behind. This makes it the perfect binder to re-mix the pressed powder makeup into an easy to use and easy to transport cake within your travel container.
If you have an eyedropper, pipette, or even a clean crafting-glue syringe, these methods will probably work better than my spoon did at adding a tiny amount of rubbing alcohol at a time to the makeup powder.
5. Mix to combine the makeup powder and rubbing alcohol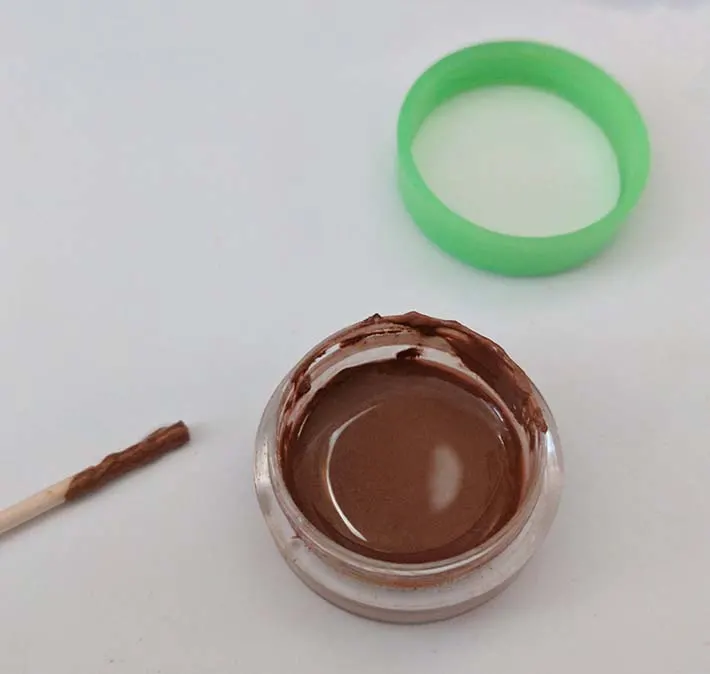 Using a toothpick, stir the mixture until it is entirely smooth. It should be the consistency of salad dressing (don't worry, it will return to a solid cake soon!)
6. Allow the makeup compact to dry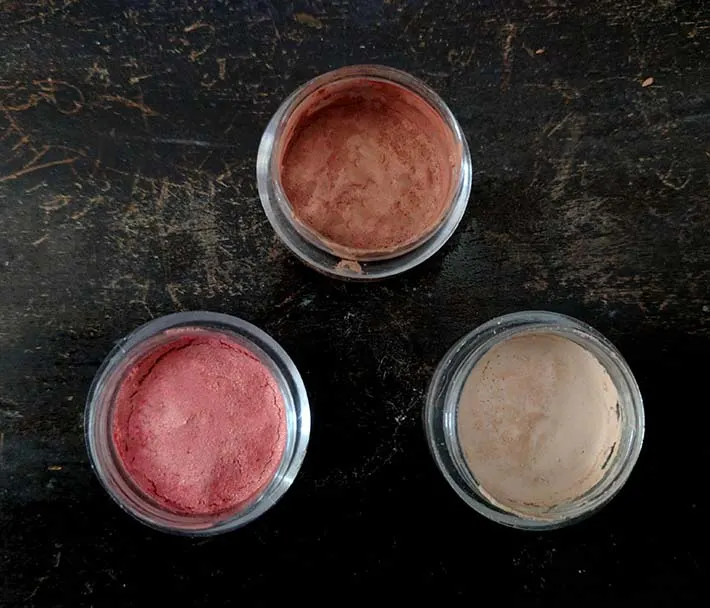 Set the travel containers of wet makeup powder in a stable space, uncovered, where they won't be bumped or spilled. If you are in a humid climate, you may want to set some silica packets nearby to help absorb ambient moisture and allow the newly formed travel makeup compacts to dry fully.
In 12 hours your liquid makeup will be a thick paste, and in 24 to 48 hours, your travel makeup compact will have solidified into a dry pressed powder that can be easily applied using makeup brushes or applicator sponges.
Using these DIY travel Size Makeup compacts on the road
Although I still carry full-sized versions of my favorite products, and try to find branded travel-sized alternatives when I can, many of my favorite makeup and skincare products are not manufactured in the exact colors I use in travel sizes. Sometimes, even when the colors I want are produced in a "travel makeup size compact," a product designer's idea of "travel friendly" is very different from my own ultra-minimal packing list ethic. When a brand's travel compacts are more appropriate for weekend travel than to multi-continent, one bag, international travel, creative problem solving is required.
I have friends who have adopted my makeup method for backpacking. Some may argue that backpacking and makeup are entirely exclusive of one another, but in a culture where smartphones and selfies happen every day– even in the backcountry– this DIY tutorial can be a way to add some basic makeup to your camping or backpacking gear without adding much weight. All told, the weight of these three compacts I carry- that include blush, highlighter, and bronzer- are about 1 ounce.
These compacts can be a great way to pack some "extra special makeup" for your next trip. Alternately, if you're planning to do your make-up on a plane before arrival, these are carry-on friendly. Although most female travelers don't put on a full face of makeup – foundation, blush, eyeshadow, highlighter, bronzer, etc- every morning, it can be really nice during long-term travel to have more makeup on hand. Whether it's a special dinner out, a romantic meet-up with a local, or a splurge on a photo shoot in a beautiful city, having access to your favorite travel makeup products can go a long way towards beating the grungy feeling that can build up during long-term travel.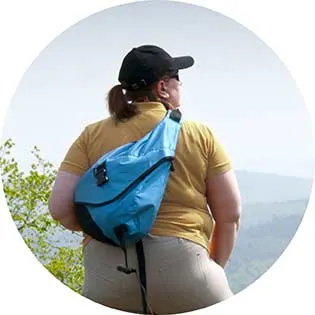 Lynli Roman's unique approach to travel is informed by decades of experience on the road with a traveling family and, later, years spent as a solo international traveler. When she's not writing about Seattle from her Pike Place Market apartment, Lynli writes on-location while conducting hands-on research in each destination she covers. Lynli's writing has been featured by MSN, ABC Money, Buzzfeed, and Huffington Post. She is passionate about sharing information that makes travel more accessible for all bodies.