Pro travelers make traveling look easy and low stress. Part of this ease is because, after many many flights and many many months spent overseas, traveling does get a little bit easier. It gets easier mostly because we learn packing packs, luggage space-saving techniques, and find the perfect suitcase for our travel style. Along with confidence gained from experience, these practical things make travel a little easier as we go.
In this article, I've collected over 40 of my best suitcase and packing hacks from across my other articles and collected them in this guide to easy packing hacks.
Whether you are a solo traveler or part of the traveling family, group, or couple, these travel tips can help you pack your luggage more efficiently, lighter weight, all while still enjoying many of the comforts of home. Packing smarter means that you'll have more of the little luxuries that make a bed feel like home even when you are on the road.
Make Room for Snacks
When you travel, don't forget to bring along some travel snacks. A little bit of jerky or a protein bar in your backpack can help you maintain energy and stay clear-headed enough to avoid many common travel mistakes.
The best part? They don't count towards your airline carry-on limits, giving you both a physical and mental boost while on the go.
Pro Traveler Packing Hack: "Food to be consumed during a flight" doesn't count towards airline carryon limits. On most airlines, you're allowed a carryon suitcase, a personal item (like a purse or backpack), and also a jacket, travel pillow, and a small bag of food or snacks.
Use a food saver to compress and seal things you might not need (bathing suit, period products, etc).
Use your suitcase liner zipper to store documents and things you'd need in an emergency (like a backup credit card).
The following section may contain affiliate links. As an Amazon Associate, we earn from qualifying purchases.
Pack an Aeropress or handheld espresso machine for better coffee.
Save luggage space by wearing a Turkish towel as a scarf- it'll fly free on airplanes.
If your luggage is a pound or two over-weight, remove some heavy items and place them in your pockets till you are past the weigh station.
Wear your heaviest/bulkiest shoes while flying. A slip-on hiking boot like Blundstones makes security checks easy.
Bring your favorite pillowcase from home to make any bed instantly more comfortable.
On planes and trains, stuff your pillowcase with extra clothing or turn it into a travel pillow.
Use mesh-panel packing cubes as laundry wash bags for delicate clothing.
Buy or make your own laundry detergent sheets so you can refresh clothing by handwashing.
Pack a cheap pair of wired headphones so you won't have to use uncomfortable airline headsets.
If you use wireless earbuds, pack a tiny adaptor so that if you lose an earbud you'll be able to listen to music with standard headphones available from convience shops around the world.
Consider upgrading to a headband with speakers, to make sleeping in a hostel or on an airplane easier.
When packing to go home, fill small gaps in your luggage with seasoning packets to bring back a way to prepare authentic local meals- they're a great way to share your trip with others.
Always leave room for a refillable water bottle- reusing disposable water bottles should be avoided, according to a study at Arizona State University.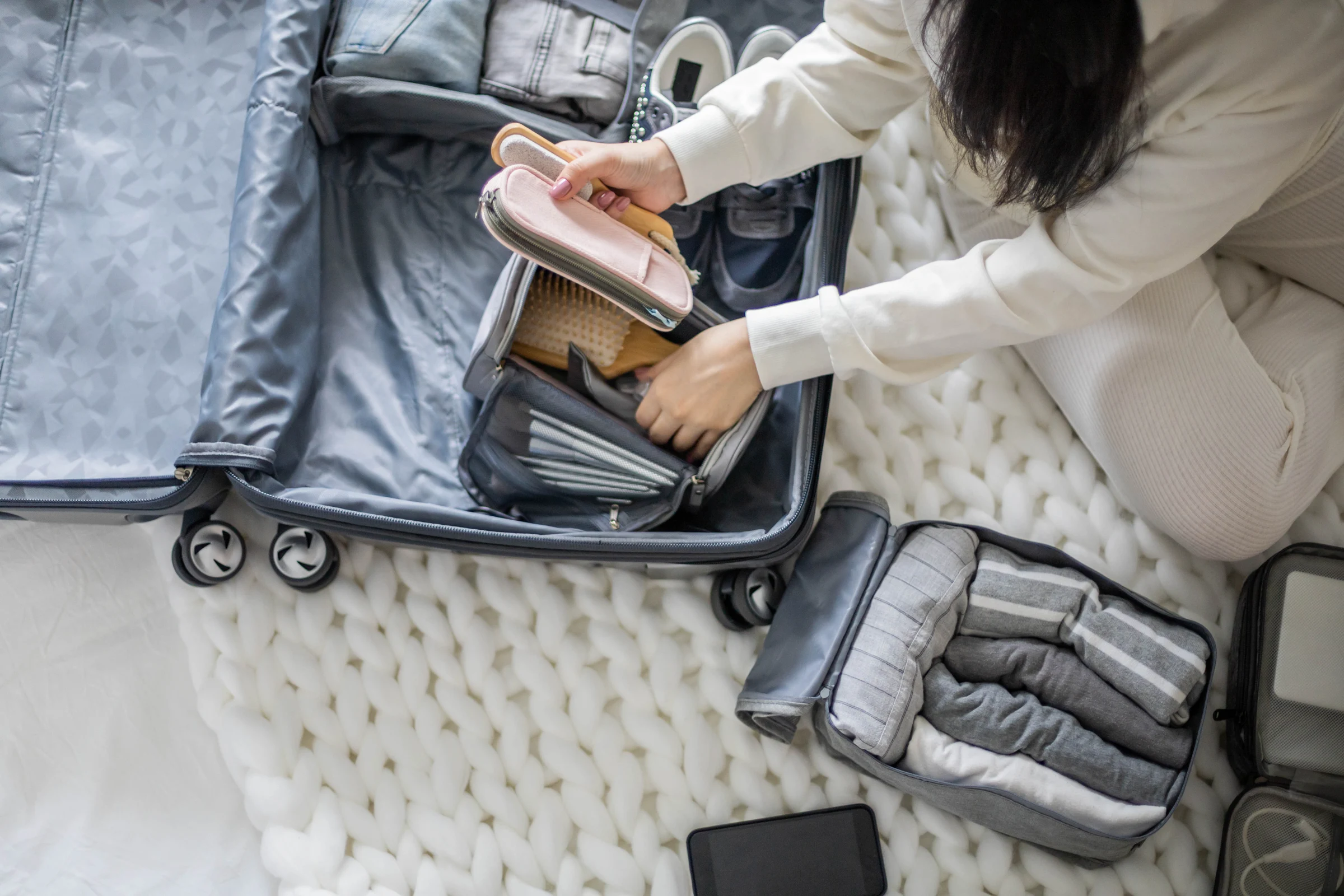 If you choose a life straw to filter drinking water in areas with less effective water treatment, spend a few dollars to upgrade to the mineral-filtering model. (a change in mineral content of water, not bacteria, is what causes most traveler's stomach upset)
Research apps you'll need for your destination, then download and pre-enter your payment info before leaving home.
Pack a packable/foldable backpack for use as a daypack or as a checked bag of souvenirs on the return trip
Pack your shoes inside of an inside-out cloth tote bag, it can double as a market bag at your destination.
Consider using vacuum bags and a handheld vacuum pump to compress clothing to save space.
(For monthly Airbnb stays) consider bringing your own sheets for extra comfort.
For plus size travelers, to ensure you have a towel that will wrap around your body, pack your own Turkish towel.
If your trip includes high altitudes, ask your doctor about Diamox, a readily available and inexpensive prescription that prevents altitude sickness.
Pack a paperback book and trade it in at hostels, it can be a faster way to pass time in lines or give your eyes a break from screens on long flights.
Download an RSS feed reader or an app that makes Reddit available offline, for in-flight internet browsing.
To pack small amounts of makeup, make your own compact makeup containers from full size product (here's how)
If you'll be making food in hotel rooms or on road trips, don't forget a knife, fork, and spoon.
Before your return home, check your packed clothing for wear or damage. Discard worn-out items to make room for souvenirs.
Wrap a bit of duct tape around something you're packing anyway. On the road, you'll have a strip available for fixing luggage or taping up a damaged piece of equipment.
Take a photograph of the back of your credit card(s), in case you need to cancel them while traveling.
If you'll need to work while traveling, create a portable office with only the essentials.
Always keep a pair of earplugs in your luggage, in case of a noisy hotel or hostel.
Wear compression socks on long flights. (Even if you're young- that extra carefor your body in flight means you'll arrive with the energy to start exploring right away).
Pack a washcloth in your carry-on bag- washing your face after a long flight can be a great feeling. (And some countries in South America's hotels won't provide washcloths)
For easier navigating with a suitcase, pack your heaviest items in the corner nearest to the wheels (for backpacks, the bottom of the backpack)
Delicate or crushable items should be packed on the opposite side of your suitcase from the wheels (for backpacks, the top of the backpack).
Never sacrifice a padded sleeve for laptops or tablets to save space: protect your tech and learn how to pack laptops in a backack.
Pack as few items of clothing as possible. Opt for fast-drying fabrics and get comfortable hand washing. It's worth it.
Roll, don't fold. Rolling clothes produces compression as the outer layers wrap the inside layers, saving space.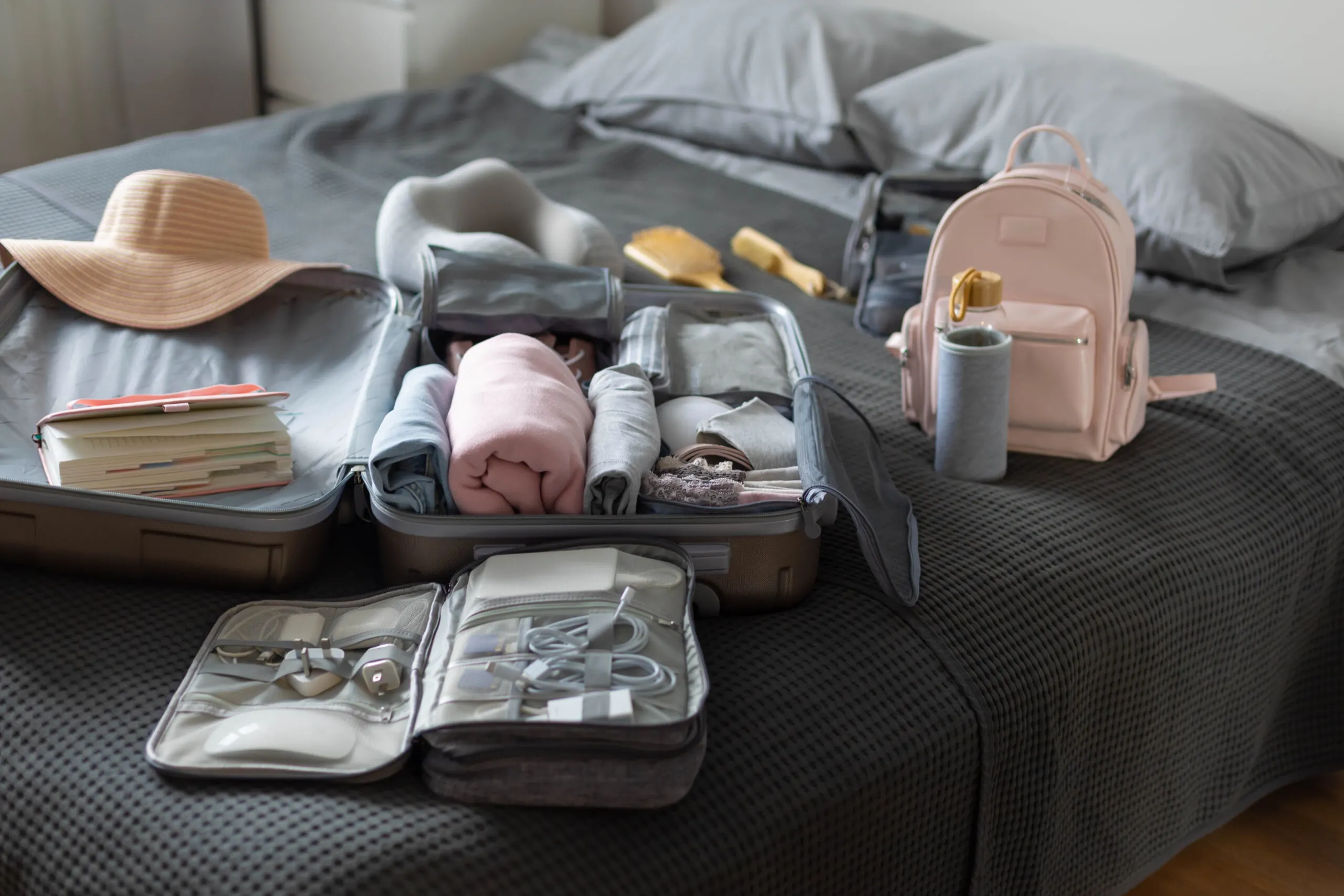 To discourage theft, leave jewelry at home. You can always purchase jewelry from local artisans at your destination. If you do bring jewelry, check out my jewelry packing tips.
To support sustainable travel, keep small bills of local currency in your pockets. With bills and coins, you can buy souvenirs from local vendors and small businesses without subjecting them to card transaction fees.
Swap bottles of vitamins and supplements for small, sturdy zip-top bags that compress in luggage. (see more vitamin packing tips)
Pack a few zip ties, some rubber bands, a sharpie, a TSA-safe pair of scissors, and a clothesline-length of string. For almost no added weight, these bits can solve countless problems.
If you expect a specific item will cause your carry-on to be searched, remove and place that item loose in a bin during security checkpoints to avoid the hassle of a full bag search.
Many of these packing hacks are ways to save time, space, or discomfort while traveling- whether it is in a car on a long road trip, overnight bus, a 16-hour flight, or traveling Europe by train. By investing in a few space-saving essentials for your luggage, you can make the process of packing, and transporting your bag less stress, so you can focus on enjoying your travel destination.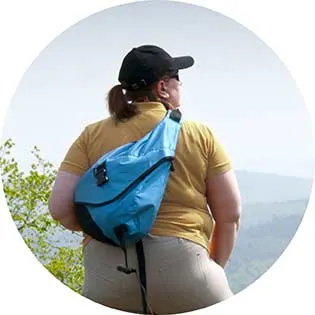 Lynli Roman's unique approach to travel is informed by decades of experience on the road with a traveling family and, later, years spent as a solo international traveler. When she's not writing about Seattle from her Pike Place Market apartment, Lynli writes on-location while conducting hands-on research in each destination she covers. Lynli's writing has been featured by MSN, ABC Money, Buzzfeed, and Huffington Post. She is passionate about sharing information that makes travel more accessible for all bodies.