As the popularity of international backpacking and one bag style travel has surged, so has the demand for easy supplies for managing laundry while traveling. One of the most popular travel laundry products to reach the market in recent years is detergent sheets which dissolved in a washing machine allowing for a lightweight and mess-free option for packing laundry detergent for travel.
DIY laundry detergent sheets can be made by grating and melting laundry detergent bar soap and spreading the softened soap on washable fabric. In this tutorial, I demonstrate how, step-by-step, to make DIY laundry detergent sheets that are a lightweight and mess-free way to be sure that you have affordable, effective laundry detergent ready to use in laundromats, Airbnb washing machines, or for doing small loads of laundry in a sink.
First, What are Laundry Detergent Sheets?
Although most of us are more familiar with laundry detergent pods, concentrate liquids, or powders, none of these travel particularly well. For folks – like me – who enjoy the freedom of taking extended trips with very little luggage, managing laundry is a less glamorous reality of the travel influencer life and good detergent is essential. While laundry detergent can be purchased in bar soap form in some locations, carrying an entire oversized bar of laundry detergent can present similar space and weight challenges.
Laundry detergent sheets have emerged as an alternative: lightweight and dissolvable, the paper-thin sheets of dry but pliable laundry detergent have provided an alternative for carrying laundry detergent and luggage without allocating a large amount of space or weight. There's just one problem: laundry detergent sheets are really, relatively, expensive.
The following section may contain affiliate links. As an Amazon Associate, we earn from qualifying purchases.
Cost of Travel Laundry Detergent vs Laundry Detergent Sheets
At the time of writing this article, the price for namebrand laundry detergent at my local big box store comes to about $.17 per load. Travel laundry detergent sheets are significantly more expensive than using laundry bar detergent for travel laundry, with Latin America's favorite bar detergent coming in at around $.06 per load. Laundry detergent purchased in laundromats or in travel-size containers may cost up to $2-$3 per load. Packets of liquid detergent marketed for travelers costs around $1.25 per load.
$.17 per load: namebrand detergent bought in bulk
$.65 per load: best-selling laundry detergent sheets at Amazon
$.06 per load: Zote bar detergent
$2-$3 per load: Laundry detergent purchased in laundromats or in travel-size containers may cost up to
$1.25 per load: Packets of liquid detergent marketed for travelers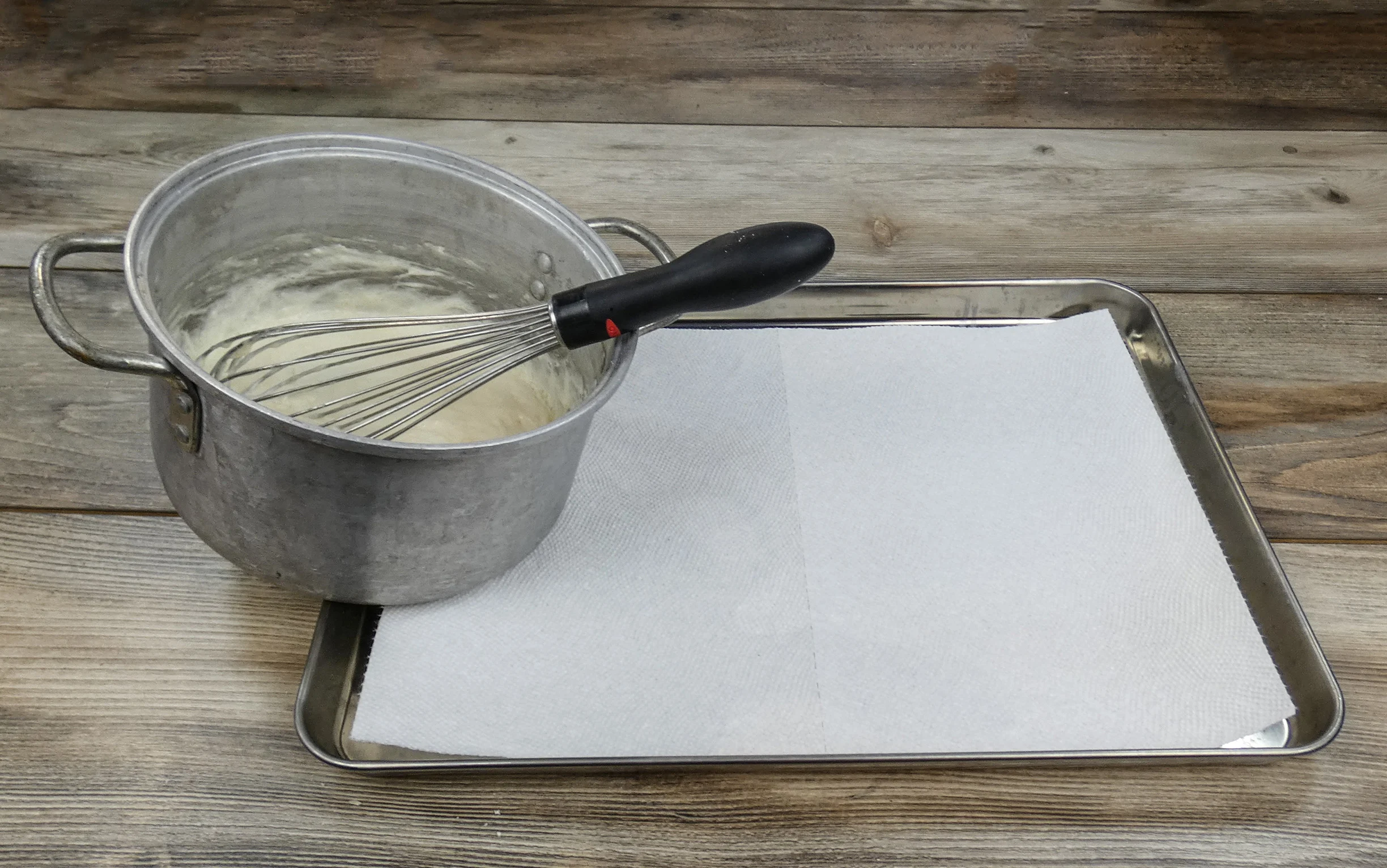 Experimenting to find my method for DIY travel laundry detergent sheets
while I've been traveling with laundry detergent bars soap for a few years, finding a way to grate soap on the road isn't always easy. I loved the convenience of being able to wash just a single pair of socks and underwear – something that travel friendly laundry detergent packets couldn't offer, when I learned about laundry detergent sheets, I was intrigued, but wondered if I could DIY something similar in my own laundry room.
So I began experimenting. Here's the method I found, through trial and error, to make my own laundry detergent sheets. It's worth noting that unlike laundry detergent sheets on the market, these laundry detergent sheets will not dissolve completely during your wash cycle. Instead, the textile you use to form the basis of your detergent sheet will rinse clear of detergent and come out the other end of your laundry cycle sparkling clean. For mid-links trips – 2 to 4 weeks – I like using old-fashioned handkerchiefs or bandannas of my laundry sheet base- since the post-wash textile is useful for a number of purposes.
How to make DIY laundry detergent sheets:
Supplies needed:
laundry detergent in bar form (recommended: Zote bar)
cheese grater
2-8 TBSP Water
a cooking pot
whisk
spatula
easy to clean flat surface (suggested: sheet pan)
base textile (use paper towels if you want to portion off small amounts of soap for hostel-sink laundry or handkerchiefs or washcloths for full loads)
1. Purchase laundry detergent in bar form
I recommend using Zote bar detergent which you can get at Amazon. The coconut oil in Zote's formula helps makes the final detergent seek sheets soft and pliable- unlike Fels Naptha. Although I prefer the smell of Fels Naptha to Zote, through experimenting with this process I have learned that Fels Naptha is a harder soap and detergent sheets made with it tend to crack instead of bend when packed in luggage.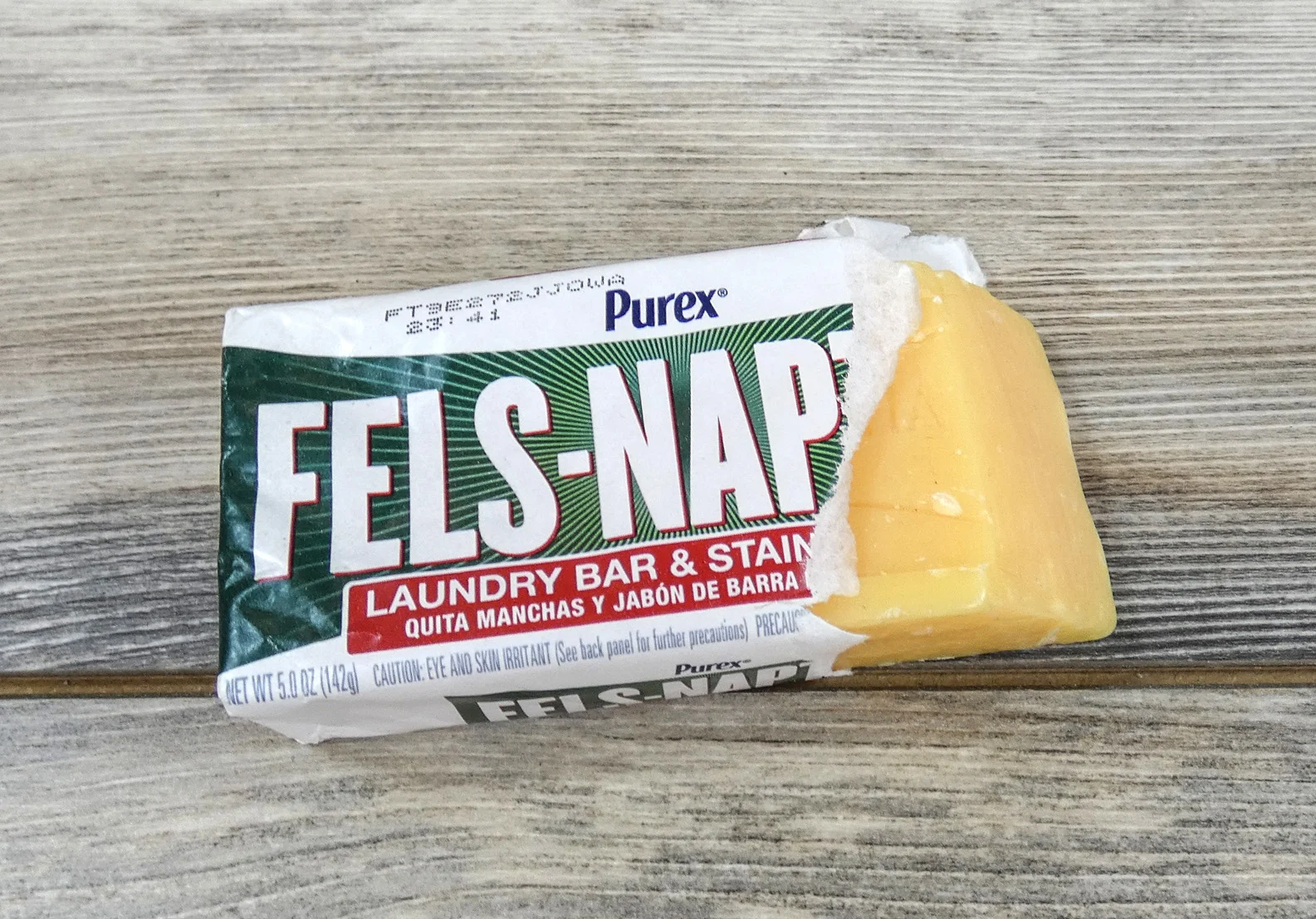 2. Shred the laundry detergent bar
Using a cheese grater, grate the entire bar of soap into a pot.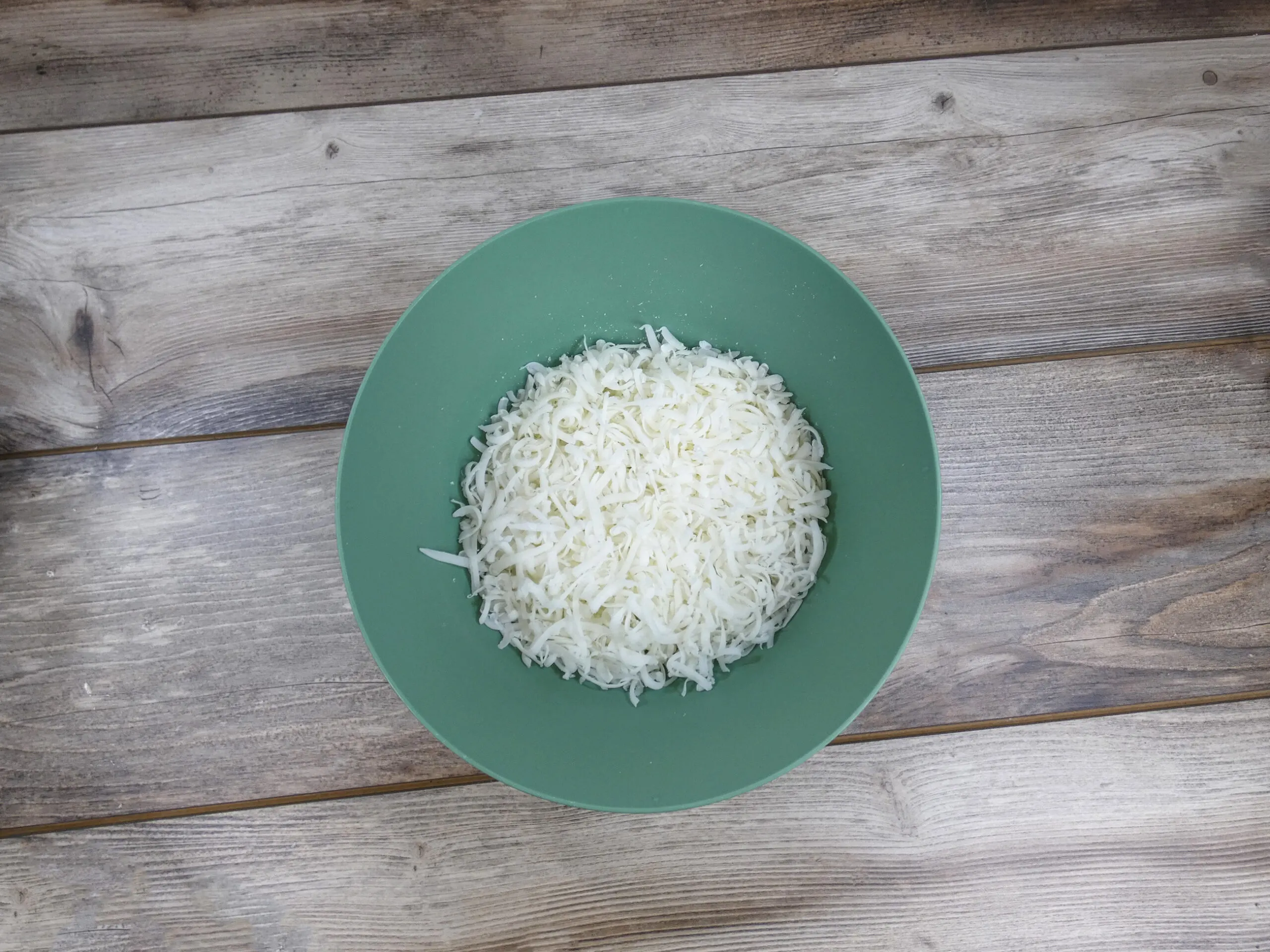 3. Prepare detergent sheet textile
Choose whether you will use a paper towel, washcloth, or handkerchief as the base for your laundry detergent sheet. Spread your clean textile on a easy to wash surface (I use a large sheet pan that can be easily washed in the kitchen sink).
4. Add water and melt soap
Add a small amount of water (just a bit at first) and use a whisk to stir constantly over a burner set to medium heat. Add small amounts of water as needed to encourage the mixture to a soupy consistency.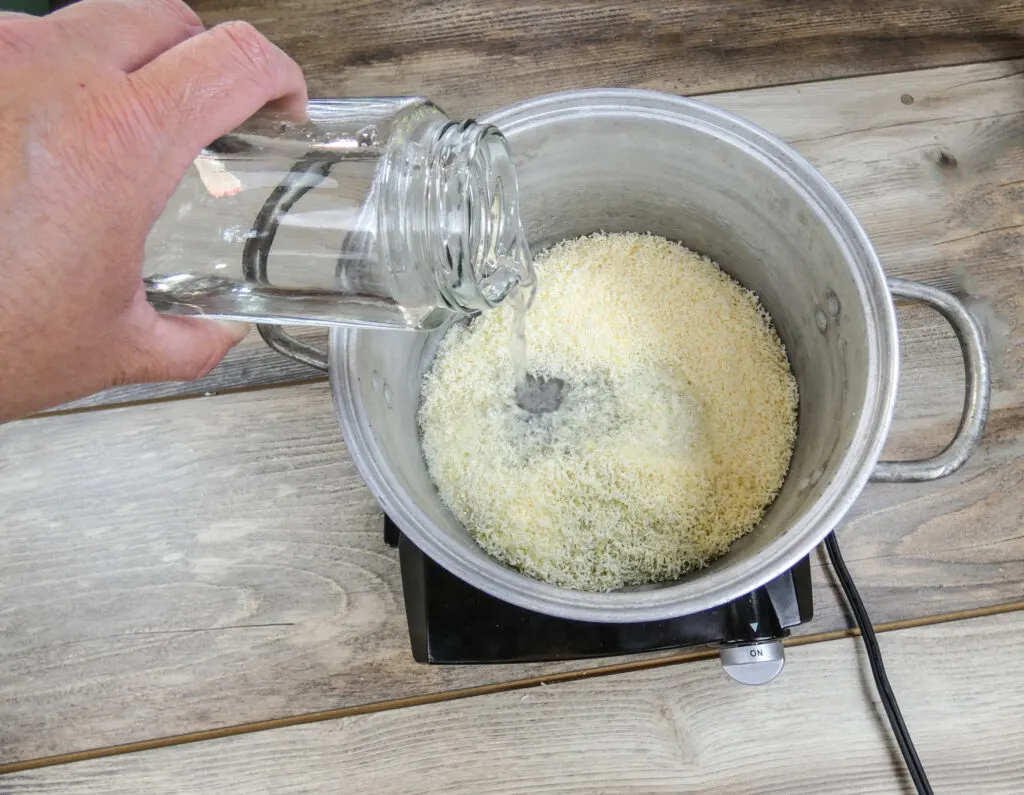 5. Spread soap on textile
When the soap reaches a soupy consistency, remove it from heat and pour over the fabric you are using for your DIY laundry detergent sheet. Use a spatula to spread the soap evenly over the surface of the textile.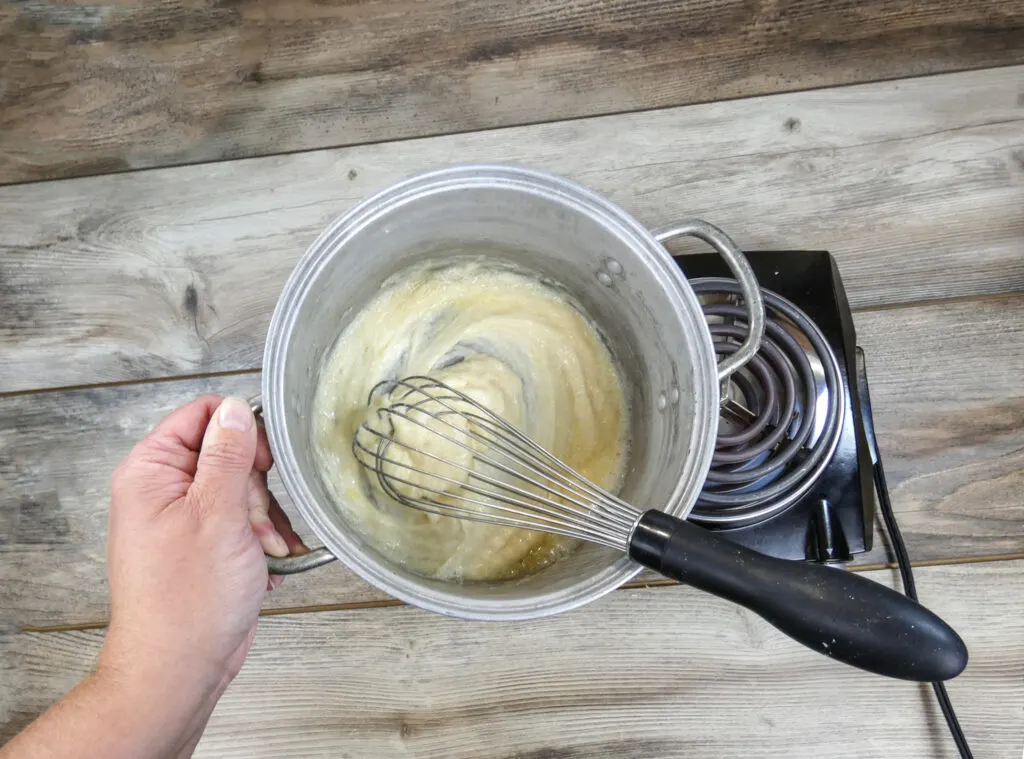 6. Allow to dry completely
In the final step, you'll need to leave your detergent sheet to dry. As the water evaporates, the soap will return to a dry and semi-rigid state.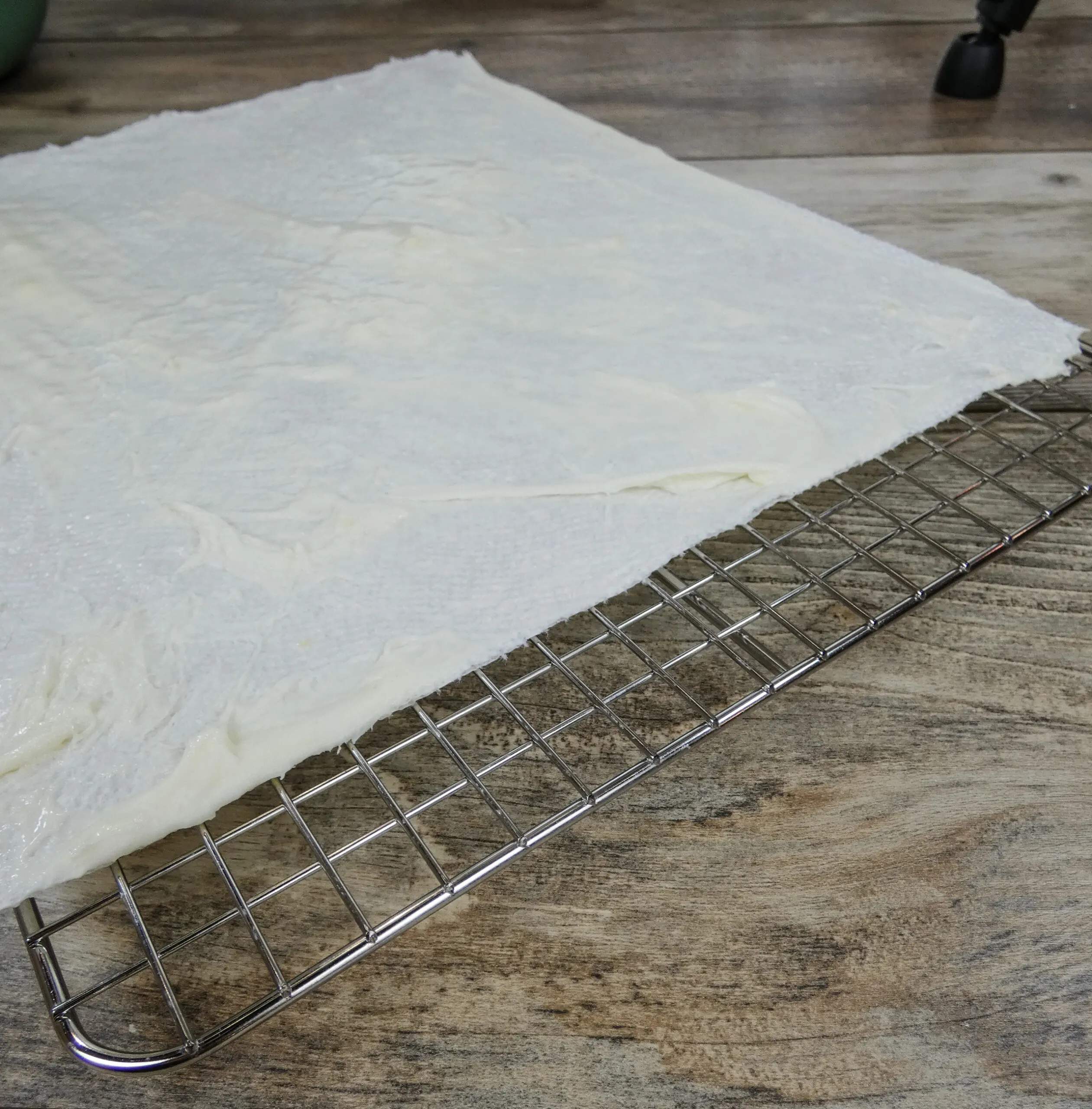 7. Wash pots and utensils with care.
It might be tempting to throw your supplies in the dishwasher – but it's really important to remember that dish soap and laundry detergent work very differently. Letting the dishwasher wash off the laundry detergent buildup can be a recipe for disaster and even void your dishwasher's warranty. Instead, rinse your pot and all utensils under hot water in the kitchen sink until all detergent residue is removed.
8. Fold, Cut, and/or Package
Because your laundry detergent sheet may flake off a bit during travel, you'll want to place it inside of a bag. A waterproof plastic zip top bag can help contain any soap flakes and prevent your luggage from taking on an overwhelmingly soapy smell (if you dislike the smell of Zote, you may wish to double bag). If using paper towels as the base for your DIY laundry detergent sheets, cut to size and fold before packing in your luggage.
It's best to remove all laundry detergent from your suitcase before storing your luggage, to prevent your luggage from taking on the fragrance of the laundry detergent is selected.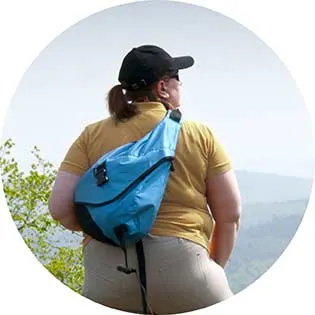 Lynli Roman's unique approach to travel is informed by decades of experience on the road with a traveling family and, later, years spent as a solo international traveler. When she's not writing about Seattle from her Pike Place Market apartment, Lynli writes on-location while conducting hands-on research in each destination she covers. Lynli's writing has been featured by MSN, ABC Money, Buzzfeed, and Huffington Post. She is passionate about sharing information that makes travel more accessible for all bodies.