Laptops, tablets, and cameras are the most cherished possessions of many travelers – especially digital nomads. For digital nomads, tech is our link not just to friends and family back home- but to our livelihood.
In this post, you'll learn how to pack laptops, tablets, cameras, and other tech in your backpack. You'll learn:
3 things to look for in a backpack that you'll use to carry a laptop
plus my #1 tip for avoiding expensive replacement costs on the road.
Keep reading to learn pro tips from a seasoned digital nomad about how to pack tech devices.
My tech devices are a huge investment in my work. They connect me to those I love, let me work from anywhere in the world, and are my route to an escape plan if I need to get home quickly. I make it a point to pack devices carefully and take good care of them because replacing them would be very expensive. At the same time, I've decided a backpack – not a suitcase- is right for me. (Still on the fence? Take my Backpack vs Suitcase quiz)
Get a padded sleeve for each device.
When backpacking, don't trust a padded sleeve in your backpack! While you won't have space for a dedicated laptop bag, built-in sleeves aren't enough to protect tech.
When a backpack is packed tight will all your gear, that cushioned sleeve becomes a pressure point. I've definitely damaged LCD screens while traveling due to overtrusting the built-in laptop sleeve.
Instead, , I purchase a soft neoprene laptop sleeve for each laptop and tablet you carry (as an illustrator, I'm stuck with both even when one bag traveling). This is my first line of defense against accidental damage. In addition to adding a layer of protection against bumps, lightweight neoprene doesn't contribute significantly to the overall weight of the pack.
For DSLR or even mirrorless cameras, you carry for travel photography, purchase a shaped padded case that minimizes space wasted, while adding padding on all sides.
Have a Waterproof Sack
Whether it's a high-end waterproof backpack or a garbage bag, always have a waterproof vessel ready (yes, even if the daypack you use for city exploring)
While this might be obvious in destinations like Southeast Asia during the monsoon season, you should always bring a waterproof shell with you for your laptop, tablet, camera, or other device. Waterproof backpacks keep your devices and gadgets safe from getting wet.
Experienced digital nomads know that standard travel backpacks saturate with water much faster than many of us would expect. Thousands of dollars worth of devices are worth an extra ounce or two of weight needed to carry a waterproof barrier.
Choose the right backpack.
Choosing the right backpack is an essential part of good packing- maybe the MOST important. Here's how to pick a backpack that will protect your tech:
First, consider the size of your devices. You'll want to make sure the backpack you choose has enough room to comfortably fit everything you need to carry. If you're packing a laptop, make sure you have plenty of room for it. Forcing a laptop into an overstuffed back is a quick recipe for screen damage.
Next, think about the type of material you want your backpack to be made from. If you're carrying sensitive equipment, like a laptop, you'll want to choose a backpack that's made from a durable, water-resistant material.
Finally, consider the features you need in a backpack. If you're carrying a lot of devices, you may want a backpack that has multiple compartments and pockets. This will help you to keep everything organized and easy to access. You may also want to look for a dedicated tech organizer for cables and chargers.
Never Check Bags containing your Devices
Do not leave your electronic devices in checked bags- ever! I keep all of my electronic devices, including cables, chargers, and other accessories, in my daypack.
If destination transfers and flights leave you with two carry-on bags, keep your tech in the bag that will stay closest to your body. When you put your big backpack in the luggage compartment of a bus, train, plane, or car, it can be crushed by the addition of other travelers' luggage.
Use Screen Protectors
Screen protectors are a cheap layer of protection from the hard environment of travel.
In order to minimize scratches, I use screen protectors not just on my phone and digital camera but also on my computer.
Screen protectors can provide some protection against shattered screens, but mostly help with increasing the eventual resale value of your devices.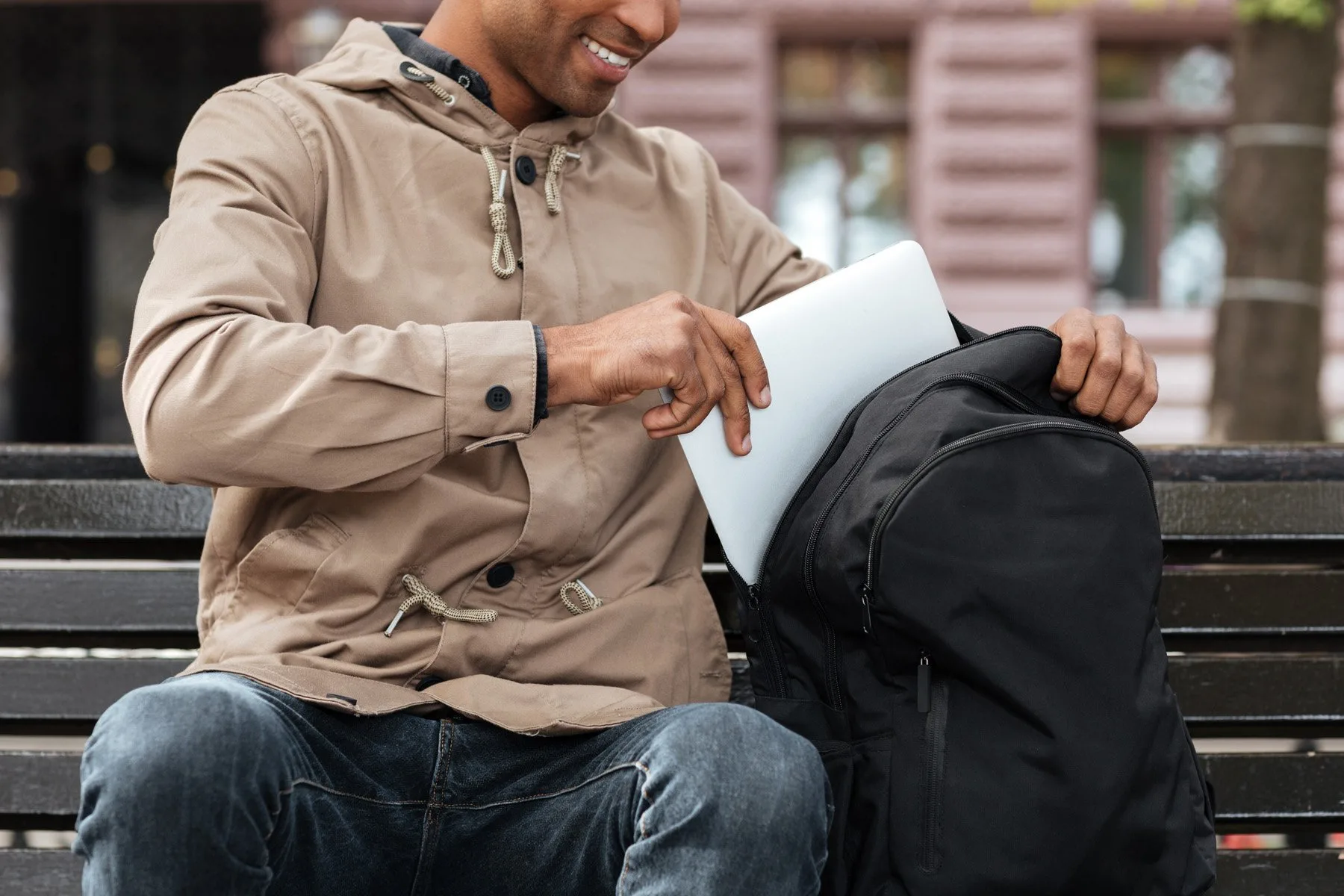 Be Careful Where You Place Your Phone, Tablet, and Camera
Many phones have been stolen from restaurant tabletops while a diner is distracted in conversation or on another device.
Also, being mindful of where your phone is can prevent damage. Travel takes us out of our routines, because of that you might end up pouring your coffee on your laptop, or stepping out of bed only to hear the crunch of a laptop screen breaking.
I make it a point to store my electronic devices tucked into their dedicated pockets in my backpack- which is always stowed in a safe place. I know making it hard to break something can help. For me, it's easier to take this extra cautious step than to bear the cost of replacing expensive devices.
Final Thoughts
Backpacking can be tough on your electronics and gadgets, but with a little bit of care, you can avoid damaging them. Be careful not to expose them to the elements, and keep them safe from bumps and bruises. With a little bit of care, your electronics will be just fine.
For more advice on packing a backpack, see this printable PDF guide.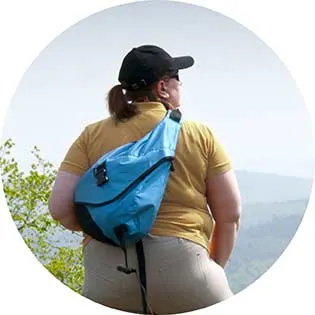 Lynli Roman's unique approach to travel is informed by decades of experience on the road with a traveling family and, later, years spent as a solo international traveler. When she's not writing about Seattle from her Pike Place Market apartment, Lynli writes on-location while conducting hands-on research in each destination she covers. Lynli's writing has been featured by MSN, ABC Money, Buzzfeed, and Huffington Post. She is passionate about sharing information that makes travel more accessible for all bodies.