Many new digital nomads set off on long term working travel with a carefully curated packing list and a thoughtfully selected bag, but not much thought on how to set up a productive workspace on the road.
I wrote this article after my third long term digital nomad trip to share thoughts on my own portable office essentials and some questions to help you think through how to set up a portable travel office specific to your work. With care and thought, you can create a portable office setup that is ultra-light, compact, and easy to pack- ensuring you have everything you need and aren't stuck traveling with things you don't.
Starting out as a digital nomad, it can be tempting to just pack a laptop and wing it, but after over a year, total, of working while traveling as a blogger, illustrator, and digital nomad, I've learned that there is a big difference between what I need for an afternoon working in a cozy local coffee shop near my apartment back home in Seattle vs the equipment I need to be comfortable, productive, and high-performing in a makeshift workspace set up in a remote hotel, Airbnb, or coworking space.
Start by Evaluating your Portable Office Equipment Needs
It might go without saying, but before copying my list of portable office essentials, consider your work style and industry. Full-time software developers, audio engineers, digital illustrators, virtual assistants, and copywriters all have different equipment needs.
Evaluate the tech and equipment you use regularly in your current office, and research whether ultra-compact, portable, or dual-use versions are available that can still produce the quality needed to impress your bosses and clients. One strange side effect of the COVID-19 pandemic is that we all got a little more comfortable with working remotely and the ways to maximize quality output without a professional office, so you may already have a pretty good idea of what you need- in that case, your task will be figuring out what to cull or replace with a lighter-weight version for less hassle traveling.
Test Everything Before Travel
If you are planning a big trip or long season of travel while working remotely, set up your portable office well in advance and give it a few trial runs. While you are still close to home and easily able to return or replace equipment that doesn't work well for you, try setting up your portable office in a local cafe or in a good work spot found during a regional day trip.
Evaluate: What works and what doesn't? What can be adjusted to work and what needs to be replaced? What's missing? Answering these questions before you are overseas and working against a deadline with faulty equipment can be the difference between success as a digital nomad and a total breakdown of productivity.
Consider your Travel Style
As you build your portable office set up for remote work, think about whether you are someone who travels slowly- setting up an office for weeks or even months at a time in a single location- or if you will be moving and changing destinations every few days. Are you also attempting to one bag travel, or are you okay with moving multiple bags on transfer days? The answer to these questions can help you decide whether to pack extensive, full-size equipment or pare down your portable office packing list to a few basic, ultra-light essentials.
About WanderBig's Tested and Researched Reviews:
Look, we all know buying tech online in 2020 is a gamble- products appear overnight with 80 five-star reviews and disappear just as quickly- often leaving buyers who thought they were purchasing a quality product left holding the bag.
These are products I have tested in the field or researched extensively and screened with a number of counterfeit-flagging Chrome extensions (in the case of most items, both) Save the time and hassle of trying to read between the lines of product reviews with the Digital Nomad Supplies Shopping list I have created- full of products that I personally have vetted and/or tested in the field.
The following section may contain affiliate links. As an Amazon Associate, we earn from qualifying purchases.
Review my list below for details, tips, and specs, or just jump to my Portable Office Shopping list at Amazon.

Essential Supplies for my Portable Office for Remote Work while Traveling
Your needs will vary according to your professional field and travel style, but here's what I pack in my portable office for the multi-media work that I do to earn an income while traveling.
Power Adaptor and Multi-Outlet with USB Ports
A compact multi-outlet USB surge protector isn't very exciting, but it is the foundation to keeping all tech working on the road. My dream is to find this unit combined with a power converter, but to date none of the international outlet converters with multi-plugs or USB ports have lived up to the performance of the Belkin mini surge protector plugged into a dedicated power converter.
You may also wish to bring or purchase in the country a short extension cord. There's no point in having a portable office for digital nomading if you can't reach an outlet, work comfortably, or get your equipment charged!
Folding keyboard
When working in a remote space it's not always feasible to bring a laptop. Sometimes, I know I'd like to find a cafe and write for an hour or two for a break in the midst of a full day of exploring a city. Due to both weight and theft risk, bringing my entire laptop for the day doesn't make sense. Instead, I found a folding keyboard that skips into a daypack or handbag and allows me to type full speed on my phone or tablet via a Bluetooth connection.
My Sounwill Foldable Keyboard takes up about as much space as a makeup compact, works with iOS, Android and Windows systems, and has a satisfying feel to the keys while typing. When I decided to order a folding keyboard I ordered 4 keyboards to try, and this was my favorite to type on.
I especially like the folding keyboard because it makes me makes it possible to be productive absolutely anywhere. Weighing in at just 5.5 ounces, and taking up virtually no space in my bag, it's easy to carry in my purse or backpack so I can pull out my keyboard, connect it to my phone via Bluetooth, and type up a storm from any cafe, park bench, or table. It also comes with a tiny plastic stand to hold any phone at an angle to make typing easy
The image above shows a sample of how I use this incredibly compact writing set up on the road. In this photo, I'm at a coffee shop in Punta Natales, Chile in Southern Patagonia, looking out the window at the Magellan Straight while hammering out an article on time management for another job.
Compact Keyboard
Depending on whether I'm staying in a location for a few weeks at a time or taking a one bag trip where I'll be switching lodging often, I either take a folding keyboard or a slightly larger, compact keyboard. My compact stainless steel keyboard is significantly smaller and lighter than a standard size keyboard, without compromising on key placement or key resistance. The spacing, click of the keys, and resistance means I can type at my full speed without modifications, and I find it to be a significant productivity upgrade from my Surface Pro Keyboard Cover or most laptop keyboards.
iPad Pro
My iPad Pro (shop the latest mode here on Amazon) is a must for me when I travel – forming the backbone of on-the-road entertainment (like movies and ebooks) and the foundation of my work as an artist. (P.S. Downloading the $10 Procreate app and purchasing an Apple Pen is also a fun and unique way to create a digital format travel journal) without having to pack a full travel Journal Supply kit.
Not necessarily a portable office must, I LOVE the composition book-themed iPad case pictured below for throwing off would-be thieves, and it made my list of my top 10 tips to protect your valuables from theft while traveling.
12 pack of canvas bags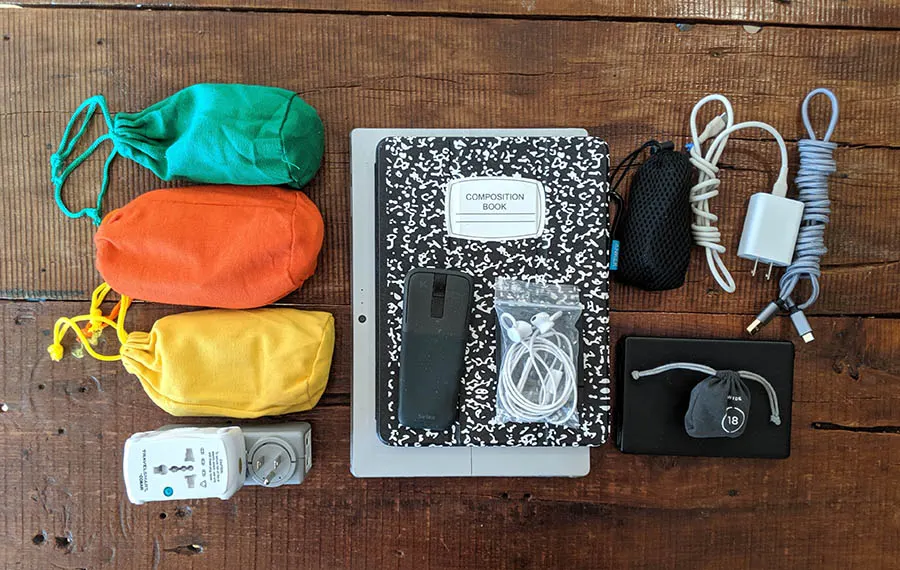 While manufactured as party favors, I love these small canvas drawstring bags for travel. Measuring just 7 x 4 inches each, they are perfect for organizing small tech items in your bag. While cables and devices can easily get tangled, mixed up, and damaged in your luggage, organizing with these brightly colored bags helps keep everything separated, easily identified, and slightly cushioned. It's so much easier to find what I'm looking for when I've color-coded and know that I'm looking for the "yellow bag " rather than just another black cable or compact portable office device swimming in a dark backpack.
Apple Pencil 2nd Gen
Even if you aren't an artist and don't do digital illustration or graphic management while you are a digital nomad, if you travel with an iPad you should go ahead and get the Apple pen for the flexibility and usefulness that it offers.
One of my favorite travel stories is sketching in the tiny dining room of a guest house set on a floating island in the middle of Lake Titicaca in Peru. My host in that location was a husband and wife, and when the wife noticed me drawing on a screen she was intrigued and drew near. Even she did not speak English and I knew only a few words of the language spoken by their Uros community, my digital drawing tablet became a connection where we could communicate.
She soon filled the screen with traditional folk drawings of the indigenous people group that I was visiting and taught me how to create these amazing patterns. Without the iPad and pen, I would have missed this really memorable and precious cultural exchange.
Slash-Proof Lockable Tote Bag
All the lightweight and portable office tech in the world is useless if it's stolen mid-trip. The only thing worse than having valuables stolen while you are traveling is losing the equipment you use to produce an income are traveling. In addition to observing general travel safety, consider security just for your tech.
While you can go for dedicated theft-proof luggage, I believe one of the safest ways to travel is to obscure valuables- and carrying a banged up, used bag is one way I deliberately don't stand out while traveling. Inside the beat-up bag, you can place a lockable, slash proof drawstring tote. I'm a fan of this bag for my tech and valuables. For day-to-day travel it can be locked and placed inside of the bag I wear on my body, and when I'm not able to wear it I can lock the entire bag (via straps that require bolt cutters to remove!) to a fixed object in my hotel, Airbnb, or even a hostel.
Dictation Software – Dragon Naturally Speaking
If your work requires writing, it likely requires an irritating amount of typing. I break up my workday, give my hands a break, and speed up my writing by using Nuance's Dragon Speech Recognition software. Most people type around 50 words a minute, but we speak over 250 words a minute! Dictation software can help harness that speed and catch your writing speed up to your speaking speed, to increase productivity- and comfort! As I write this article I, am on the balcony of an Airbnb with a simple lapel microphone clipped to my sweater dictating via my Pixel into WordPress, for editing and publishing later.
An Interval App
A few years ago I read about how maximum productivity is achieved when we do tasks for 23 minutes at a time. I'm still skeptical of that exact timing, but I do know that when I tried it, I found myself starting and completing tasks more quickly. Instead of thinking "I'm going to spend the afternoon on this," I think instead "I'm only going to spend 23 minutes on this, and I better get started right away." More often than not, I find myself engrossed in my task and continuing well past the 23-minute mark.
Hardshell Case
A Hardshell Tech Case is essential for protecting delicate tablets and laptops. To save room and weight in your bag you may be tempted to forgo an extra shell for your laptop or tablet. As someone who has done significant damage to a tablet screen, mid-work trip, by trying to skip a case and pack light, let me shout from the rooftop: DON'T SKIP PROTECTIVE CASES.
Now, I always travel with a hardshell case- even for devices that already have a flip cover. Placing them inside of a rigid case prevents damage from pressure points as I stuff my bag with other travel essentials, snacks, and treasured souvenirs on transfer days.
Collapsible computer mouse
I'm never quite as productive when I'm using a touchpad as I am when I have a mouse in my hand. This is particularly true when I am working with image editing. I found my solution in the Surface Pro's collapsible Bluetooth mouse.
The Microsoft Arc Mouse is the industry-leading collapsible mouse and it's a trustworthy piece of equipment to travel with. The Microsoft Arc Mouse connects via Bluetooth and can be used with both Apple, Windows, and other operating systems.
Noise Canceling Earphones
The ability to cancel out ambient noise can increase productivity and help you rest better overnight while traveling, relax on transfer days, and focus on your work when you don't have a quiet environment. For years, I've been a fan of Audio-Technica noise canceling in-ear headphones, but their wireless version hasn't lived up to my hopes. After reviewing a massive number of noise-canceling wireless earbuds, my new travel earbuds are these Sony Bluetooth earbuds with a mic and noise-canceling tech built-in.
Wired headphones
While bringing headphones on any trip is an automatic entry on any good packing list, travelers who hope to work in a portable office during their trip should consider a set of wired backup headphones as an absolute must (Get a basic set or my favorite wired earphones Audio-Technica's QuietPoint earbuds).
Not only will the second set of headphones take up virtually no room in your bag and be a lifesaver if you misplace your noise-canceling headphones, the primary reason for bringing your own wired headphones is for in-flight entertainment on airplanes. Airplanes still require an audio jack to enjoy in-flight entertainment, so to avoid uncomfortable airline-provided headphones, plan ahead and bring your own wired headphones with an audio jack both for your portable digital nomad office and for your transportation-entertainment comfort.
The Portable Office Low Tech Workhorse: a Turkish Towel
One thing in short supply even in luxurious accommodations: comfortable task chairs. Perhaps one of the most low-tech things that I now consider essential for working from a mobile office is a soft cotton towel. Not the terry cloth kind, but a woven cloth turkish towel.
It also makes my list of absolute packing list essentials for the purpose of using as a beach towel, blanket, and neck pillow, but in this case, my Turkish towel has made a lot of uncomfortable work seats tolerable. Folded in on itself three or four times, it provides a little extra cushion for use on hardwood or plastic chairs- making it easier to sit comfortably and work productively in a chair that perhaps wouldn't be your first choice for productivity.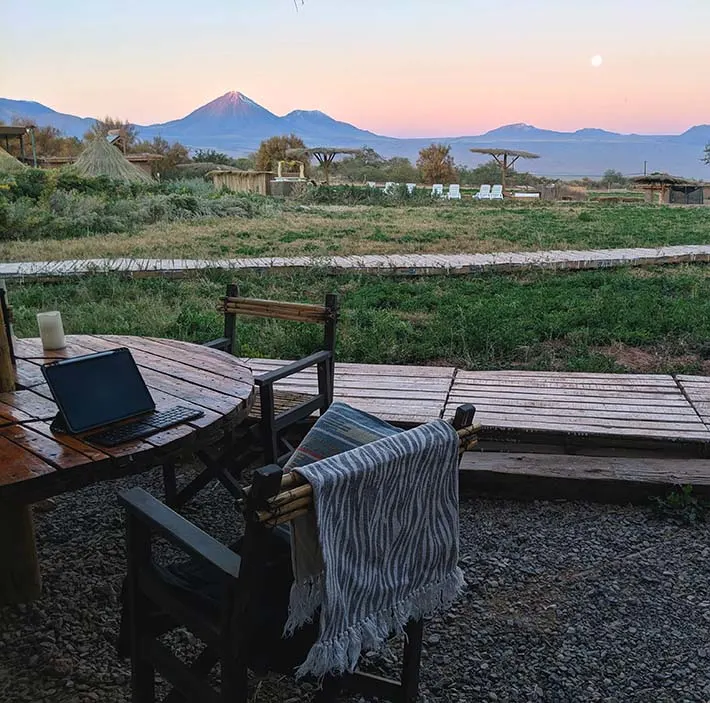 Surface Pro 7 Tablet / Laptop
Depending on the focus of my work during any given trip, I may or may not pack my Surface Pro 7 in my portable office for working while abroad. If I know that I'll need to edit databases, work with spreadsheets, or write extensively while I'm away, I know I need more power than the iPad can offer, and the Surface Pro 7 is my pick. weighing in at just 1.7 pounds and offering all the essentials of a bigger laptop, it's a great addition to a portable office that offers all of the functions of a full desktop computer in a fraction of the space and weight taken up in your luggage.
Moment Camera-Phone Lenses
If your work involves photography- and even if it doesn't- moment lenses are an investment worth making for travel. Even though I travel with a Google pixel that takes amazing photographs, upgrading to a moment wide-angle lens and a moment telephoto lens dramatically improved my ability to take photographs worthy of professional media. For example, the flat lay photo of my portable office supplies featured in this post was taken with a wide-angle lens.
A traditional built-in lens would require me to climb a ladder to get everything in my shot, but the moment wide-angle lens captures a much wider frame in one photo- perfect for product photos like these and for squeezing lots of drama into a landscape photo.
Google Pixel
A Google Pixel with Google Fi's no-extra-charge International Service will always be my favorite portable office supply, personal safety device, and camera for when I'm working and traveling abroad. It's a core part of my portable office- often working as a monitor when I'm using a folding keyboard to write copy in a cafe or creating interactive media online.
Anker Portable Charger:
A portable charger is a must-have for any digital nomad's travel office. I recommend travelers to carry as large and as powerful of a portable battery charger as your travel style allows. For ultralight travelers, this may mean just a very small lipstick-sized charger, for slow travelers that are okay with carrying more luggage, a more powerful battery backup may be more appropriate. In any case, it's good to have a very small and lightweight charger for personal– and not just professional– purposes. Carrying a tiny battery backup in your day bag or handbag can be the difference between having it just enough charge to navigate with GPS on the way home or having a dead phone with no clear way to get back to your lodging (which is a set up for a high-risk situation).
Name Brand (+verified not counterfeit) Charging Cable for your tech:
You wouldn't dream of leaving on your digital nomad work trip without cables and phone chargers, what you might neglect to think about, however, is the charging capacity of those cables and their durability as they are folded, stretched, bent, and refolded as you pack and repack.
Start out with really good cables
Good cables can be hard to find, although tech brands like Anker and Belkin do make really good cables, that carry enough amps to charge phones and other tech rapidly. However, it can be hard to trust the quality of cables purchased from sales platforms with many sellers.
If you don't have the tech-savvy to test the amps on the cables you receive, you may wish to skip marketplace websites and order directly from the manufacturer's website or from a private vendor.
A hack to making your USB cables last while traveling
Broken, frayed, or malfunctioning USB and charging cables can typically be replaced while traveling, but there's no promise of that being an easy or cheap process. To give a little extra support to my charging cables before setting out, I like to use heat shrink tubing to protect delicate connections. Just slipping a heat shrink tube over the joint where the cable meets the plug and carefully shrinking it with a little bit of heat from a candle or heat gun protects the delicate connection and makes the joint more resistant to the sharp bends that tend to damage the delicate wiring inside of charging cables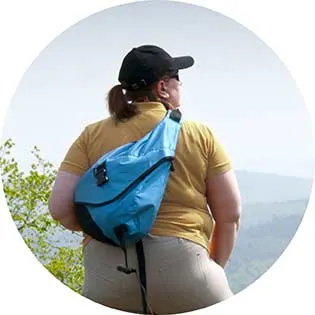 Lynli Roman's unique approach to travel is informed by decades of experience on the road with a traveling family and, later, years spent as a solo international traveler. When she's not writing about Seattle from her Pike Place Market apartment, Lynli writes on-location while conducting hands-on research in each destination she covers. Lynli's writing has been featured by MSN, ABC Money, Buzzfeed, and Huffington Post. She is passionate about sharing information that makes travel more accessible for all bodies.