There's no shortage of great Chilean foods to try for tourists. From the pikcy-eater-friendly hot dogs and french fries (which are widely available) to uniquely regional delicacies. Trying new foods in Chile is a great way to get a taste of the local culture and experience Chile with all your senses.
In this article, I share some of my favorite Chilean foods that I learned to love during my 3-month stay as a digital nomad. I'll also share a brief guide to alcohol and cocktail options in Chile and finish with some advice for where tourists should shop for groceries in Chile.
Foods to Try in Chile as a Tourist
Signature Alcoholic Drinks in Chile
Where to Buy Groceries in Chile as a Tourist
Foods to Try in Chile as a Tourist
Chile has a rich culinary tradition that includes both native and European influences. Just like the vast span of this 2,500-mile-long country, Chilean cuisine offers almost endless possibilities for every palate and every budget. If you find Chilean foods to try, you'll discover both familiar foods for American palates plus truly unique-to-Chile dishes. Don't be afraid to try something new. You might be surprised by how much the unique south American flavors appeal to you!
Chilean Empanadas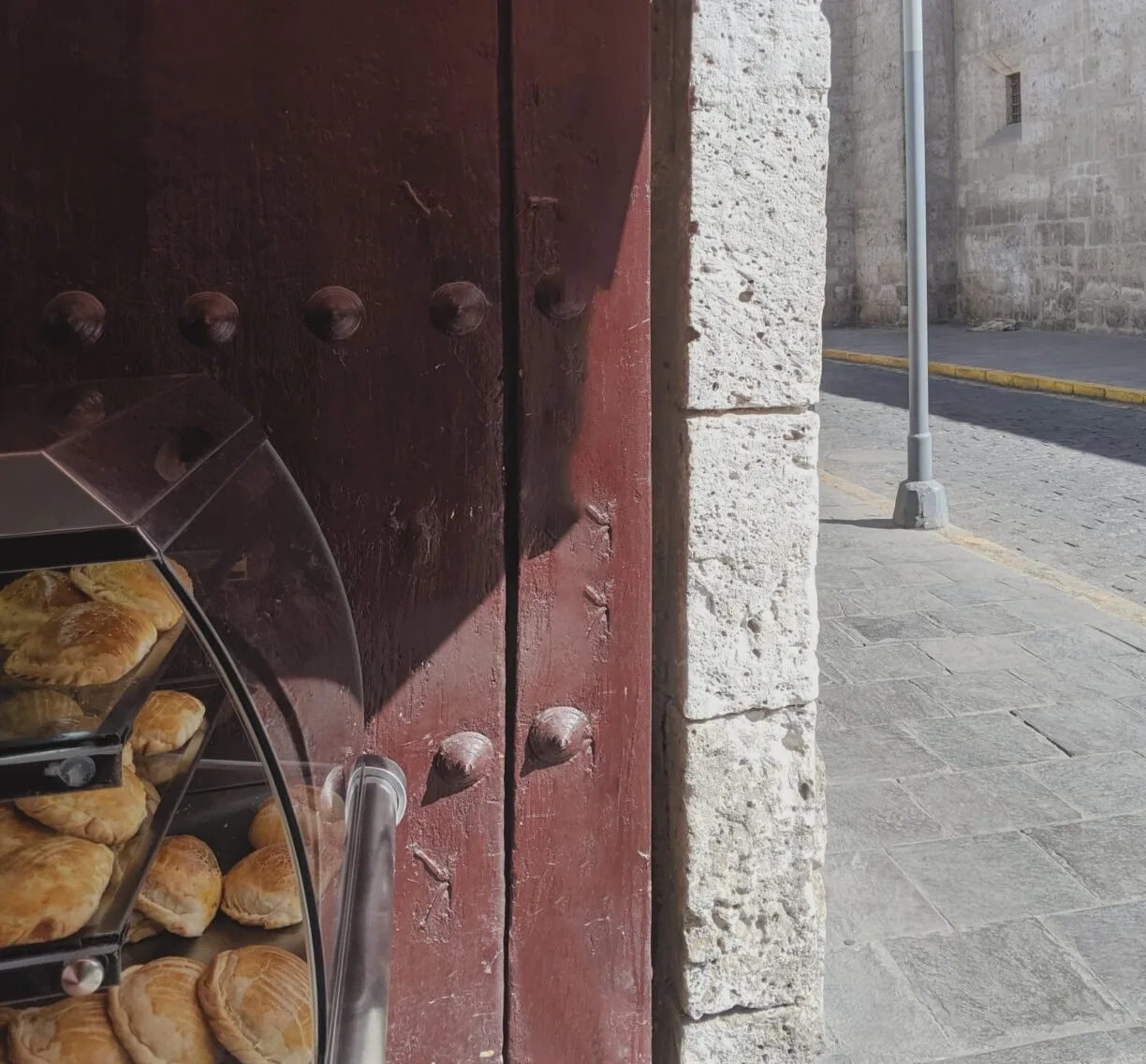 You've had Empanadas, but Chilean Empanadas are a unique experience. Empanadas are definitely the most popular Chilean food to try, and backpackers live on them.
Chilean empanadas differ from other empanadas in both their ingredients and their preparation. The dough is also usually made with wheat flour, which gives it a slightly different texture and flavor than other empanadas. Chilean empanadas are typically baked, rather than fried. This gives them a soft but still crispy exterior. They are often served with a dipping sauce, such as pebre (a sort of Chilean chimichurri).
Chilean empanadas are a great food to try for packing lunches in Chile. They are much larger than other types of empanadas, and are usually shaped like a half-moon. This allows them to be stuffed with more filling, making them a hearty and satisfying meal perfect for backpacking or hiking.
Dulce de Membrillo:
Dulce de Membrillo is a sweet treat that is popular in Chile. It is made from quince fruit and is often eaten with cheese. The candy is said to have a sour and sweet taste, and is also said to be good for your health. Dulce de Membrillo is a spread that is smeared over rolls and bread, like jelly. It has a somewhat sweet flavor and a texture that is more like jelly than it is like jam. You'll most often find it served with breakfast.
Authentic Mate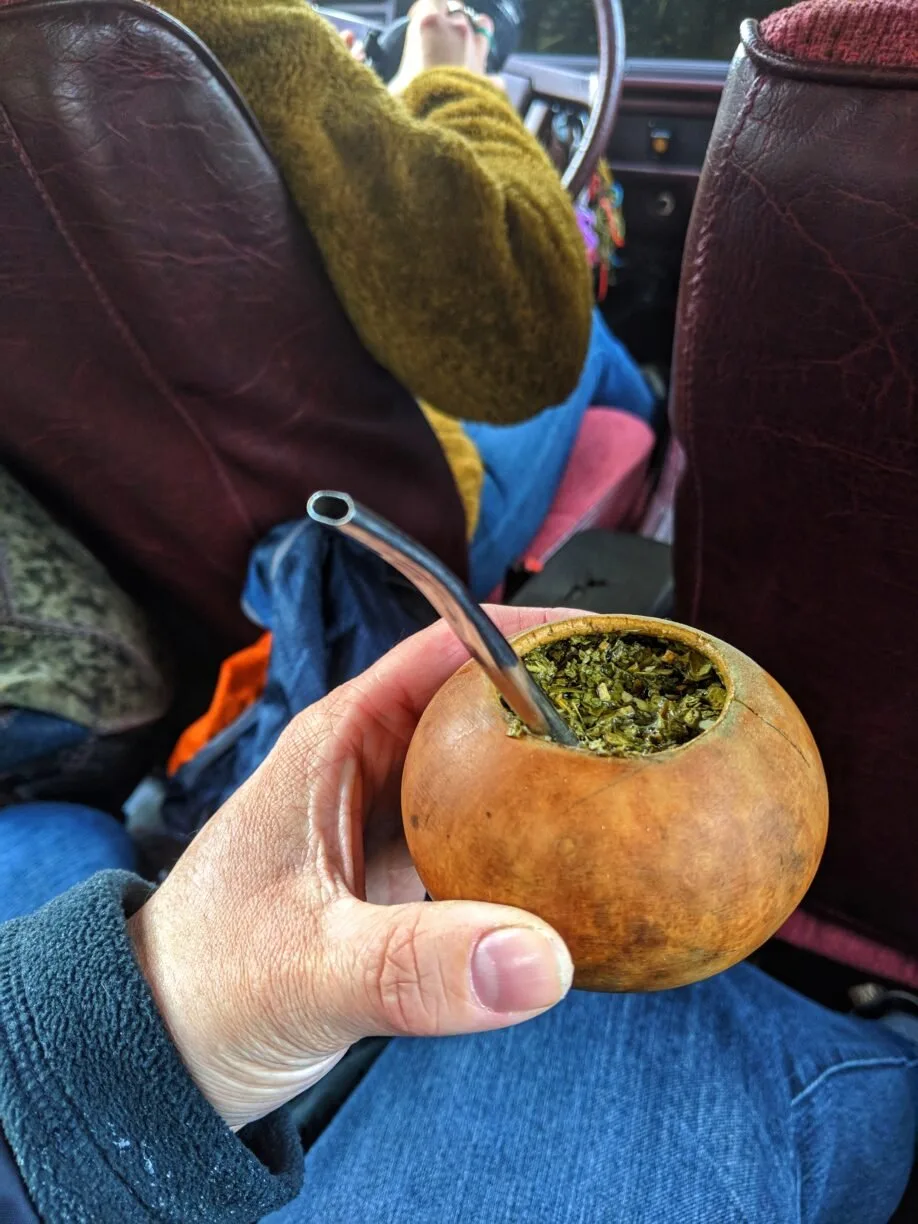 Chile is one of the best places in the world to try mate. This traditional South American beverage is made from the leaves of the yerba mate plant, and it has a unique flavor that is both earthy and slightly sweet. Mate is usually consumed through a straw, and it is often shared among friends as a way to bond and relax.
When I read this in travel guides before my trip, I thought this must be an exaggeration or an old-fashioned tradition. Much to my surprise, however, I got to participate in this activity my first week. After being invited mushroom hunting with my Airbnb hosts in Patagonia, our group returned to the car wet from rain and hands stained with juice from the Calafate berries we found on the trail. There, as we warmed up in the car, mate (pictured) was prepared and passed around.
Curanto
Curanto is a food from the Chiloe region of Chile. It is a type of stew that is made with seafood, meat, and vegetables. The stew is cooked in a pot over an open fire. It is a popular dish in the Chiloe region and is often served at festivals and celebrations.
Chorrillana: Chile's Hot Dog & French Fries
Picky eaters rejoice!
Chorrillana is a Chilean dish of hot dogs and french fries. It is a very popular dish in Chile, and is often served as a main course.
The dish is made by frying hot dogs and french fries in a pan, and then adding a variety of sauces and spices. It is a simple dish to make, and can be easily adapted to any taste- if you're invited to make a Chilean dish for a cultural event and you don't know what to make, try Chorrillana. It's easy to cook, authentic, and everyone will eat hot gods and french fries!
Yellow Pomegranates
I was lucky enough to try yellow pomegranateson my first day in Chile and they were delicious! This particular variety of yellow pomegranates sold in fruit markets in Chile is called the "Baixa" pomegranate. It is grown in the central valley of Chile and is a perfect Chilean food to try during your trip. The Baixa pomegranate is a large, yellow fruit with a sweet, tart flavor. The seeds are small and edible, so there's no need to remove them before eating. I really enjoyed the taste of the Baixa pomegranate and would definitely recommend trying it if you get the chance.
Cake
Chile is not typically known for its cake. However, there are some bakeries in Chile that make very good cake. One such bakery is La Casa del Dulce in Santiago. This bakery specializes in making Chilean-style cakes, which are often filled with fruit or jam and covered in a thick layer of frosting.
Pan Amasado
Pan Amasado is a traditional Chilean food you should definitely try on your trip. Well, you almost definitely will try this bread, since it's served by almost every restaurant. The bread is made from flour, water, yeast, and salt, and is typically served with cheese and ham. It can also be pan-fried or baked. Pan Amasado is a delicious and versatile dish that is perfect for any occasion. You'll find it in most chilean restaurants served with Chilean Pebre before the main course
Chilean Pebre Sauce
Chilean Pebre is a delicious and easy to make sauce in Chile. It is traditionally made with cilantro, onion, garlic, olive oil, and chili pepper, and can be used as a dip or a condiment. Chilean Pebre is typically eaten as an appetizer or snack, but it can also be used as a sauce for meats or vegetables.
Manjar (aka: Dulce de Leche):
Manjar, commonly known as dulce de leche, is a caramel-flavored condensed milk dessert. Chileans consume it in the same way that Americans consume peanut butter and you'll find it featured in many deserts and breakfast settings. It's definitely unique to Chile, so even if you're familiar with Dulce de Leche, try Manjar.
Quesillo Cheese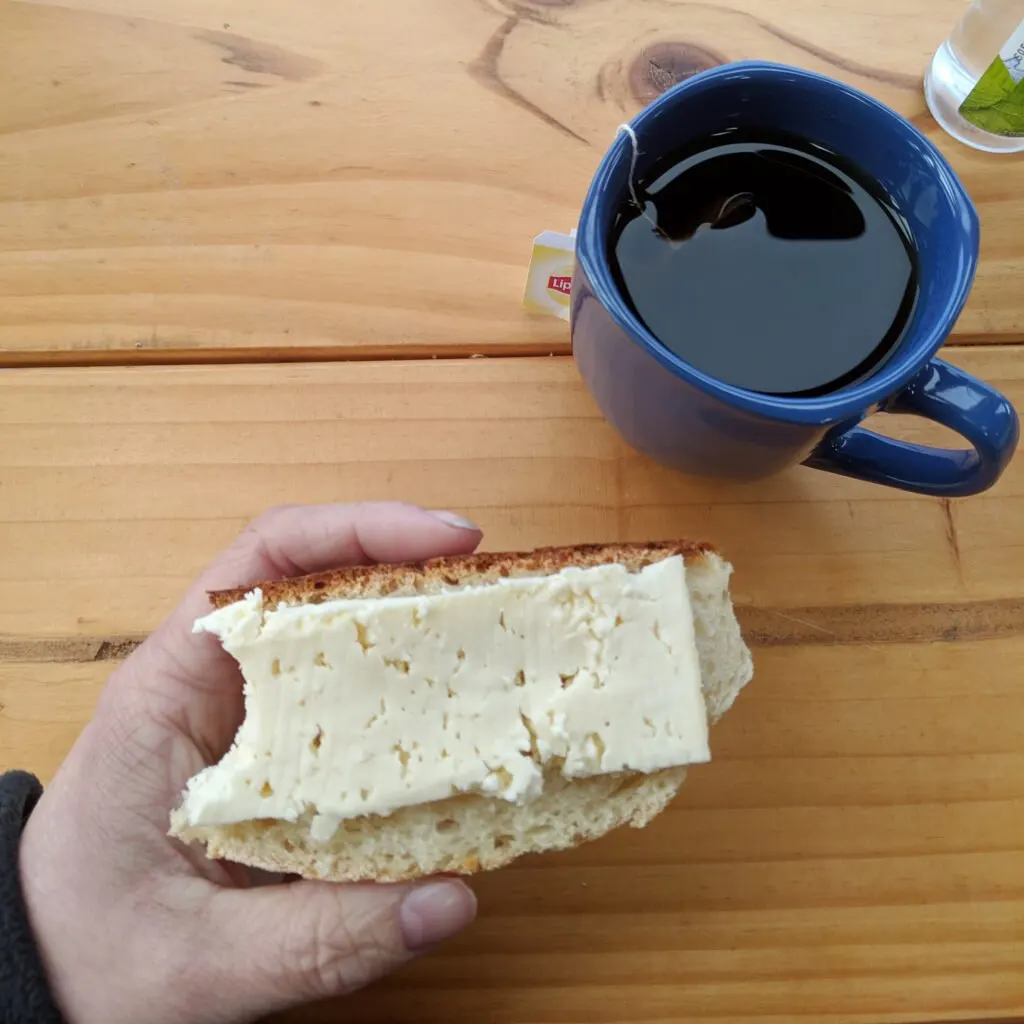 This is a spongy type of cheese that is a great food to try in Chile. It comes in little white chunks and has a very smooth, mild flavor. It is made from cows milk that is gathered from cows that graze in the Andes Mountains. The cheese is widely used in snacks and sandwiches.
Ceviche
Ceviche is a traditional dish from the coastal regions of Chile and Peru. It is typically made with fresh fish or seafood that is marinated in citrus juice and spiced with chili peppers. The dish is often garnished with onions, garlic, cilantro, and lime. Ceviche has become super popular in Chile in recent years due to its fresh and flavorful taste- you'll find it served up and down the coast.
Lomo Saltido
Lomo Saltado is a dish related to Peruvian Chifa cusine dish that typically includes beef, tomatoes, onions, and french fries. It is cooked in a wok and is often served with rice (or even french fries!) Cooked well, it's a quitesential food to try in Chile.
pastel de choclo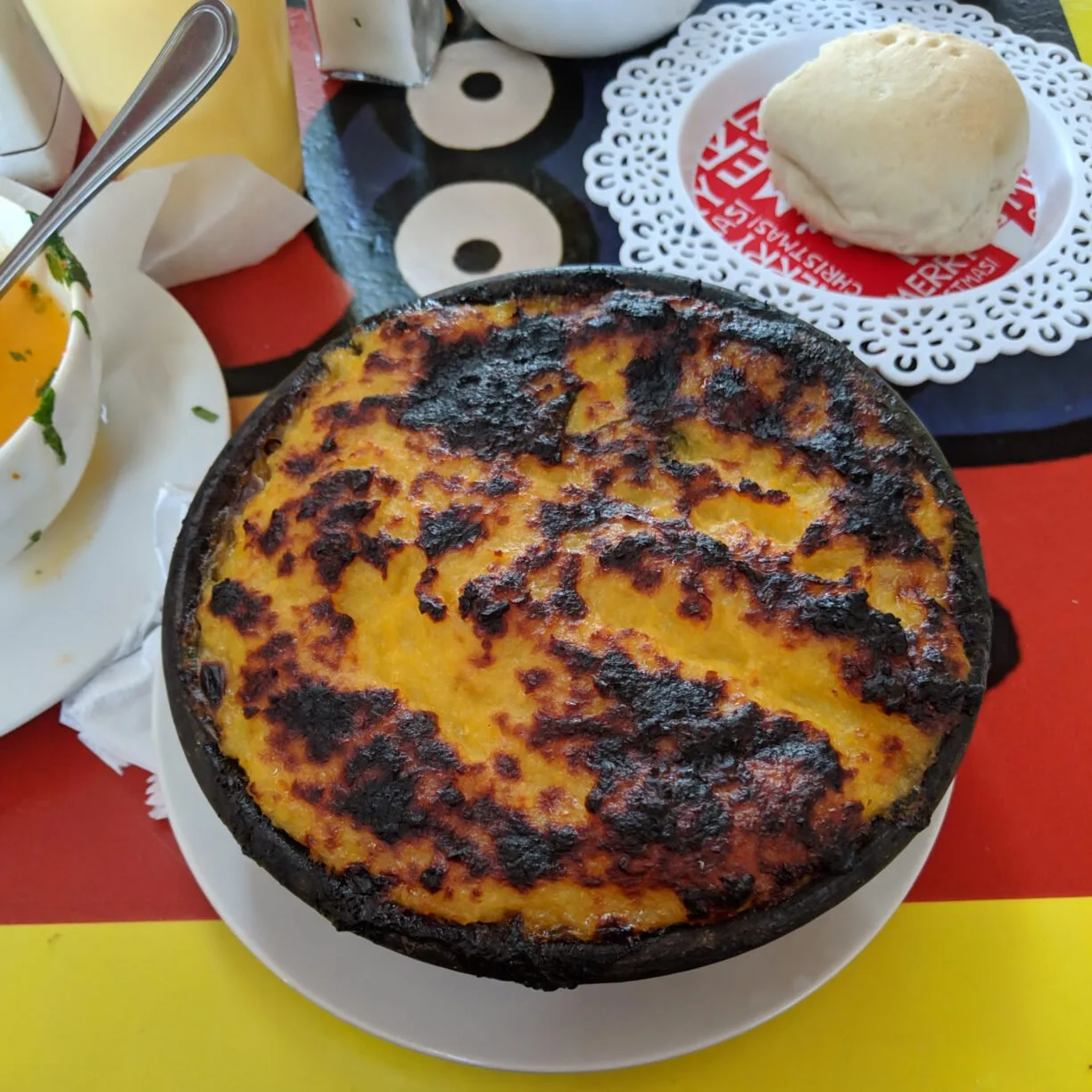 Pastel de choclo is a traditional Chilean dish made with ground beef, chicken, or seafood, corn, and spices. It is typically served with a side of rice or potatoes. While the dish may sound simple, it is full of flavor. Although, I'll be honest- the addition of olives to this dish threw me a little.
This chilean food is hearty and filling, but also has a unique and exotic flavor that will tantalize the taste buds. Those who are adventurous eaters will find that Pastel de choclo is a great way to spice up their dinner order.
"Completo" the Official Hot Dog of Chile
Chileans love hot dogs. It's an affection I didn't entirely understand, but when you visit grocery stores in Chile you'll find a hot-dog section larger than most lunch-meat departments in North American supermarkets!
A completo hot dog is a hot dog that is topped with avocado, tomato, mayonnaise, and cheese. This dish is popular in Chile, and its name comes from the fact that it is a complete meal in one. The hot dog is the main protein, the avocado and tomato provide healthy fats, and the mayonnaise and cheese add creaminess and flavor.
This dish is cheap, easy, and makes a great option for a quick lunch or dinner. I recommend it on transfer days. You'll find Completos available in most Chilean bus stations and it's a good meal before an overnight bus trip because the risk of food poisoning is lower with processed meats.
Signature Alcoholic Drinks in Chile
There are many popular alcoholic beverages available in Chile, making it a great destination for those who enjoy a good drink. Chilean wines are among the most popular in the world, and the country is also home to a variety of other alcoholic beverages, including pisco, a distilled spirit made from grapes.
Chilean Wines:
In Chile, Chilean wine is inexpensive and plentiful!
Not sure which Chilean Wine to Try ?
The most popular Chilean wines include Cabernet Sauvignon, Merlot, Sauvignon Blanc, and Chardonnay. Cabernet Sauvignon is the most widely planted red grape in Chile, and it is used to produce a wide range of wines, from entry-level to premium.
Chilean Cabernets are typically medium-bodied with good acidity and firm tannins. They often have aromas and flavors of blackberry, cassis, and plum, with a hint of eucalyptus. Merlot is another popular red grape in Chile, and it is often blended with Cabernet Sauvignon. Merlot-based wines are typically soft and round, with flavors and aromas of black cherry and chocolate. Sauvignon Blanc is the most widely planted white grape in Chile, and it is used to produce a wide range of wines, from dry to sweet.
Pisco:
Pisco is Chile's national liquor. It's both delicious and dangerous at the same time. There are two main ways that Pisco is enjoyed:
Piscola
Mix it with Coke to make a "piscola," the cocktail that is always on the menu at every bar. But be warned: it's a powerful liquor, and in Chile, cocktails may be up to six times stronger than what we're used to.
A piscola compares to a Rum and Coke at your favorite bar in the United States, but Chile's version contains much more alcohol! Often, you will be offered a glass with just ice and spirits, with less than an inch of room at the top! A bottle of Coke is provided separately.
Pisco Sour
A Pisco Sour is a refreshing cocktail made with pisco, lime juice, simple syrup, egg white, and Angostura bitters. The lime juice in a Pisco Sour adds tartness and cuts through the sweetness of the simple syrup. The egg white in a Pisco Sour gives the drink a foamy texture and a beautiful presentation. If you are not a fan of egg white, you can request the bartender leave it out. Angostura bitters add depth of flavor and a little bit of spice.
Popular Pisco brands in Chile include the always-cheap Capel, Alto del Carmen, and my personal favorite, Mistral (it's pricier, but so much smoother!)
Where to Buy Groceries in Chile as a Tourist
One of the challenges to settling in as a digital nomad or getting your footing as an ex-pat in the first month is figuring out where to buy groceries. Here are some tips for navigating this challenge in Chile.
Open Market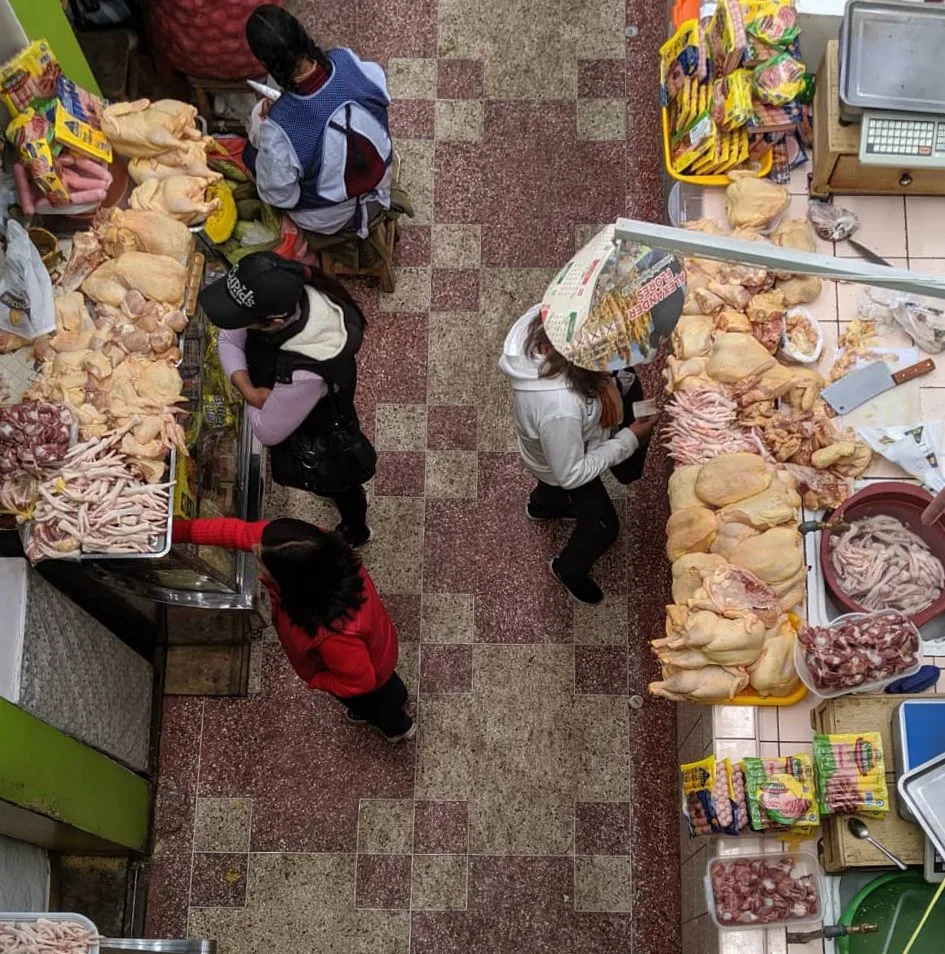 There is nothing quite like the taste of fresh produce that you can purchase at the open markets in Chile. The produce is always so fresh and juicy, and the prices are unbeatable. I love to go to the open markets and stock up on all kinds of fresh fruits and vegetables. Personally, however, I buy meats only at a regular grocery store.
In Chile, there are many fascinating delicacies to sample at the store. Choose a large grocery shop, such as Jumbo or Lider, and investigate. Check out the produce area for additional unusual fruits and vegetables; I didn't include many on the list since they're seasonal, and I'm not sure what will be in season during your trip.
Lider
Lider is one of the most common grocery chains in Chile. As it is owned by Walmart, it's a less expensive option than ther supermarkets. If you can locate a Jumbo, check it out! It's weirdly comforting, and you'll find a deal on anything you forgot to pack. It's Chile's equivalent of Super Target and Walmart!
Jumbo
Jumbo is a Chilean supermarket chain that was founded in Santiago in 1980. The chain is owned by Cencosud, one of Chile's largest conglomerates. Jumbo currently has over 100 stores in Chile and is the country's second-largest supermarket chain. Jumbo's stores are typically large and offer a wide variety of food and household products.
El Super
El Super is a Chilean supermarket chain that was founded in the early 1990s. The company has grown rapidly in recent years and now operates over 100 stores across Chile. El Super is known for its low prices and its wide range of products, which include everything from groceries to electronics. This grocery chain also stocks rotisserie chickens, which are key ingredients for making meals in an airbnb kitchen or cooking easy food in a hostel.
There are also a number of smaller chains. Tottus, Santa Isabel, Montserrat, Unimarc, and Economax come to mind right away.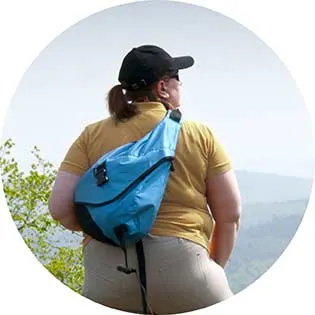 Lynli Roman's unique approach to travel is informed by decades of experience on the road with a traveling family and, later, years spent as a solo international traveler. When she's not writing about Seattle from her Pike Place Market apartment, Lynli writes on-location while conducting hands-on research in each destination she covers. Lynli's writing has been featured by MSN, ABC Money, Buzzfeed, and Huffington Post. She is passionate about sharing information that makes travel more accessible for all bodies.