In this article, you'll find a collection of ideas of things to do on a beach when the weather – or the temperature of the water – makes it too cold to swim.
From traditional beach activities to a few nontraditional ideas, you'll find beach activity ideas for:
👨‍👩‍👧‍👧 family-friendly activities, including games and mindfulness activities for kids
💏🏽 romantic ideas for couples enjoying a cool-weather beach,
🙋🏻‍♀️ and solo beach trip ideas to use for your winter beach trip.
Why I love going to the beach in the winter
As a kid who grew up in Kansas – landlocked by multiple states on all sides – I didn't learn to love the ocean until I was in my 30's and I relocated to Seattle. It was there, on those windswept glacier-formed beaches lapped by frigid cold Puget Sound waters that I fell in love with the water.
The Puget Sound is ice-cold year round due to currents from the Salish Sea bringing icy waters down from Alaska and the Arctic. The Puget Sounds beaches are too cold for swimming in even on the hottest days of summer. Although certain beaches in the Pacific Northwest (like Jetty Island) have unique conditions that make the water warmer and swimmable, for the most part, it's not possible to swim on the miles of Puget Sound shoreline near Seattle.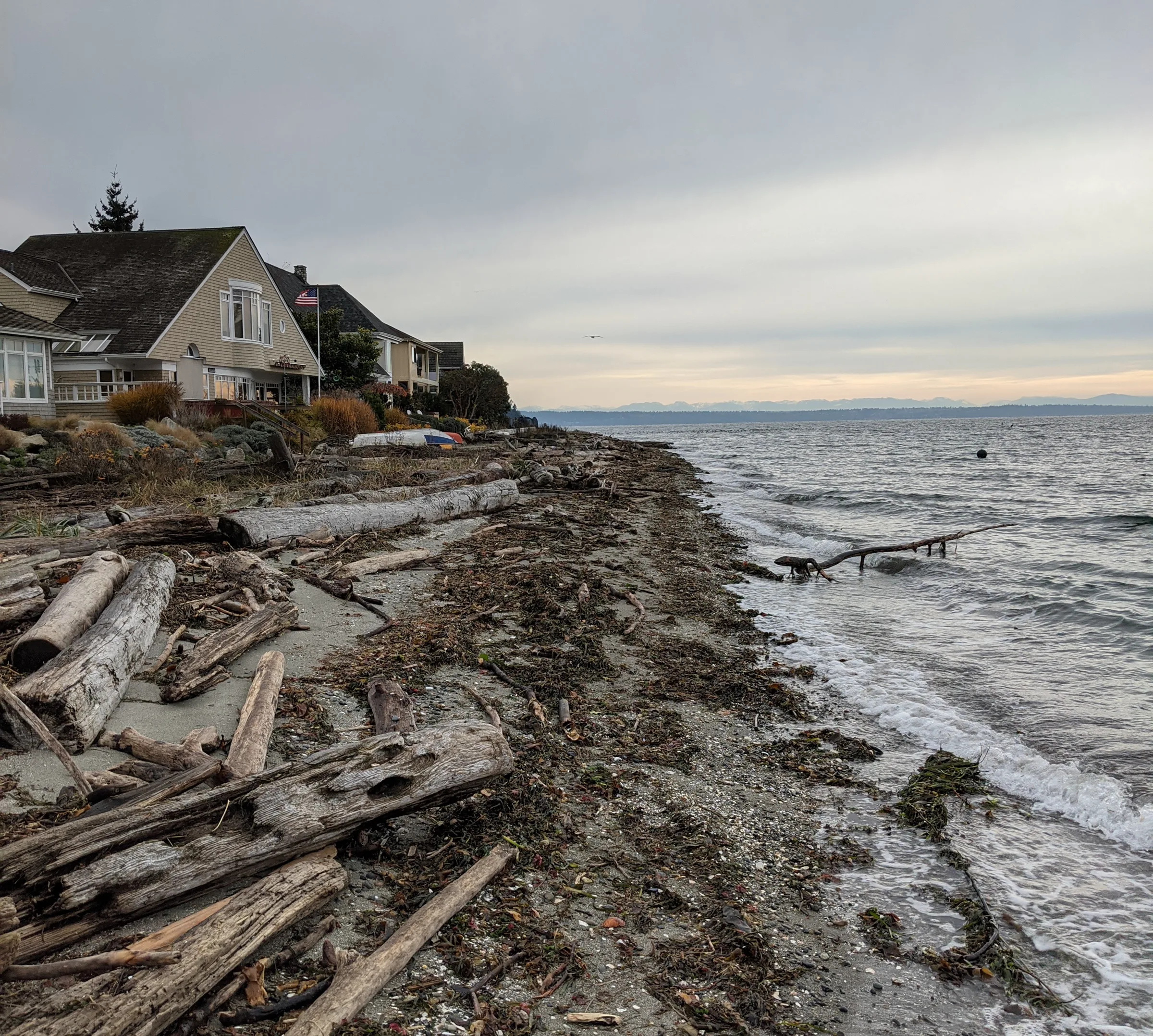 It was in Seattle, roaming beaches too cold to swim that I learned so many fun activities to do at the beach in the winter.
Whether it's warm outside but too cold to pop in the water, or if you are visiting a beach in the dead of winter, the following activities are beach activities you can do in almost any weather, including ideas for things to do at the beach that you might never even have thought of as beach activities!
Winter beach activities: Things to Do
The following section may contain affiliate links. As an Amazon Associate, we earn from qualifying purchases.
Fly a kite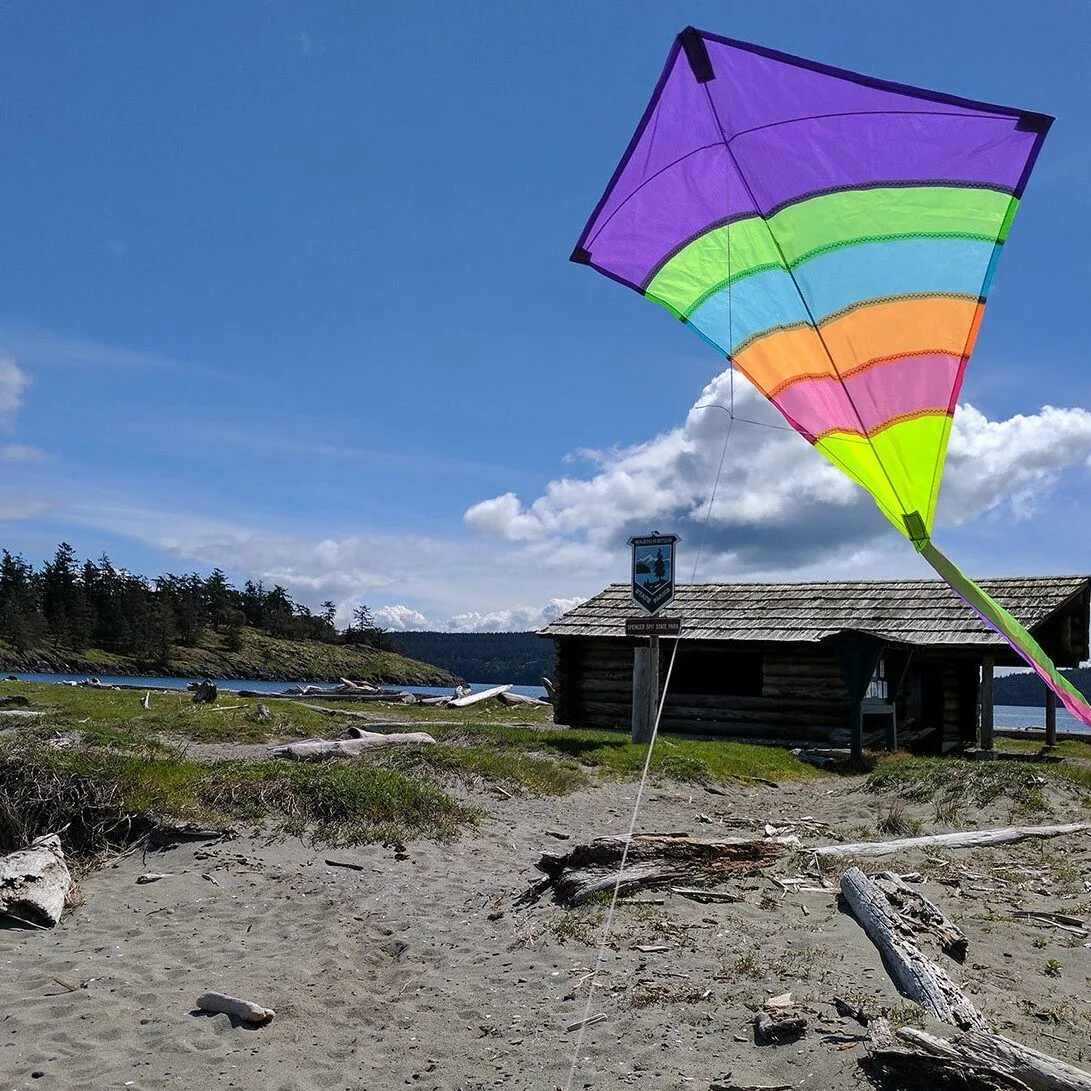 Most adults have forgotten how to fly a kite. However, once you try, you'll love this activity much as kids do! With the right kite (check the price at Amazon for the kite pictured above) flying a kite is easy and low effort. It's surprisingly fun!
Kite flying is a great winter beach activity because seasonal winds keep the kite airborne with little to no effort. Beaches are one of the few publicly-accessible spots left that don't have power lines cross-crossing the sky.
Try this trash Collecting Game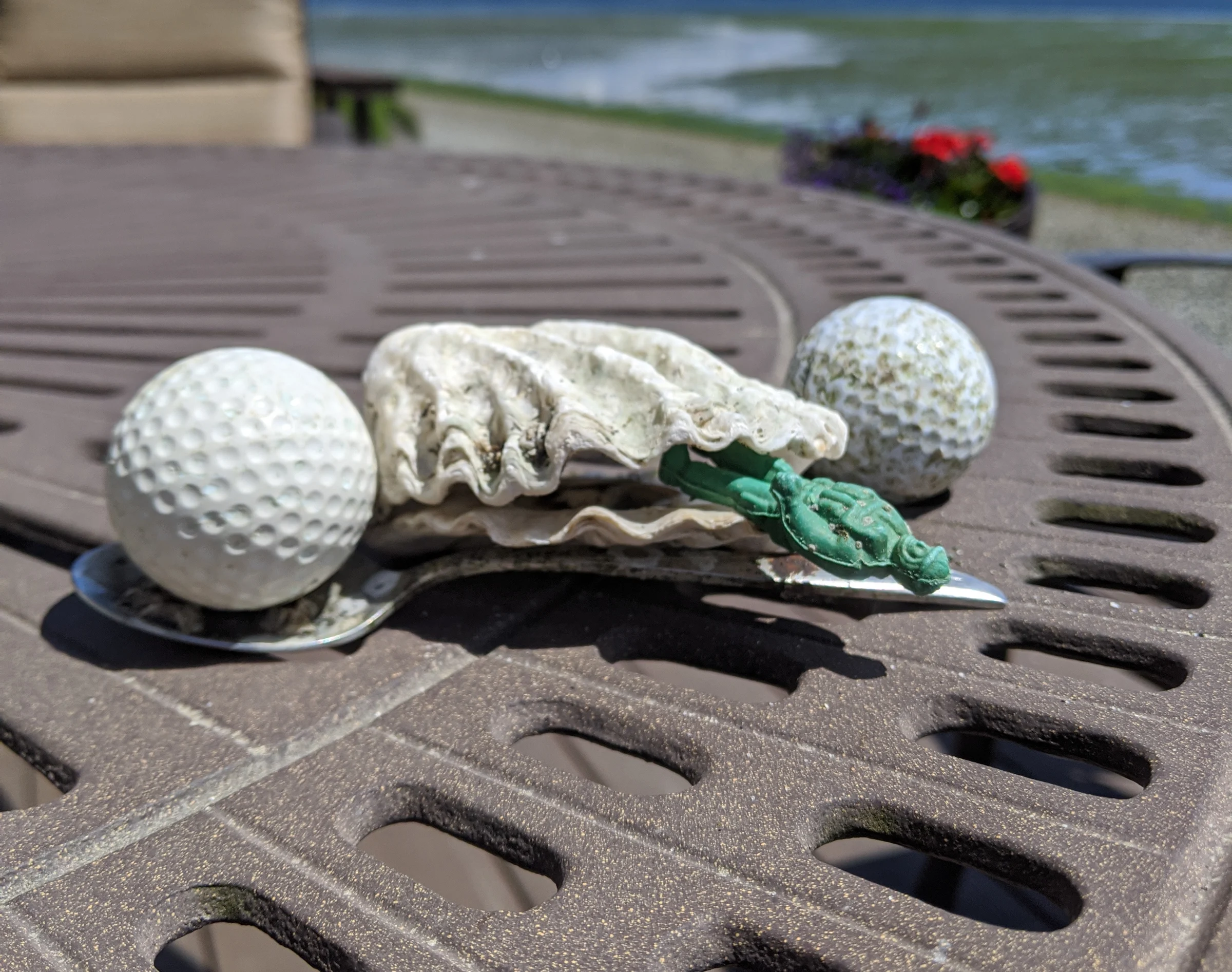 Sadly, in addition to the interesting natural object you can find beachcombing, you can expect to encounter trash on the beach whether it's summer or winter.
Be proactive and pack a small bag or sack to collect trash. Most things that have tumbled in the surf are relatively sanitary, but you may also wish to bring a pair of gloves if you plan to make beach trash-collecting part of your winter beach activities. (For more hints on what to pack for the beach, check out my free printable checklist of things to take to the beach)
As a family-friendly activity, picking up trash together on the beach can actually be kind of fun. Give each family member a small bag and make it a competition! Including social responsibility as part of your winter family vacation beach plans can help kids grow up with a greater sense of responsibility for the world around them.
Create a Sandcastle
Not every beach has sandcastle-making-quality sand, but if you're at a soft sandy beach in the winter or on a cold day in the summer, sandcastles can be a fun way to experience the beach without getting wet.
We all know that with imagination, sandcastles can be made using only our hands and perhaps a paper cup or two- but to keep you or your kids busy and make a sandcastle that they will remember for years to come, pick up an inexpensive set of sand molds (like these sand molds at Amazon) that help create dramatic height and texture.
Make a mosaic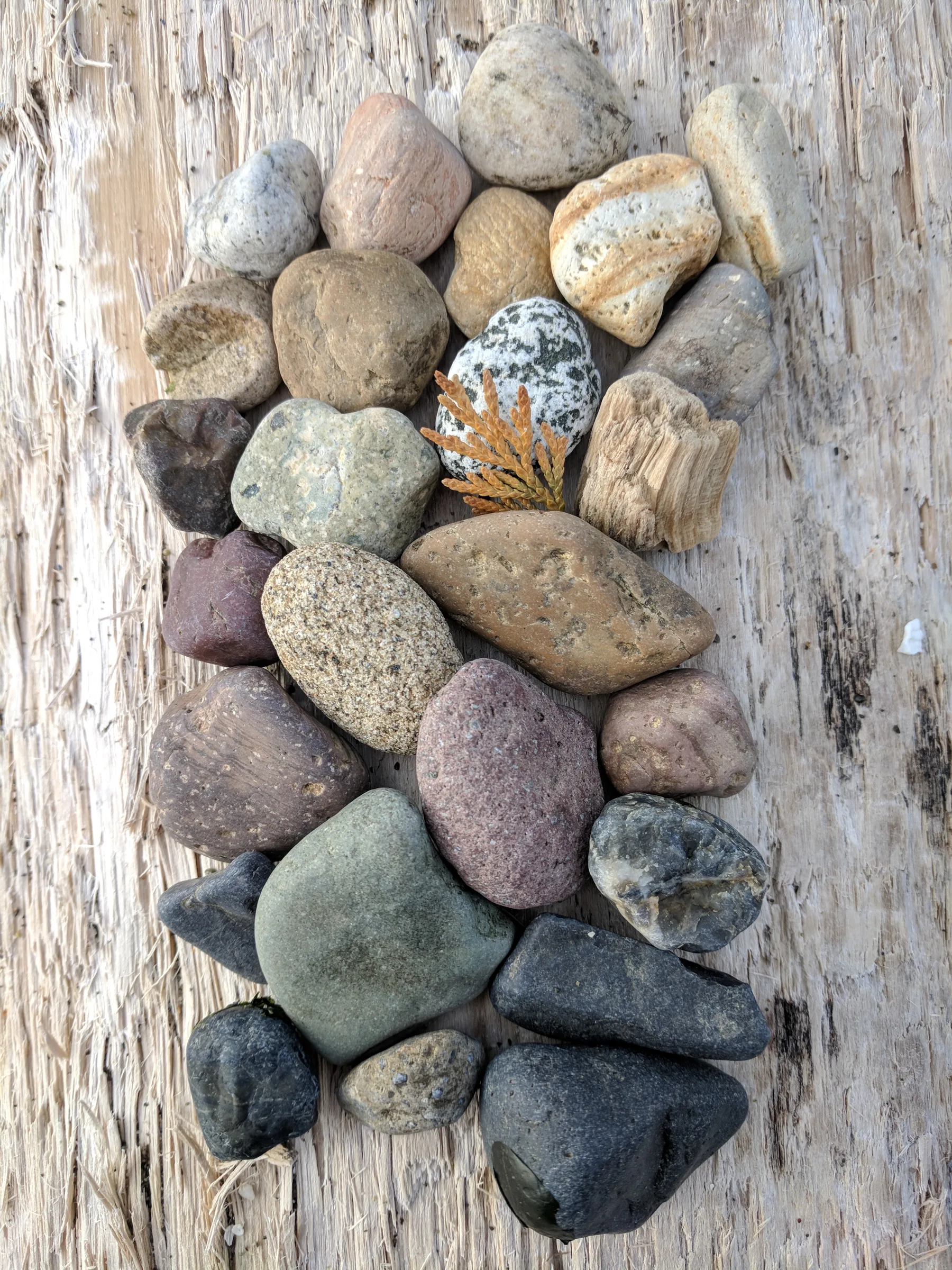 If I've beachcombed interesting objects or happen to be on a beach with multicolored rocks, making a mosaic is one of my favorite things to do at the beach in the winter.
You can arrange small rocks or objects in the form of a mandala or use colors and shapes to create a unique piece of art one object at a time.
This is a great winter beach activity for couples. It's a way to play together! That's something we don't often get to do, but that is really good for our relationships.
For solo beach travelers, it's a way to be mindfully present to the experience of travel, and stay creative and occupied.
Build this Rock Sculpture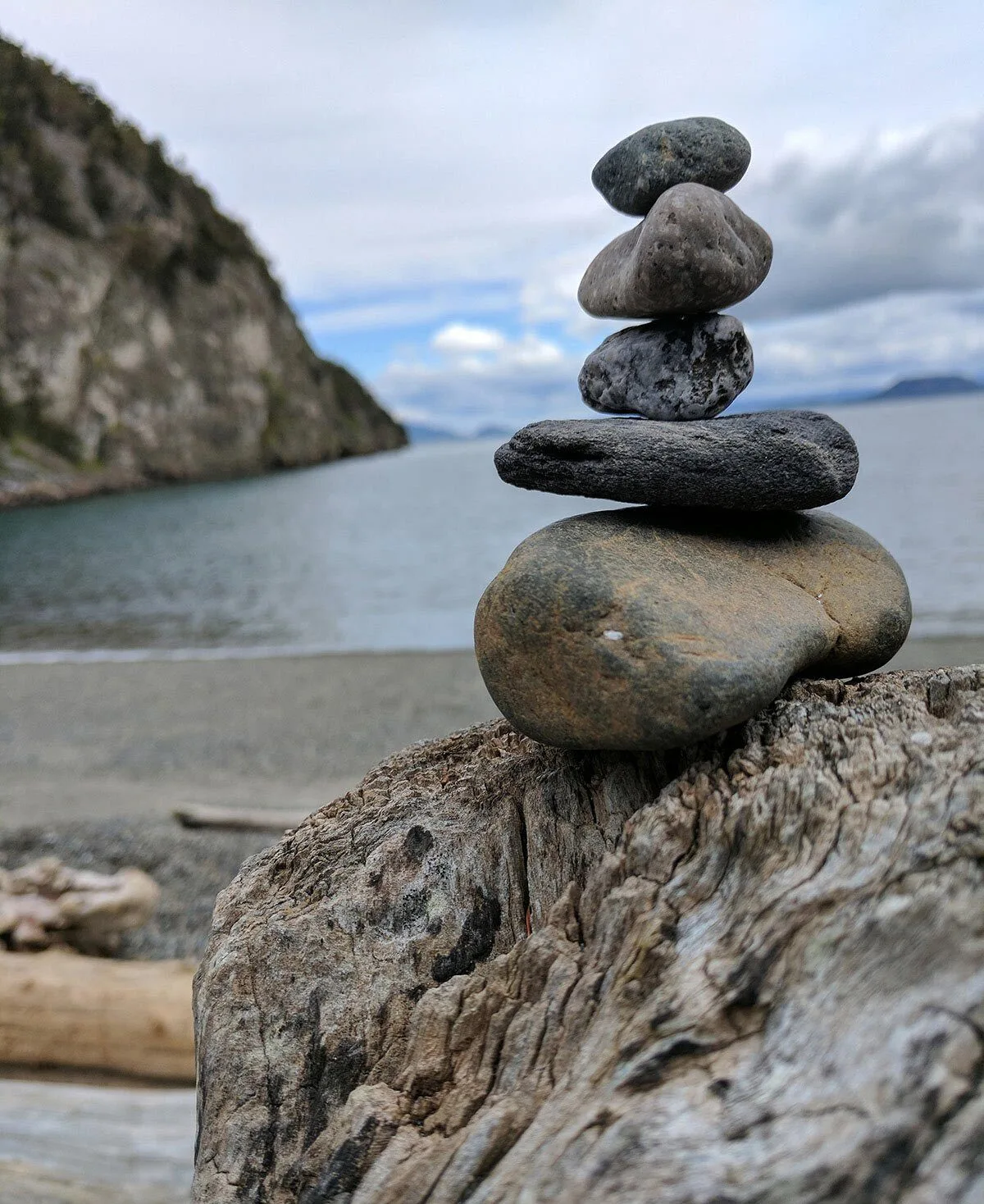 If you're on a beach that isn't Sandcastle-friendly, perhaps there are rocks that are particularly well-suited to building a cairn. A cairn is a small stack of flat rocks- you've probably seen them near hiking trails and national parks. While the construction of these tiny monuments is problematic on public lands, generally building them below the tide line is harmless – the next strong wave at high tide will return the beach to its natural state.
Traditionally, cairns are built to communicate "something important happened here," though today they are often built for fun. If you're looking for a fun beach activity on a cold day, try seeing who in your group can build the highest cairn without it tumbling.
Look for Shells and Driftwood
Most of us, especially those of us who don't have the opportunity to go to the beach often, love scouring beaches for interesting rocks, shells, and sea glass.
In the Pacific Northwest, interesting driftwood makes my list as well. Every state and region has different rules on what can be legally picked up and taken home from beaches, but generally picking up to appreciate or play with objects (as long as they aren't living things, or objects that are home to living things!) Is fine, and is a great activity for a winter trip to the beach.
Beachcombing looks a little bit different on every beach, but you can be sure that there's something interesting worth seeing on any beach. If you bring driftwood home, just be sure to legally collect it and clean it when you get home (here's a step by step guide to cleaning driftwood).
Do a Photoshoot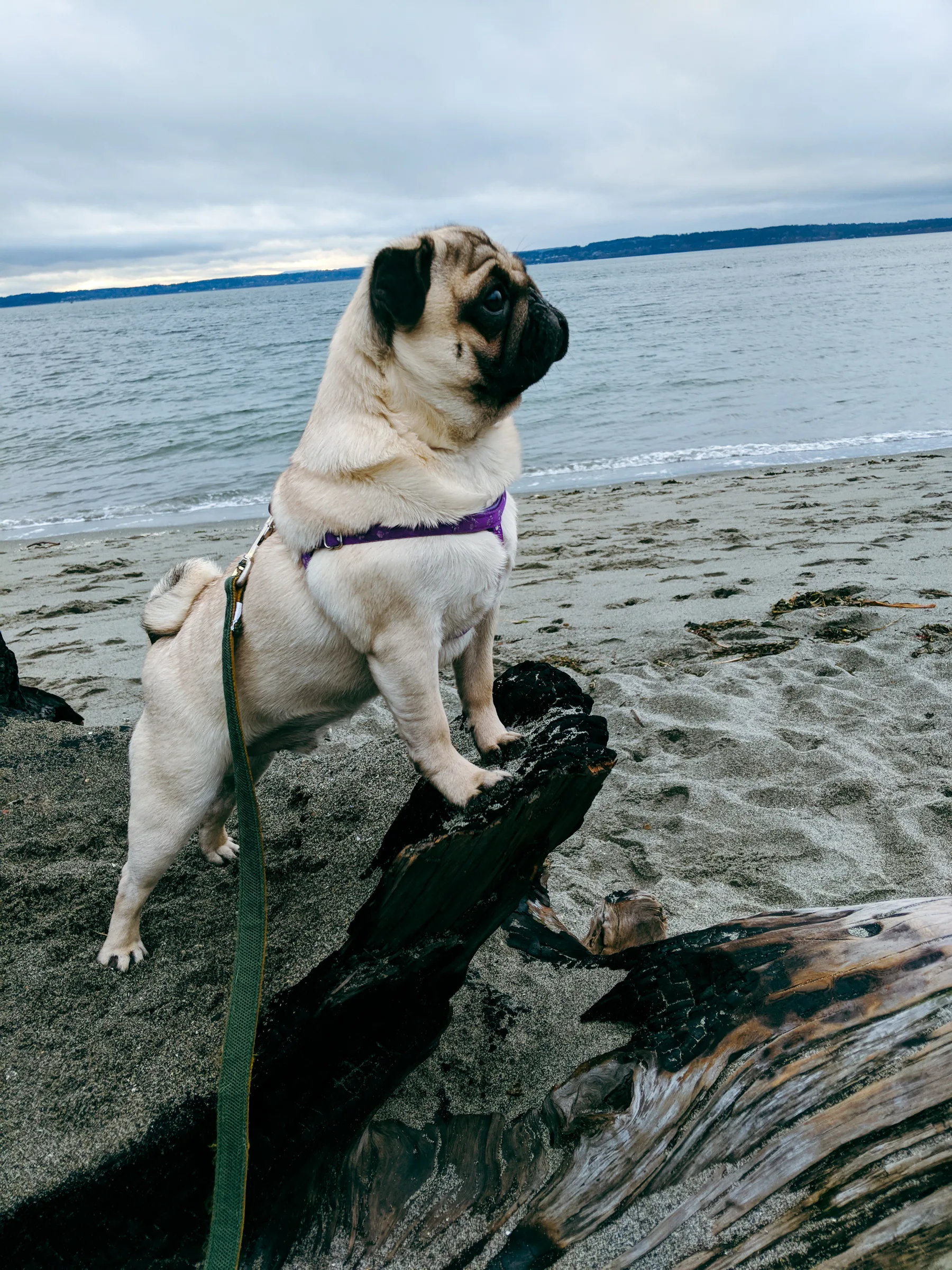 Taking photos – whether it's of nature, each other, or our pets can be a fun way to enjoy a unique and beautiful landscape like a beach.
If you're visiting the beach in the winter, spending time taking glamour shots of your pet, creative frames of the waterfront, or even selfie's can be a fun way to take advantage of the unique experience of being on a beach even though it's too cold to swim.
Do a hobby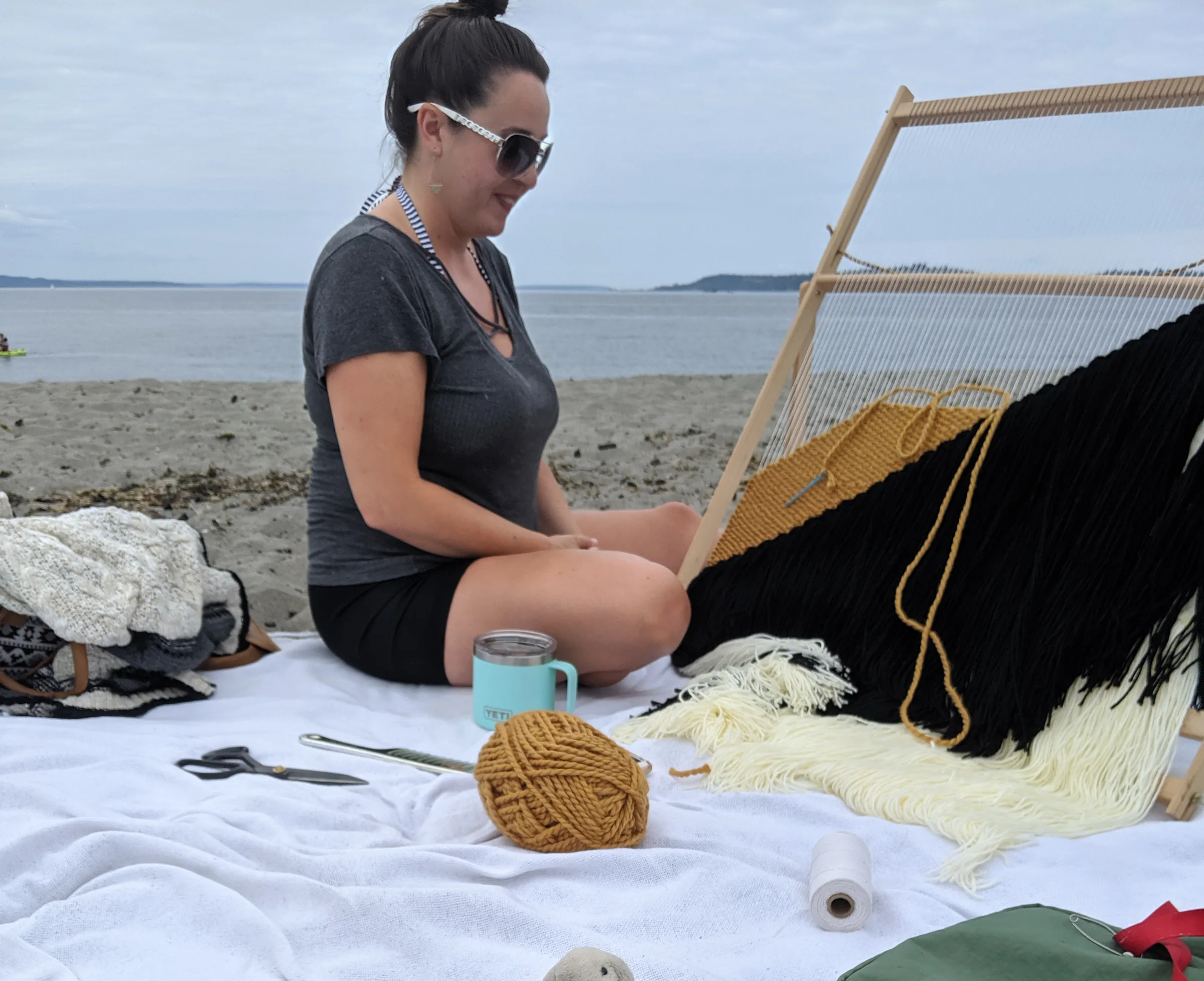 Something I loved about Seattle's beach culture, where swimming in the water (at least in their Puget Sound beaches) is generally avoided, is the random activities that people enjoy on the beach in both the winter and in the summer.
Because it's too cold to swim in the water, people often bring their hobbies to the beach and do their craft or art outdoors while enjoying the beach atmosphere.
If you paint, draw, weave, crochet, make jewelry, or even whittle- these are all activities that can be done on the beach! Plan your packing list in advance so that you'll have everything you need to spend an hour or two being creative by the water.
Explore at Low Tide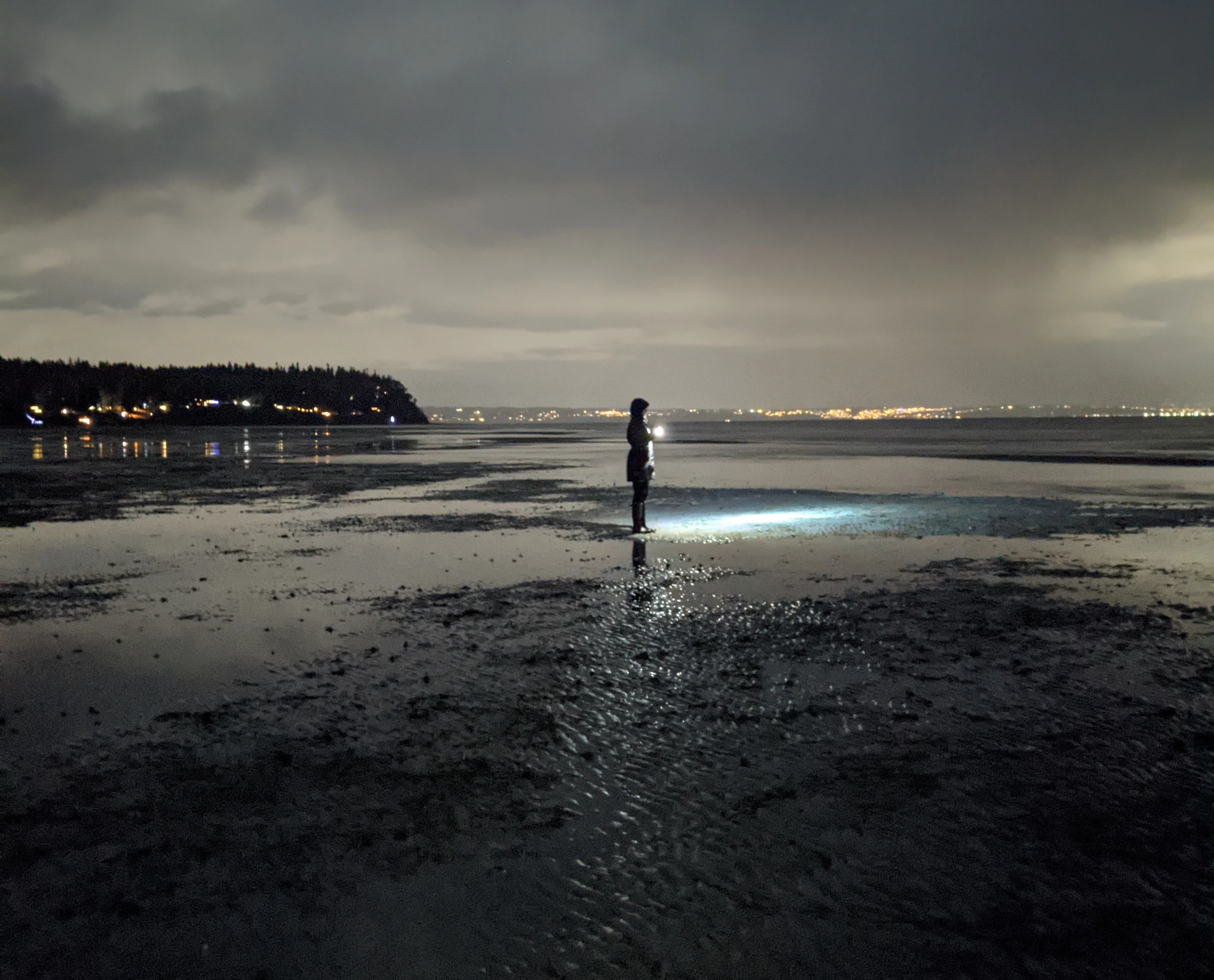 In the winter in the Pacific Northwest, lowest tides come at night. When the tide is at its lowest, local beachcombers strap on headlamps and rubber boots and head out into the murky darkness of the exposed tide flats.
There, innumerable creatures that are typically covered by water are exposed to anyone willing to trek out and look. Whether you go all out for a wintertime nighttime low tide or just keep an eye on the tides so you can find a few tide pools when the tide is low, exploring marine life in this way can be a fun way to enjoy the beach in the winter.
Note: Be aware that the tide comes back in quickly! It's best to explore while the tide is still going out and not wander too far. Getting caught in a rugged cove by rising tides can be dangerous!
Have a beach fire (If allowed)
Not all beaches allow fires (and for good reason), but if you're lucky enough to be in an area where fires on the beach are allowed by local ordinances, take advantage of this unique opportunity.
There's nothing quite like a crackling fire as the sun goes down and the waves break on the beach nearby. Even if the air has a damp chill, the warmth of a roaring beach fire is cozy and fun. With a little bit of music and food this can be the perfect end to a winter visit to the beach.
Prepare and share food
If fires or camp grills are allowed, preparing food on the beach can be a fun activity for groups, families, couples, and solo visitors to the beach in the winter. If it's too cold to swim, you can still enjoy a good meal together. Many of the meal ideas that I suggest for easy preparation in a hotel room, can also be prepared on the beach.
What to Pack for a Cool Weather Beach Trip
You've probably visited sun-drenched white-sand beaches, but a beach trip in the fall, winter, or early spring is an entirely different kind of beach trip! In this section, I'm reviewing my packing tips for beach trips in cooler destinations and off-seasons.
Whether you are going to the beach alone or taking friends to the Olympic Peninsula to enjoying the majesty of the Pacific Northwest seacoast and Olympic National Park, taking the Ferry to Bainbridge Island, or exploring the countless beaches and inlets of the Puget Sound, packing for a cool-weather beach trip requires a unique packing list.
Here's my list of must-haves:
1. A waterproof blanket
In the winter it rains more- in some locations, it rains a lot! Even if you luck out and visit during a series of sunny days, the chances of plopping down in a wet spot are better than average! Pack a waterproof blanket so you can get comfortable on the beach without getting wet!
2. A kite
Although you may not have flown a kite since you were a child, a Beach is the perfect place to play again. Because our beaches rarely accommodate swimming, other beach activities are popular here – including kite flying! The strong breezes on the coast make this an engaging and sometimes challenging activity. (Kites often fly unaided and unattended, making it an easy way to aerially mark your place on the beach for wandering friends or family members to return to.)
Consider a packable kite so you can put it in your bag without worrying about parts and pieces.
3. Waterproof boots
Half the fun of coastal waters is exploring all the creatures that live on the tidal flats. Because the water in some regions is ice-cold even in the summer, you'll need a way to keep your feet warm and dry. You may not need backcountry-grade waders, but a boot you can trust to keep you dry through a puddle should be enough. My beloved Blundstone boots – though leather- are actually my favorite beach boots. High-quality leather boots sprayed with waterproofer should be sufficient unless you plan to intentionally wade.
Boots- rather than sandals- are important to pack for rocky beaches because many access points for rugged west coast beaches require a brief hike at a steep incline which may not be safe in lightweight sandals.
4. Hammock
One of the best ways to enjoy any beach is from a hammock. Because, on the west coast at least, forest meets open water with very little buffer between the two, it's easy at many beaches to find a place to secure a hammock.
5. Empty plastic bags
If you or your kids are treasure hunters of the organic variety, many coastal beaches will reward you richly. Whether it's bits of sea glass, driftwood, shells, or fallen barnacles, beachcombing in the Pacific Northwest is the most satisfying beachcombing I've experienced anywhere in the world!
Suitable for art, craft, jar-fillers, objets d'art, or souvenirs, many objects on the beach can be legally collected (check local jurisdiction for laws about driftwood collection) and taken home. Many items will be wet or potentially even stinky, so bring plastic bags or repurposed plastic containers so you can keep your treasures without ending up with wet, stinky pockets.
Final Thoughts
As you can tell from this list, there are many things to do at the beach in the winter- so many of the things to do on the beach in the summer can be enjoyed on colder days. Although many people associate a beach with summertime activities like swimming, snorkeling, body surfing, or traditional serving, there are almost infinitely many ways that you and your traveling companions can enjoy a beach in the wintertime.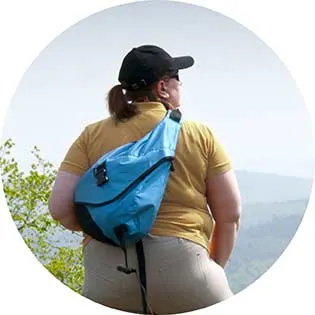 Lynli Roman's unique approach to travel is informed by decades of experience on the road with a traveling family and, later, years spent as a solo international traveler. When she's not writing about Seattle from her Pike Place Market apartment, Lynli writes on-location while conducting hands-on research in each destination she covers. Lynli's writing has been featured by MSN, ABC Money, Buzzfeed, and Huffington Post. She is passionate about sharing information that makes travel more accessible for all bodies.