Joplin isn't a tourist hotspot, but plenty of people- both travelers and locals- look for fun things to do in Joplin, Missouri. Popular tourist "destinations" in and around Joplin include a museum, Civil War sites in Carthage, or the casinos a few miles across the border into Oklahoma, but these aren't my style at all!
After living in Joplin for 6 years, I located a lot of off-the-beaten-track gems that will make your visit to Joplin or trip to Carthage, MO exciting, memorable, and one of a kind!
When I had visitors stay with me for a day in my Joplin Airbnb, this was my go-to itinerary to pass a day exploring the best that Joplin and the surrounding area have to offer travelers, and this list of things to do in Joplin has always been a hit- providing lots of entertainment for kids and adults while also allowing space and time to chat and enjoy the day together.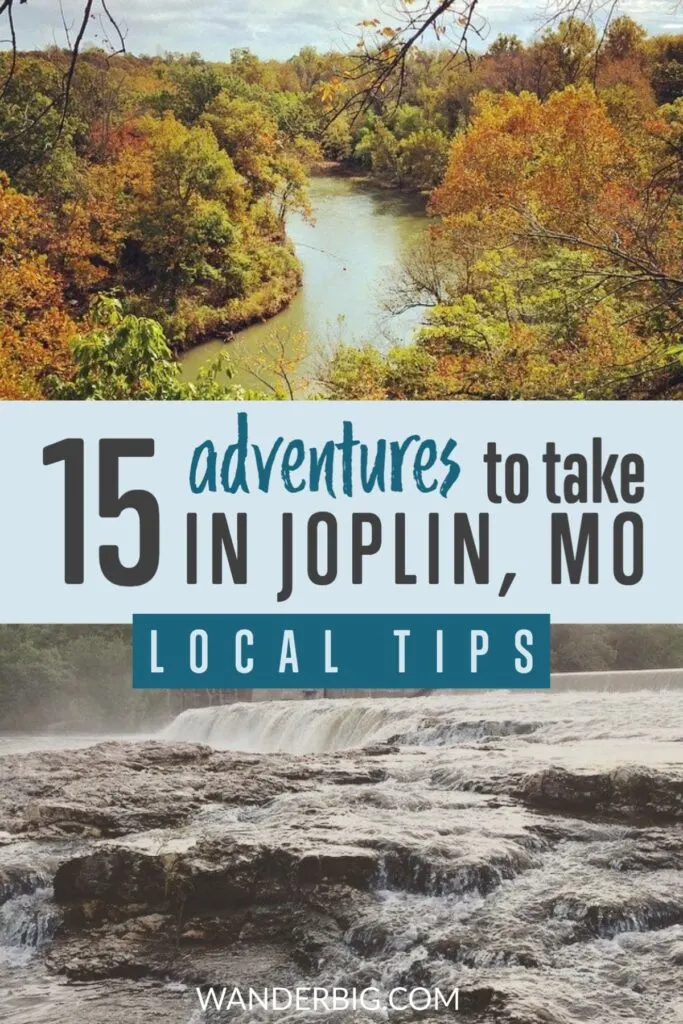 A Full Day of Fun Things to Do in Joplin, MO
1. Breakfast in Joplin, MO
For breakfast, check out local favorite the Brucheonette or hidden gem ME'S Place. Hit the former if you are a fan of experimentally delicious breakfast food, and the latter if you prefer the classics.
If you're feeling brave, try spiking your coffee with a few spoons of the Bruncheonette's Maple-Ale pancake syrup.
2. Passing a Late Morning in Joplin

Are you and your traveling companions outdoorsy? Is it a bazillion degrees (or super cold)? Here are two options to pick from that offer a choice between inside and outside fun.
Outdoor Fun in Carthage
Head to Carthage MO for a short hike through Walnut Bottoms, a wooded and somewhat rough trail that runs along the spring river and a tributary. Bring a camera because the backdrops are gorgeous and there are lots of opportunities to spot native wildlife. Note: This destination is typically not accessible or fun during high water or immediately after the spring river has been in a flood stage)
Car-Hunting Joplin's Murals
Since Joplin's tornado, the downtown has become home to many beautiful murals created by local and global artists. A drive down Main street reveals the murals, which are mostly on side streets, and can be spooted with a keep eye looking out as you drive down Main street in the older download of Joplin. Cunningham Park, on the south end of Main street, features an art installation memorial to tornado victims set in a well-maintained park.
3. Hop on Over to the Carthage Square for Lunch
Head into Carthage's historic downtown square and check out the building they are proud to claim as the "2nd most photographed building in Missouri." Even if you aren't a fan of architecture, this castle-style courthouse is worth a quick stop and a photo.
TIP: If you are visiting during business hours of a typical work week, be sure and wander on inside. Not only will you get a great peek at this amazing building, but the still-functioning 1930's era cage-style elevator still has an elevator operator on staff!
Lunch in Carthage, MO

Option 1: Just west of the courthouse, on the square, is my favorite local coffee shop. With a small-town vibe and a look straight out of the 40's, Mother Road coffee is a Route 66 treasure without the commonly-overdone Route 66 kitsch. If it's cold, settle into an armchair near the fire and warm up with a signature hot chocolate, or grab a lunch to go- the next spot on my itinerary is a perfect picnic spot!
Option 2: Whistler's Hamburgers
Whistler's is a local favorite, and has a unique and memorable charm! This tiny hamburger stand, located in the same spot since the 1950's, features a large selection of tiny hamburgers and that's it. No sides (well, packaged chip options are available) and no seating (well, picnic tables are outside) but on any given day the line will stretch out the front door because the burgers are just. that. good.

Afternoon Places to Explore and Around Joplin and Carthage, MO:

There are so many fun little spots to hit in Joplin and Carthage and the tiny outlying towns. In this part of the country where land is cheap but creativity is high, many people pursue their passion projects and put them on display for the world:
First, Visiting Red Oak 2 outside Carthage, MO
Once upon a time, an artist decided to stop time by transporting the town where he grew up into his back pasture and transforming it with whimsical masonry, metal, and artistic details. This small community is open and operated like a park. Visitors are free to wander and explore (but respect that the homes are occupied and thus do not have interiors open.) Learn more about this attraction by checking out my article about visiting Red Oak II and plan your visit by navigating to this google maps location.
Next, Super Icecream at Carterville's Superman Themed Ice Cream Shop
You might be tempted to skip this stop if you aren't traveling with kids, but trust me, it's worth a peek into the collection of one dedicated collector of vintage superman memorabilia! Also, the ice cream is pretty darn good!
Located in a town called Caterville nstled between Joplin & Carthage, check out the Superman Ice Cream Parlor. (Note, this location is generally closed through the winter. Call ahead for opening hours)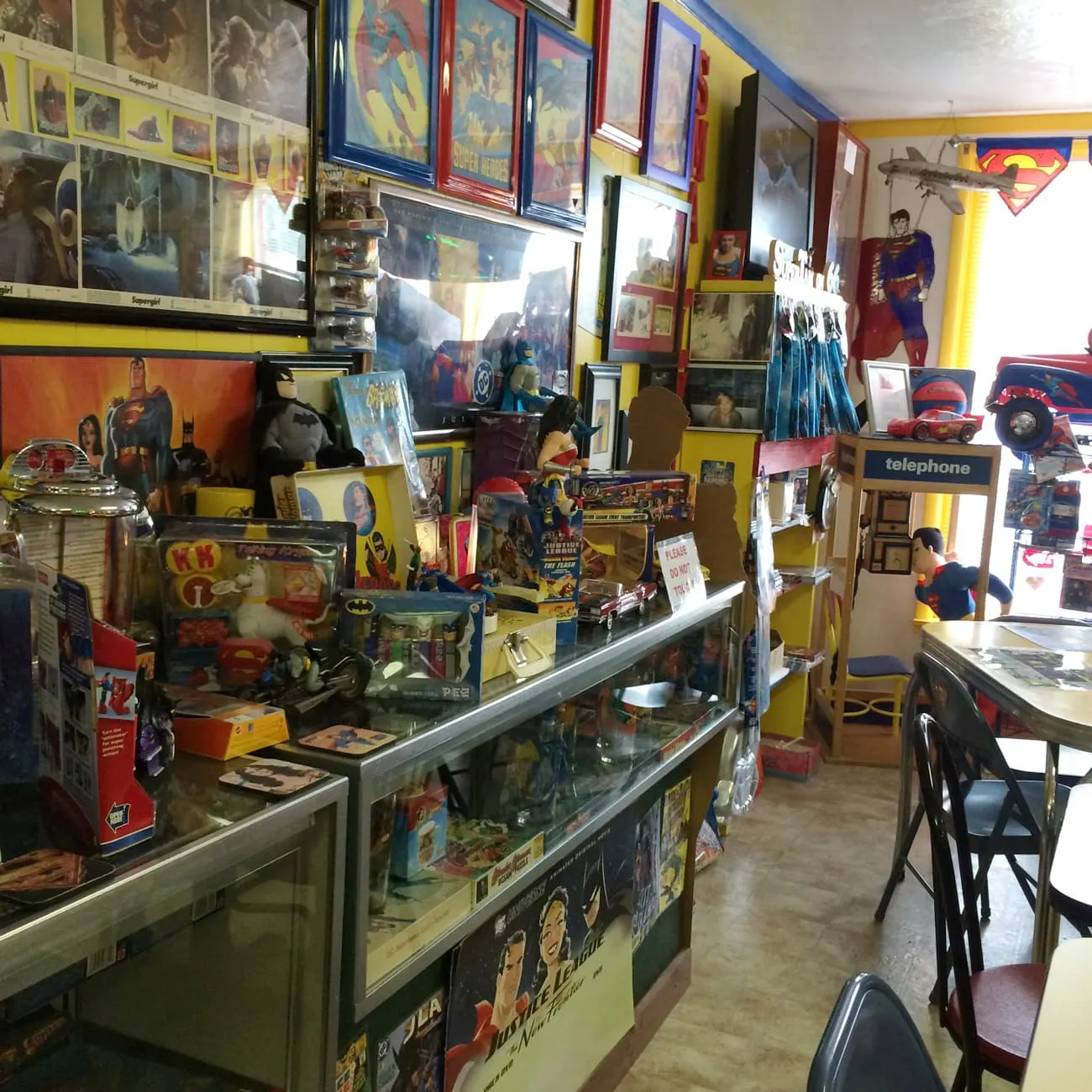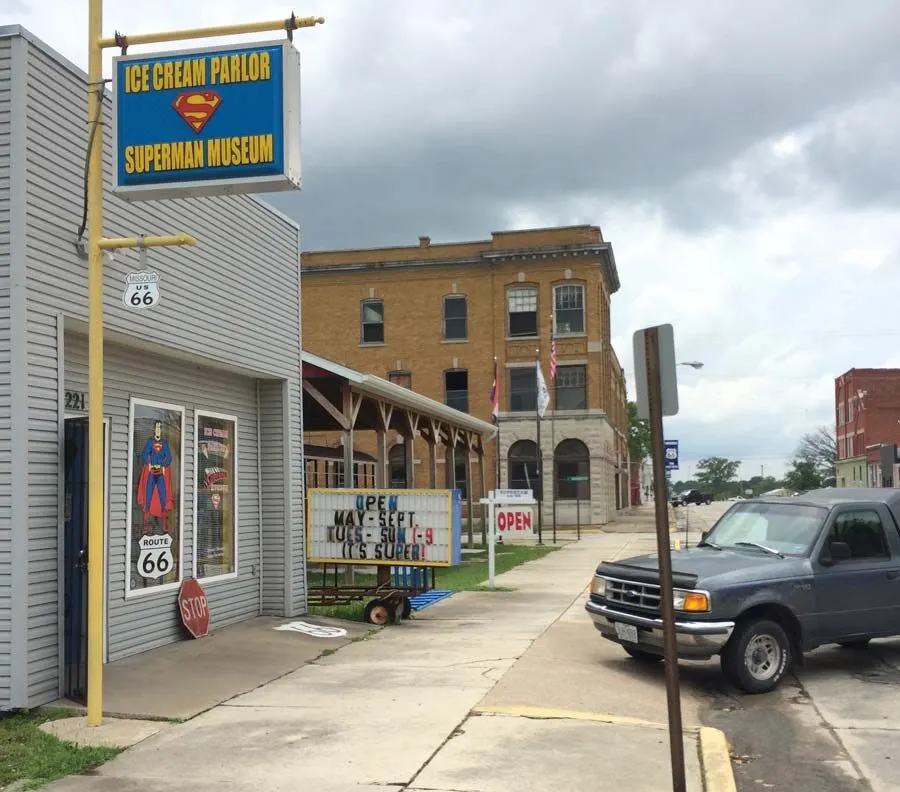 Next up, Joplin's "World's Largest Small Appliance Museum"

After 2 outdoor adventures, you might be ready for something indoors- so head over to Diamond, MO to the World's Largest Small Appliance Museum using this google maps location.
This obscure roadside attraction is loaded with charm and is free to the public. But getting in is a little known secret- even among locals! For access to the fascinating (and huge!) vintage appliance collection of a successful western-wear store owner's collection first enter through JR's Western Store (next door to the museum) and ask the sales clerk for access to the museum.
On request, they'll whisk you back into room after room after room of a fascinating collection of unique and obscure toasters, waffle irons, blenders, and many odd and wonderful appliances you never dreamed were ever patented! This might sound like a boring stop, but the sheer volume of the collection combined with the curator's passion for such oddities makes it more than worth a stop.
If you're lucky, the enthusiastically delightful owner will stop in and show you a few of his favorite pieces himself!
Next: a Tiny Stop for a Big Photo Op in Joplin
Giant Dog Statue

After the museum, head back to Joplin- but if you are a fan of photo ops, be sure to take 32nd Street from the Small Appliance Museum back to Joplin. This route will take you right past Heartland Pet Food factory (google maps location here).
What's the big deal about a dog food factory and how did it make my top destination list for Joplin? Blue! An Airedale Terrier named Blue, that is- or, a statue of him in gargantuan proportions!
In front of Heartland, on the west side of the parking lot stands an 8-foot tall bronze Airedale Terrier poised perfectly for group photos. He's there for photo ops, or stop on in the office to hear the story of blue, the dog who helped found the Heartland Pet Food / Blue Buffalo Brand.
Late afternoon at Joplin's Conservation Center & Wildcat Glades

If you are still looking for things to do in Joplin, MO after the adventures above, hop on Interstate 44 and head to Wildcat Glades, a portion of Joplin where city park, Missouri state conservation land, and Audubon Society property merge to create an impressive system of trails including a very rare type of glade and several waterfalls.
If it's approaching 5pm, start at the Nature Center. If the nature center looks abandoned, not be discouraged! It's supposed to be like that! The building is designed to be state of the art eco-friendly, so the unmowed exterior and weeds growing from the sod roof are part of its structure.
Inside the nature center is a small interactive display area with rotating exhibits and tanks of live specimens of fish and reptiles native to the area. Admission is free and the Nature Center staff will be happy to help you navigate the park.
The nature center is located a short (about 200 yards) walk from a 4-mile trail that loops around the park area. If you've got the energy, this trail will guide you through woods, glades, past smaller rapids and waterfalls, and up and over huge bluffs on the south side of the river.
(The bluff trail, it's worth noting, is not recommended for children and is a hike-at-your-own-risk area, but very popular and even I- with a higher than average fear of heights- hiked this regularly before I moved to Seattle)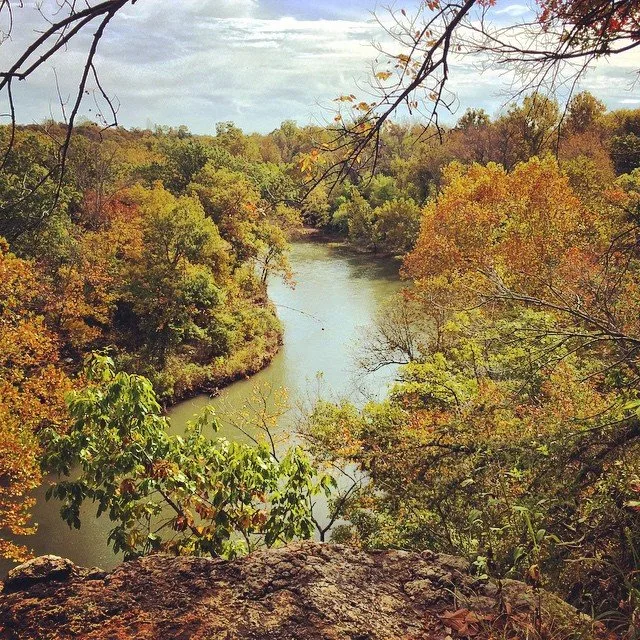 No hiking? No problem! If, by this point in the day you are low on steam, opt instead to drive to the highlights of the park: First to the old bridge and small series of waterfalls just off Main Street. An old highway bridge (The Reddings Mill Bridge) has been opened for pedestrian traffic and features a great spot to sit (on provided park benches) and enjoy the view. The bridge also has a great history (it was once part of Route 66- and the location of a Bonnie and Clyde police chase!)
Things to do in Joplin in the Evening: Hiking & Waterfall Spotting

Grand Falls is Missouri's largest natural waterfall, and it's well worth the detour to see it. In fact, I enjoy this particular destination so much that I created an entire post dedicated to tips to maximizing your visit to Grand Falls and things to do while there.
Dinner in Joplin, MO

For a unique and interesting dinner in Joplin, MO, here are my suggestions:
Eagle Drive In – If you are headed back into town from Grand Falls and are starving, the Eagle Drive-In is a great, nearby choice. Despite the name, the Eagle is actually a sit-down restaurant with options including basic burgers, gourmet elk, lamb, or vegetarian burgers, prime rib, or other premium full plate specials and has a full bar.
Lucky J – Check their website at LuckyJArena.com and if you are in town on a day that a rodeo event is scheduled for the evening, it's worth heading back to Carthage for dinner at this unique restaurant. A decent restaurant on its own, this joint's claim to fame is a thick glass wall separating this steakhouse from a rodeo arena. Call ahead to reserve seating at the bar directly in front of the windows, for a dinner that includes free western entertainment most weekend evenings.
Roswithas – (Sadly, this restaurant has since closed due to the owner's retirement) A secret among locals, Roswithas is a tiny, unassuming restaurant tucked into the corner of a horse stable just North of Joplin. If the character of the owner and the novelty of the location don't thrill you, the food will! The menu is classic German with Rose's flare. Note: this is one place you simply should not skip coffee and desert- both the coffee and chocolate cake are deliciously, and perfectly European.
Roswitha's is only open on Friday and Saturday and due to the small size, you'll want to call ahead and make a reservation (which, for this small venue means leaving a voicemail message indicating the date and party size for which you need a reservation.)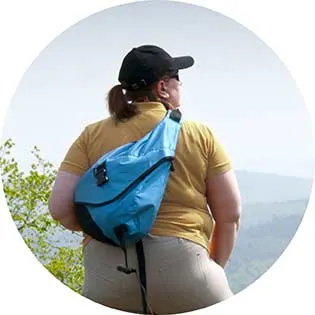 Lynli Roman's unique approach to travel is informed by decades of experience on the road with a traveling family and, later, years spent as a solo international traveler. When she's not writing about Seattle from her Pike Place Market apartment, Lynli writes on-location while conducting hands-on research in each destination she covers. Lynli's writing has been featured by MSN, ABC Money, Buzzfeed, and Huffington Post. She is passionate about sharing information that makes travel more accessible for all bodies.