Hawaii Volcanoes National Park was the highlight of my recent birthday trip to Hawaii. In this post, I share:
In Hawaii, I had the opportunity to travel with my best friend. With our rented car, we were able to explore the Hawaii Volcanoes National Park. While many of America's national parks can be enjoyed through various transportation styles (including walking, biking, taking a group tour, or driving) Hawaii Volcanoes is best seen through a vehicle- your best bet is renting a car to see Hawaii Volcanoes National Park (Even if you just rent a car for day-trip out to visit the National Park from nearby Hilo or Kona, Hawaii)
Three things you should do at Hawaii Volcanoes National Park
Go to the Active Lava Viewing Area(s)
Seeing lava at Hawaii Volcanoes National Park is one of the most unique things I have seen in all of my travels around the world. While the lava-filled Halemaumau Crater can only be viewed from an overlook several miles away, you won't be disappointed by the view directly into the crater of an active volcano
For most of us, visiting Hawaii Volcanoes park will get us closer to an active volcano than we may ever be again in our life- so make the most of it by researching (during your trip-planning phase) whether there are any locations within the park that may have active lava during your visit. More on how to find active lava in the park in a minute.
The lava viewing area moves according to the volcanic activity, seismic activity, and even the wind! (An effect called Pelle's hair– which causes glass filaments to float in the air- means viewing active lava downwind is unsafe), so park staff use temporary trail markers to locate and relocate the viewing area as needed. Depending on where the viewing area is during your visit, you may need to adjust your travel plans.
For example, if roads are closed due to seismic activity, seeing lava can involve a hike- potentially up to a half-day hike. If this is the case, adjust the remainder of your travel itinerary, (i.e. cutting the drive down to the beach). You won't want to miss the opportunity to see an active eruption if you are lucky enough to be visiting while either Kīlauea or Mauna Loa have active lava flows.
Expectation vs Reality: Visiting an Active Volcano
For most travel experiences that are hyped up, long-awaited, or extremely well known, the experience of finally seeing the attraction with your own eyes can be underwhelming. Whether it's a majestic mountain peak that doesn't quite live up to its color-saturation tweaked photos online or a priceless piece of art that, in reality, is so thickly crowded with tourists that it's hard to get a look, attractions often don't live up to their hype. In the case of the Halemaumau Crater within Hawaii Volcanoes National Park, however, the reality is so much better than the expectation.
The entire time we hiked up the trail from the parking area, we told each other "it's probably not going to be that cool" or "I'm limiting my expectations in case it's, like, a speck in the distance." When we finally arrived at the overlook, though, we were both shocked. Even though the crater of the volcano was miles below, we were close enough to see red hot lava splashing, bubbling, and streaming in the crater below.
Hawaii Volcanoes National Park was one of the few travel experiences where the hype lived up to the reality- and then some. It turns out, seeing an active volcano is something of a soul experience that is difficult to capture in photographs and videos.
Drive the Chain of Craters Road
If you have time (plan 2.5 hours), head off for a drive along the Chain of Craters Road. This 19 mile (about 30 km) stretch, is an exceptionally scenic and spectacular drive. Just make sure to drive the entire stretch until you reach the endpoint, a trailhead for a wide and accessible trail headed to a coastal cliff overlooking the Holei Sea Arch. Watching the sea break against the lava cliffs is nearly as breathtaking as active lava.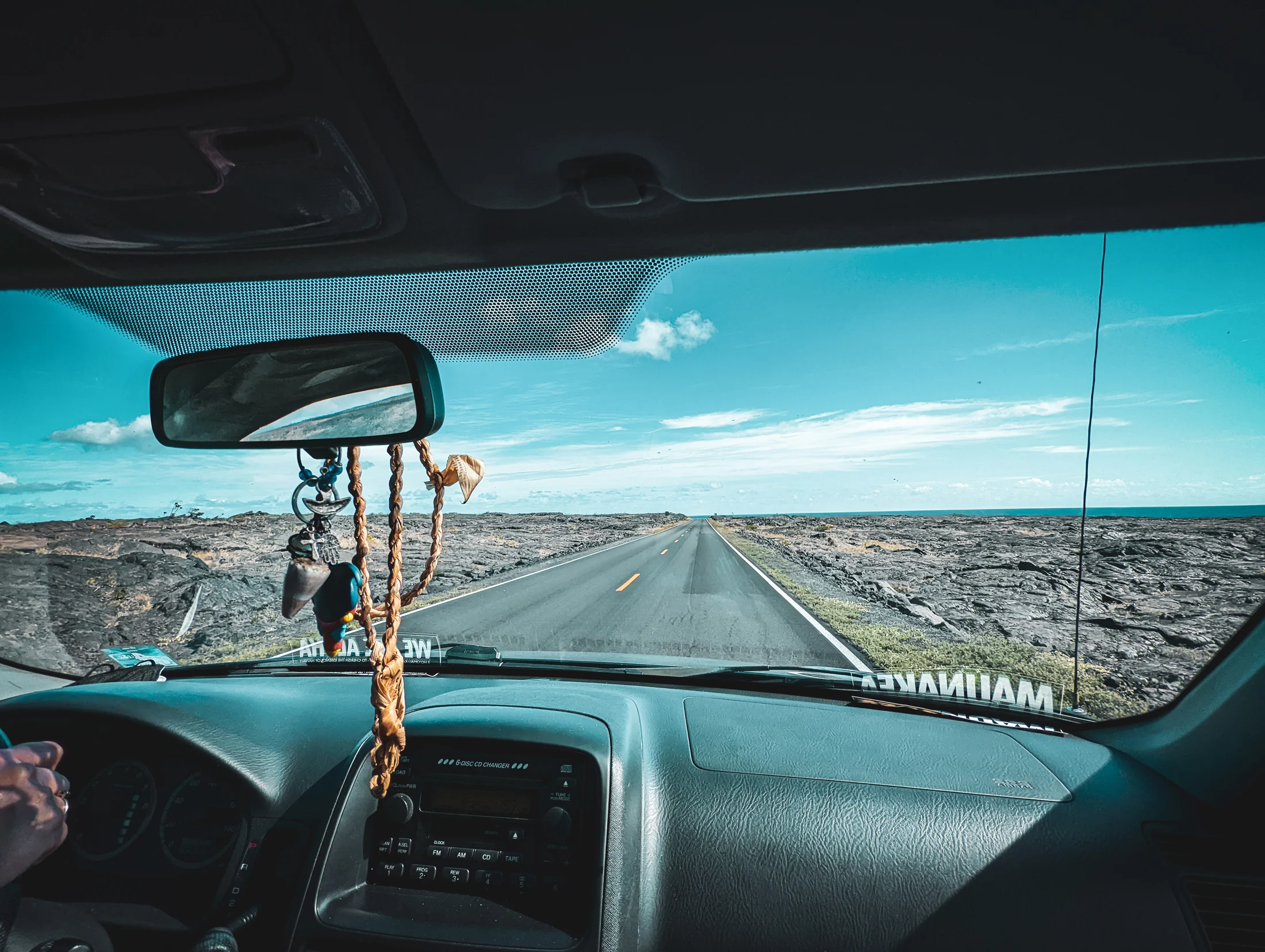 The Big Island, though the largest of the Hawaiian Islands, is a young island. The Chain of Craters Road gives visitors the opportunity to drive through something of a timeline of the island's history. By driving over highways that cross generations of lava flow, you'll eventually return almost to sea level – the road ends where a cliff-top trail begins.
At the end of the highway, you can park and walk out to several points of interest along the trail. During high season you can also purchase souvenirs at this location.
The Chain of Craters Road has many stops along the way, some educational and some scenic. The road makes it easy to stop at various trailheads and explore a bit- even seeing some petroglyphs along the way- so the 2-ish hour drive isn't so sedentary.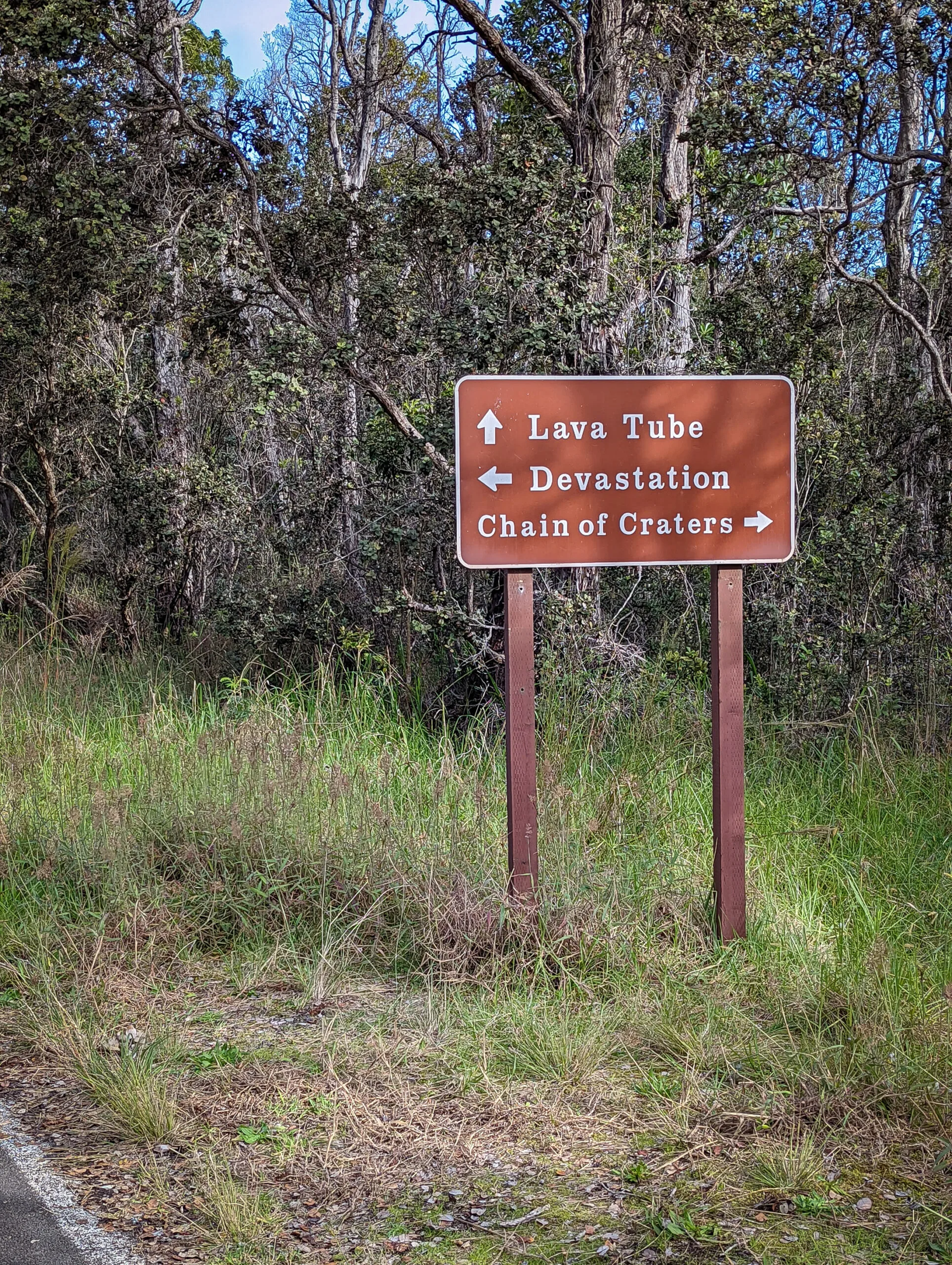 IMPORTANT: there is no food, water, or fuel along the Chain of Craters Road, so fill up your gas tank and stock up on snacks before you head down the road. Due to seismic activity in the area and continual repairs, some sections of the road might be closed due to some unstable areas- you can get the lowdown on current closures via the visitor's center or by checking the Hawaii Volcanoes National Park Alerts Page before you go.
The wild thing about this national park is that within its (relatively) small footprint, it has almost every climate imaginable. The weather here can be extreme- it's not uncommon to enter the gate while it's raining, feel bitterly cold as the wind snaps around you near the steam vents, and sweat in the sauna of tropical growth near the lava tubes, only to end up with hot, sunny, and clear skies by the time you reach the Sea Arch. That's Hawaii!
Return to see Active Lava at night
The third thing you absolutely must do during your visit to Hawaii Volcanoes National Park (HAVO), is to remain in the park after dark (if you need a way to kill an afternoon, till dark, Punaluʻu Beach, known for black sand and sea turtles, is just up the road outside the park). While some professionally guided tours operate only at night, I think Kīlauea's eruption is best seen both day and night. HAVO is open 24 hours a day precisely because the view after dark is so incredible.
As you approach the crater by car, you'll see a red glowing cloud for miles before you arrive – that's the volcano! I think seeing the volcano and walking the trail in daylight is a good way to enhance the nighttime volcano viewing, but if you're short on time you can choose either daytime or evening and be sure that you'll have a memorable experience.
If time constraints mean that you have to choose between morning and night viewing, opt for a nighttime experience for an enhanced view of the red hot lava contrasting against the dark sky and stars above.
While there are lots of activities to do in Hawaii Volcanoes National Park and there are many attractions within the park that are not mentioned on this list (more on those later) these are, in my opinion, the three things you must do in Hawaii Volcanoes National Park. As a bonus – they balance each other out in terms of physical exertion. After hiking to the crater and back, you may be tired (depending on your fitness level and where the seismic activity has located the viewing area during your visit) and the car ride can be a way to rest your body before returning to view the crater at night.
Packing list for Hawaii Volcanoes National Park
You may think that a trip to HAVO won't require any particular equipment, after all, it's an incredibly popular national Park that is well-funded and features wide, walkable, and accessible pathways. However, to have fun, stay safe, and thrive during your day at Hawaii volcanoes national Park here are the special things you should include in your Hawaii packing list:
1. Warm clothing
One of the major attractions of vacationing in Hawaii is the warm climate year-round, but on the windswept lava fields you'll be visiting, the wind speed can be incredibly strong – there's literally nothing to break the winds coming in from open sea!
If there's even a slight chill in the air, the strong winds quickly become bitterly cold. During my visit – a warm day that was in the upper 70s in nearby Hilo, Hawaii – we saw many other park visitors wrapped in beach towels as they desperately tried to stay warm while walking the trails within the park.
2. Lava Shoes
Lava shoes aren't strictly required, but if you're spending any time in the natural areas of the Big Island with exposed lava, lava shoes are one of the best investments you can make for your trip. At around $20 a pair, the shoes are an investment in your trip – instead of gingerly tiptoeing over lava, with these shoes (which feature a neoprene upper and 1″ thick felt sole), your feet will be protected from the jagged rocks and you will be able to navigate from rocks to water with study footing.
In the areas of Hawaii Volcanoes National Park where visitors are allowed to walk on the exposed lava, these can make the adventure more comfortable, fun, and easier on your body.
3. Headlamp or flashlights
If you visit the volcano after dark, you will need extra lighting to make your way from the parking area to the volcanoes crater. While it's true that we all carry a flashlight in our pockets these days, running your flashlight for the entire hike out and back (about 1 mile as of December 2021's viewing area location) can easily run down the battery and potentially leave you without the ability to take photographs once you get to the crater!
To be ready to light your way to the crater and back, be sure and pack a headlamp, flashlight, or at the very least a battery backup for your phone's built-in flashlight.
4. Water, water, and more water
In this national park, potable water is hard to come by. While you'll find ample drinking water at the visitor center at entry, after that, drinkable running water is hard to come by.
Restrooms in the heart of this national Park are all latrines-style or port-a-potties and do not feature running water. Be sure and pack at least 2 liters of water per person for your visit – more if you'll be visiting on a hot day, staying for longer than 8 hours, or doing much hiking.
5. Hand wipes and bathroom "accessories"
While this national Park is maintained well, the restrooms are still heavily used latrine-style toilets, which means they get a little gross despite park employees' best efforts.
For ladies, it may be worth packing a silicone device that makes it easier to pee while standing up. And despite the free availability of hand sanitizer, you'll definitely want to bring hand wipes to feel a little cleaner after using these primitive toilets within the park.
By packing smart, and including these packing list essentials for Hawaii volcanoes national Park, you'll be prepared to survive and thrive a day exploring this incredible landscape.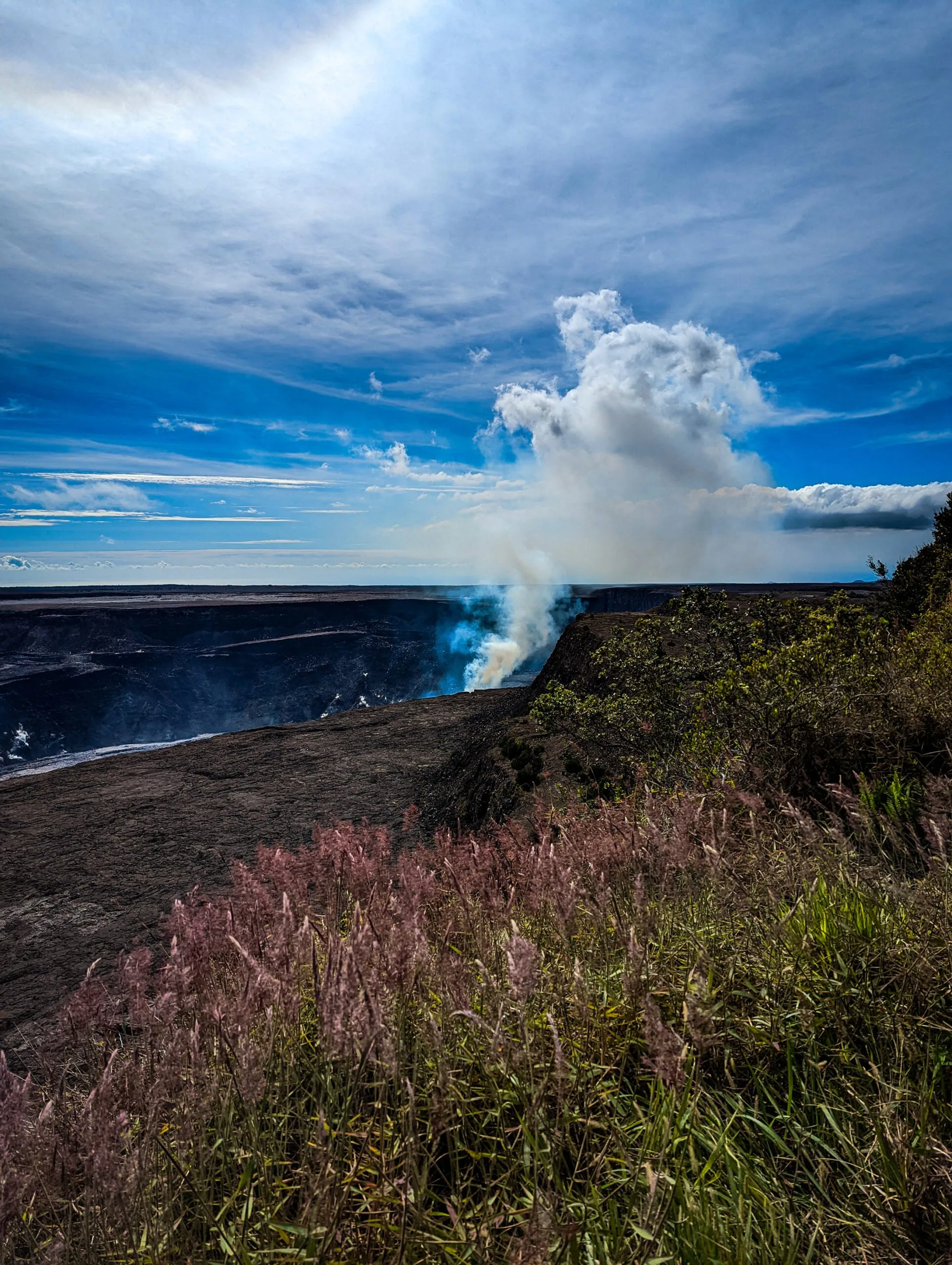 How to find out if there will be active lava flow during your Hawaii Volcanoes National Park visit
While no one can predict how the volcanoes will behave next week, next month, or even a few hours from now, there are great resources for checking up on the current status of the eruption at Kīlauea volcano.
Check the lava status online
Throughout our stay in Hilo, we watched the Kīlauea lava status website. This kept us updated on the state of the lava flow and was really helpful in deciding which day of our vacation to designate as our Hawaii Volcanoes National Park day.
Because lava may flow one day, not the next day, and start flowing again the following day, it's a good idea to plan some flexibility into your vacation travel planner if possible. For example, plan three potential days that you might visit Hawaii volcanoes national Park during your visit. If you wake up on those days and the HAVO eruption update website reports that lava is not flowing, have an alternative activity that you can enjoy that day and try again the next morning. If you're lucky, you'll be able to time your visit on a day with lots of lava activity- including the splashing, spewing red-hot lava that I saw during my visit.
Listen to the Ranger by the maps at the Ranger at the welcome Center
The Hawaii Volcanoes National Park Visitor Center has a park ranger stationed outside under the pavilion (called a lanai in Hawaii) during visitor center opening hours. This is the source to listen to, don't ignore them.
This park ranger is your gateway to the most up-to-date information on the state of the lava flow that day, where it is best viewed from, and exactly how to get to the viewing location. Pay attention and mark the locations on your paper map that the ranger points out on the large map on the wall so that you can better navigate the park.
Parking at Hawaii Volcanoes National Park when the parking lot is full
(the viewing area for active lava changes according to the current state of eruption. This information may not be specifically up-to-date but should be generally relevant to tips for parking near the eruption)
During our visit, the parking lot that was closest to the viewing area for the active lava crater, Halemaumau Crater, was a modest parking lot – perhaps accommodating 150 cars when completely full. And when it was completely full, rangers stood at the entrance with a traffic cone and directed potential cars away from the parking lot.
Cars that were turned away had to either see other attractions in the park or park at another parking lot (a mile or more up the road) and hike in from the secondary parking lots. If you arrive at the parking lot adjacent to the eruption viewing area and find that the lot is full and not currently accepting cars, circle back.
Each time a car leaves the parking lot, a car is allowed in to take its place, and since people are walking out and back to see the eruption constantly (and visitors are asked to keep their stays somewhat brief to be mindful of people waiting to park and see) it might just take two U-turns and a couple of minutes to score a parking lot in this coveted parking lot near the Halemaumau Crater eruption viewing area.
More things to do at Hawaii Volcanoes National Park
HAVO offers some of the most unique and rare landscapes in the world. This UNESCO World Heritage Site and national park is home to two volcanoes: Kīlauea and Mauna Loa. But unlike volcanoes I've seen in Seattle and Patagonia, these volcanoes are some of the most active in the world.
If you have time to seem more in the park beyond the top attractions above, here're a few more things you can enjoy inside the park:
Hit the Visitor Center
The visitors center is the place to start, from this location just past the entrance, you can get maps, fill water bottles, use the last restroom with running water, and listen to the poster park ranger announce that day's instructions to view any active eruption activity.
Explore the Kïlauea Iki Trail
Follow this trail to descend through a rainforest to find a solidified lava lake on Kïlauea Iki Trail's floor. From this trail, you can also look into the vent that was the source of a massive eruption in the late 1950's.
During peak hours, parking at Kīlauea Iki Overlook can be very limited. If you have a day to hike, try to come there very early to get a parking space. If no spaces are full, use the method described above for getting a parking space at Hawaii Volcanoes National Park or just begin your hike at Kīlauea Visitor Center (4-hour hike round trip) or the Devastation Trailhead (5-hour hike roundtrip).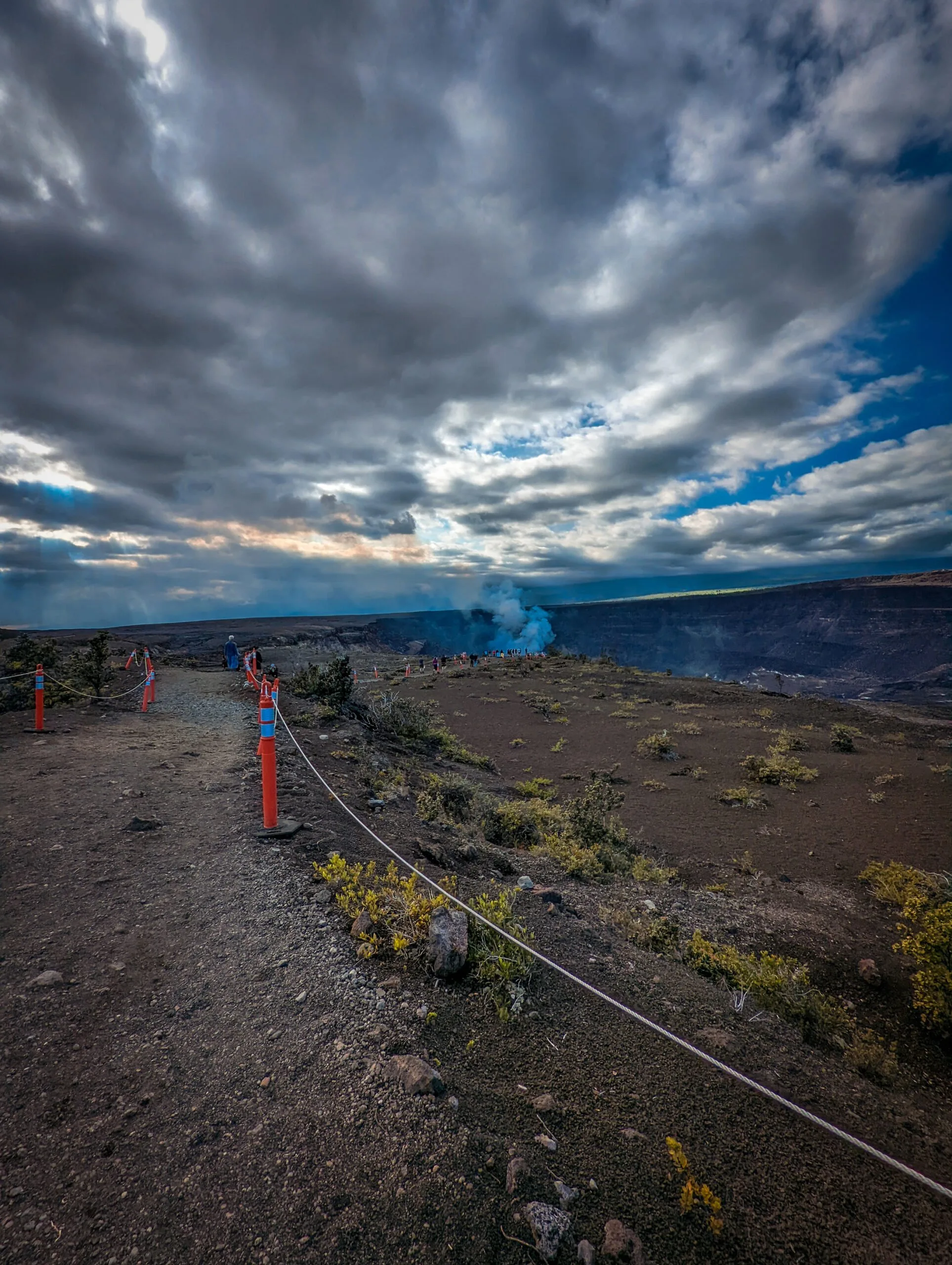 Sulphur Banks Trail
If you've just visited the Kilauea Visitor Center, check out the nearby Sulphur Banks Trail. This trail offers a stunning view of volcanic vents: where groundwater meets heat and gasses creating dramatic steam clouds rising from the ground. This view, along with the Waihee Ridge Trail, are definitely in the running for the best views in Hawaii.
👃🏽 NOTE: if you're sensitive to smells, skip getting close to the vents. These gases contain carbon dioxide mixed with hydrogen sulfide and sulfur dioxide. Volcanic fumes may trigger breathing issues for people with lung conditions.
Thurston Lava Tube
The Thurston Lava Tube makes the top of the list of things to do for many people reporting on a visit to Hawaii Volcanoes National Park, but as someone who doesn't particularly enjoy subterranean exploring, this wasn't a favorite part of my visit.
The Thurston Lava Tube is a trail that's completed in a one-way loop. It takes around 30 minutes or more to walk through the entire lava tube if you've parked at the closest parking lot. The trail drops through a tropical landscape and permits entry, via a bridge, into a lava-formed tunnel (aka cave).
Get souvenirs at the Volcano House Gift Shop
The Volcano House Gift Shop is simple and small, but a good place to pick up a travel magnet, vintage nation park poster, or other knick-knacks. If you are taking advantage of visiting during the park's 24 hr day opening hours, you may find the gift shop closed during your visit. Instead, you can snag your souvenirs via the Hawaii Volcanoes National Park Online Gift Shop after you've returned home.
THINGS TO REMEMBER
Download the free National Park service app plus offline content before you get there. This app provides self-guided tours, alerts and other valuable information- even when you're in portions of the park without data signal.
Expect Lines. Once you get there, expect to wait a long time at the entrance station. There may also be congestion on roads and popular trails.
Make sure to have a backup plan when visiting during the holidays, especially for busy parking lots, trails and overlooks. If it's not possible to visit the more popular tourist spots, try going to the adjacent Kahuku Unit. This site isn't nearly as crowded, and it's accessible to everyone from Thursdays through Sundays, 9am to 4pm.
Final Thoughts on visiting HAVO
It's always a good time to visit Hawaii Volcanoes National Park even for a day. With all the fascinating biological landscapes and spectacular views you'll see, it truly is a treasure trove of natural wonder that's worth visiting time and time again.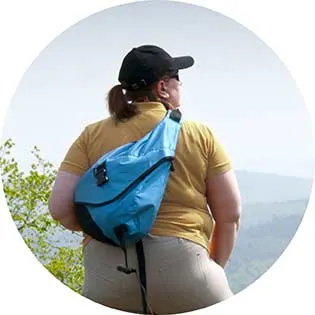 Lynli Roman's unique approach to travel is informed by decades of experience on the road with a traveling family and, later, years spent as a solo international traveler. When she's not writing about Seattle from her Pike Place Market apartment, Lynli writes on-location while conducting hands-on research in each destination she covers. Lynli's writing has been featured by MSN, ABC Money, Buzzfeed, and Huffington Post. She is passionate about sharing information that makes travel more accessible for all bodies.