Roadtrips are best enjoyed via the scenic route. What does the phrase "the scenic route" refer to? A scenic road trip refers to travel on any road other than the interstate.
While highways are great for getting around quickly, lesser developed roads allow travelers to enjoy the drive. On two-lane highways, you'll encounter more picturesque landscapes, find quirky roadside businesses, and have time to relax free from speeding traffic.
Here are some pros and cons of taking the scenic route on a road trip instead of the highway.
Pros & Cons for Taking the Scenic Route on a Road Trip
Pros
✔️ Enjoy an interesting drive.
✔️ Vacation starts as soon as you get in the car.
Cons
❌ Much slower than the interstate.
❌ May require bringing your own road trip food.
I grew up on the road with a family that traveled everywhere by van. As I think back, I remember the time on the road more vividly than any destination we visited! To this day, if I'm headed on a long trip by car, you can bet I'm spending at least a little time on the scenic route. Both times I've driven across the United States, I've taken time to plot a few hours on highways other than the interstate. There's just something so enriching about taking the long way when I can spare the time.
It's not always possible to toss away the map and follow the scenic route through America's forgotten towns, but every trip can add at least a short side trip off the beaten path.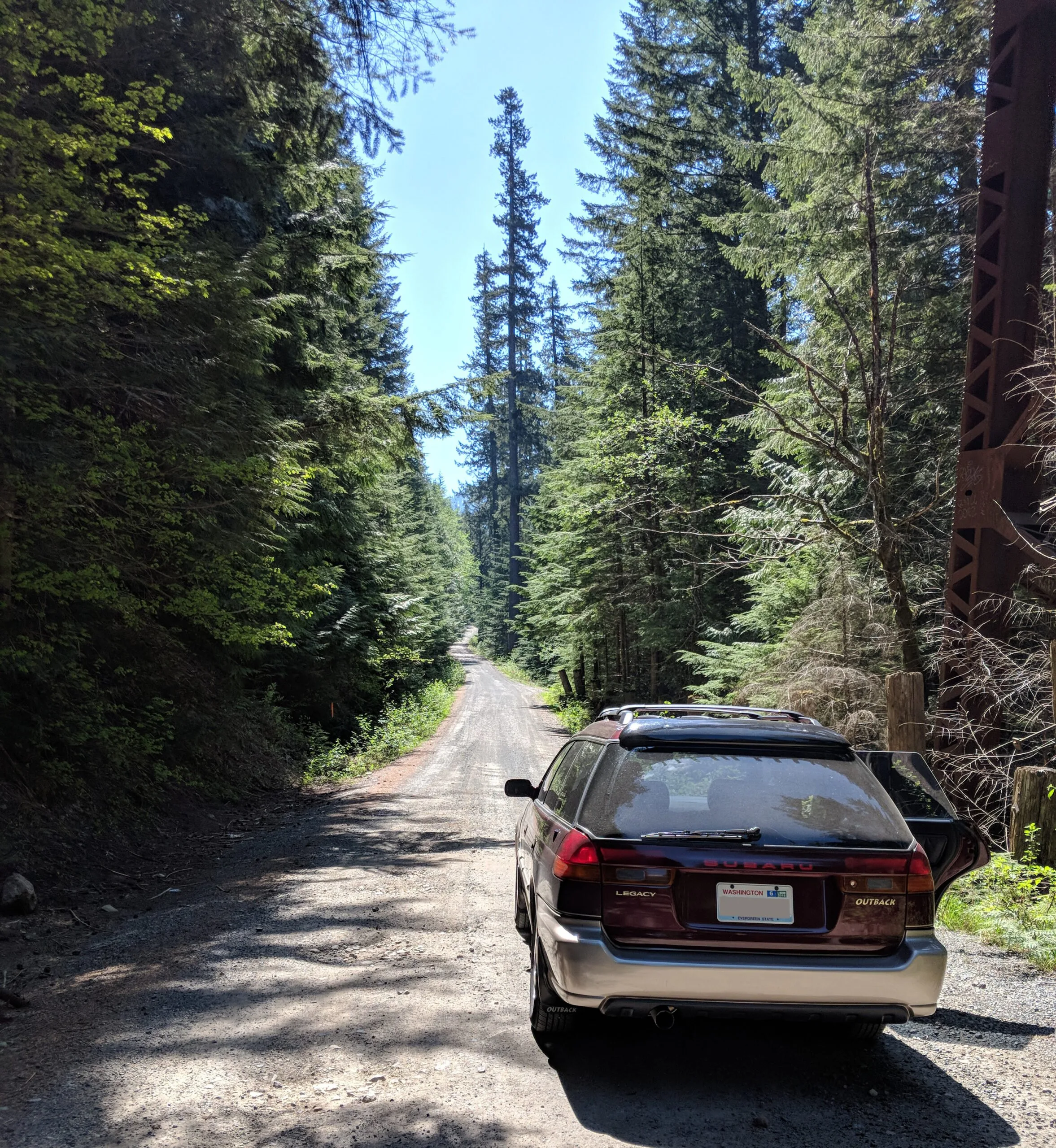 How to take the Scenic Route – Successfully!
First, See if Your Route's Been Done Before
Don't reinvent the wheel! In the US, the region may already have a designated scenic route they suggest. Alternately, travel bloggers are constantly putting out content highlighting creative scenic routes between popular destinations. (It's a bit more complicated if you're on a multiple destination trip, but just take it in small portions.)
If you're road-tripping from prominent cities or points of interest there's a good chance someone has already published information on taking the scenic route for your trip. A cursory Google search of some variant of "scenic road trip from X to Y" should get you started on your research.
Find the points of interest
You might not find a designated pre-planned scenic route, but your research will help you learn about the points of interest along the roadside. From there, you can make plans for getting from one scenic stop to another.
This is a great strategy if you just want to road trip but don't yet have a destination in mind. Having the freedom to pick an established scenic route will help you learn what to look for when planning your own scenic route road trips in the future! Things like national parks road trips or road trips between major cities are a great place to start.
Although some scenic routes can be quite busy (like Highway 101 going up the Pacific Coast of the US, The Beartooth Highway, or even the Pan-American Highway) these tourist-friendly designated routes make creating itineraries easy.
Be a Pro User of Navigation Apps
The simplest way to take the scenic route is to avoid interstates. Highways, a step down from interstates in the USA, can range from scenic to fast-paced urban corridors, so it's best to do research or even use street view to understand your route.
Avoid Highways Setting: On many navigation apps, you can adjust a setting to automatically avoid highways and instead take combinations of backroads, frontage roads, and surface streets.
Truck routes and interstates are not your friends on a scenic route trip, unless the parking lot of a travel-plaza truck stop is your idea of the great outdoors! 😉
Use Satellite View. Turning on a satellite view (sometimes referred to as "terrain view") is a great way to get an overview of the route you'll take. If you really want to understand the landscape, you can run your route through Google Earth to get the ultimate overview.
It will be easier to appreciate satellite view (and use it well) if you're already comfortable with reading a map. Satellite view can be an excellent way to view a route's scenic value.
Download Road Trip Apps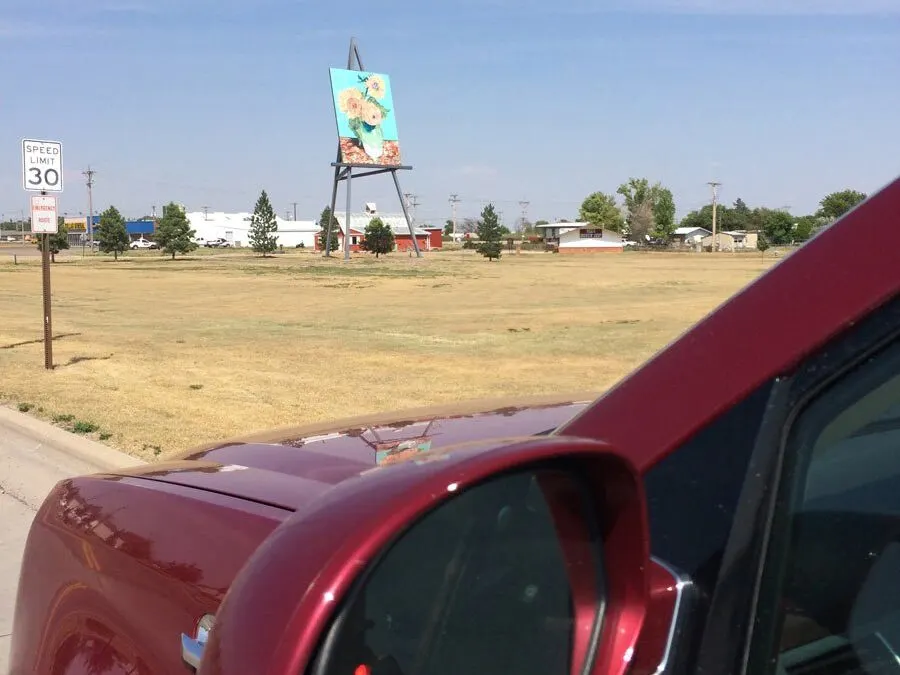 If you love taking the scenic route- you're in company. There are several well-developed apps created to help make sure your scenic drive hits all the best stops along the way. Here are a few I like:
Roadtrippers – Roadtrippers allows you to find and add fun roadside attractions to your trip. (They're how I found this dinosaur-sculpture filled desert town the first time I drove across the country!)
MyScenicDrives – Similar to Roadtrippers, this site helps travelers construct a custom road trip.
If you don't know what points to see along the scenic route, good road trip apps often have suggestions for popular places of interest. Using their crowdsourced data, you can start building your itinerary around the roadside attractions you want to see.
A perk of apps like Roadtrippers is that you can often sync itineraries with friends. This helps travelers stay safer and invites friends and family to make suggestions about stops along the way.
Go Old School: Use Road Trip Atlases
There's a reason that atlases are still around in the internet age. Road trip atlases like Rand McNally and others still provide useful road trip itineraries. Some of these maps are even available in digital form.
Because road atlases understand their niche customer likely prefers the "blue highways" of scenic routes over interstates, these atlases will have highlighted scenic routes for you to follow. If you can't find a pre-structured scenic route online, you may find one in an atlas.
The following section may contain affiliate links. As an Amazon Associate, we earn from qualifying purchases.
Interestingly, these traditionally blue-highlighted routes in road atlases are the source of the expression "blue highways." Blue highways is a phrase that refers to the blue routes in a road atlas that designate secondary highways and scenic routes. They were also the inspiration for the classic travel memoir Blue Highways by William Least Heat Moon.
Not a lot of people know that the back roads of western Canada are also home to filming locations of some major movies, including Twilight, Godzilla, and Dawn of the Planet of the Apes. Many blue highway road trips in Canada are filled with incredible views as well as history.
There's just something about a paper map that makes it easier to envision a road trip than one on your phone. Maybe that's just me. Either way, it's undoubtedly easier to draw and highlight your paper map, and that has to count for something. If you're up for doing it manually, you can trace out a perfect itinerary that includes backroads and fun byways.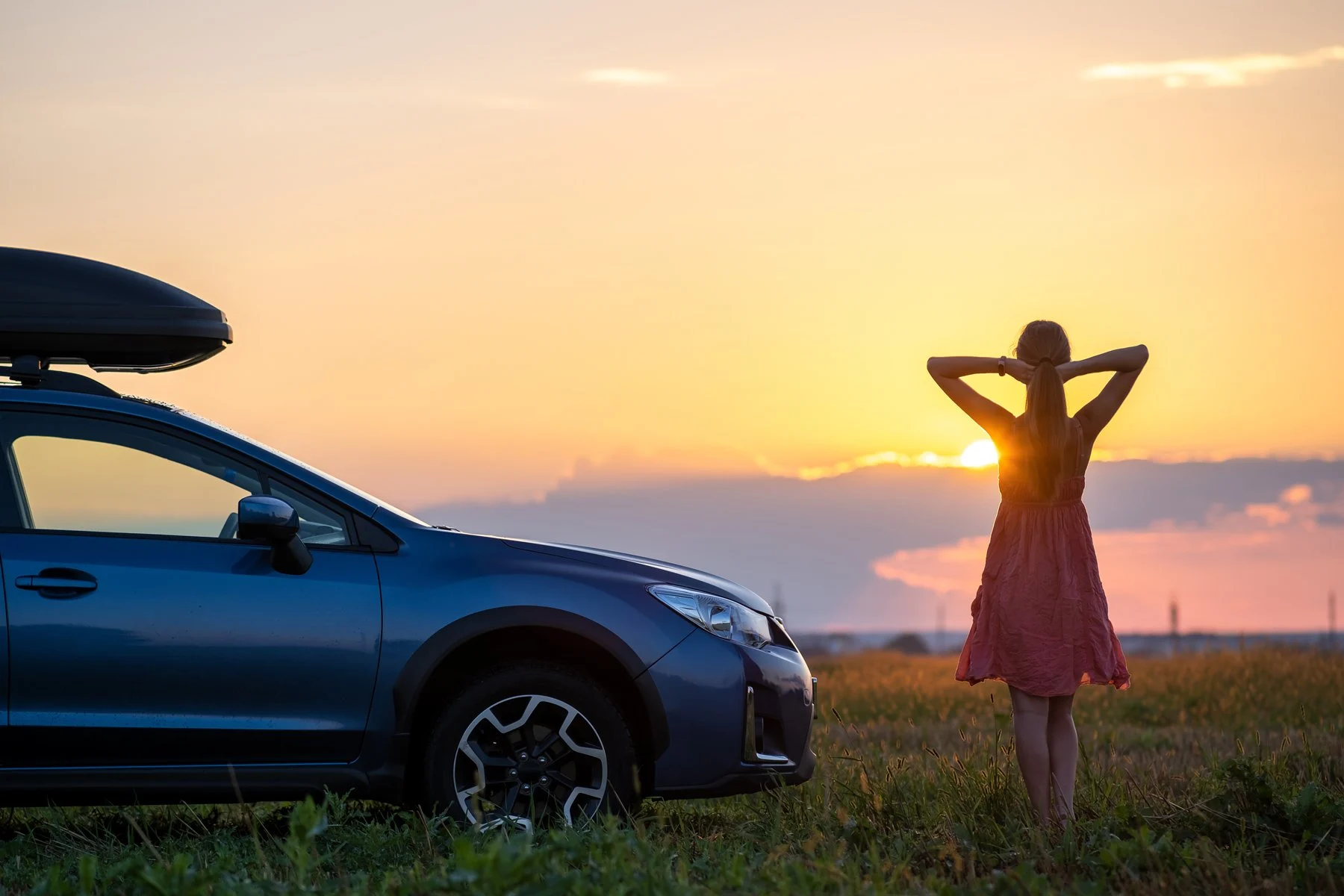 Have a Plan for an Emergency or Car Breakdown
There are two key strategies for staying safe and beyond prepared during a road trip that explores highways beyond the interstate:
Roadside Assistance – If you're planning a road trip, be sure to have a roadside assistance plan in place. This can be a game-changer if you have a breakdown or accident. Roadside assistance can help you get back on the road quickly and safely. Before you leave, double-check your roadside assistance plan is still active and that you pack and necessary documents to use it.
Roadtrip Supplies:
📛 An emergency kit. This should include a first aid kit, flares, an emergency blanket, a flashlight, and a basic toolkit. Battery Backup or Solar Phone Charger. In the event of an emergency on a desolate road, an alternative power supply will give you a way to stay in communication with emergency services.
🗺️ A paper map. Also, pack an analog map of the region where you are traveling. This will help you navigate if you get lost and lose your signal.
🍒 Food. Bring along snacks, drinks, and easy meals for road trips. This will help keep your energy up and prevent you from making unsafe decisions due to hunger or thirst.
🧊 🔥 Essentials to survive heat/cold. For winter road trips, your trunk should always include tire chains, blankets, and a collapsible snow shovel (this is the shovel I keep in my trunk year round). For summer road trips, be sure you have plenty of extra water and something that could be used as shade if you have car trouble in a sun-parched landscape.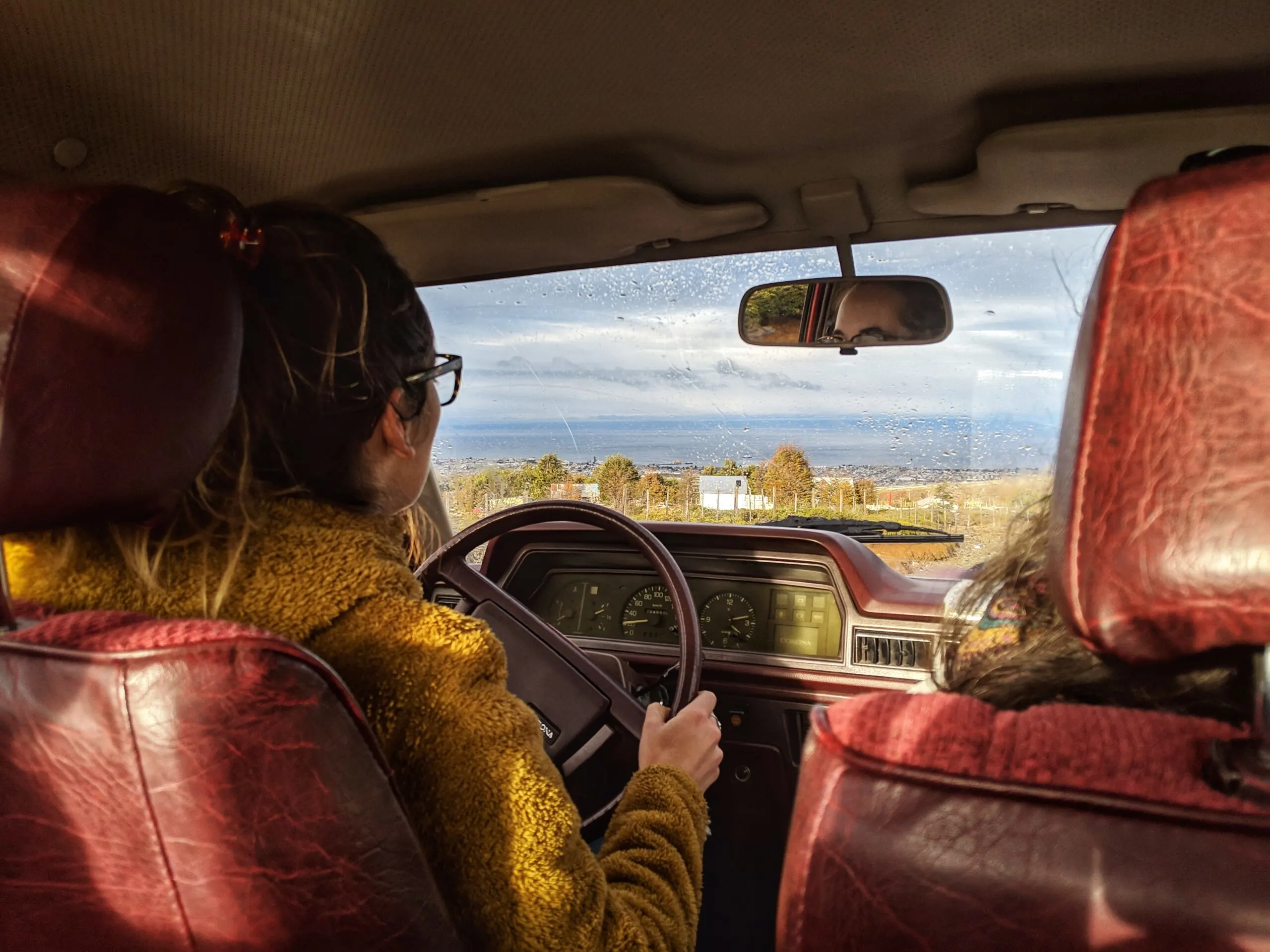 Connect with the US Department of Transportation Resources
The National Scenic Byway Program is an official program to recognize certain roads and highways as scenic routes based on six criteria:
National Scenic Byways designations recognize those roads across the country that exhibit one or more of six core intrinsic qualities— scenic, natural, historic, recreational, archaeological, or cultural– contributing towards a unique travel experience. Nationwide, there are 184 National Scenic Byways, and 1,269 state-designated scenic byways as of February 2021, with more roads currently being added at both the state and national levels.

Scenic America
If you like the feeling of an open road on the scenic route, you can actually plan a trip around National Scenic Byways. You'll find a listing of these Scenic Byways listed by state here. Byways tend to be more regional than cross-country, so it's ideal for exploring your local area or spending extensive time in one region.
Don't Book Your Hotels Ahead of Time
For the sake of a successful road trip on the scenic route, it's usually best not to book your hotel too far in advance.
Waiting to book allows you to travel at your own pace and stop when you are ready. The beauty of the scenic route is the freedom to make many stops along this way, so for this reason it's best not to be committed to a certain hotel or guesthouse.
Exceptions: on popular scenic byways during peak road trip season, it may be smart to book ahead! This is especially true if you want to score the best lodging, a honeymoon suite, or a block of rooms for group travel.
If you want maximum road trip freedom, book your hotel when you get to your final stop of the day.
Let the Road Take You
To enjoy a safe, fun vacation on a road trip taking the scenic route, stay safe but flexible. Keeping a general sense of direction, while also allowing yourself to stray from the route is key. Success depends on your sense of direction and self-sufficiency, but if you know how to use resources like apps and old-fashioned maps, the open road of a blue highway is a freeing vacation perfect for burnout recovery, birthday trips, or post-breakup travel.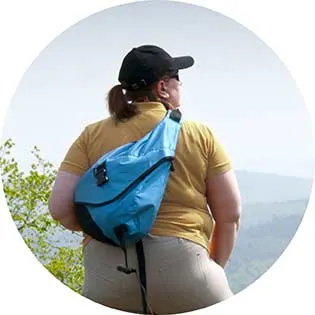 Lynli Roman's unique approach to travel is informed by decades of experience on the road with a traveling family and, later, years spent as a solo international traveler. When she's not writing about Seattle from her Pike Place Market apartment, Lynli writes on-location while conducting hands-on research in each destination she covers. Lynli's writing has been featured by MSN, ABC Money, Buzzfeed, and Huffington Post. She is passionate about sharing information that makes travel more accessible for all bodies.