A long flight can be boring — but with a little inspiration, there are plenty of ways to entertain yourself and pass time quicker. While movies, podcasts, and playlists are dependable standbys, pass your flight even faster by being creative, productive, or playful- I'll show you how.
In this article, you'll find:
Ideas for Passing Time on a Long Flight
There's no denying that having something to do helps pass time faster on a long flight. I'll never forget my worst ever flight experience when my only device died 2 hours into an 8 hour flight- torture!
Thankfully, even as airline carryon dimensions shrink and shrink, you can fit SO many things to do in an under seat bag. (Just learn from my fail and always bring something to do that's analog!)
Edit trip photos
If you're on the tail end of your trip, you can review and edit the 100s of photos that you took during your travels so you can seamlessly share them on your socials and with family.
Find a way to PLAY
Play is a powerful way to hack our brains into thinking a miserable flight is a bit less miserable. Play expert Dr Stuart Brown writes that play (for kids, adults, and even animals) is play when it meets 4 criteria: "It's voluntary, it's pleasurable, it offers a sense of engagement" and when it "takes you out of time." 1 It's that's last part- being outsite of time- that can really help on a long flight.
To play on your flight, bring a small game or let yourself indulge in that one video game you never play because it's so easy to get hooked! Play that connects us to each other, like card games or games you can play with pen and paper, are a great way to start or end a trip with others (like traveling with a best friend or traveling with a group)
Watch a movie or TV show
Catching up on your favorite true-crime series or finally watching that movie everyone has been talking about is a great way to kill a few hours on your flight.
Hint: save a movie or TV series you are really looking forward to for your flight, to make your long flight seem a little shorter. At altitude, it may be even more emotionally evocative. 2
Get some work done
If you have some work that needs finalizing before you can relax and enjoy yourself on your trip, try to get it knocked out on the plane. Grab your laptop and spend a few hours passing time clearing out your virtual to-do list.
You can even enable Gmail's Email Offline feature and knock out all those emails that have been sitting in your inbox.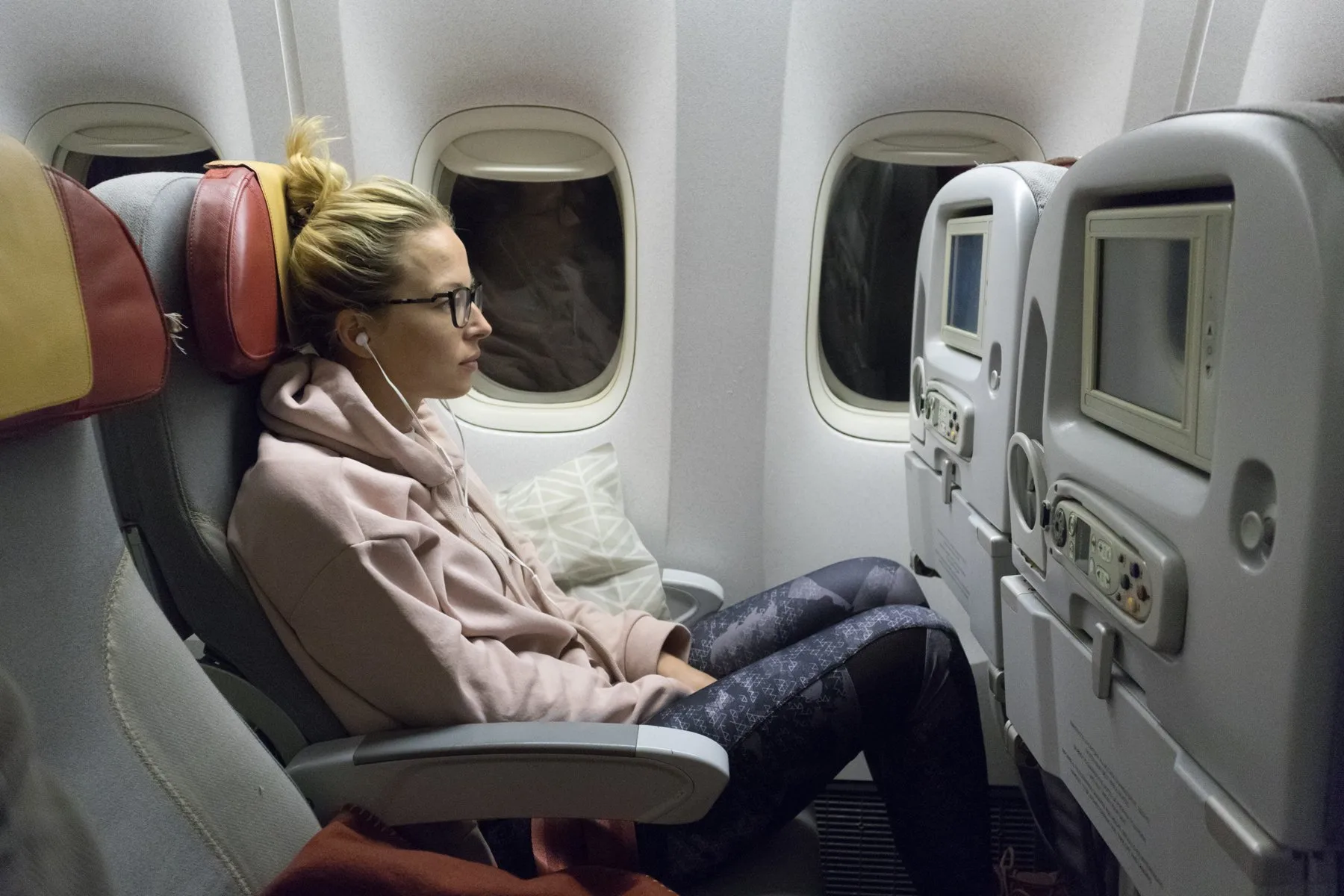 Find Flow
Like play, flow is a brain-state we can intentionally generate. "These flow experiences are so rewarding that time flies by and at the end we want to do them again" (Coffey and Csikszentmihalyi, 2016)
For some people, flow requires movement which isn't possible on a long flight. For others (including me!) diving into a detailed sketch, designing a new album cover, or coding a complex string of code can create flow and make a 6-hour flight pass in what feels like a few minutes!
Play video games
If you have a handheld gaming device, such as the Nintendo Switch, you can keep yourself entertained for hours. Make sure to pack a few games so you have some options to pass time on a long flight!
Listen to a podcast
Downloading a few episodes from your favorite podcast allows you to sit back, close your eyes, and soak in new information.
On very long flights, it's a good idea to always pre-load a few podcasts and even instrumental playlists.
Screen-Free Ways to Pass Time on a Long Flight
I know screens seem like the hack for long flights, but trust me, 8 hours into a 12-hour flight, you'll be ready to look at anything but a screen. Whether you have an extra-long flight and need screen-free activities planned or you want to plan proactively for batteries dying mid-flight, here are a few of my favorite activities to pass time on a long flight without screens.
Read a book
Reading a physical book can be a great way to rest your eyes after too much screen time. A good story may even draw you in and pass time on a flight faster!
Write in a journal
Writing in a personal journal or working on your travel journal can be a great way to clear your mind, organize your thoughts, and finalize your itinerary.
In-flight Journal prompts: on the way to your destination, you can write about your expectations, hopes, and fears for the trip. On the flight back, you can look back and reflect on how those things worked out.
Do some puzzles
Keeping your brain active on a long-haul flight is important so you don't go too stir crazy. Grabbing a book of sudoku or crossword puzzles at the airport can keep many people entertained for an hour or two.
Chat with your neighbor
If you have a friendly seat neighbor, why not strike up a conversation? Having someone interesting to talk to can make the time pass by quickly and may even be the start of a new friendship!
Take a nap
When you're stuck on a plane for hours, it's a good idea to try and nap. Sleeping can pass a few hours. A carefully timed nap with a DIY travel pillow can help you beat jetlag as a solo traveler, and keep you from feeling overly exhausted once you touch down at the airport. Be sure and check out my 9 hacks for sleeping on a plane.
How to Prepare For Your Destination on Your Long Flight
If you're traveling to another country, it can be helpful to use your flight for some last-minute preparations.
Depending on where you're traveling to, you may want to:
Study the language and pick up a few key phrases and common questions
Review a map of the city to familiarize yourself with the layout
Make a game plan for when you leave the airport
Check on any hotel/Airbnb reservations
With extra prep on the plane, when you arrive you can be on your way with the confidence that you can take on the new city.
Final Thoughts About Passing Time On a Long Flight
There are so many options to pass time enduring a long flight. You're sure to find a few ideas above that suit your style and will keep you from losing your mind on the plane. Don't forget to get a bit of rest in before you reach your destination so you can hit the ground running!
Need a packing list for your long haul flight? Check out my doodle-illustrated packing list for long flights.
Sources:
Brown, S. L., Vaughan, C. C. (2009). Play: How it Shapes the Brain, Opens the Imagination, and Invigorates the Soul. United Kingdom: Avery.
Coffey &Csikszentmihalyi. (2016) Finding Flow in a Vacation. Chapter in The Routledge Handbook of Health Tourism. (2016). United States: Taylor & Francis.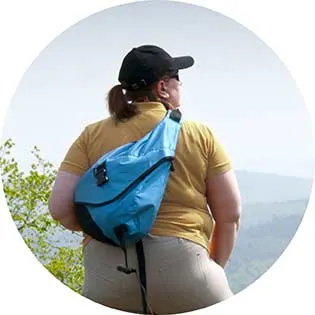 Lynli Roman's unique approach to travel is informed by decades of experience on the road with a traveling family and, later, years spent as a solo international traveler. When she's not writing about Seattle from her Pike Place Market apartment, Lynli writes on-location while conducting hands-on research in each destination she covers. Lynli's writing has been featured by MSN, ABC Money, Buzzfeed, and Huffington Post. She is passionate about sharing information that makes travel more accessible for all bodies.
Sources
Brown S. L. & Vaughan C. C. (2009). Play : how it shapes the brain opens the imagination and invigorates the soul. Avery. [↩]
Hutton, "Why I cry on planes." https://medium.com/@chazhutton/why-i-cry-on-planes-a87baf9c18b8 [↩]