Staying in a hotel as a plus-size traveler doesn't have to be uncomfortable. With these tips for booking, packing, and staying comfortably in a hotel or Airbnb, you can enjoy a relaxing stay.
If you're a plus size traveler, there is no doubt you've experienced the dreaded too-small spa robe or cafe chairs that look sturdy enough for a small child. As a fellow fat traveler, I've been there! But fear not – I've been practicing hacks and taking notes.
Tips for a Comfortable Stay as a Plus Size Guest
As a seasoned travel blogger, I've discovered a few tried and true methods for ensuring a comfy and accommodating stay.
Research the hotel's plus size services before booking 🪑:
To be sure you're happy, thriving, and can relax on vacation, do your homework!
Reach out to the front desk or host with questions about the amenities that matter most to you. Check out reviews and photos to get a sense of the space.
If you see a bunch of flimsy folding chairs or tiny booths in the restaurant pictures, that's a good clue that, as a plus-size traveler, you'll be more comfortable in another hotel or guesthouse.
Crowdsource information from fellow fat travelers 🌐:
Community is a powerful tool to get access to information about access for people in large bodies.
Consider joining fat travel groups on platforms like Discord and Facebook, where you'll find oodles of helpful tips and firsthand experiences. Communities of plus-size travelers can be an amazing way to discover truly size-inclusive accommodations.
People are always excited to share their positive travel stories, and even warnings of negative experiences with certain hotels or hotel chains can be a helpful tool when you're planning a trip as a person in a large body.
For fat travel accommodations, reach out ahead with requests 📞📧:
Be proactive! No one else can advocate for the safety and comfort of your own body as you can.
PRO TIP: I've had the best experiences at hotels as a plus size traveler when I reach out in advance subtly communicating that I have specific needs. I send the hotel an email about a week before my trip, inquiring if plus size robes and towels are available. (And even if they're not available, making the request serves two purposes: it lets the hotel/host know that they're missing an accommodation and lets me know to pack these necessities.)
The following section may contain affiliate links. As an Amazon Associate, we earn from qualifying purchases.
Travel with a Large robe and bath sheet 🧖‍♀️:
If the accommodations don't provide plus size robes or bath sheets, you can always bring your own.
I often pack my own cozy robe and a towel that can wrap around me comfortably — especially if there's a spa, pool, or lazy river on the itinerary. I love the large waffle towels from Gilden Tree (shop for them on Amazon) because they pack much smaller than a typical bath towel. I was worried that they wouldn't be absorbent enough, but after a few loads of travel laundry, they soften up nicely and definitely do the trick.
Consider bringing plus size comfort amenities 🛍️:
If you've got the space, there is no shame in making your stay as a plus size traveler more comfortable through creature comforts.
While I'm usually a carry-on-only traveler, road trips or extra luggage space offer chances to bring along some comfort-boosting items.
Here are some examples of comfort items I bring when I have space:
a portable bidet (I've been traveling with this one from Amazon for the past year)
a small rechargeable fan,
or a camping chair that you feel secure in.
Leave specific reviews to help other plus size travelers 📝:
Previously I've written about how to leave an Airbnb review, and those tips definitely apply to reviewing hotels and airbnbs for their plus size accessibility.
While leaving a review now won't impact your immediate stay, it will help future plus size travelers!
If an Airbnb host thoughtfully sourced sturdy furniture and provided towels that fit, make note of it. If a hotel spa made you feel safe and comfortable as a plus-size person, let the world know.
Why Hotels Need to Accomodate Large Bodies 🙌💯
It's easy to say that hotels, spas, and vacation rentals should prioritize size-inclusive spaces and amenities, but WHY is it so important? I've outlined three key reasons:
🌎 Accommodating all bodies promotes inclusivity and diversity:
By accommodating individuals of all body sizes, an individual hotel or Airbnb can demonstrate its commitment to providing nondiscriminatory equal access to everyone.
When we create an environment that is safe and comfortable for people of all shapes and sizes, it fosters a warm and welcoming atmosphere for both guests and employees.
😌 Hotels with plus size inclusivity improves all guests' experiences.
Size inclusive hotel policies and interior design directly impact the comfort and well-being of all guests.
When accommodations offer inclusive facilities and amenities—like properly sized seating, spacious rooms, accessible bathrooms, and well-designed recreational areas—all bodies can enjoy our experience without feeling uncomfortable, embarrassed, or excluded.
Feeling at ease and supported during our travels contributes to an overall positive experience.
📈 Size inclusivity in a hotel or airbnb expands customer base:
A truly size-inclusive Airbnb or hotel has access to a much larger customer base!
People come in all shapes and sizes, and by catering to a wider range of body types, a property can increase bookings. Online communities of plus-size travelers enthusiastically share referrals for hotels doing this well.
Overlooked Customers: The CDC estimates that around 100,000,000 Americans are plus size. Since the average American is also known to spend about $11,000 on travel each year, the hospitality industry is potentially risking revenue of over $1,000,000,000,000 (that's a trillion dollars!) by not courting this customer group.
Size-inclusive policies and amenities attract more guests, including those who have felt excluded or uncomfortable before.
What Fat Travelers Want from Hotels & Airbnbs
I asked a group of 5k plus size travelers to identify what they want from their hotel or guest house. Here's what they had to say:
1. Comfortable and sturdy seating is a must 🪑
The most common response by far was a call for comfortable and sturdy seating. Several travelers in our community complained about high top tables, small booths at hotel restaurants, and chairs with narrow arm rests. Others also mentioned fear and/or embarrassment when sitting on plastic chairs or folding chairs at events or on patios.
When selecting furnishings for hotels and Airbnbs, search for sturdy chairs without protrusions and avoid plastic chairs for pools and patios.
If folding chairs are important for storage requirements, look for metal chairs with a substantial weight capacity. At the very least, have sturdy chairs readily available for those who need them. This is also a helpful accommodation for elderly people and travelers with mobility concerns.
Side note: Hilton Vacation Club Cabo Azul in Los Cabos does this right! I was so impressed by their sturdy and comfortable beach furniture. Check out my article about why Cabo Azul is my top resort recommendation for plus size travelers.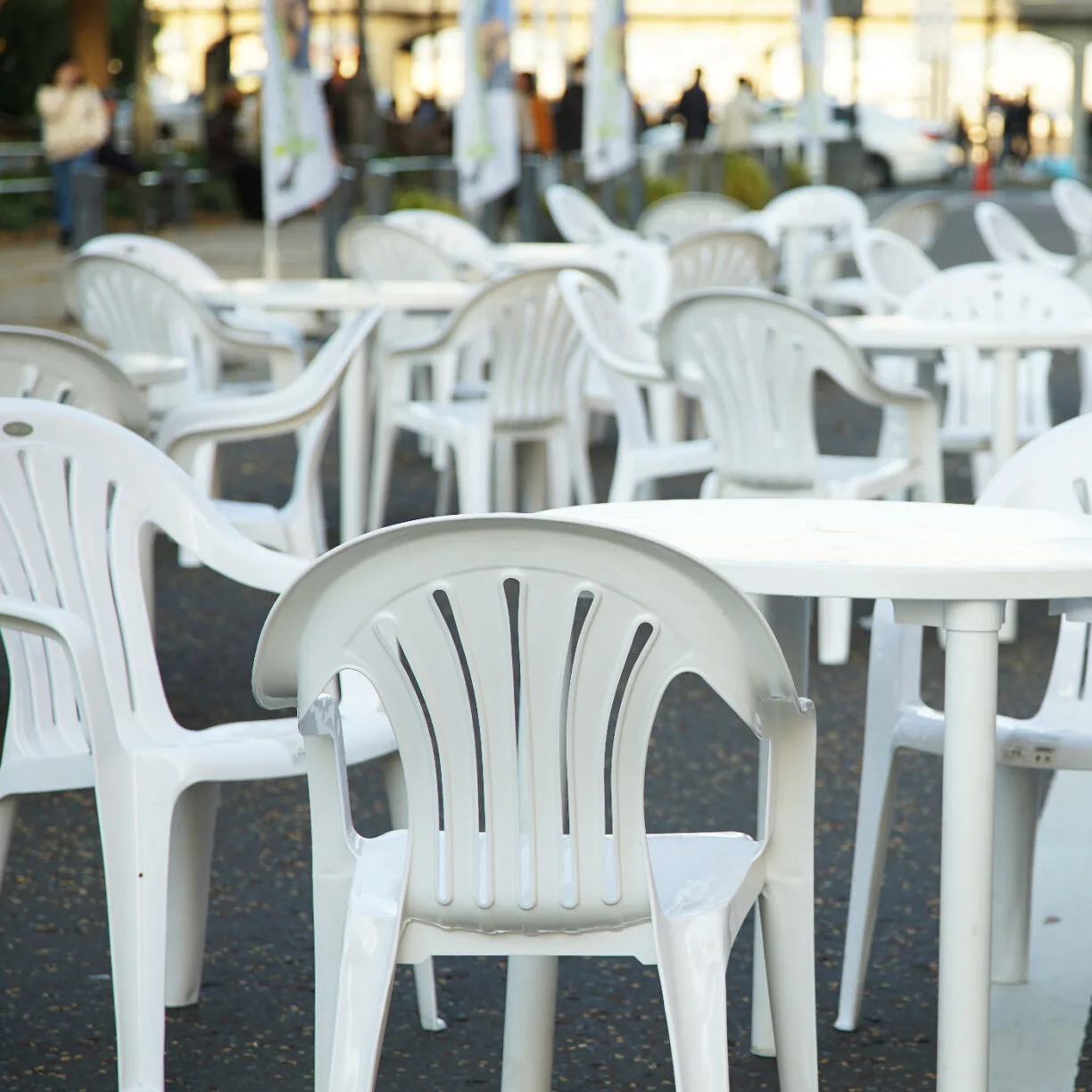 2. Plus Size Robes and Towels Make a Stay Great 😊
Over half of the commenters in our community stated that plus size robes and bath sheets are a key amenity they look for in inclusive lodging.
One traveler mentioned that hotels and Airbnbs should make it clear that they have plus size options available, either in the listing description or as a note upon checkout. Seeing that outlined from the start immediately puts fat travelers at ease.
3. Plus Size Travelers Want Spacious Bathrooms 🚿
Another common sentiment among the fat travelers we surveyed was with small bathrooms and toilets placed too close to the walls. These cause plus size travelers discomfort and inconvenience.
In addition, in our survey plus size travelers complained about narrow tubs with cheap shower liners that stick to the body while showering. To ensure a more pleasant experience, providing larger bathrooms and investing in wider, comfortable tubs and shower spaces would be appreciated.
One easy way to upgrade an airbnb or hotel room for increased comfort for plus size travelers is to replace a standard shower curtain rod with a curved rod, which allows more space in the tub.
4. Inclusive Spa Services Earn a Gold Star ⭐
Several survey takers said that they had often felt "othered" because of their size in spa settings.
Size inclusive hotels and spas must train staff to sensitively work with fat travelers. This may include sourcing sturdy massage tables and chairs, and providing plus size robes and towels.
5. Fat Travelers want to Know What to Expect 📝
According to our survey, fat travelers want hotels and Airbnbs to clearly state what accommodations they have for plus size travelers.
Some mentioned adding it to the hotel or Airbnb listing descriptions, and others suggested including those details in the binder or notes.
Notes like how to request plus size accommodations and weight capacities for furniture, amenities, or excursions were all mentioned by people in our survey as helpful information.
A Call for Size Inclusivity in the Hospitality Industry 👏🏨
Let's take a moment to acknowledge that the hospitality industry has some work to do when it comes to accommodating fat travelers. Yes, change is happening, slowly but surely. Our world is becoming more aware of the need for body inclusivity and it's time that hotels and Airbnbs jumped on board.
The Final Word on Comfortable Stays
As plus size travelers, we know there are certain challenges when it comes to finding comfortable accommodations. However, by following these travel hacks and advocating for size inclusivity, we can prioritize our comfort.
By doing our research,
reaching out to fellow travelers,
and communicating our needs in advance,
we can ensure a more comfortable stay. Bringing along our own comfort amenities and leaving reviews specific to fat accommodations also helps future travelers.
Feedback from fat travelers highlights the importance of comfortable and sturdy seating, plus size robes and towels, intentional bathroom design, and inclusive spa services. Clear communication of accommodations for plus size travelers sets the tone for a pleasant stay.
As we continue to advocate for size inclusivity, let's remember that change is happening, albeit slowly. By taking charge of our comfort and sharing our experiences, we contribute to a more inclusive and accommodating travel landscape for all.