If you don't like to write, draw or paint you might think that my guide to how to make a travel journal won't work for you, but without those skills, you can still create an amazing record of your travel memories by creating a travel scrapbook. In this post, I share my best tips for making a simple, easy-to-make travel scrapbook that uses photos and other materials to create a scrapbook you'll return to again and again to remember your trip vividly.
Making a Travel Scrapbook
A written record paired with handmade illustrations is an amazing travel record- but not the only way to create an artistic/tactile memory of your trip. One way to make a travel journal if you don't want to draw, sketch, or paint is to make an art journal scrapbook of your trip. This scrapbook can use what's called "ephemera" to create an artistic travel journal effect without requiring artistic skills.
Ephemera is a word that refers to "collectible memorabilia, typically written or printed, that was originally intended to have only short-term usefulness." For travelers, this category includes tickets, business cards, cut-outs from hotel's travel magazines and tour attraction brochures, and so much more.
Items like that canceled entry ticket from the museum you had dreamed of visiting, or the business card from a special restaurant you ate at on the last night of your trip make great additions, not just for visual interest but for creating a record of the experience. These papers can help enhance a travel journal by filling a page and reminding you of the unique experiences from your trip. You can add these items in a style that's technical, scientific, and carefully-arranged, or this addition can be done in a way to make a cute, playful, travel scrapbook.
Follow me on Pinterest for more Travel Journaling Ideas:
To Create a Scrapbook-Type Travel Journal
The following section may contain affiliate links. As an Amazon Associate, we earn from qualifying purchases.
PACK TO SCRAPBOOK: When you build your travel journal kit, be sure to pack a glue pen (so much fun to use, it's literally a fine tip pen with glue for ink!), Sharp detail scissors with blades under 4″ from point to pivot (So TSA won't swipe them), and a broad-tip glue pen (for covering larger areas). A small coupon organizer can be helpful for organizing cut-outs and preventing them from bending in your luggage before being added to your journal.
FIND MATERIALS AS YOU GO. Free promotional materials are available at just about every hotel, restaurant, and tourist attraction. Keep your eye out for good additions and get creative with cutouts or even adding natural elements like leaves or pressed flowers. (TIP: the space between the back of your phone and your phone case is a great on-the-go spot to press a leaf or flower for later addition to your journal)
ADD YOURSELF. Anyone can cut out and paste materials into a scrapbook, but you are what makes your travel unique. I always travel with a tiny travel printer that prints small sticky-backed photos (including selfies!) for my travel journal.
Maybe you aren't an artist who likes to draw and paint in your art journal or a writer who loves recording long paragraphs in a travel journal- but if you still want a visually interesting record of your travels and the experiences you had, creating a mixed-media travel scrapbook is a great way to combine both long-format writing and visual reminders of your trip.
For many people, a travel scrapbook contains only photographs, but here's a list of ideas for exciting and visually dynamic additions that you can add to your travel scrapbook style travel journal.
Ideas for Things to Add to Your Travel Scrapbook:
Pressed Flowers
When it comes to interesting elements to add to a travel scrapbook page, natural elements can be vibrant visuals. Pressed flowers, leaves, and even blades of grass can be added to a travel scrapbook with clear packing tape or carefully applied glue pen. Before adding leaves and flowers to your travel scrapbook, you'll need to flatten or press the flower and at least partially dry them out.
Pro tip: Pressing Flowers During Travel Using Your Phone Case
Chances are, when you are on a local hike or exploring far-off wildlife and flora and fauna, you don't have your travel scrapbook open and ready to press flowers. But you do have everything you need to press flowers in a flat, compressed space. Where? Your phone case! Phone cases are designed to fit tightly against the back of a phone and stay there without shifting.
That space between the back of your phone and a phone case is perfect for pressing small flowers and leaves. Flattened by pressure and dried by both time and the small amount of heat generated by your phone, you'll have a perfectly preserved dried flower in no time.
You can also press flowers using your travel journal if your journal is the sort that has a hardcover and an elastic band to hold it closed. You'll need the pressure that that band adds in order to get your flowers to dry flat. (Some very moist flowers, however, may discolor paper during the drying process.)
Feathers – found feathers can be used in the same way, although you should be aware that feathers can transport mites and avian diseases. For that reason, feathers typically cannot be taken across borders and often shouldn't even be taken across state lines.
Picking flowers for pressing while traveling: Pay attention to signage and local rules about picking flowers. For example, it's not only not allowed but very bad etiquette to pick flowers on a state or federally owned hiking trail. However, the same flower growing on the side of a roadway is typically fair game. Use common sense, follow local rules, and good manners when selecting where and how to pick flowers to press in your travel scrapbook.
Mini Travel Photo Stickers
One of my very favorite ways to add interest to the page of a travel journal or travel scrapbook is by using one of the easy-to-use travel printers on the market now. These tiny printers (sized about the size of the palm of your hand) are easy to pack and carry. They print small, 2" x 3" photographs with stock-and-peel backs.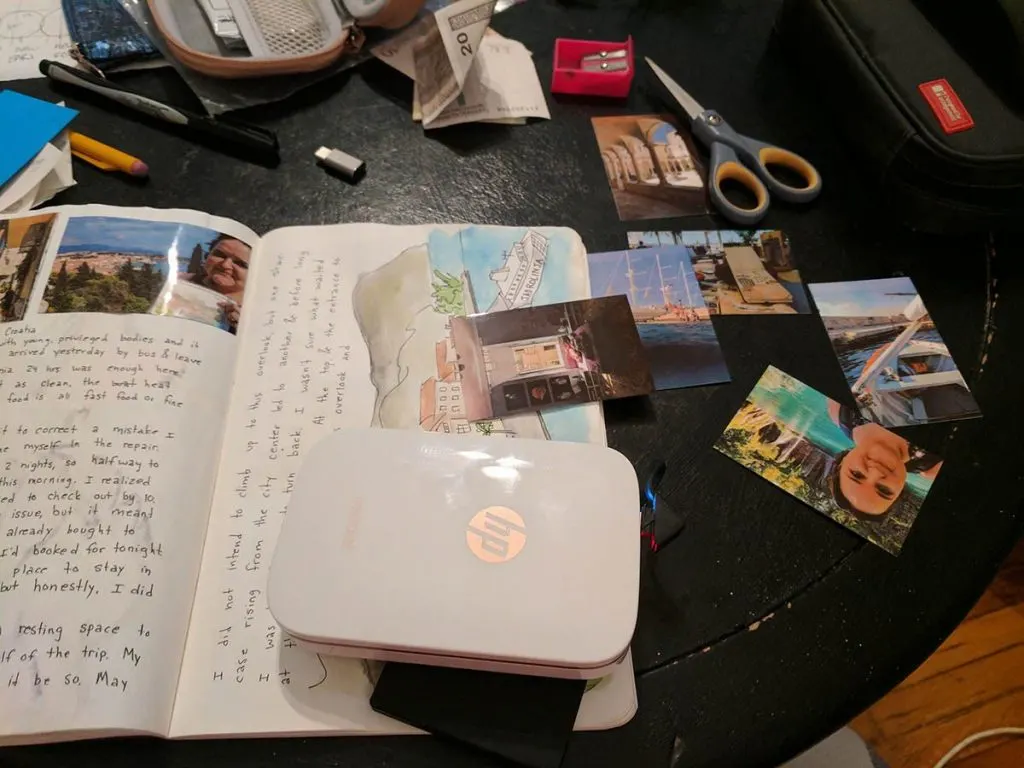 If you have trouble following through with printing your travel photos following a trip, one of these travel printers might be a good choice for you. Being able to print a few photos at the end of a day as you're relaxing in a hotel room or even a cafe is a great way to fill your travel scrapbook on the road- write in you day's itinerary and add a few ticket stubs and your travel scrapbook will be complete by the time you catch your return flight- leaving no pressure to collate photos and manage memories after the trip.
I personally have traveled and travel scrapbooked with both the Canon IVY Bluetooth Printer and HP's version: Sproket Printer of these travel printers. Through traveling with both, I have noticed no major difference in use or the quality of printed photos. These travel printers make it fun and easy to add photos of you, your travel companions, and the sites you visit directly into your travel scrapbook while you are still traveling.
Cutouts From Brochures and Travel Pamphlets
As more and more travel information shifts online, brochures aren't picked up as frequently as they once were. However, if you are a travel scrapbook creator, these little pamphlets are powerhouses for making fun and interesting pages in your travel scrapbook.
Paired with a tiny pair of scissors – you can create square, round, or custom-shaped cutouts and apply them to your travel scrapbook using a glue pen for precise glue application. You can cut out photos, text blocks, or even just individual words to create your own travel scrapbook of visiting that place. Paired with photos, other mementos, and a few of your own words in a minimal bullet journal style, it creates a cool travel journal/travel scrapbook hybrid that guarantees you'll have a souvenir unlike anyone else's ever visited that location.
Ticket Stubs and Passes
Ticket stubs and canceled museum or attraction passes can be a burden or a treasure depending on how you use them. How often have you traveled and found your pockets full of canceled tickets and related "trash"?
Rather than trashing these pieces of paper – or even worse, keeping them around in a disorganized heap in your luggage – place them inside of your travel scrapbook. Organizing these tickets can help you look back and remember the ways that you traveled and the places that you visited on your trip.
Ticket stubs and passes for museums, national parks, and other attractions often include information about the location as well as the trip date and time that you were there – Epherma that can help prompt fond memories as you flip back through your travel scrapbook in years to come.
With these easy ideas for creative additions to your travel scrapbook, you can create a record of your trip that is unique, exciting, and interesting to look at. A well-curated and artistically created scrapbook or journal can be a treasure. A travel scrapbook isn't just for ourselves, it can also be enjoyed by those who love us and who want to know something real and authentic about our travels.
A travel scrapbook records more of our travels than just a social-media version of standard photos at popular tourist spots. Plus if we store a travel scrapbook properly it can even be a way for that the generations that come after us can touch, flip through, and experience something of our experience in the world as it was during our travels.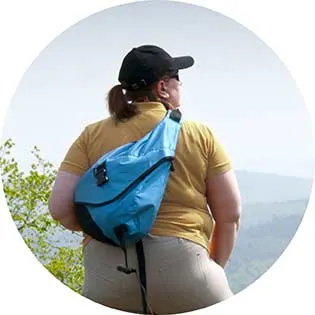 Lynli Roman's unique approach to travel is informed by decades of experience on the road with a traveling family and, later, years spent as a solo international traveler. When she's not writing about Seattle from her Pike Place Market apartment, Lynli writes on-location while conducting hands-on research in each destination she covers. Lynli's writing has been featured by MSN, ABC Money, Buzzfeed, and Huffington Post. She is passionate about sharing information that makes travel more accessible for all bodies.