In this article, you'll learn about United's policy for plus size travelers and I'll help you navigate United's policy to best access comfortable seating for large bodies. 🌎✈️💼
First, let's acknowledge that United Airlines has not published a customer of size policy as of July 2023.
Instead, United offers a policy regarding "Customers Requiring Extra Seating." This extra seating policy is supposed to address "safety concerns and passenger comfort". However, In my opinion, it definitely falls short in meeting the safety needs of plus-size travelers like myself.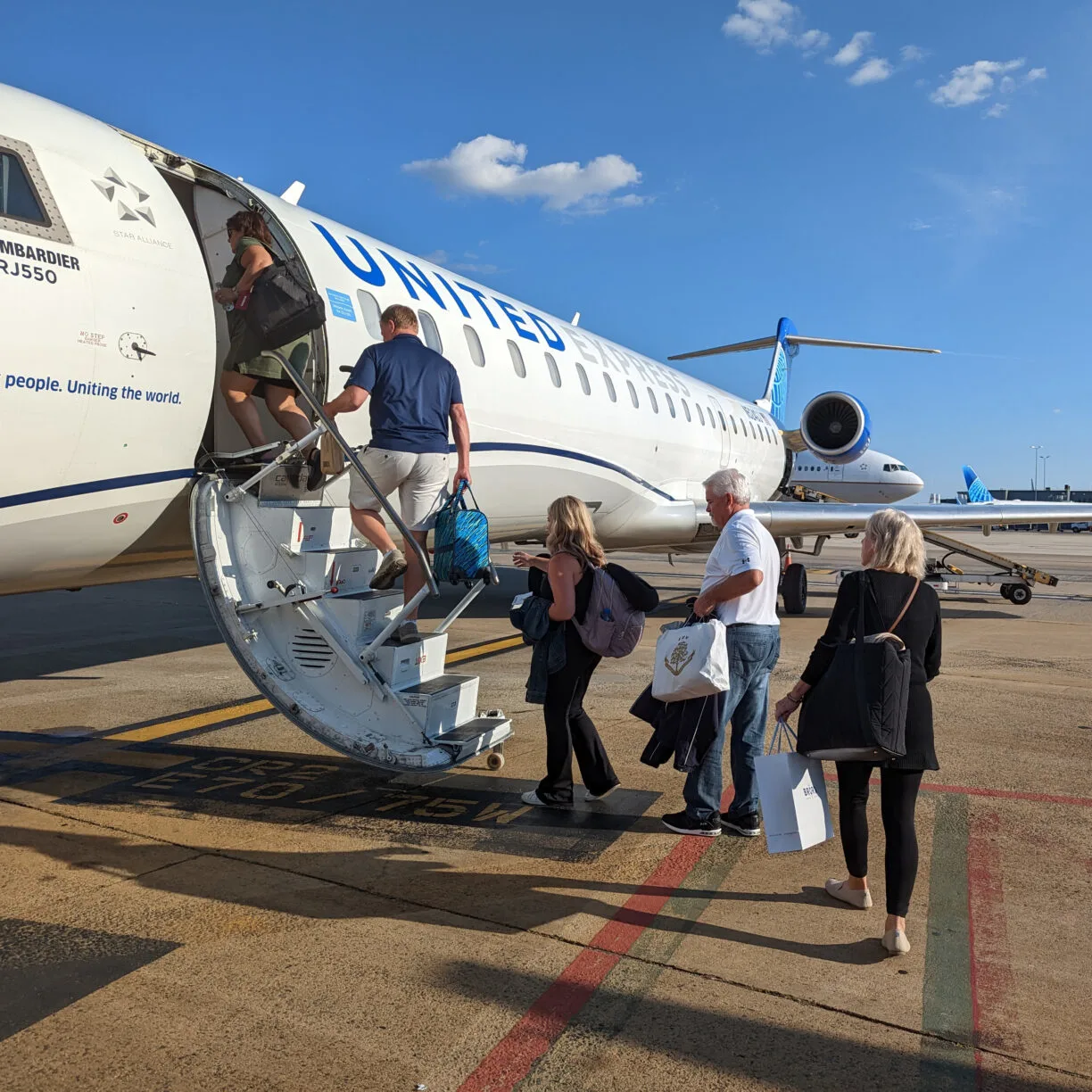 United Airlines' Policy for Plus Size Travelers
United Airlines' customer of size policy requires passengers who can't sit "safely and comfortably" in a single seat to purchase an additional seat.
While Southwest, the most inclusive airline for travelers in large bodies, owns it as their responsibility to provide safe seating, United Airlines' refusal to create a customer of size policy leaves fat travelers with the responsibility to arrange (and pay!) for extra seats.
According to their website, large passengers will have to buy an additional seat or upgrade if they can't meet all of the following requirements:
✔️Able to properly attach, buckle and wear the seat belt, with one extension if necessary, whenever the seatbelt sign is illuminated or as instructed by a crew member.
✔️Able to stay seated with the seat armrest(s) down for the whole flight.
✔️Not significantly encroach upon the adjacent seating space.
❌ United Airlines makes it clear that they make no effort to accommodate fat travelers with this statement, pulled from the policy: "We will not board you if you decline to buy a ticket for an additional seat or an upgrade for each leg of your itinerary when required."
❌ This, combined with a lack of precise language in their policy (i.e. who or what defines "significant encroaching"?) marks United Airlines as decidedly anti-inclusive in their policy.
💺✈️ Seat Sizes on United Airlines' Fleet
Knowing what size you need to fit in for your United Airlines flight can help you decide if you should purchase an extra seat.
Please note that these United seat dimensions are approximate. They can vary depending on the specific aircraft configuration and any updates made by the airline.
❌ I'm not a fan of being required to purchase an extra seat if I don't fit… and also not being given dimensions that I need to fit in (!) so I've gathered this information for you here.
This table summarizes the average seat width and pitch for different classes for United Airlines' fleet of Boeing 737-800, Boeing 777-200, and Boeing 787-9 aircraft models.
| United Aircraft | Seat Class | Average Seat Width (inches) |
| --- | --- | --- |
| Boeing 737-800 | Economy Class | 17 |
| Boeing 737-800 | Economy Plus | 17 |
| Boeing 737-800 | First Class | 20.5 |
| Boeing 777-200 | Economy Class | 17.3-18 |
| Boeing 777-200 | Economy Plus | 17.3-18 |
| Boeing 777-200 | Business Class (United Polaris) | 22 |
| Boeing 777-200 | First Class | 20.5-23 |
| Boeing 787-9 | Economy Class | 17.3-18 |
| Boeing 787-9 | Economy Plus | 17.3-18 |
| Boeing 787-9 | Business Class (United Polaris) | 21-22 |
| Boeing 787-9 | First Class | 20.5-22 |
Why This Policy Falls Short: United's Fat Shaming Reality
This policy from United Airlines raises several concerns for people who need extra room on a flight.
💰 It's costly. It is reasonable to prioritize passenger safety and comfort, but the reality is, many plus size travelers (or travelers in general!) can't afford an extra seat. This creates financial barriers and excludes many people from from the travel experiences that enrich life and support wellbeing.
🌍 It limits route options. While purchasing an extra seat or upgrading to a larger seat is an option, it relies on availability. In many cases, fat passengers may find limited availability on convenient or lower-cost routes. This creates a system that reinforces societal biases against individuals in larger bodies.
🙅‍♂️ Lack of empathy and inclusivity. United Airlines' policy stigmatizes and discriminates against heavier individuals, reinforcing harmful stereotypes and marginalizing them.
😔 It's dehumanizing. Plus size passengers may feel humiliated, embarrassed, or judged when forced to buy an extra seat or face the possibility of being denied boarding.
United Airlines Can Do Better 📢
The current policy from United Airlines is a big ❌. Why? It marginalizes and fails to offer viable alternatives to accommodate big passengers.
While purchasing an extra seat or upgrading to first class- where many plus size travelers can travel comfortably in a single seat- may work for some, it is not a feasible option for everyone.
Wanderbig's Challenge to United Airlines:
United Airlines has an opportunity to take a leadership role in the travel industry by championing inclusivity and addressing the concerns of all passengers.
📁 Policies that affect the health and safety of large travelers affect the comfort and safety of all travelers. While I'd hope thin travelers and airline staff might take up the cause of plus size travelers for the sake of inclusivity, the reality is that no traveler (big or small) wants to be placed in a seat next to a very large traveler. Neither customer in that position is happy, comfortable, or able to move their body in the necessary ways to thrive during a long flight.
United Airlines can start by developing an inclusive customer of size policy. I urge United Airlines to put in place policies that prioritize the comfort and dignity of all passengers
To be more inclusive of plus size travelers, United Airlines can:
💺 Redesign seating options: Take a cue from theaters and medical offices and create a variety of wider seats or flexible seating options to accommodate various body sizes. This would ensure comfort for all passengers and a reputation as a preferred airline for our community.
🌟 Train staff with empathy: Prioritize education and training for their staff to ensure they approach interactions with fat passengers with sensitivity and respect. By fostering a culture of inclusivity within their organization, United Airlines can send a powerful message that fat passengers are valued customers.
🤝 Partner with advocates: Collaborating with experts in radical body positivity and fat travelers' advocacy groups can shape effective policies that actually embrace diversity and inclusion.
By taking these steps, airlines like United can create an inclusive experience where all passengers feel valued and respected, regardless of their body size or whether the fullness of their bodies extends beyond an arbitrary standard on an ever-changing seat size.
Final Thoughts on United Airlines' Lackluster Policy
While United Airlines has sort of implemented a customer of size policy, it is evident that there is still significant room for improvement. By acknowledging the concerns raised by fat travelers and taking steps towards a more inclusive approach, United Airlines could become a trailblazer in the industry.
In the meantime, large travelers can advocate for themselves by choosing an alternate airline, knowing United seat dimensions in advance, and familiarizing (and normalizing!) themselves with the process of accessing and using a seat belt extension.
It is essential for airlines to provide equal opportunities for all passengers to travel comfortably and without discrimination. Let us collectively advocate for change, urging United Airlines and other airlines to prioritize inclusivity and create a travel experience that celebrates the diversity of body sizes.