Whether your travel style is ultralight one bag travel or full luxury, a well-packed carry-on is essential.
Carryon bags range from backpacks to tote bags, briefcases, to purses. For some travelers, a carry-on holds everything they need to thrive at a destination for days, weeks, or even months! For others, a carry-on is simply a way to keep a few items close at hand while larger luggage is checked and stored in the baggage hold of an airplane.
My travel style generally falls somewhere in between standard packing and one-bag traveling, and here's what I'm carrying in my carry-on luggage in 2023.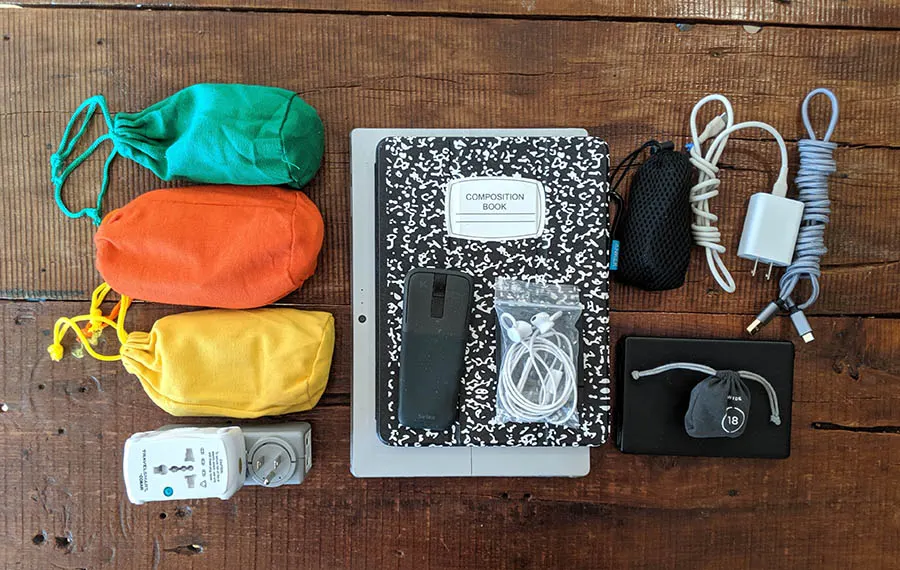 A Good Bag
The following section may contain affiliate links. As an Amazon Associate, we earn from qualifying purchases.
Okay, technically, this isn't what you put in your carry-on, considering it's the carry-on itself. However, a good carry-on setup always starts with the right bag. I'm partial to a roughly 25-liter daypack with outside storage myself, but there are plenty of options. If you're not into a backpack, you can go with a purse, tote, or small duffel. Just make sure your bag fits the carry-on size requirements of the airline you're flying.
Packing Cubes, Bags, or Pouches
If you haven't tried packing cubes yet, might just change your travel organization forever. Packing cubes organize and compress items in your luggage. You don't need to spend a ton of money to get a few packing cubes (though there are definitely nice ones out there). Honestly, if you only travel occasionally, consider sorting your belongings into plain old zip-top kitchen bags.
For my carryon, I'm partial to these small canvas drawstring pouches. Designed as party favors, these brightly colored cotton bags help me find things easily in my bag.
Whatever organization method you use, having this extra level of organization prevents you from rummaging through your bag to find something at the bottom. As a bonus- you're much less likely to send an earbud rolling under the seat two rows back when everything is at your fingertips.
Change of Clothes
As a rule, you always should always have a change of clothes in your carry-on. If nothing else, pack socks and underwear in there, just in case you make it to your destination and your luggage does not! (And if those socks are compression socks, you're tackling two travel hacks at once.)
A friend of mine had her luggage lost on an international flight and didn't have a change of clothes for four days, until it was finally returned. Chalk this up as one of those times I was lucky enough to learn from someone else's misfortune instead of my own.
Layers
Airplanes get cold. I run warm, but even I get chilly on planes (and in the airport, for that matter), so I always bring an extra layer or two. Whether that's a packable jacket, sweatshirt, or fuzzy socks, you'll thank yourself later.
Hint: if your luggage is so full it's hard to close, bring that extra layer onto your flight over an arm. Coats (and anything you sneakily slip into the pockets) don't count against your carryon limit on most flights.
Masks (For Face & Eyes)
My carry-on includes a few face masks and, on long flights, an eye mask for sleeping.
Personally, I never stopped wearing N95 masks in dense crowds, like those at a boarding gate. Once I'm in the air, though, and the plane is scrubbing or replacing the air up to 30 times per hour, I slip into a soft cotton over-the-head style mask from Proper Cloth that's so comfy it feels like the mask-equivalent of pajamas!
🥽 My recommendation for a travel eye mask is Bucky brand eyemasks, which you can shop at Amazon. (I use this model). They're ultra-lightweight and molded, making them perfect for travel.
Medication + Toiletry Basics
Just like the clothes section, having your basic toiletries on you will be a lifesaver if you get your luggage lost. If you have medications you need to take or specific brands of toiletries you swear by, make sure you've got a week's worth of anything hard to replace immediately. See my tips on packing vitamins, supplements, and prescriptions in a carry-on-friendly way.
Headphones
When it comes to headphones for a carry-on, 2023 offers a LOT of options, but in my opinion, none have quite perfected the art. Here's the options:
Noise Canceling Headphones – A lot of travelers swear by noise-canceling headphones, and on long international flights where I need to help trick my brain into thinking I'm alone, I'm one of them. Noise-canceling devices are a godsend when there's a crying baby or loud-talker nearby, but they work best when they're over-the-ear style. I'm not a huge fan of bulky over-ear headphones on flights, but you might like them.
Bluetooth Earbuds – Most travelers use wireless earbuds, but the problem with this option is that Airline's built-in entertainment is not compatible with Bluetooth. Instead, you'll be stuck with weird, wired, and probably pre-used airline headphones. I find that Bluetooth Earbuds or something similar work best if you're trying to listen to your own device or to find a good place to lie your head against the seat or the wall while listening to music.
Wireless Converter – These days, I bring a wireless Bluetooth converter on any flight long enough to have in-flight entertainment. Airlines haven't quite figured out how to reconcile the fact that we now all have wireless Bluetooth earbuds rather than wired headphones, even in first class. You'll need to bring wired headphones or a converter (I own and love this wireless transmitter designed for flights) so you can use your own earbuds – otherwise, you'll be stuck with the airline's headphones.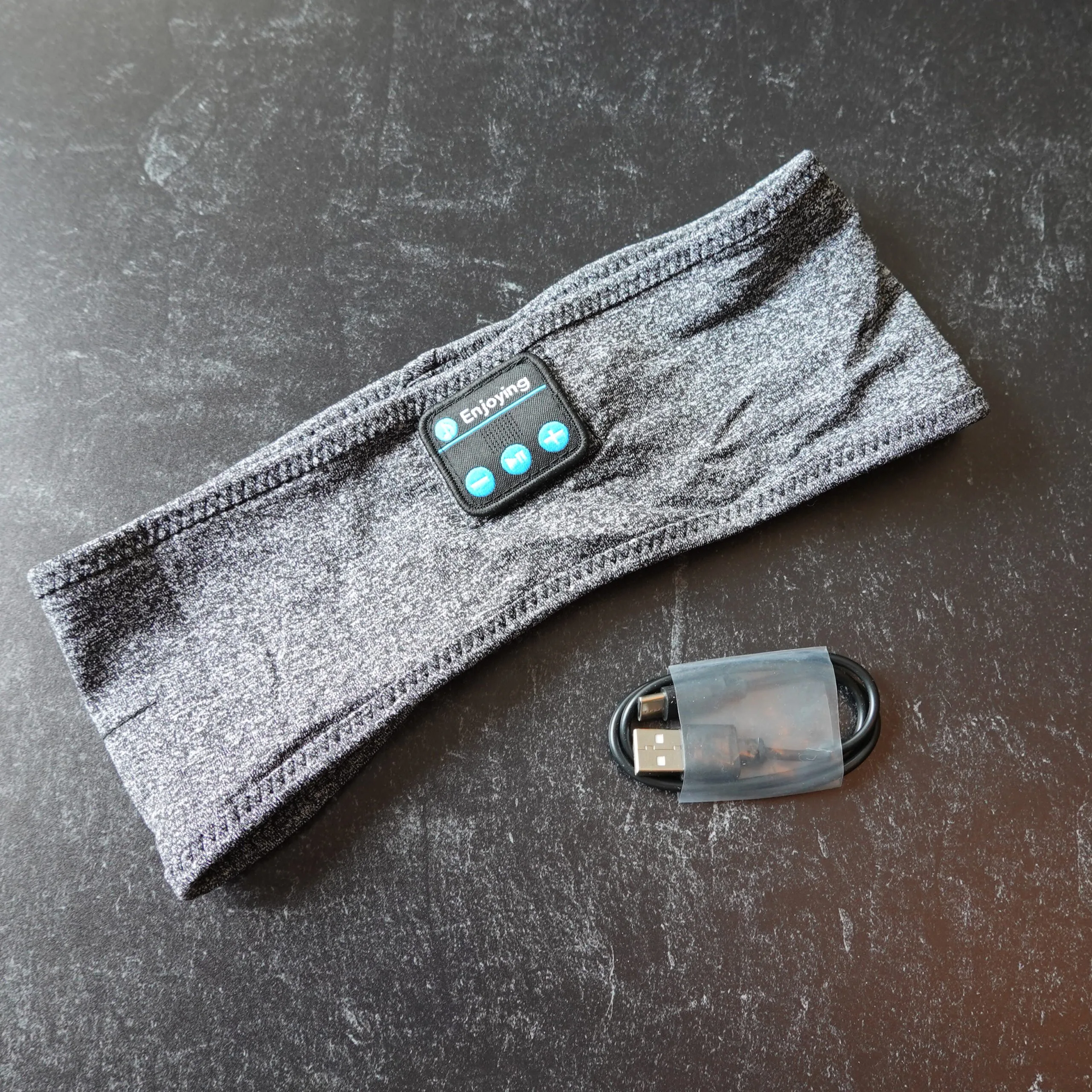 In any case, if you're a light sleeper, invest in some good headphones, especially if you travel internationally. Whether it's your first international flight or your 100th, sleeping on a plane definitely requires some expert tech.
Basic Electronics
At a minimum, my 2023 carry-on includes a charging cord, power brick, and any adaptors necessary. Beyond that, having a power bank is a great backup, but not always essential. I usually throw my laptop in a soft laptop sleeve when traveling. If you really want extra protection, a thin hard case inside of a soft laptop sleeve keeps your laptop even more secure. Read more about keeping electronics safe inside of a backpack or carry-on.
💡 Hint: If you're charging ultra-fast with USB-C to USB-C cables at home, be sure to pack a USB-C to USB-A for the road, since sometimes you'll have access to a USB plug but not an outlet.
Snacks
Does anyone else notice the airline snack packets keep getting smaller? My carry-on typically includes an apple, a nut bar, and something sweet (plus gum if I'm feeling at all congested and need help popping my ears).
Bringing snacks with you on the plane will save some money and make sure that those with dietary restrictions will have a few safe foods during the flight.
Hand & Surface Sanitizer
Hand sanitizer is an effective way to reduce the number of bacteria and pathogens on our hands. 1 When I'm flying in 2023, I like to keep in my carry-on antibacterial towelettes or a tiny spray bottle of rubbing alcohol so that I can disinfect the tray tables and armrests near my seat on the airplane.
An Empty Bottle
Confession: back when I worried about being a cool traveler™ I always had a name-brand water bottle dangling from my carry-on or taking up space inside. These days? I often leave the house with whatever clean, empty bottle I can find (on my last flight to Seattle, that happened to be a washed and reused bottle of General Tso's Sauce! 😅)
Showing up at the airport with an empty bottle in my carry-on means I can breeze through airport security and fill my bottle at the first water fountain I find.
Cash and Cards
Obviously, my wallet is in my carry-on. When I'm traveling internationally, I always carry about $200 USD in cash, tucked away discretely (separate from my wallet) Even without exchanging it, USD has buying power around the world and is a good backup in case my wallet is pickpocketed.
Need to change funds? Don't do it at the airport currency exchange booths- they give notoriously bad exchange rates. Instead, wait till your flight lands and find an airport ATM branded with a local bank's name. These ATMs generally give a fair exchange rate.

Important Documents
I'm not sure I need to say this, but I'll say it anyway: do not check your important documents. Keep them in your carry-on. Make sure you have your ID, passport, medical cards, travelers' insurance, etc., on your person.
tl;dr
In 2023, what I've got in my carry-on looks much like it did in 2022- with a few more health and cleaning supplies and updated tech. Traveling with everything I might need during my flight just a few feet away, under the seat in front of my, is an easy way to help make my air travel days just a little less stressful.
Now, let's hear from you: what are the essentials in your airplane carry-on?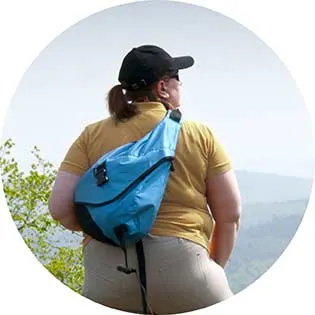 Lynli Roman's unique approach to travel is informed by decades of experience on the road with a traveling family and, later, years spent as a solo international traveler. When she's not writing about Seattle from her Pike Place Market apartment, Lynli writes on-location while conducting hands-on research in each destination she covers. Lynli's writing has been featured by MSN, ABC Money, Buzzfeed, and Huffington Post. She is passionate about sharing information that makes travel more accessible for all bodies.
Sources
Singh, P., Potlia, I., Malhotra, S., Dubey, H., & Chauhan, H. (2020). Hand Sanitizer an Alternative to Hand Washing—A Review of Literature. Journal of Advanced Oral Research, 11(2), 137-142. [↩]