During my first trip to the Pacific Northwest, I had 24 hours free to explore Seattle, and boy did I blow it!
For various reasons, I decided not to venture into downtown Seattle and even though I had a good day, I ended the trip regretting my decision not to visit Pike Place Market, the Space Needle, and the waterfront. Thankfully, I had the opportunity to fix my error when I moved to Seattle a few months later.
There, as an adult grad student in downtown Seattle, I got to make up for my mistakes on that first visit. By renting an apartment in the heart of the tourist triangle, I had the chance to really get to know the best destinations in Seattle. I dove in! I knew that urban life wasn't for me long term, so I spent my years in Seattle with the eyes of a tourist: seeking new experiences, exploring the attractions, and trying all the local recommendations. As grad school ground forward at a snail's pace, after a few years of this, I realized I'd become an expert guide on Seattle! That's when I wrote my Ultimate Guide to Pike Place Market.
Based on my years of experience wandering around the top spots in Seattle, here's the One Day in Seattle Itinerary I pass along to friends and family who only have 12 hours- about a full day- to visit Seattle.
1 Day Seattle Itinerary
Starting Points
There are two essential things worth covering before I jump into my 24 Hours in Seattle itinerary. Minding these two recommendations will significantly improve your tourist experience in Seattle:
Stay downtown.
To maximize your time in Seattle, I highly recommend staying in a hotel or Airbnb in the downtown-adjacent neighborhoods of Pike Place Historical District and Belltown. Arguably, the latter two are better places to stay for tourists than downtown proper, as you can escape from the high-rises and experience a more vibrant part of Seattle.
Plus these neighborhoods are right in the heart of multiple major tourist attractions. Staying downtown or downtown-adjacent will definitely cost a little more, but it means that you'll be ready to start your Seattle adventure first thing in the morning, and you be able to pop back to your hotel to rest in the afternoon if needed.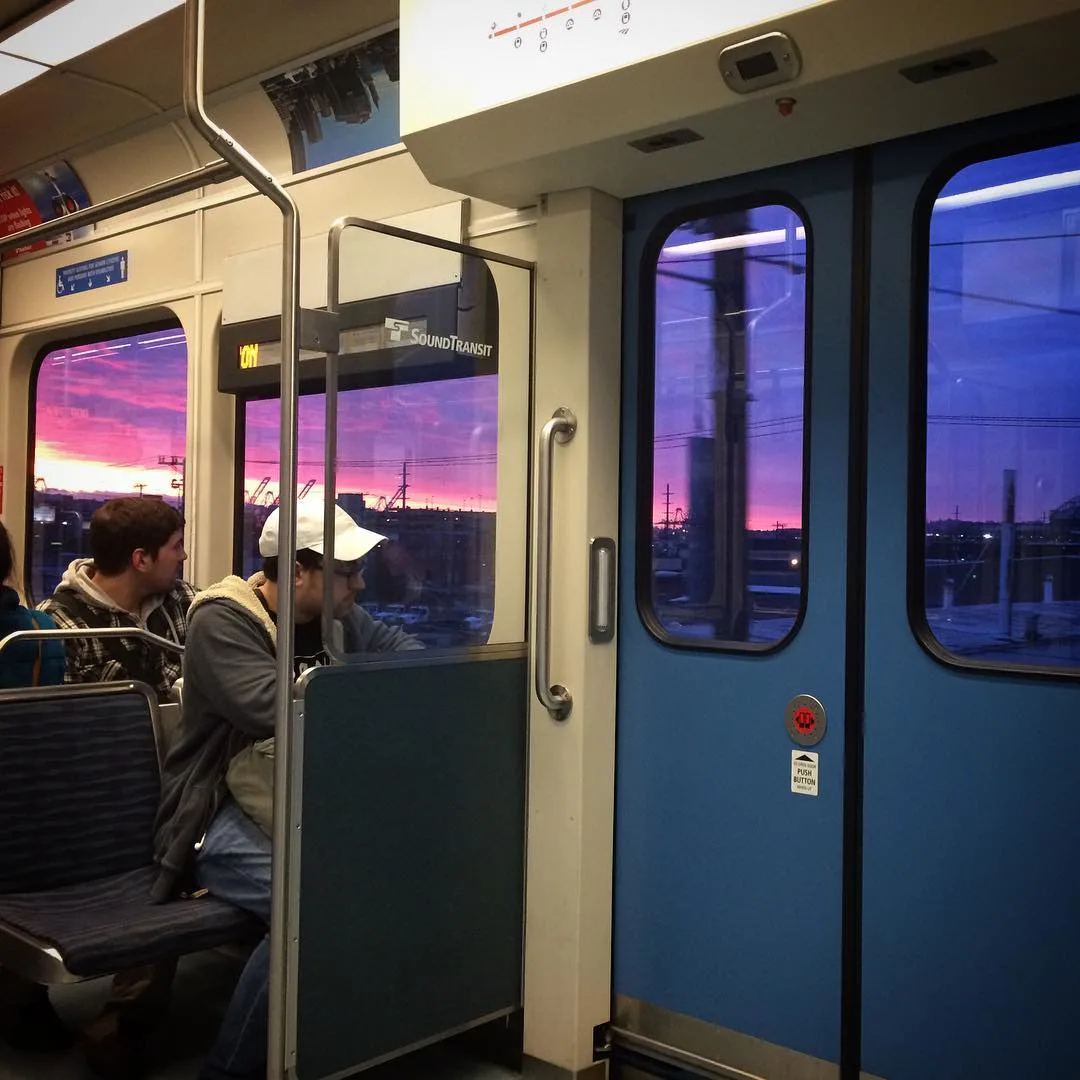 Do not rent a car.
Take it from someone who moved to Downtown Seattle with a car and (after agonizing through traffic, spending hundreds of dollars on parking, and dealing with a break-in) sold it after a few weeks, do not rent a car! If you are driving to the city, consider leaving your car at a commuter parking lot (It will be fine for 24 hours) and taking a bus or light rail train the rest of the way into the city.
Here's why:
Hotels charge for parking. Parking downtown starts at about $30/night
Traffic is terrible – If you're staying in a central district, it's often faster to walk from destination to destination.
There is little street parking, and the parking lots that are available are expensive – often starting at about $12/hr on weekdays.
In Seattle, the cost of a rental car can quickly after you calculate parking- so you'll save significant money by planning to use rideshares, public transportation, or walking. Seattlites love to hate on their public transportation, but it's actually a clean, efficient, and affordable way to navigate the city.
Morning of your Day in Seattle
In the morning of your one day in Seattle, you'll definitely want to head to Pike Place bright and early (Get there before 9:00 in the summer, or 10 am in the winter), but first, breakfast:
NOTE: I recommend not swapping the morning and afternoon activities in this 24 hours in Seattle itinerary- like any good market around the world Pike Place Market is vibrantly alive in the morning in a way that it isn't in the afternoon or late evening- so for the real experience, go early.
Breakfast
For breakfast, head to Dahlia Bakery (2001 4th Ave) for an affordable counter-serve bakery with both pastries and breakfast sandwiches. Owned by a James Beard Award-winning chef, you won't regret starting your day with this amazing breakfast. Dahlia is great for a light breakfast that will give you some energy but still allow for snacking your way through Pike Place Market!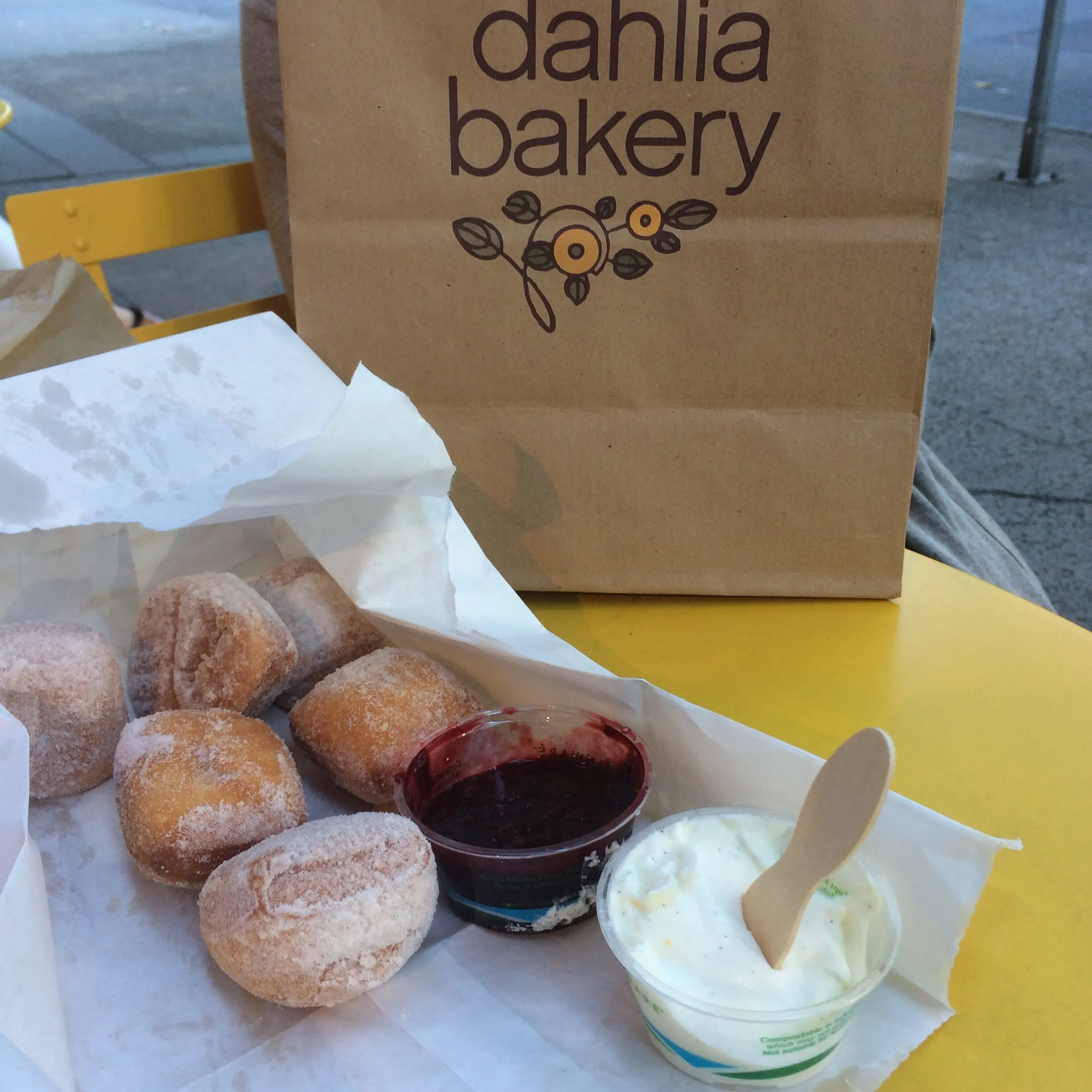 Activity: Pike Place Market
Have no doubt, Pike Place Market is definitely worth seeing. Although some tourists stride down Pike Place's main street and pronounce "they've seen all there is to see" in under an hour, Pike Place is way more than just its namesake street. It's a sprawling neighborhood of shops, restaurants, live music, and more. Its unique shops, art exhibits, and vendors reach from rooftop gardens to subterranean museums, and from instagrammable overlooks to alley art exhibits. In short, there's a LOT to see.
Rather than repeating all of my recommendations here, check out my list of 15 things to do at Pike Place Market. Those 15 activities will help you explore deeper, find many of the gems of Pike Place Market, and be sure your visit is complete.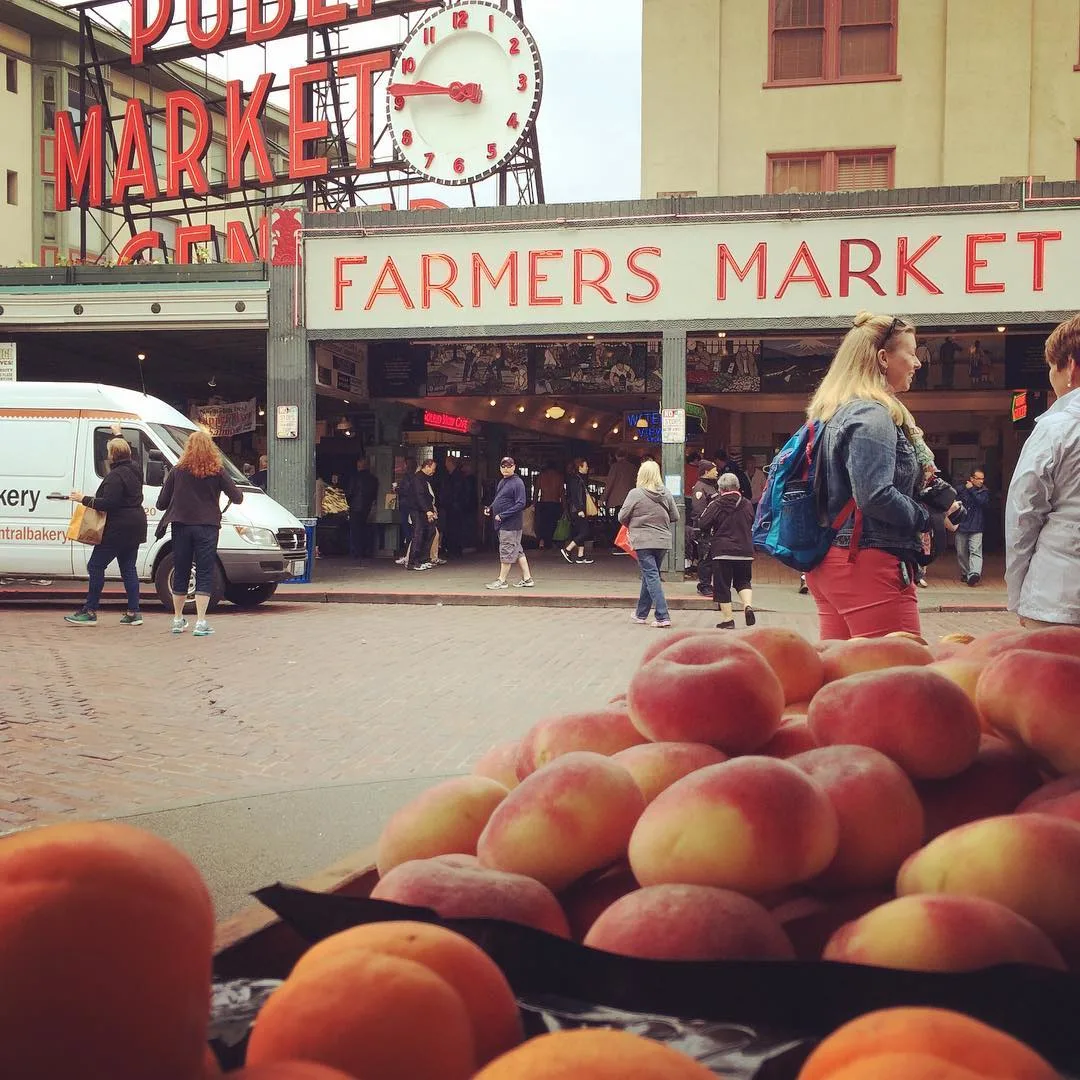 Midday Through your One-Day in Seattle
As the morning turns to midday, you'll start getting hungry again and feel that you've seen all that you wish to see of Pike Place market- that's your cue to head to the Space Needle- but not directly, of course!
While many tourists will grab a taxi or rideshare to shuttle them from Pike Place market to the space needle, you're not just any tourist! You are looking to get the maximum experience from your short visit to Seattle- so, here's why you'll make that trip on foot: The distance between Pike Place Market and the SpaceNeedle is easily covered on foot, and there is SO MUCH to see between these two landmarks. Literally, so many of my absolute favorite parts about Seattle can be experienced firsthand on this walk between Pike Place Market and the Space Needle.
If you ask Google Maps for directions between these landmarks, maps will probably send you directly down 3rd or 4th Avenue (Which is the fastest route on foot) but in my walking guide between these attractions, I offer a Google map of a much better route. Why Well, while the standard Google route follows the fastest walking route, choosing to walk instead along the waterfront adds only a few blocks to the total walking distance. but the detour means you can take advantage of all these FREE attractions along the way:
Bell Street Pier Rooftop Park
Olympic Sculpture Park
Myrtle Edwards Park
Read more about all of these mini-destinations in my walking guide to getting to the space needle. Venture into Myrtle Edwards Park, about .2 mile in, you'll discover the first of several beaches called "pocket beaches." These tiny beaches, just footsteps from downtown Seattle, are small patches of restored shoreline where state conservationists have painstakingly worked to bring these patches of beach back to a natural state. (If you're lucky and the tide is out, these are great beaches to see starfish!)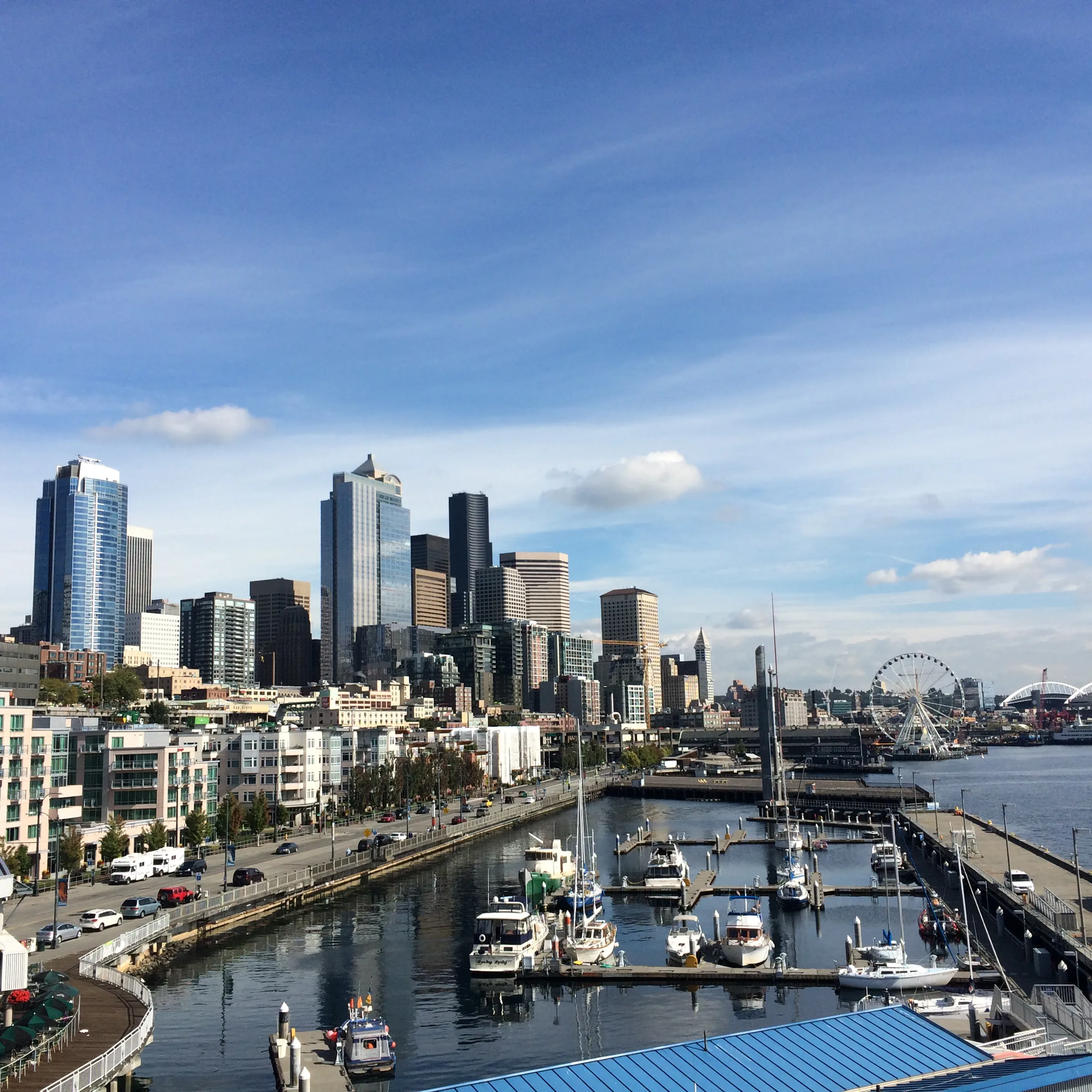 Lunch:
Depending on where along this route you get hungry and what your budget is, there are several great options.
💲💲 Splurge lunch: If you are ready for a soothing reprieve from the chaos of Pike Place Market, pop into the historic Edgewater Hotel and enjoy their waterfront dining room (Lunch starts at about $25-$30 for an entree). If that's a little too expensive for your budget, you can just pop into their gift shop (you'll find a full espresso bar in the back) and take a few moments in their lobby to enjoy your drink and rest your feet while enjoying unbeatable views of the Puget Sound and the Olympic Mountains.
💲 Budget lunch: Beloved by Seattle residents, a locally owned chain called Dicks serves up affordable, old-fashioned fast food that is impressively budget-friendly. You'll find the Queen Anne Neighborhood's Dick's (500 Queen Anne Ave N) just a block or two off the route leading from the Olympic Sculpture Park to the Space Needle.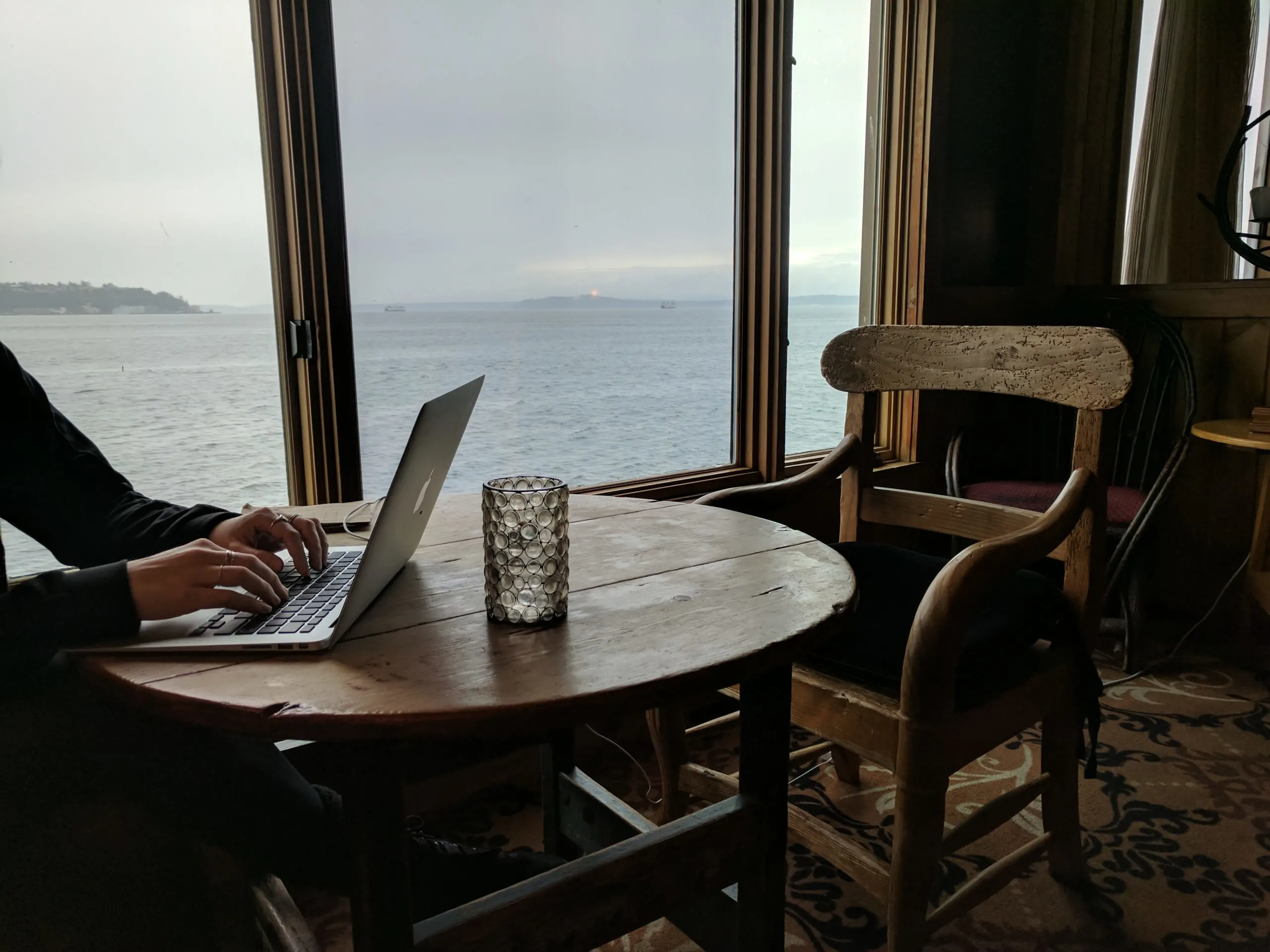 Afternoon of your 1 Day in Seattle Itinerary
After lunch, head on towards the Space Needle. Although my personal opinion is that it's better appreciated from the outside than from within, lots of Seattle tourists enjoy standing in line to buy tickets to go up in the elevator and view the city from above.
At the base of the Space Needle you'll find an enormous park and festival grounds called the Seattle Center. This park features several impressive art exhibits and fountains. There, you'll also find the Pacific Science Center and Chihuly Garden, the former of which is particularly fun for kids.
Once you've had your fill of Space Needle-adjacent activities, you can head back downtown using Seattle's kitschiest form of transportation: the Monorail! Used almost exclusively by tourists, this two-stop raised monorail bounces back and forth between Seattle Center and Westlake Center (a shopping mall located a few blocks inland from Pike Place Market)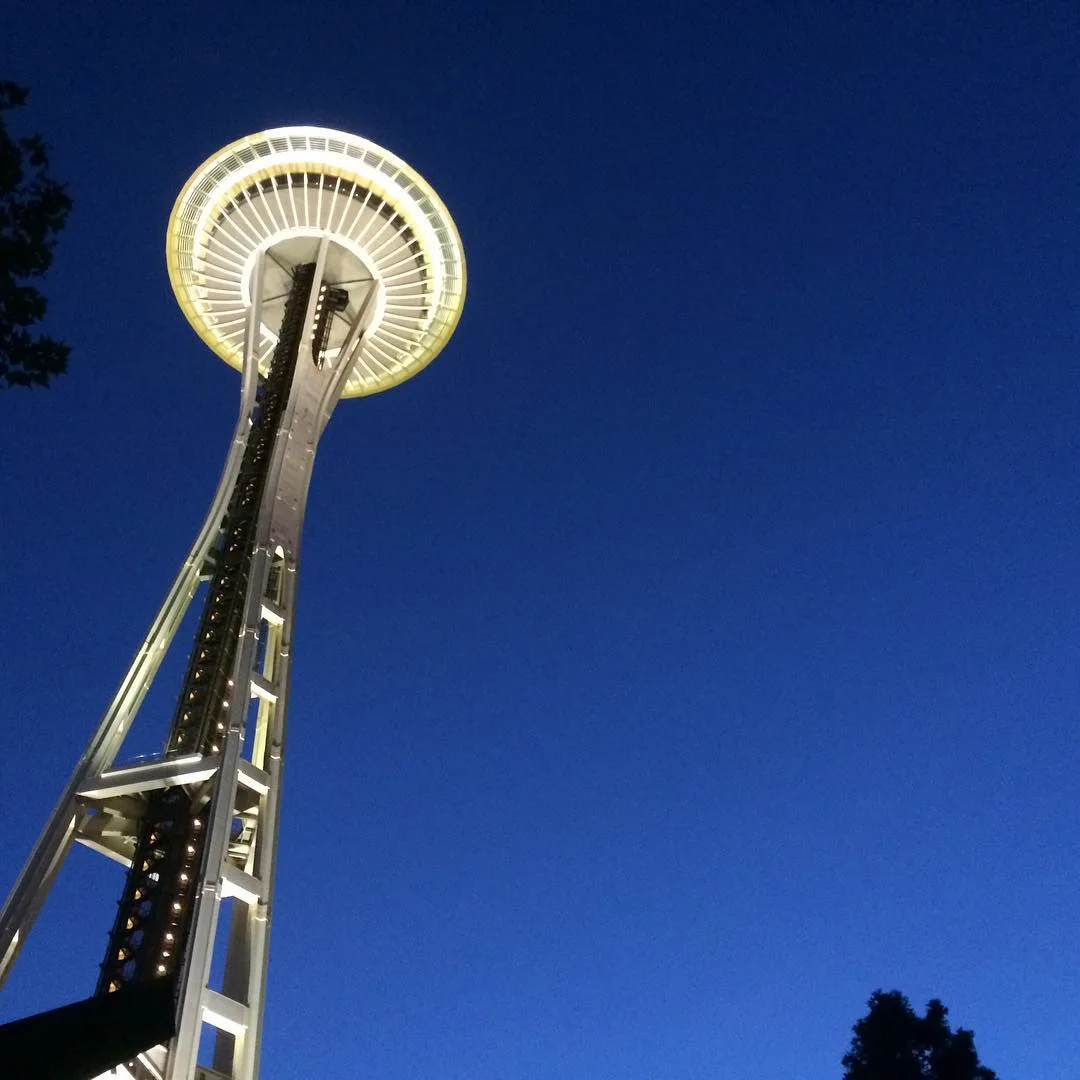 Late Afternoon Of this One Day Seattle itinerary
If you've got the energy to keep exploring and maximize your one day in Seattle, head from Westlake Center to the Downtown Seattle Ferry Terminal (801 Alaskan Way), where, for around nine dollars per person, you can board as a foot passenger on a Washington State Ferry bound for Bainbridge Island. There are lots of things to do on Bainbridge Island without a car and the island is worthy of a full day trip in itself, but if you just have one day in Seattle I recommend trying to board a ferry bound for Bainbridge Island that will make the crossing across the Puget Sound during sunset.
Sunsets on a Washington state ferry are just magic. There's nothing like being out on the water, with both water and mountain views, and a sunset exploding overhead. While not every day brings a great sunset, researchers are beginning to be able to forecast great sunsets a day or two in advance (check it out with this free tool)
The ferry across the Puget Sound is also a great time to rest your feet after a full day of exploring. For tips on riding the ferry, check out my article on How to Ride a Washington State Ferry.
When you arrive on Bainbridge Island after dark, you can choose between immediately re-boarding for the trip home or (if your tourist energy is extraordinary!) venturing into the city of Winslow, on Bainbridge.
Because the walk from the Bainbridge ferry to restaurants is about a half a mile uphill, if you've already spent the day on your feet you may wish to order a rideshare car from the ferry terminal to the restaurant of your choice (Harbour Public House at 231 Parfitt Way SW is a reliable choice for a good mid-range meal in the Island)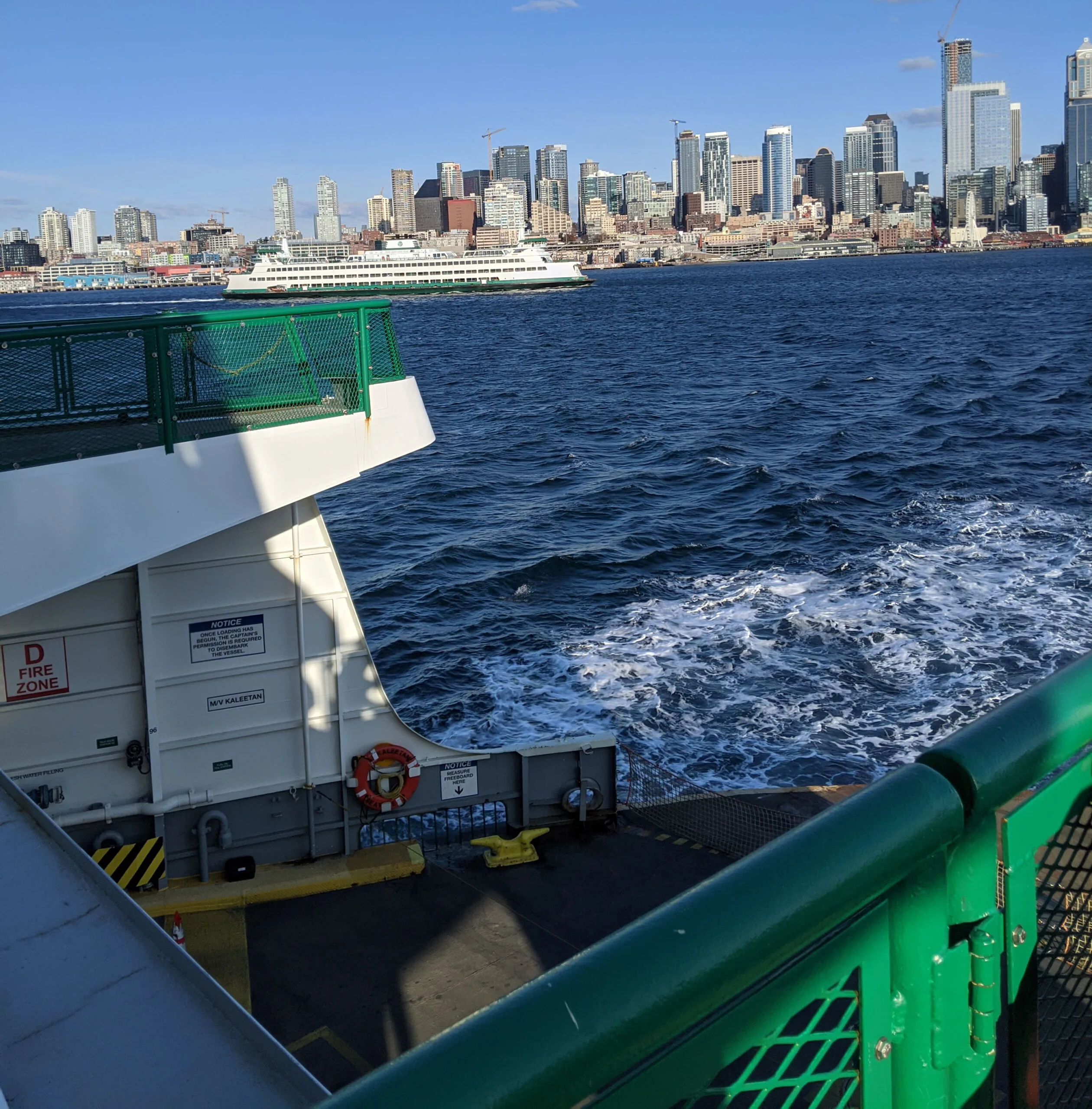 Evening in Seattle
After dinner, return to the ferry terminal and catch the next ferry headed back to Seattle where you'll most likely be ready to crash into bed at your hotel. If, however, you find yourself with a bit of energy and a bit of money left after your day in Seattle, order a rideshare to take you to Kerry Park.
Kerry Park (211 W Highland Dr) is a tiny park on a high ledge in a residential neighborhood near Seattle downtown Seattle. This tiny park is infamous for being the best place to enjoy views of the space needle- in fact, most of the iconic photographs of Seattle that you have seen were taken from Kerry Park.
After your fill of lights and city skylines, head three blocks up the street on foot (in a neighborhood very safe for walking after dark), and you'll find an infamous local ice cream shop called Molly Moon's (321 W Galer St, Seattle) which is a sweet way to end this 24 hours in Seattle itinerary before taking a car back to your hotel to crash.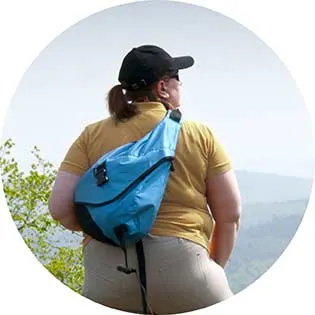 Lynli Roman's unique approach to travel is informed by decades of experience on the road with a traveling family and, later, years spent as a solo international traveler. When she's not writing about Seattle from her Pike Place Market apartment, Lynli writes on-location while conducting hands-on research in each destination she covers. Lynli's writing has been featured by MSN, ABC Money, Buzzfeed, and Huffington Post. She is passionate about sharing information that makes travel more accessible for all bodies.