The peak of summer travel season often coincides with the hottest part of the year. For people who don't tolerate heat well – or who are just accustomed to climate-controlled buildings year-round, summertime travel to very warm locations can be a huge barrier.
While many people dream of beach vacations or backpacking in southeast Asian countries like Vietnam, Indonesia, or Thailand, the heat and humidity can be more than an inconvenience. To avoid discomfort and risk of heatstroke, many travelers may even choose not to visit a destination that they have dreamed of because of heat and humidity.
Now, even European vacations in the summer can be sweltering, and planning ahead for ways to handle a potential heatwave is essential for planning a successful summer vacation in Europe.
How to Stay Cool During Hot Summer Travel
In this article, I share a few ways to manage extreme heat and high humidity during travel. As a plus-size traveler, and someone particularly mindful of how to manage high heat while traveling, I've gathered a number of strategies for overcoming high temperatures and enjoying the hottest travel destinations. In no particular order, they include:
Explore in Cooler Temperatures by Getting up Early
Whether it's the American South or the jungles of Vietnam, even in peak summer, early morning is always cooler than midday or late afternoon, making it the best time of day to plan excursions.
Some high humidity locations don't cool off much overnight. However, in low humidity locations (like deserts and mountains) the difference between exploring first thing in the morning and lazily venturing out midafternoon is huge! It could mean a temperature difference of 10° F or even 20° F! Which has a big impact on how hot you'll feel during your time exploring.
Plan for It, but Don't Rely Entirely on Air-Conditioning
Obviously, any article on enjoying travel in heat and humidity starts with a mention of air-conditioning. The ability to cool and dehumidifier air is the best way to cool off. However, air-conditioning obviously has its limitations: travel is all about adventuring, experiencing, and exploring beyond just our hotel or Airbnb.
My best tip for booking lodging while visiting a hot location is to make sure air-conditioning is an option at night. I find that I can enjoy exploring a new city in hot summer temperatures as long as I have a cool place to shower and regulate my temperature with an air conditioning unit.
Air conditioning is also proven to improve sleep quality at night (source), and getting a great night of sleep is often an underrated aspect of determining how much we enjoy a vacation.
TIP: If you're planning budget travel lodging, read the reviews closely for information about the air-conditioning quality. Some budget accommodations and Southeast Asia advertise that air-conditioning is available but the units are often inefficient or undersized for the space.
Sit Out the Hottest Part of the Day
When traveling to hot and humid locations, a good schedule for the average travel day is:
DAILY SCHEDULE FOR VISITING A HOT SUMMER TRAVEL DESTINATION:


Whether you retreat back to the cool temperatures of an air-conditioned hotel lobby or just seek ice cold drinks on the patio of a well-shaded restaurant, plan a way to be out of the sun during the hottest part of the day (usually, about noon to 3 PM).
Alternately, if you don't want to sacrifice the second of your travel time to rest and relaxation, plan to visit museums or art galleries during the peak heat of midday. These public facilities are often well air-conditioned for the sake of both guests and the quality of the exhibits.
Shower Often
Even if you think you handle heat well, you might be shocked at how quickly the humidity in some tropical destinations like South East Asia results in skin and clothing soaked with perspiration. Taking quick, cool showers throughout the day can be a way to stay refreshed while keeping your internal temperature slightly lower.
Take More Breaks when Traveling to Hot Destinations
When I'm wandering in 100° heat, a Starbucks sign can feel like a mirage on the horizon as it beckons me into temperature-controlled comfort. Visiting a very hot destination is one of the few times that I'm really thankful to see chain restaurants.
Although I try to avoid spending too much time in familiar chain restaurants while traveling, just 20 or 30 minutes to regulate my temperature with a cold drink and air-conditioned air blasting from vents can recharge my ability to continue to explore a hot location as a traveler unaccustomed to high temperatures.
Take it Slow Until you get Used to It
Bodies do acclimate to heat, and it happens much faster than you think that it might.
While some travelers are convinced that forgoing air-conditioning is the fastest way to acclimate to a hot climate, I remain resolute that high-quality sleep (facilitated by cool room) is the most basic element of enjoyable travel.
Regardless of whether you choose to use air-conditioning or not, most healthy bodies that stay sufficiently hydrated and take plenty of breaks in the shade become, at least a little, acclimated to higher temperatures within a few days.
In Hot Destinations, Drink More Water
While water is something I always keep in my day pack – even if I think I won't need it- when I'm in a hot location I pack lots of water. Carrying extra water is heavy, but in a high heat travel destination, most travelers drink water fast enough that carrying the extra weight is very temporary. It's an essential thing to take to the beach.
when you're in a high humidity location, the amount of water you lose by sweating displaces a significant amount of hydration from your body. In order to avoid heatstroke or even just heat-induced headaches, drink and keep drinking water throughout the day.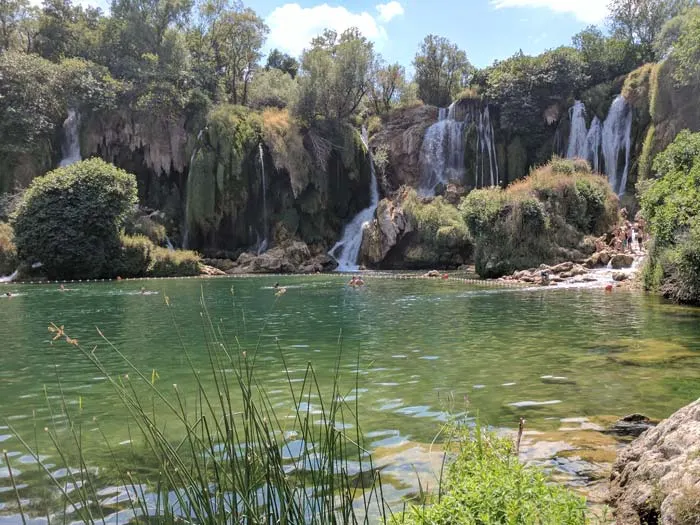 Freeze Water Bottles
If you stay in an Airbnb or apartment with a kitchen that includes a refrigerator with a freezer, freeze bottles of drinking water each night. In the morning, pack a bottle of frozen water (along with a bottle of room temperature water) in each person's day bag.
A frozen bottle of water placed in your backpack – and nestled up against your back – can help keep your body temperature a little bit cooler while also cooling the thawed water in your bag. By the time you finish your first water bottle, the frozen water bottle should be melted and ready to drink.
Keep Long Hair Up (or cut it off!)
For travelers seriously considering long-term backpacking, becoming a digital nomad, or starting a travel blog, having a short haircut has many advantages. Short haircuts are easy to care for while traveling and can keep the back of your neck and head feeling significantly cooler.
Headed out for a shorter trip and don't want to chop it off, learn about easy hairstyles for hot weather that will keep long hair up and off your neck. Pro tip: be sure and practice these styles a few times before you leave! That way, if you need extra clips or bobby pins to pull it off- you'll have them ready.
Pack Light, Breathable Clothing for Hot Vacations
Americans tend to pack jeans, twill shorts, or leggings for every trip, regardless of the climate or heat of the destination, but for visiting hot locations you'll need to pack more carefully.
For very hot and humid destinations, curate your packing list to reflect what your body needs to thrive and enjoy your vacation:
don't pack:
jeans
cargo shorts
leggings
cotton shirts or shorts
poly-blend t-shirts
DO pack:
wicking athleisure clothing
linen and linen blend fabric
high-performance fabrics
fine woven merino wool
Instead of cargo shorts or cut off jeans, or poly-blend T-shirts, get serious about packing high performance clothing. Fast drying fabrics can be easily hand washed in a sink.
Moisture-wicking activewear can make a significant difference in your physical comfort when traveling to hot location in the summer.
Make Allowances Where you Can
Be extra kind to yourself when traveling in in a hot place in the summer. While walking long distances and enjoying the journey is a part of many trips, it may be a better idea to hire a taxi, uber, or air-conditioned tuk-tuk for transportation when it is very hot outside.
Finding ways, like this, to make life during a hot weather vacation just a little bit easier – even if it costs a bit more – can make our trip more enjoyable by avoiding heat exhaustion and saving our energy for the fun parts of travel.
Final Thoughts
While traveling to high humidity and high heat locations in the summer can be uncomfortable for many, there are many benefits to travel during the summer. It may be when your friends or family are most available to travel with you, and you'll find the local plants – which are acclimated to the location – thriving at the peak. As a bonus, because a portion of other travelers avoid planning travel during the peak summer months, you may also find that destinations that you want to see are less crowded.
While there are both drawbacks and benefits to travel to hot places during the summer, with these tips you can maximize the enjoyment of your warm-weather destination regardless of the season.
For more tips on thriving in hot weather, check out the CDC's advice on handing extreme heat.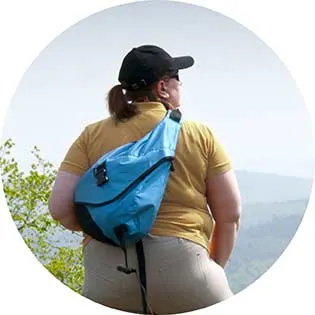 Lynli Roman's unique approach to travel is informed by decades of experience on the road with a traveling family and, later, years spent as a solo international traveler. When she's not writing about Seattle from her Pike Place Market apartment, Lynli writes on-location while conducting hands-on research in each destination she covers. Lynli's writing has been featured by MSN, ABC Money, Buzzfeed, and Huffington Post. She is passionate about sharing information that makes travel more accessible for all bodies.