Having a great day at the beach isn't just about a great beach and great weather, it often requires some creative planning to really enjoy your trip.
I know I'm not the only one who has found myself reclined in a beachside lounger in the lap of luxury, listening to the surf break on the shore nearby and feeling kind of… bored. In fact, as I've become a master at planning fun day trips to chilly beaches in the Pacific Northwest, I've discovered that both having an itinerary and packing the right things to take to the beach is key to having a fun-filled beach trip.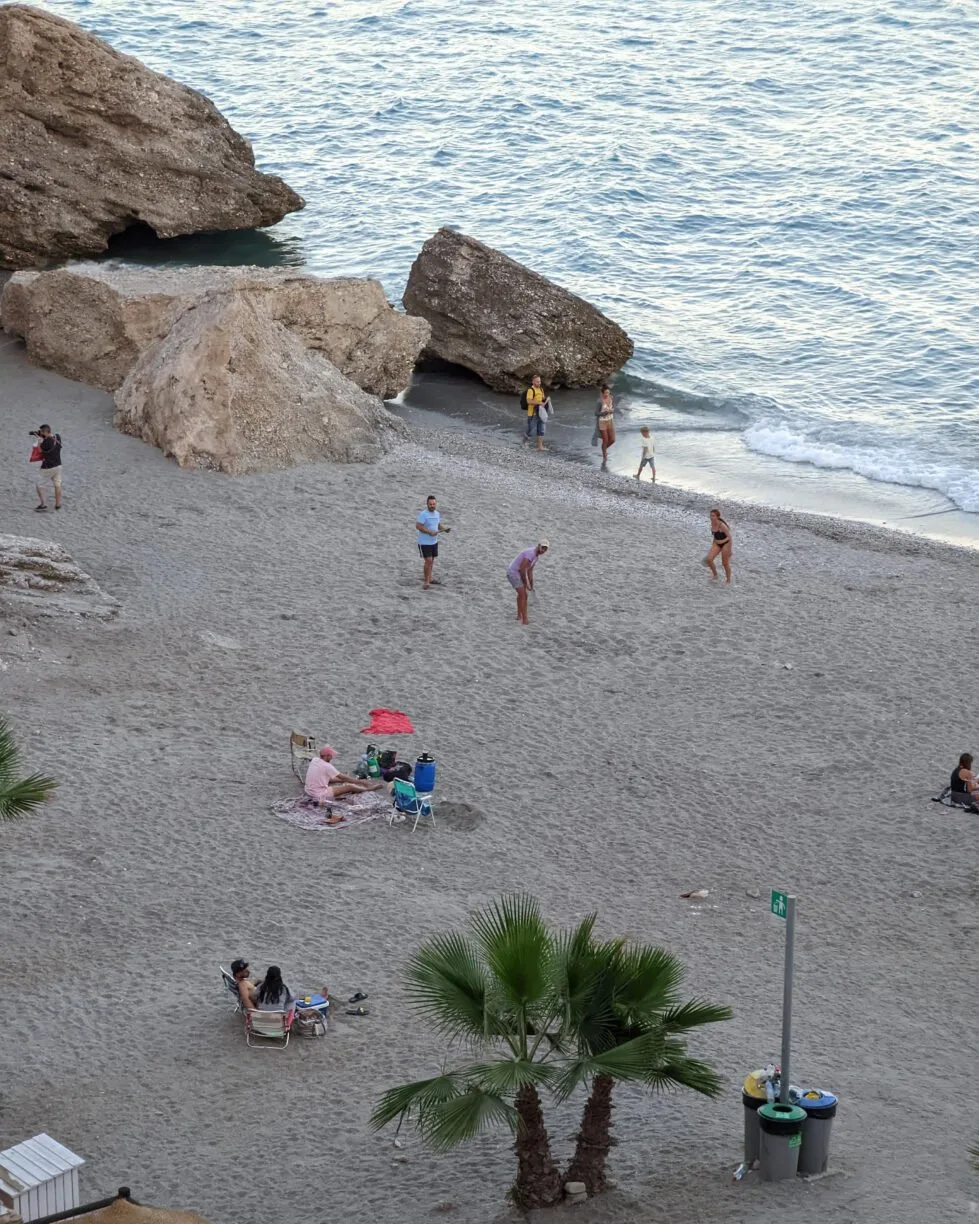 Interesting Things to do at the Beach
Maybe you're lucky enough to live near the beach and visit often, and because you go so often, you're just tired of doing the same old stuff every time you hit the beach. While summer can feel endless, there IS such a thing as too much sunbathing and too much lounging around without anything interesting to do. Break out of your rut and try some new activities inspired by this list- it includes things to do at the beach for all kinds of travelers and all kinds of beaches. From solo travelers on sandy beaches to families exploring the beaches of the Pacific Northwest USA Islands or couples honeymooning on Croatian Islands like Lokrum Island.
Need Help Planning?
Download my printable PDF of things to do at the beach – free!
Download my printable PDF of things to do at the beach – free!
Visit a Seaside Restaurant
Every beach is different, but almost every public beach has a restaurant adjacent. Whether it's a grill perched atop a rocky cliffside or a beachy diner on the boardwalk, most popular beaches have food options and this can be an interesting way to enjoy both the coastal ambiance and the local cuisine.
Have a Beach Fire
If you happen to find yourself on a beach where beach fires are allowed, it's an experience you won't want to miss. There's nothing quite like the sound of waves hitting the beach behind the warm glow of a beach fire. Research the beach you're visiting before you go to determine if beach fires are allowed, and if they are, be sure to pack a bundle of firewood.
Hints: on many public beaches, beach fires are only allowed in fire pits, and fire pits are claimed early in the evening – as is the case at Seattle's infamous Golden Gardens beach. One way to avoid the hassle of claiming and guarding a public firepit is to bring your fire own metal fire pit. On some of these beaches, as long as you have a metal container to contain your fire, you may be able to avoid spending hours scouting a shared fire pit.
Toss a Frisbee
If you're not sure what to do on the beach, starting or joining a simple game can be a way to enjoy doing something while also potentially making new friends. All you need to get started is a frisbee and willing partner.
Sunbathe
Although sun damage is a real risk, with proper precautions like sunscreen, sunglasses, and an umbrella or floppy hat, sunbathing for a bit can be safe, fun, and deeply relaxing. Sunbathing is an iconic part of any visit to any sandy beach during warm weather.
Even if your skin tone requires that you almost entirely avoid the sun, stretching out on a soft beach towel just long enough to feel the warm sunlight warm your skin can be, itself, therapeutic.
Read a Book
Often, our time at the beach is more than just a trip to the beach – it's our getaway from work and many of our responsibilities. I find one of the best ways to lean into this experience of doing nothing for the sake of doing nothing on a beach is through reading.
While the frequency at which sunny beaches show up on advertisements for Kindles might make us think that we need to pack a reading tablet, I recommend packing a cheap mass-market paperback book or a few magazines. Why? Not having to worry about keeping our tech safe can make a day at the beach more enjoyable, so bring as few tech devices as possible.
Swim or Wade
If you happen to be on a beach where the water is warm enough (and the currents are kind enough!) to swim or wade, don't miss the opportunity to get in the water. While open water swimming isn't for everyone, playing around in the surf or even just letting the waves splash your ankles can be a fun activity that feels great.
Write Something in the Sand
Although difficult on crowded beaches or beaches with rocky soil (like Lockrum Island in Croatia) writing something on the beach can be something of a cathartic experience. Ask yourself: what is it that you'd like to write in the sand knowing that your writing will be washed away with the next tide? It can even be a sort of zen practice, as you mindfully let go of the writing as you wait for the tide to return and erase your writing.
Explore Tide Pools
Many rocky and sandy beaches have an uneven surface that, when the tide recedes, leaves behind small pools of seawater. Often, these temporary tide pools are home to underwater creatures we don't usually get to see up close. Avoid touching or disturbing the wildlife, but you can use Google Lens to snap a photo and identify what you see.
Make a Friend
Hear me out: like hiking trails, beaches are one of the few public places where it's normal to strike up a conversation with a stranger. Starting a conversation with a fellow beachgoer can be as simple as "Hey, I'm done with this magazine are you interested?" or "Hey, I'm going to be here for the next hour or so if you want me to watch your stuff while you take a dip." Once that initial conversation is initiated, you can strike up small talk and perhaps even invite them to play a game, share a snack, or join your beach fire later.
Beachcomb for Shells, Rocks, Sea Glass, or Driftwood
Beachcombing for shells, sea glass, or other interesting objects can be a fun thing to do at the beach – in fact, personally, it's one of my absolute favorite things to do at the beach whether it is a warm-weather beach or if I'm visiting a beach in the winter.
Simply walking up the beach, along the tide line, and keeping your eyes trained on the ground in front of you can turn up all sorts of interesting objects ranging from the beautiful (like shells or sea glass) to odd (like marine trash that has washed up) to just plain gross (like dead sea creatures). Once, beach combing after a storm, I even found a houseplant (likely fallen from a houseboat or dock), took it home and rinsed the salt water off, and nurtured it back into full bloom.
Walking along the beach gives you the chance to experience more mindful travel during your beach trip and explore a little more of the coastline.
Build a Sandcastle or a Driftwood Fort
As I researched for this post on things to do at the beach, other articles on beach activities seem obsessed with making sandcastles, but not every beach is suited to making sandcastles.
The beaches in my home state of Seattle are lined with glacial rock and littered with white skeleton-like logs of driftwood formed by the erosion of forest-lined cliffs. Whether you find yourself on a beach with soft sand or rough driftwood, building something in these undeveloped spaces seems to be something of human nature.
On driftwood-lined beaches, it can be fun to learn or stack driftwood to build structures, while on sandcastle-friendly beaches making a traditional sandcastle can be the highlight of a beach vacation. Caution: stacking driftwood can be dangerous. Never stand where you could be injured by falling driftwood logs.
Hint: For Sandcastles worth remembering, pack typical sandcastle building tools (a spade, bucket, cups, and/or molds) plus a spray bottle of water and an icing spatula. These extra tools make it easy to add a little finesse to a basic sandcastle.
The following section may contain affiliate links. As an Amazon Associate, we earn from qualifying purchases.
Fly a Kite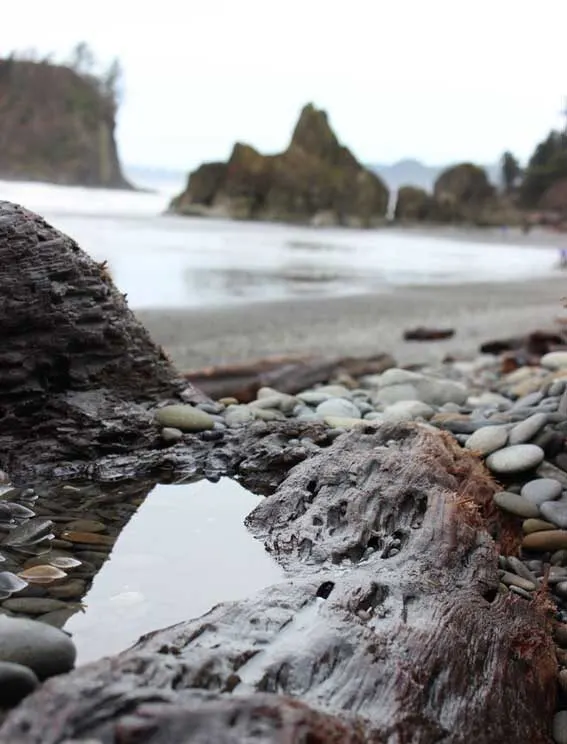 Beaches are often a place where you can find both strong breezes and expanses of sky free from power lines. This makes many beaches premium spaces for kite flying!
Although, if you're an adult, there's a good chance you haven't flown a kite in so long you can't remember what it's like, trust me, it's worth the investment in a $10 basic kite from Amazon to have one on hand.
I rediscovered kite flying when I moved to Seattle and needed to find an activity to enjoy on Washington state's often cold and windy beaches. Kite flying, it turns out, is a kind of meditative activity that's a helpful way to enjoy beach downtime if you are the type of person who relaxes best when you have something to do.
Make a mosaic with found objects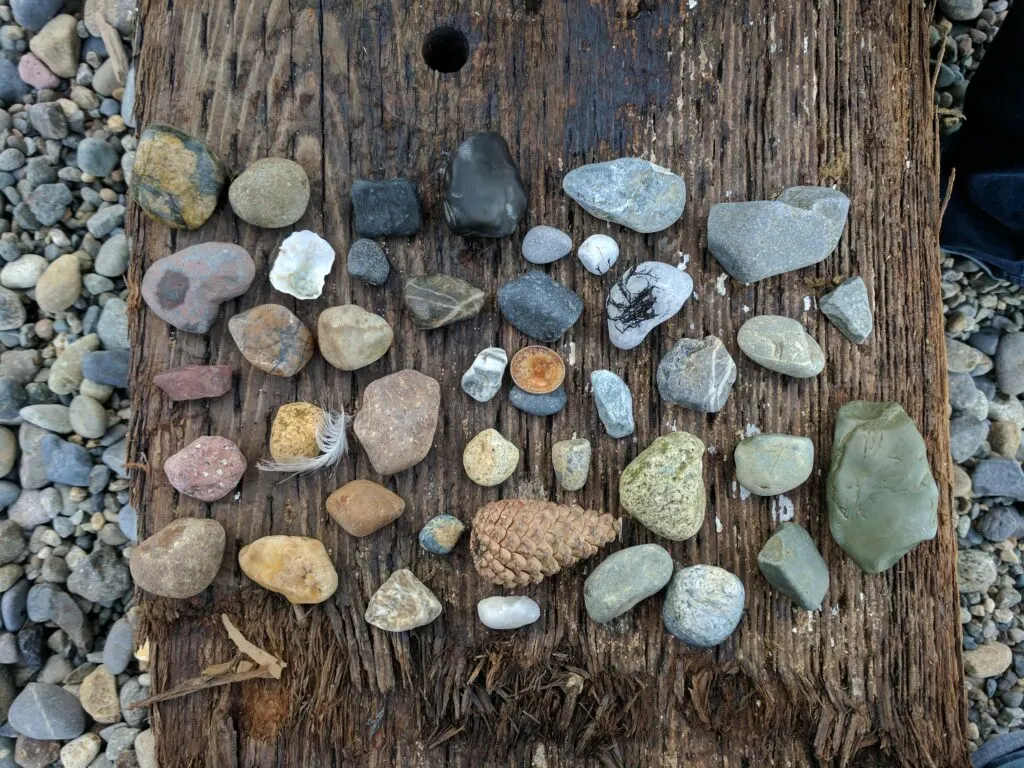 Speaking of relaxing ways to enjoy time at the beach if you're used to being busy: try making mosaics with found objects. Whether you're on a pacific northwest beach with colorful rocks or a Caribbean beach with shells, you can collect objects while beachcombing to create a piece of unique art while you enjoy your time on the beach.
This activity can keep kids of all ages busy for hours and is equally fun for solo travelers. For couples visiting the beach together, collaboratively creating something can be a way to tune into each other and connect, boosting the positive effects of vacationing together.
Enjoy a sunset
It always surprises me how many beachgoers pack up and leave the beach a few hours before sundown. One of my favorite things to do at the beach is to just sit and take in a sunset.
By the time the sun has sunk low on the horizon, sun damage is less of a concern so it can be even more enjoyable to sit and listen to the water and watch the sun sink beyond the horizon.
Did you know forcasters are now able to predict in advance when sunsets will be spectacular and when they'll just be "meh"? Check out the sunset forecast at Sunset WX.
HINT: Add watch clothing to your beach packing list so you'll be prepared for dramatic temperature shifts as the sun sets (hopefully in a dramatic fashion!).
Watch the Water for Wildlife
Most of us forget when we visit the beach just how much wildlife is just beyond our line of sight. During your visit to the beach, whether it's a warm tropical beach or cool northern coast, spend a few minutes with your eyes trained on the waterline.
Riding Washington State Ferries has taught me just how much wildlife pops up from the water unexpectedly and is missed by the vast majority of travelers.
Eat a Picnic
If you stay at the beach long enough, you're going to get hungry- and while I already mentioned just how much I enjoy beachfront cafés, a picnic can be a charming way to enjoy a meal while saving money and having a more intimate and private experience.
Picnics are especially great for beaches that are very crowded (and likely have crowded, poor quality food options) or deserted (since these beaches generally have no options for food unless you bring your own). If you're stumped on what foods to bring to enjoy a beach meal, check out my recommendations for foods to bring on a road trip and hotel room meals, since those meals are also developed for preparing meals without heat or refrigeration.
Walk Along the Beach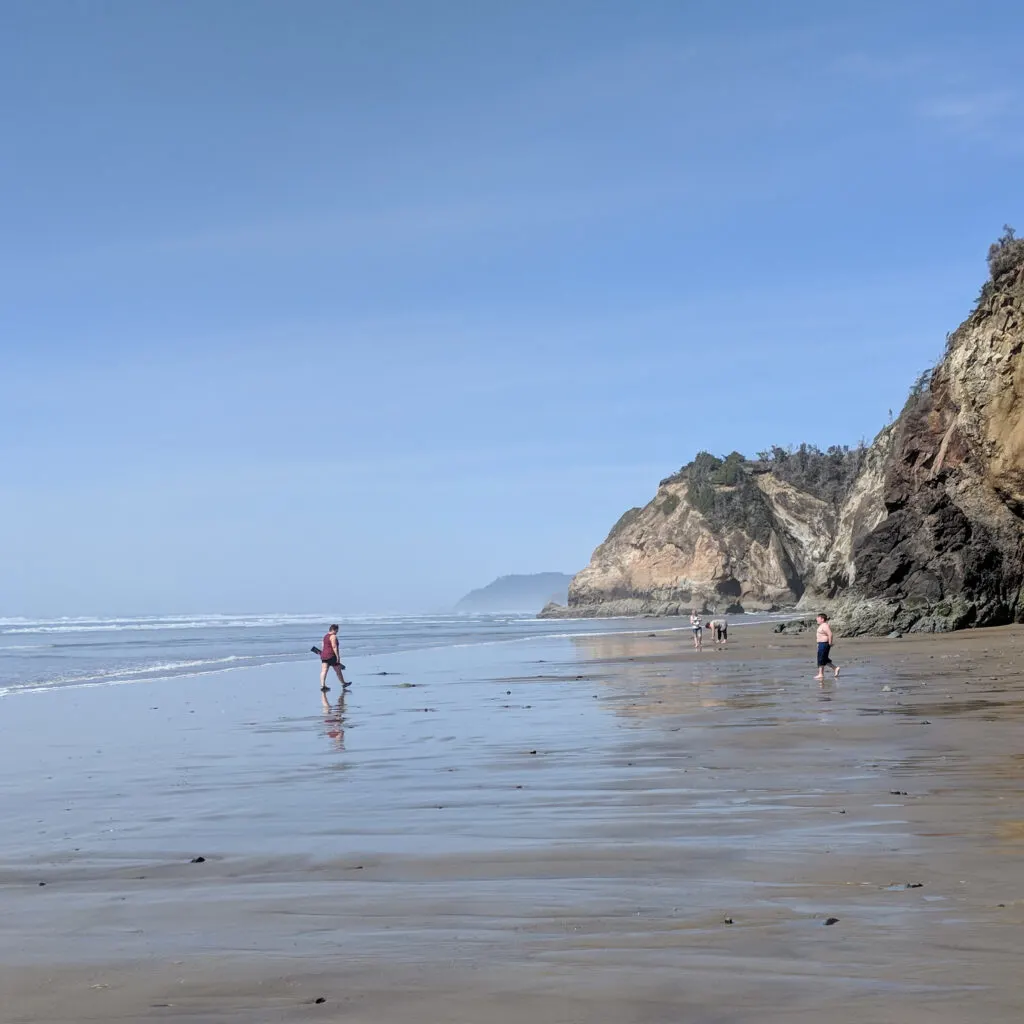 Even if you're not into beachcombing, a simple walk up the beach can be a great way to see even more of the coast and stretch your legs. It's even more fun with a partner.
Try surfing or body surfing
If the beach you are visiting is safe for surfing and has an outfitter renting equipment and instruction, consider giving this unique experience a try.
Although surfing is much harder than it looks for most bodies and takes more than a day at the beach to get the hang of it, body surfing, swimming out, and letting the tide lift and carry your body inland, can be a fun and relaxing things to do at the beach for good swimmers.
Need Help Packing?
Download my printable PDF packing list- free!
Download My Printable PDF Packing List- Free!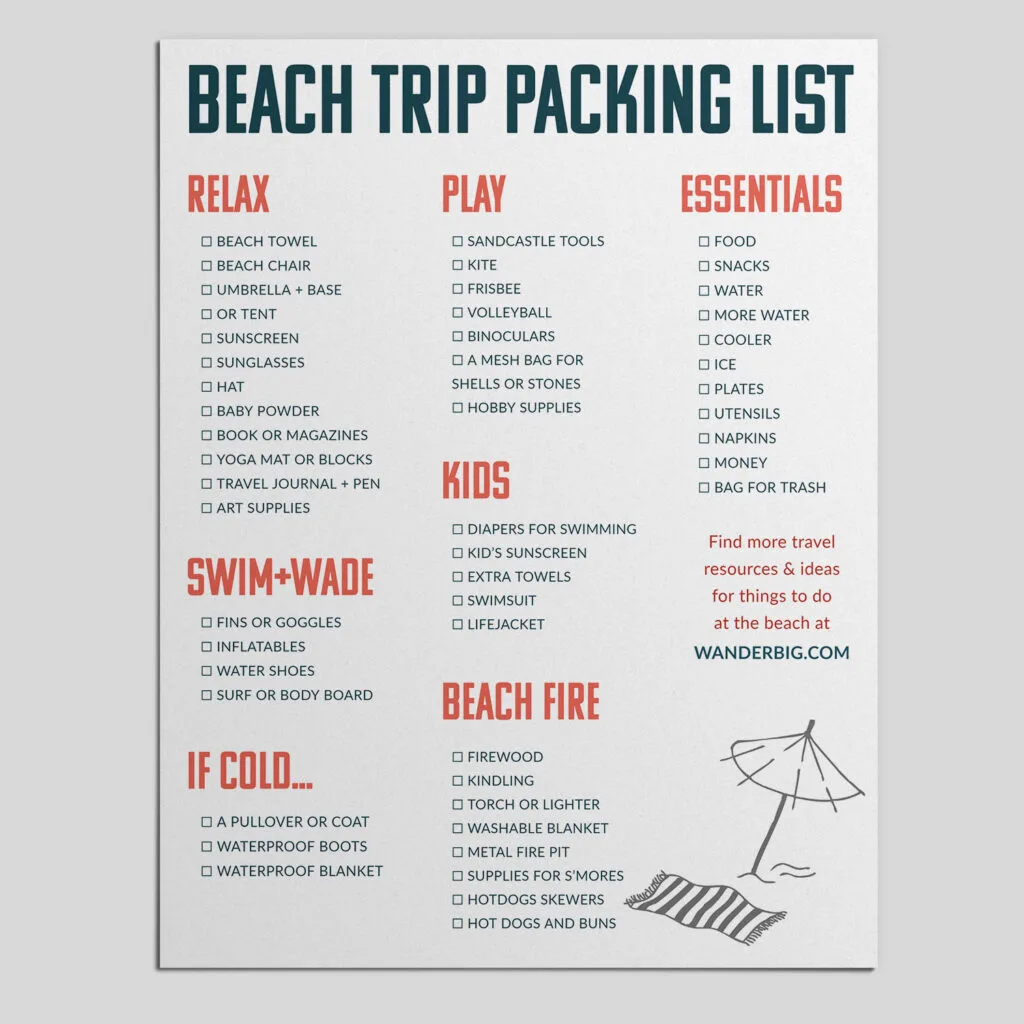 Learn About the Beach's History
This might sound dry, but I find that learning about a place often enhances my experience of the destination.
For example, my favorite park in St. Louis, was made so much more interesting when I found out about the cave system located far beneath it. The cave's entrance, I learned, had been lost to history but that didn't stop modern urban explorers from regularly scouring the park for a chance to find a hidden entrance to the underground chambers.
While your beach probably won't have a story quite so mysteriously inviting, a quick google of the destination you plan on visiting can turn up interesting elements about the beach that might make your trip that much more interesting or even give you something to do at the beach.
Do Yoga
There was a time that doing yoga in public at a crowded beach would have been frowned upon, but thanks to travel influencers, that is no longer the case.
Today, you can sneak in a few yoga poses on a beach without even raising an eyebrow. For those of us visiting a beach for rest and relaxation, doing a bit of yoga on a towel on the beach can be a really effective way to jumpstart our relaxation and maximize our mindfulness.
Add an Entry to Your Travel Journal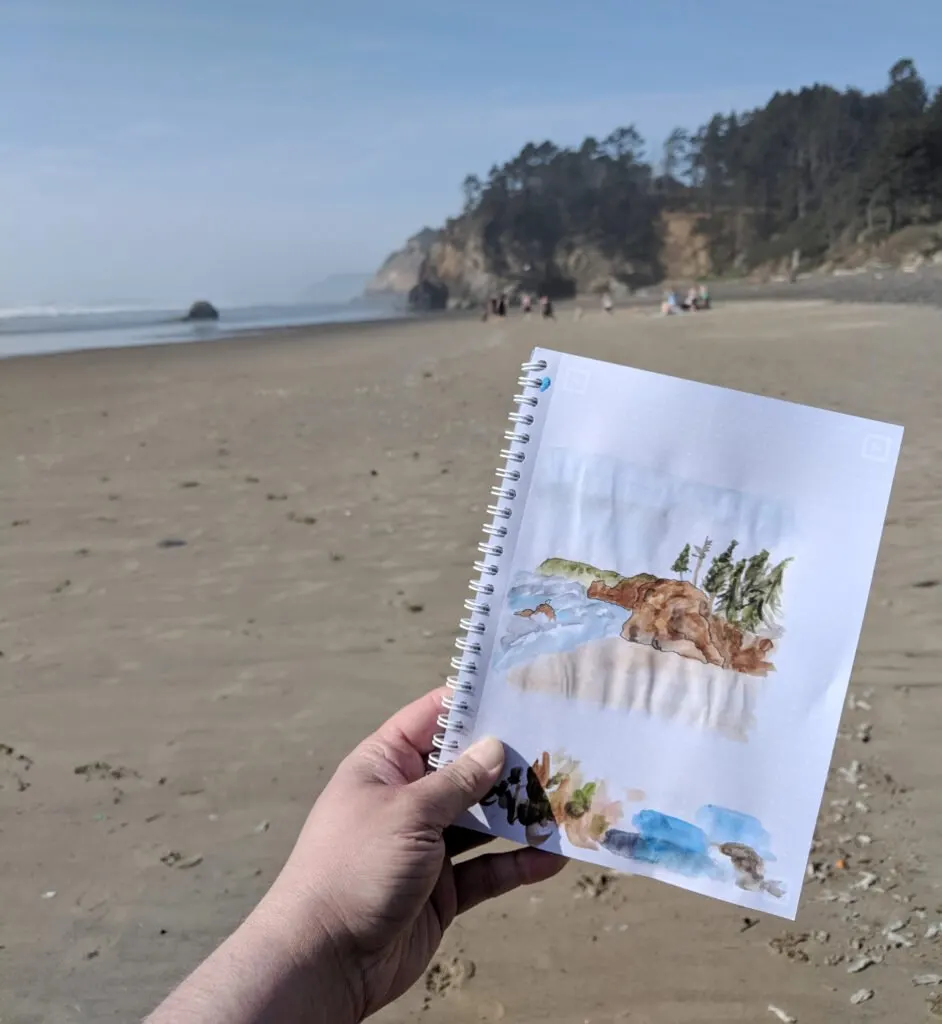 So, I'll admit that writing might not be one of the most popular things to do at the beach, but as an avid travel journal user (check out my guide to starting a travel journal), I often find myself writing, drawing, or sketching at the beach.
Journaling and making are are ways that I relax, unwind, and process my thoughts, so of course, a free afternoon and a gorgeous location like a sandy beach or rugged coastline inspire me to create in my journal.
Knit, Weave, or enjoy a travel hobby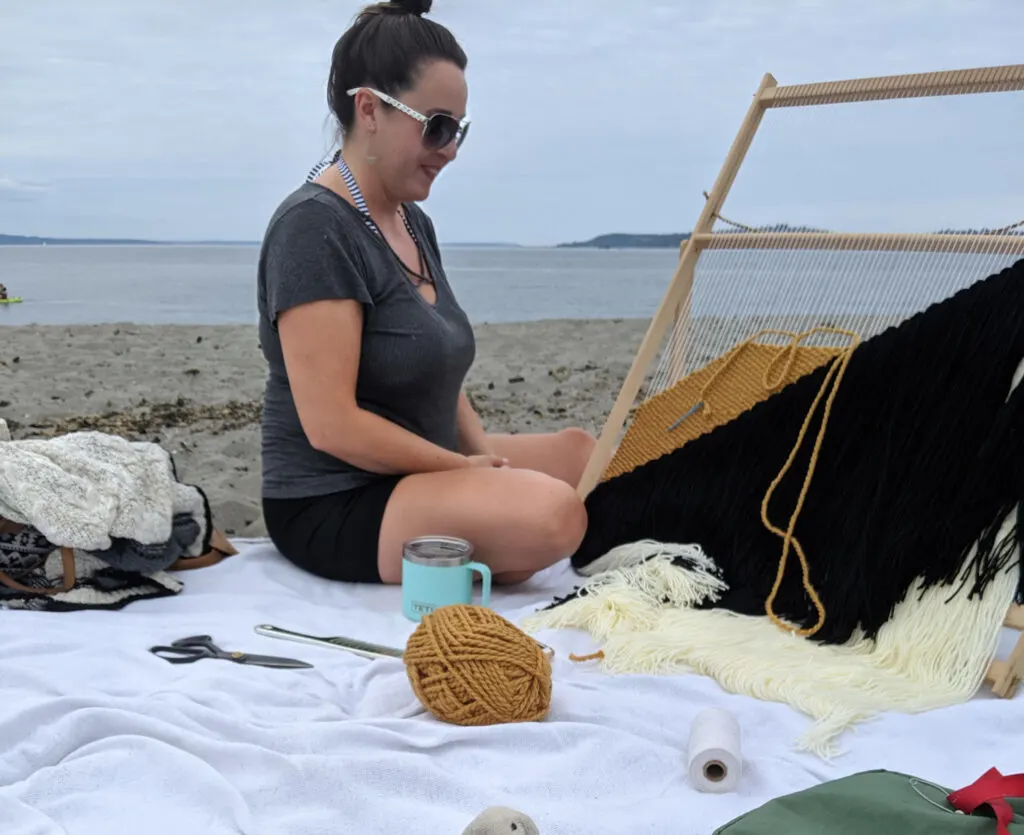 For people like me who enjoy having something to do even on a lazy day at the beach, travel hobbies are great way to pass time productively while also relaxing and taking in our surroundings.
In the photo shown here, my weaver friend literally packed a weaving loom to visit a local beach in Seattle! But you don't have to have enormous equipment to enjoy a hobby as something to do on the beach – check out some suggestions for portable hobbies in my article on the topic.
Relax and Let your Mind Wander
Perhaps one of the most one of the healthiest things we can do on a beach is simply to relax- although maybe I shouldn't say "simply." In fact, it's really hard for most Americans to relax and take time off (source), which makes it all that much more important to really lean into the opportunities we do have to relax, since travel and relaxation are powerful ways to cope with (and presumably prevent) burnout.
Go Out on a Boat
If you are visiting a beach with a harbor or marina adjacent, often there are opportunities to go from the beach to open water at an affordable price.
Although time on the beach is certainly enviable, there's something uniquely enjoyable about being out on open water in a boat – whether it's the small dinghy or an island-hopping full-sized ferry, being on the water can be a way to enjoy the beach from a different perspective.
Final Thoughts
As you can see, there's no shortage of things to do at the beach, even if the beach you are visiting is relatively undeveloped.
While some beaches have lots of businesses offering things to do like amusement rides, shopping, and other activities, other beaches remain in a relatively natural state – without even places to rent surfboards or board a boat for a ride out on the water. No matter what kind of beach you find yourself on, this list of things to do at the beach should keep you busy for the entirety of your beach visit.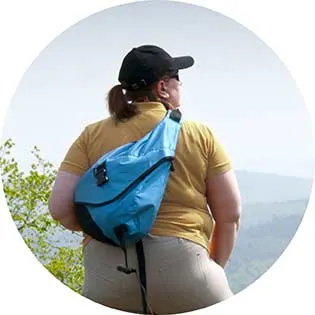 Lynli Roman's unique approach to travel is informed by decades of experience on the road with a traveling family and, later, years spent as a solo international traveler. When she's not writing about Seattle from her Pike Place Market apartment, Lynli writes on-location while conducting hands-on research in each destination she covers. Lynli's writing has been featured by MSN, ABC Money, Buzzfeed, and Huffington Post. She is passionate about sharing information that makes travel more accessible for all bodies.