It's tempting to think that in the "digital age," remote workers and digital nomads don't have a need for physical office supplies.
However, in my experience as a remote worker and cyclically full-time digital nomad, I find that the office supplies that I need to pack in my portable office vary significantly based on the type and scope of the work I plan to do during my trip. Making sure I have what I need to do my job as a burnout resilient digital nomad helps keep work frustration from bleeding into my personal time.
Building a Travel Office Supply Kit
Those of us lucky enough to live and work as digital nomads are free from the constraints of a typical office, but even though we work outside of a traditional office environment, for many of us office supplies are still essential. How then, can we manage and organize office supplies while traveling? A small kit of compact office supplies.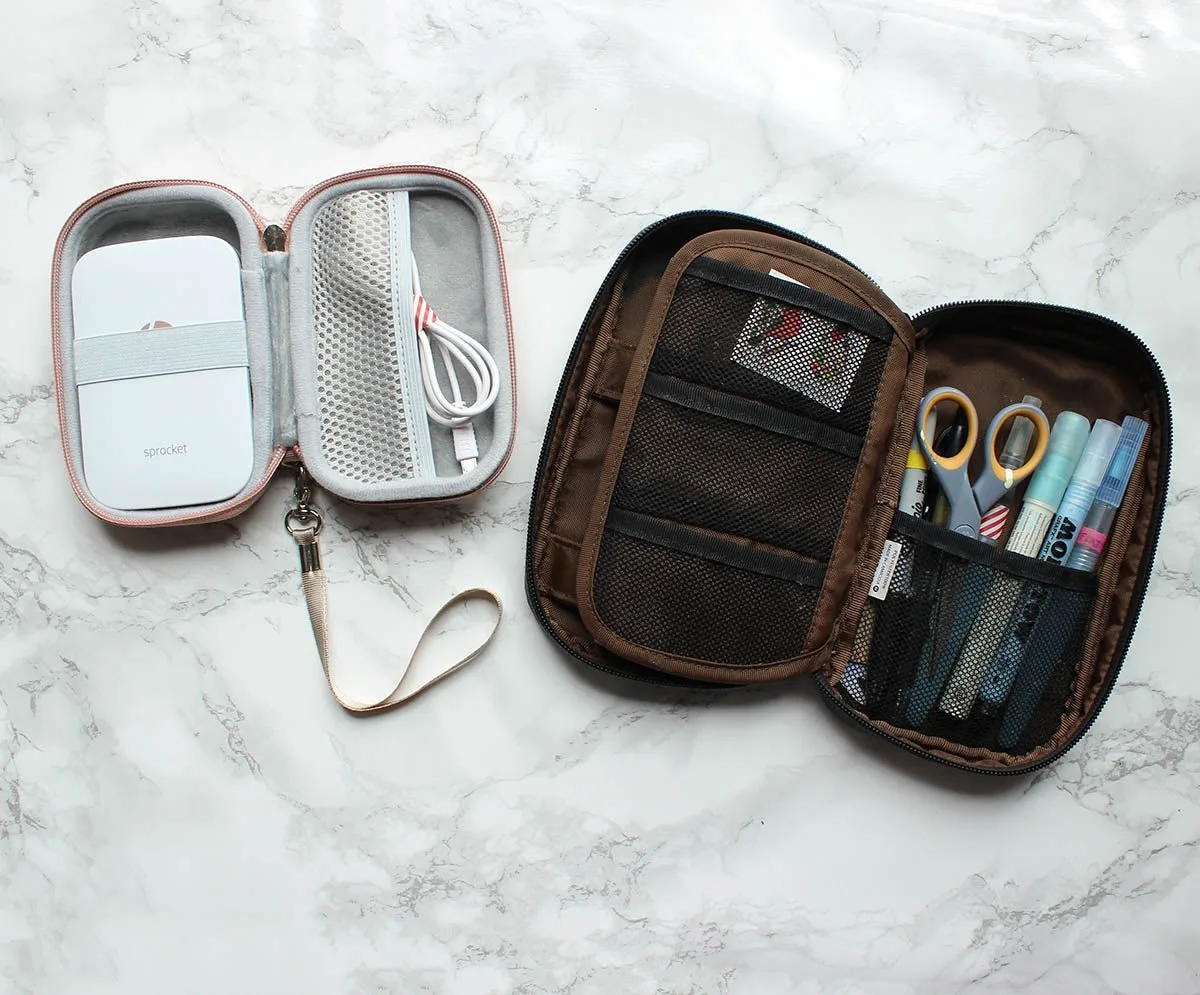 Who uses Travel Office Supplies:
Remote Workers in Public Spaces
A similar question is often asked by remote workers who are required by employers to report to work from a workspace that is anything but a typical office.
People working remotely may be frustrated when they come to that rare instance that they need a paperclip, highlighter, or a couple of staples and find no luck locating these office supplies in a café, coffee shop, lobby, or popular public coworking or study spaces.
People Working from Home
Boundaries for remote workers working from home can be blurry- a dining room can shift from a collaborative family space to a board room in the blink of an eye.
Though much of our work is done digitally, it's inevitable that at some point we'll need page markers, sticky notes, binder clips, or highlighters. Many remote workers are faced with the choice between turning their living space into a full-scale workspace with drawers of office supplies or forcing themselves to go without office supplies, which in some cases can reduce the quality or speed of our work.
A miniature travel office supply kit is the perfect solution to keeping office supplies from taking over spaces that transition from living to workspaces, like small apartments, bedrooms, or dining rooms.
Digital Nomads and Professional Travelers
People who travel for a living (like travel bloggers and travel influencers, among others), as well as people who have chosen a digital nomad lifestyle (working traditional remote jobs while wandering the globe), may occasionally have a need for physical office supplies and find themselves frustrated by the lack of these tiny essentials.
When your entire office fits inside of a backpack (like my portable office packing list) space is at a premium, but with the hints in this article, you can find space for a mini office supply kit that's perfect for travelers.
Repurposing school supplies
Thankfully, remote workers and digital nomads are not the first individuals to confront the problem of not having office supplies handy when working from flexible workspaces.
Students from middle school to graduate school have been creatively working with this problem for decades and as a result, building a travel office supply kit is easier if you jumpstart your kit using a compact collection of school supplies meant to be easy to carry for students with backpacks and purses.
Travel Office Supply Packing Kit:
The following section may contain affiliate links. As an Amazon Associate, we earn from qualifying purchases.
Want an easy shopping guide? Shop my Travel Office Supply Shopping List at Amazon
☐ Pens – No matter where you work from or what kind of work you do, it's important to have writing utensils handy for signing off on official documents, addressing an envelope, or making a quick sketch of an idea that pops in your mind. My favorite pens for travel, which consistently survive the pressure changes of air travel are: Pilot G2 Roller Ball Gel Pens (Shop for them here at Amazon.)
☐ Paper – An essential in every travel office supply kit is paper for writing, doodling, or printing with a travel printer. I like this blank notebook of printer paper with bound pages – I can use it as a travel journal or tear-off pages with an edge clean enough to run through a printer.
☐ Rubber bands – Add a few rubber bands to your suitcase before leaving on a business trip or, always keep them in your travel office supplies. These essentials are helpful both in the office and outside of it – even when I'm not traveling for work, I always keep a few rubber bands on hand for their dual purpose as helpful ways to organize luggage. Shop for them at Amazon.

☐ Staples/Stapler – If your remote work requires that you handle printed materials, always keep a stapler loaded with staples in your travel office supplies. Thankfully, staplers come in a vast variety of styles and weights, likely thanks to the stapler's popularity among grad students who frequently pour over printed research. Amazon has a great choice, which I recommend for travel.

☐ Sticky notes – One key to working efficiently and productively is capturing ideas promptly and organizing thoughts. Sticky notes have been an essential office supply for decades due to their usefulness for this practice, which is difficult to replicate in digital form. Keep sticky notes in your mini office supply kit by removing the top dozen or so sticky notes from a stack and applying them to the inner side of your kit's container. Check the price on a value pack of sticky notes at Amazon and save the rest for your return.

☐ Tape – For visual thinkers who take advantage of whiteboards or thumbtacks in a traditional office, pack paint-safe tape and plenty of it. Being able to temporarily tape notes, sketches, or inspiring images to the walls around your workspace can increase productivity for many remote workers (myself included!) My favorite solution is to pack a roll of washi tape– which is strong enough to hang most papers on a wall but peeled away without damaging paint.

☐ Travel Printer -Not essential for every remote worker, but a godsend for some, travel printers designed for the rigors of travel can be incredibly helpful for those of us who are able to take advantage of the opportunity to do remote work. This office essential makes it easy to print off documents or reference sheets and some travel printers ,like HP's Sproket, even make it possible to print full-color images and photographs. My favorite travel printer, which I use frequently, is the HP OfficeJet 200 which you can view details for here at Amazon.
Additional items to include in a travel office supply kit if you expect to need to mail documents or objects back to your office
☐ Bubble wrap – Bubble wrap can be helpful to protect important business assets or electronics during shipping, and should be kept on hand if you anticipate having to ship fragile things.

☐ Padded envelopes – If you know your work responsibilities will include sending small packages to coworkers or a central office, it can be a great idea to have these padded envelopes on hand.

☐ Letter envelopes – handy in an infinite number of ways for both travelers and those who work remotely in less exotic locations, every travel office supply kit should include a few envelopes.

☐ Sealing tape – strangely, I found that packing tape is one of the most versatile and handy things to do have on hand during travel. In fact, when I spent three months in Patagonia and the Andes Mountains traveling with just one bag, I carried a roll of packing tape the whole time and occasionally used the packaging tape to create my own compression packing bands.
Travel Office Supply Shopping List:
☐ Pens
☐ Bubble wrap
☐ Copy paper
☐ Letter envelopes
☐ Padded envelopes
☐ Scissors
☐ Rubber bands
☐ Sealing tape
☐ Staple/Stapler
☐ Sticky notes
☐ Tape
☐ Travel Printer
What to use to package your travel office supplies
Pack a Tackle Box – If you value organization and being able to see at a glance your inventory of specific office supplies, a customizable tackle box– a clear plastic latched box with adjustable dividers – is perfect for storing a small number of many different types of office supplies. An office supply tackle box is perfect for travel work when you are traveling domestically or working from home.
Pack a Pencil Case – My preference for packing office supplies and art supplies both while traveling is a pencil case. A small pencil case – often only a bit longer than a pencil- can hold an impressive variety of office supplies in miniature form. My favorite pencil case is LIHITLAB pencil case, which has held up to daily use in my day bag since 2015. Get yours here at Amazon.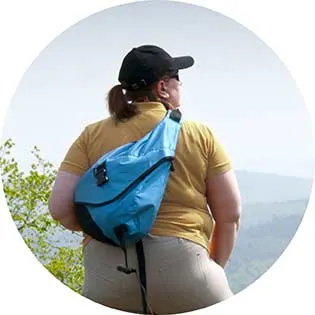 Lynli Roman's unique approach to travel is informed by decades of experience on the road with a traveling family and, later, years spent as a solo international traveler. When she's not writing about Seattle from her Pike Place Market apartment, Lynli writes on-location while conducting hands-on research in each destination she covers. Lynli's writing has been featured by MSN, ABC Money, Buzzfeed, and Huffington Post. She is passionate about sharing information that makes travel more accessible for all bodies.