Coconut Island is a Hawaiian island a little too small for development but big enough to serve as a place of retreat for both Hawaiian natives and visitors for centuries. Today, Coconut Island (also known by its Hawaiian Name Moku Ola) is a public park that's easily accessible by footbridge from the eastern shore of Hawaii's Big Island. On this small island, you'll find lots of things to do- including picnic benches, swim spots, a diving/jumping tower, a large grassy area, and a wheelchair-accessible and stroller-friendly walkway all the way around.
About Coconut Island
What: Moku Ola, commonly known to tourists as Coconut Island, is a small island in Hawaii that is open to the public as a park, beach, and community space.
Where: Coconut Island is located just off the coast of Hilo, Hawaii, in Hilo Bay. To get there, navigate to 77 Keliipio Place, Hilo, HI, or just click here for a google map.
How to Get There: Paved and well-developed roads lead to a small parking lot on the coast of the Big Island. From the Coconut Island parking lot, a handicapped accessible footbridge connects a small parking lot to Coconut Island. The island can be reached only via the footbridge (which includes a ramp for visitors with limited mobility or who are visiting with bicycles or strollers!).
When: Open 24 Hours, 7 days a week. The Big Island's Coconut Island is open to the public 24-hours a day every day.
Services: Pavilions, restrooms, and picnic tables are available on the island, although the jump/dive tower is the most popular structure on this island. Coconut Island is served with electricity and even has a few coveted outlets in the pavilion near the restrooms.
Coconut Island is ideal for a relaxing swim or enjoying a take-out meal from a nearby restaurant. Primarily grass, rather than sand, Coconut Island includes grassy lawns perfect for lounging or playing a game. This grassy island with covered pavilions and restrooms is perfect for families with kids and even for a rainy day activity in Hilo – thanks to the awnings and pavilions.
The irregular shape of Coconut Island means that there are multiple small coves and shallow pools protected from strong waves. These sandy-bottomed pools are perfect for wading, tide-pooling, or just enjoy the relative privacy afforded by the irregular coastline and presence of mature trees along the shore.
Coconut Island is one of the best places to take a photograph of Hilo Bay and enjoy the (snowcapped, if you're lucky) volcano peak beyond. If you visit after heavy rain, you may even be able to spot a waterfall cascading into the bay across the way!
How to Get to Hilo's Coconut Island
A small pedestrian bridge just across from the Hilo Hawaiian Hotel connects this island park to the big island of Hawaii. A small parking lot sits just across the bridge from Coconut Island.
To get there, take Route 11 South (Kanoelehua) as it turns into Banyan Drive. Follow Banyan Road past the row of hotels and gift shops and turn right after the Hilo Hawaiian Hotel. Queen Liliuokalani Japanese Gardens is on the left, and the small Coconut Island parking lot will be on your right.
On a busy day, you may need to park along Banyan Road or in the parking lot for the Japanese Gardens.
Things to Do on Hawaii's Coconut Island
Picnic
During my weeks in Hilo, we found ourselves returning often to this destination as a place to safely enjoy a take-out meal while indoor dining was a COVID no-no. Its proximity to downtown Hilo makes Coconut Island a perfect spot to enjoy a local meal of poke, musubi, or a Hawaiian plate lunch.
Swim
One of the most popular uses of this island is as a local swimming hole, and you'll find as many- or more!- locals swimming in the waters around this tropical island as you will tourists. Multiple little inlets and coves along the jagged coast of Coconut Island make it easy to find a water depth you're comfortable with.
Jump or Dive Off the Tower
Remnants of an old footbridge once wiped out by a tidal wave now serve as a popular tower for jumping and diving into the deep water below. Be prepared for a wait though; you may have to stand in line behind local children and teens to have your turn at jumping from the 20-foot tower into the waters of Hilo Bay below.
Explore Tidepools
If you enjoy the thrill of the hunt combined with an appreciation for marine life, Coconut Island – like much of the shoreline of the Big Island – is teeming with life. Explore the crystal-clear tide pools for fish, anemones, urchins, and other creatures of the intertidal zone.
To enjoy tide pools at Coconut Island and other lava-formed beaches, you'll need to check the Hilo tide table for when low tide will occur and pick up a pair of lava shoes (one of the packing list essentials for Hilo, HI). Get a pair at Amazon by clicking here or purchase from a Hawaiian-owned gear store by clicking here.
Sunbathe & Rainbow Spot
Although the sun often hides behind rain clouds in Hilo, when the sun comes out on Coconut Island, it is a phenomenal place to sit and enjoy the warm sunlight- often in the company of a vibrant rainbow created by sunlight breaking through the remnants of a rainstorm.
While much of the shore around Hilo is sharp lava rocks or gritty sand, the meticulously maintained soft grass of Coconut Island makes it perfect for laying out a towel and relaxing in the sun. At low tide, you'll even find small sand beaches at several points around the island.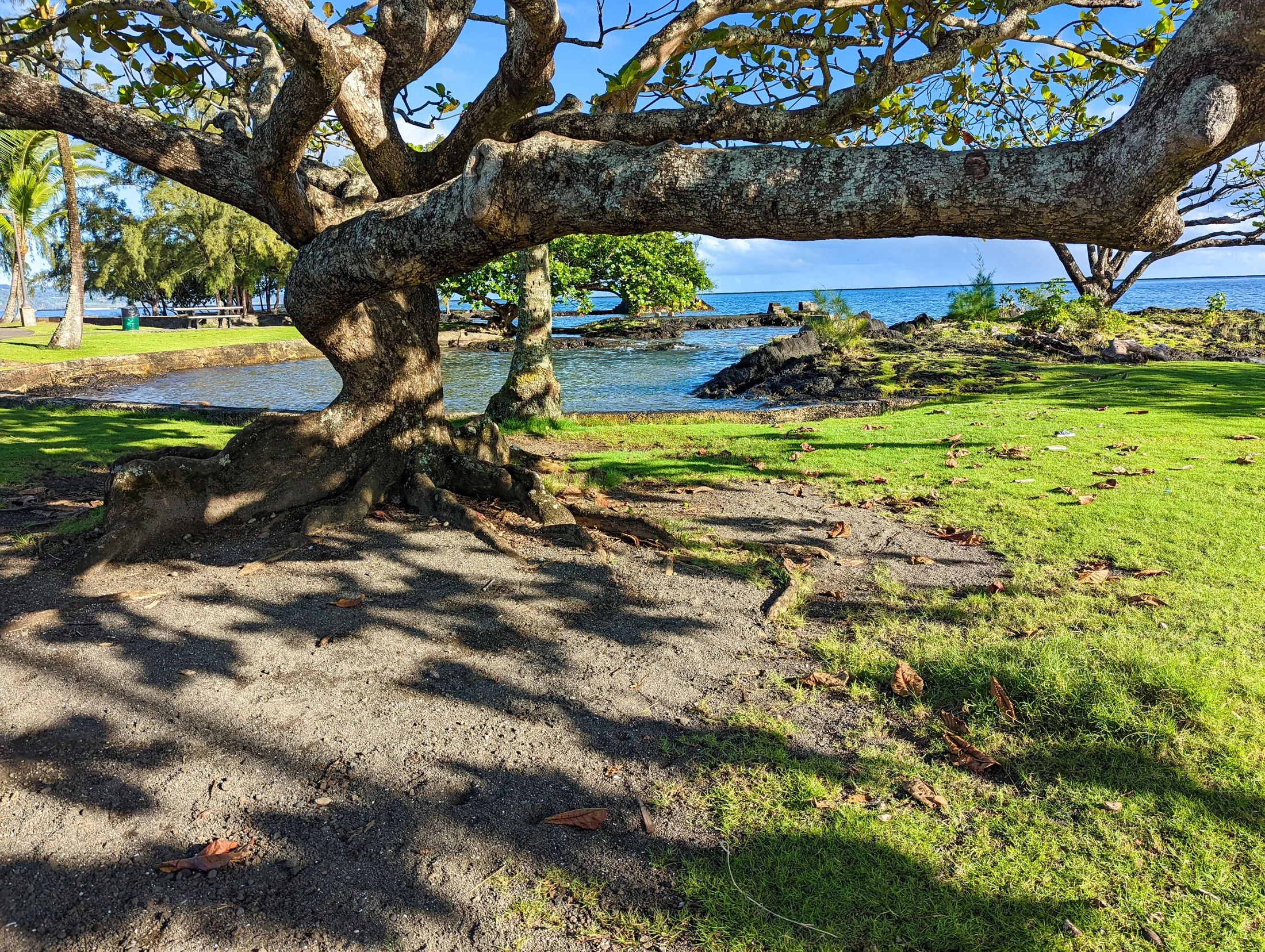 Fishing
While I haven't tried fishing from Coconut Island or any of the other Hawaiian island beaches, this spot is popular for fishing. A quick trip up the road to S. Tokunaga Store can get you outfitted for enjoying a few hours of fishing from Coconut Island in no time.
Look for Sea Turtles from the Bridge
One of my favorite parts of visiting Hilo was the ubiquity of sea turtles. Unlike my time in Kona, where the spotting of a single sea turtle was accompanied by hordes of tourists and photographs, sea turtle spottings in Hilo are almost commonplace. I haven't caught a glimpse of a sea turtle from this particular spot during my visits to Coconut Island, but I've heard from others that sea turtles are often spotted from the footbridge connecting the Big Island to Coconut Island.
Play a Game on the Grassy Fields
Large open grassy spaces in the middle of Coconut Island are perfect for playing Frisbee or other games that need a large flat surface. Many of the things to do at a beach can be enjoyed in the grass, stone, or sand surfaces of Coconut Island.
Wade
Even if you feel timid about swimming in the open waters of Hilo Bay, Coconut Island is a great place to wade without getting in too deep – There's plenty of shallow water to explore without having to navigate deeper waters.
Take a Stroll through the Adjacent Japanese Garden
While not technically on Coconut Island, Liliuokalani Gardens are located a – literal!- stone's throw away from Coconut Island's small parking lot. In fact, if Coconut Island's dedicated parking area is full, you'll likely find yourself parking along the Banyan tree-lined street encircling Liliuokalani Gardens anyway. Do yourself a favor and take a slow stroll through the serene water features and gardens of this coastal gem with a rich cultural history.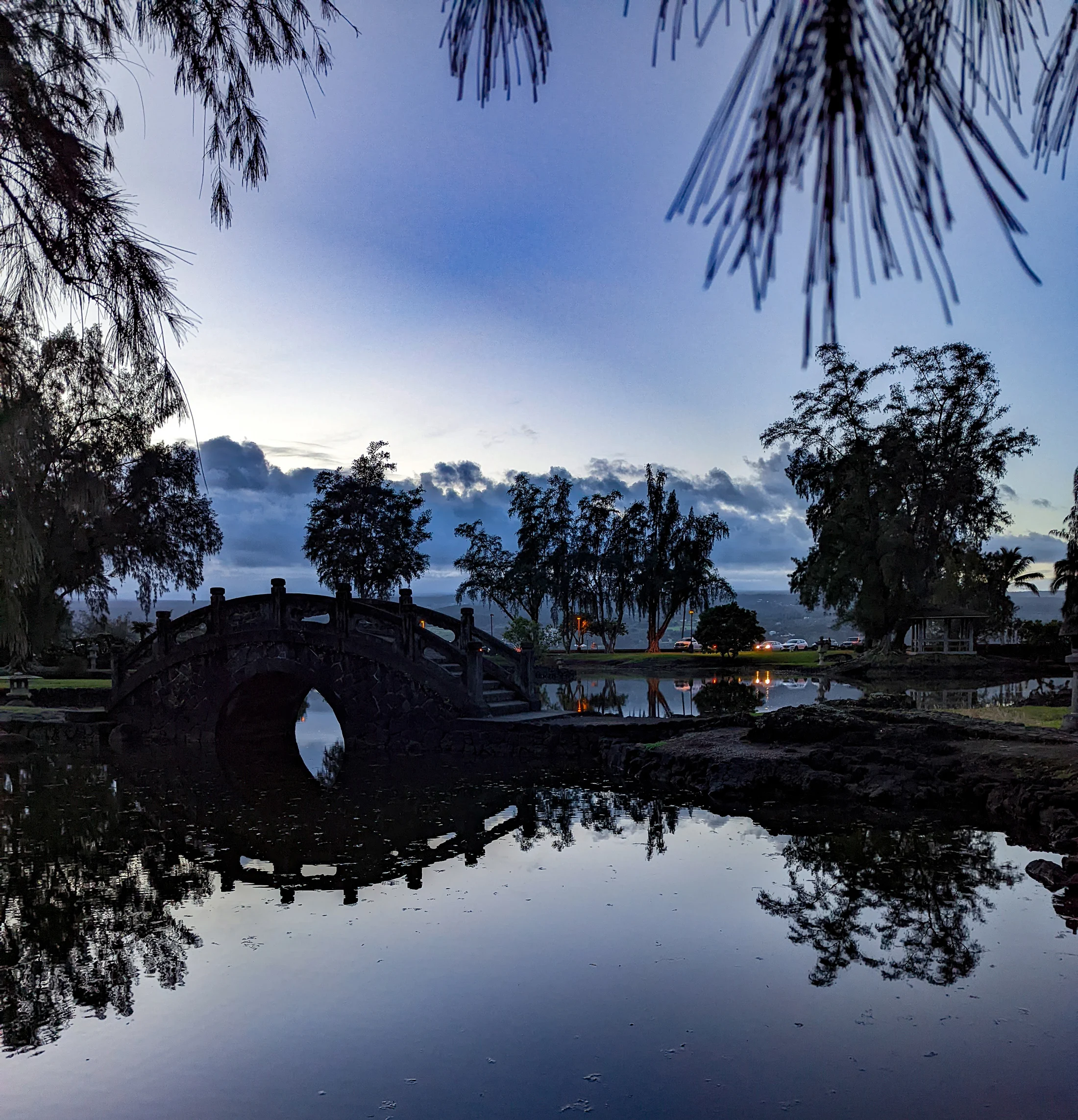 Take a Photo of Downtown Hilo
While the best place to photograph Coconut Island is from the shores of the Big Island, from Coconut Island you can get a great shot of Hilo's cute little coastal downtown to remember your time in this city.
Final Thoughts on Things to Do on Hilo's Coconut Island
Coconut Island has been a retreat and a refuge for centuries. While the Americanized name of the island is "Coconut Island" – after the many coconut palm trees on the island – the native name Mokuola translates to "Island of Life" or "Healing Island" and was once home to an ancient Temple of healing.
Legends of this temple told that anyone ill or infirmed could be healed by swimming around the island three times. "Mokuola was also a pu`uhonua, or place of refuge. Moku 'Ola and Maka-oku, the piece of the mainland opposite the island, formed a place of refuge for defeated warriors and others who needed safety." You can read more about the lore of this tiny tropical island by visiting this blog entry from HawaiiCounty.gov and selecting "Mokuola."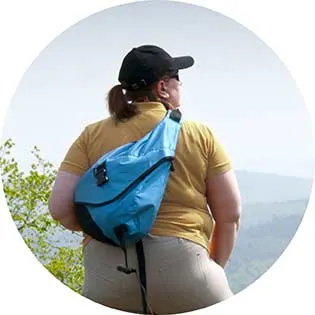 Lynli Roman's unique approach to travel is informed by decades of experience on the road with a traveling family and, later, years spent as a solo international traveler. When she's not writing about Seattle from her Pike Place Market apartment, Lynli writes on-location while conducting hands-on research in each destination she covers. Lynli's writing has been featured by MSN, ABC Money, Buzzfeed, and Huffington Post. She is passionate about sharing information that makes travel more accessible for all bodies.