Solo travel is a learned skill, and like many things in life succeeding at being a solo traveler depends largely on setting yourself up for success. If you think that solo travel might be for you, start by reading, learning, and experimenting with local trips alone.
In this article, will discuss the best destinations for first time solo travelers, and a quiz on how to know when you're ready to solo travel to an international destination.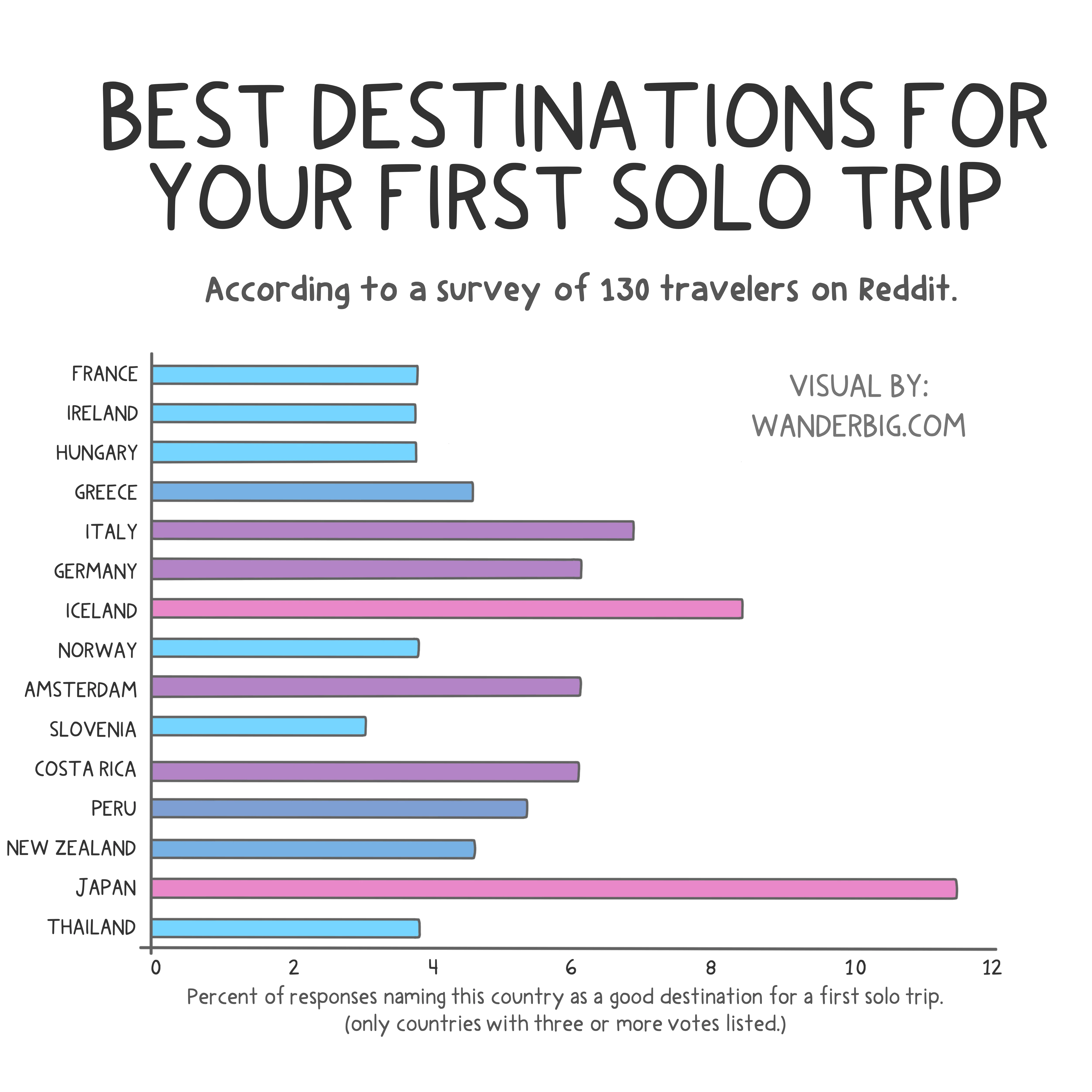 This data was compiled from an analysis of forum-style posts within the Reddit community r/solotravel. 10 posts asking for suggestions for the best destinations for first-time solo travelers were included in this analysis, with an average of 14.5 responses per post. 130 votes total. For an accessible description of this graphic, see the detailed image description below.
Getting Ready for your First Solo Trip: Starting Local
While it's true that solo travel in an international destination has a different feel than solo travel locally, you can get a sense of what it might be like to travel alone by taking trips in your local area.
While some solo travel advocates suggest that new solo travelers try taking a day trip in their own region or perhaps a state or province over (in fact, my guide to solo travel in Seattle might be a starting point) I personally don't think that these experiences actually give a potential traveler a taste of what it's really like to do international solo travel. Instead, I recommend seeking out immersive cultural experiences in your own city.
The uniqueness of solo travel, and how we rise to that challenge, is about being out of our comfort zone in an unfamiliar world. That's not really duplicated by spending a day alone in a place where we speak the language and intuitively understand cultural norms.
Read on to learn how I recommend preparing for your first international solo trip.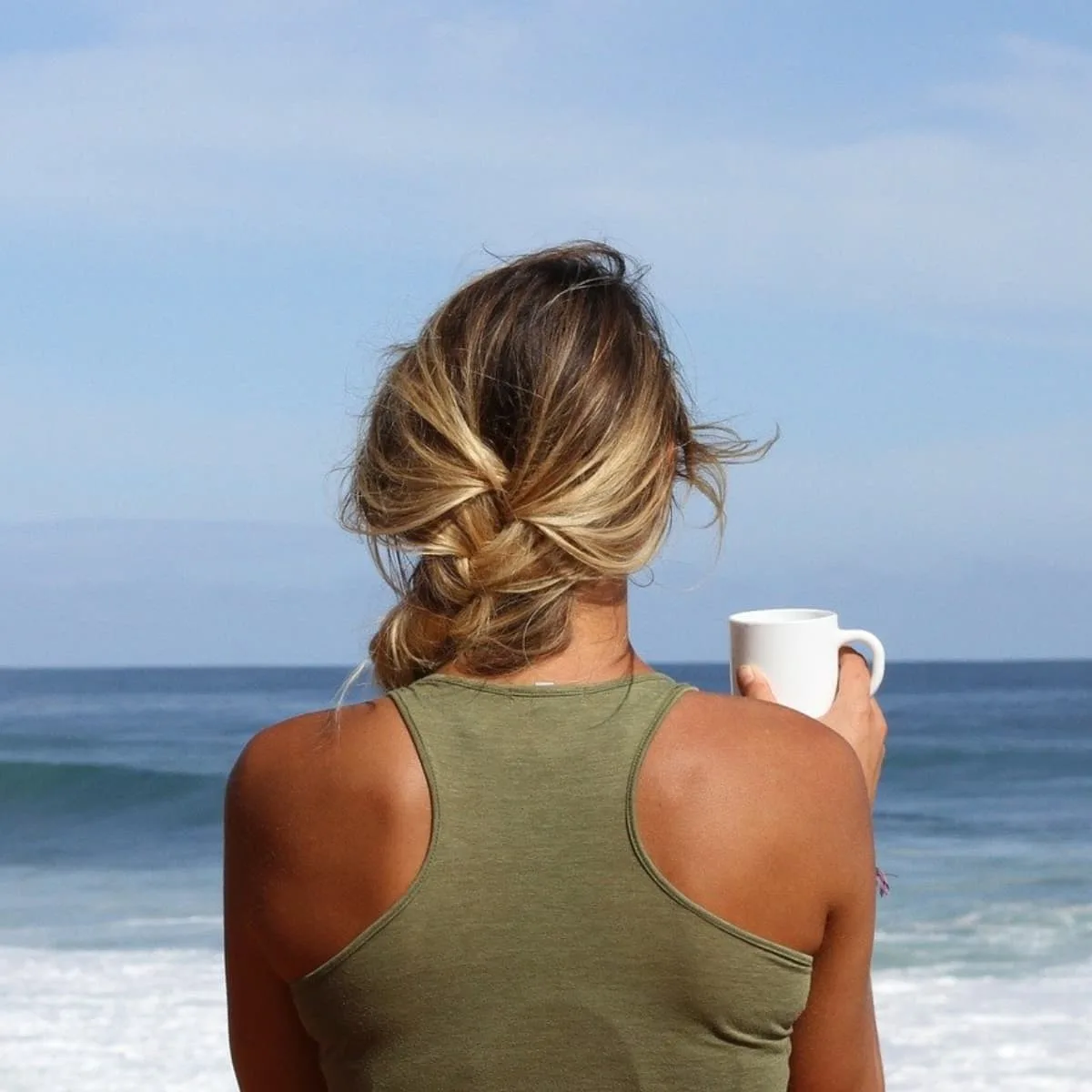 To Prepare for Solo Travel, Take a day trip to a Cultural District
Instead of taking a local trip alone to get your feet wet, try seeking out an unfamiliar cultural experience near where you live. Are there cultural heritage areas in your city (sometimes called "international districts" and historically referred to by the cultures represented, i.e. "Little Italy" or "Chinatown")?
Before your first solo trip, try spending an afternoon in one of these cultural districts- shopping in international grocery stores where English is not the predominant language or having a meal alone in a restaurant in which the menu is not in English. These experiences, far more than regional solo travel, can give you a sense of how you might handle solo travel to an international destination.
Solo travel isn't right for everyone, but many individuals find it to be an experience that promotes personal growth and learning about the wider world. Some people, even make money while traveling alone or are able to break into the travel influencer sphere.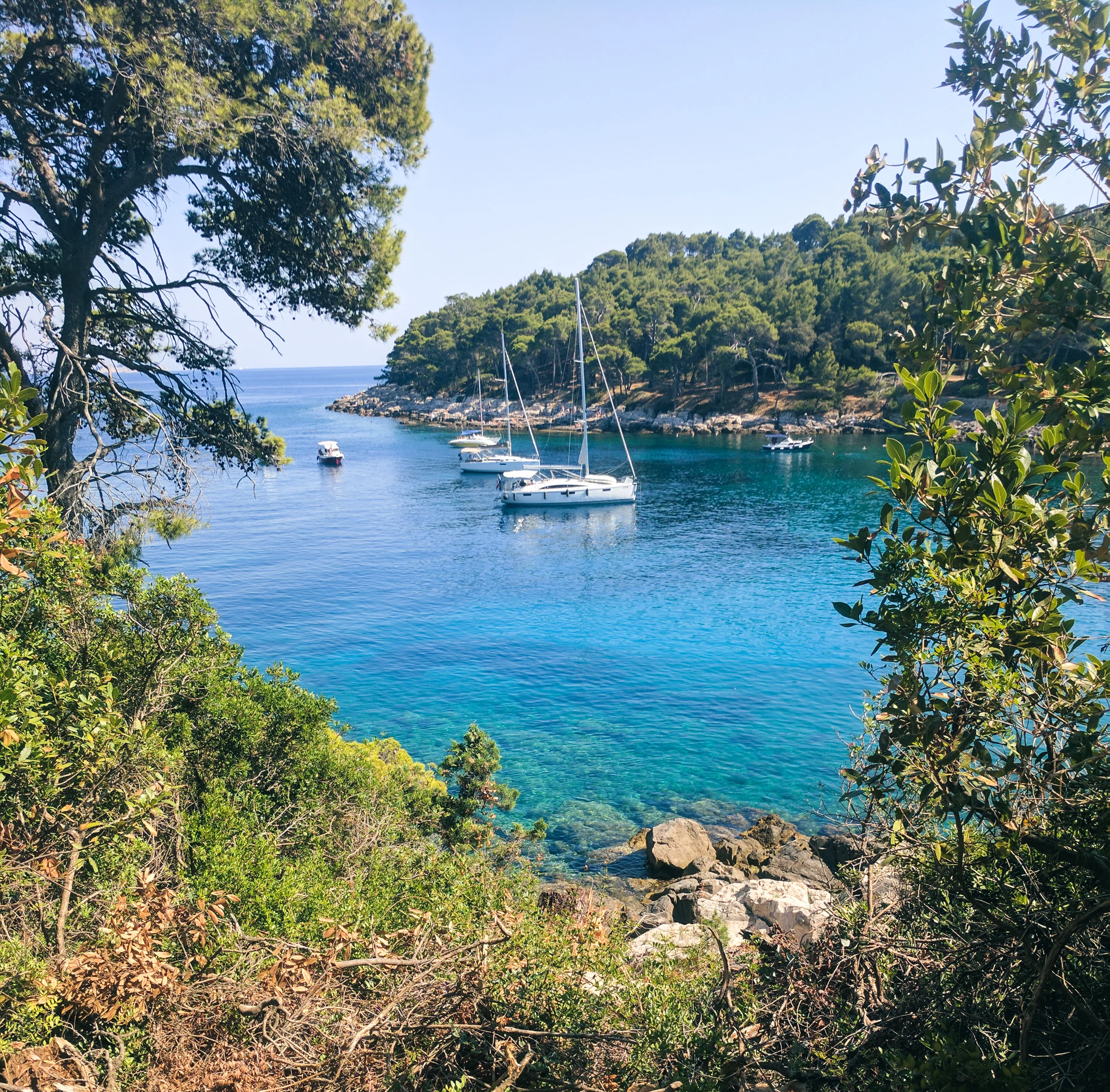 Best Destinations for your First Solo Travel Trip
For your first international solo trip, you should pick a destination with a robust network of tourist services. While many travelers enjoy traveling to remote destinations (like Chiloe Island in northern Patagonia or the Maramures forest in Romania), for your first few trips you should stay well within the bounds of the beaten path.
Traveling places where transportation networks are well-developed and easily accessible, where hotels in hostels are easy to navigate, and where day trips and tours are easy to find can help ensure that the support or even companionship that you may find you need during your trip will be readily available. Here are a few locations that meet those requirements for being great destinations for a first solo trip:
Wherever you choose to travel, research is the best way to keep yourself safe and have a great trip. Learn about general personal safety for solo travelers as well as local customs and expectations, areas in the destination the tourists should avoid, and if you are a woman or a person of color, take some time to research attitudes towards bodies like yours in order to choose a destination where you can relax and enjoy your first solo trip.
Being prepared, aware, and knowledgeable helps give you confidence so that when you are exploring your destination country- you are empowered and aware rather than timid, uncertain, and potentially a target for scammers.
South America
Backpacker culture is alive and well in South America, and for first time solo travelers, this can mean there is a robust infrastructure for tourism. Although countries within South America can vary dramatically from country to country, check the US State Department's website for recommendations on which South American countries are flagged as being less safe to travel to. (While on the State Department's website, be sure and register for STEP, a program that will connect you with your destination's nearest US embassy in the event of a crisis)
Many first-time solo travelers report that Colombia and Ecuador are ideal locations for first-time solo travelers who want to experience Latin American culture and climate with a safety net of robust tourist services.
Ecuador, once reputed to be a particularly unsafe country for travelers, is now a destination working hard to recover their tourism industry- other travelers report that Ecuadorian hospitality towards tourists goes well above and beyond normal, and many citizens speak some English, making it an ideal destination for a first solo trip.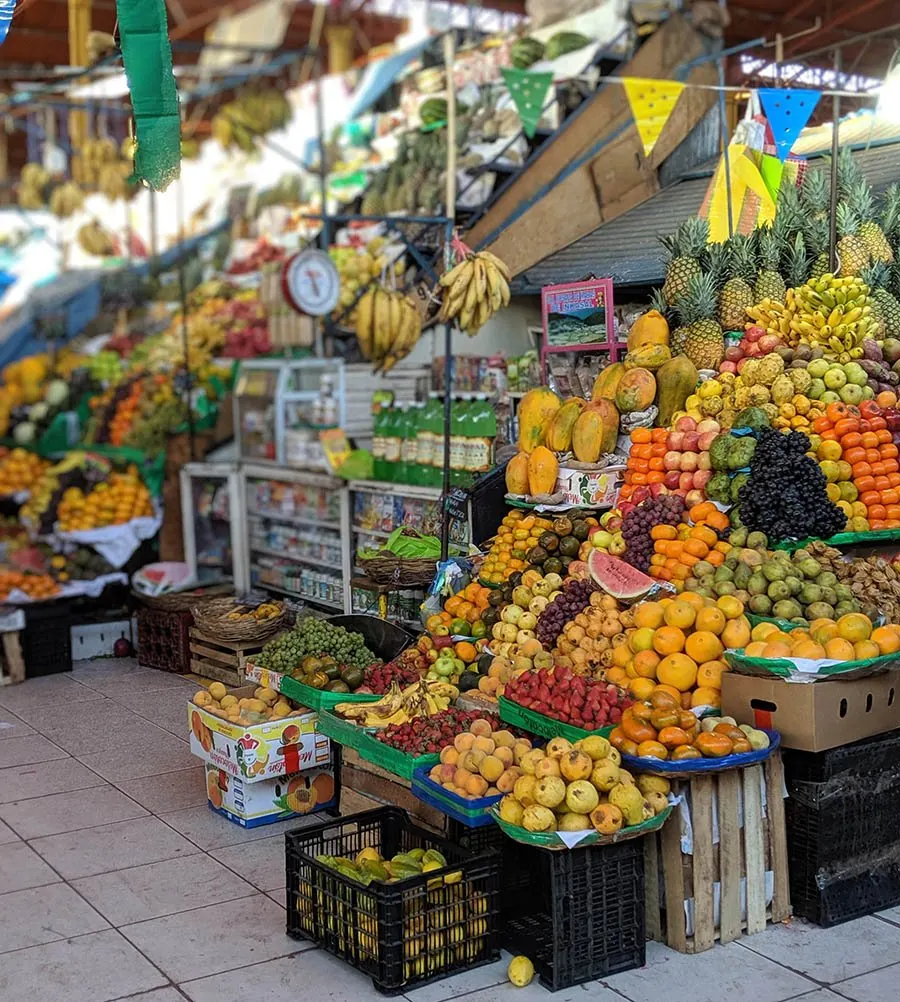 China
This vast and culturally rich country features just about everything you might wish to experience in your first solo travel experience. From urban cities to historic religious sites, snowcapped mountains to rural villages, China offers a robust network of hostels and day tours to support travelers of all ages as they experiment with their first solo international travel.
Adjacent to Tibet and Nepal, with Himalayan peaks, China offers major tourist destinations like the Great Wall of China, the forbidden city, the terra-cotta Army, and the Yangtze River and the Three Gorges.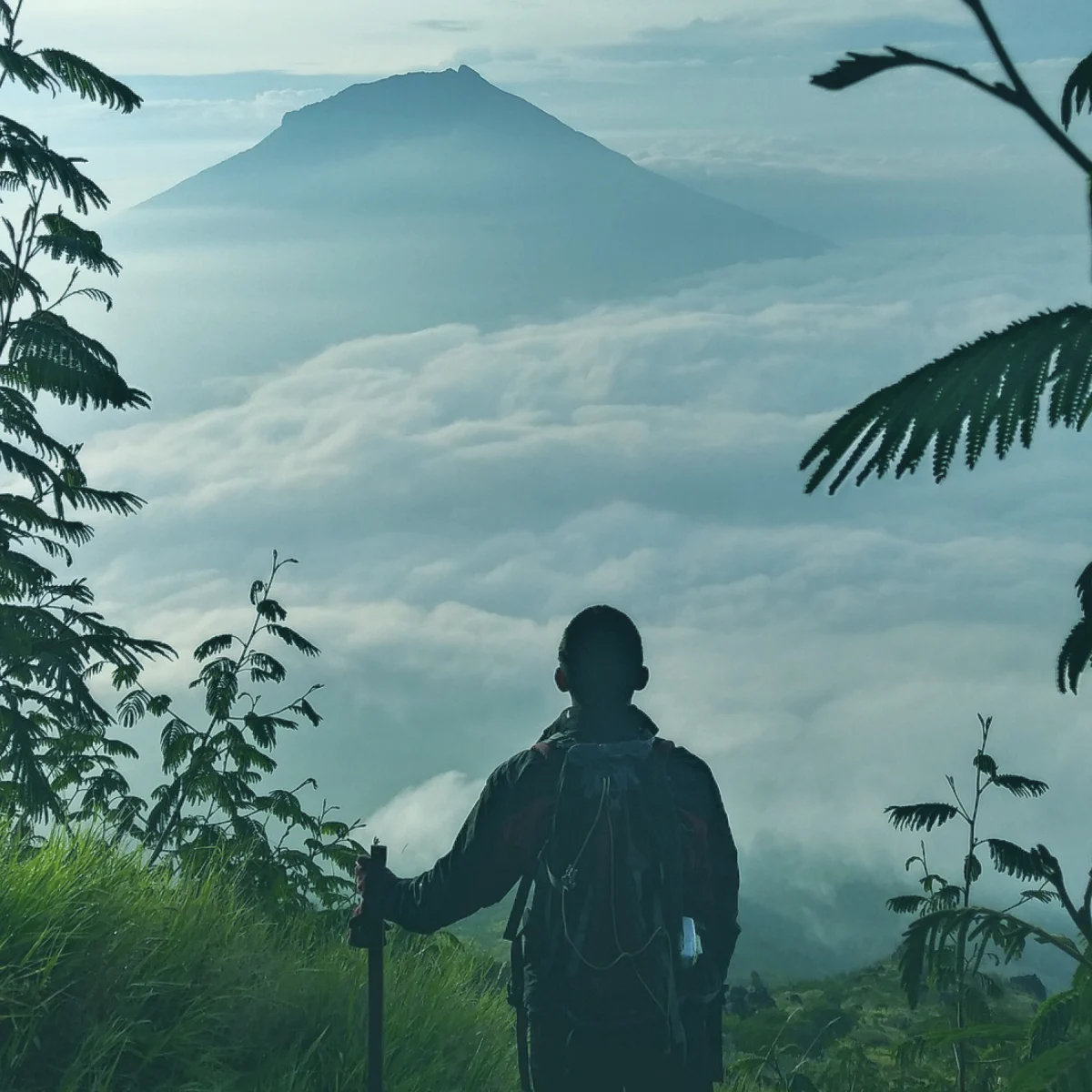 South East Asia / Thailand
Southeast Asia and particularly Thailand and are often recommended as great places to start for first-time solo travelers.
Infrastructure for tourism is incredibly robust in Thailand and finding other English speakers – both other travelers and Thai citizens- is easy. Thailand is popular among younger first-time solo travelers because it is a very inexpensive region to visit.
Thailand also has an established tourist trail, meaning that it's hard to find yourself off the beaten path as a western tourist in Thailand. While some travelers enjoy the hustle and bustle of Bangkok, many report that the north of the country is a favorite destination. Island hopping is easy and tourist-friendly on Thailand's amazing islands.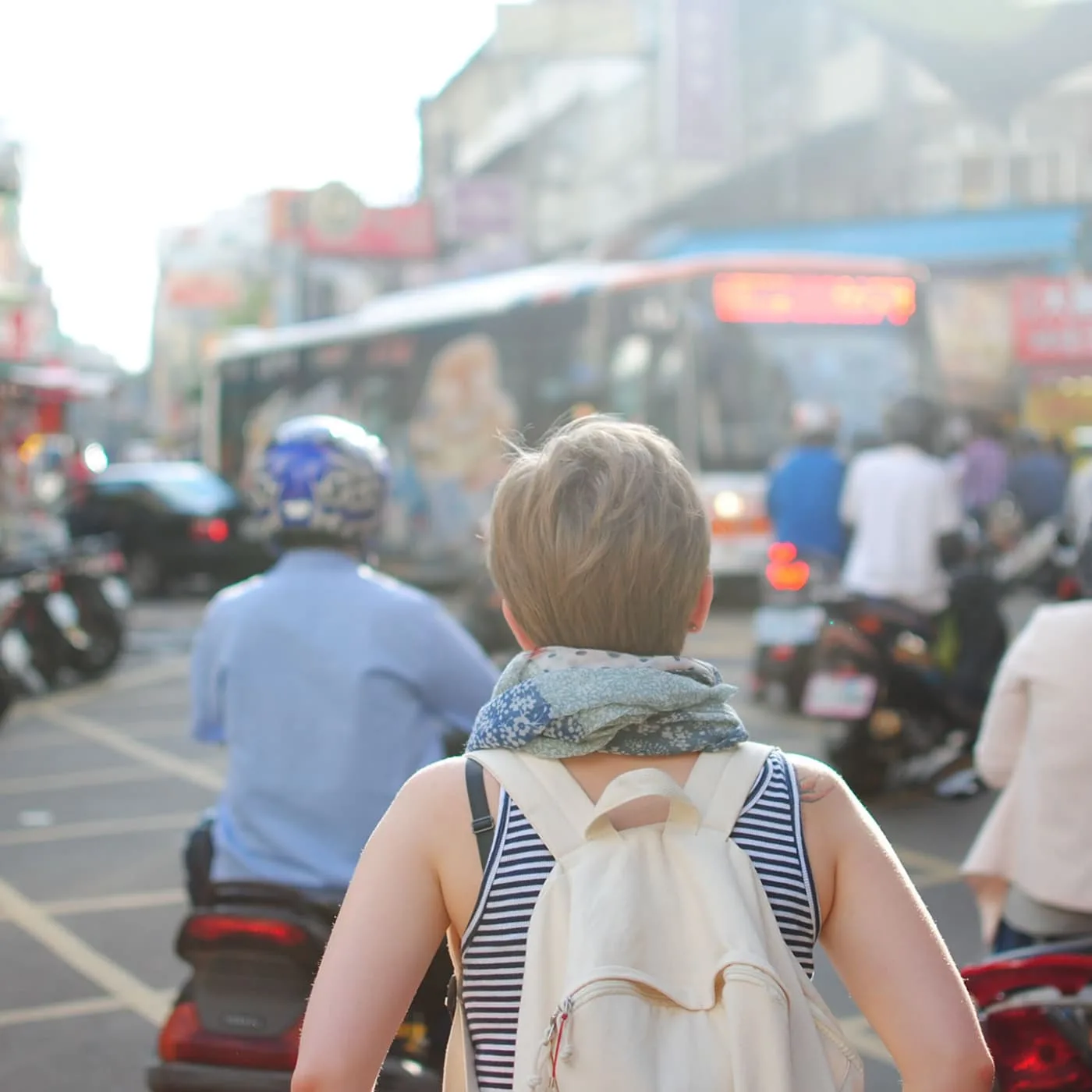 Florence, Italy
Though potentially the most expensive of the first-time-friendly solo trip destinations listed here, Florence, Italy was the location of my first experience with solo travel- and it remains with me as one of my most significant travel experiences. I often tell people that if they're setting out on solo travel with the intent to heal a broken heart, find creative inspiration, or recover from burnout, Florence is the place to do all three- it's just that inspiring of a city.
Florence, Italy is an amazing destination for solo travel because the tourism industry is so robust. In Florence, you can easily find lodging, restaurants, and things to do- even with very little advance planning. Language is hardly a barrier at all there, as most restaurants, signage, train tables, etc are posted in Italian and English.
A far cry from the urban chaos of Rome, Florence is a quieter destination to experiment with what it feels like to be a solo traveler in a foreign country. There's so much to do in Florence- from open markets to viewing priceless art in museums, travel journaling, or doing an Airbnb experience in Florence, you'll stay busy and inspired. Click here to learn more tips for solo travel in Florence.
As a bonus, if you love Florence and decide to adventure farther, you're one train and one ferry away from Croatia, which is itself a great destination for solo travel once you've got the hang of it.
Image description for screen readers:
A hand-drawn graph is titled "best destinations for your first solo trip." Subtitle reads: according to a survey of 130 travelers on Reddit.
The graph is comprised of a bar graph in which countries cited as good first solo trip destinations by fewer than 4% of survey respondents are colored in various shades of blue, destinations that got a larger vote are shaded in purple, and the countries with the highest number of votes are colored in pink.
Destinations with more than 2% but less than 4% of survey respondents mentioning them as a good first destination for solo travelers are France, Ireland, Hungary, Norway, Slovenia, Thailand.
Destinations mentioned as good first solo travel destinations by 4 to 6% of survey respondents include Greece, Germany, Costa Rica, and the city of Amsterdam in the Netherlands.
Countries with the highest number of votes, over 6%, are Italy, Iceland, and Japan – with Japan leading by a wide margin (with almost 12% of votes) and Iceland coming in second place (with about 9% of votes).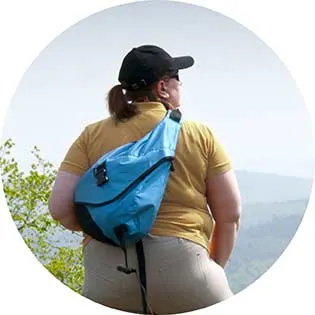 Lynli Roman's unique approach to travel is informed by decades of experience on the road with a traveling family and, later, years spent as a solo international traveler. When she's not writing about Seattle from her Pike Place Market apartment, Lynli writes on-location while conducting hands-on research in each destination she covers. Lynli's writing has been featured by MSN, ABC Money, Buzzfeed, and Huffington Post. She is passionate about sharing information that makes travel more accessible for all bodies.