A day pack is a small backpack worn for city exploring or for short day hikes. In contrast to a full-size backpack, a day pack is designed to carry just enough supplies to provide the essentials for a single morning and afternoon of exploring.
For travelers, selecting a good day pack can make a huge difference in a trip – and I don't think I'm exaggerating! Choosing the right day pack (click here for an article on choosing the right daypack for you) and packing it well are ways to stay safe, prepared, and more confident during your travels whether it takes you down the trail or through an urban city. Even if you choose to carry a purse instead of a backpack while traveling (make it a cross-body bag, for travel personal safety!) the contents of this list of essentials to carry on day trips remains accurate.
In this article, I'll review a list of the absolute essentials that should always be in your day pack when you're traveling, whether it's to Dubai, Dublin, or Delaware. For daypack essentials for camping and hiking, refer to the National Parks Service's list of 10 things you should always carry in the wilderness or review this Hiking Packing List.
Travel Backpack Packing List Essentials
Here are a few things that ake it into my luggage on every single trip:
Lanyard
A lanyard is a travel essential for so many reasons- I never leave the country without one! I can use it to connect my wallet to my day bag or use it as a way to keep my keys handy.
Lanyards work great as a keychain in a travel backpack because a lanyard makes it easy to find your keys without searching. While finding keys quickly might just seem like just a matter of convenience, as most of us solo female travelers know, it never hurts to have keys handy on arrival to our home or Airbnb, as those precious minutes spent fumbling for keys could be a personal safety issue
Wallet that can be tethered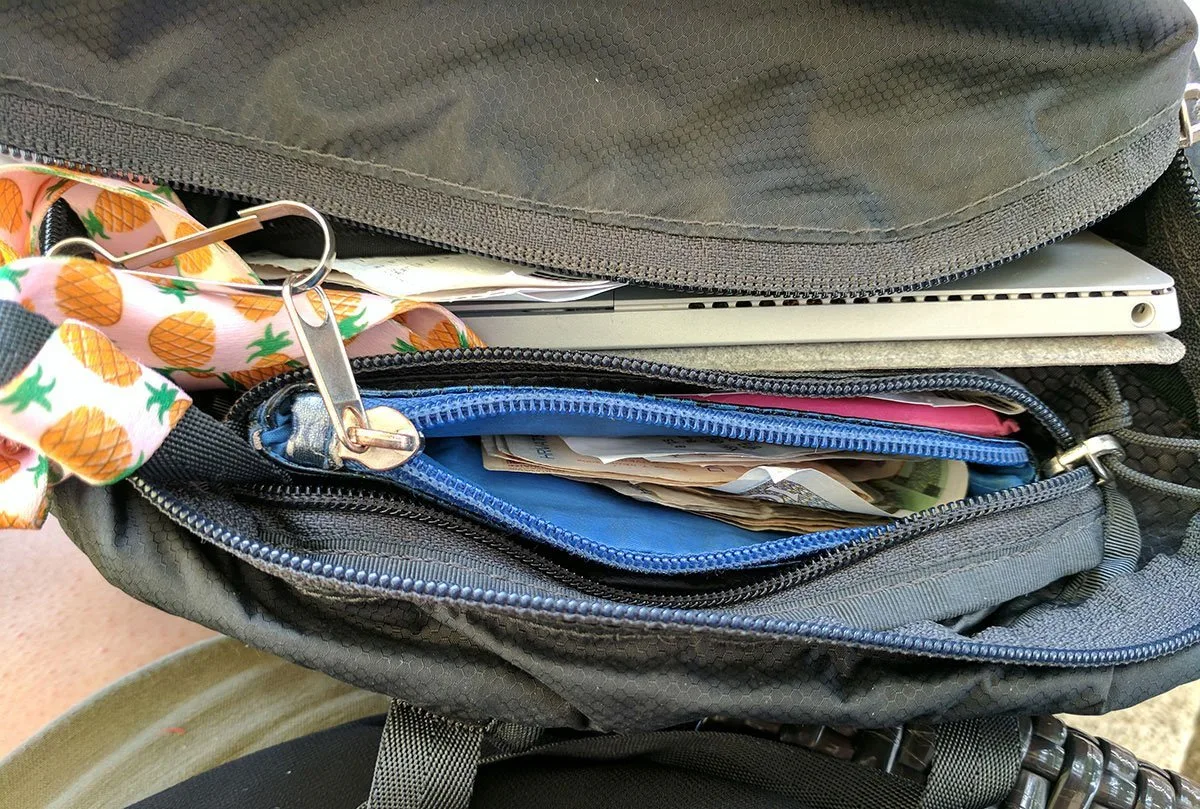 Everyone has their favorite way to carry money and payment cards at home, but when you're traveling, you should consider using a trip a wallet or coin purse that can be tethered to your day pack.
Never carry your only payment cards in a wallet/phone case combination during travel. Snatch and grab phone theft is common, and often targets tourists who are less situationally aware (source). Storing your credit or debit cards separately from your phone is a vital way to decentralize your valuables and avoid turning an inconvenience (loss of a phone) into a travel catastrophe (loss of phone and payment methods).
A tethered wallet attaches, via a lanyard or short stitched-in clip, to your day bag.
This has a few advantages.
1. You'll never accedentally leave your wallet behind on a counter or restaraunt table.
2. Any attempt at snatch and grab robbery of your wallet will fail, since your wallet is tethered.
3. Bag slashing theft is thwarted if a wallet is attached to the structure of the bag.
"The slash and grab technique is also common in the urban centers of the developing world; the theif slices a slit in the bottom of a travelers purse or backpack, then grabs whatever falls out. Some backpackers in cities with a high rate of slash and grab theives, for example, Rio de Janeiro, take the ungainly but often effective measure of wrapping their backpacks with metal mesh wire."

Pg 23. The Travel and Tropical Medicine Manual
Snacks
Travel – especially solo travel- can be risky. When we set out on a trip, we acknowledge that risk but do what we can to minimize it. One risk that many travelers ignore, however, is the vulnerability of being hungry while traveling.
If our brains don't have the energy they need to function, we are at higher risk for making bad decisions (or not paying attention to our surroundings) which can put us at risk.
Small snacks and a travel day pack can be an insurance policy. When I'm packing for an international trip, I always set out with a six-pack of granola bars (yes, even when I'm solo traveling one bag style – after all, the space in my luggage will be taken up by souvenirs on the way back). When and if I eat all the snacks I brought, I can simply pop into a grocery store at my destination and replenish my day bag's snacks supply.
Water
For similar reasons as carrying snacks, your day pack should always contain water. Bring more water than you think you need, and once your water bottle is half empty, begin seeking a place to refill it.
If you're traveling to a hot destination you'll probably want to keep two water bottles with you at all times. For an extra cooling effect, freeze one water bottle overnight and pack it in your backpack in the morning, along with a thawed bottle of water. The frozen bottle will help keep you and your backpack cool on a hot day and will thaw by the time you've downed your first bottle of water.
Travel Journal
Travel journal even if you aren't a journaler back home, carrying a journal in your day pack can be a good way to record your travel memories have something to do between courses while dining alone in a restaurant and a way to make your memories tangible for your family back home or even you future children. Click here for a free guide to getting started travel journaling and a free travel journal template to print.
A Paperback Book
This inexpensive, no-tech form of entertainment has been a lifesver more times than I can count: whether it's standing in a long line to get into a museum or stranded on a rural train with no wi-fi, a paperback book just makes sense.
And unlike being distracted in public by the screen of a very expensive cell phone, occupying yourself with a book (while your day pack is secured by looping it around a foot or leaning against the wall while wearing it) reading a book is a way to take a break and relax without risking theft.
Backup Battery or Power Source.
💡 Pro Travel Hack: Wrap a short length of duct tape around your charger- you'll always have this emergency item at hand on the road.
If you're exploring beyond your doorstep, always pack a power bank in your day pack.
Even if you've got a new phone with a long-lasting battery, there's something about the way we use our phones during travel – checking in with friends, mapping locations, and monitoring transportation- that absolutely drains batteries.
If you are used to getting a full day or even more out of your phone, plan for your phone's battery to last about half as long while you are traveling.
The following section may contain affiliate links. As an Amazon Associate, we earn from qualifying purchases.
However, you should avoid packing a battery backup that is too large. Despite modern technology, portable power banks are still pretty heavy. If you plan to only do day excursions, don't over-buy when it comes to battery backups – that Anker's lipstick-sized portable charger is lightweight and has more than enough power to get your phone enough power to get you back to a wall charger.
A Moment Lens
If you want great photos of your travels (that's all of us, right?) consider purchasing an upgraded lens for your phone to keep in your day bag.
I am obsessed with Moment lenses and own several. The wide-angle Moment lens – which snaps onto your phone's camera – widens the frame and brings even more landscape into your travel photos. A wide-angle lens like this is one of the primary differences between the photography of successful travel influencers and ordinary travelers.
The small upgrade has massive results in photo quality. I've been so impressed with my moment lenses that a wide-angle lens and a telephoto lens are in my day pack every time I leave my Airbnb.
Final Thoughts
It's these essentials that go in my bag each and every time I venture out of my hotel, hostel, or Airbnb on a trip.
While your primary suitcase or full-sized backpack will contain many other essentials, this shortlist of items should always make it into the backpack or purse that you carry through the day when traveling to another city or another country.
Printable Daypack Packing List
Keys or Keycard
Wallet with half your credit cards + tethered
Snacks
Water
Lanyard
Travel journal
Paperback book
Moment lenses or photography equipment
Battery back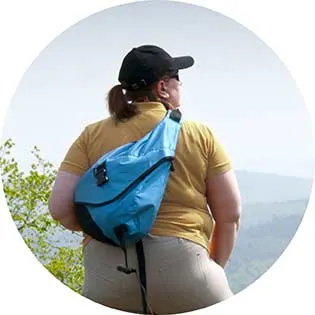 Lynli Roman's unique approach to travel is informed by decades of experience on the road with a traveling family and, later, years spent as a solo international traveler. When she's not writing about Seattle from her Pike Place Market apartment, Lynli writes on-location while conducting hands-on research in each destination she covers. Lynli's writing has been featured by MSN, ABC Money, Buzzfeed, and Huffington Post. She is passionate about sharing information that makes travel more accessible for all bodies.