The scenic highways of the Hood River make for a Portland day trip that's perfect for locals and tourists alike. In this guide written by a Portland local, you'll learn all the secret stops along the way! Gas up and head out on this breathtaking drive to see the wilds and waterfalls of Portland- with under 2 hours in the car!
The route to Hood River from Portland has excitement at every turn, stunning views of the Columbia Gorge, and an up-close experience with rare PNW old-growth forest. With more waterfalls than you can count on one hand, it's a hit with travelers of every age and travel style preference.
Learning to Explore the PNW beyond Portland

It wasn't long after I moved to Portland (10 years ago!) that I began exploring the fantastic scenery that surrounds the city. I would borrow a car from a friend or use the Getaround app, fill up the tank, pick a direction, and see what I could find without any idea of where I would end up.
Over time, the trip to Hood River became my absolute favorite drive. When friends visit, I always, always take them down this scenic highway where waterfalls and breathtaking views of the Columbia Gorge are everywhere. I'm so happy to have the opportunity to share my special route today.
Using this guide- it gets even better. This route will have you driving back to Portland at sunset over the water with Mount Hood by your side. Plus, depending on how long you spend at each stop along the way, you can be home in time for dinner!
What to Pack:
I recommend bringing shoes or boots that can get a little muddy and a jacket that will keep you dry and warm, as you may experience some spray from the waterfalls. Keep in mind that the temperatures drop a bit while up in the wooded areas.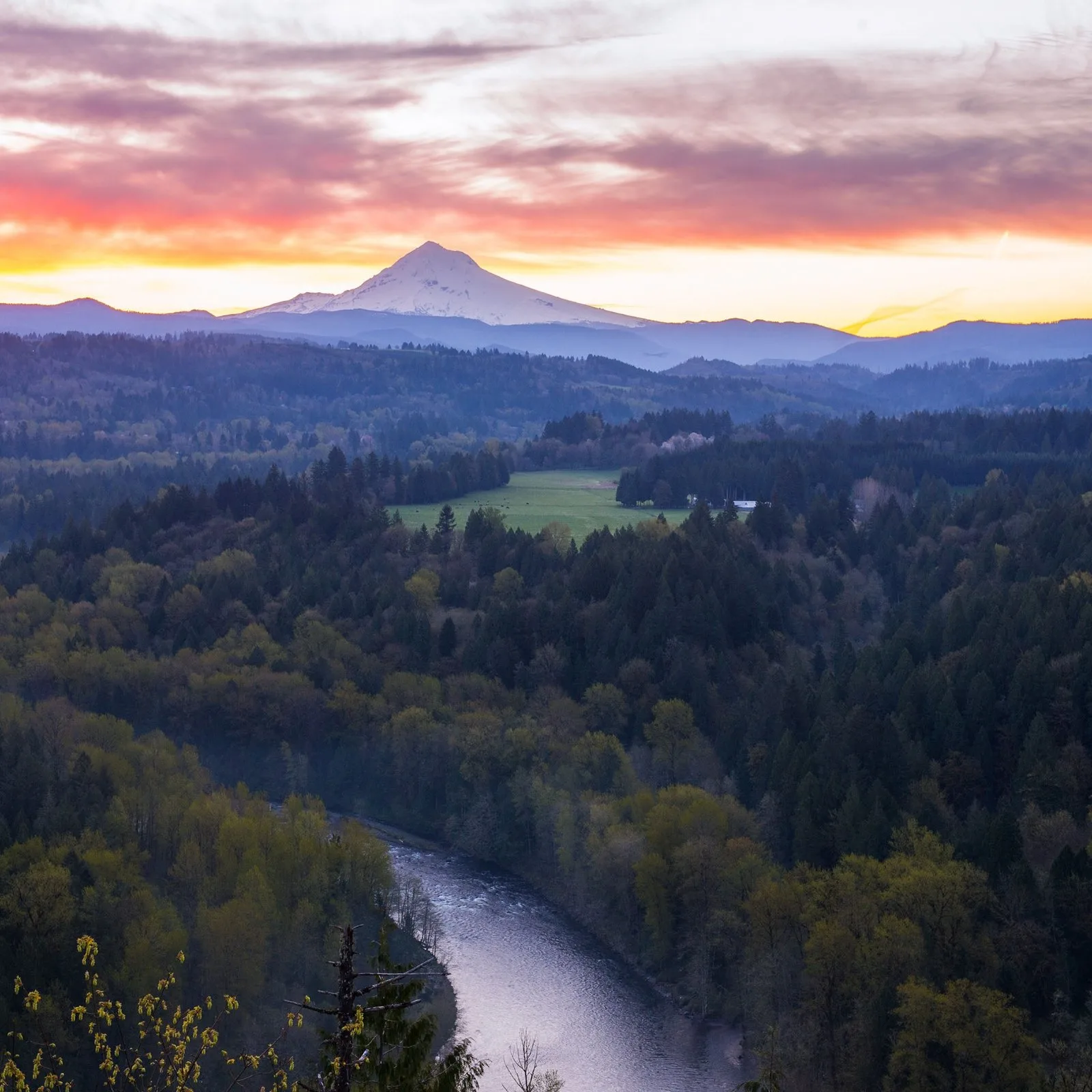 You will be taking the Historic Columbia River Highway for over half the trip. Then, you will be led out to Highway 84, which runs right along the water's edge and take you straight to Hood River.
A Scenic Waterfall-Packed Day Trip from Portland
Stop 1. Vista House
Almost as soon as you hit the scenic highway, you will start to see signs pointing you to Vista House. Vista House is a perfect first stop for this day trip, since it overlooks the entire Gorge.
Winding roads (don't worry- they're well maintained!) will lead you to a lookout point that makes for the most quintessential photo-op of the scenery. On the hill, the 'house' is an octagonal observation point built in the early 1900's. It offers as a gift shop with tons of Oregon souvenirs, snacks, historical and educational plaques inside the building. I love the building itself for the 1920s feel inside). There is plenty of parking and binoculars to peer down the Gorge before you head out.
Hont: This is the last restroom before Multnomah Falls.
Stop 2. Latourell Falls
The next stop and first waterfall you will encounter is just a few minutes down the hill called Latourell Falls. You will be able to walk right up to a crystal clear pool into which the falls drop and close enough to get misted upon by fresh mountain spring water! My favorite feature of these falls is the geological aspects that you can see in the rock face.
While the falls are less than 50 feet high, you can see how they were formed by the markers in the slanted rock layers. This is a great teaching moment for kids since it's a point on earth where you can actually see the Earth's crust as it was pushed up when these mountains were formed.
There is a very popular trailhead starting at Latourell Falls if you want to explore the upper part of the falls. If you want to make it home by dinner, though, hop back in the car and head to Shepperd's Dell Falls.
Stop 3. Shepperd's Dell Falls
Next stop is Shepperd's Dell Falls, about 10 minutes away. Shepperd's Dell is a good quick stop on this day trip to see the two-tiered falls that are much lower and much wider than the Latourell that you just saw. Surrounded by lush greenery, a short walk up the trail, you will find them roaring back in the woods and emptying out to the Columbia.
HINT: If you got a bit of a late start and need to cut one stop off this portland day trip, I recommend skipping Shepperd's Dell Falls. But, if time allows it is well worth a stop!
Stop 4. Bridal Veil Falls
As you leave Shepperd's Dell, you will find yourself on an adorable but narrow bridge. This bridge guides you to my second favorite falls on this trip, Bridal Veil Falls.
There is no hiking or even walking required to see these beauties! Just slow down (if traffic permits) and give it a gander if you are crunched for time—you will not want to miss the last falls on the trip. Bridal Veil isn't as high as the rest but it is very wide, giving it quite the presence. It's a great stop on this Portland day trip to take a family photo!
Stop 5. Wahkeena Falls
Moving right along, only another 10 minutes down the slow-paced highway, you will see Wahkeena Falls. How easy is this!? While the roadside falls are not that impressive, it is well worth the effort if you are up for a short hike to Fairy Falls. From Wahkeena Falls you will see the trailhead leading you to the many-tiered cascading falls of Fairy Falls, which spray down from the cliff's edge.
This is a really special area, but not quite my favorite waterfall on this portland waterfall day trip. So if you're not up for the hike, don't worry: the pièce de résistance is just up ahead!
Stop 6. Multnomah Falls
The final stop on the scenic highway is Multnomah Falls!
In my opinion, Multnomah Falls is a must-see for anyone visiting Portland—period. Measuring a staggering 620 feet high, this is one of the Pacific Northwest's main attractions!
At Multnomah Falls, you'll find There are tons of amenities, including coffee and ice cream, fine dining, a great lodge, a huge souvenir gift shop, and nice restrooms.
I love the souvenirs at Multnomah Falls, and when I take guests here, they usually find unique, handmade souvenirs in this shop. (Need souvenir ideas? Read my tips on the best souvenirs from any destination)
Most importantly, the falls viewing area is well planned and accessible for different abilities. The viewing platforms provide a stunning view that lets you take in the great falls and a beautiful stone bridge before them. You will want to clean off your lens for this one!
Nearby Trails
A short but steep paved trail from the main viewing area offers a closer look at the top.
For those 'in it to win it', a second trail allows visitors to hike up to the very top of the 620-foot waterfall. However, this trail is best as a day trip from Portland all by itself, because it is a difficult, technical hike that is very steep almost the entire way. (And trust me, when PNW'ers describe a hike as "steep" and "technical," they mean it!)
Stop 7. Hood River
Once you've had your fill of the beauty at Multnomah Falls, let's take a breather and head to Hood River! The grand falls are the last stop on the scenic highway.From this point it's easy to get back on the regular highway and head back to Portland. Though on heavily trafficked roads, the return is also a beautiful drive.
You'll see Cascade Locks to your left, which includes a dam shrouded in mist as you are traveling along the water's edge. Around 30 minutes later, you will start seeing civilization once again.
Need gas, snacks, or provisions? Stop in the small town of Hood River, Oregon. Hood River is one of the friendliest towns I have ever visited in Oregon.
Outdoor Adventures in Hood River
At this bend in the Columbia, there is a unique wind effect. This weather pattern creates some of the best kite-boarding in the country. If you have time, stop by the waterfront and take in the acrobatics of the kite boarder's at play—you will likely see some professional action out there!
The town itself is quaint and welcoming. This is the home of Tofurkey, Full-Sail Brewery, Double Mountain Brewery, and Everybody's Brewing Co. All have very refined and affordable gastropub fare.
Returning to Portland at Sunset
Once you are finished visiting Hood River and ready to head back to Portland, I would recommend taking the regular highway(I-84) back in for two reasons: 1) the scenic highway can be quite dangerous after dark, and 2) if you're lucky, the drive back will give you the opportunity to enjoy a stunning sunset. It is nothing short of magnificent.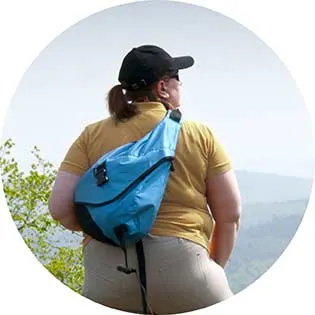 Lynli Roman's unique approach to travel is informed by decades of experience on the road with a traveling family and, later, years spent as a solo international traveler. When she's not writing about Seattle from her Pike Place Market apartment, Lynli writes on-location while conducting hands-on research in each destination she covers. Lynli's writing has been featured by MSN, ABC Money, Buzzfeed, and Huffington Post. She is passionate about sharing information that makes travel more accessible for all bodies.