This blog is reader supported. As an amazon associate, I earn from qualifying purchases.
One of the best parts about bullet journaling is that your bullet journal can take whatever shape you need it to. As you become comfortable with your bullet journal, you'll probably find that your journal begins to look nothing like the complex and artistic spreads posted on social media. Whether you use a traditional format for travel bullet journaling or a minimalist format, you'll probably find yourself re-creating the same basic layouts over and over. Actually, reusing templates can help streamline your journaling process and save time on the road. Finding layouts that work for you and repeating them lets you focus on content: the words, thoughts, illustrations, and ideas that inspire you from your travel.
My ultimate guide to travel journaling offers a number of different layout options, but if you find that your journaling practice tends to include replicating the same layouts over and over through longhand copying, this tutorial is for you!
In this post, I'll be showing you a simple method for creating a layout stencil. To some, this may seem like an obvious path towards quickly reproducing pages you love to use in your bullet journal, but I hope for some this will be a new idea and one that can help your bullet journal work harder for you.
In this case, I'm setting up a template for a travel journal layout in my bullet journal. When I need to reproduce a page multiple times, I use tracing paper to transfer my design onto card stock or plastic template material. By creating a template, I can quickly reproduce similar layouts for different pages.
To create visual interest on your pages even when you are adding the same information and type of content, you can create variations on the layout– such as having stencils marked "TRAVEL-A," "TRAVEL-B," etc.
Preplanning a bullet journal with a template is especially helpful when it comes to seasons in which you know that you will be busy and suspect your journal might be put on the back burner if it isn't easy and ready-to-go. For example, academic spreads at the beginning of the school year or this travel journal spread. Creating pages in advance (or even just creating softly penciled guides onto pages) is a time-saving shortcut for easily making your bullet journal look great.
How to make your bullet journal template stencil:
You can use plastic specifically made for making stencils or, like me, just find some thin cardboard – in this post I'm just using an empty La Croix box (and we ALL have those, right?!)
First, I cut a panel sized to the average bullet journal page – about 5″ x 8″.
With a journal template, it's easy to replicate your favorite layouts without needing to measure or plot out pages.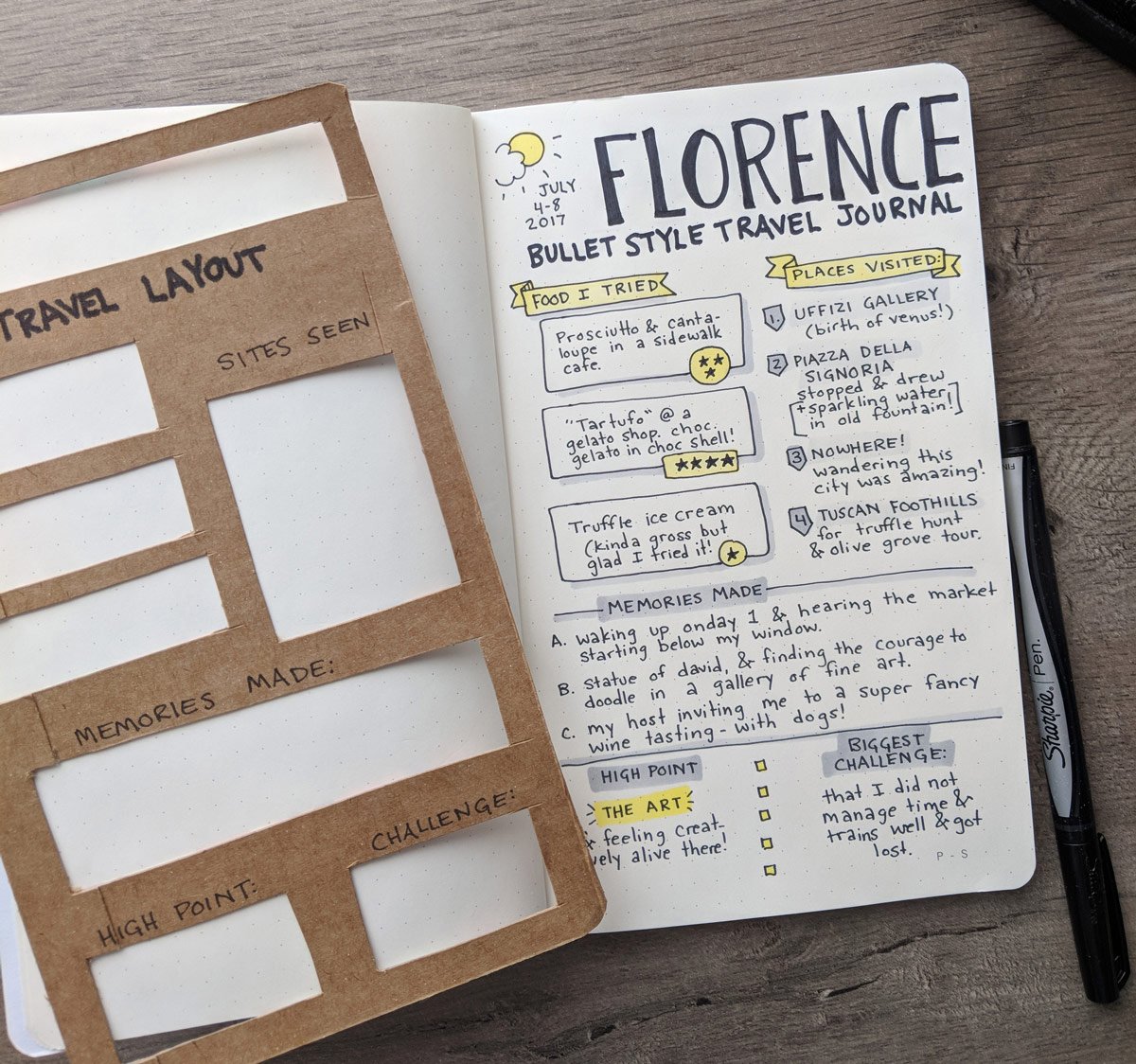 How to make a template for your travel journal
Total Time: 10 minutes
Source Stencil Material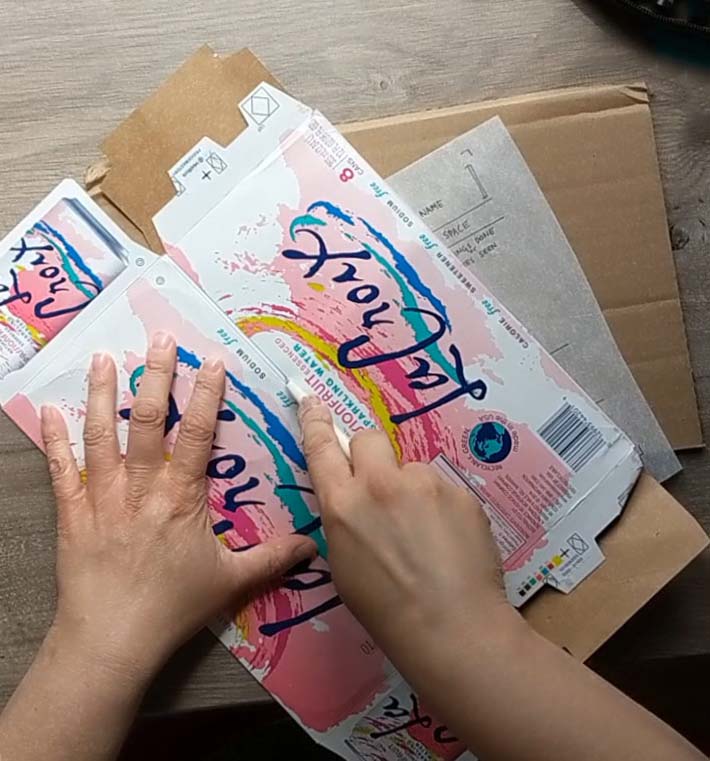 Thin cardboard (like the packaging used for cereal, crackers, or soft drinks) works well. For durability, semi-rigid plastic sheets made for custom stencils work best.
Cut Thin Cardboard or Stencil Plastic to fit your Page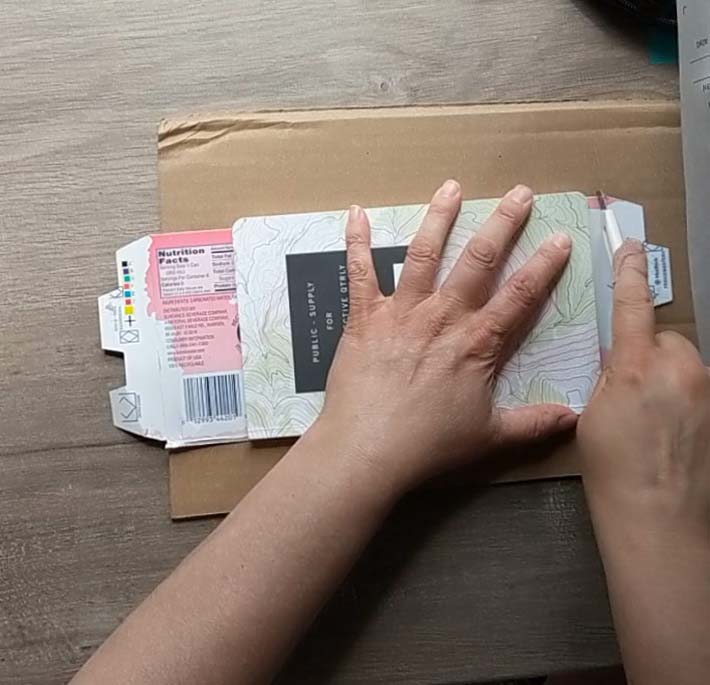 Cut down your material into a sheet the same dimensions of a journal page- typically about 5″ x 8″ for average bullet journal pages.
Choose and Place Design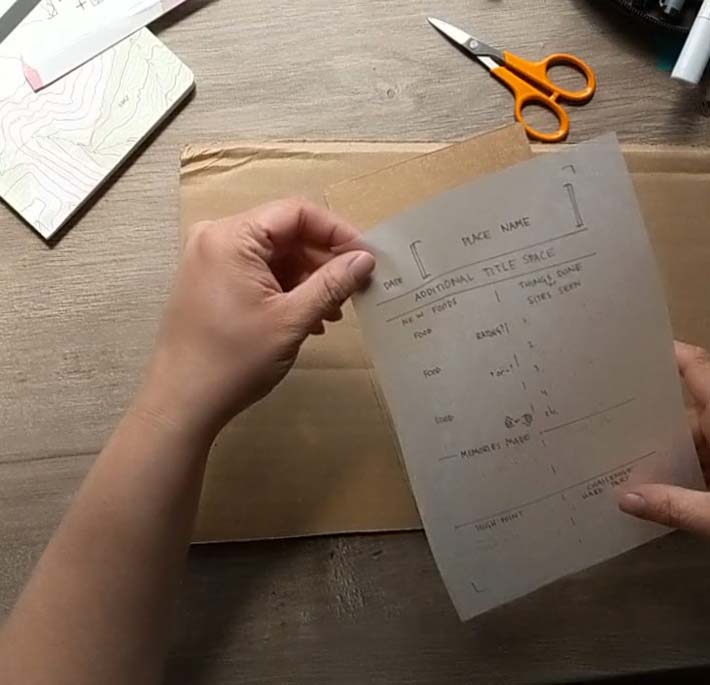 Design or Print a template on standard paper, then place it over the stencil material, on a protected surface.
Create Cutouts in Bullet Journal Stencil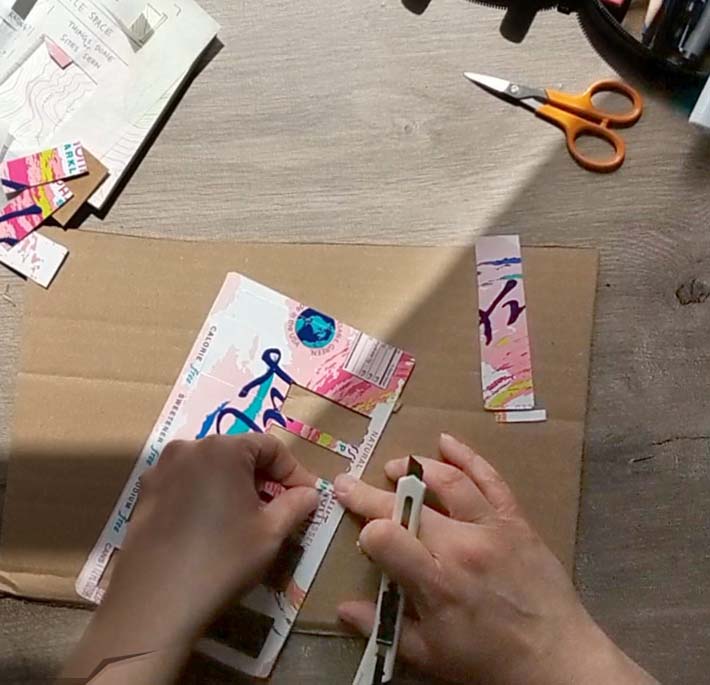 Carefully, and working on top of a protected surface, such as a sheet of corrugated cardboard, use a craft knife or X-Acto blade to cut out sections for text boxes.
Label Sections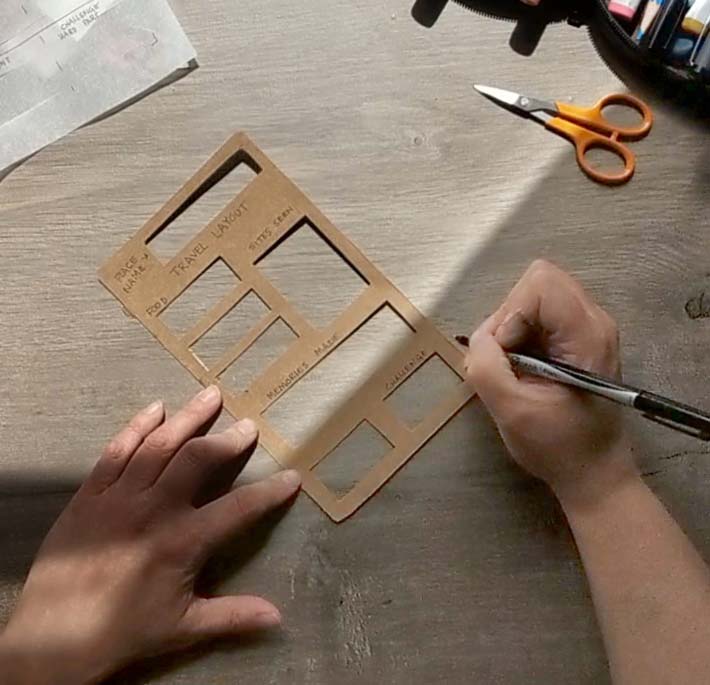 Especially helpful when you are mixing up templates to add visual interest, labeling what journal elements go in each blank can be helpful.
Finish & Use to Create Fast, Great Looking Journal Pages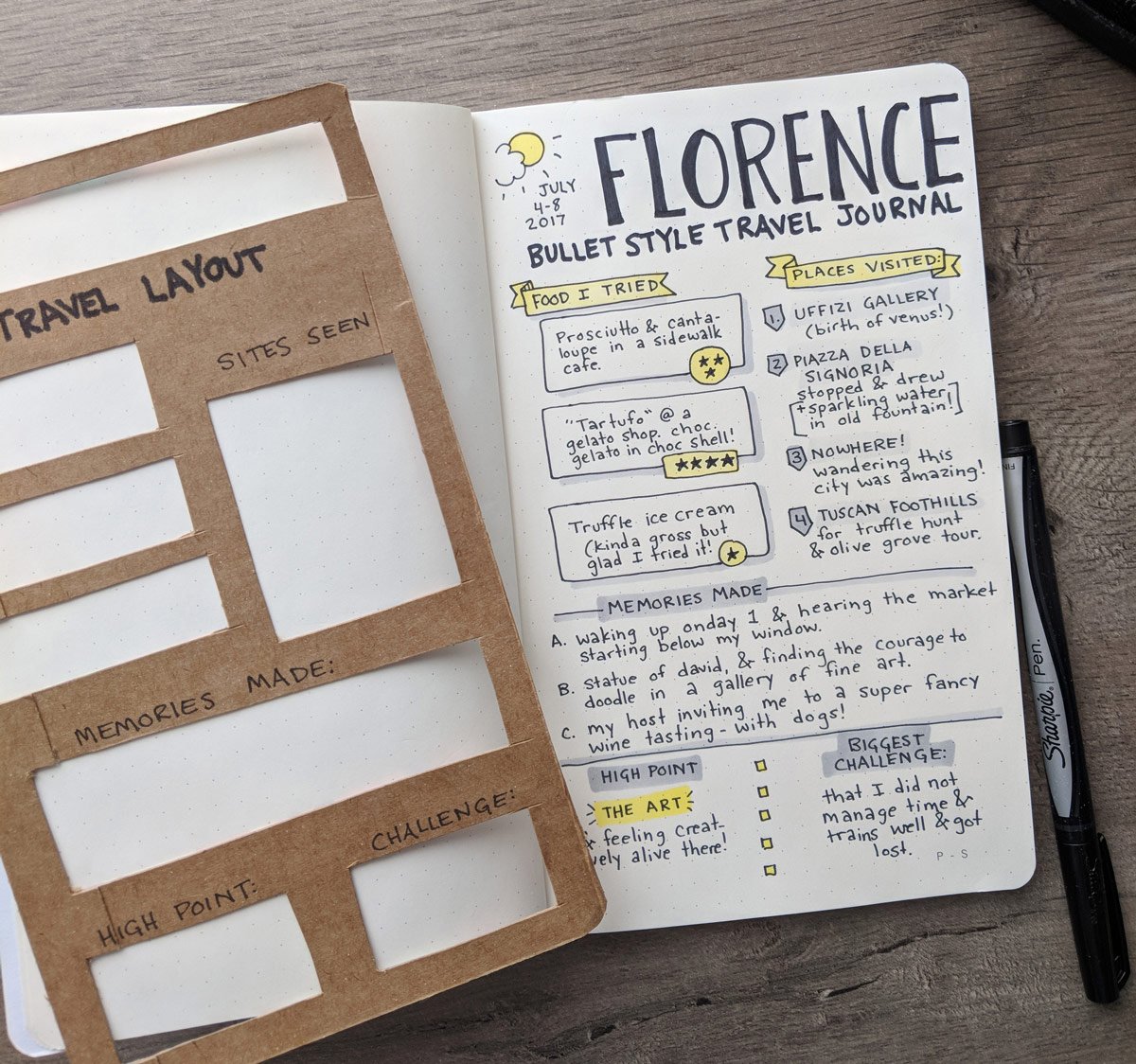 Cut and labeled, this template is ready to pack in my travel journal art kit so I can make beautiful journal pages on the road without the hassle of plotting and planning.
Supply:
rigid cardboard or plastic
Tools:
Materials: paper
I usually do this by getting myself a workable, section of cardboard, and then laying either a page from my journal or the entire journal on top and cutting around the shape of the journal.
…and just like that you'll have a functional template that is ready to use! To get perfectly straight edges, you can use graph paper or straighten your template by scanning and adding geometrically perfect shapes to it before printing.
I find it helpful to label my homemade bullet journal templates with a sharpie, so I remember how I've used the template in the past.
With a finished template, it's easy to replicate your favorite layouts without needing to measure or plot out the page.
Download my Free eBook on How to travel Journal
Get this full article- plus all the information you need to create an amazing travel journal, via my free eBook: The Ultimate Guide to Travel Journaling. Download the PDF + eReader bundle below!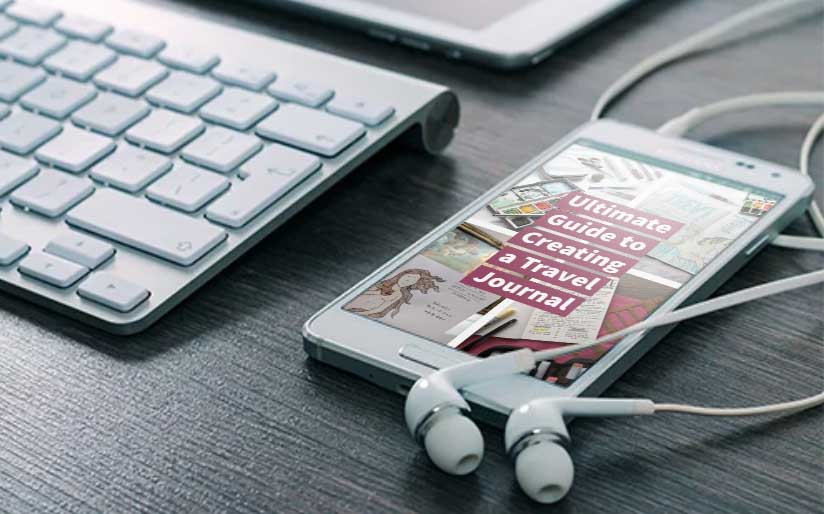 My Story of Travel Journaling:
I'm a traveling remote worker (roaming the globe while I work in the tech industry) and a few years ago I discovered that journaling on the road really transformed my experience of travel.
What I love most about travel journaling is that when I take time out from traveling to journal, it helps me be more mindfully present to the unique experience of travel. Having travel-focused templates like this free printable one ready to go means I can focus my journal on recording my experience rather than the appearance of each page. When I began adding sketches to my travel journals, it gave me the opportunity to create a souvenir unlike anything I could purchase. The journals I have created while traveling are treasured belongings.
When I started keeping a travel art journal, I didn't think I was very artistic. But through journaling, I've been able to experiment and grow.
The best advice I have for anyone starting the process of travel journaling is to think outside the box and make your journal into whatever you need it to be. A journal can have elements of a photo album, scrapbook, sketchbook, bullet journal, and long format journal all in one.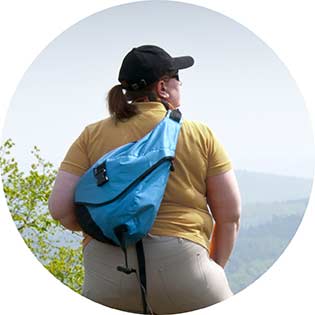 Artist, digital nomad, and highly sensitive person, Lynli started traveling full time as a digital nomad in 2018. Writer and Illustrator by day, remote-destination explorer by other-days, Lynli is passionate about pushing the boundaries of her own comfort zone, exploring the world as a plus size, one-bag traveler, and journaling it all on WanderBig.com