If there's one thing all travelers have in common it's the shared suffering of enduring long flights without in-flight entertainment screens.
Today I'm teaching you how to mount your phone on the seat back in front of you using 2 basic items you probably already own. This hack works, it's cheap (or free!), and it's perfect for light packers and weary travelers.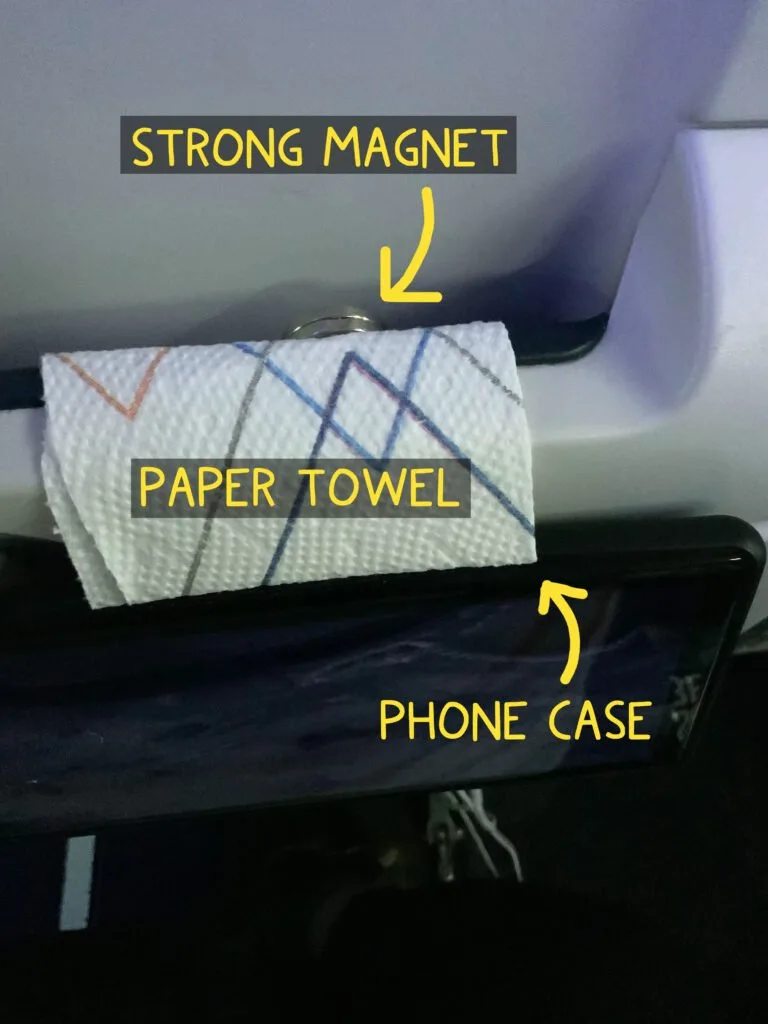 Figuring out this Phone Mount Hack
Trapped in economy class for hours on end, those little screens on the back of an airplane seat can be a lifesaver for travelers. Even for flyers who prefer to read or do a travel-friendly hobby, screens provide tired eyes a break. Sadly, however, these screens are disappearing faster than inches from a Spirit Airline seat as airlines look to cut costs. 1
Recently, I (just barely) survived a 9-hour flight from Lima, Peru to LAX with no in-flight entertainment options. After that flight, as I was icing a neck sore from craning my neck to see my phone on the tray table in front of me, I swore I'd never again be caught off guard by missing in-flight entertainment.
So, I set out to find a way to mount my phone on the back of a plane seat. I watched TikTok, scrolled youtube, and even plumbed the depths of Reddit looking for tips from travelers who'd figured out how to solve the problem.
The trick was finding a way to mount a phone on an airplane seat without
ending up with a phone crashing to the floor,
shielded by a cheap plastic bag,
or stuck at a neck-craning angle from the forced body-position of economy class seats.
Over my next few flights, I kept trying new methods. Although there were some products in online stores designed to hold a phone in flight, I decided to DIY it. "Why," I thought, "create more plastic waste and load my luggage with yet another gadget?"
Thankfully, with just a few flights of experimenting with different methods, I solved this problem. I found the perfect way to mount my phone flat, securely, and high enough on the seatback that I could rest my head against the headrest while enjoying my movie or TV show.
On that particular flight, a southwest flight from St Louis to Seattle, I was seated next to a quintessential midwestern baby boomer couple who were headed to a cruise ship in Seattle. Excitedly, they asked me how I'd managed to get my phone mounted so securely on the seat. The trick, I told them (and I am about to tell you!) is magnets…
The following section may contain affiliate links. As an Amazon Associate, we earn from qualifying purchases.
Magnet Magic: Mounting Your Phone Securely on a Plane Seat
Through experimenting with a couple of different methods of mounting a phone on the back of an airplane seat, I found a strategy that works great – here's how to make your own:
Supplies: What you'll need for this DIY airplane phone holder:
🧻 One single paper towel – any strong, flexible strip of material should work including paper, plastic, etc).
🧲 A strong magnet – I recommend these magnets at Amazon, this washer-style shape makes it easier to un-stick them from magnetic surfaces.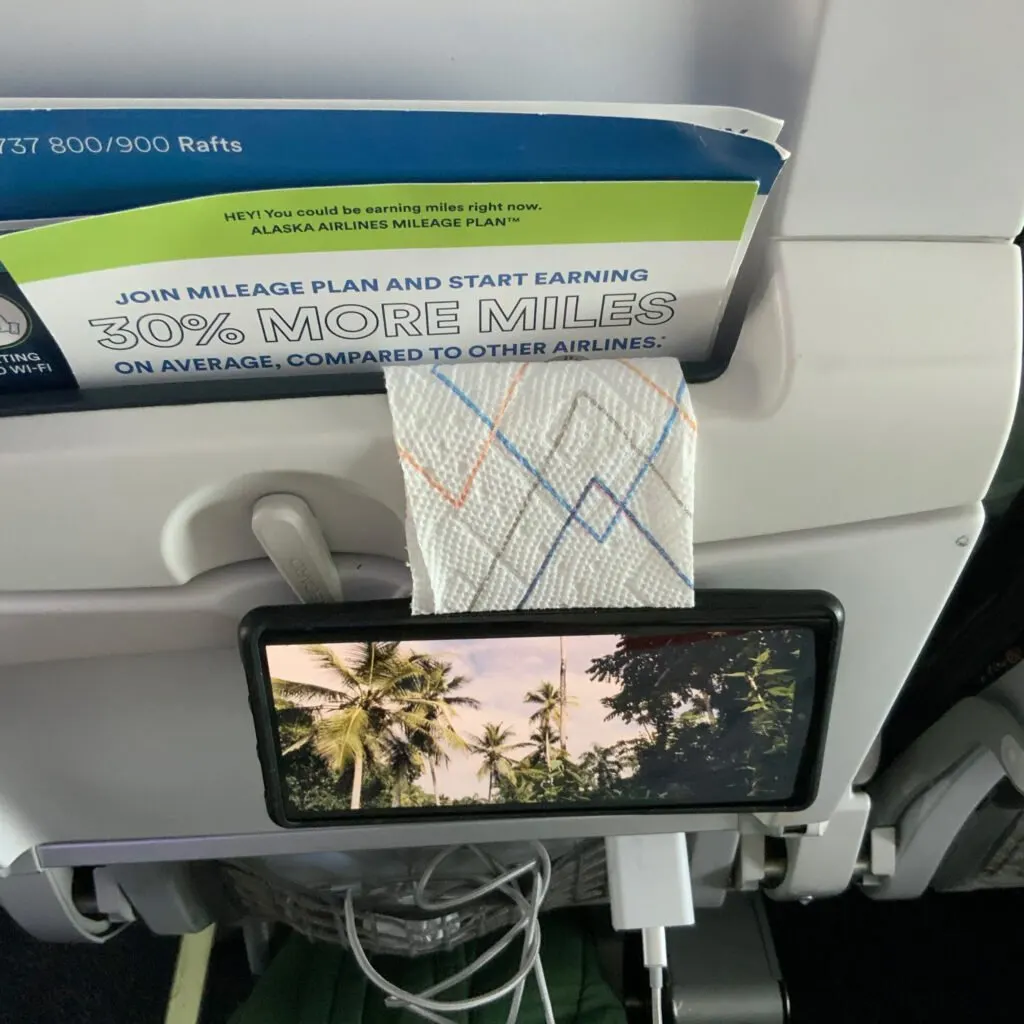 How To Mount a Phone on an Airline Seat Back
Fold Paper Towel Lengthwise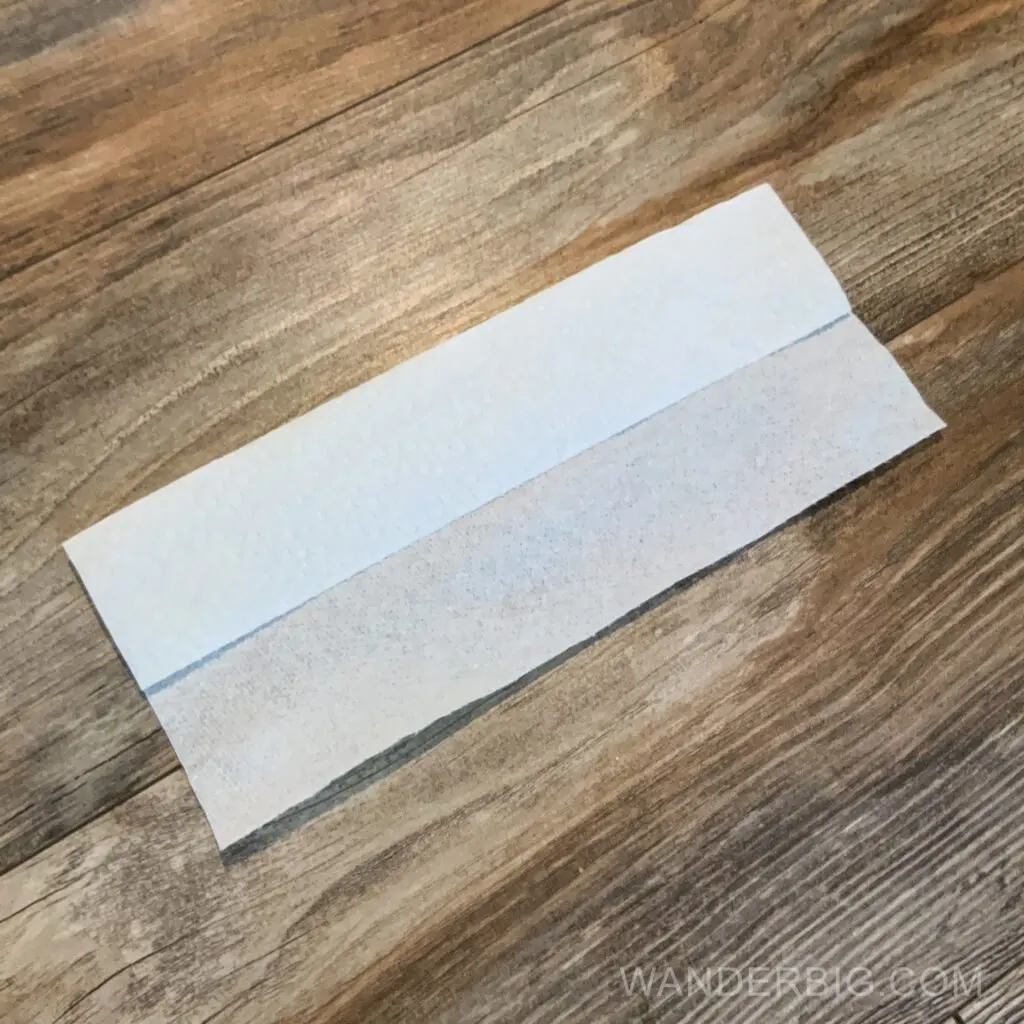 Fold the paper towel lengthwise, and then fold it again, also lengthwise, to create a three-ply strip of paper towel about 3 inches wide.
Remove phone from case + Insert paper towel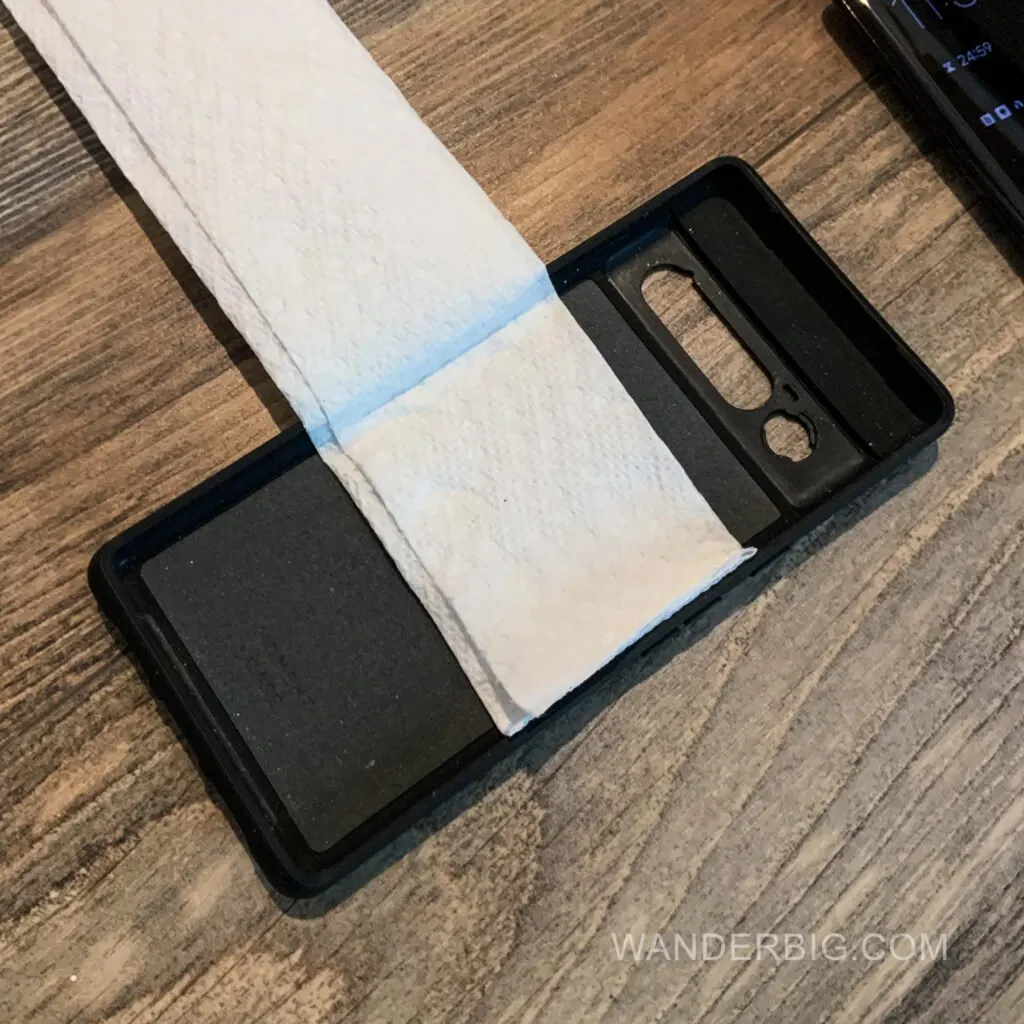 Remove your phone from the case, and place the paper towel into your case. Place one of the long ends of the paper towel perpendicular to the phone's height.
Replace phone in case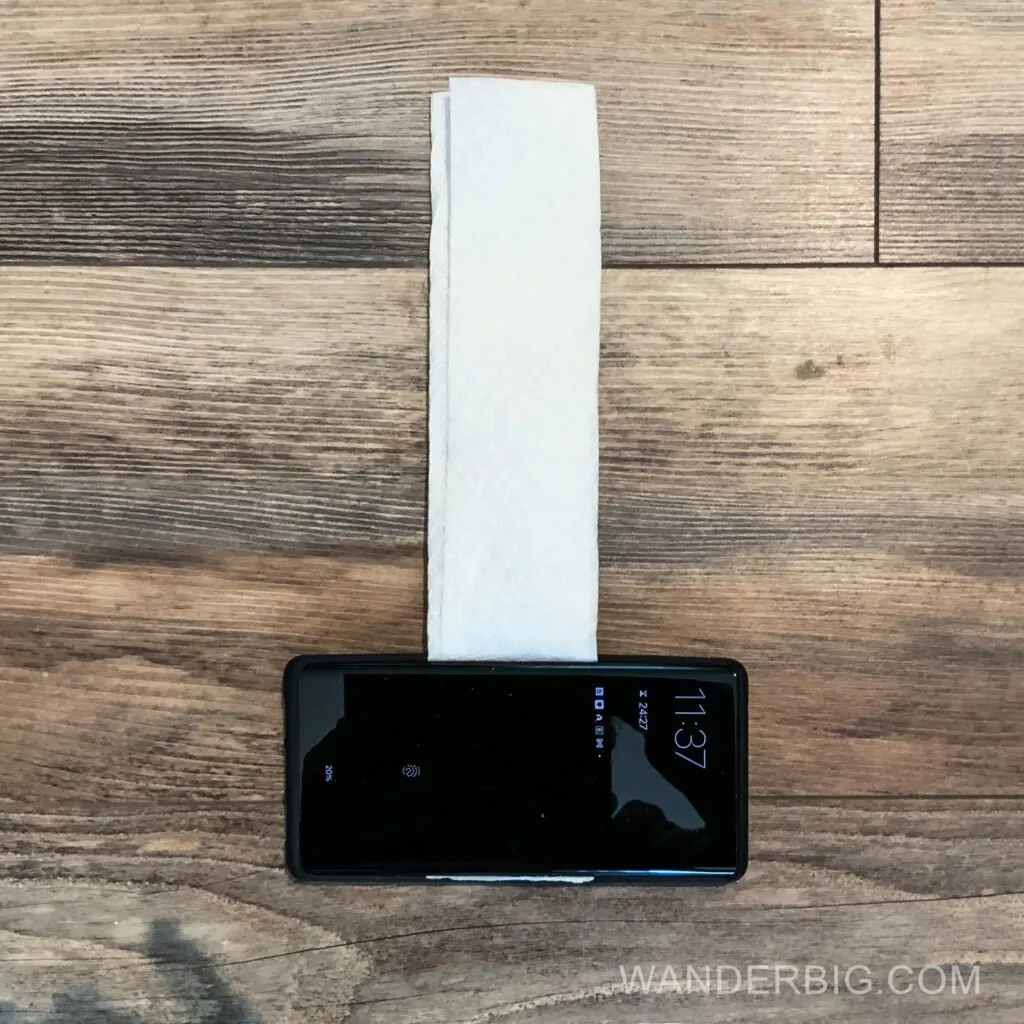 Place your phone back into your phone case, pinning the paper towel in place between the phone's body and the case.
Tug on the paper towel to be sure that it cannot be pulled free.
Empty Airplane Seat's Magazine Holder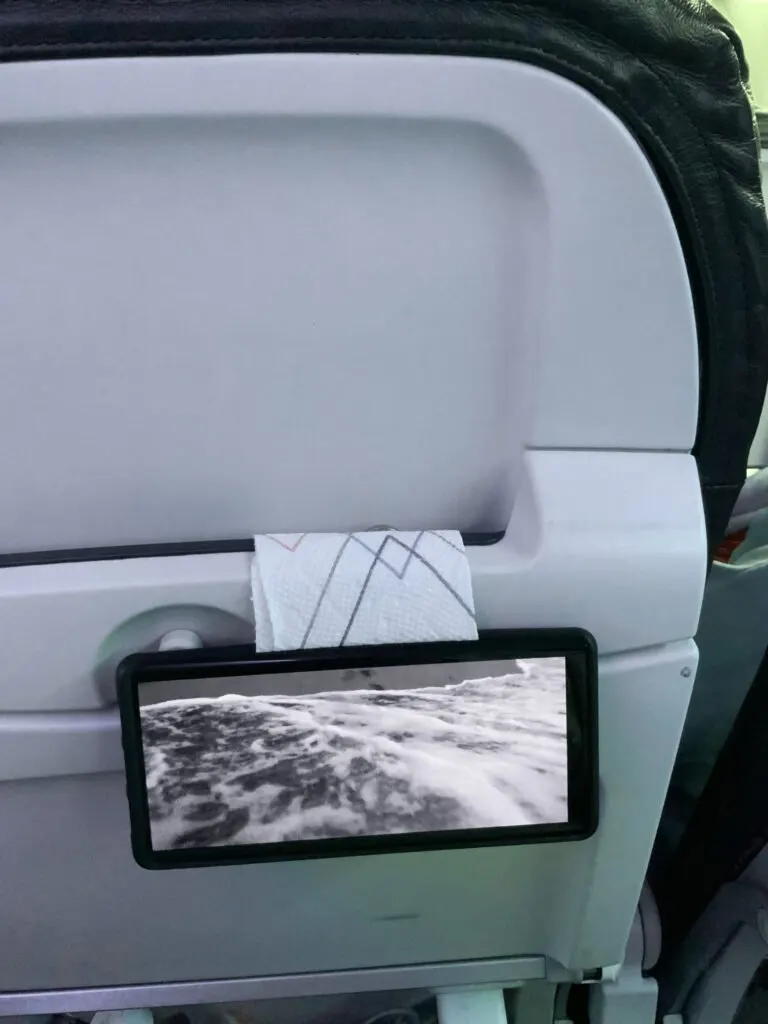 Now, remove magazines or safety brochures from the holder in the seat in front of you.
Find magnetic metal strip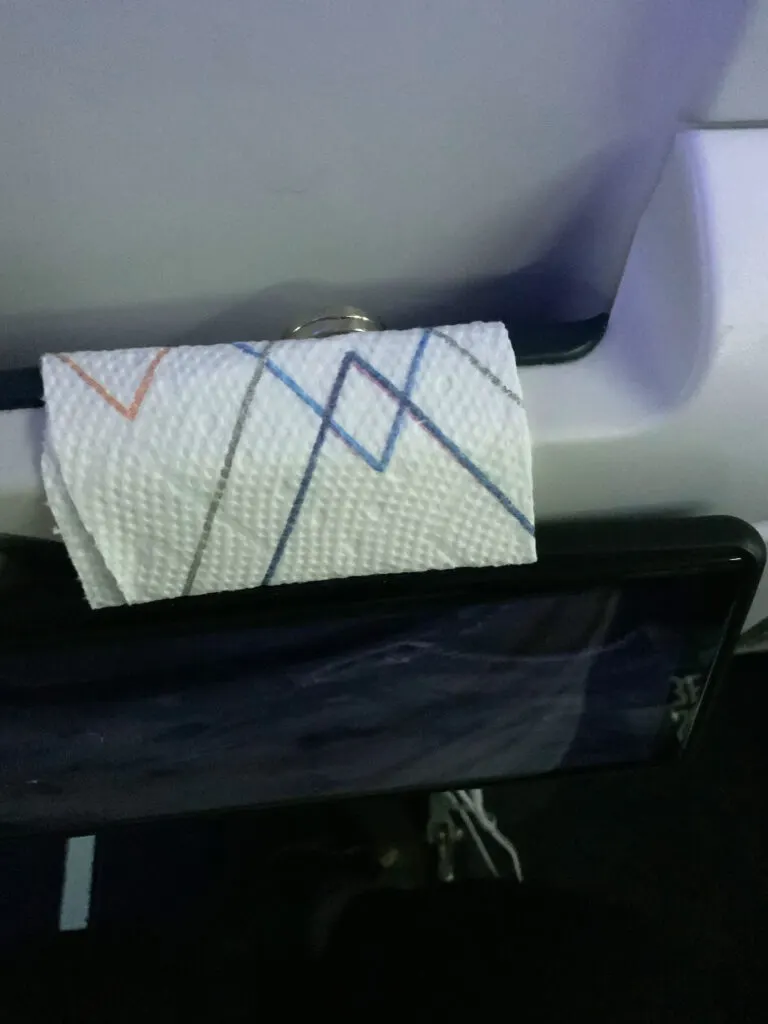 With a magnet in hand, feel around for the exposed steel on the inside of the magazine holder in the seat in front of you. You should feel the magnet strongly pull towards a bar of metal.
Feed Paper Towel Strip into Back of Seat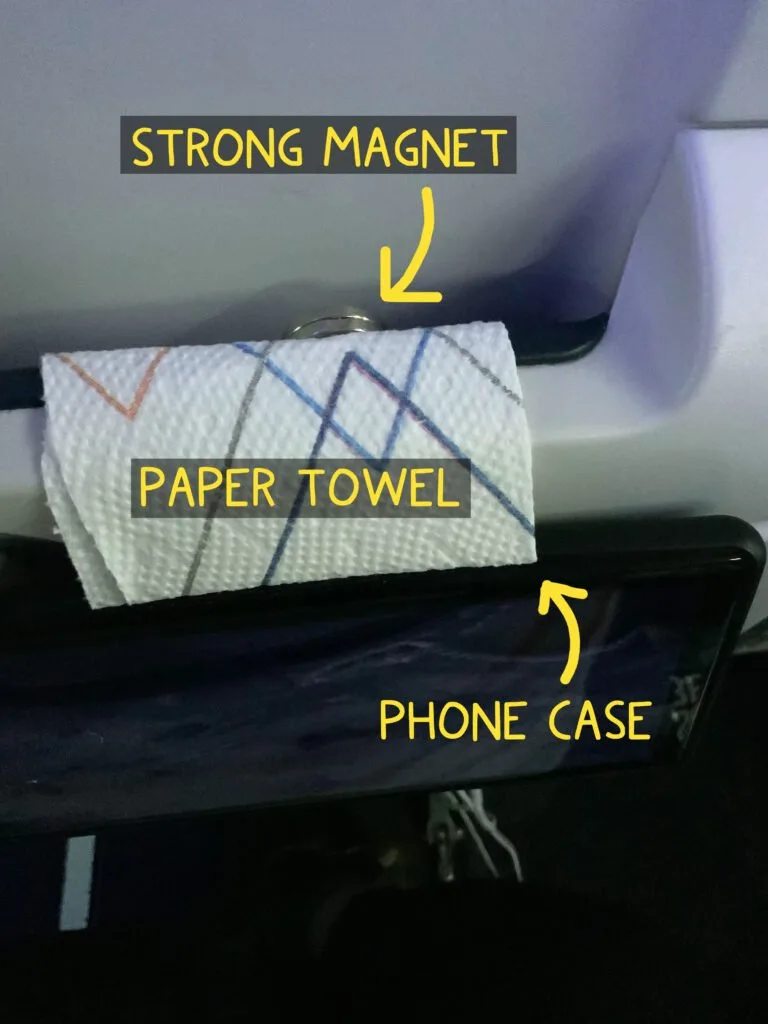 Once you know where the magnet can be mounted, insert the paper towel strip into the magazine holder and feed the length of the paper towel down into the magazine rack.
Secure strip with magnet
Position your phone at a comfortable height, and place the magnet over the paper towel, trapping the paper towel between the magnet and the magnetic steel bar. Your phone should stay in place, thanks to the magnet preventing the paper towel from slipping
Enjoy!
This magnet and paper towel DIY airplane phone holder works really well – with no shifting or dropping the phone! At the end of your flight, you will need to be careful to make sure that you don't lose your magnet or drop it down into the magazine holder during removal. To avoid this, I usually carry two magnets and stick them together on opposite sides of my backpack's fabric.
💡 Hint: Instead of a disk-style magnet that is easy to drop under the seat and hard to unstick from magnetic metal, purchase washer shaped magnets with countersunk holes. They're easier to hold and unstick. Plus, if you have known butter-fingers, you can run a length of string through the ring- making them much harder to drop on a crowded flight!
When to Set up this Phone Holder on your Flight
This DIY airplane seat back phone holder has made my flying experience much more enjoyable and I hope it does the same for you!
My boarding process goes like this: After I buckle my seatbelt, I pull my phone out of my carryon bag and hold it in my hand while I adjust my bag under the seat in front of me (unless I'm flying Southwest, then I use their special policy for travelers like me to store my bag under the seat next to me).
my method for hanging a cell phone on the back of an airline seat is a little different than other methods I've seen on TikTok, Instagram, and even Pinterest. I tested a bunch of the methods I found there. Phone in a plastic bag? Definitely no (because the glare created by the plastic bag made it hard to see my phone- but also because it made charging impossible.)
Another travel influencer insisted that a napkin tucked into the magazine holder, with tension to hold it in place worked, but I found it impossible to get enough tension on the napkin to hold my full-sized Pixel 6 in place. When the napkin was put through the magazine holder on the back of the seat in front of me and magazines used to add tension, I kept dropping my phone.
So I came up with my own method that uses two items: a textured paper towel and a neodymium magnet – as you can see from the images above- it works perfectly to hold my phone in flight when an inflight entertainment system isn't available.
How to Use this Method with a Tablet instead of a Phone
I have not tried this method with a tablet, but there is a good chance that (with modifications) it will work.
Here's how to modify this method: Because tablets are heavier, you'll probably need to use two paper strips and two magnets- one on each end of the tablet. Instead of using one magnet to hang the device from a single point, you'll hang it from two magnets stuck to the inside of the magazine rack. I plan on trying this during my next flight, and I'll update with the results!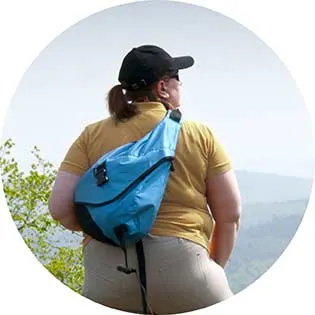 Lynli Roman's unique approach to travel is informed by decades of experience on the road with a traveling family and, later, years spent as a solo international traveler. When she's not writing about Seattle from her Pike Place Market apartment, Lynli writes on-location while conducting hands-on research in each destination she covers. Lynli's writing has been featured by MSN, ABC Money, Buzzfeed, and Huffington Post. She is passionate about sharing information that makes travel more accessible for all bodies.
Sources