Whether you've been on a long flight, have a few more hours in the airport than you'd prefer, or just want some exercise, the airport is a great place to get a workout in.
In this article, you'll learn about the five main options for airport workouts.
Is it Weird to Workout in an Airport?
You might feel a little weird about working out in an airport if you've never done it before. Honestly, I still do when I'm doing planks or lifts using airport seating.
Once you start doing it, though, it gets easier. Everyone in an airport is just trying to keep their body working while they navigate to their next location. If people judge you for caring for your body through movement, well, that's their problem.
If you still feel a little weird about doing an obvious workout in a public place, start small. Find a secluded and quiet area of the airport to stretch. Some airports even have a room designated for yoga – like DFW's yoga room (but don't be that traveler grunting through an intense workout while others are trying to grab a moment of mindful travel).
For a better workout space, warm up by walking around the airport looking for a quiet terminal with an empty gate where you can workout. I've had good success finding quiet places where I won't disrupt others in international terminals.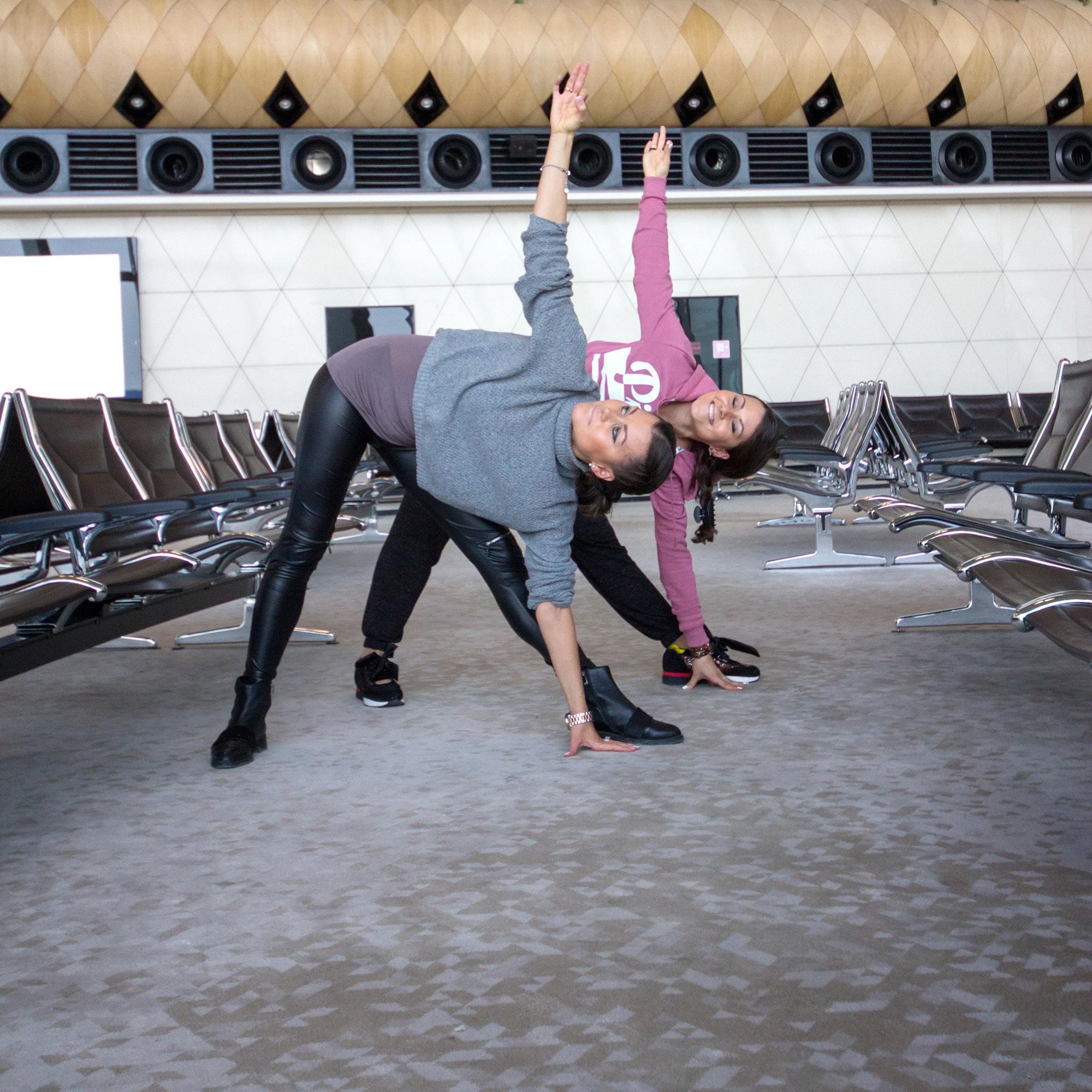 🚶🏾‍♀️👟 Exercise by Walking: Explore the Airport
Airports give us a built in opportunity to walk. Of course, this is easier at a giant airport like JFK than it is at a small commuter airport in Iowa, but all airports have plenty of space to roam.
Let's assume you're in a reasonably sized airport. Walking is the easiest way to get some exercise and also to explore the airport. Not all airports are particularly interesting, but some of the big ones have really amazing things to do on a layover (Ted Stevens in Anchorage comes to mind- check out these amenities).
If you've got a smartwatch or smartphone, you can keep track of the miles you've walked in the airport. Exploring is also a great way to kill some time.
Walking is also an excellent way to lower your risk of getting a blood clot during your flight. While a minimal risk for young, healthy travelers- that minimal risk increases by almost 3X during long flights and walking before and during your flight can prevent this issue. 1
🏋🏻‍♂️ Body Weight Exercises
If you're feeling self-conscious about working out in an airport, here's a great exercise (pun intended) to help:
Remember that even though it might feel weird to work out in an airport, no one really cares. I mean, airports truly exist in their own little universes. If it's acceptable to sleep, brush your teeth, and watch a movie in pajamas, it's fine to work out in the airport.
Consider these easy exercises that don't require any equipment other than what you'll find in your terminal.
Pushups
Sit-ups
Dips using a chair
Lunges
Squats
➰ Bring Resistance Bands for Airport Workouts
You might want to bring your own equipment. No, I'm not suggesting lugging around dumbbells in your bag (but that sure would be a workout!). Resistance bands are a great choice for working out in an airport. They weigh nearly nothing and take up virtually no space.
Even if you're traveling with just a carry-on, a few resistance bands of varying weights will fit easily into your carry-on bag.
Combine resistance band exercises with body weight and chair-based exercises, and you've got a solid workout by any standard.
💡 No resistance bands? No problem! As long as your bag weighs a few pounds, it can be used as a weight. Try using your bag for exercises like:
Bicep curls,
shoulder raises,
upright rows,
overhead tricep extensions.
Essentially, any exercise you'd do with a dumbbell can be done with your carry-on or personal item if it weighs enough.
⛹🏿‍♀️ Airport Gyms
There aren't that many airports with gyms among the amenities, though it sure would be nice. A handful of domestic and international airports have them, and for a fee, you can get a workout in. This isn't really the best option if you're on a budget, but it's the best way if you've got the cash and you're dedicated to getting the best workout possible.
There is one domestic airport with a full-service gym: Baltimore/Washington International Airport's Roam Fitness.
Dallas-Fort Worth, Chicago O'Hare, and San Francisco all have yoga studios but no complete gym. Vancouver, Toronto, Zurich, and a handful of other international airports offer gyms, though it's the exception to the rule no matter where you go.
Research Your Airport for Amenities
Airports often have their own unique flair in terms of local arts and culture, but certain US airports have unique exercise amenities as well.
For example, Minneapolis-St. Paul International Airport has treadmills for use, while Indianapolis International Airport installed spin bikes that charge your devices as you pedal. Meanwhile, Phoenix Sky Harbor has a mile-long scenic walking route.
While the other airport workout options can be done in any airport, there's also just an element of novelty to airport-specific workout options. It'll make your layover workout just a bit more fun!
Bonus: Nearby Gyms
This isn't technically a way to get your workout in while you're at the airport, but it's still a convenient tool.
While you'll have to clear security to after heading out to a nearby gym or fitness center, it might be worth it if you're looking at an excruciatingly long layover and you've got more extra time than you know what to do with.
Many of the gyms closest to the airport will be a 10 to 15-minute rideshare drive away. If you've been flying for hours already, escaping the airport to visit a fitness center might be a welcome change of scenery.
How to Workout in Public without being Self Conscious
I don't know about you, but unless I'm deliberately people watching, I notice very little about anyone around me at the airport. Sure, it might seem a little weird, but the more you fly, the more at home you feel in airports.
Whether you want to get a full workout in or just do some light stretching and walking around, don't let your assumptions prevent you from working out in the airport. Unless you're doing something so wild people can't help but notice, no one is going to care what you're doing at all (and that's a good thing)!
SOURCES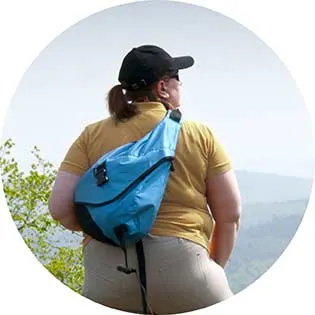 Lynli Roman's unique approach to travel is informed by decades of experience on the road with a traveling family and, later, years spent as a solo international traveler. When she's not writing about Seattle from her Pike Place Market apartment, Lynli writes on-location while conducting hands-on research in each destination she covers. Lynli's writing has been featured by MSN, ABC Money, Buzzfeed, and Huffington Post. She is passionate about sharing information that makes travel more accessible for all bodies.
Sources
Tsikouras, P., Anthoulaki, X., Deftereou, T., Chalkidou, A., Bothou, A., Gaitatzi, F., … & Nikolettos, N. (2020). Vein Thrombosis Risk in Women and Travel. In Tourism. IntechOpen. [↩]