In this guide to traveling with art, we'll talk about several options for packing and carrying art for the road. Whether it's a sketch you've made on the road, a painting purchased from a gallery, folk art textiles from an antique shop, or a vintage sculpture from an international street market, getting home from vacation with your art can be harrowing- but it doesn't have to be.
As an artist and traveler/art-collector, I've flown on planes and moved with canvas paintings, framed prints, scuptures, and delicate textiles.
Here are my best tips to make sure that your art makes it home unscathed and in good condition.
Bringing framed art on a plane.
You absolutely can bring framed art on a plane!
If possible, you should remove your art from a frame before traveling with it (more on that later). Like any type of luggage, it's subject to the same dimension and weight requirements – which for some airlines, are pretty strict and minimal.
If you're framed art is too large to fit in your carry-on luggage or your checked bag, you may be able to carry it as one of your allowed carry-on items.
Personally, when traveling with art, I always keep it with me. Although I have occasionally shipped art home from vacation, more than once I have found my souvenir damaged or even lost in the process of shipping. Because of that, these days when I purchase a piece of art while traveling, I make sure that it stays with me until I am home. This way, I can be responsible for the art and the condition that it arrives in.
When Insuring Art is Worth It 💼
While I'm usually traveling with a small piece of original art or print, travelers who have purchased expensive fine art while traveling should consider insurance.
Check for Existing Coverage 🔍
Before insuring the art that you will be traveling with, check with your travel insurance or even the credit card used to purchase the art. In some cases, existing coverage will fully reimburse travelers for art damaged during travel.
Get Coverage Before Departure 🌐
Art insurance is often very reasonable, even for art in transit. If your art purchase represents a significant investment, you should seek an online art insurance quote and finalize coverage before leaving on your trip.
🎨💼 Tip: One great way to travel with art is to stop by an art store before leaving your destination city and buy an art carrying case. Virtually all art stores will stock some sort of art carrying case or portfolio. These semi-rigid carrying cases can be used for unframed prints or framed canvases. While the case is an additional expense, in affordable destinations this carrying case may be a small expense compared to the value of the art. The case, once it has transported your art home, can be reused, sold, or donated.
Things to Know About Crossing Borders with Original Art 🌍
Crossing international borders with art is generally uneventful. Border agents won't care or take a second look at most art souvenirs. However, there are exceptions.
My Experience Getting Stopped by Border Agents While Traveling with Art 🛂
On my return trip from Mexico's Day of the Dead festival last year I carried original art by a local artist. As I recommend above, the etching was carried on my person. To get the art home safely, I checked my carry-on suitcase and carried my print as my second item of hand baggage on my flight.
My shopping bag filled with art must have raised suspicion, as I was pulled aside at the very last step of border control. Border agents inspected my art and asked questions about its origin. My truthful answers and the very obvious commercial packaging meant that the questioning was brief and I was soon on my way.
When you are traveling with art internationally, you should anticipate potential questions about the art.
If the art you have purchased is an expensive original work or a replica of priceless artifacts from that nation, you should carry documentation of your ownership, the artwork's authenticity, and the provenance (i.e. proof you bought it from someone who had the right to sell it).
In most cases, a receipt will satisfy border agents, however, if you purchase from an artist or art gallery, you may want to ask for additional documents such as certificates.
Packing Framed Art or Stretched Canvas for Travel
While specialty shipping stores have boxes sized just for framed art, the most inexpensive, lightest weight, and most protective way to travel with a painting is by using bubble wrap and plastic clingfilm. Plastic clingfilm (yes, just like the kind you have in your kitchen) protects and secures bubblewrap to the surface and edges of your painting.
To pack framed art for travel*, simply cover the front and sides of your painting with a large sheet of bubblewrap and then use the plastic clingfilm to wrap and fully in case the framed art in plastic. If you don't have bubblewrap, you can use plain paper or even just many many layers of plastic cling film to create a soft bumper around your framed art. Once your frame is fully encased in bubble wrap and clingfilm, the surface of your art should be protected and your framed art is ready to travel.
(* note that the packaging you choose should be relative to the value of the painting. For expensive art, allow the gallery or auction house to pack the art and handle transportation of your art)
When transporting when traveling with paintings you have a few options:
Ship the painting in a frame
Ship the stretched canvas on a frame
Remove the canvas from the frame and ship only the painting itself.
Unframing Painted Canvases
Depending on how you travel, and how you plan to get your painting home, one option to travel with art is by removing the painting from the frame that it is stretched and stapled on to, then rolling the flat canvas, inserting it into a cardboard tube, and shipping the tube.
While paintings stretched onto wood frames and paintings in decorative frames can easily be damaged in transit, a painting that is rolled up and inserted into a cardboard tube – with caps secured at each end – is almost certainly guaranteed to arrive at your destination unscathed. Once received, any frame shop or art store should be able to place your canvas on a new frame, ready for display or framing.
When you purchase a painting while traveling, ask the gallery or the painter themselves, in the case of some street markets, to remove the painting from the frame or the wood frame that it is stretched and stapled to. Most painters and galleries that serve international tourists are accustomed to this request and may even have cardboard tubes to provide you for easy shipping from the nearest post office, FedEx, or UPS outlet.
Both acrylic and oil paintings that are fully dry can be rolled without damaging them as long as the role is not too tight. A gentle roll (preferably with a layer of acid-free paper protecting the surface of the painting), is a safe way to ship most paintings without damaging the surface.
Final Thoughts on Traveling with Art
Traveling with art can be anxiety provoking, as beloved art pieces can't be protected once they are out of your sight and in the hands of mail carriers.
Unfortunately, I learned this firsthand after buying a painting from a talented painter painting in the square in Santiago, Chile. The painting I purchased spoke deeply to me, and I was excited to make sure that it made it back home without being damaged by carrying it around in my luggage.
Determined to carefully preserve the painting, I had it taken off of the frame and the canvas rolled and place into a sturdy tube. I handed it over to the Chilean version of the post office, at great expense, and I – unfortunately – never saw it again. Despite purchasing a high tier of service in the tracking number, my attempts to ship art back failed, which has left me, in subsequent trips, determined to carry and personally bring home any objects that I am attached to.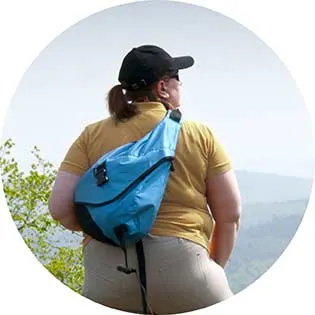 Lynli Roman's unique approach to travel is informed by decades of experience on the road with a traveling family and, later, years spent as a solo international traveler. When she's not writing about Seattle from her Pike Place Market apartment, Lynli writes on-location while conducting hands-on research in each destination she covers. Lynli's writing has been featured by MSN, ABC Money, Buzzfeed, and Huffington Post. She is passionate about sharing information that makes travel more accessible for all bodies.