While not every job offers the flexibility needed to travel extensively, with creative planning, most people can find ways to travel without quitting their day job.
The online world of travel tends to elevate certain archetypes. Students taking a year off to travel Europe by bouncing from hostel to hostel, luxury travelers who travel on earnings from travel influencing, and digital nomads who use slow travel as a way to explore the world while working nontraditional jobs full time, are elevated as ideals. But not everyone can (or wants to) quit their job and travel.
For folks who love their job, feel rooted in their community, and have strong family connections, quitting a job to travel may not be an option – but that doesn't mean that travel can't play a significant role in your life if you want to. In this article, I've collected a few ways to prioritize travel and explore the world without quitting your day job.
Here goes:
USE PUBLIC HOLIDAYS TO YOUR ADVANTAGE
At the start of the year, look at the calendar, plot out the long weekends, and plan for how to stack vacation days in such a way that you can take a 4 to 6-day trip while only using one or two vacation days. It's worth noting that travel during public holidays might be much more expensive, but planning in advance and using tips for budget travel can help keep costs low so that you can use holidays as a way to travel without quitting your job.
MAKE THE MOST OF LOCAL TOURISM
It may sound silly, but being a tourist in your own city is a lot of fun. Some of my most satisfying travel experiences have actually been doing a deep dive into local tourist tops – like visiting Pike Place Market several times a week when I lived in downtown Seattle. Despite it being my home, visiting (instead of avoiding) these hot tourist spots helped me gain insight and appreciation for my own city while learning about ways to be a better traveler (like enjoying mindfulness and learning to recognize travel scams)
MAXIMIZE SHORT WEEKEND VACATIONS
While most people head to the next city over – or perhaps fly out to a major tourist destination nearby, there are smart and savvy ways to use a very brief window, like two or three days, to take an international trip. Learning how to maximize "micro vacations sees" is an excellent way to see the world while working a full-time job. Many times people avoid long flights for short trips, but there are ways to minimize the stress of travel. For example:
Avoid jet lag by traveling to destinations directly north or south of your home city (for example, Mexico City, Mexico, Santiago, Chile, and Toronto, Canada are in time zones +/- 1 hour from Chicago, Illinois)
Choose destinations based on the availability of direct flights (Google Flights has a filter for numner of layovers that can be set to 0)
Consider booking a redeye (cheaper) and upgrading to first-class seats (more expensive) to make sleeping on a plane easier.
Short weekend international vacations can be a challenge, but being a little groggy on Monday may be worth it for many travelers who want to travel the world without quitting their job.
LOOK FOR JOBS THAT PROVIDE VACATION TIME.
These days, workers tend to transition to new positions within new companies every few years. If you dream of traveling without quitting your day job, consider making vacation time a major factor in choosing the companies you work for. Increasingly, benefits (even for employees in their first year with a company) are a major negotiation point for recruiters, interviewers, and potential new employees. If traveling is a priority for you, there's no sense choosing your day job based on salary if you don't have sufficient time off to use the money you earned to see the world.
LOOK FOR A JOB IN AN INTERNATIONAL LOCATION
Consider a job that allows you to be based in another country – you may not even have to quit your current profession. Similar to travel nursing in the United States, you may be able to work as an educator, consultant, or marketing professional in another country. By basing yourself in another country, you can use many of the tips provided here to take advantage of opportunities to travel far and wide while having a relatively convenient home base and without quitting work you love. For example, with a temporary home somewhere in the European Union weekend international travel becomes as easy as interstate travel in the US.
BE SAVVY WITH HOW YOU USE YOUR VACATION DAYS
To enjoy travel without quitting your job, you'll need to be wise about how you usually vacation days. Read all the fine print in your benefits, and know what rights you are entitled to. Can you share or trade vacation days? Bank them? Do they roll over at the end of the year? As someone who desires to travel without quitting your job, you'll need to be an expert on understanding the vacation days benefit through your employer. You can store up a large number of vacation days and then go all out and utilize them all at once.
Conclusion
While it takes a bit more creativity and short bursts of energy, traveling the world without quitting your job is possible. If you love your job or are compensated well enough that you are willing to leave it to pursue your dream of travel, you can use these six tips to travel more while still working a full-time 40 hour a week job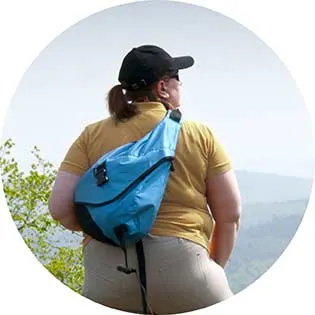 Lynli Roman's unique approach to travel is informed by decades of experience on the road with a traveling family and, later, years spent as a solo international traveler. When she's not writing about Seattle from her Pike Place Market apartment, Lynli writes on-location while conducting hands-on research in each destination she covers. Lynli's writing has been featured by MSN, ABC Money, Buzzfeed, and Huffington Post. She is passionate about sharing information that makes travel more accessible for all bodies.