A travel journal is a powerful way to record your travels. In a time when destinations, souvenirs, and even iconic photo-ops barely vary from traveler to traveler, creating a personal notebook of your trip guarantees you'll have a treasured souvenir that's all yours. A journal filled with lists, photos, longhand reflections, ticket stubs, itineraries, doodles, and/or art is sure to be a treasured keepsake long after other souvenirs are lost or forgotten.
In this article, we'll talk about getting started making your first travel journal or travel art journal. Including: supplies you'll need, types of travel journals, how to decide which type is right for you, set up, post-trip storage, and a FAQ. It's a long article, so feel free to use the table of contents below to jump around to find the information you need.
My First Travel Journal
I didn't start my first travel journal until I was 30. I spent most of my 20's working so hard I never made space for art and journaling, but after selling my business at 33 and returning to school for a Masters's degree, I found myself often doodling in the margins of my notes. These margin doodles eventually turned into illustrated notes, so when I took my first big solo international trip the summer after my second year of grad school, it felt like a natural extension to begin the first of many solo international travels cataloged in mixed media art journals.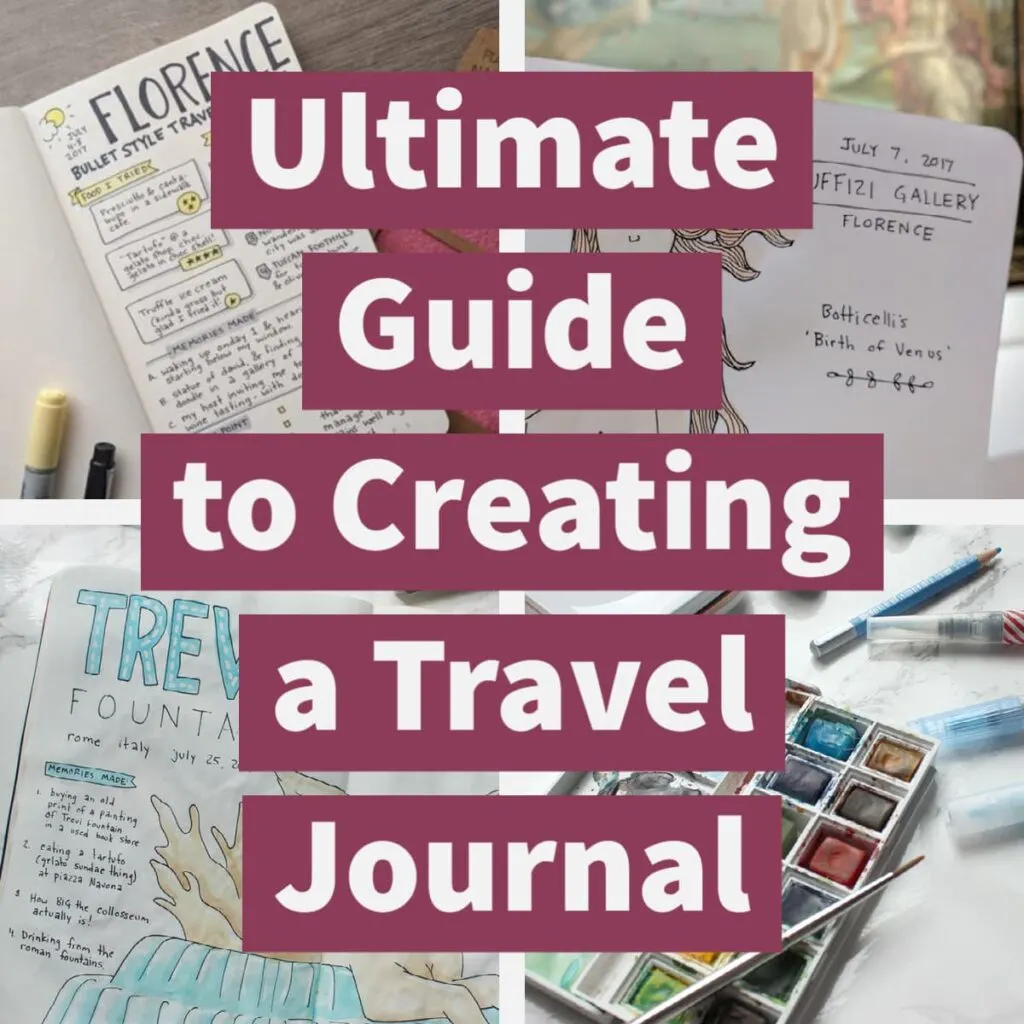 I created my first travel journal on my inaugural solo trip– a month-long trip from Italy to Croatia, then Bosnia and Herzegovina and back again. It was the PERFECT trip to experiment with my style and practice of travel journaling, since as a solo traveler I had the time to make my own schedule, and my trip included a little bit of everything- including famous art, iconic architecture, awe-inspiring visas, and a few amazing air B&B experiences to illustrate.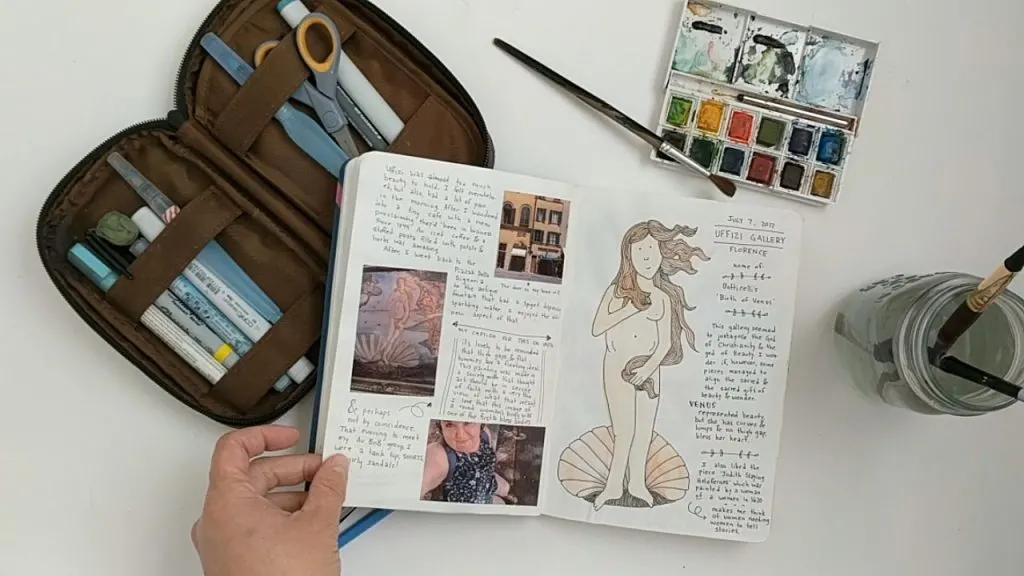 Ebook
Download my Free travel Journal eBook
Get this full article- plus all the information you need to create an amazing travel journal, via my free eBook: The Ultimate Guide to Travel Journaling. Download the PDF + eReader bundle below!
Download the Free eBook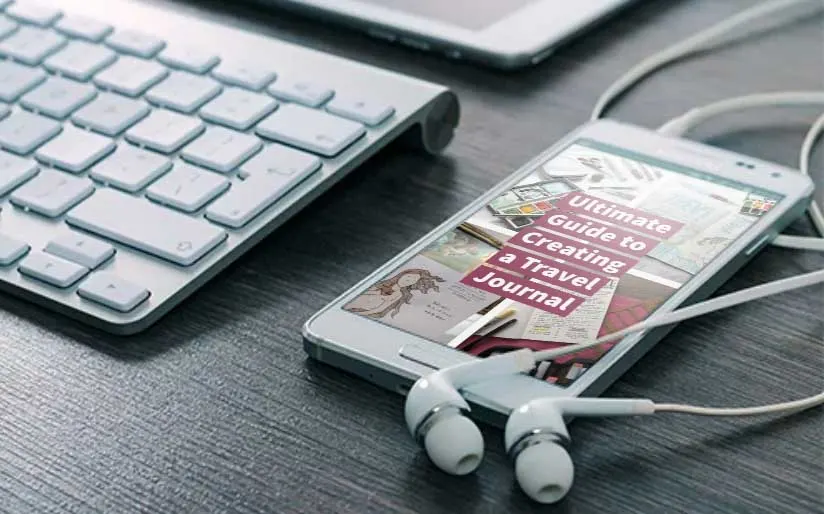 Types of Travel Journals
The way I see it, there are five types of travel journals, explained below. Which style – or which combination of types – that you use is up to you.
How to choose? Consider what style works best for you, what skills you'd like to practice and grow through your travel journal, and what kind of memories you most want to put on record through art and illustrations.
The "Listicle" Travel Journal
Half article, half list, the "listicle" is a top format for new sites, and it's a format that works great for travel journals. A photo or doodle, paired with a brief description is a good way to organize a travel journal without spending too much precious travel time writing.
This style of journal works well with a bullet journal style format, and can even be started well before your trip. Using your travel journal before your trip to plot out things to do, itineraries, and points of interest you dream of traveling to can be a helpful way to organize your trip and set up journal pages that can then be filled out in more detail on-location. (Need some inspiration to start? Download my printable Bullet Style Travel Journal Template)
The "Sketch Note" Travel Journal
In medieval times, scribes who were tasked with hand-copying sacred texts often added complex illustrations in the margins. Over time, these illustrations began to communicate context and tone in a language all their own. These text, which came to be known as "illuminated texts" were valued because they offered something that text alone could not- the visual experience of the story.
Similarly, this style of travel journaling draws on the inspiration of the naturalist illustrations of 19th-century environmentalists- who painstakingly recorded botanical or animal details, adding Latin genus and species and common names, to create records that to this day are used in biology textbooks.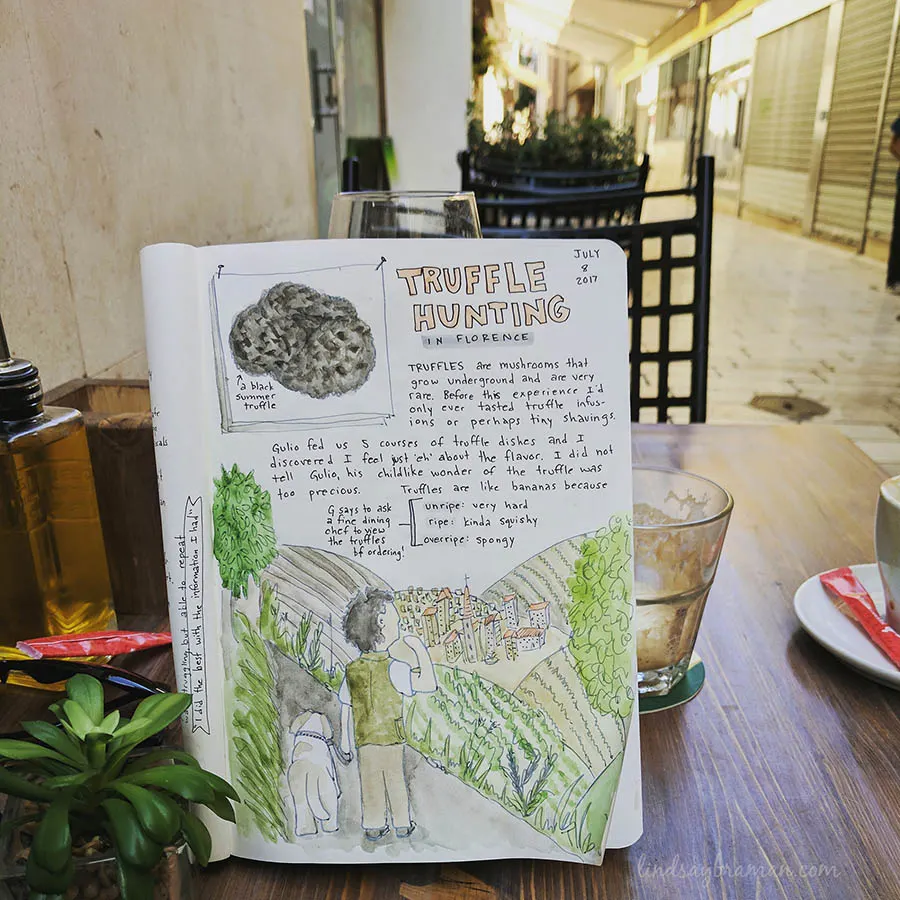 The sketchnote style travel journal brings both of these traditions together in a format that combines short-format text mixed with small and medium-size illustrations. The travel journal page shown here describes my unforgettable day on a truffle hunting Airbnb Experience in Italy. It's a combination of a landscape-style travel art journal page and a sketch note version.
In the illustration above, I capture a broad-stroke memory of the day via the landscape, add words, and include an educational close-up illustration – in this case, a little study of what I learned to look for in a good black truffle mushroom.
Sketchnote Travel Journals are best for:
Sketch note style journal pages are great for taking notes on things you want to remember. They can help illustrate your memory and review what you learned. This type is perfect for remembering details, key points, and specifics of your trip. It's perfect for using your travel journal occasionally. If you're in the food business, you can make notes about meals and ingredients to try back home, if you work in tourism/travel, you can take notes detailing what is/isn't working about your current trip, etc.
How to create sketchnote style journal pages
REFLECT. When you sit down to work on your art travel journal, think about what sticks out to you from your day – what objects or images are most poignant? What did you learn?
ILLUSTRATE 2 to 3 of these items. Even if they're just rough sketches, research shows that the process of translating the memory to a drawing (even a terrible drawing) helps us remember much better than we would if we wrote about it or didn't record it all.
ANNOTATE. Once you've done a rough doodle – or a full-on finished illustration, add a few notes to the drawing. Draw lines connecting important parts to relevant text and highlight what you'd want a reader to notice or know about the thing that you drew.
My Experience Sketchnoting in my travel journal in Italy
I didn't actually get the chance to doodle the page above until I was in Croatia. To be honest, it's not one of my favorite travel doodles but it captures that experience well- and that is what my travel journals are all about. The journal gave me space to capture what stood out about the experience- the texture of a truffle, our guide and his dog, and the views as we hiked through the Tuscan hills overlooking Florence. Space left for text allowed me to record a few things I learned about truffles. You can read more about my adventure truffle hunting in Italy on my post about it.
The architectural record travel art journal
If you're a student of architecture, an artist practicing perspective, or just appreciate the hard lines of urban landscapes, including architecture in your art travel journal – or even creating a travel journal that focuses exclusively on architectural scenes, may be a fun way to create a personalized, unique record your trip and practice your architectural drawing skills.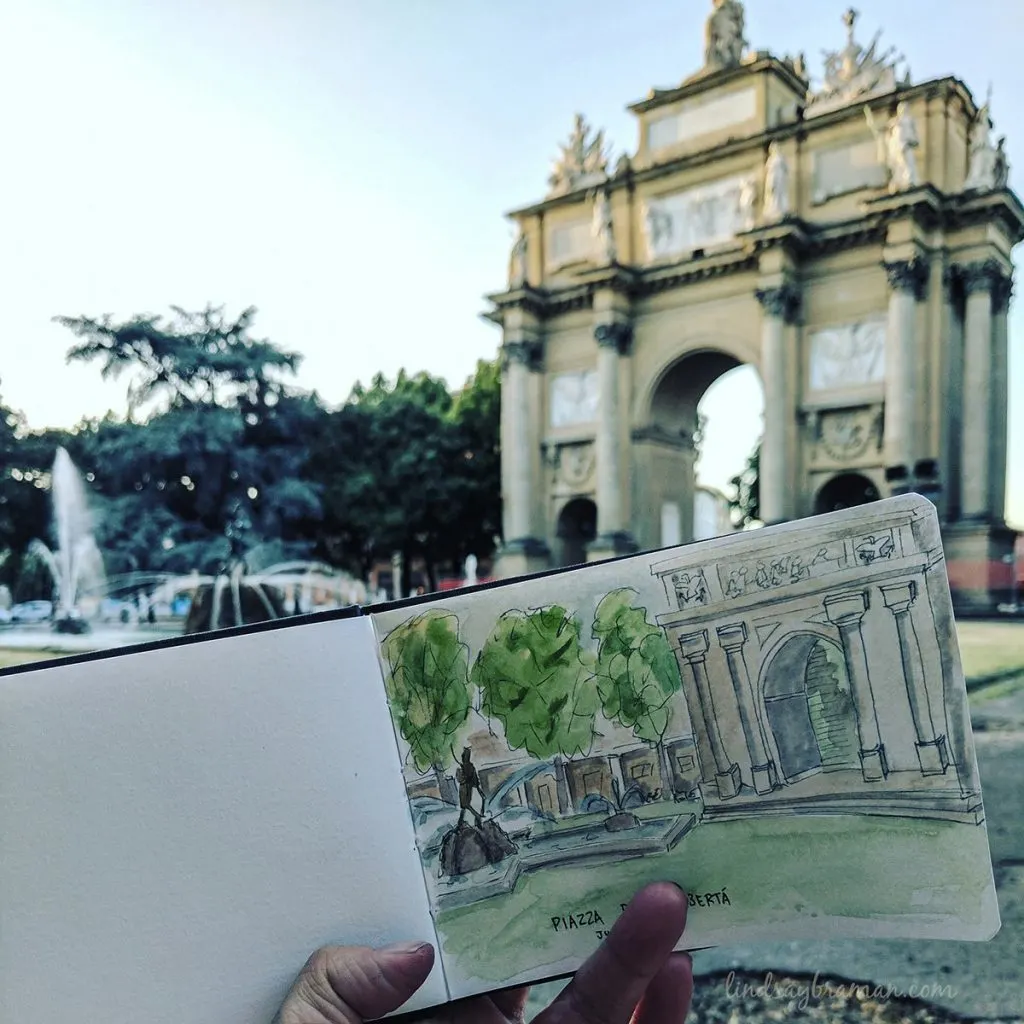 The following section may contain affiliate links. As an Amazon Associate, we earn from qualifying purchases.
Steps to create an architectural focused travel art journal:
PLAN. Decide if you will dedicate entire pages or if you will split pages to also include journal entries.
PACK. If this is your focus, your travel art kit may need extra tools or, I recommend, just a goniometer. This fancy word actually just refers to a simple, hinged ruler that can replace packing a ruler, protractor, and a drawing compass. It makes it easy to draw straight lines, circles, and measured angles while weighing hardly anything and flexing enough to not break in your pen case.
DECIDE whether to sketch live or by photos. Keep your eye out for sketchable scenes as you travel. For travelers with a lot of flexibility, you may wish to stop and find a park bench or café where you can sit and sketch. For others, it may fit better with your itinerary to take photos and later create a sketch from the photographs.
BE INCLUSIVE. You'll be tempted to put only iconic, majestic, or famous buildings in your travel art journal, but one of my favorite things to include in this type of travel art journal is ordinary rooms and buildings that were significant to my trip: the interior of an Airbnb apartment overlooking an Adriatic coastal bay, or the exterior of my Florence Airbnb apartment, shown below, that blended so nonchalantly into the background of shops, vendors, and residents' doors.
A travel printer is such a cool way to add easy visual elements to your art journal- creating a travel scrapbook as you go. Sometimes, like shown below, I print a photo of the scene I drew live, just to add more depth to my record of the experience.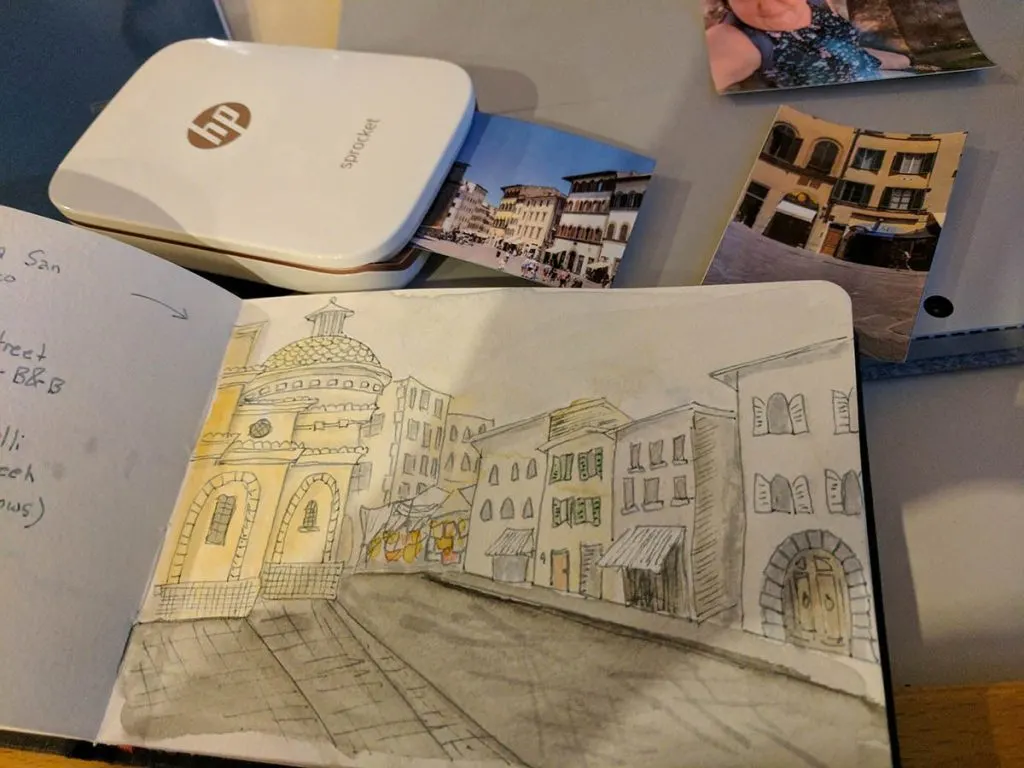 Studying the Masters with a Travel Art journal
I started my very first travel art journal in Florence Italy. Starting my travel art journal in the city that is home to so many of the art world's greatest masterpieces was an invitation I didn't quite expect.
I didn't start that journey expecting to create studies of these famous artworks, but I couldn't resist the invitation to sit in the great hall at Galleria dell'Accademia with Michelangelo's David or stand in front of The Birth of Venus at the Uffizi Gallery without creating. After a jaunt over to the Dalmation coast of the Adriatic, I ended my trip in Rome and I got a repeat: again getting to create replicas of Caravaggio and the iconic Trevi fountain in my travel art journal.
If you're a student of art- formal or informal- dedicating pages in your travel journal to creating your own versions of classic art isn't just fun – it's an important part of how art students have learned and honed skills for ages. It's okay if you aren't a dedicated art student, giving yourself the opportunity to learn in this way can both improve your skills and create a souvenir that's far more personally significant than any of the replica tchotchkes sold in gift shops in the surrounding area.
Travel story: While using a watercolor-pen brush to paint my doodle of the statue of David in Florence I was confronted by security. The very friendly security guard had never seen a watercolor pen before, and kindly allowed me to keep using it while she queried her supervisor. By the time the supervisor reported back that my pen was, in fact, not allowed in the museum, I had finished my painting!
How to create a travel art journal focusing on studying the Masters:
MAKE TIME. Plan your travel itinerary so that you'll have plenty of time for live sketching. Although you can technically do this through photographs later in the trip, there's something really powerful about creating the work live. Plan to spend at least an hour creating your own version of the art. Some museums may have seating nearby, and others do not, so be prepared. (When I doodled David, I just had to wait for a bench to open, but the Birth of Venus had no chairs, so was created via a combination of standing-sketching and working from a photo from a bench in the hallway)
MODIFY KIT. Modify your travel art journal kit for museum rules: NO scissors, NO paint, and ADD a hard-backed drawing surface since you won't have a table. Although scissors and watercolors are must-haves in my travel art kit, there's a chance that security will confiscate any art supplies that could damage valuable art – like scissors or, in the case of many museums, even watercolor and pen-style watercolor brushes.
PREPARE to be, well, looked at. If you choose to sketch in a popular museum, you may become something of a tourist attraction yourself. My advice? Keep focused and let people look.
PACK LIGHT. Most museums that house priceless artwork will not allow a large purse or even a tiny backpack. On museum days, pack yourself down to a tote bag or even a fanny pack to be sure that the essential art supplies you need will be with you in the museum. (I love Travelon's travel purses because they are secure/zippered, hands-free, big enough for my whole art kit, but small enough that museum security waves them through without a glance.)
My Experience Studying Classical Art via a Travel Journal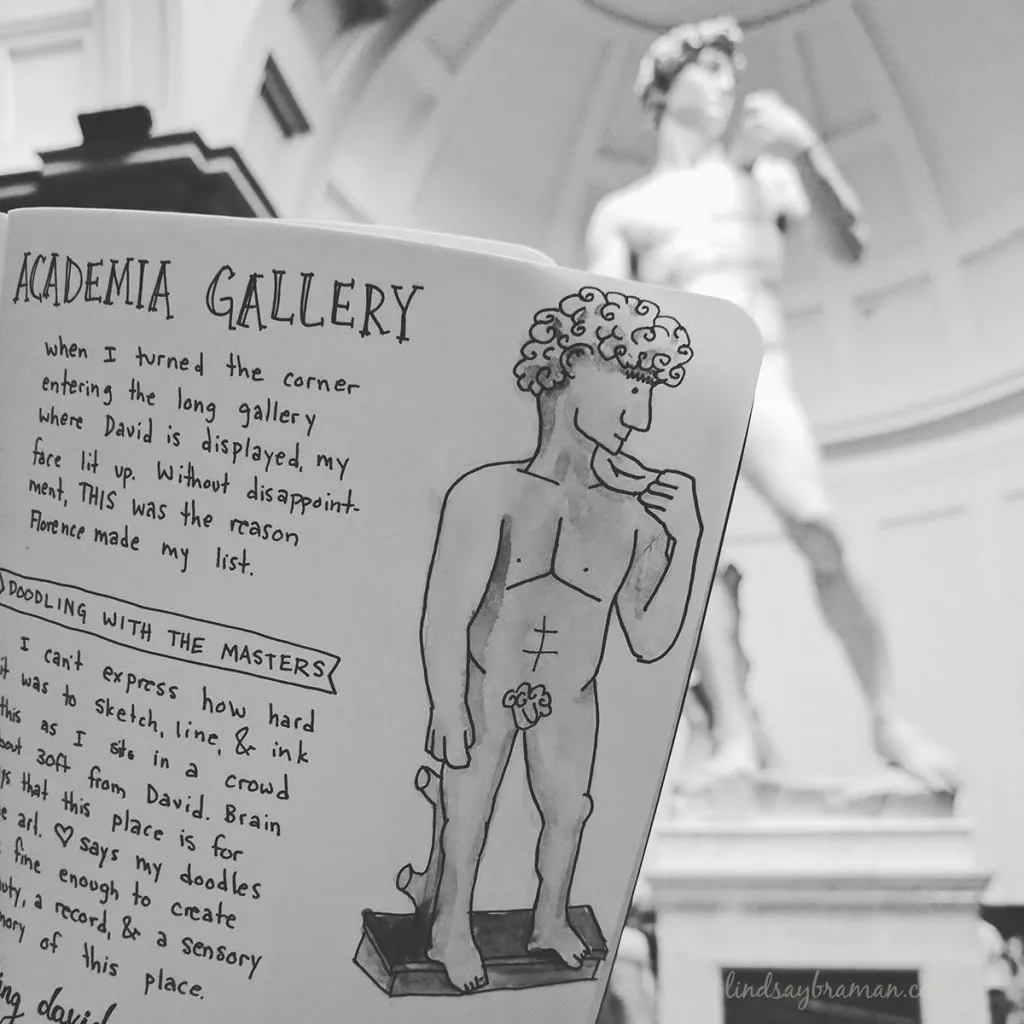 Florence was my first big solo trip- and what a great place to start! I intentionally planned my days without an itinerary, so I had the freedom to wander, to bask, or to explore. On my first full day of my trip, the only thing on my to-do list was to make it to the Academia Gallery by day's end. Galleria del Academia was built specifically to house their most famous piece: Michelangelo's David sculpture.
It was at this gallery that I discovered the best part about solo travel as an artist- the freedom to really pause and take in great art. Without having to be sensitive to a partner or group's interest or boredom, I could sit for hours with David- and I did! After some study and some people watching I went to work on this little doodle shown above.
I had so much fun doing this sketched that when I stumbled onto Logia Del Lanzi plaza later that day, I sat and doodled one of those ancient sculptures as well: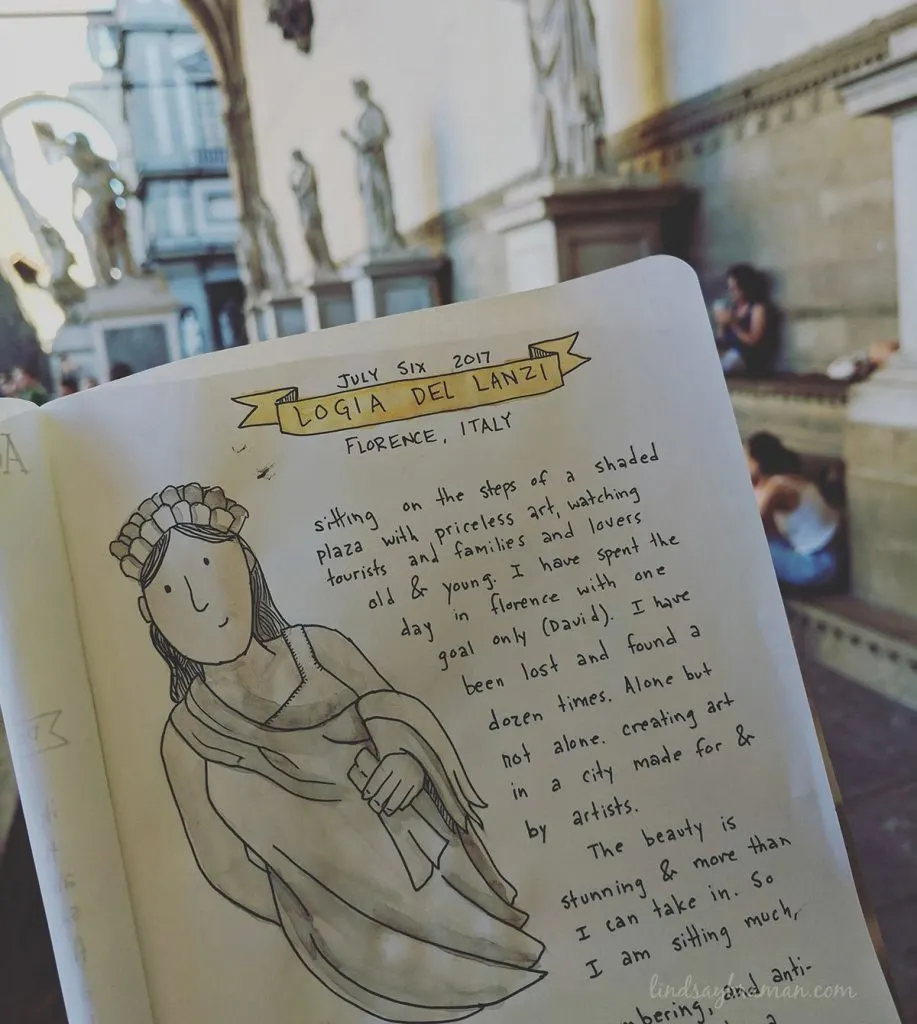 Making a Landscape-focused Travel Art journal
Landscape travel art journals are perfect for capturing a broad glimpse of what it's like to be in the place for you are. Unlike architectural-focused urban drawings, landscapes tend to feature natural elements or a combination of natural and urban, like this cityscape of the bay in front of the Diocletian's Palace in Split, Croatia.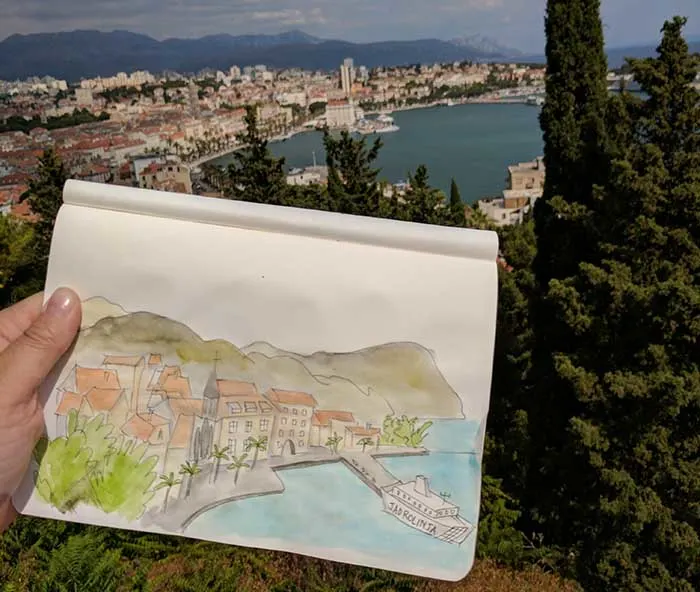 A landscape travel art journal can be fun to create in cafés and restaurants in tourist spots. Often, prime locations with scenic overlooks feature cafes, making them a perfect spot to sit for a bit and rest while creating a piece for your travel art journal.
To create an artistic travel journal that focuses on landscapes:
PICK supplies accordingly. Landscapes sometimes require different supplies than a basic travel art journal kit. For example, if you plan to get very detailed you may need multiple sizes of pen nibs.
PLAN. Landscape travel art journaling is perfect to do as a midday break – especially since landscapes sometimes require climbing up to a vista point. A break is much needed and desired by the time I reach the pinnacle of a scenic overlook on foot!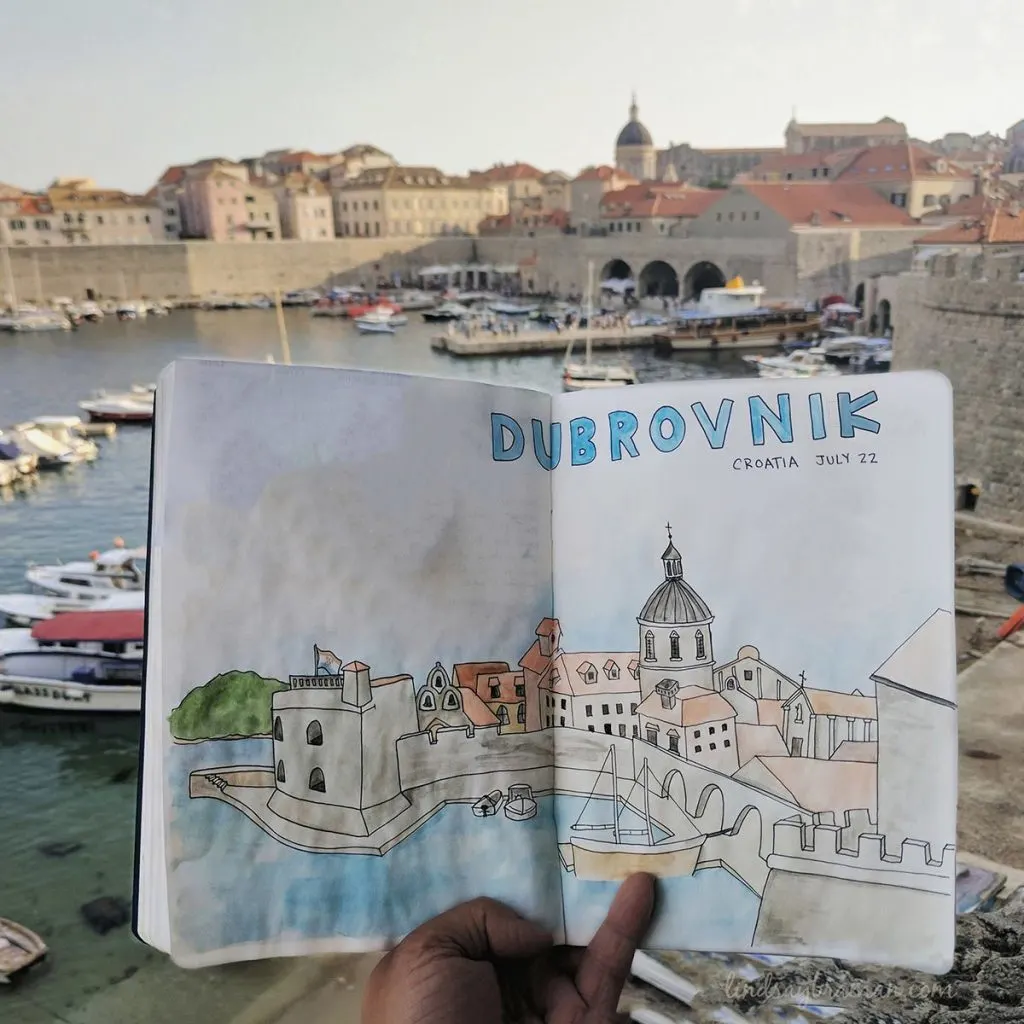 "Self-portrait as a traveler" travel art journal
I'm not sure this exists as a genre outside of my own travel art journal, but some of my favorite art from my travel journal has been drawings of myself experiencing something significant from my trip. In the image below, it's me wading into the Adriatic Sea on a beach about 20 minutes south of Dubrovnik near Cavtat, Croatia.
A self-portrait in your travel art journal offers the opportunity to create art that represents both internal and external landscapes. It says something about the place and it says something about you. At the time of this drawing, I was doing a lot of processing around what it means to be a human with a larger than average body and to live fully in that body in environments that aren't always welcoming to it.
This little painting in my art journal is so special to me because it captures not just the beauty of the Adriatic seascape, but also something really beautiful that was happening within me as I waded into open water.

To create a travel art journal that focuses on self-portraits:
Give yourself permission to represent yourself however it feels right at the time. When we do self-portraits can be tempting to feel that we have to be accurate or that we might be judged if other people look at our self-portrait and don't determine it to be "close enough". Allow yourself to create what you need to create, in the way that you need to create it – this is never more true and art and when it comes to your own journal and your own body.
Work from photos or by feel. When I created this doodle at a little seaside café after my swim, I was looking at the water but obviously not at my own body. Instead, I drew the landscape as I saw it and sketched in my own body informed by feeling rather than what was in front of me.
Where to Start: Materials and Planning your Travel Journal
Best notebooks to use for travel journals:
The two most important things when you're looking at journals to use as a travel journal are (1) paper quality and (2) how flat the book lays when it is opened. Although strong binding can be helpful in other journals, for a travel journal it's important that each page be able to lay completely flat in order for your art not to be distorted and for the paint to dry right where you put it.
The journal featured most prominently on this site is a blank staple-bound Fabriano EcoQua softcover notebook. The staple-bound binding (like a basic booklet) lets the notebook lay perfectly flat with no significant gap- enabling double-spreads. The hardcover spiral-bound version of this notebook offers more rigidity which may be helpful if you expect to create art on the fly without a table or flat surface. The paper quality in these journals is, to me, well balanced between texture, weight, and finish. Read on to learn more about paper quality for a travel art journal.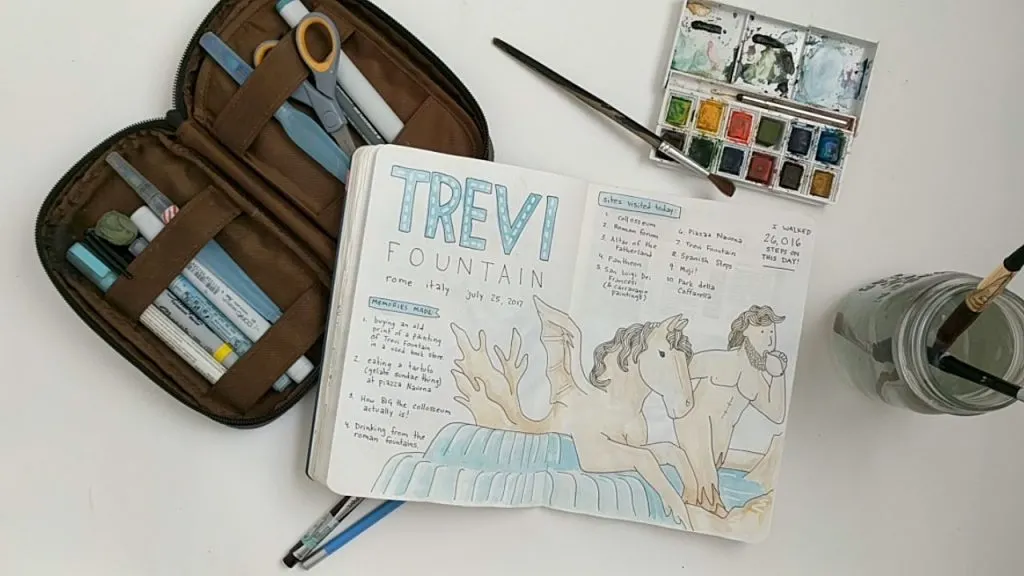 I like the paper in these notebooks because it's smooth to write on but not too slick to accept simple watercolor washes. It's thick enough to prevent bleed and minimize show-through between pages.
The paper that works best for you might favor pen and ink, or lend itself to standing up to more complex watercolor art. If you know you'll be watercoloring a lot, you'll want to choose thicker paper, but if your emphasis is pencil or pen sketches – even with a bit of watercolor wash, you'll want to choose thinner, smoother paper. Notebooks in Canson's Mixed Media Paper line have paper that is perfect for journaling and mixed art use, but I personally find their notebooks too bulky to make good travel journals.
Gathering & Packing Supplies for your travel journal
Whether you're creating a traditional travel journal, a bullet journal, or a travel art journal, the supplies you bring will significantly shape the final look of your journal.
Free Bullet Journal Style travel art journal template
It can be hard to know how to get started when you are staring down a blank page. If you find that the blank page can be a little bit intimidating, I recommend starting with templates. A template can be as simple or as complicated as you need or wanted to be. Sometimes, rotating a few basic layouts can be a way to create visual interest while stimulating your own creativity within those blocks.
If you think a template might be helpful for you, you can start with my travel journal template printable, which you can download and print for free. It includes page layouts for a typical size travel journal as well as some prompts of things that might be helpful to journal about during your trip.
If you like the idea of the support of template blocks, but don't want to be tied into my single layout in the resource above, you can make your own templates to pack them to use in your travel journal.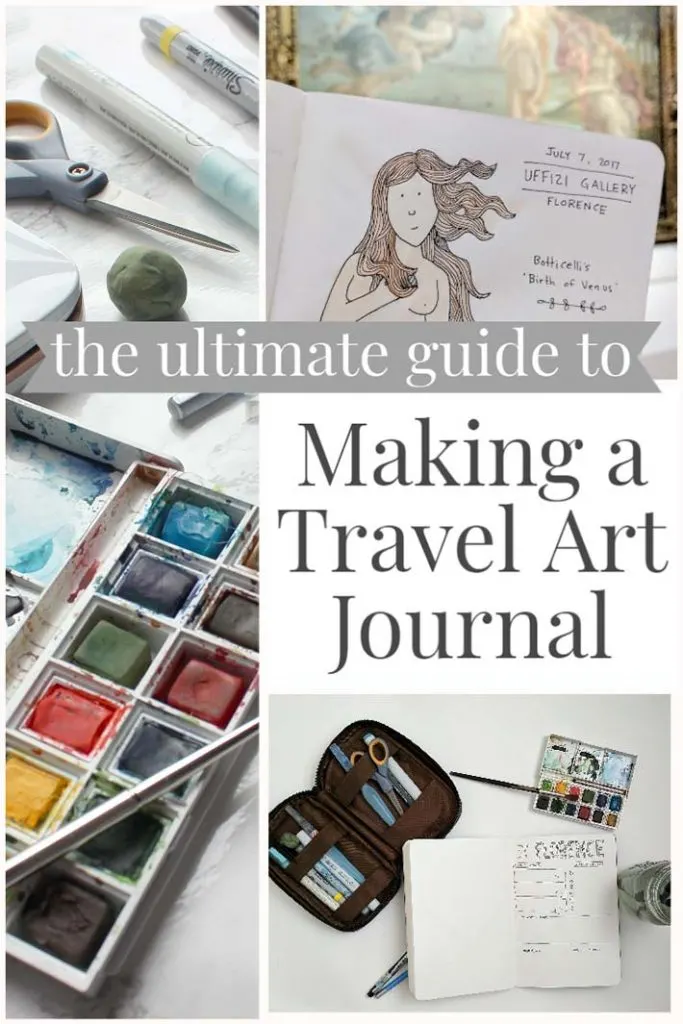 How to Pack Art Supplies
My list for making your own travel art journal kit is designed to provide you with all the supplies you might need without triggering any issues and airport security or airline policy. Everything in the travel art journal kit is allowed in your carry-on on an airplane and allowed to be used in the airplane during your trip.
Use a pen case.
The best way to pack art supplies for your trip is inside of a pen case. A pen case often has interior straps that help keep art supplies in place to keep them from getting damaged during your trip.
Keep your art supplies in your carry-on.
Always keep your art supplies with your carry-on luggage. Scissors under 4 inches from the pivot point are allowed through any airport in your carry-on luggage (even if they are sharp scissors) however museums and UNESCO sites set their own rules and may x-ray bags and demand the surrender or paid-storage of scissors, paint, or even permanent markers before entry into their area. Art supplies are generally always allowed on a plane, within reason.
Place art supplies inside of an airtight bag before flying.
Be aware that some markers and pens can do funky stuff due to changes in air pressure (I've observed pens ooze ink uncontrollably after being uncapped mid-flight). To remedy this, many travelers carry their journaling supplies in sealed zip lock bags. This method can work to prevent potential issues caused by air pressure changes during takeoff and landing, but you should avoid opening the bag at any point during your flight.
In years past, simply keeping pens capped helped avoid issues with pressure changes, but with most caps perforated to prevent choking, you'll need to be a bit more proactive about protecting your pens from pressure changes in flight.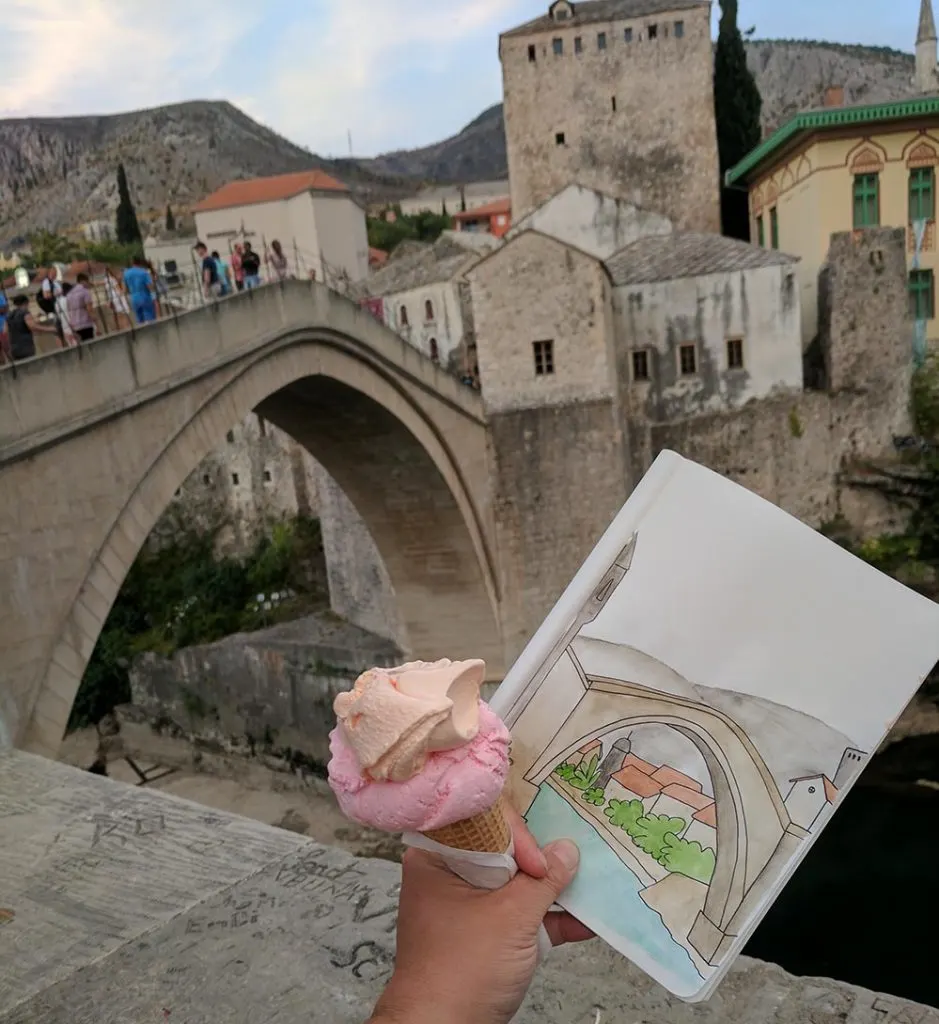 6 Things you should always include in a travel journal
Everyone's travel journal will turn out different and will include different elements – after all, our journals are a reflection of who we are, where we went, and how we travel! Despite these huge differences, there are a few elements that every single travel journal should include:
Date marking the day of your visit and the day of the art-making, if different.
Location – always identify where you made the piece.
Location Depicted – if different from above.
Your Signature – or an @username tag you plan to share on social media
Something about your experience. If you don't want to write a block of text about your day, just name something you touched, saw, tasted, smelled, or experienced.
Anything else that's important. I love adding Illustrative Highlights: see above in the sketch note style travel journal, it can be fun to add arrows and circles to highlight important things to remember within a larger piece of art in your travel journal.
1 Tip for Bridging Journals and Social Media
Although your travel journal exists as a way to keep the memory of your travel adventures, one of my favorite ways to bridge the gap between a travel journal and social media (which, for many, is a modern format for journaling life events like travel) is by merging the analog journal and the digital. I do this by taking photographs of my journal spreads on location, in front of the icon or landmark they depict.
Taking a photograph of your travel journal entry in front of famous landmarks such as the Eiffel Tower, the White House, or an Iconic mountain scene in Patagonia is a great way to digitize your travel journal – keeping it safe in case something happens to it and making it more accessible.
Why You Should Create a Travel Journal
To enhance memories
Over time our memories of travel naturally fade. By creating an art journal as we travel, we can not only create an amazing unique record of our trip, but researchers have found that through making art, we can actually experience our trip in a different way- and remember more of it!
Taking photographs, it turns out, makes us less likely to remember an experience than just being present to the experience. Drawing an experience, however, increases the vibrance of our memories significantly. For this and so many other reasons, a travel art journal is an incredible way to enhance any travel experience.
In my professional life, I'm part researcher- so I've tracked the research (or rather, lack thereof) of travel-journal related research for a few years.
Finally, in early 2021, a research team from Hong Kong, the UK, and the Netherlands presented the results of the first study centering on how a journaling practice may or may not enhance the experience of traveler. You can read the full pape here, but essentially researchers found that travel-created happiness is generally short-lived, but journaling well (in the case of the study, through a guided journaling app designed by the researchers) increased the memorability and meaningfulness of participant's travel experiences, which appeared to result in positive long-term benefits from travel.
To create a totally unique souvenir
Except for the unique, antique souvenirs you can pick up at a good street market, most travel souvenirs are pretty unremarkable. 5-10 years after your trip, you're probably going to donate that Starbucks mug emblazoned with "London" to a thrift store and toss out those laminated travel magnets, but a well-preserved travel journal creates a unique, quality souvenir that even your grandkids would likely treasure. Journal well and follow the journal preservation instructions below, and you'll return home with a priceless and enviable souvenir of your travels.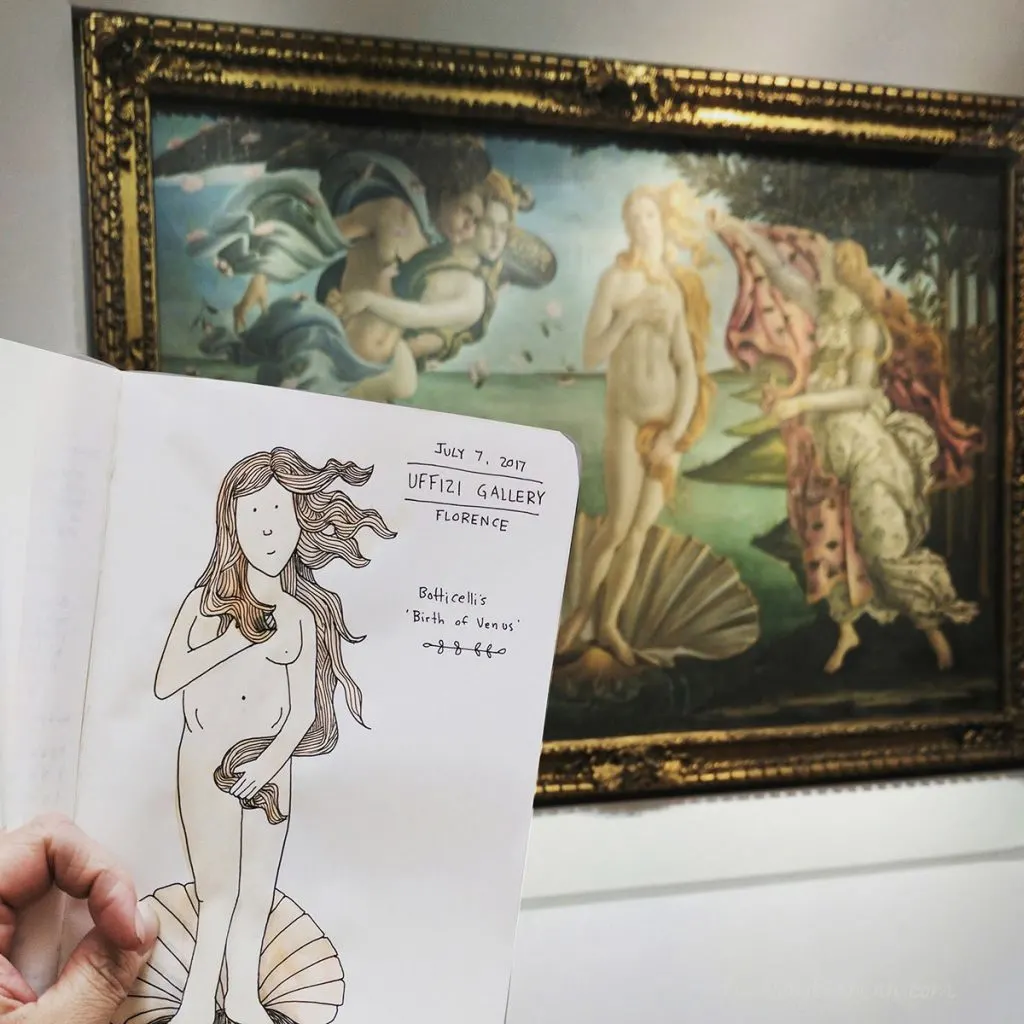 To grow writing or art skills
We are often led to believe that the ability to make art or write well are skills that people are born with. While it's true that some people are more artistically inclined, everyone has the capacity to develop their skills as an artist. Often, the way that we encourage children based on their natural inclinations determines what they dedicate time to, which determines what they become good at. Whether you are a skilled artist/writer or not, practicing will make you better at your craft.
Travel is an amazing opportunity for practice – it dovetails so well with exhausting days of endless walking as a tourist. Taking a very long break in a café to sip a hot drink and sketch- even very terrible sketches- allows you to experience a location in a completely different way while developing your skills.
To grow through personal reflection
Research is very clear that when we reflect on experiences, our ability to be mindful and make more thoughtful, emotionally mature decisions develops. Journaling isn't just a great way to grow your art skills and create a cool souvenir, journaling can help you grow into a kinder, braver, more thoughtful human.
To share your experience with others
One of the hardest parts of traveling is not being able to share the experience with the people that we love. Even if we are traveling with a partner, a group of friends, or family, there are people we love back home that are only getting the Facebook version of our experience. Being able to come home and walk our loved ones through a travel journal is a gift both to them and to us. This has been especially true for my elderly grandmother who passed away just after I returned from my Transylvania trip, sending her postcards with foreign stamps and hand-scrawled doodles was an important way that we stayed connected over the many miles. (Click here to read more about my story and how sending postcards to my grandmother from around the world was a way we stayed connected)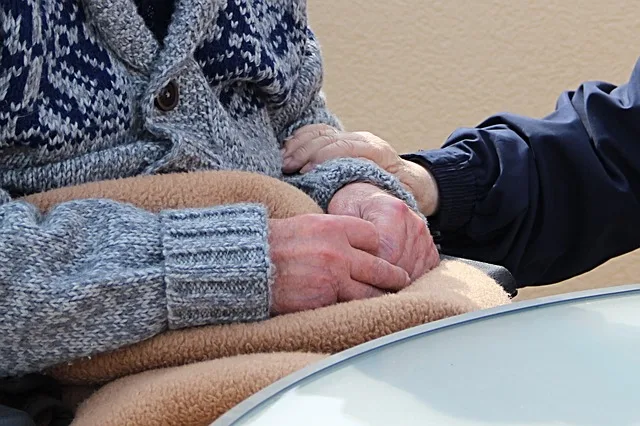 Steps to Make a Travel Journal or Travel Art Journal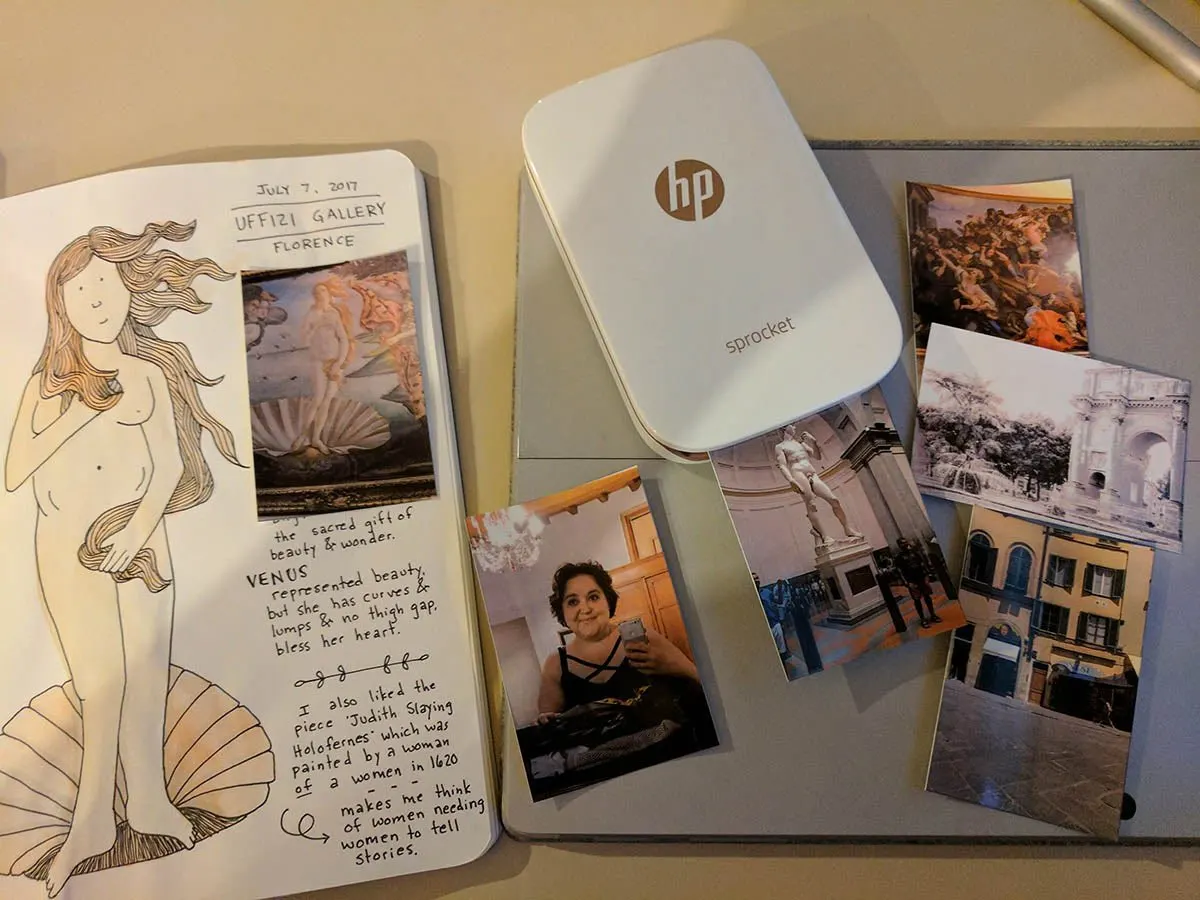 How to Make a Travel Journal
Time required: 30 minutes
Pick a notebook and create a kit of supplies
Take your journal everywhere
While traveling, always keep your journal in your bag. Use it to fight boredom on long layovers, jot down impressions of a place, sketch loved scenes, collect papers, and even to press flowers or leaves.
Create a routine
Your journal will turn out best if you create- and stay faithful to- a routine. When I'm solo traveling, I often spend an hour or more after dinner relaxing, drawing, writing, painting, making a bullet list of the day's itinerary, and printing photos on my travel printer for my journal.
Give yourself permission to make mistakes
Think of your journal like a record of your trip- and embrace the imperfect parts as part of the experience. In a travel journal, like in travel, perfectionism can ruin the fun.
After your trip, preserve your journal
Estimated Cost: 10 USD
Supply:
Tools:
Flip Through of a Mixed Media Travel Journal:
Conclusion
A travel journal can be an amazing way to record your adventures while traveling, help you grow as an artist, and improve the memory of your significant travel experiences. By creating a travel journal that focuses on- or combines- scenes of architecture, natural landscapes, studying the Masters of classic art, creating self-portraits, or creating a sketchnote styled doodle record of your trip, you can create a souvenir with priceless value that's totally unique to you and will be cherished for years to come.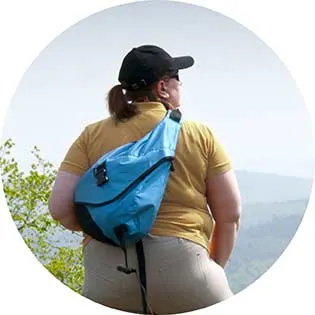 Lynli Roman's unique approach to travel is informed by decades of experience on the road with a traveling family and, later, years spent as a solo international traveler. When she's not writing about Seattle from her Pike Place Market apartment, Lynli writes on-location while conducting hands-on research in each destination she covers. Lynli's writing has been featured by MSN, ABC Money, Buzzfeed, and Huffington Post. She is passionate about sharing information that makes travel more accessible for all bodies.