Art supply stores in far away countries always feel a bit otherworldly. Although some brands are recognizable, browsing the aisles of "exotic" art supplies and unique-to-me new product types can keep me busy for hours.
In fact, some of my best souvenirs have come not from souvenir shops or even the open markets that I love, but from art supply stores. Easy to find in literally every single city, it's fun to have a location memory attached to art supplies that you can use on the road to work on your travel journal and continue to use – with a fun memory of the trip – long after you get back home.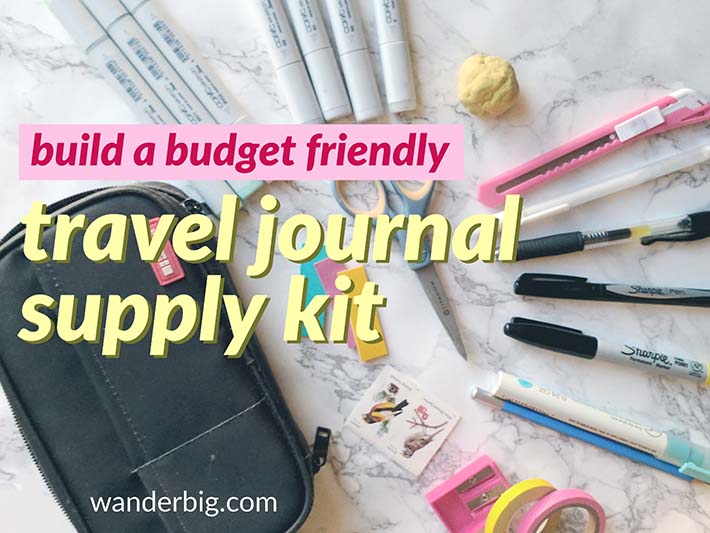 But, as you probably experienced if you are similarly drawn to art supply shopping as I am, it's painfully easy to spend way too much money on travel journal supplies, both before you leave and as you come across pens, markers, and journaling supplies for sale on your trip.
For anyone packing craft supplies, art supplies, or journaling supplies for a trip, difficult decisions have to be made before leaving. Finding the balance between an expensive and overbuilt travel journal supply kit and finding yourself lacking the essential you need to create can be a hard balance to find.
In other posts, I've outlined what I carry in my travel journal kit on every trip, but in this post I wanted to take a few moments to share my pared-down list: essentials for travel journaling that fit within any traveler's budget. With these basic supplies, you can meet just about any artistic, scrapbook, or creative needs you may have for your journal.
The following section may contain affiliate links. As an Amazon Associate, we earn from qualifying purchases.
Best Pens for a budget travel journal kit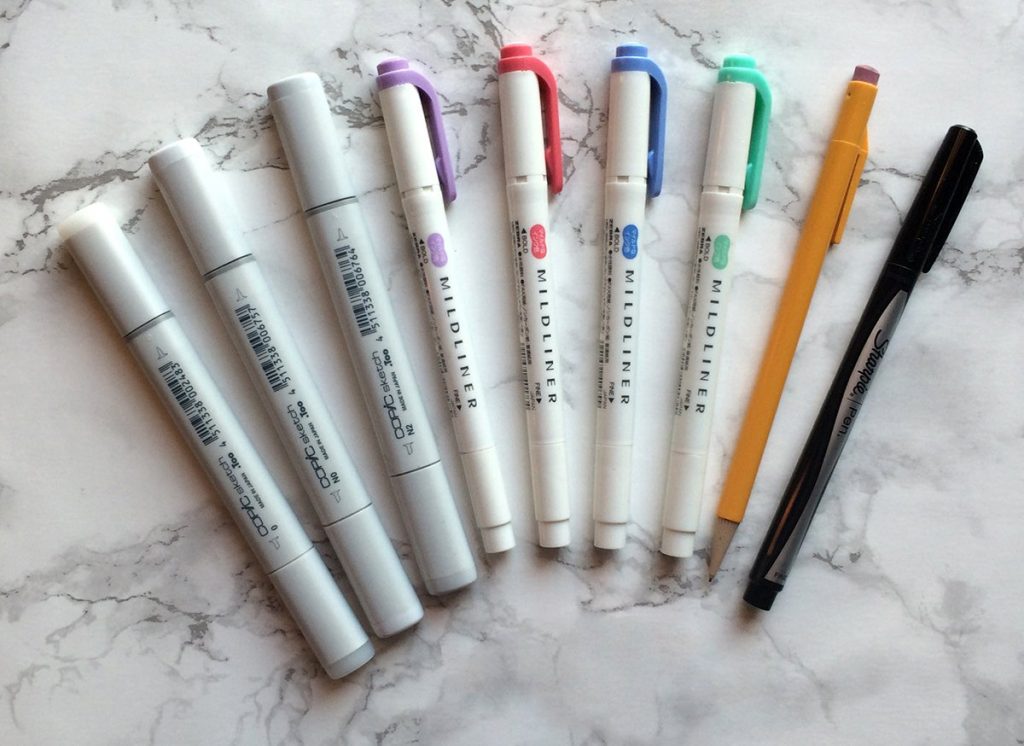 These are some basic pens that I keep in my most basic travel journal in case. I will describe the pens and markers shown above, and why like them, in the list below, going from left to right.
1. Copic Blender Marker – a copic blender Marker is essentially a pigment-less alcohol-based marker- it can smear and blend any alcohol-based ink. It's meant for using with other Copic Markers, but also works with sharpies. I keep it in the budget kit because it can really turn a basic travel journal page into a piece of art by making it possible to turn the few colors in your budget travel journal kit into a variety of shades and tones.
2. N0 Copic Sketch Marker & 3. N2 Copic Sketch Marker – gray markers and highlighters are ideal for simple, bullet-style travel journals. They create visual interest on the page without being loud, colorful, or too bold. Instead, they allow your own handwriting to shine, but are helpful for delineating between different sections or different lists in a simple bulleted travel journal
4-7. Zebra Mildliners Double-ended Mid-Tone "Highlighters" – Zebra Mildliner's are budget friendly way to bring color to a travel bullet journal. They can be used in the standard style travel bullet journal for highlighting lists, and the gray mildliners can make a more budget friendly version of the neutral gray art markers listed above, although the gray highlighters do not blend in the way the art markers can, which slightly limit the type and style of art you can create in your travel journal with the supplies.
8. Papermate SharpWriter Mechanical Pencils – I like these always-sharp mechanical pencils for quick sketches in my travel journal. Even if you aren't keeping a travel Art Journal of your trip, it can be handy to have a pencil to capture either quick sketches or to pencil in a line or design in your standard travel journal. A pencil helps me plot a page when I'm not using one of my DIY bullet journal travel templates,
9. Sharpie Pen – The sharpie pen has been my go to pen for over six years now- as an early adopter just after they came out, I love these pens and always travel with at least 3 to 4. They are also made with ink formulated to last and not damage paper when kept for many years, like journals. My only complaint about sharpie pens for use in journals and travel journals is that the nibs wear out fairly quickly if you write with a lot of pressure as I do.
---
Budget travel art journal kit: Paper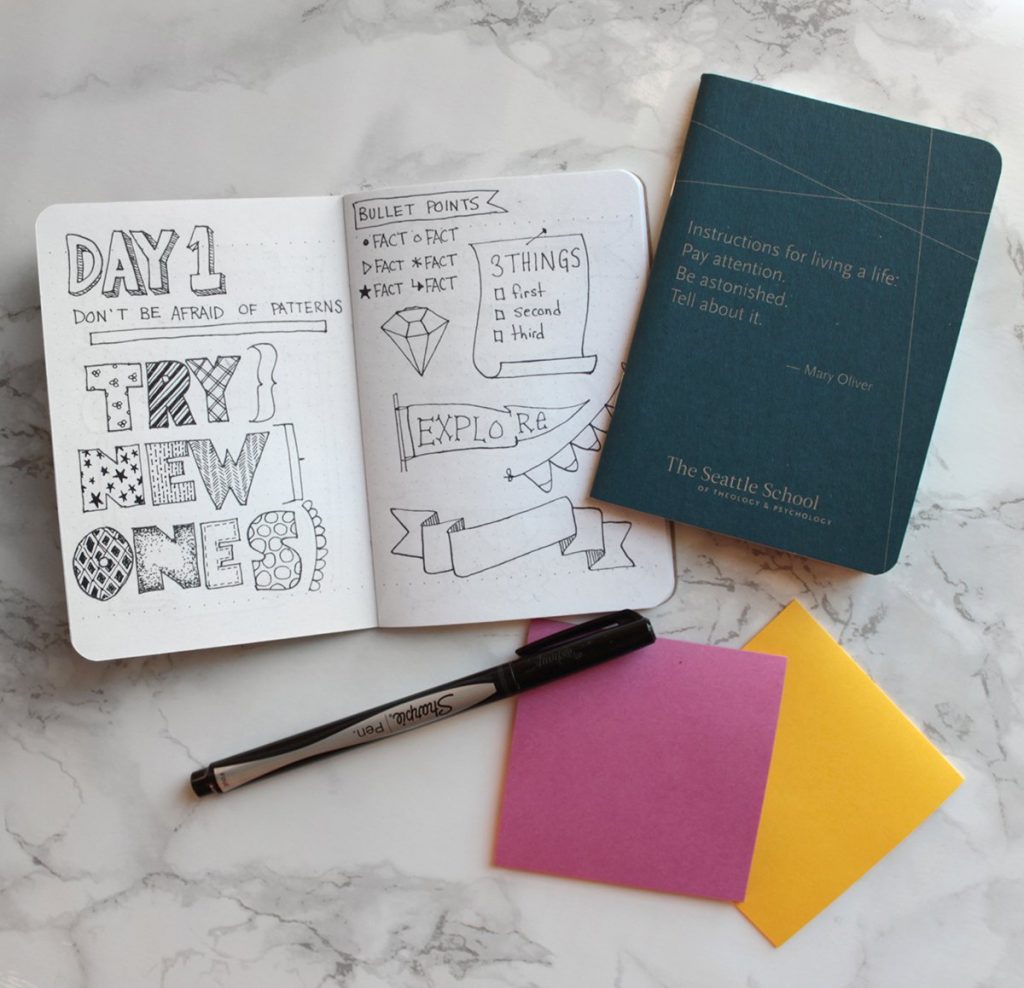 I've written extensively in my ultimate guide on creating a travel journal about how to select a journal appropriate for the kind of travel journal that you want to create during your trip, but if you are putting together a travel journal on a budget, you may not have access to the premium notebooks referenced in that post.
Thankfully, there are many affordable journals and notebooks that are perfect for travel journaling. One of the journal styles that work best for travel journaling – because it's lightweight and lays flat when open – is a staple-bound notebook. Although due to this binding structure these notebooks are able to fit as many pages and as standard bound no box, this can be an asset for travel journal: with fewer pages, a staple-bound book is lighter to carry in your luggage (a huge bonus if you're traveling with just one bag) and the length is sometimes perfect for capturing the journal entries an entire trip in that one journal, then archiving the journal as a record of that trip. Find staple-bound travel journal notebooks at Amazon.
Download my Free travel Journal eBook
Get this full article- plus all the information you need to create an amazing travel journal, via my free eBook: The Ultimate Guide to Travel Journaling. Download the PDF + Reader bundle below!
Pin it now to find it later!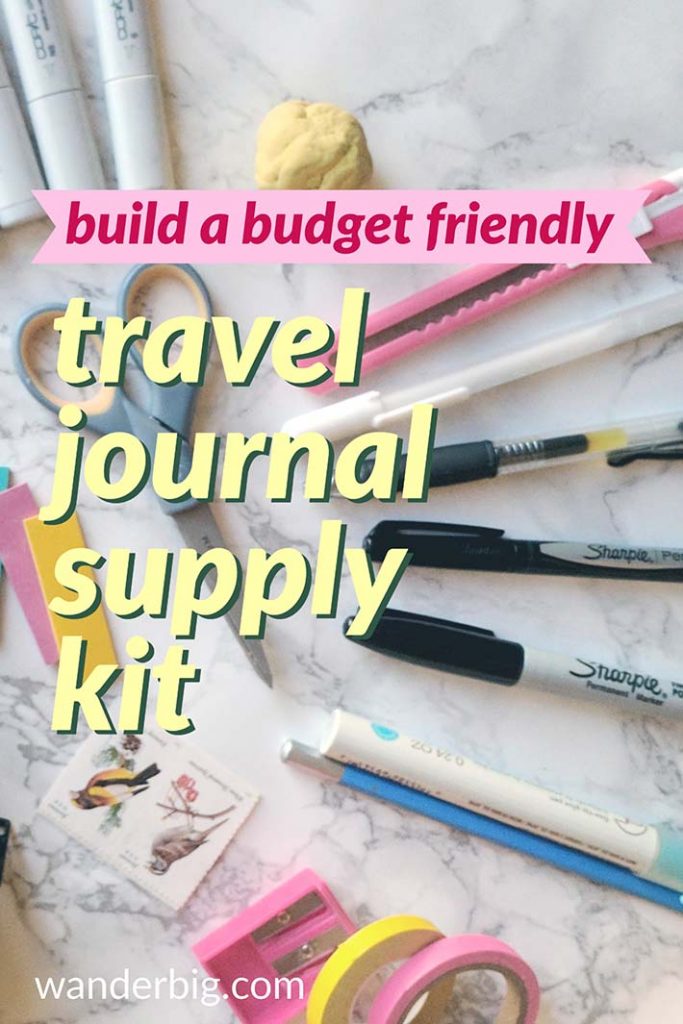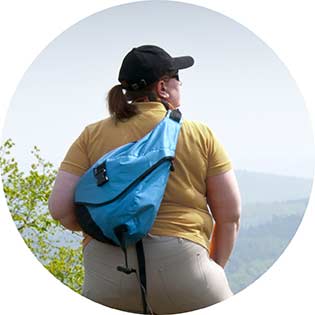 Artist, digital nomad, and highly sensitive person, Lynli started traveling full time as a digital nomad in 2018. Writer and Illustrator by day, remote-destination explorer by other-days, Lynli is passionate about pushing the boundaries of her own comfort zone, exploring the world as a plus size, one-bag traveler, and journaling it all on WanderBig.com