Acknowledged by frequent travelers but only occasionally discussed in travel forums like Reddit, is the phenomenon of travel burnout.
What is travel burnout?
Travel burnout occurs when people who love to travel lose excitement- or even interest in- traveling. Travel burnout, like professional burnout, often takes the form of lethargy, disinterest, or even dread of travel experiences.
For those who are midway through an extended trip, travel burnout can present a major challenge. When we travel while in burnout, we may struggle to appreciate or enjoy things that we know we should- and that pressure can actually intensify our travel burnout symptoms.
During travel burnout, "must see" major sites may seem to blur into same-ness and we may become unable to appreciate what we are experiencing
Travel burnout can happen to all kinds of travelers. People who travel for work or business- rather than for pleasure- tend to report burnout more often, but travel burnout can also happen for backpackers, travel bloggers, and digital nomads.
Here's the good news: There are LOTS of great ways to avoid or cope with travel burnout without giving up traveling. Below is my best advice for things-to-do when you are experiencing travel burnout on the road.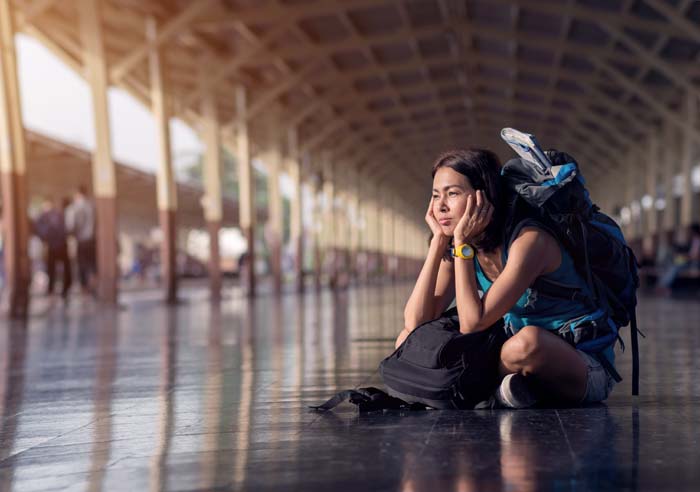 What to do if you feel travel burnout:
1. Refocus your Adventuring
A major contributor to travel burnout is the – often self-imposed – pressure to see everything, have every experience and do everything there is to do. This pressure is often motivated by fear of missing out or the (accurate) awareness that time spent in a location is often a once-in-a-lifetime experience.
Over time, however, this pressure can add up and actually make travel more difficult physically and mentally.
One way to hit the mental "reset button" when it comes to travel is to take a day or two to swap itineraries for randomness. A great way to do this is by downloading a geocaching app or a random destination generator:
Travel Geocaching
Geocaching adventures can be a way to see a location without the pressure of being a tourist. When you shift your motivation and goal towards hunting for a geocache, you're free to travel and explore a location in a different way. By shifting sightseeing to a secondary priority- after finding your geocache – you can actually enjoy the city and its sites in a different way.
Random destination generator (i.e. Randonautica)
Similar to Geocaching, using a random destination generator can help create a destination-based adventure that isn't about checking things off a travel bucket list or an itinerary.
When using a random destination generator, you can instead focus on finding that GPS point, and practicing mindfulness in the journey. Both of these things can help reset travel burnout.
2. Rest.
When in doubt, take a break. During long-term travel, rest days are absolutely essential- but it's okay to take a break even during short trips. Sometimes rest is exactly what we need to get over the bump of travel burnout and reengage with curiosity and energy for adventure and exploration.
Some of my favorite ways to rest my body while traveling include:
Travel Journaling
Spending a day café hopping while people watching, sketching, and journaling is one of my favorite ways to rest during travel. These days help me rest my body, reflect on my trip so far, and create a totally unique souvenir.
For tips on getting started travel journaling, check out my free eBook: ultimate guide to creating a travel journal.
Spa Day
Even if you're a budget traveler, sometimes time at a spa can be a valuable investment in your well-being and capacity to travel well. Although many times spas are attached to all inclusive resorts, generally even backpackers and hostel type travelers can access these facilities at a day rate.
Often, a simple and inexpensive spa treatment early in the day grants access to spot facilities for the entire day- a great way to unwind and rest in a calm environment.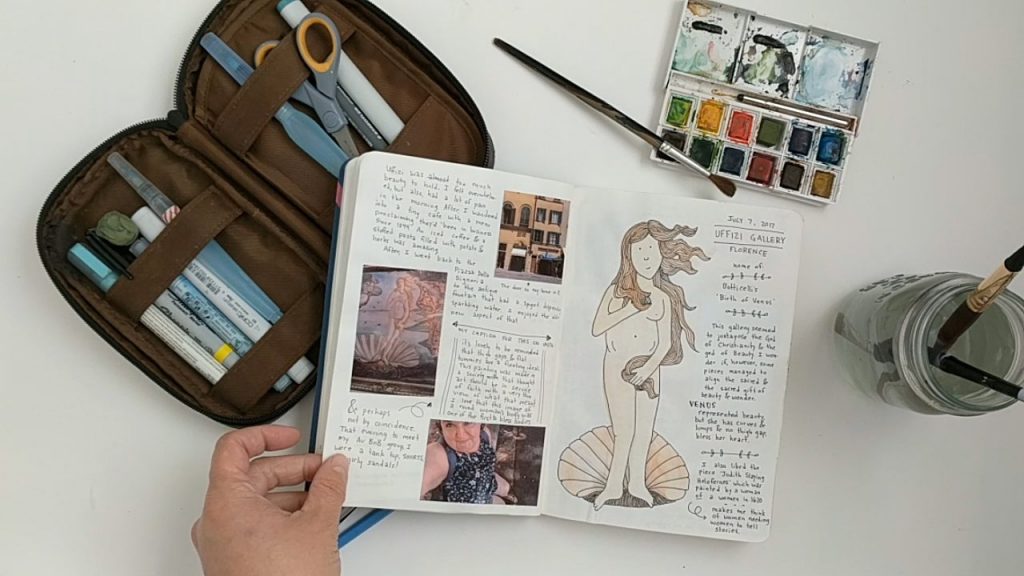 3. Airbnb Experiences.
Airbnb Experiences are a great way to shift gears when site-seeing gets overwhelming (or underwhelming). Airbnb launched experiences as a way to offer something different from standard tours.
With Airbnb experiences, I've foraged for truffles in Tuscany, learned traditional weaving in Peru, shared meals with locals in several countries, and so many more memorable experiences.
As a solo traveler, I often use Airbnb Experiences for self-care while traveling.
When travel loneliness gets overwhelming and the screen-to-screen contact with my loved ones back home isn't enough, I often book last-minute Airbnb Experiences as a way to have a few hours of safe, social contact with an English-speaking guide.
4. Go hunting for treasure.
Some folks enjoy shopping while traveling. As an ultra-light traveler and a plus-size traveler, clothing shopping isn't generally something I get to do while traveling, but treasure hunting feels like an entirely different activity.
When I travel I frequently visit flea markets, second-hand shops, art galleries, and antique shops.
Often I stumble on them (Like in Arica, Chile, where flea markets pop-up overnight most days) and sometimes I hunt them out (like this street market in Bucharest, Romania). Usually, I don't buy, but I love the search for something exceptional.
Many of my most cherished souvenirs came from second-hand stores. Shopping alternate markets mean great deals on more authentic local specialties (blankets, pottery, etc) than tourist souvenir shops peddle.
Personally, I like that the objects I purchase second hand have a story. The blanket below came from a Peruvian antique shop. My favorite part about this cherished souvenir is that the blanket has been mended in multiple places. Storied objects, I think, help us connect with our own story.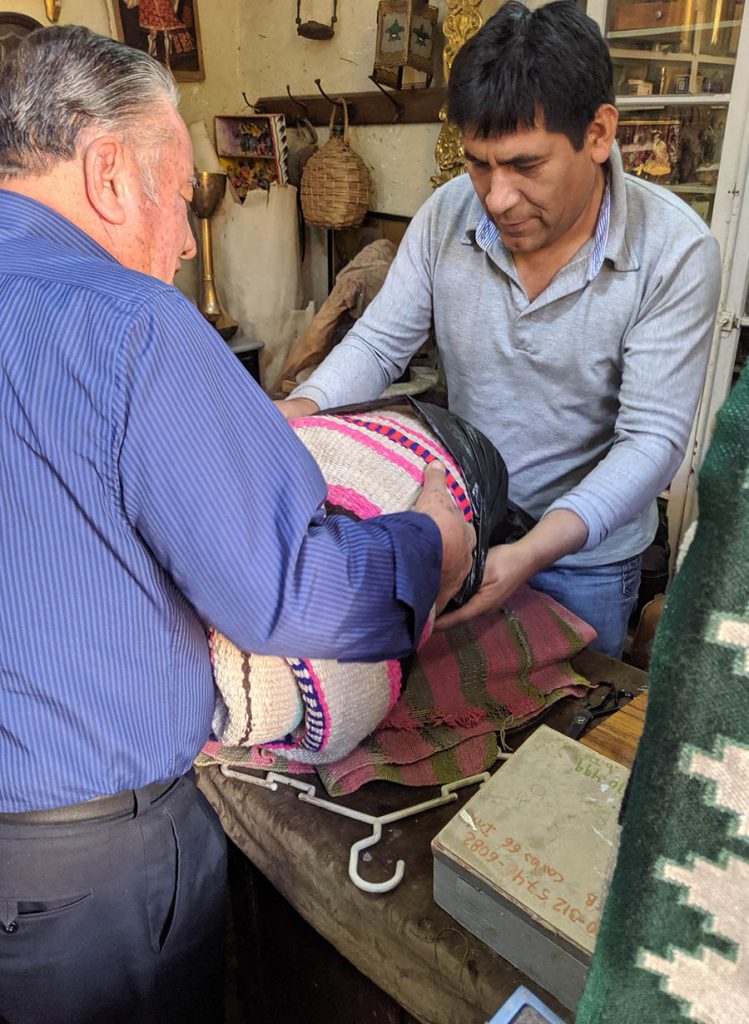 5. Diffuse Travel Burnout by Going Hiking.
Wherever you are, there's likely a trail somewhere close.
Even in sprawling urban areas, taking public transit to the last stop on the line and doing an out-and-back walk a bit further into the outskirts of town can be an urban exploration adventure that gives a glimpse of a very different perspective on life in that location.
(Note: be location-aware when exploring, avoid sketchy areas, take only the essentials, and have a backup plan to get back to your lodging)
You can even make hiking more interesting by making it task or interest-oriented, or finding a hiking guide through Airbnb experiences. Depending on the geology of your locale, there could be rock hounding or gem digging opportunities nearby or quirky hiking trails (like the gnome hiking trail near Seattle, WA).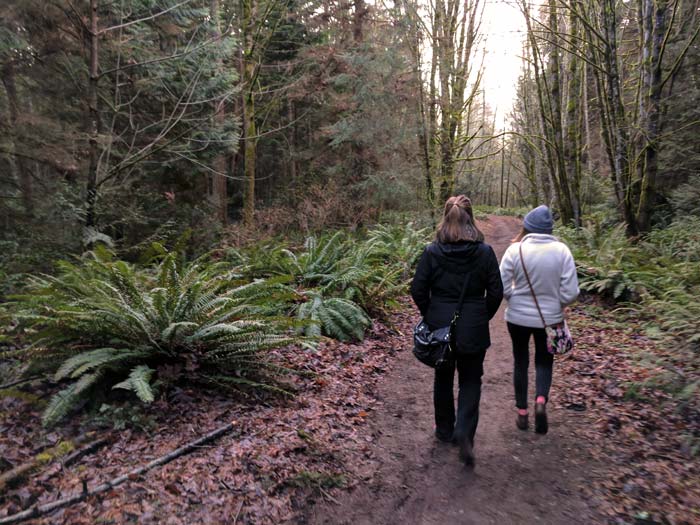 The following section may contain affiliate links. As an Amazon Associate, we earn from qualifying purchases.
6. Check out Atlas Obscura.
This online travel guide catalogs attractions of the weird and unusual. When your travel guides fail you, turn to Atlas Oscura to lead you into a weirder, usually less crowded, part of your travel adventure.
Sometimes creepy, sometimes spooky, always a little…. different, the Atlas Obscura guides online or in coffee table book form always make for an interesting afternoon and a fun story.
Within the USA, Roadside America is a website with (iPhone only) app with a similar vibe, cataloging the weird, odd, and in this case, exceptional sites often missed by travel guides.
Roadside America charges a fee to unlock different regions, but I personally have found it well worth the cost.
After all, it's how I found the small town in Washington state populated by dinosaur statues, and how I ended up visiting the cupola from the original Wyoming state capitol- in its current resting place in a field a few hundred yards off the interstate.
TL;DR:
Travel burnout is a common experience and should be on the radar of all travelers.
The cognitive dissonance of being grateful for travel but also travel-weary can be hard to reconcile, but knowing in advance to expect this experience and being armed with the six tips for coping with the experience can help.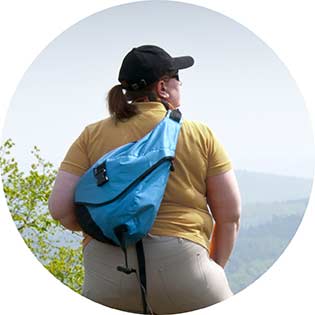 Artist, digital nomad, and highly sensitive person, Lynli started traveling full time as a digital nomad in 2018. Writer and Illustrator by day, remote-destination explorer by other-days, Lynli is passionate about pushing the boundaries of her own comfort zone, exploring the world as a plus size, one-bag traveler, and journaling it all on WanderBig.com